While many travel accessories and luggage are made of leather, there are lots of other options. You can find quite a few vendors that manufacture canvas or "faux" leather travel gear. I have found several companies that make vegan luggage, tote bags, passport holders, carry-ons, and so forth.
You can purchase these travel gear items online or in retail stores. Some of the online sites that carry vegan travel gear are the following:
Hey's –http://www.heys.ca
I own the following piece of Hey's luggage. It is lightweight, eco-friendly, vegan, & easy to spot on the airport luggage bin.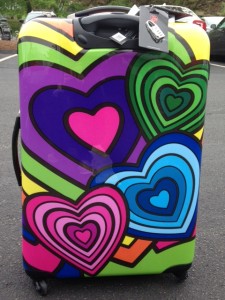 Tom Binh – Tom Binh
luggage, tote bags
Broad Bay Cotton – Broad Bay Cotton
Luggage tags, tote bags, backpacks
Cedar Key Canvas – Cedar Key Canvas
tote bags, luggage, duffle bags
Ecotex Luggage sold by Heys – Ecotex
Corkor – Corkor
backpacks, carry on bags
Irvs Luggage carries an eco-friendly suitcase and carry-on
Irvs Luggage
Luggage Online – Luggage Online
ebags.com carries a huge selection of canvas luggage, tote bags, carry-ons, wallets, cosmetics bags, travel blankets, and much, much more!
Ebags
Ebags More
Patagonia, Samsonite, and Land's End carry some vegan, vinyl and canvas luggage also.
Vegan Beach Bags: Vine Street Market
Purchase travel gear and accessories online:
Travel Accessories