During my second day in Ottawa, the plan was to attend the Winterlude Festival sites in both Ottawa and neighboring Gatineau, visit Parliament Hill, check out the Byward Market area, see Notre Dame Cathedral, and check out some additional vegan-friendly dining spots in town. And that was exactly how my itinerary played out.
The morning started with a stop at Little Jo Berry's Bakery(Little Jo Berry's Bakery). This fabulous all-vegan bakery bakes everything from unique donuts to cinnamon rolls to savory scones. I purchased a colorful and tasty candy corn doughnut as my AM snack.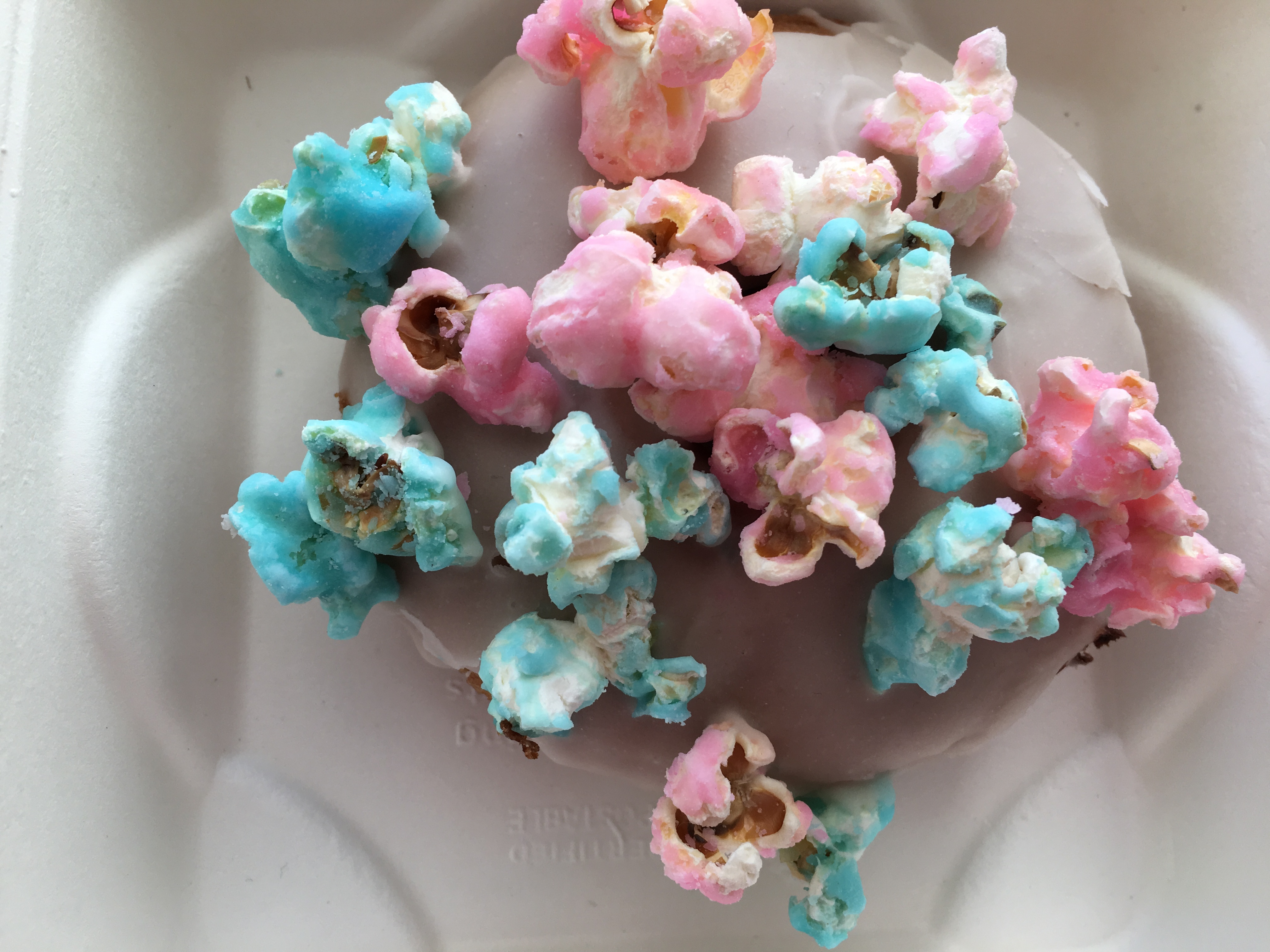 A quick Uber ride brought me across town to Wild Oat Cafe (Wild Oat Cafe). The vegan-friendly cafe offers a few vegan options. I opted for the Wild Plate" consisting of scrambled tofu, baked yam and potato homefries, wild oat toast, and homemade jam with sauteed vegetables. My breakfast was delicious. A wonderful berry smoothie accompanied my meal.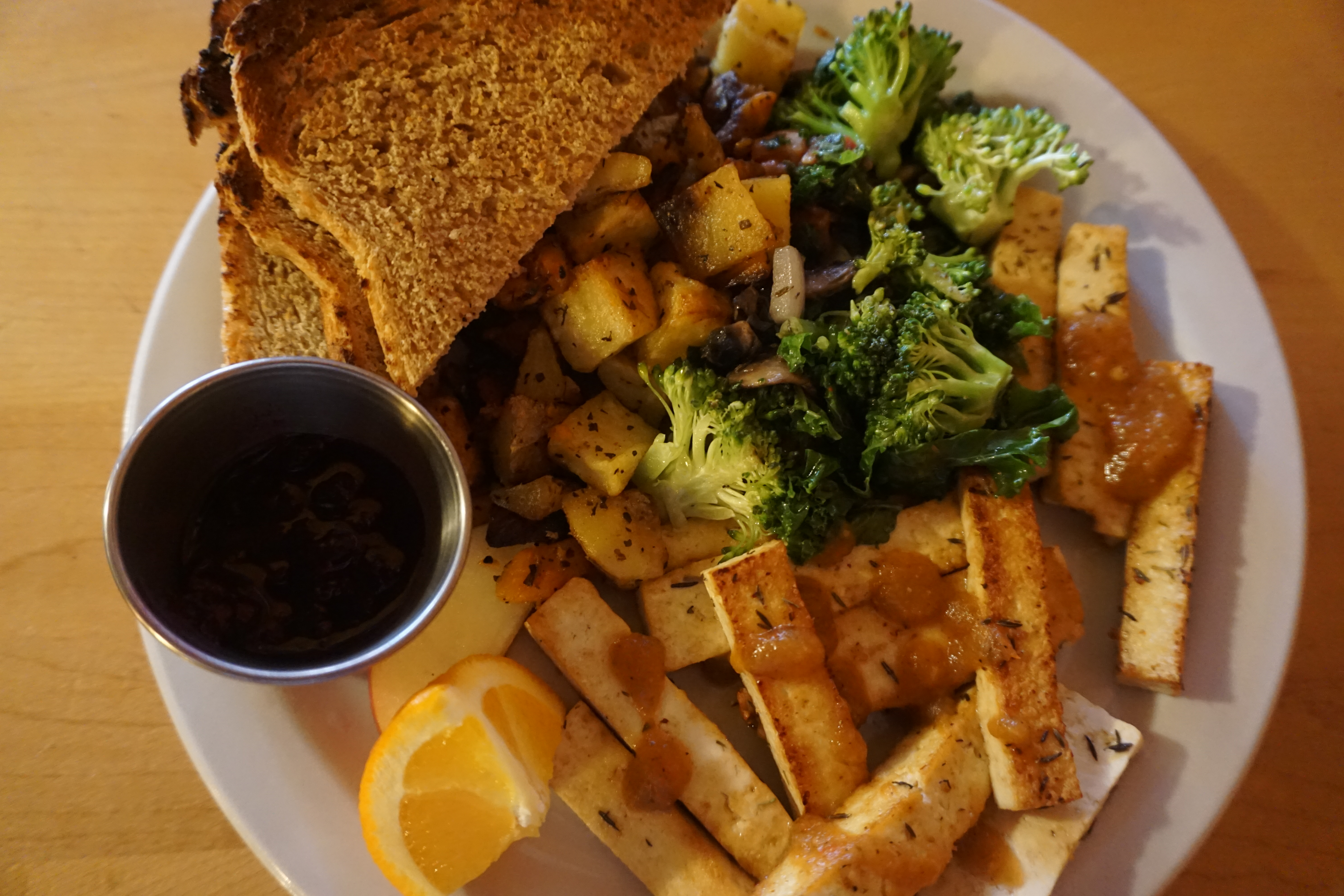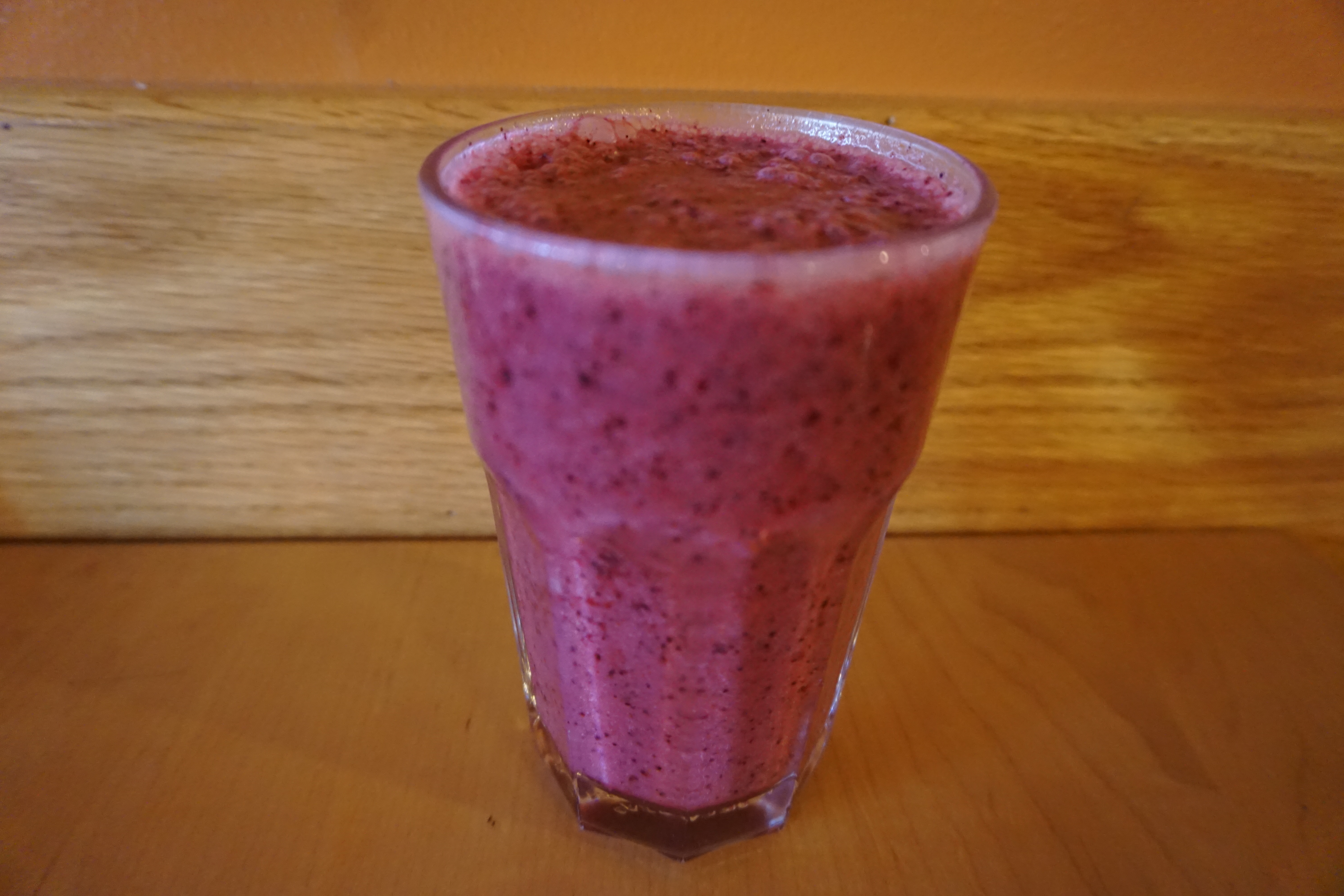 Ottawa's Farmer Market takes place at Aberdeen Pavillion at Landsdowne Park, right down the street from Wild Oats Cafe. I headed there after breakfast. It was a delightful surprise to see several vegan-friendly vendors at the market. From vegan skincare products to vegan lunch options, it is most definitely worth a visit.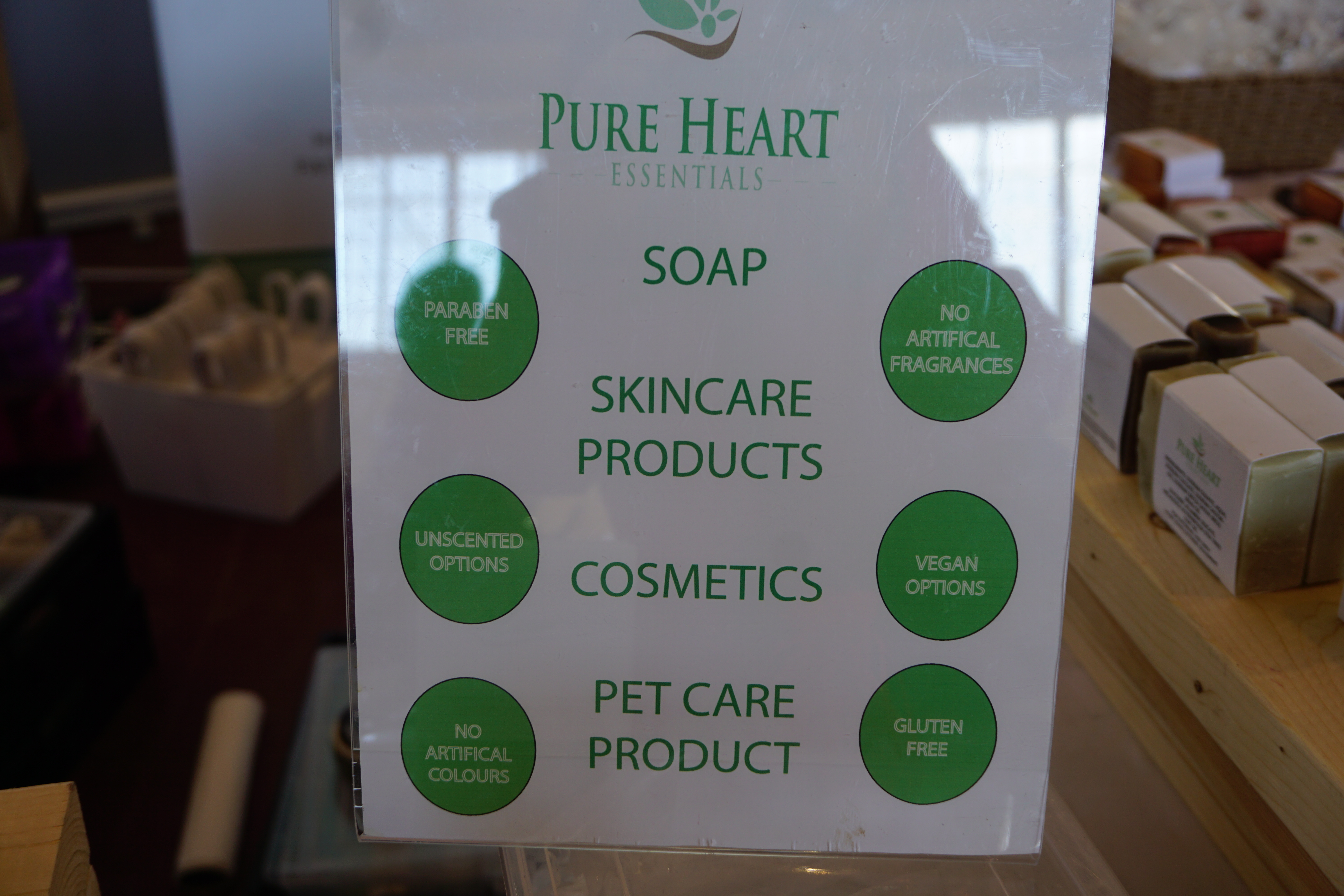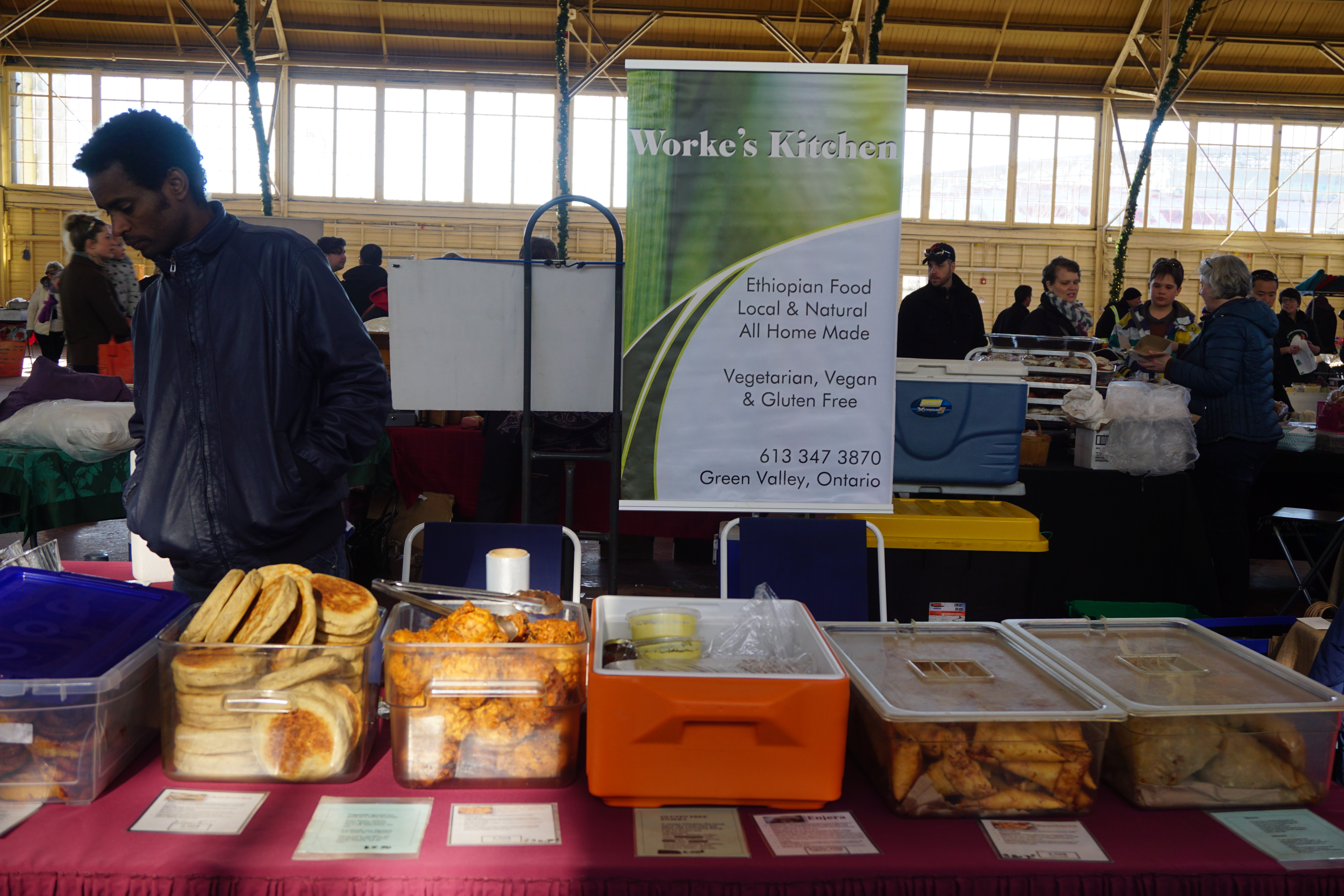 During the Winterlude dates, a free shuttle takes tourists between the festival locations. The drop off point at Confederation Park gave me the opportunity to enjoy the festivities there. Ice carving demonstrations, snow and ice sculptures submitted by several countries, and Inuit statues from Canada; were represented at the event. Ice sculptures were lovingly carved in intricate detail; representing wildlife expressions, human emotion, and other symbolic representations.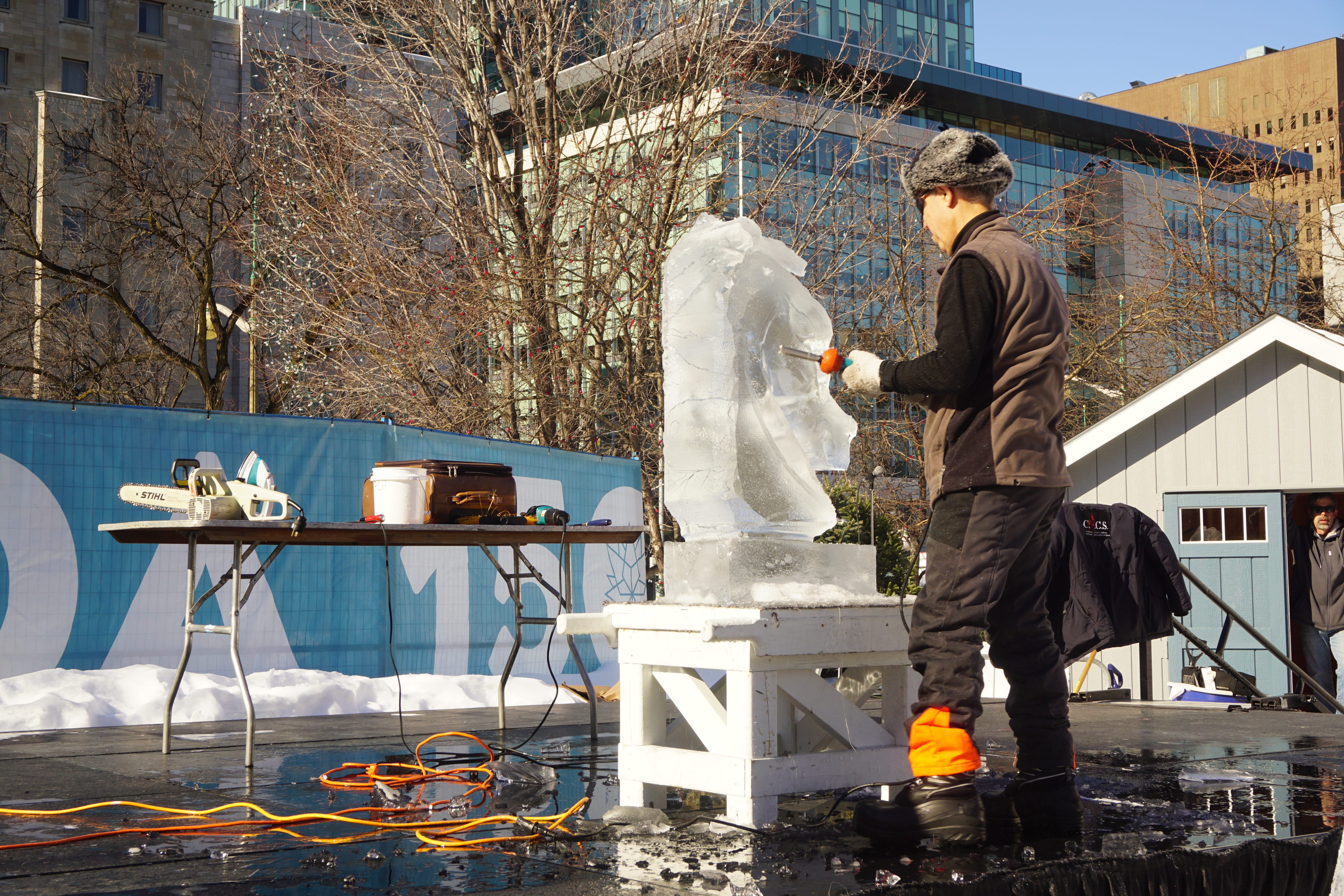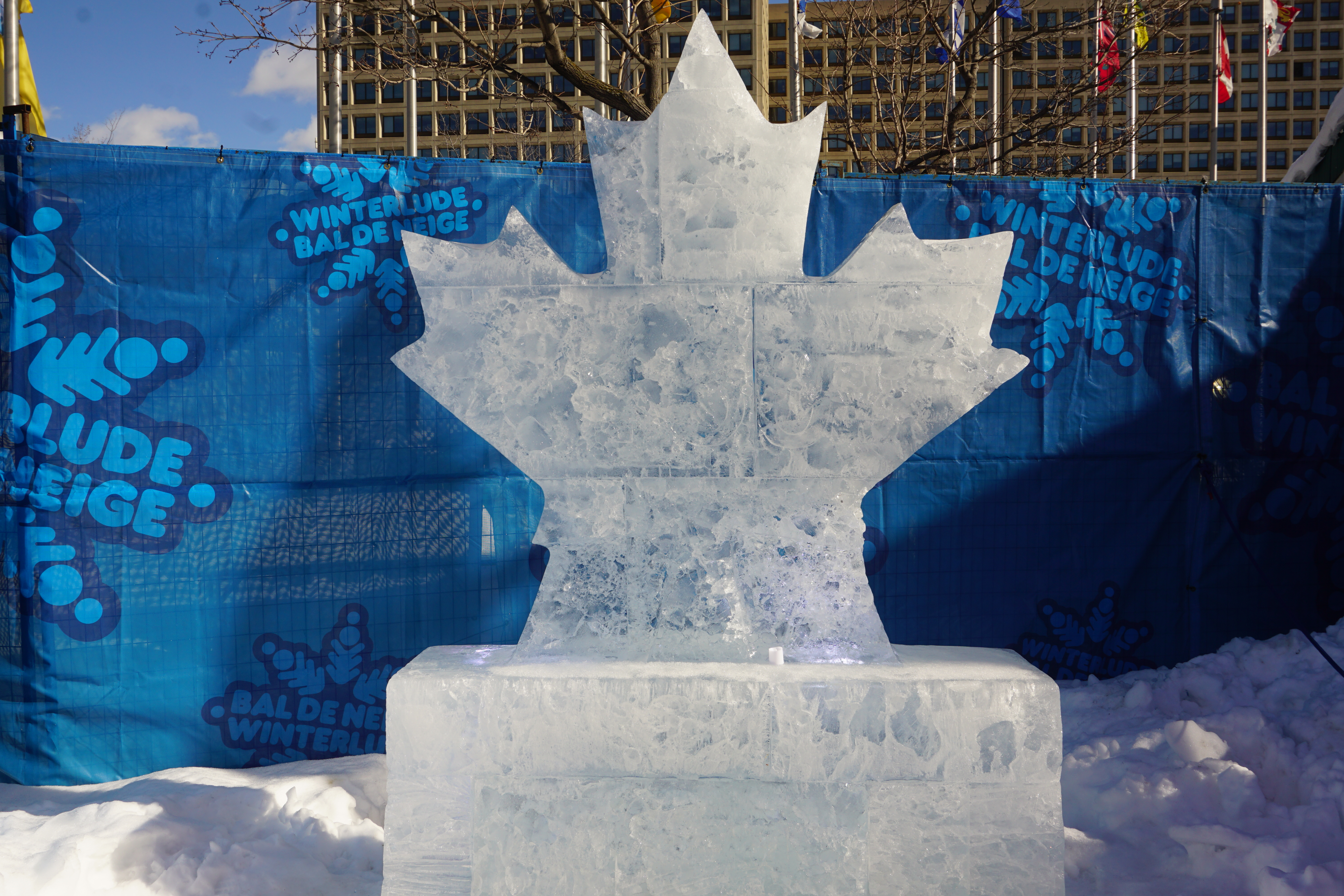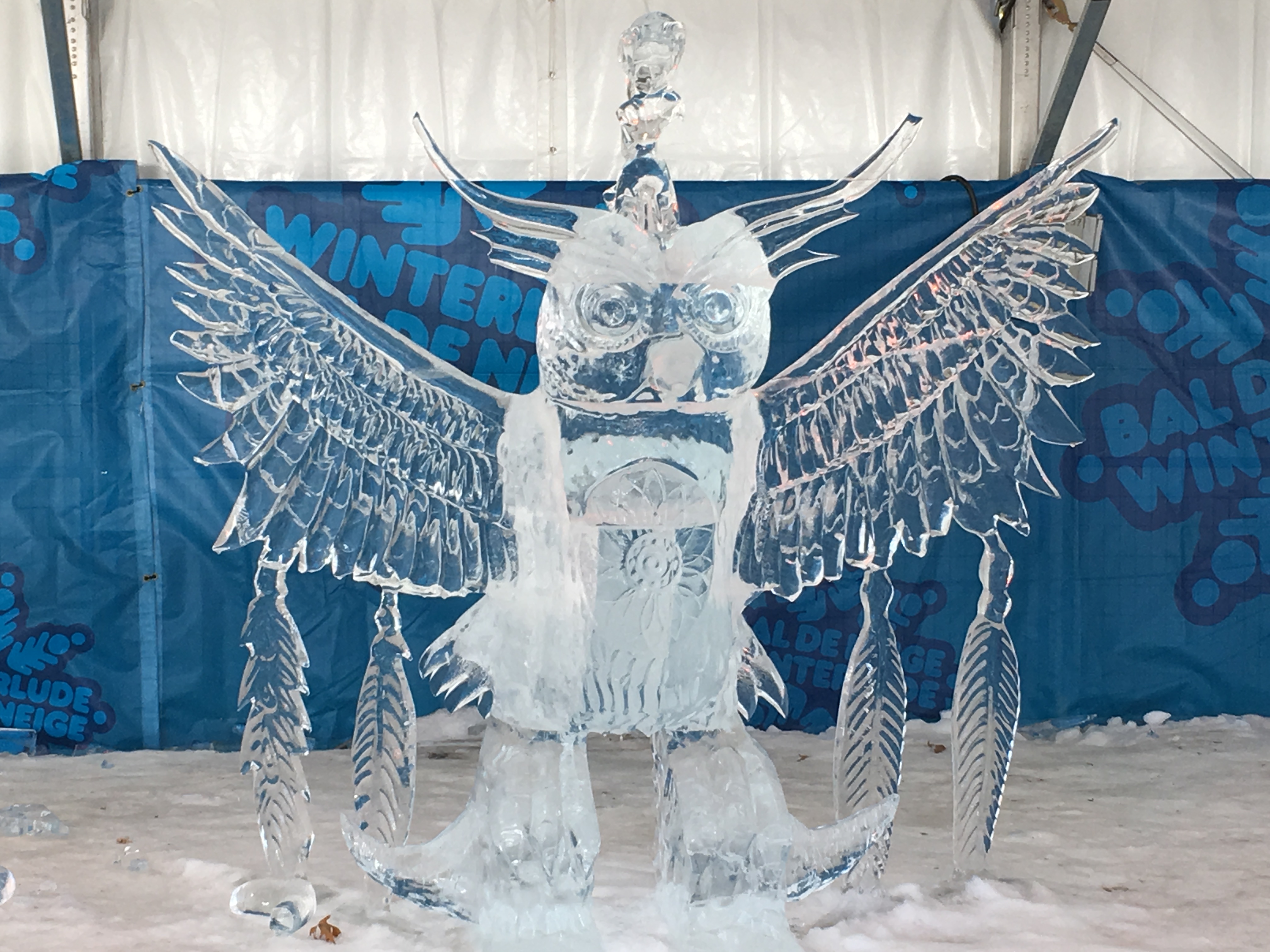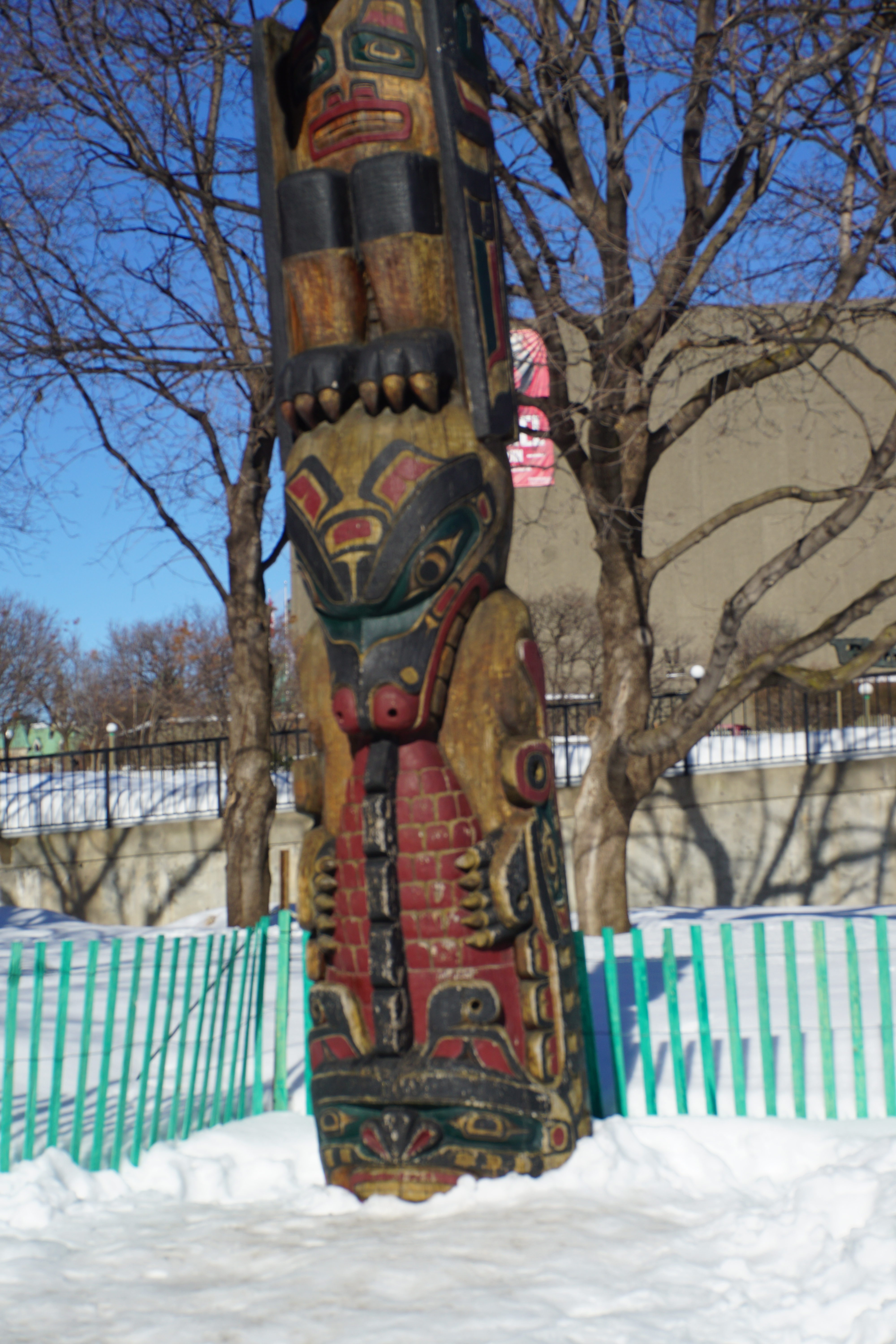 Across the road at another location, costumed dragons and native Canadians in indigenous attire; performed a dance and music performance.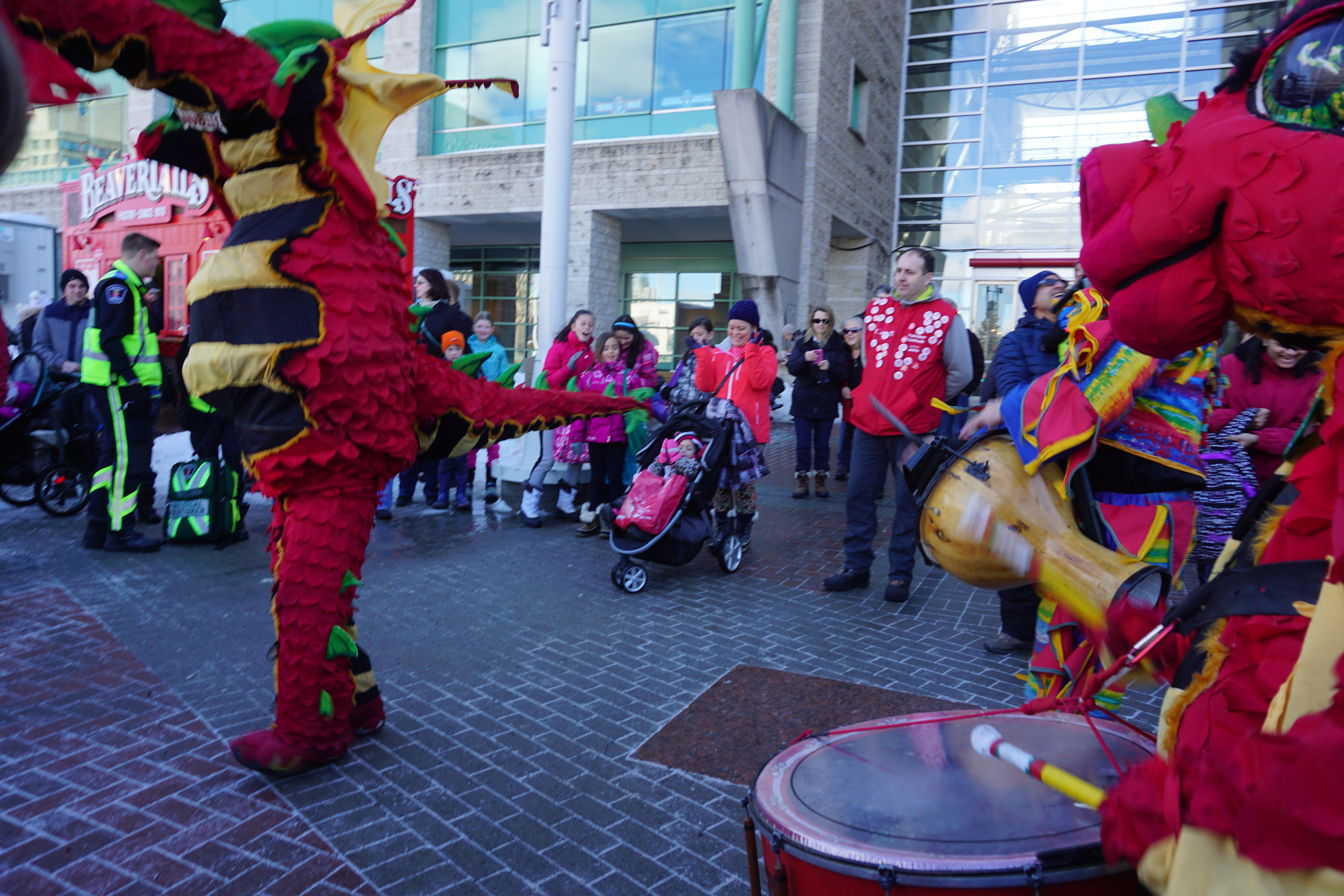 I took a break from the festival in order to explore the touristic sights in the city. Parliament Hill in downtown Ottawa, is home to the parliament buildings of government. Statues of past Prime Ministers and other important figures grace the lawn surrounding the buildings.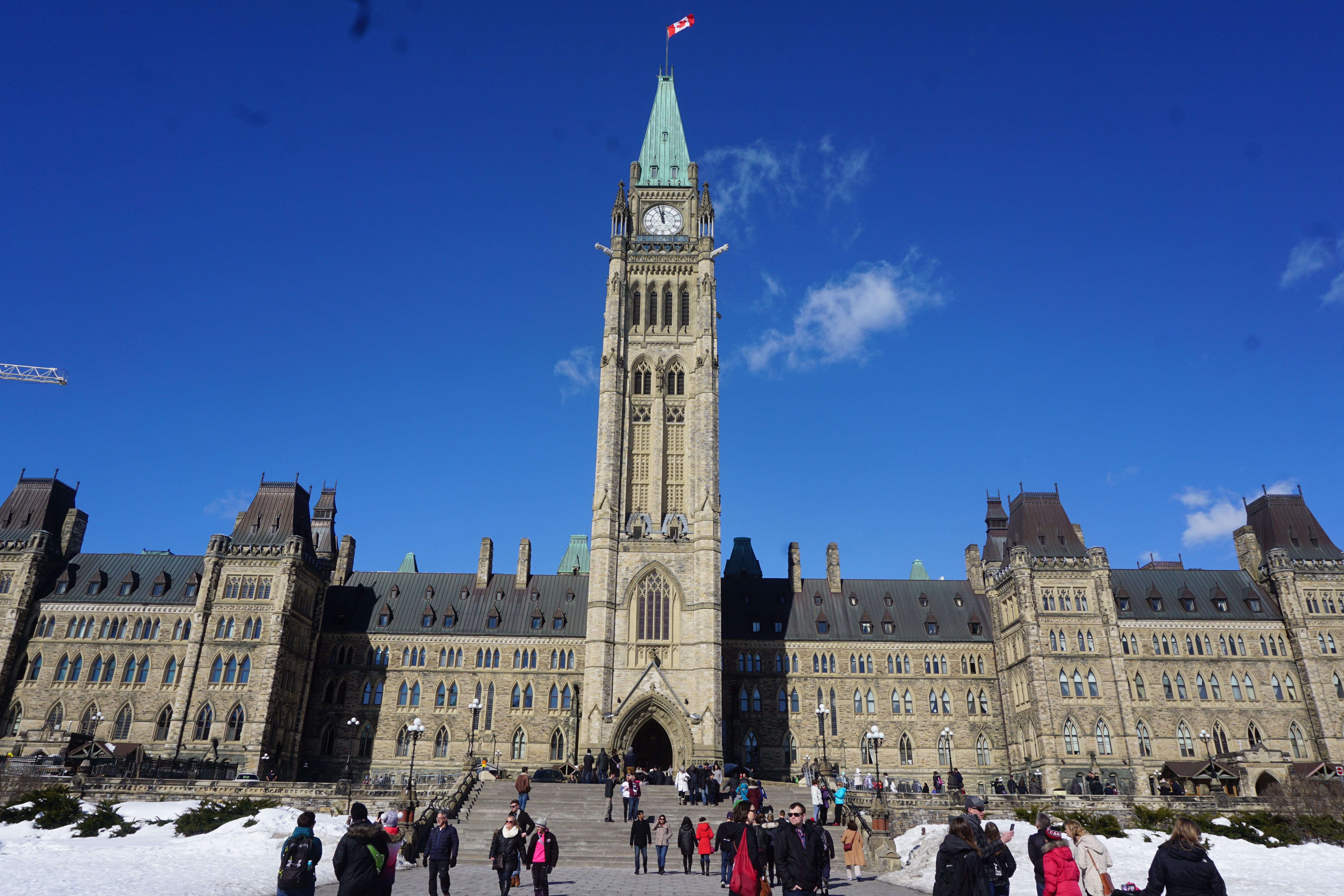 Byward Market in lower town is a district of indoor and open air markets. Vendors selling Canadian maple syrup products, clothing, jewelry, souvenirs, food, and crafts can be found. Visitors to Ottawa will appreciate perusing the shops at the market.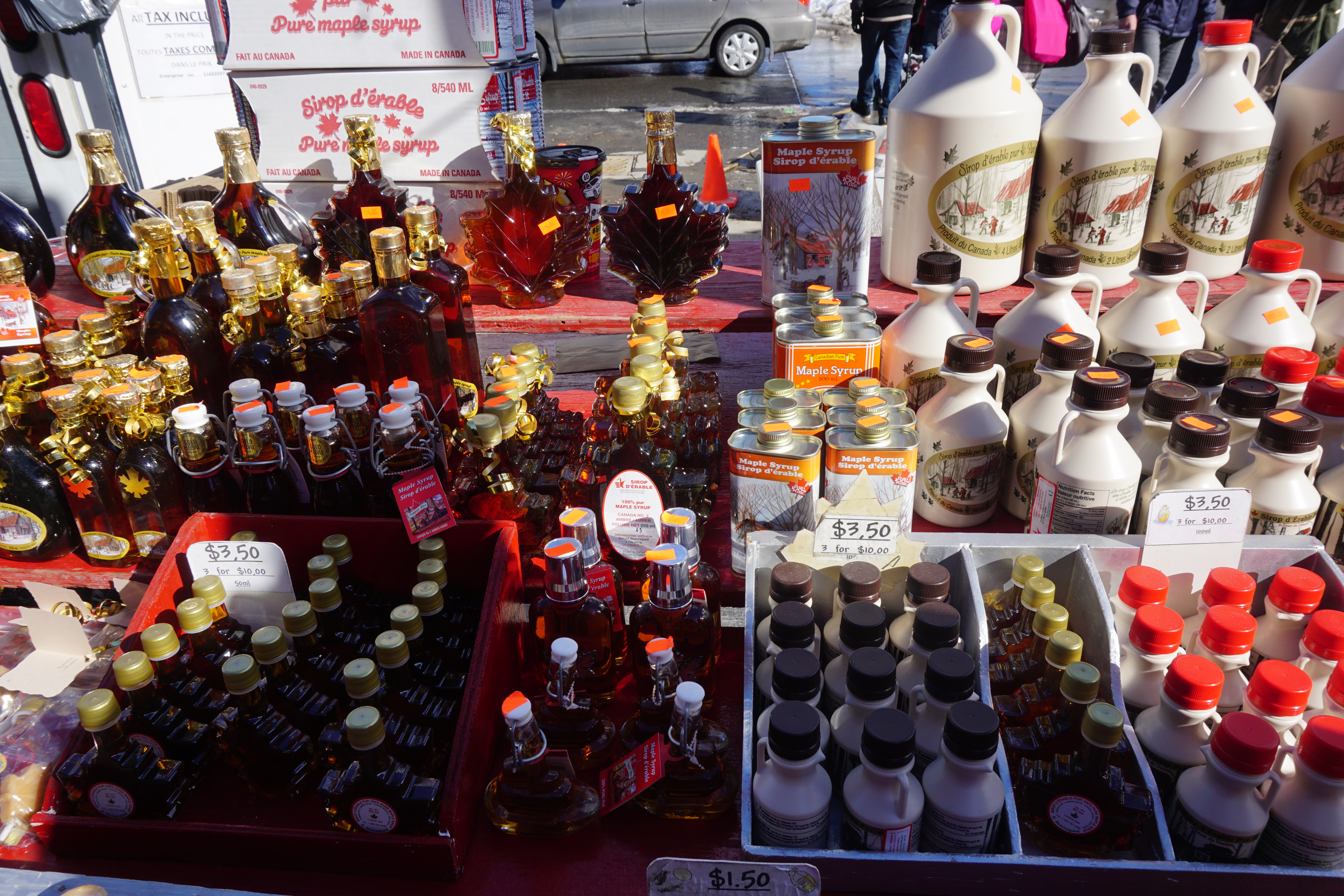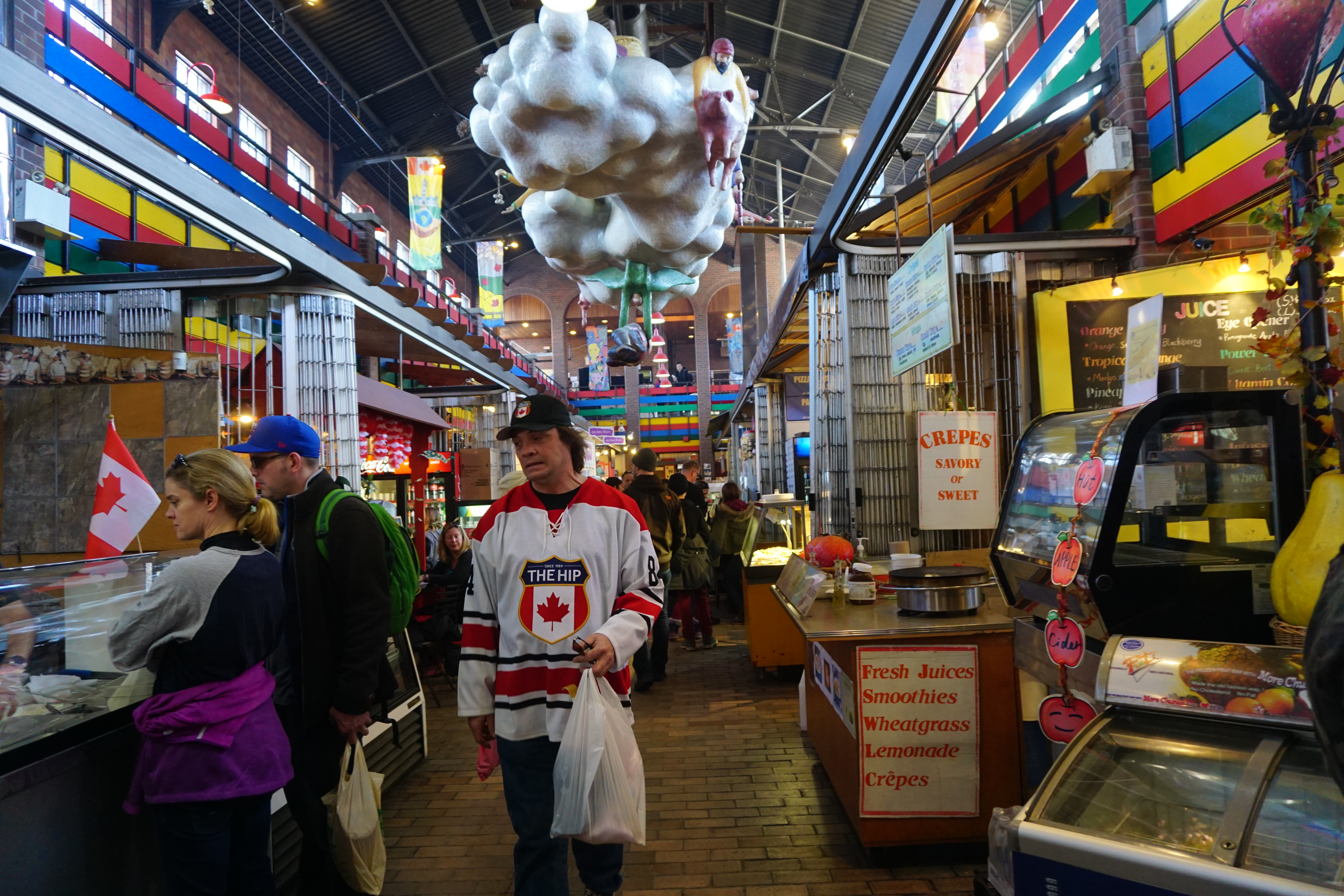 A few of the vegan-friendly restaurants in town were either closed during the local weekend or closed on Sundays. A decent option for a bite to eat near the Byward area was Bridgehead Coffee(Bridgehead), which offers a vegan sandwich. My lunch selection was the sweet potato quinoa wrap. It was a good meal.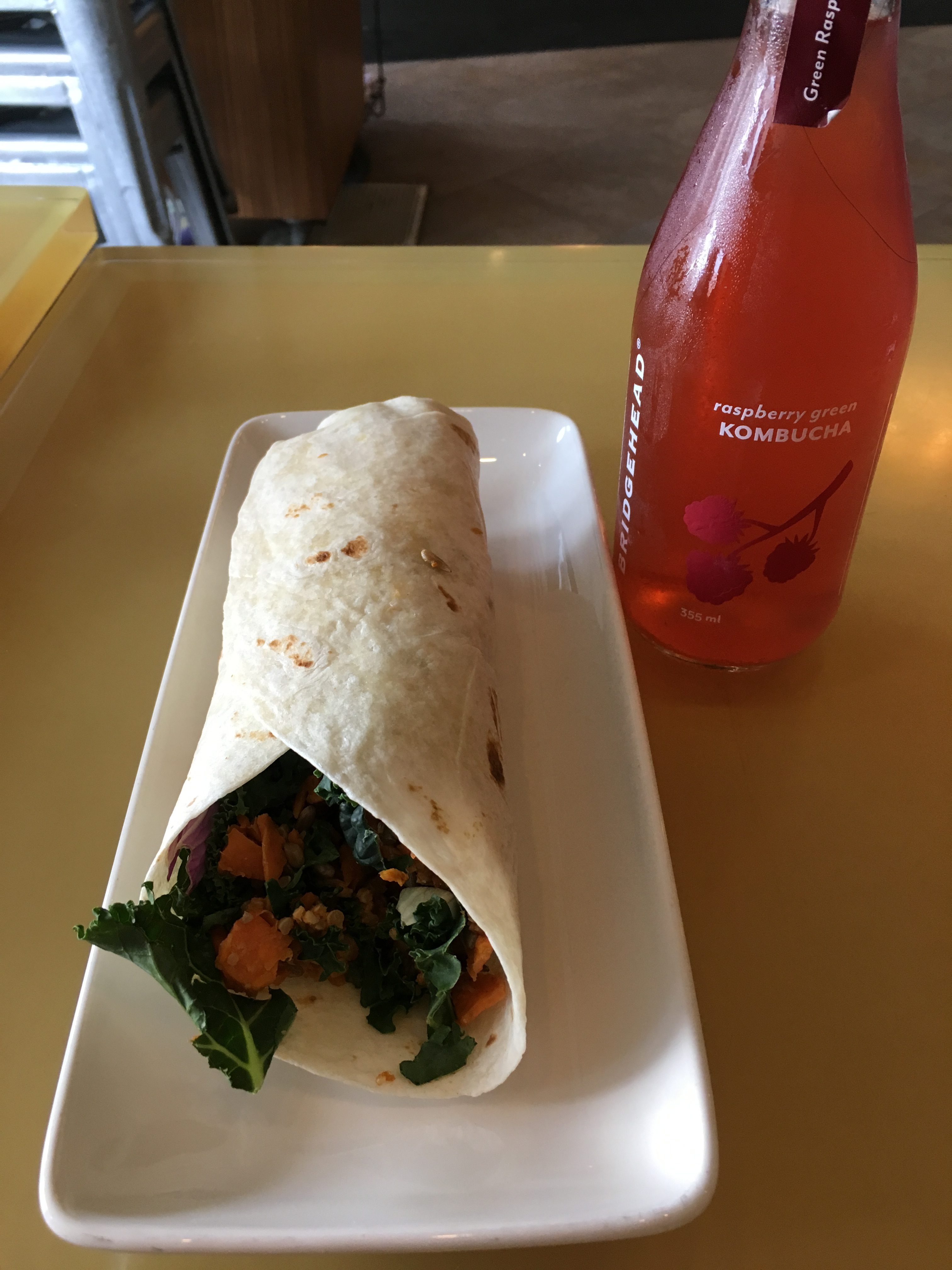 Notre Dame cathedral is a popular landmark in Ottawa. Fortunately, it was just a short walk from my lunch spot. The Roman Catholic basilica's main section was completed in 1846. The cathedral is the oldest and largest church in Ottawa and is home to the archbishop.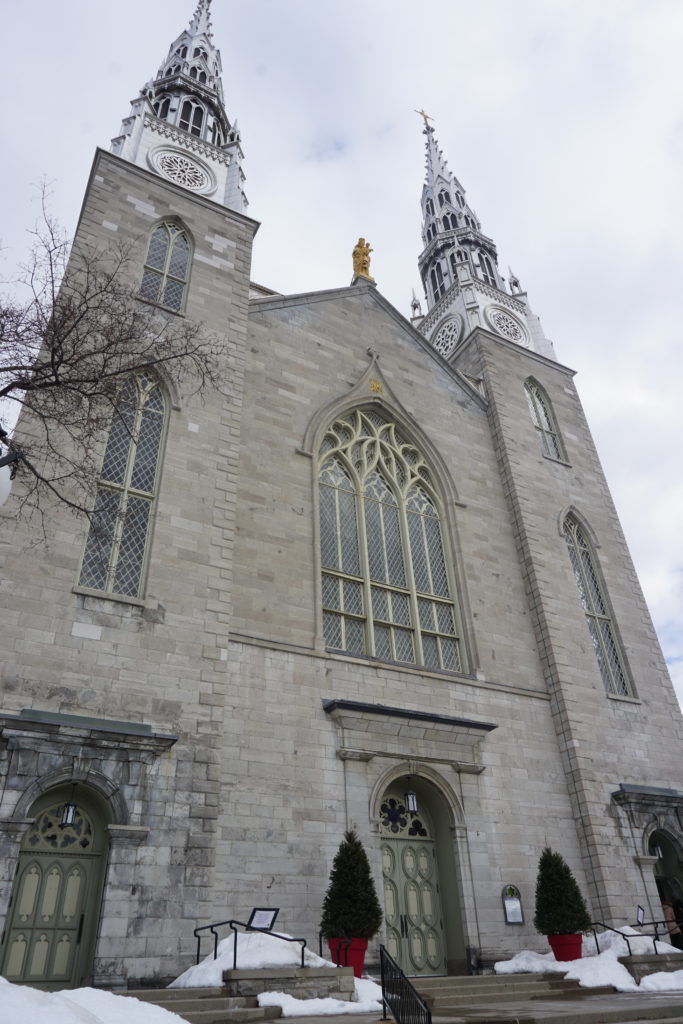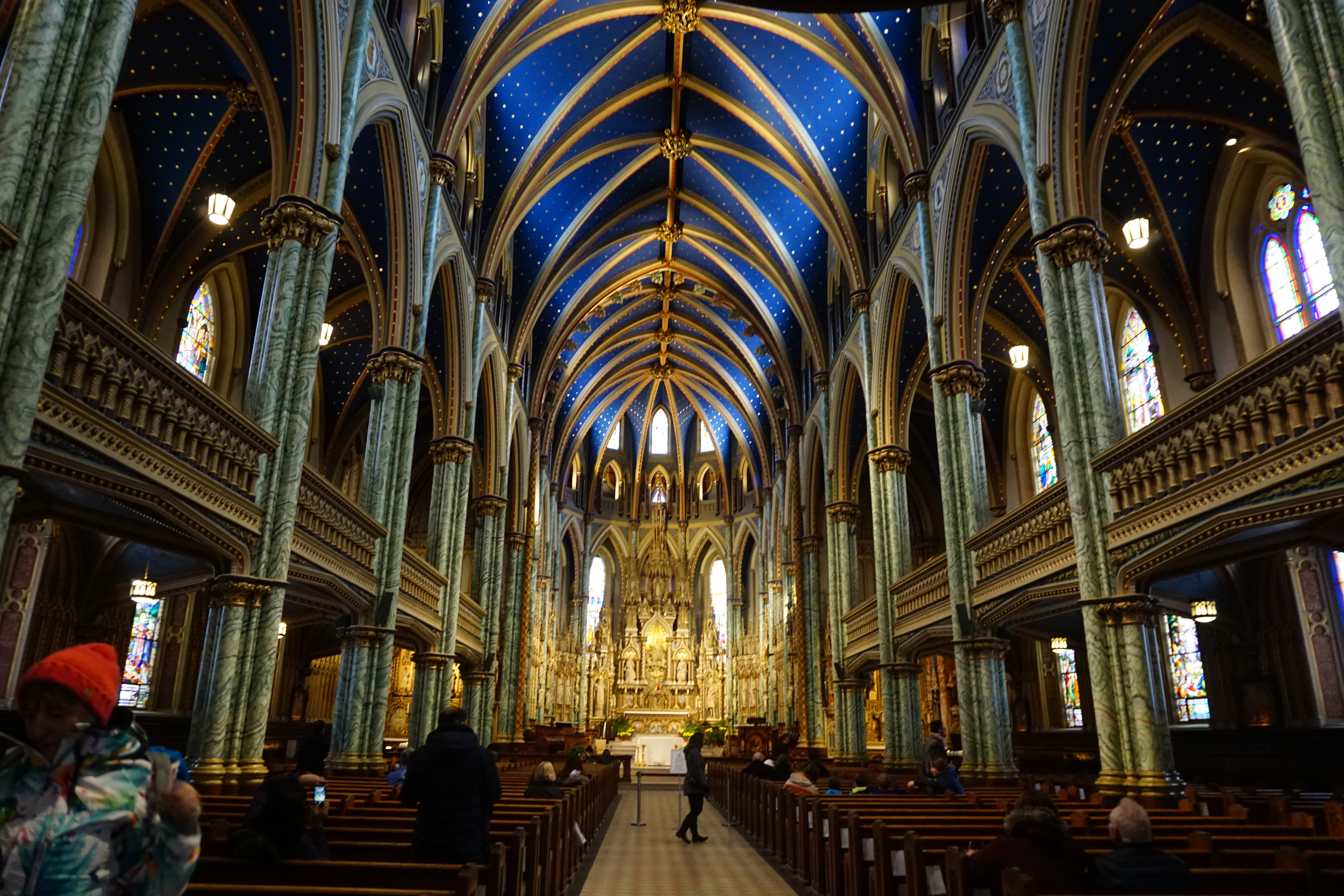 A 25 minute walk across the Alexandra Bridge brought me from Ottawa to Jacques Cartier Park in the neighboring city of Gatineau. This was the third location for the Winterlude Festival. Quite a few participatory activities were offered for attendees. Giant snow slides and a snow maze were just a couple of the options for adventurous tourists.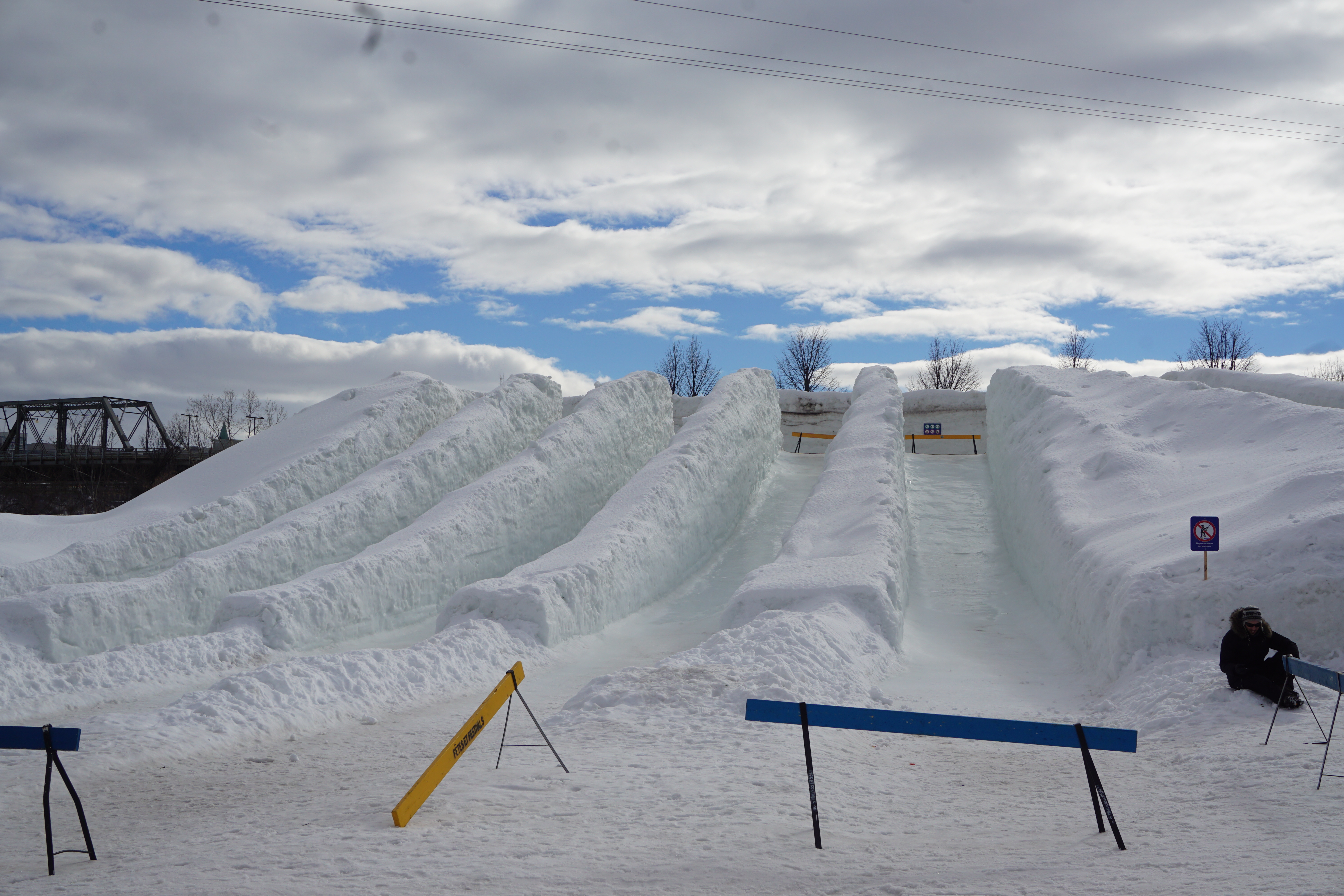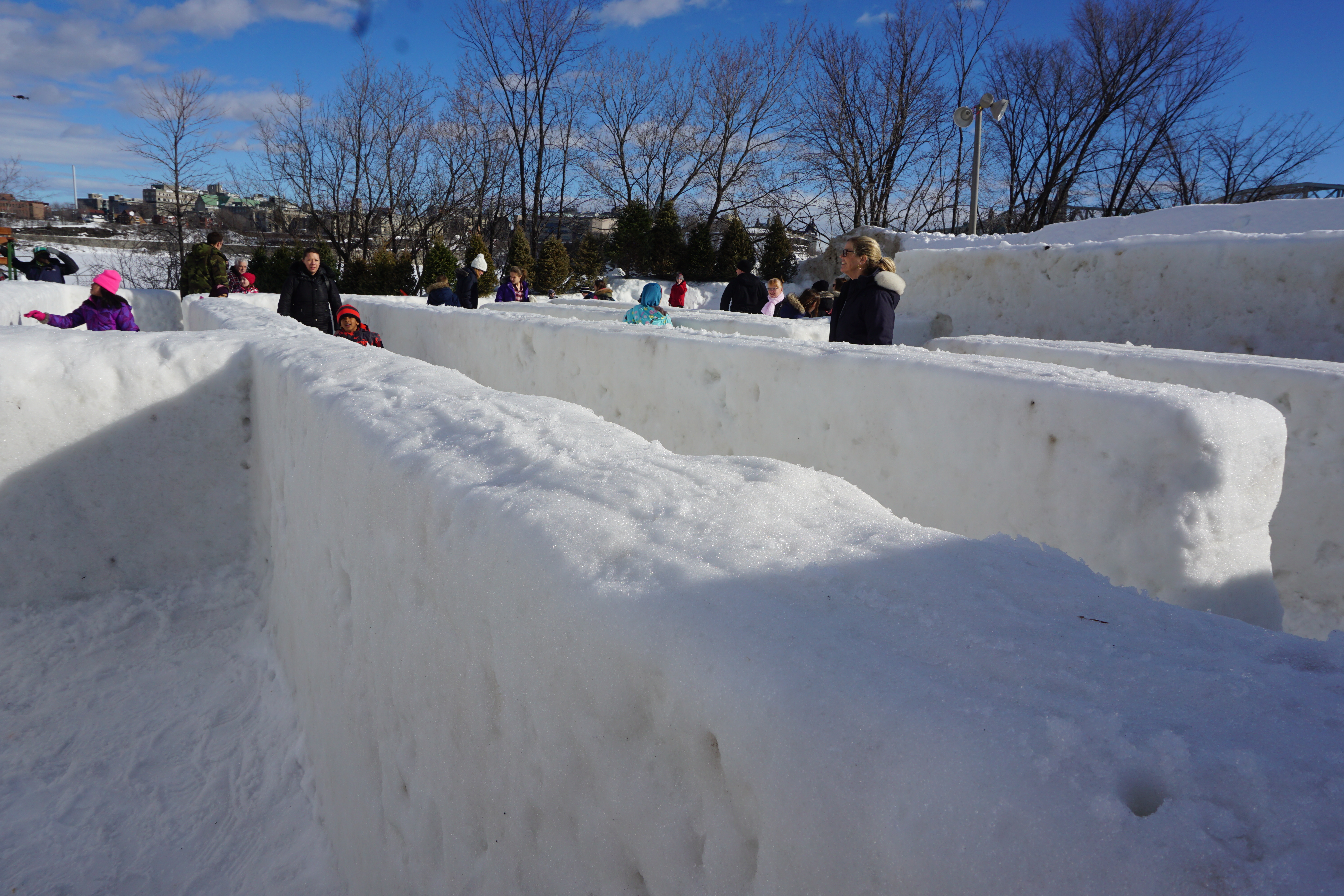 An Aboriginal "village" exhibit showcased tribal music and song, wooden housing structures, and examples of their handiwork. Snowshoes, baskets, and other goods important to the indigenous settlers, were carved and crafted out of wood and tree bark.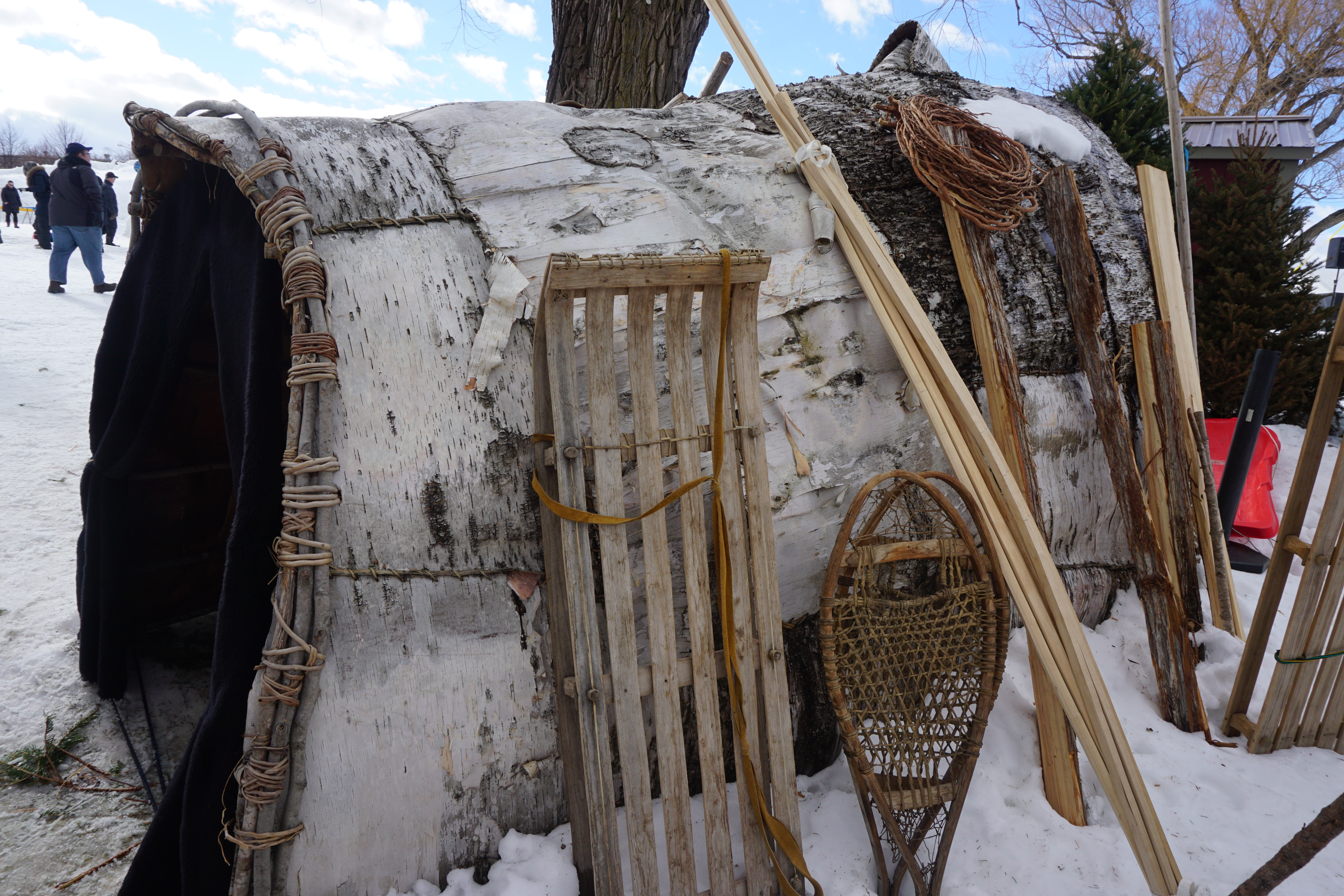 Snow sculptures represented various themes of symbolic importance to Canadians, including the 150th anniversary of the Confederation.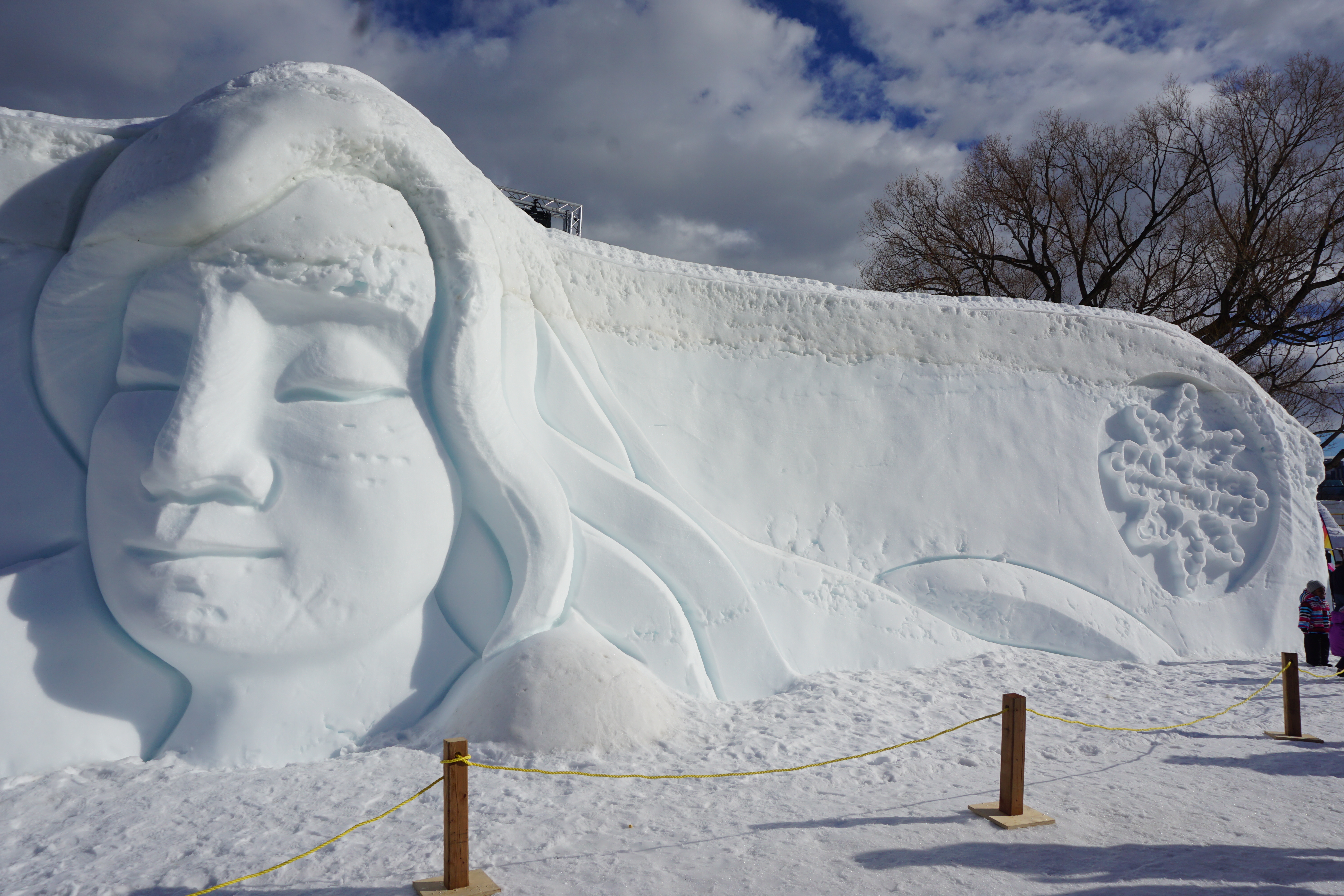 Acrobats entertained us with awe-inspiring feats. From bouncing off a purple wall at various heights and positions to balancing acts, they kept the crowds intrigued and fascinated.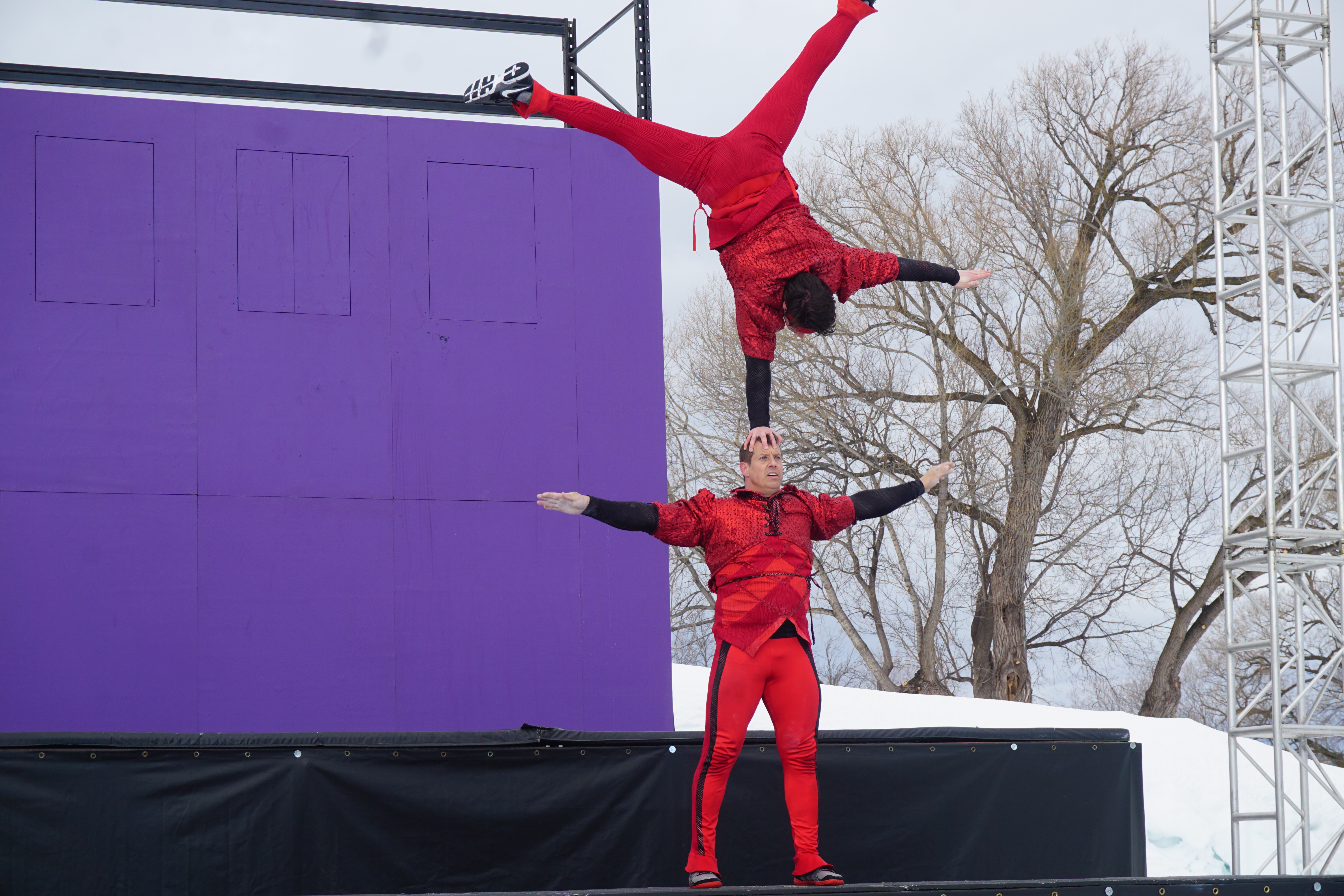 As for the cuteness factor and kid-friendly excitement, the ice hog characters strolled about the park at appointed times throughout the day. These adorable and cuddly creatures made for good photo opps for young and not-so-young alike.

When the evening turned into night, the snow scultpures were illuminated in many beautiful hues of purple, blue, red, and green.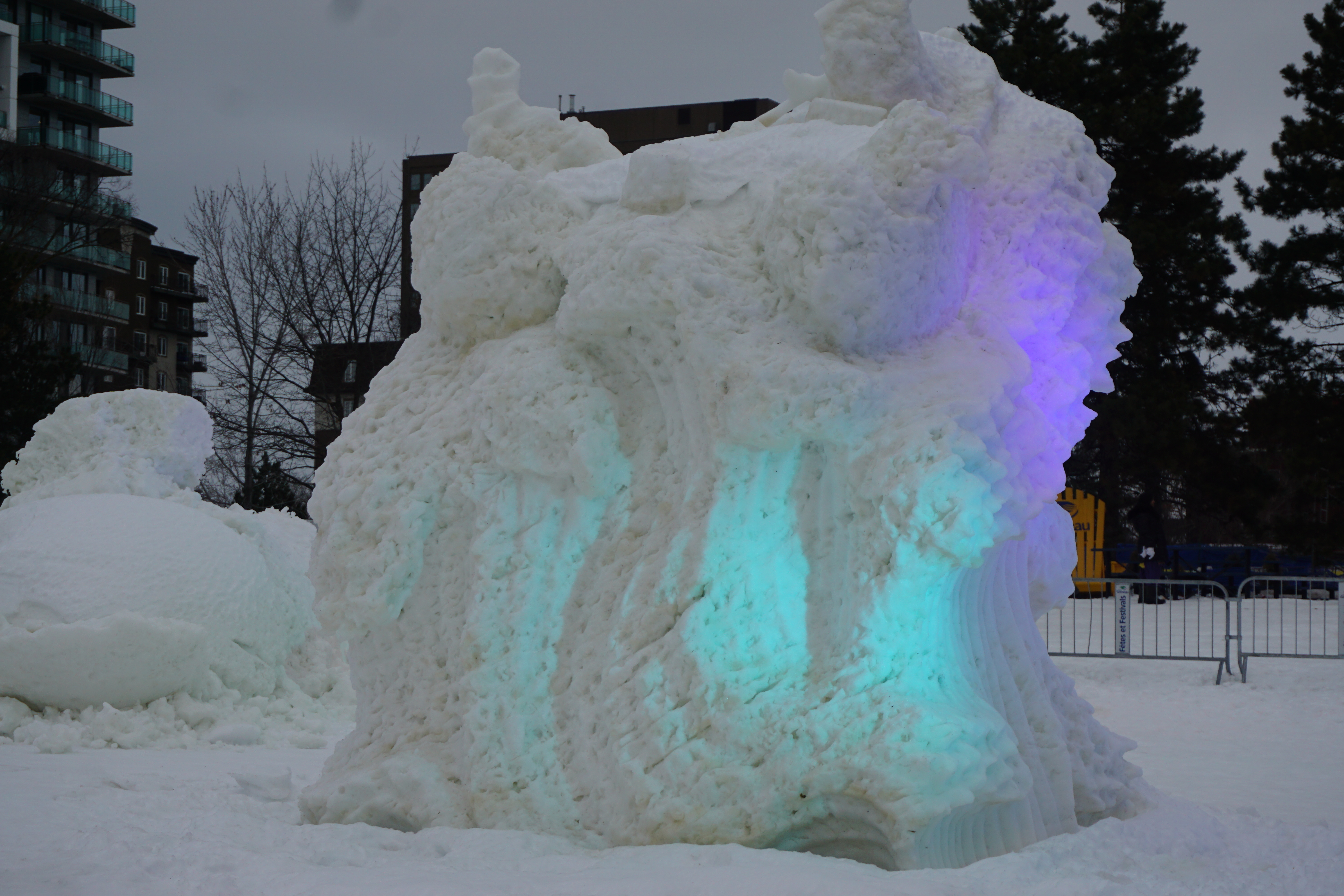 I made the return walk over the bridge and back to Ottawa's Confederation Park to visit the ice sculptures yet again. Once the evening hours arrived, the sculptures were illuminated in gorgeous colors that changed every few minutes. While I waited in line to see each ice sculpture upclose, a local band performed some upbeat tunes onstage.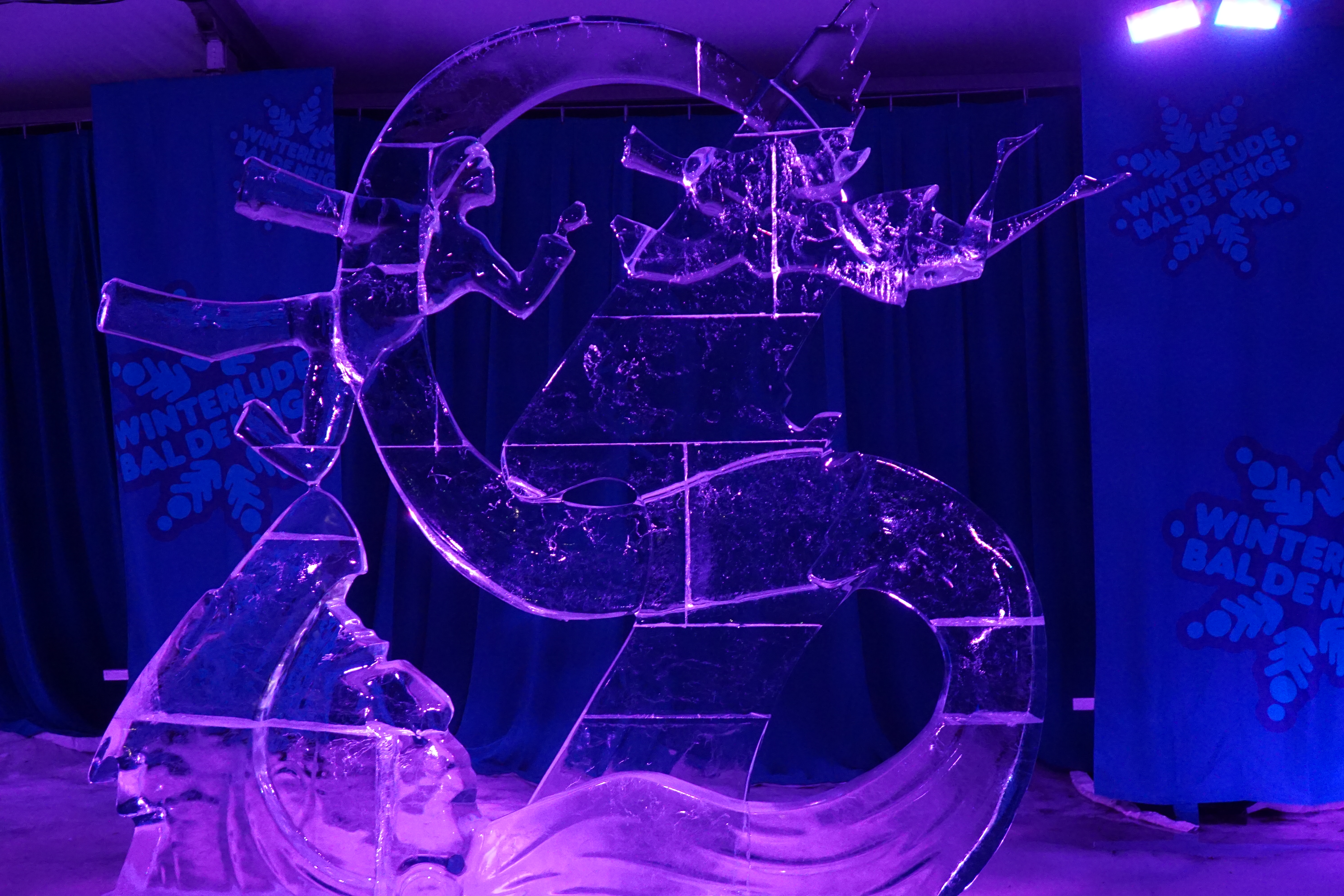 An Uber then whisked me away to The Green Door Restaurant(Green Door Restaurant) for dinner. This popular casual restaurant offers a huge vegetarian buffet where most items are vegan. My evening meal included a spelt flax roll, squash and leeks in mustard sauce, shahi mutter(with cashew), cabbage with peppers and dill, lima bean soup, sprouted legumes, tempeh salad with mustard dressing, spinach walnut salad, and roasted carrot salad.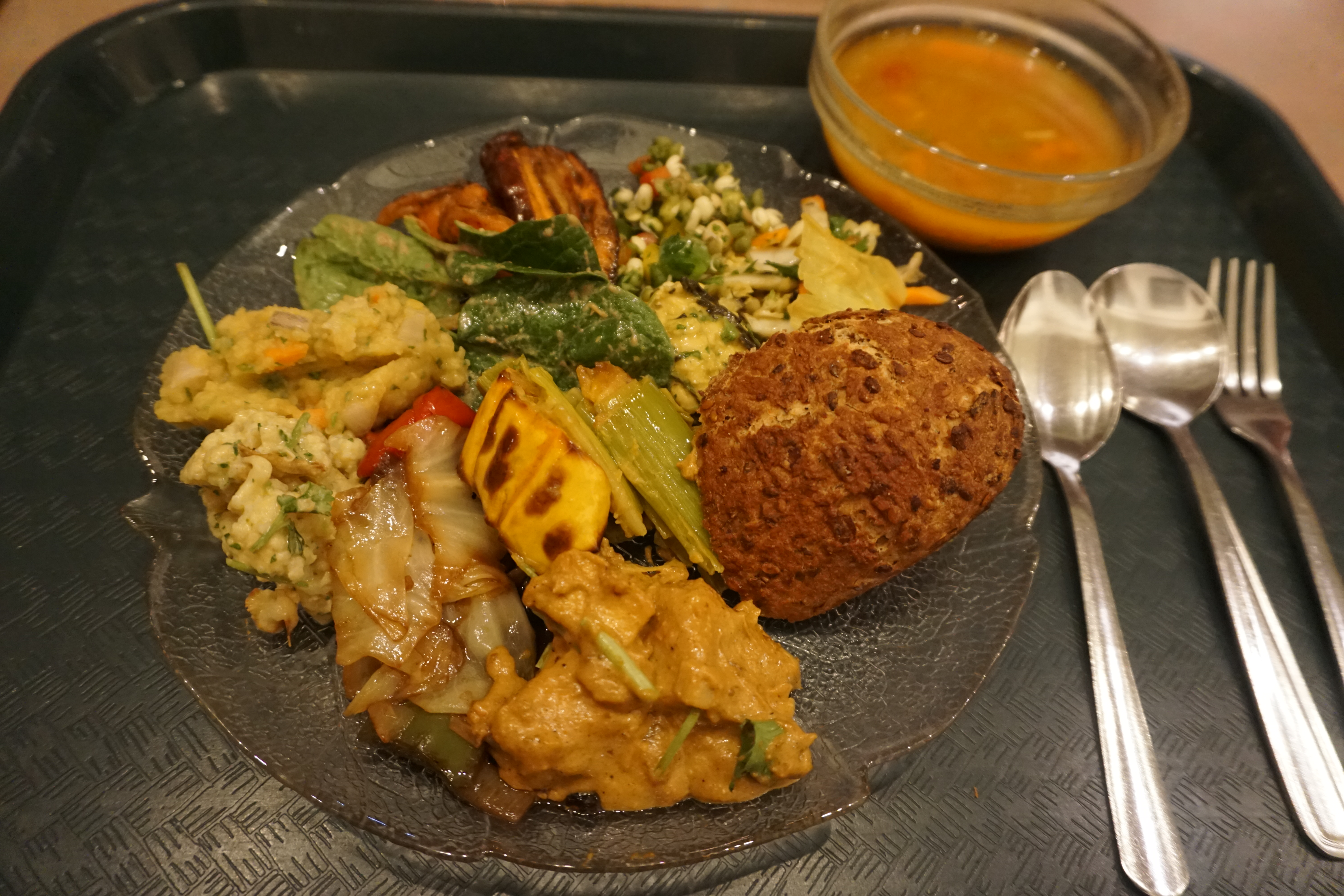 My dessert selection was a vegan chocolate swirl and vanilla cheesecake topped with a berry sauce. The entire meal was fabulous. The price by weight was fair for the buffet items.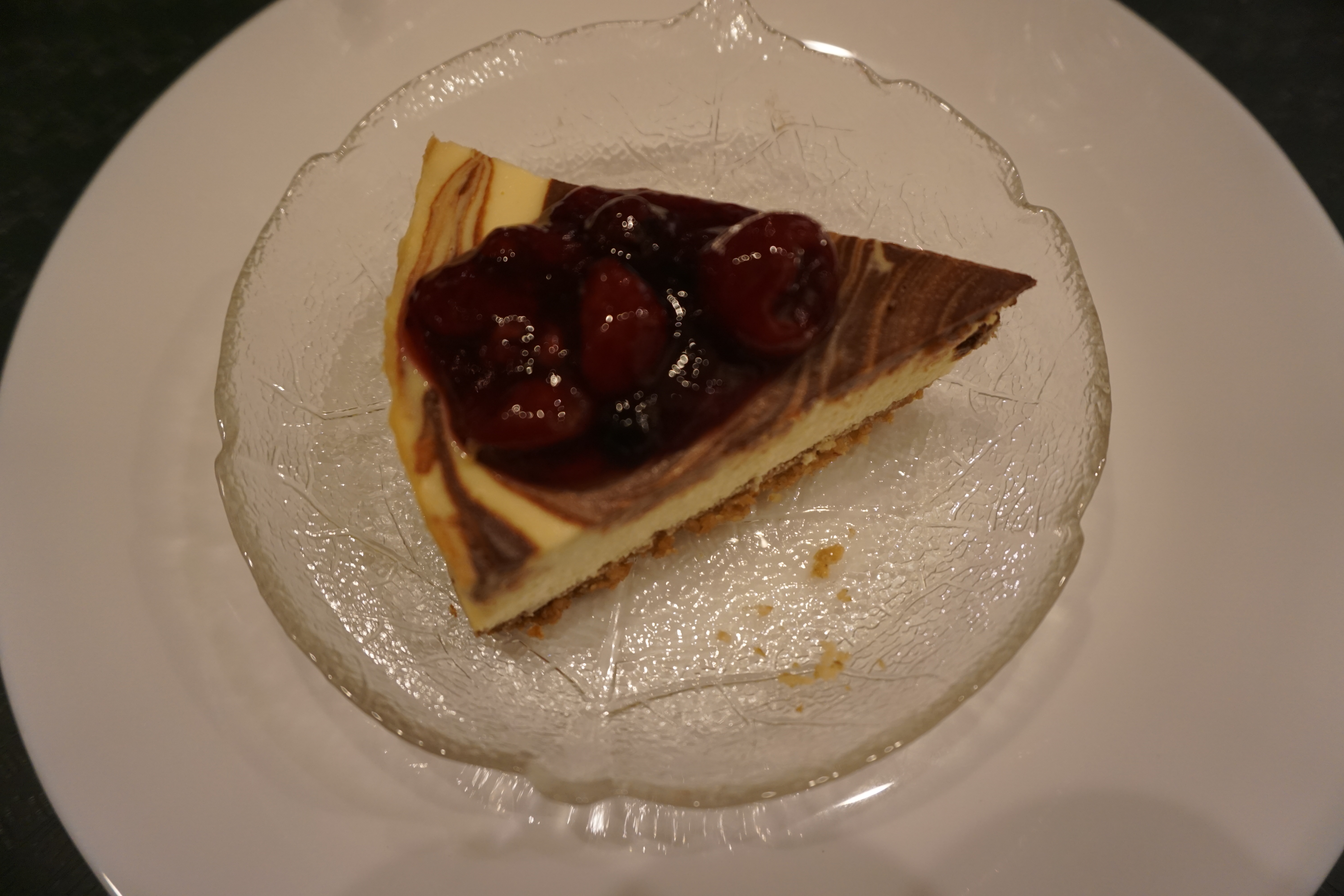 It was time to call it a night and to pack my bags for the early bus ride back home to Boston, on the following morning.
When I awoke on Monday around 6am, I had time for a quick breakfast. I devoured the yummy chocolate torte that was purchased earlier in the weekend at Thimble Cakes Bakery(Thimble Cakes Bakery).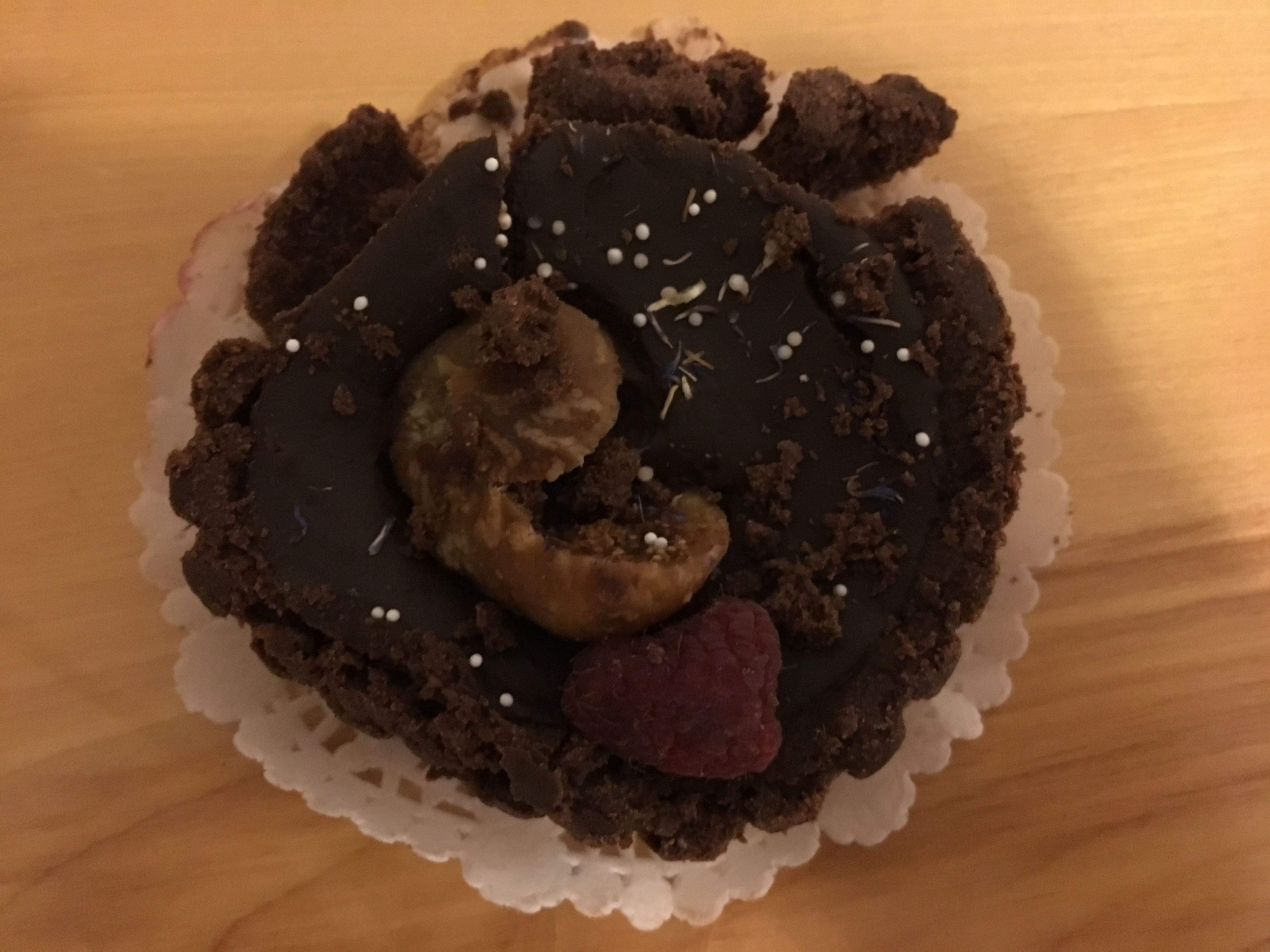 The ten hour bus ride from Ottawa to Boston was the perfect time to sample the absolutely delicious Canadian nanaimo bars that I purchased at Herb and Spice Shop(Herb and Spice Market)(made by Strawberry Blonde Bakery(Strawberry Blonde Bakery).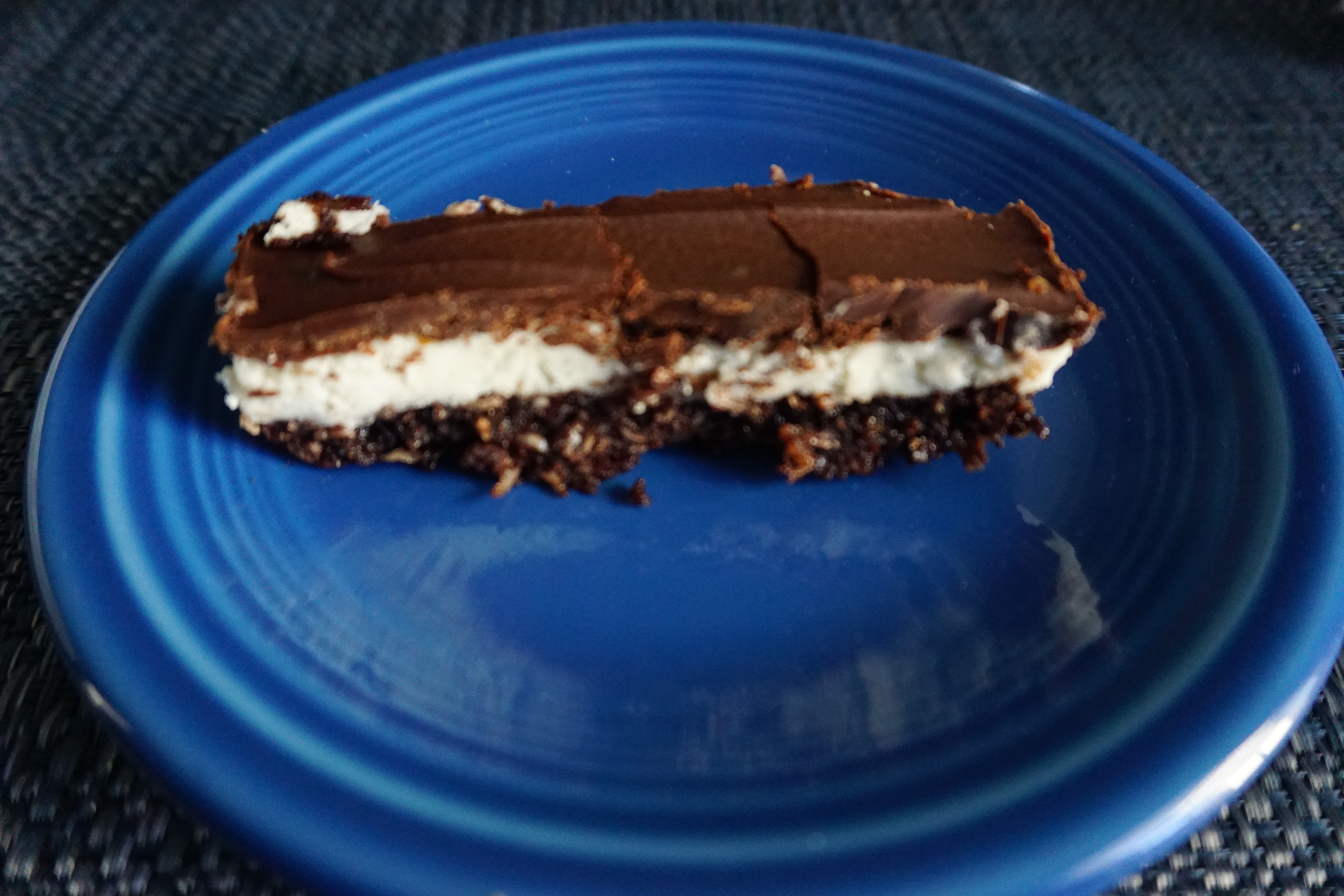 As our journey proceeded across the border from Canada to the United States, I was glad to have spent time in Ottawa to experience the Winterlude Festival, the historic sights, and the incredible vegan dining scene.