The winter months are peak tourist season for the northern New England state of Vermont. Powdery snow blankets the landscape, making it a prime destination for outdoor winter sports lovers. What better way to spend a January day than to take a road trip to this winter wonderland! I set out to explore the Mad River Valley region in the central part of the state.
During the last weekend of the month, I headed north with my trusted vegan snacks in tow for the three hour drive. Fruit, Pure Bars, and goji berries were my "go to" munchies. The Mad River Valley route took me through quintessential Vermont towns, including Moretown, Waitsfield, and Warren. Routes 100, 100B, and 17(which is known as the "Appalachian Gap") wind their way through this popular tourist area. Scenic vistas of mountains, babbling brooks and ponds, and majestic forests greet the enamored visitor.
Feeling famished after the length drive, it was time for a breakfast meal! My research online had discovered a movie theater venue that also houses a restaurant within its space. This landmark Big Picture Theater Cafe (Big Picture Theater Cafe) in the town of Waitsfield, offers a vegan option on its menu. They use locally sourced vegetables in their meals. I selected the Southwestern Tofu Scramble with Vermont made tofu, spices, salsa, and sunflower seeds; served with homefries(cooked in their own oil), avocado slices, and toast with Vermont maple syrup. My meal was spectacular!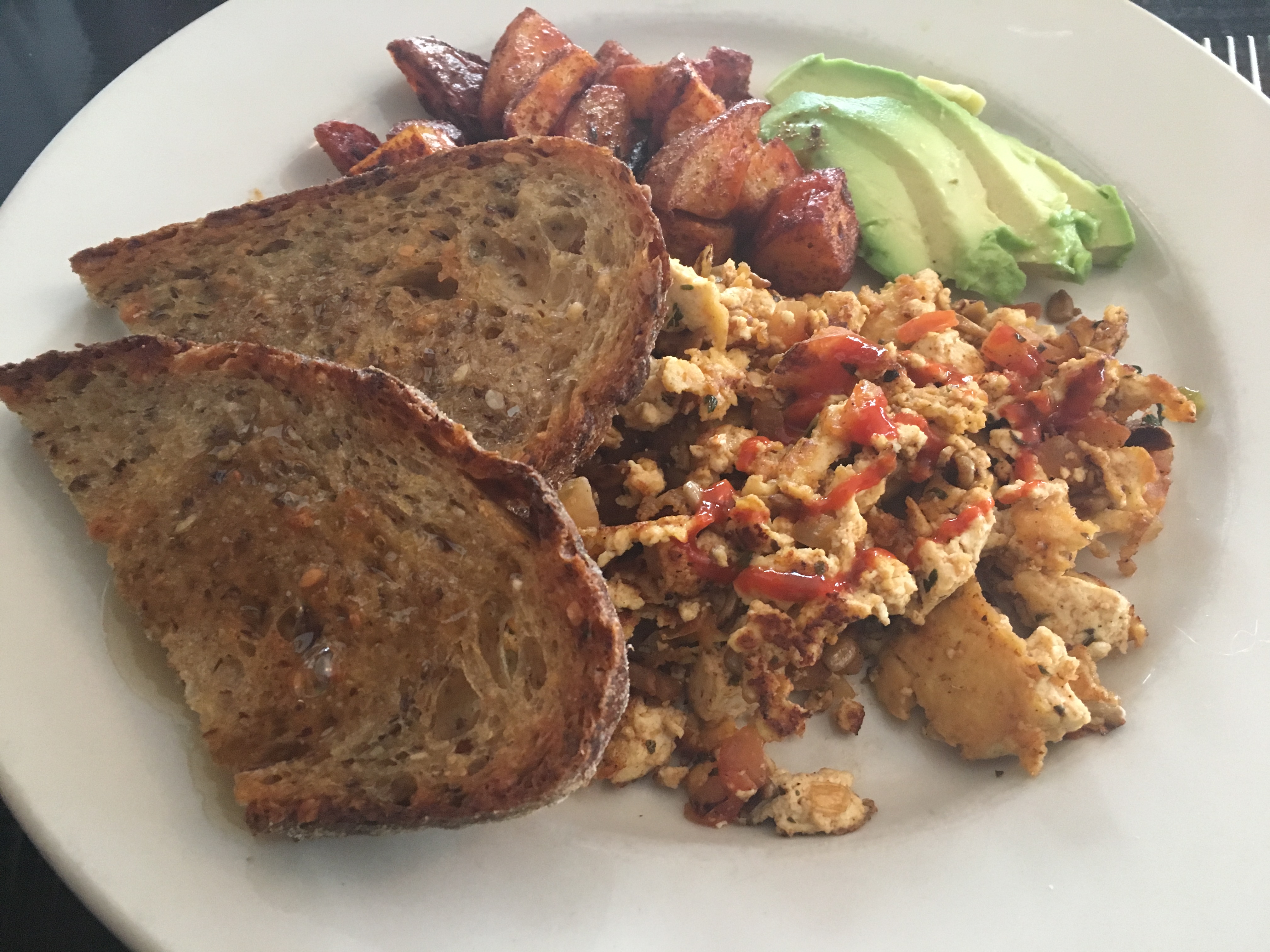 Waitsfield has a picturesque town center at Main Street and Bridge Street. Classic New England chapels are found throughout the region, as the one on Main Street.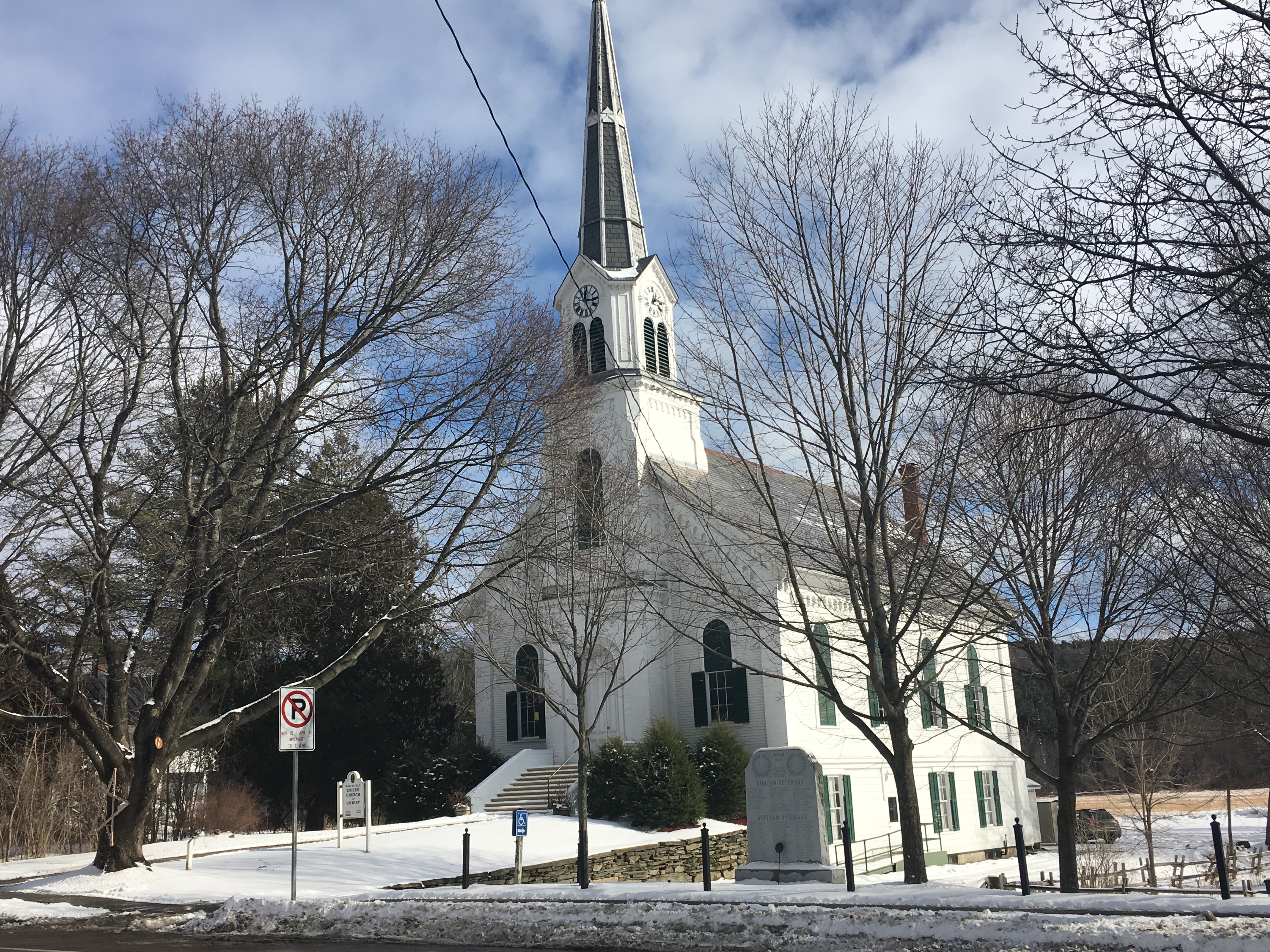 I stopped at a pottery shop on Main Street, where a local craftsperson created a variety of plates, bowls, mugs, and other ceramic goods in hues of blue, green, and other popular colors. My purchase was a small spoon rest for a kitchen counter.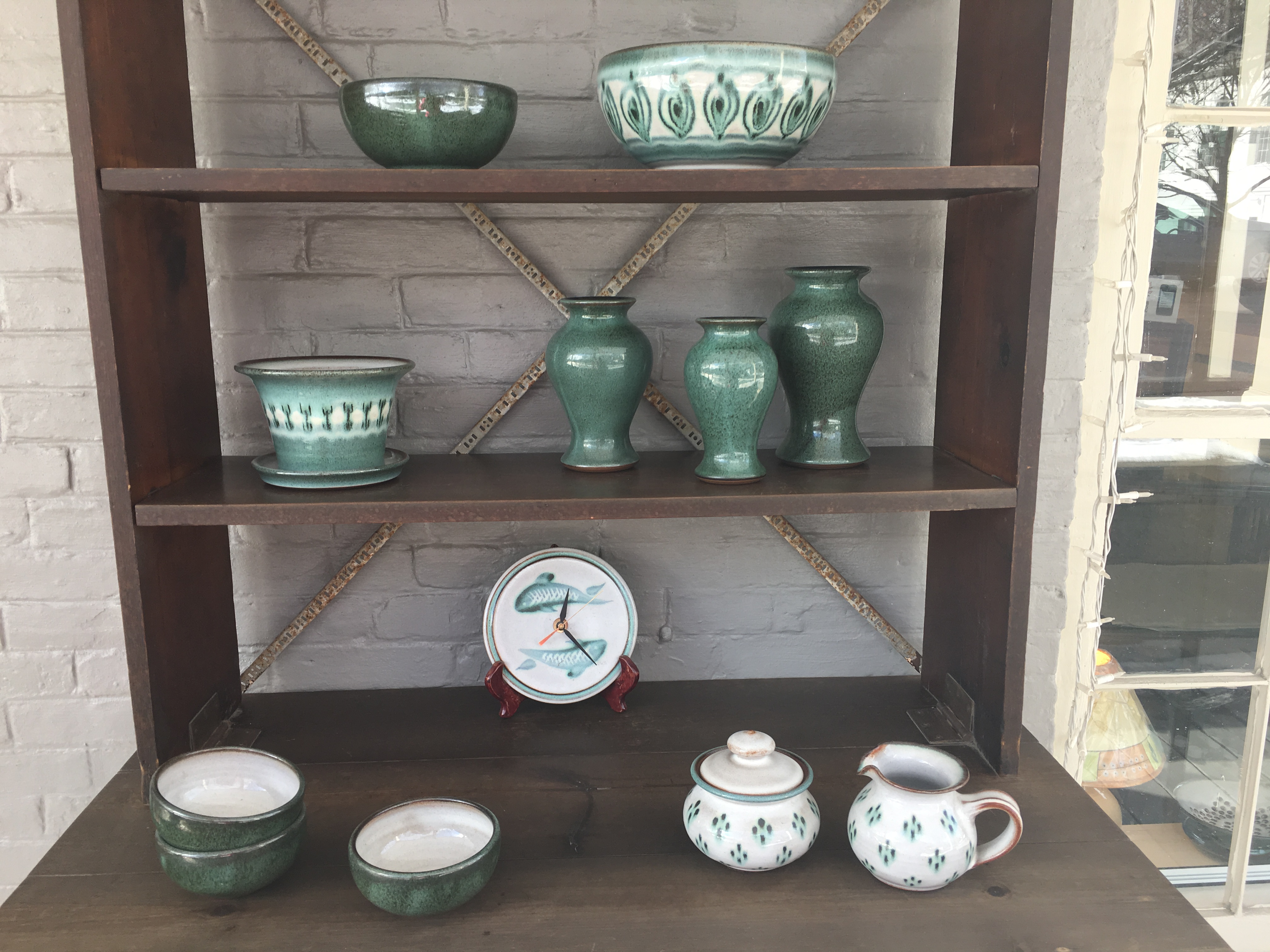 Along Bridge Street, clothing boutiques, art galleries, gift shops, and restaurants reside.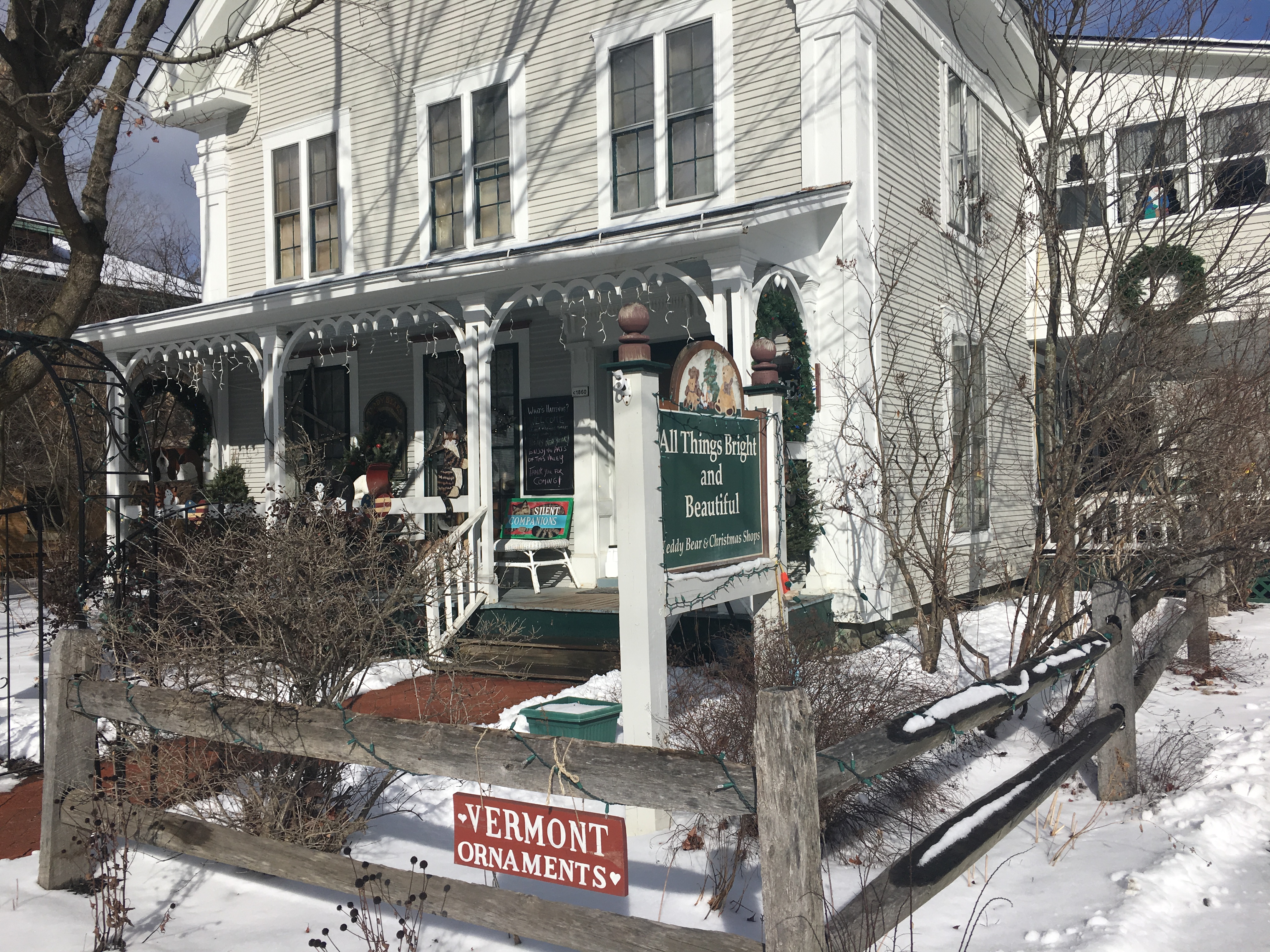 One of the galleries displayed beautiful contemporary works of art.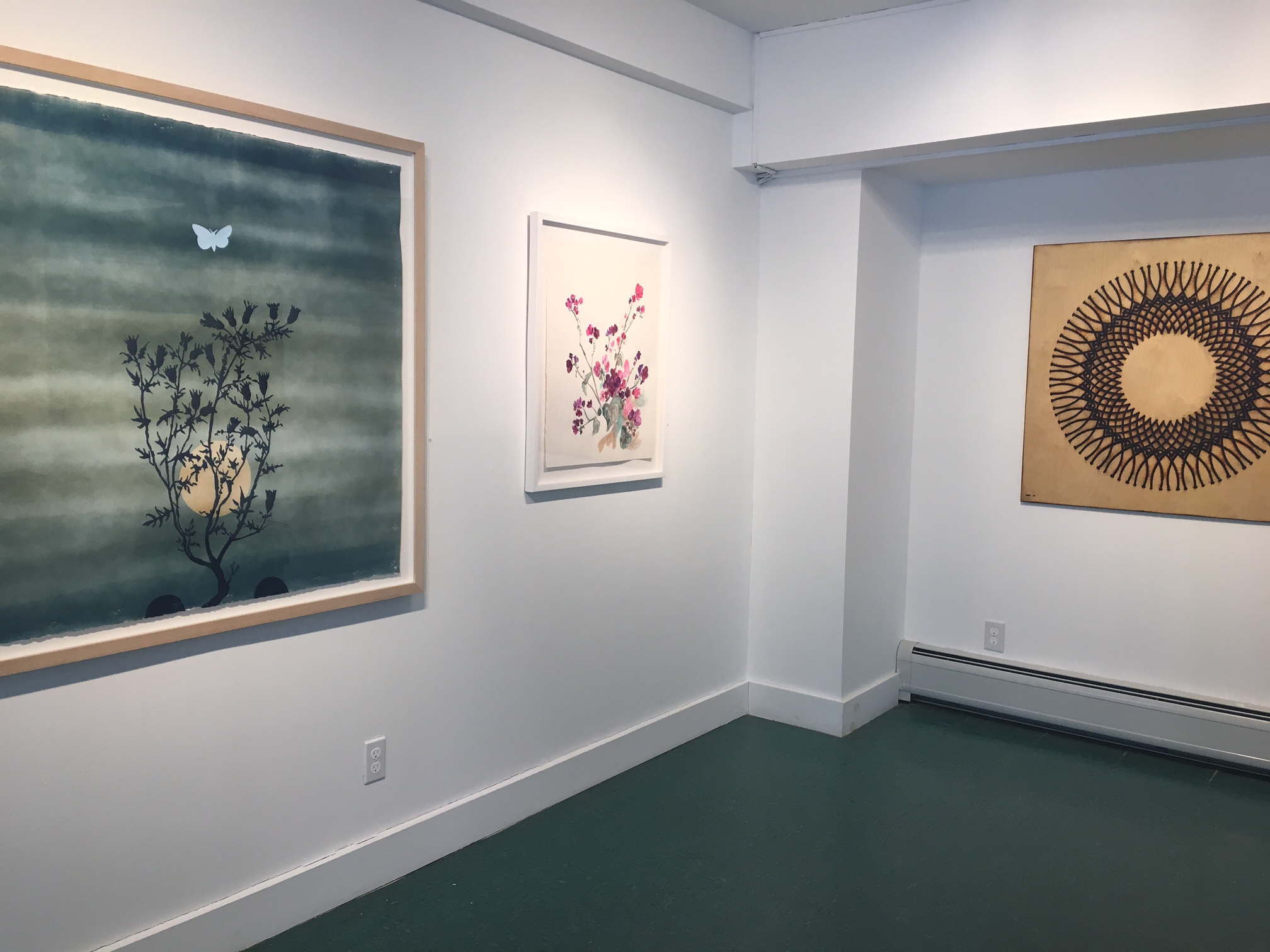 Vermont-made goods such as maple syrup, local cookbooks, and jewelry graced the shelves of the gift shops.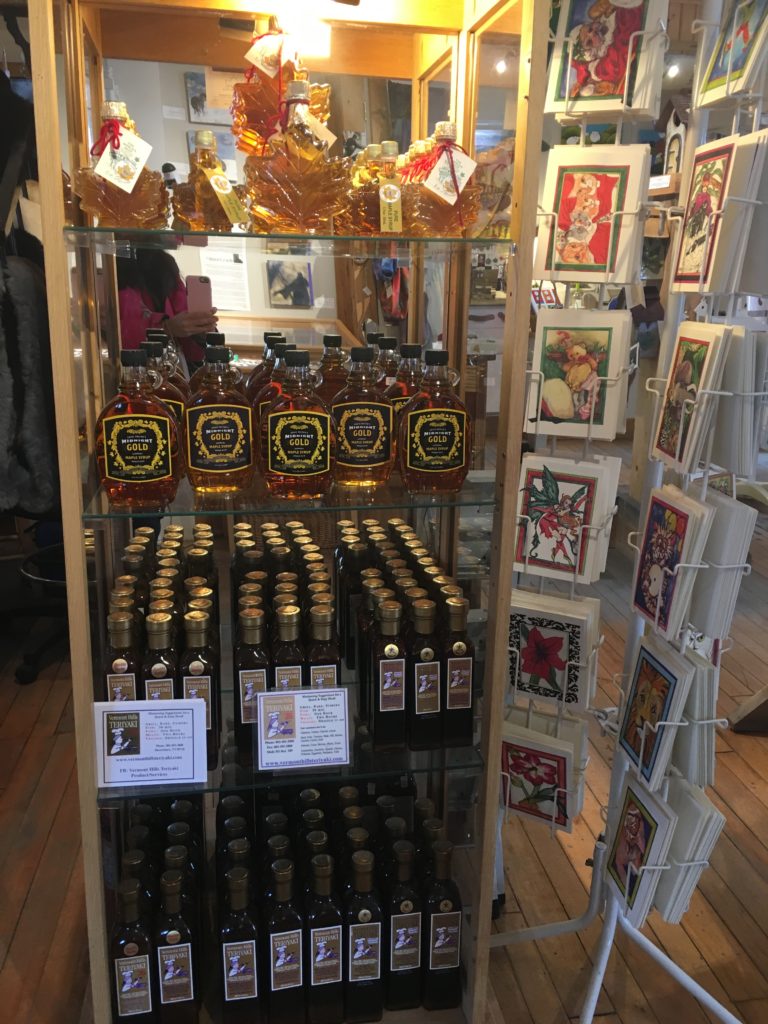 At the end of Bridge Street lies the Great Eddy covered bridge. This historic bridge, built in 1833, crosses the Mad River.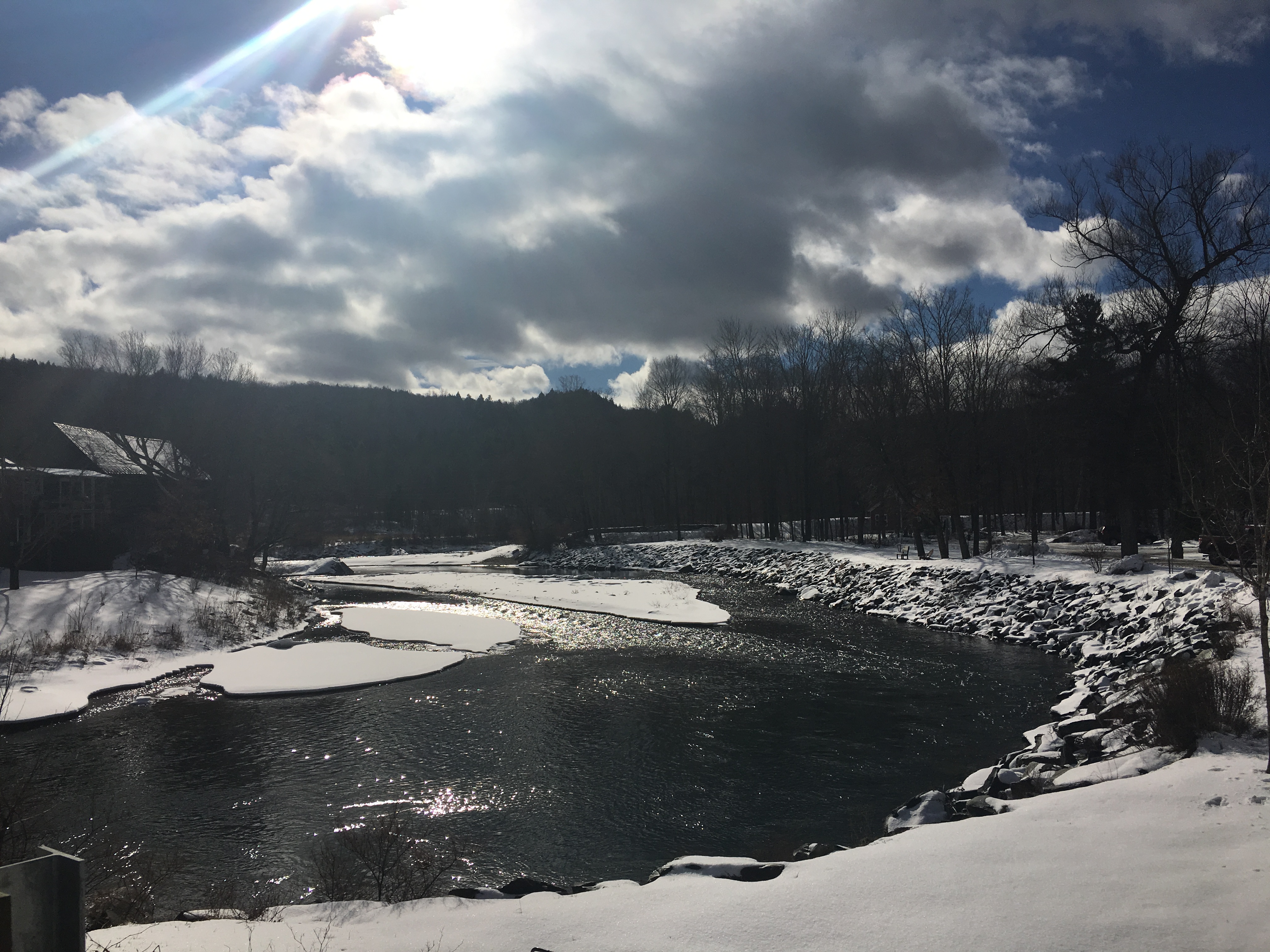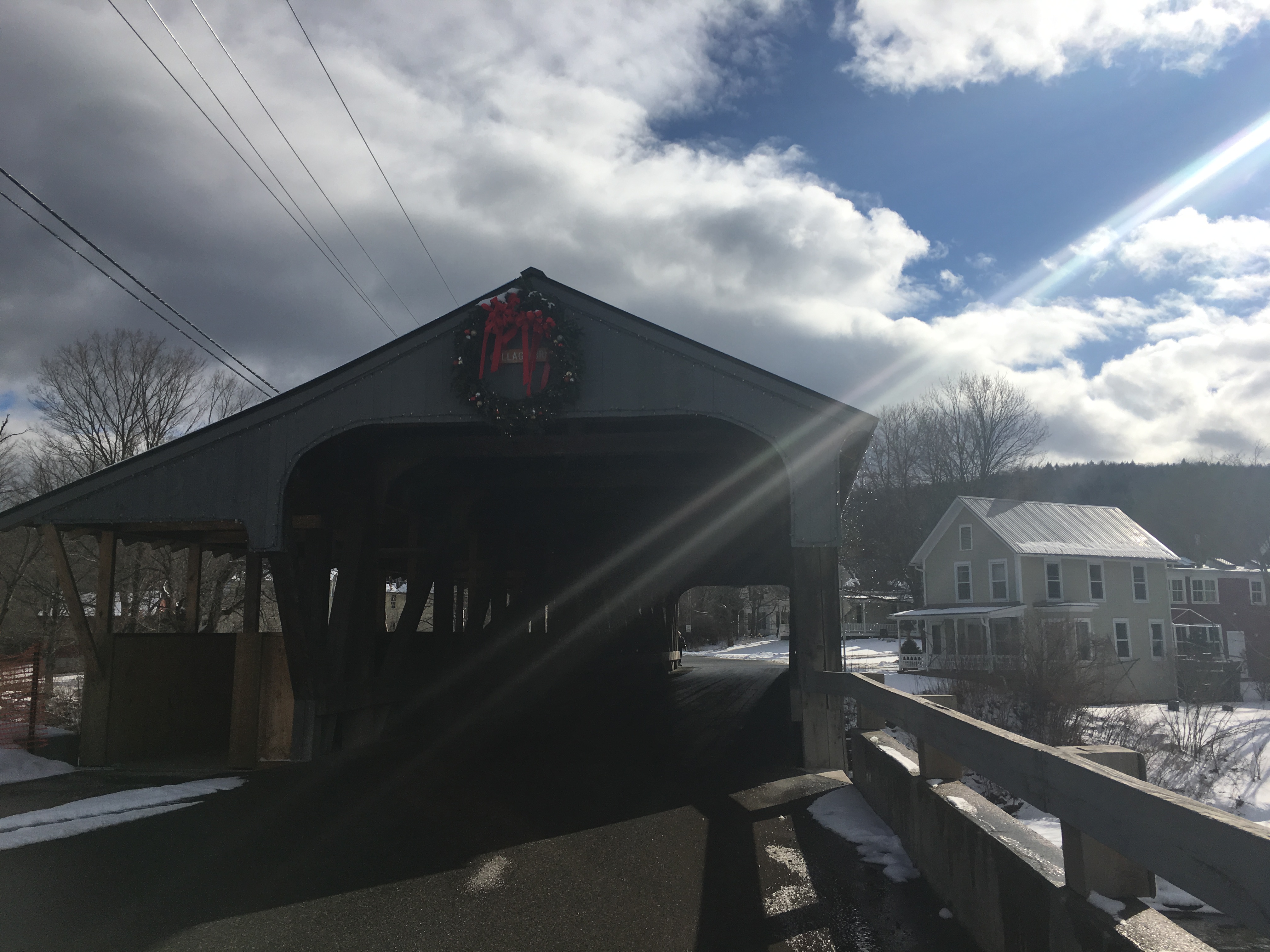 The Madisonian Museum Of Industrial Design also resides on Bridge Street. Every item in the museum's collection signifies good design and "best in class" for toys, kitchen appliances, stereos, vacuum cleaners, and many other goods from across the globe. Works by such famous designers such as Frank Lloyd Wright, Frank Gehry, Ludwig Mies Van der Rohe are found among the many displays.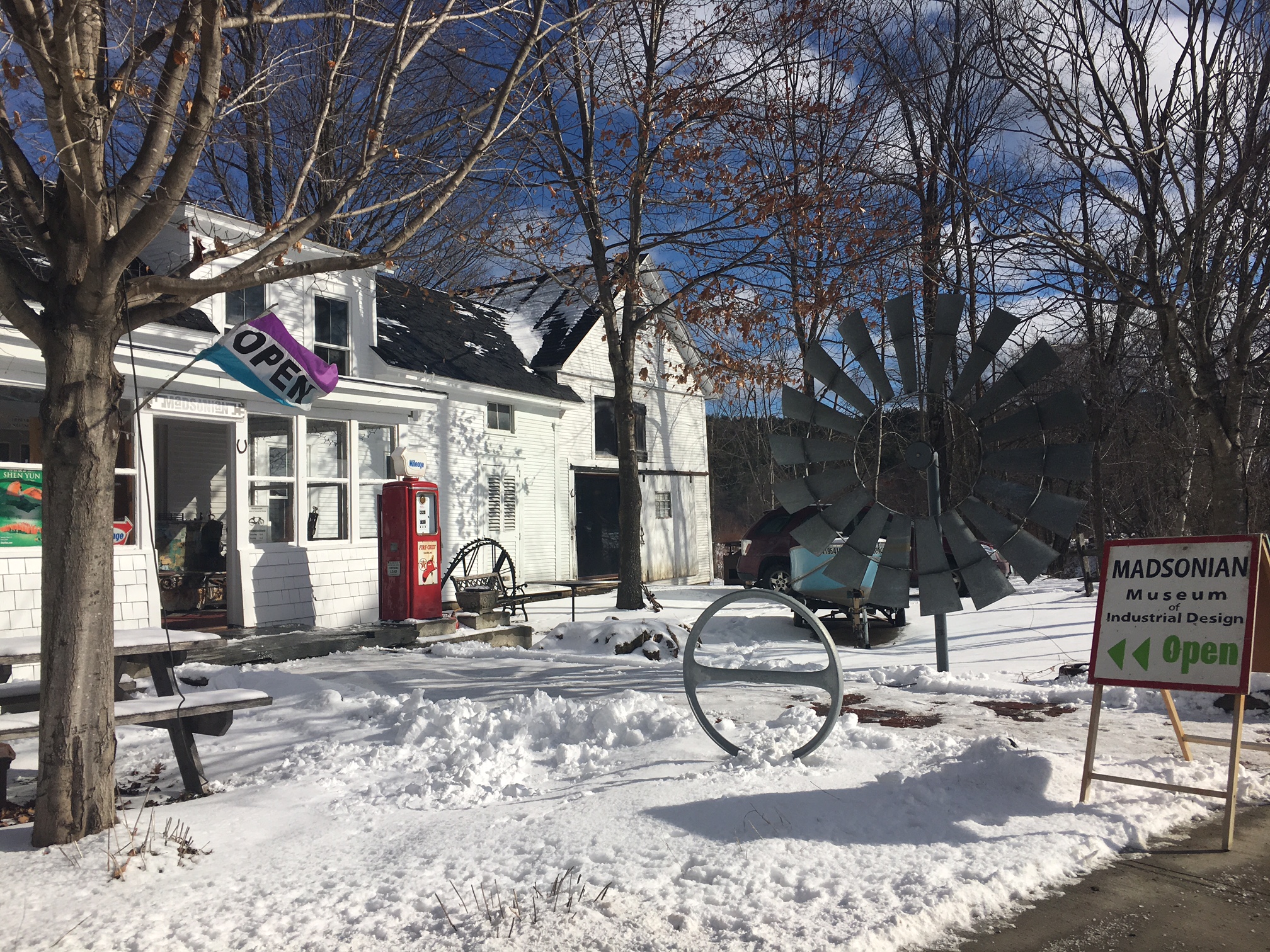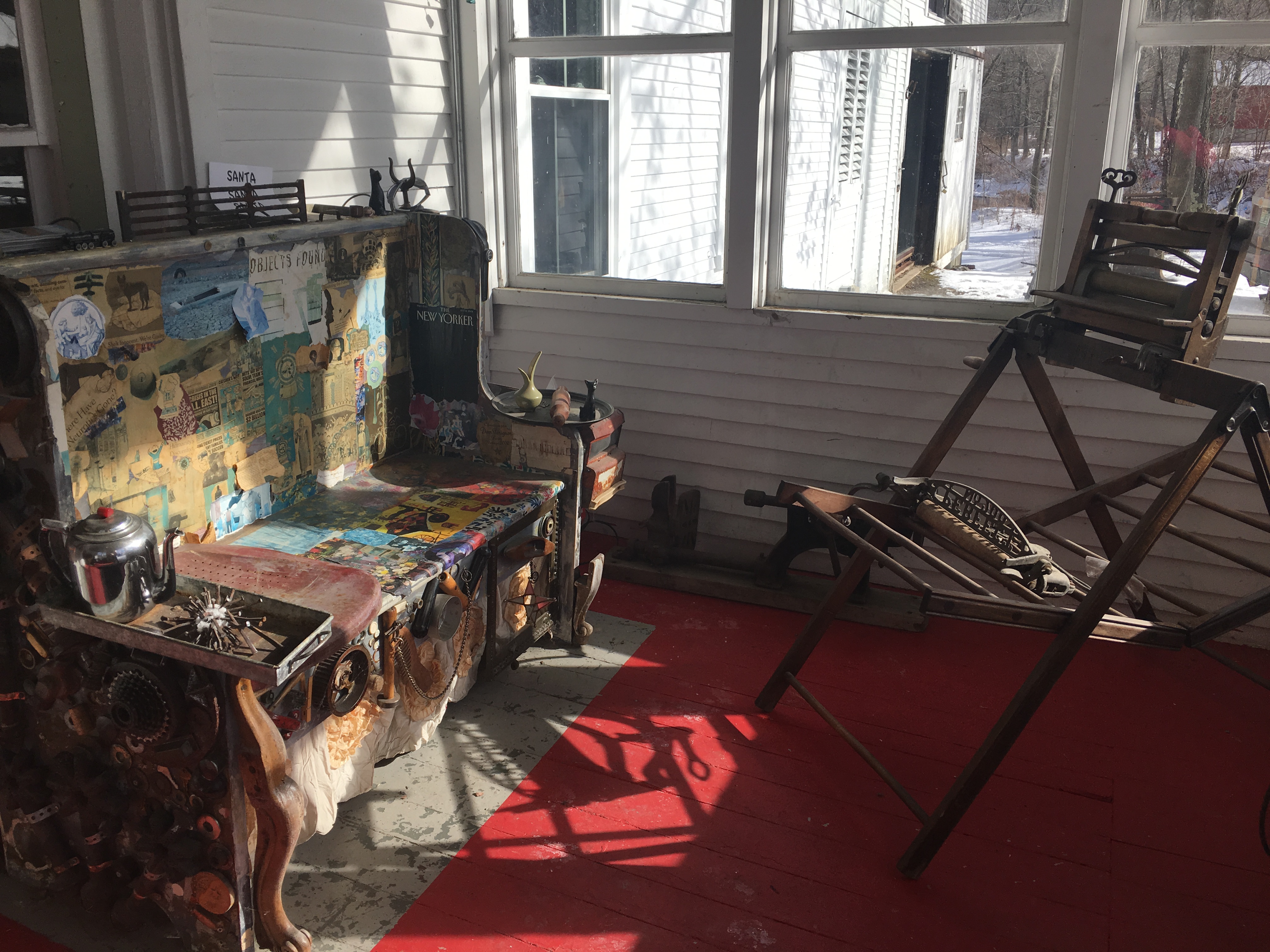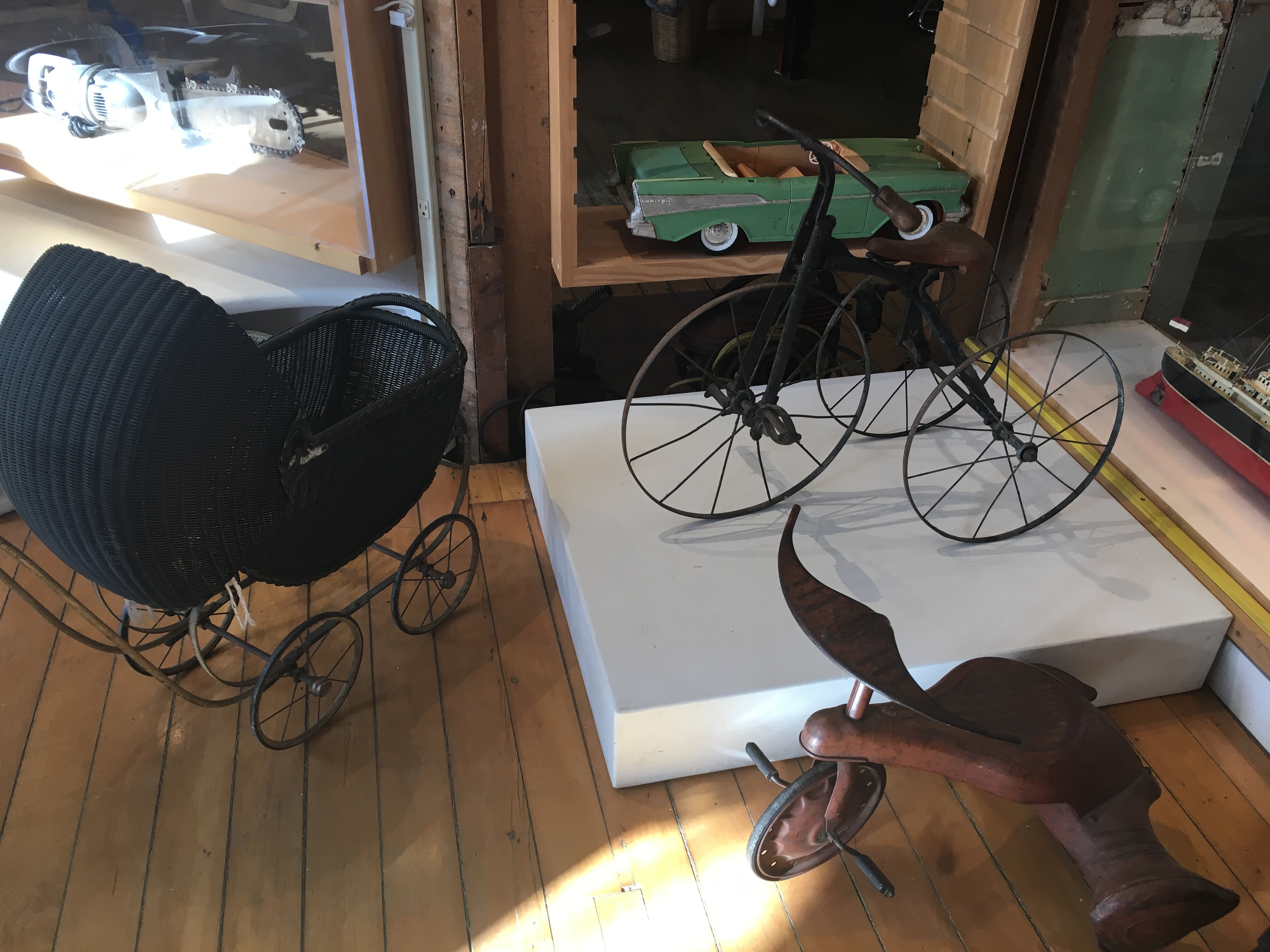 Washing machines, tvs, sewing machines, and other products that span many decades; leave the visitor in awe. I highly recommend a visit to this truly unique and enticing museum.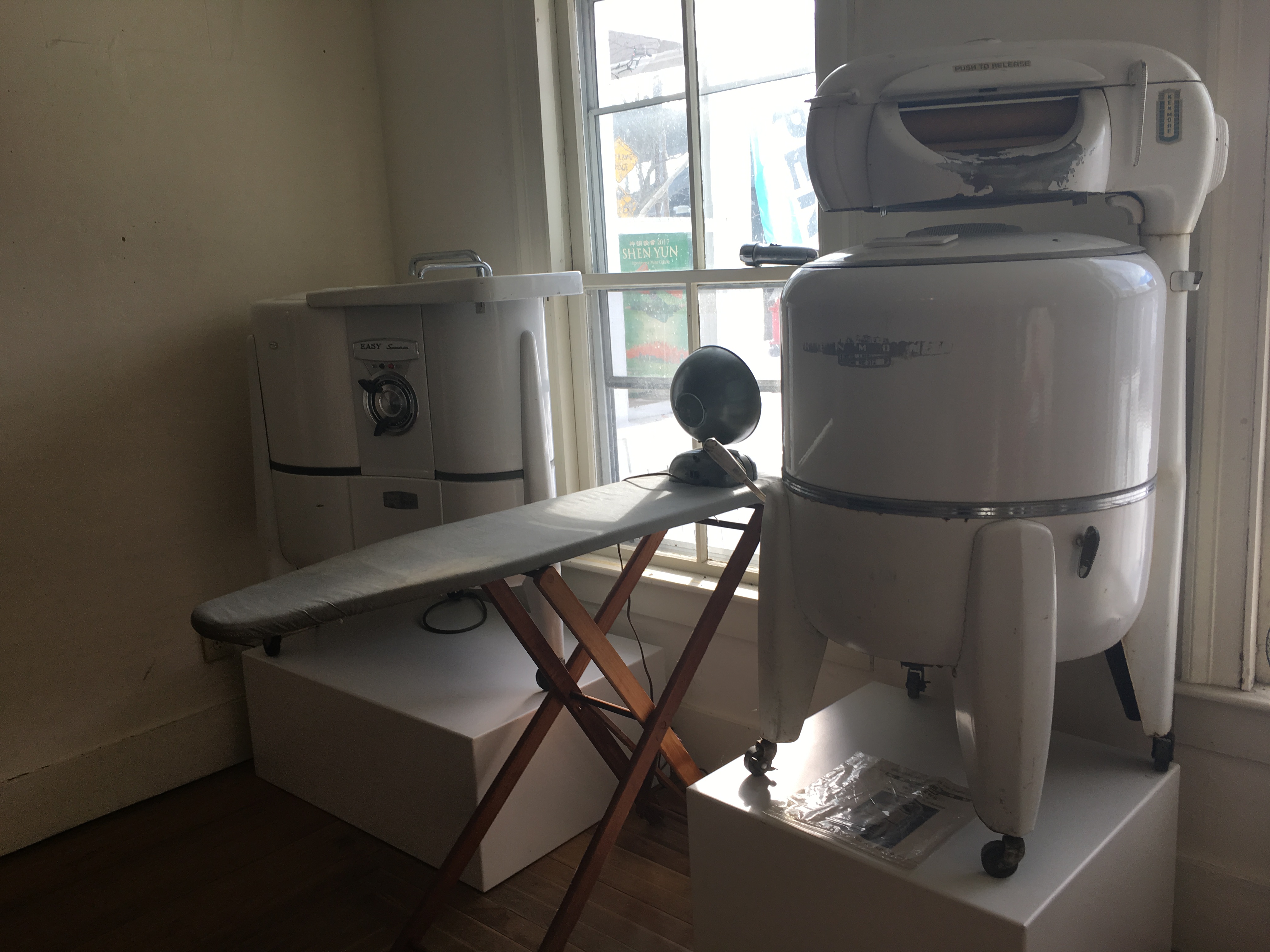 Waitsfield Village Grocery(Village Grocery) is a general store located at the Mobil gas station stop on Main Street in Waitsfield. My main reason for visiting the grocery was to track down the vegan treats from the Liz Lovely cookie company, originally based in Waitsfield(now located in another town in Vermont). A display sign hovered above the woven basket filled with her wonderful vegan cookies. I bought a peanut butter chocolate cookie and a box of chocolate covered vanilla cookies. Both were quite tasty!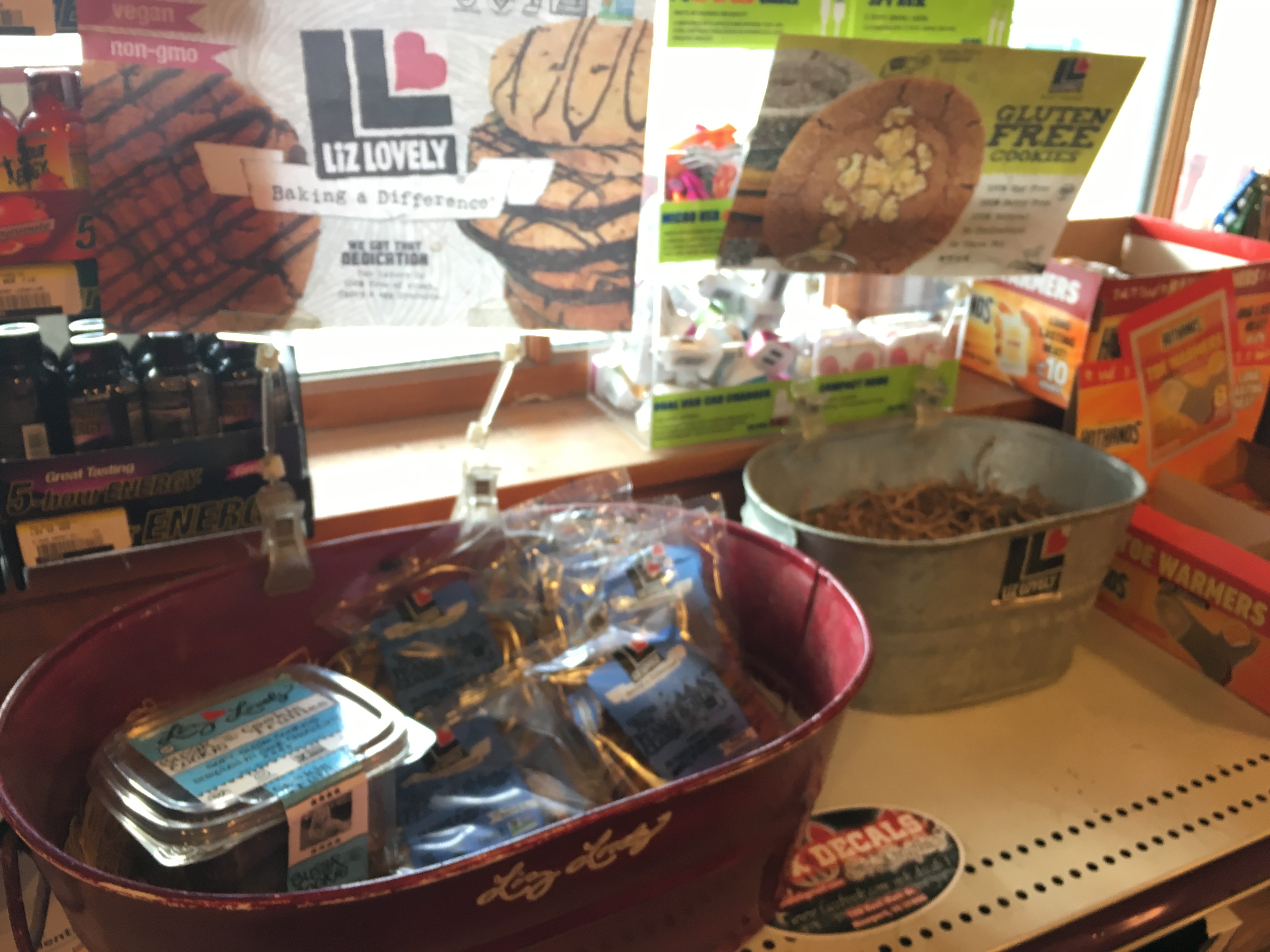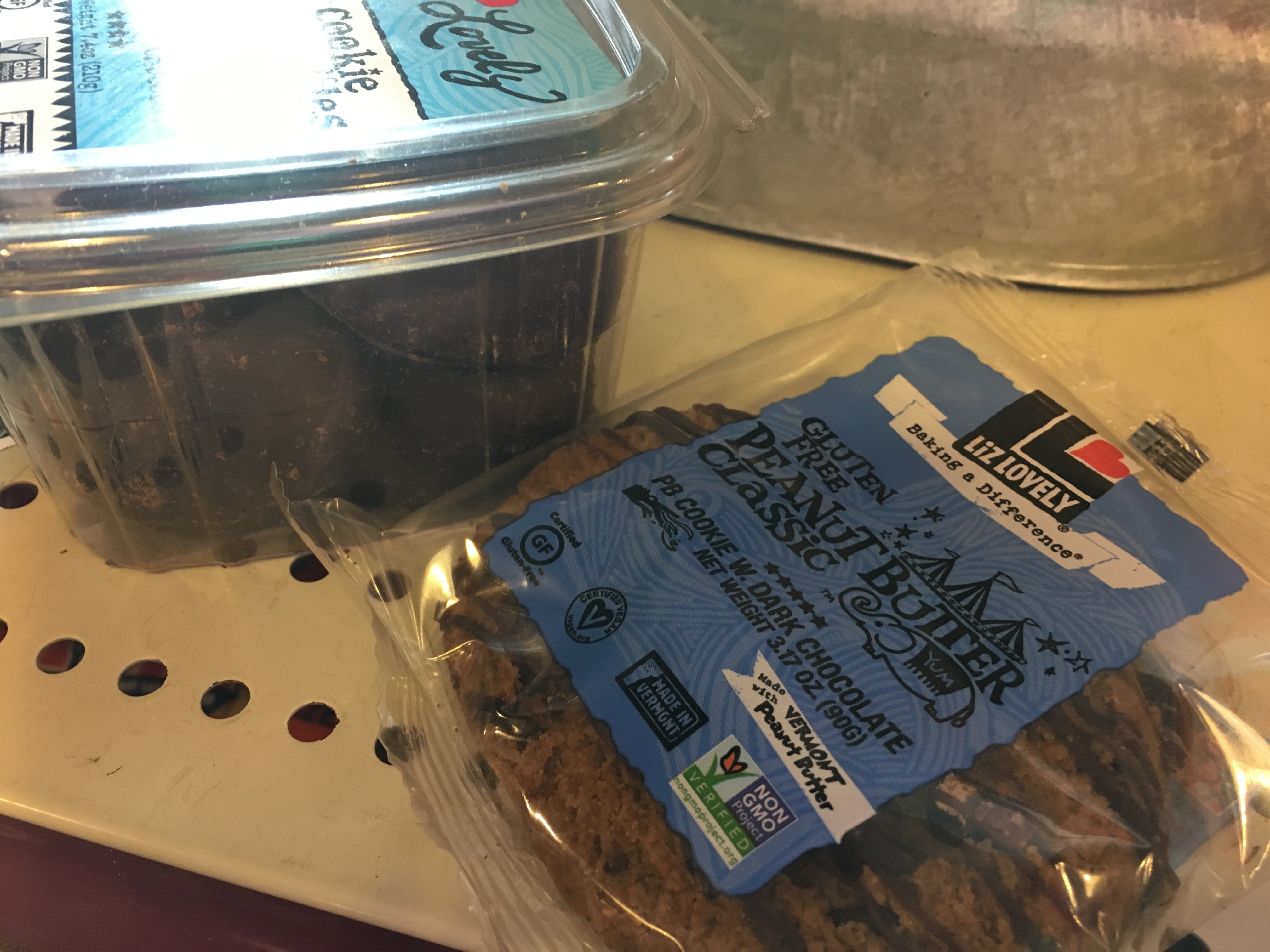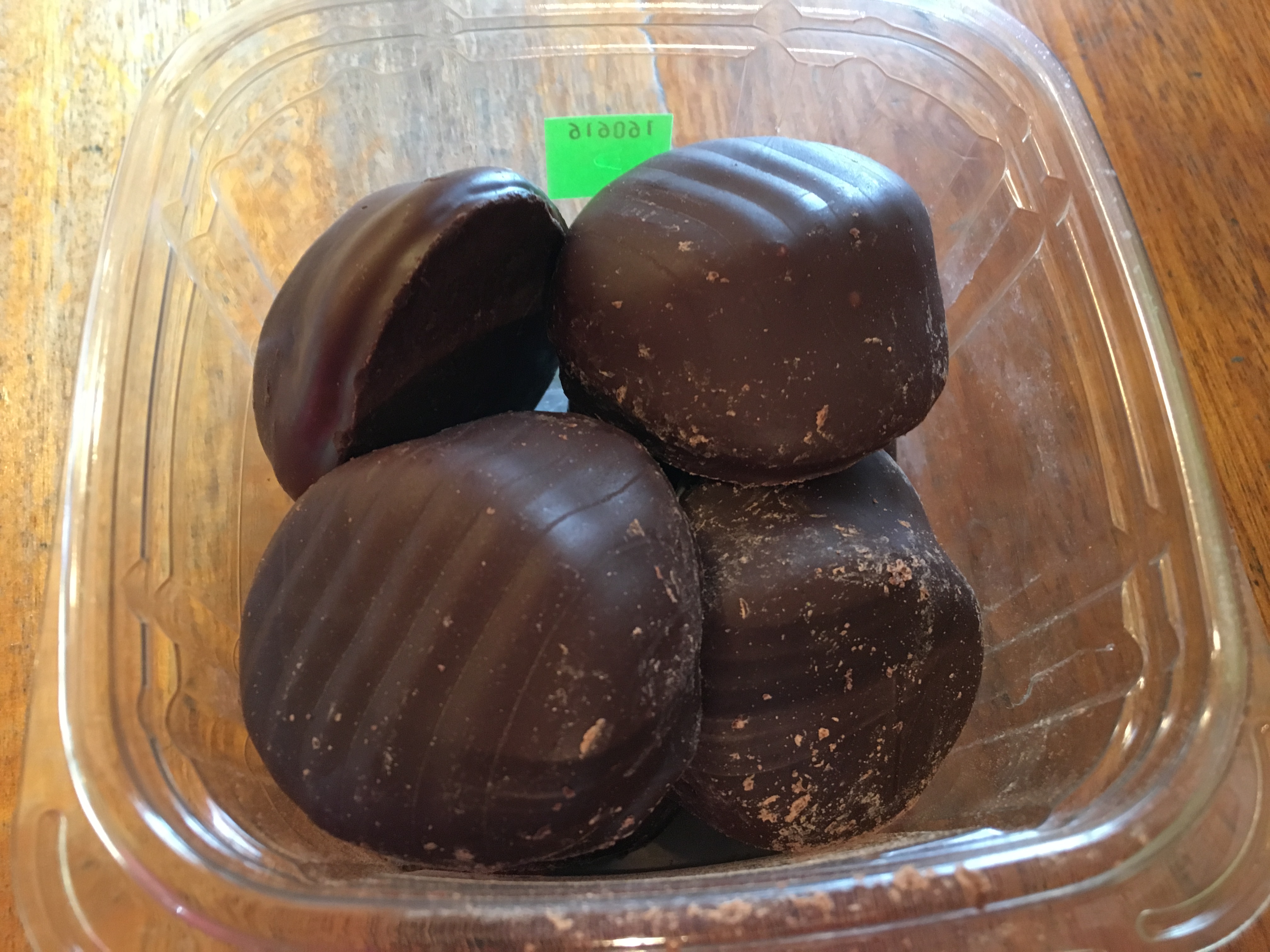 After my cookie stop, it was time to grab some lunch. The Mad Taco(The Mad Taco) is a popular Mexican restaurant in Waitsfield. They provide a few vegan choices for diners. I opted for the roasted yams tacos with lack beans, slaw, cilantro, and seitan. My lunch was really good.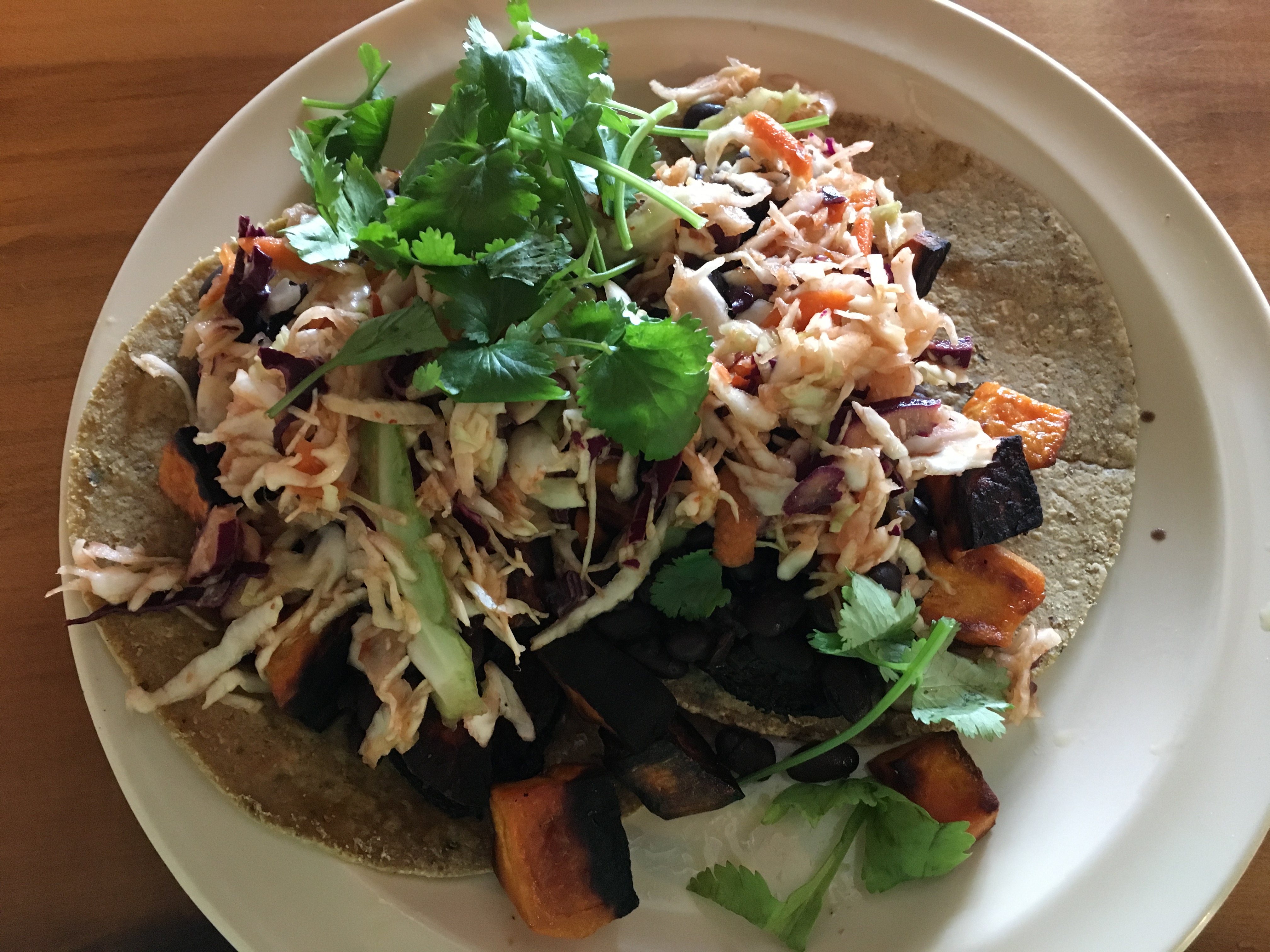 Next up on my agenda was "The Warren Store". This sought-after tourist attraction in the town of Warren, sells everything from locally made Vermont clothing and jewelry to snacks and kitchenware goods.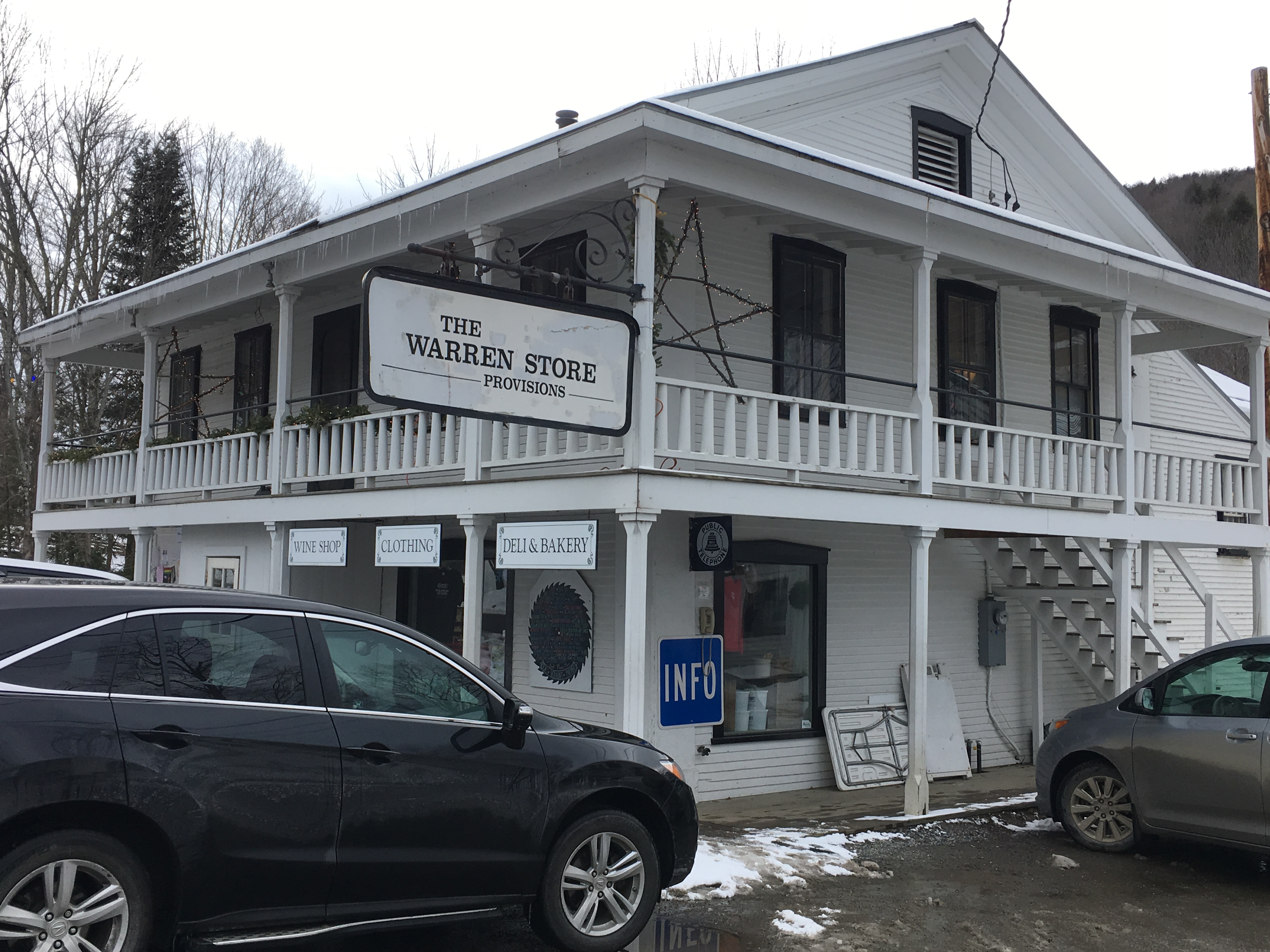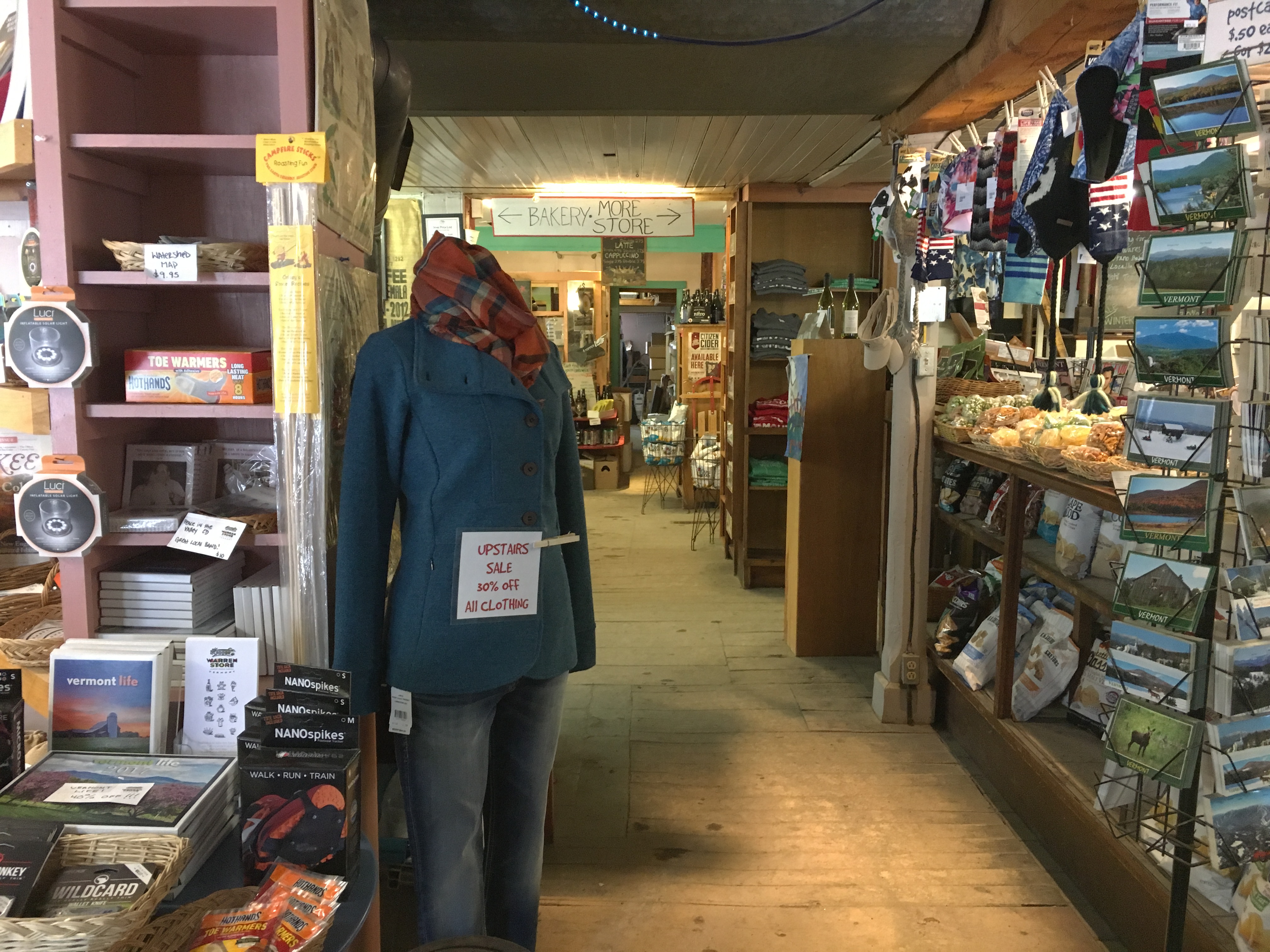 I found some vegan candy bars there, as well!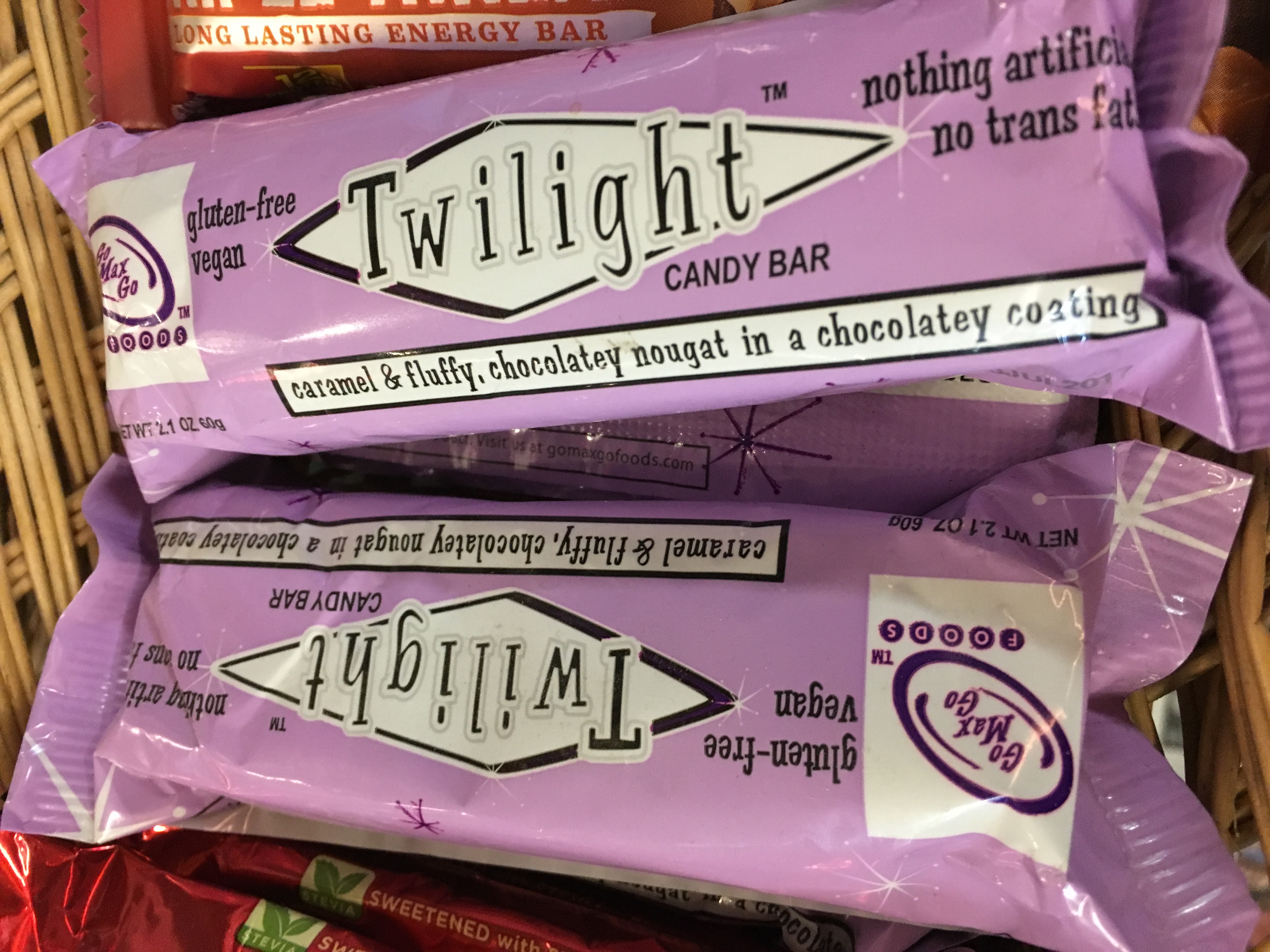 On the upper level, a clothing and accessories department includes vegan handbags and wallets.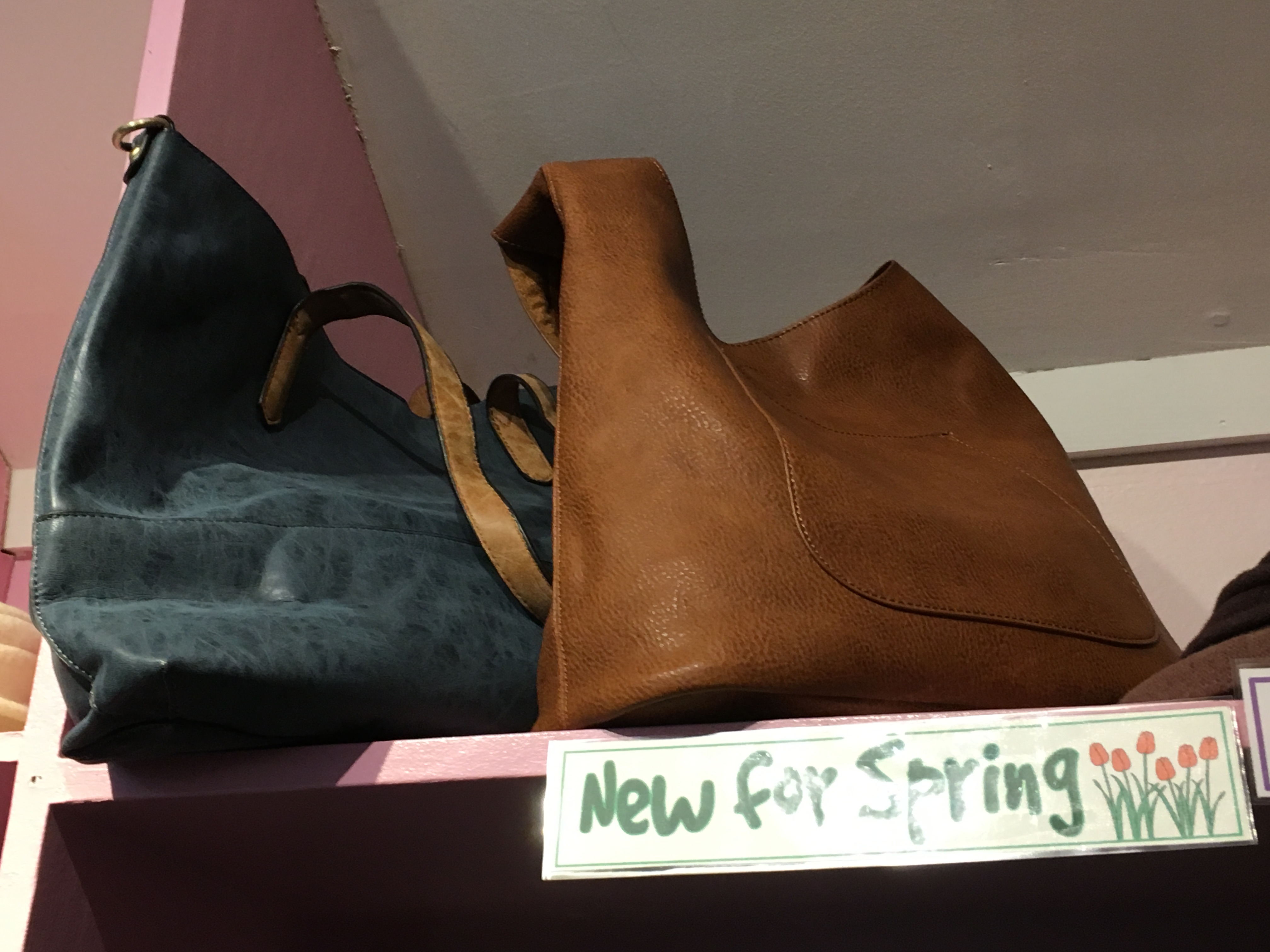 Of course, some pretty cool Vermont memorabilia goods are available for purchase as gifts or souvenirs.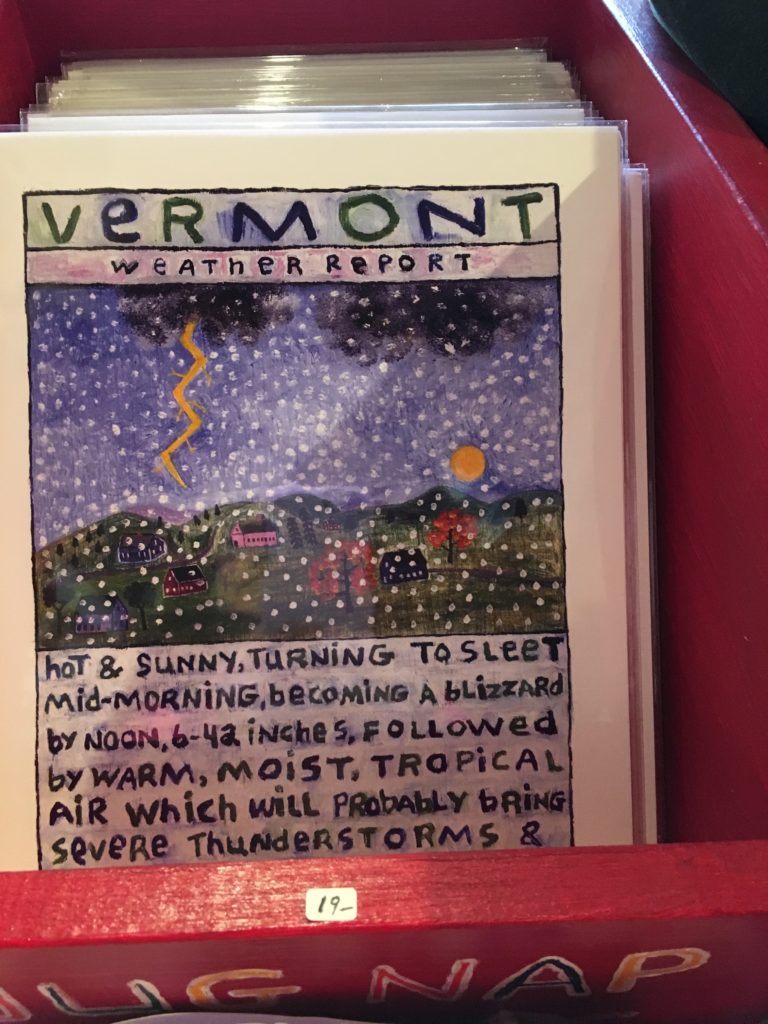 It was time for some healthy exercise in the wilderness! Blueberry Lake, in the town of Warren, provides cross country ski trails among a captivating wooded terrain. Whether you bring your own skis or get rentals at the visitor's center, trails are available for every skill level.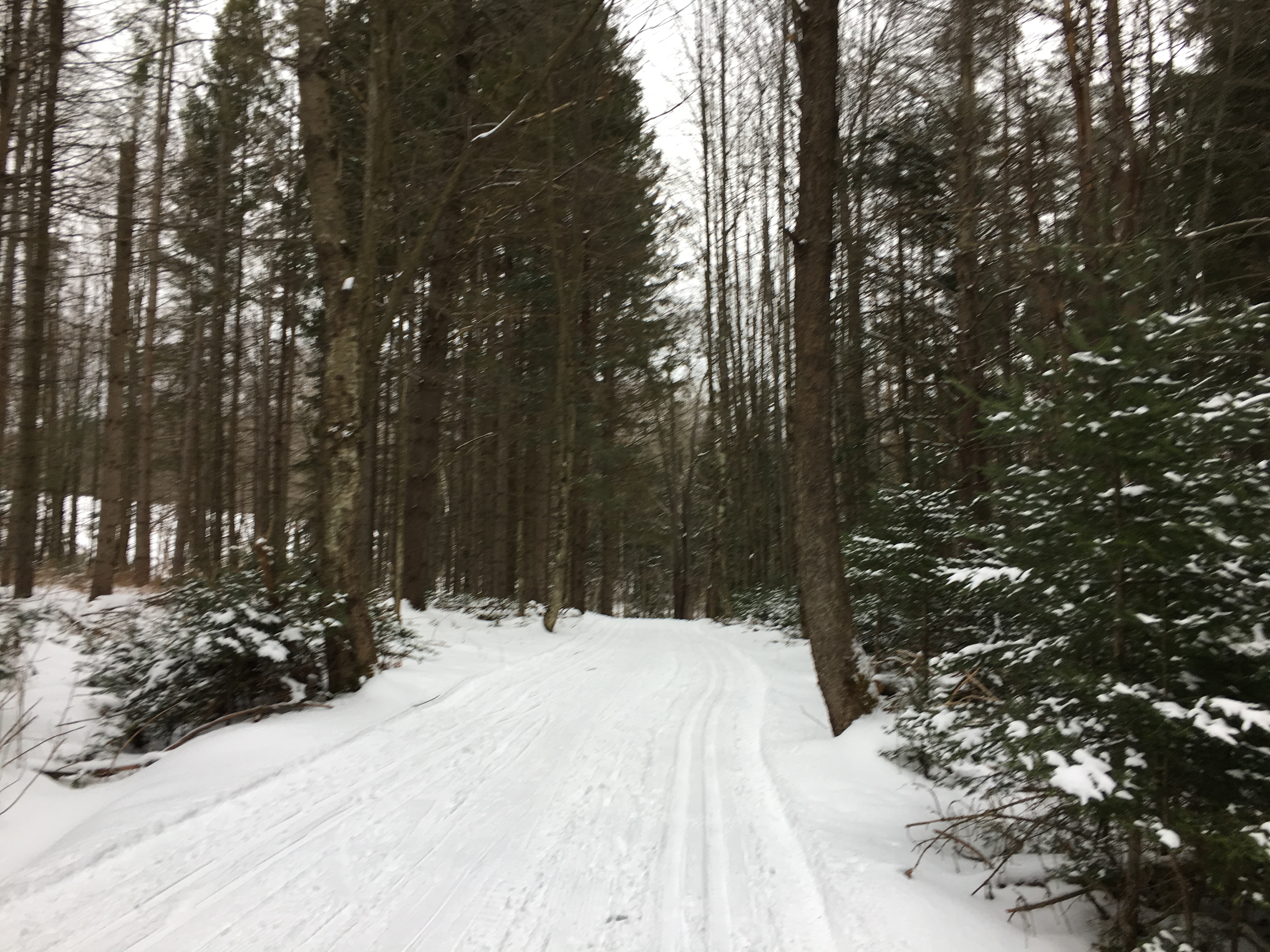 My afternoon activities culminated with a guided twilight snowshoe tour at Sugarbush Ski Resort in Warren. We took a chairlift to (almost) the top of the mountain. Our guide educated us regarding the various flora and fauna, as we snowshoed down the mountain.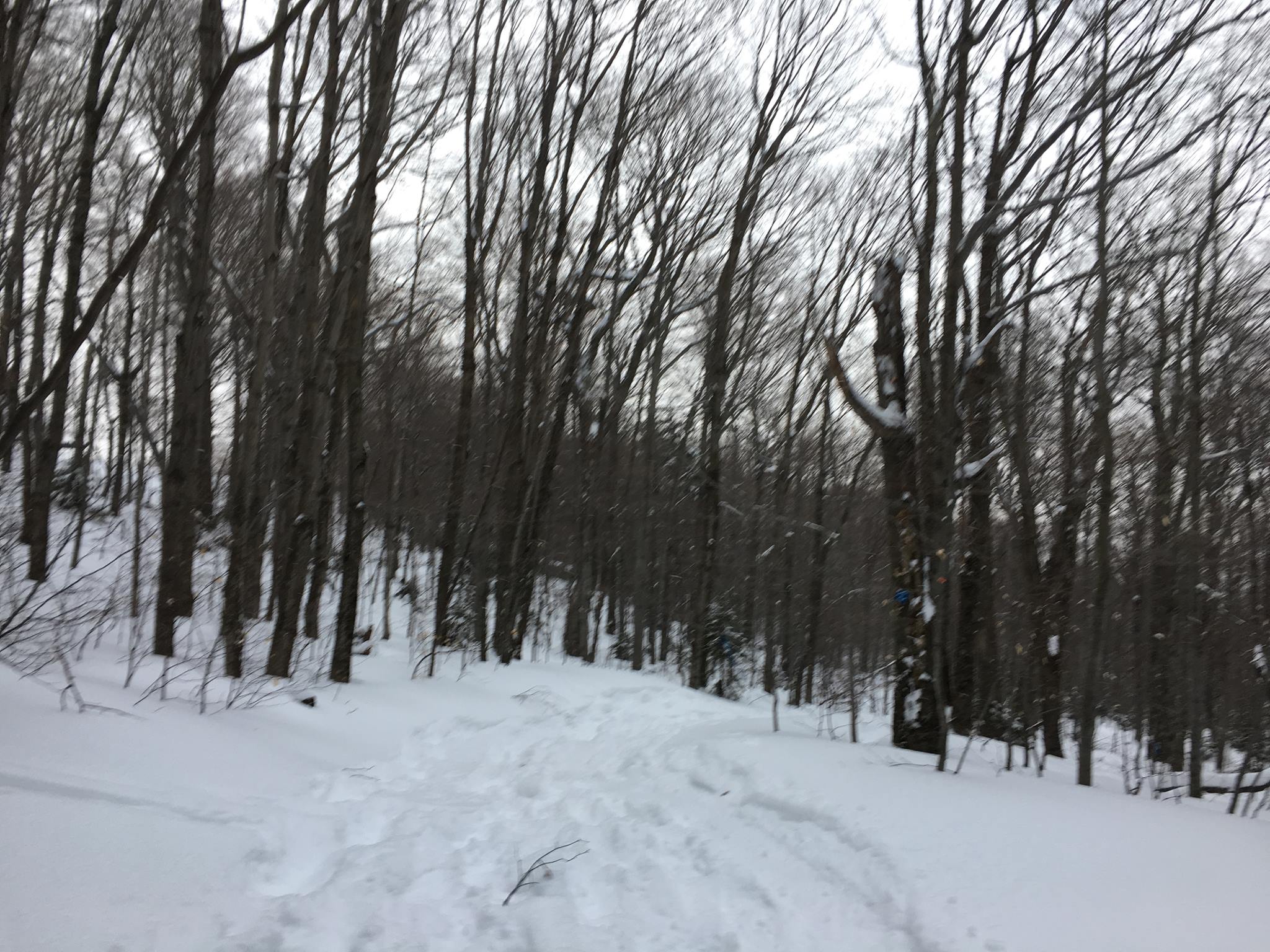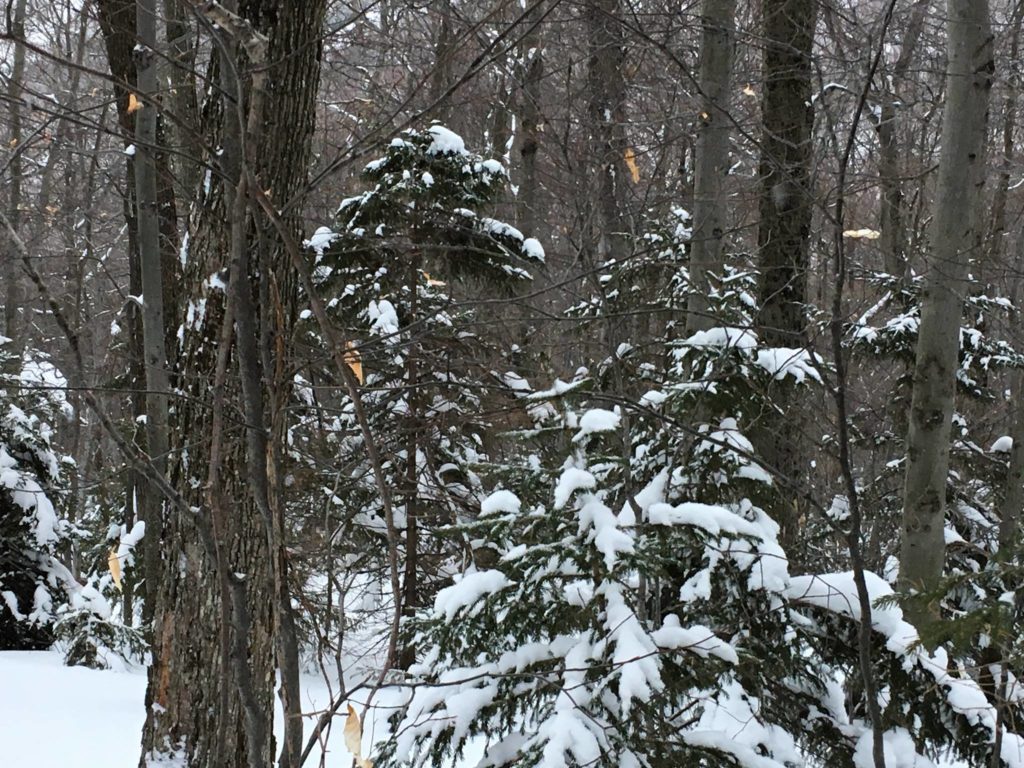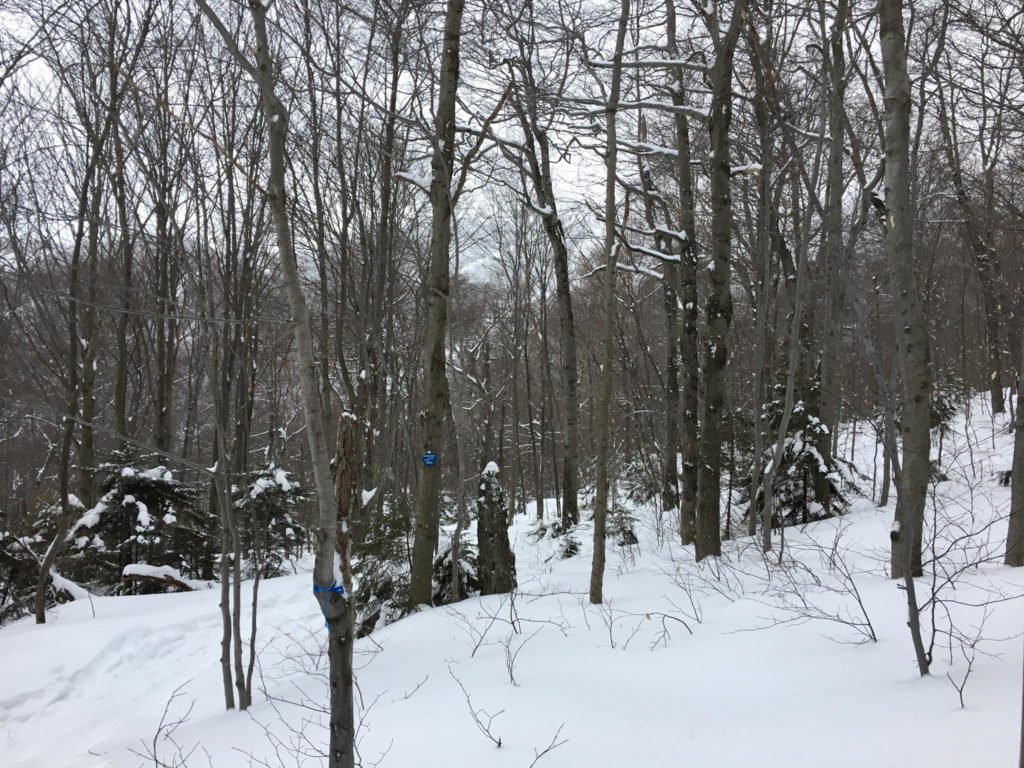 We identified lengthy bear tracks on the trunk of a tree.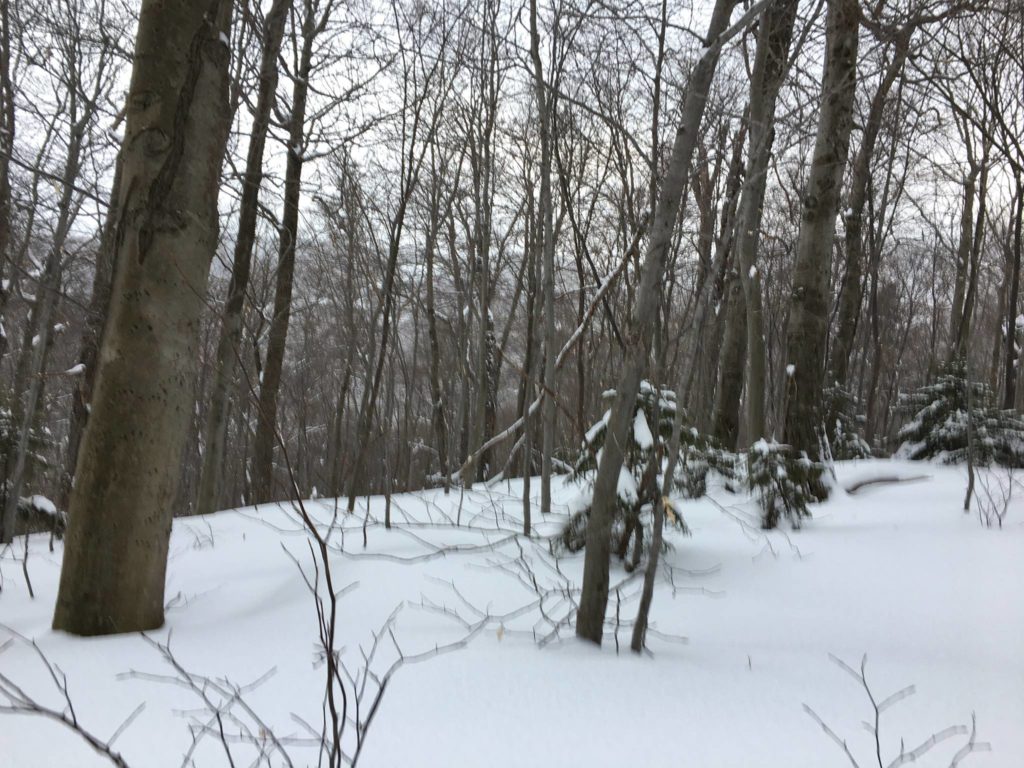 Deep oval holes from Woodpeckers also were clearly visible on several tree trunks.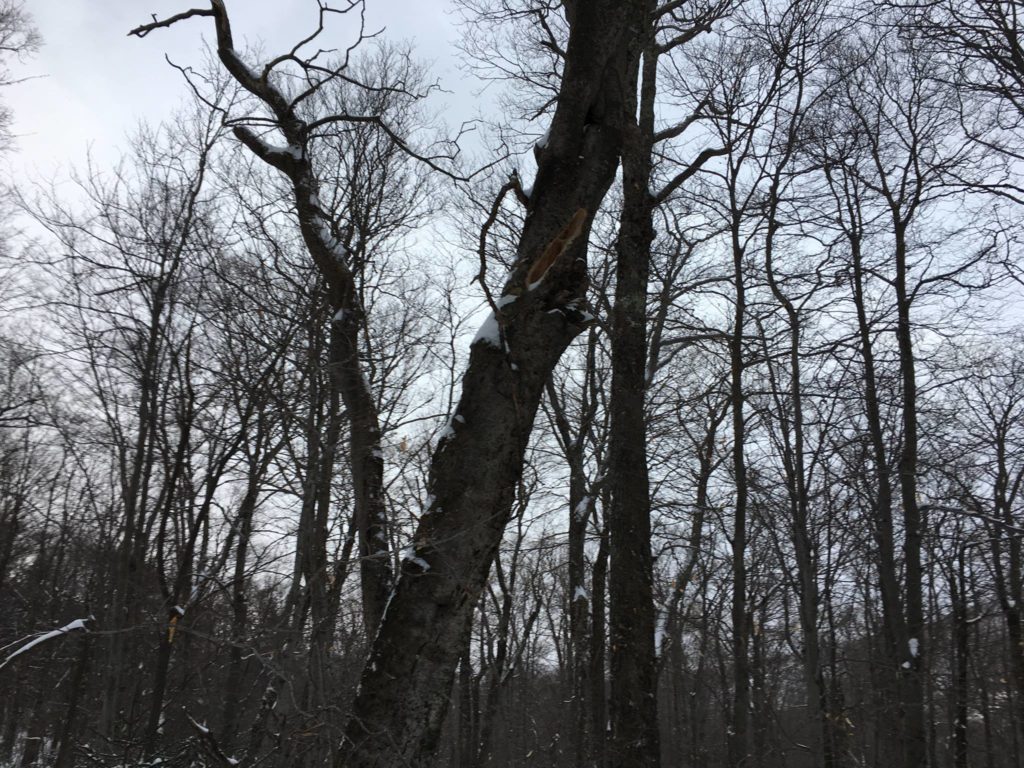 As the late afternoon turned to dusk, we turned on our headlamps to complete the invigorating hike back to base. We jumped over babbling streams, shimmied under fallen tree trunks, and made our way down the winding and steep forested terrain. I enjoyed the picturesque snowshoe tour immensely.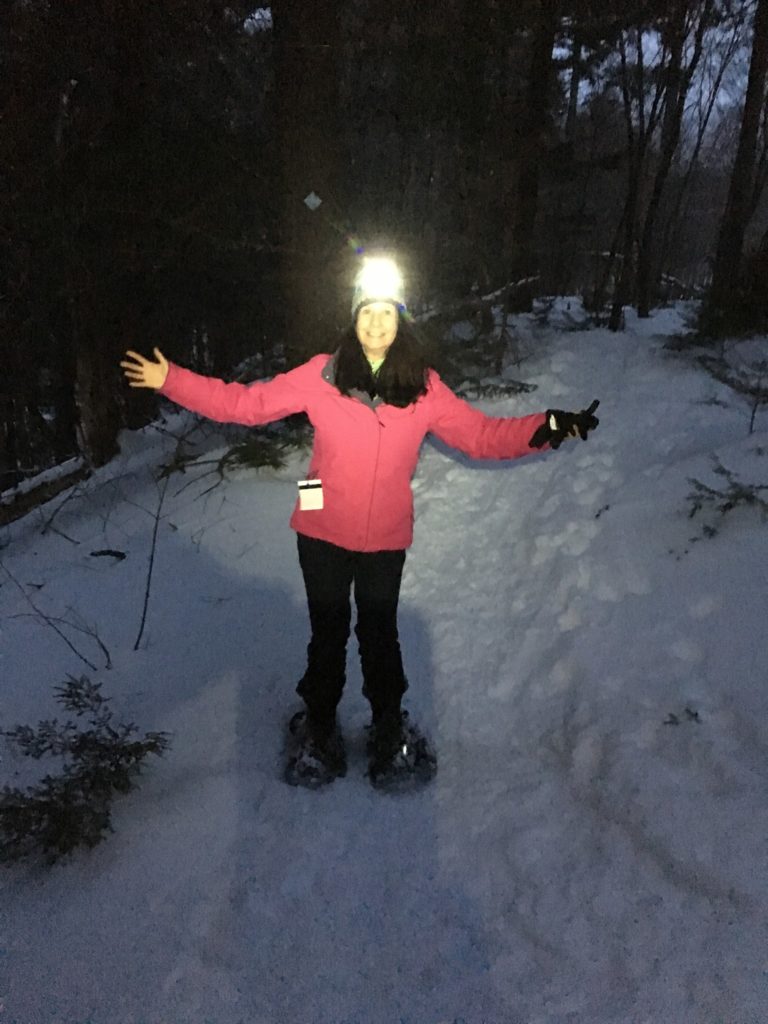 My thoughts turned to dinner at this point, so I drove back to the adjacent town of Waitsfield for my evening meal. The shops and restaurants of Bridge Street were now illuminated with warm white lights to brighten a winter's eve. Shining bright stars light up the Mad River Valley.

Mint Restaurant(Mint Restaurant) is an upscale vegetarian/vegan restaurant that serves eclectic gourmet fare.
I selected socca chickpea pancakes topped with olive spread and roasted eggplant, as my appetizer.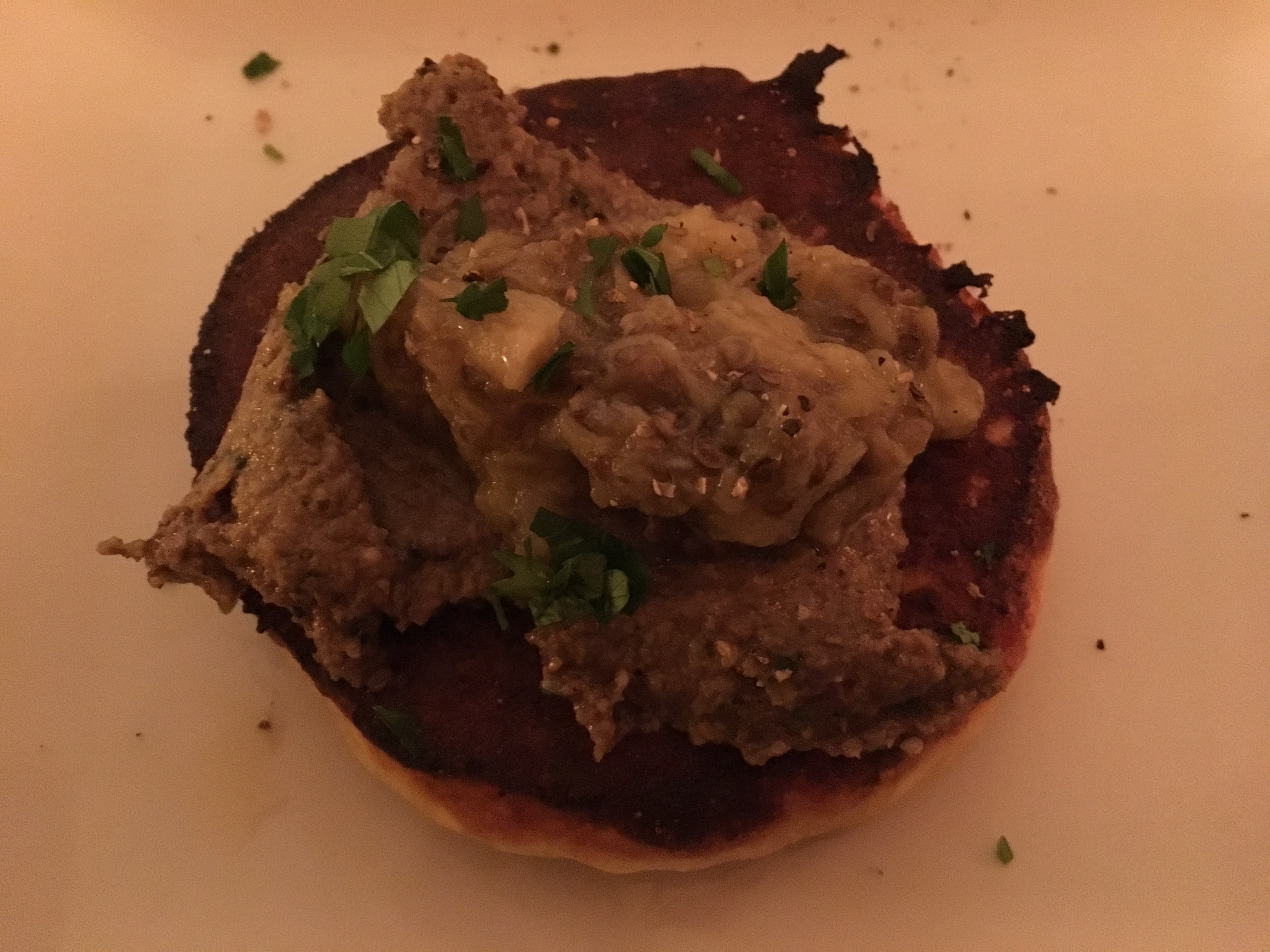 My entree was the brown smoked apple sage vegan sausage, with brussel sprouts, potato, and sauerkraut.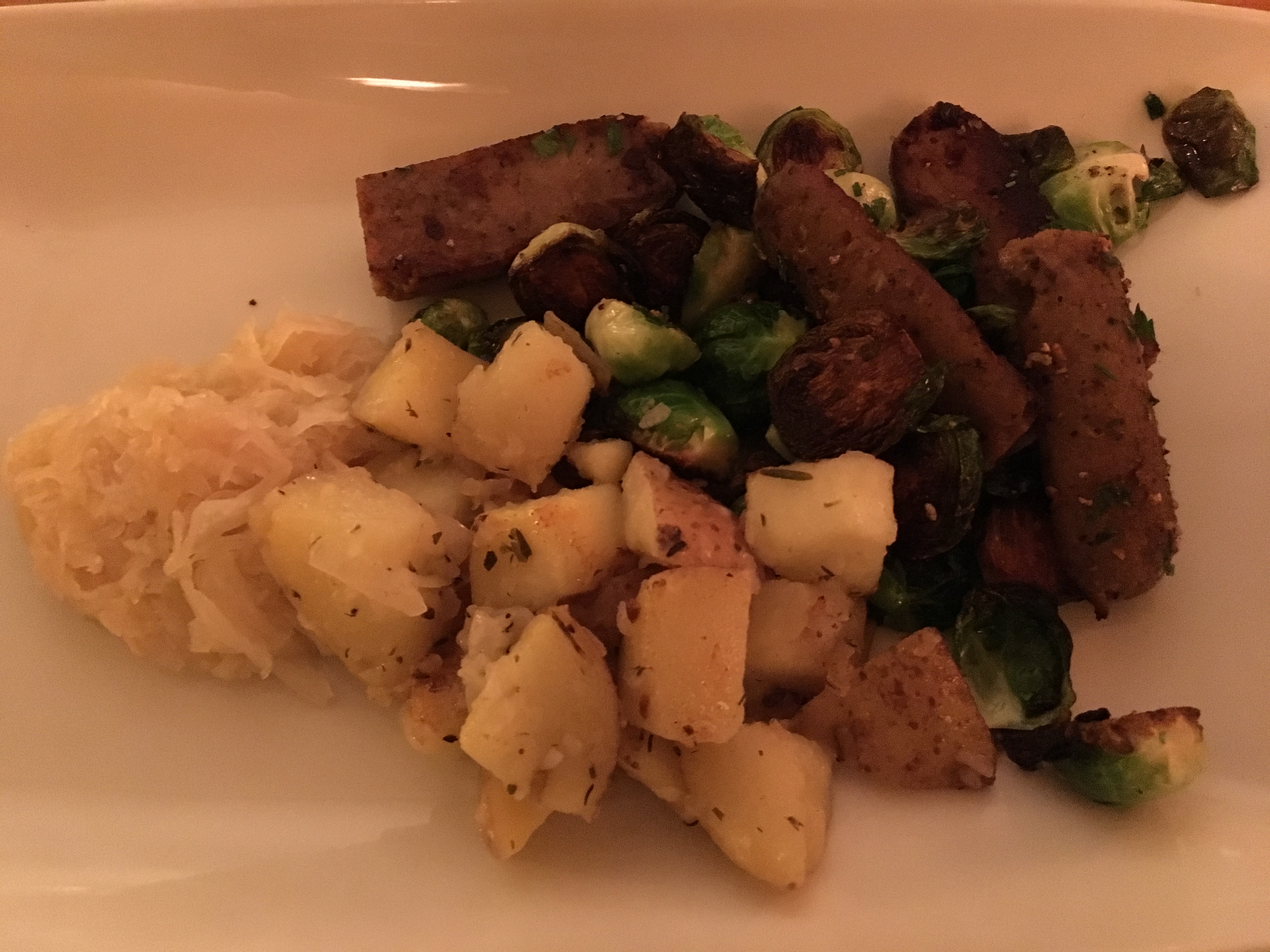 For dessert, I chose the whipped chocolate with Belgian chocolate, coconut cream, and vanilla. The entire meal was incredibly delicious.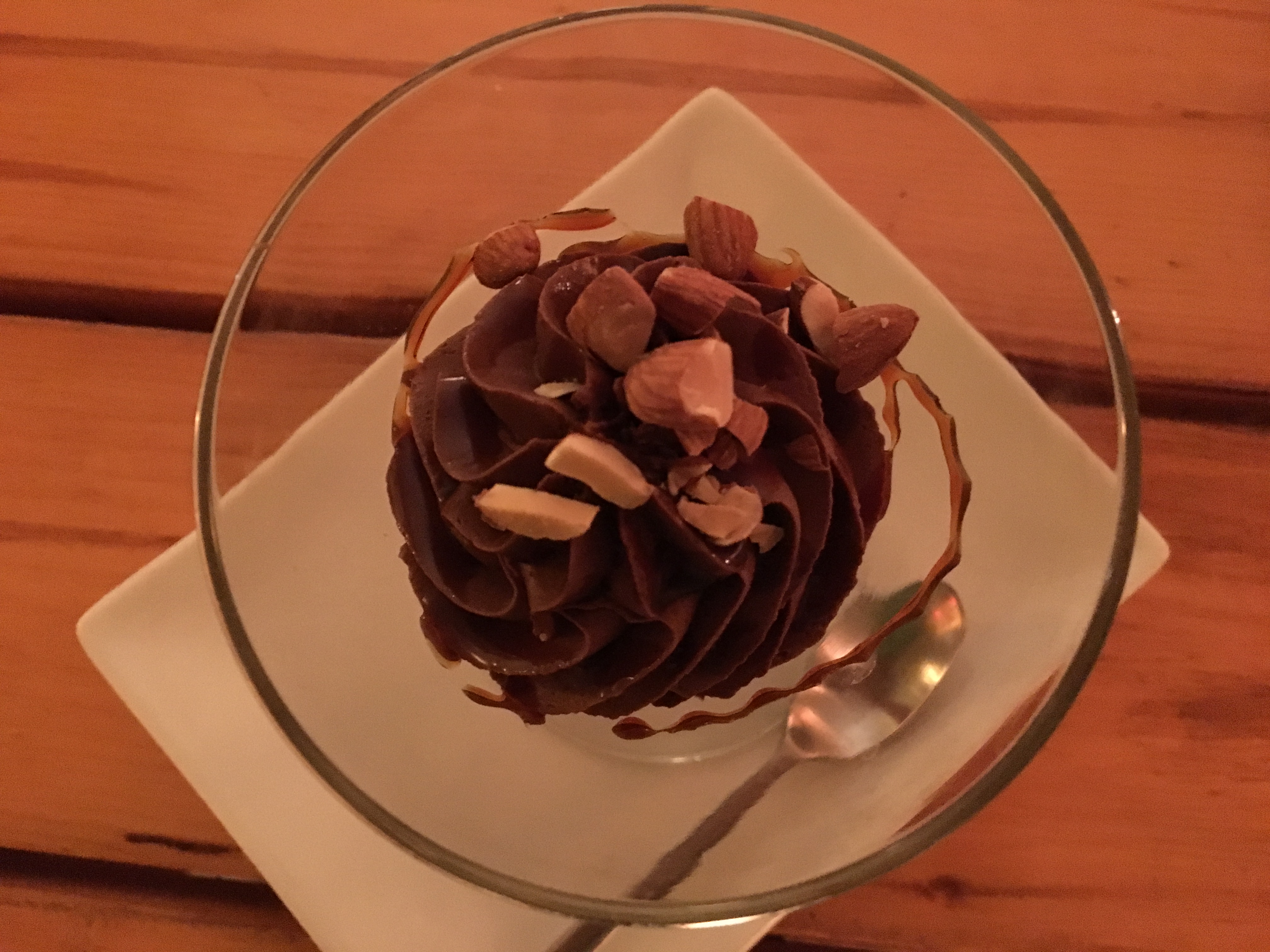 This charming Mad River Valley region of Vermont did indeed make a lovely day trip. I had a delightful time exploring the captivating small towns, participating in the outdoor sport activities, and enjoying the superb vegan dining.