Martha's Vineyard is a small island located off the southeastern coast of Massachusetts. The island is known for its wealthy residential population and celebrity visitors, as well as its summertime influx of tourists. Cobblestone roads, quaint town centers, postcard perfect lighthouses, and picturesque beaches compose the serene isle. Every year or two, a summertime visit to this wonderful place lands on my weekend itinerary. This past August, I felt a desire to spend some time enjoying the Vineyard's scenic beauty and exploring more of its vegan dining scene.
One early August morning, I decided to take the ferry from Hyannis on Cape Cod, to arrive in the town of Oak Bluffs on Martha's Vineyard. The view upon arrival is spectacular. Dozens of small and large craft fill the harbor. The welcoming lighthouse greets the vessel as we approach shore. Off in the distance, the islands infamous "gingerbread cottages" parade their colorful trim.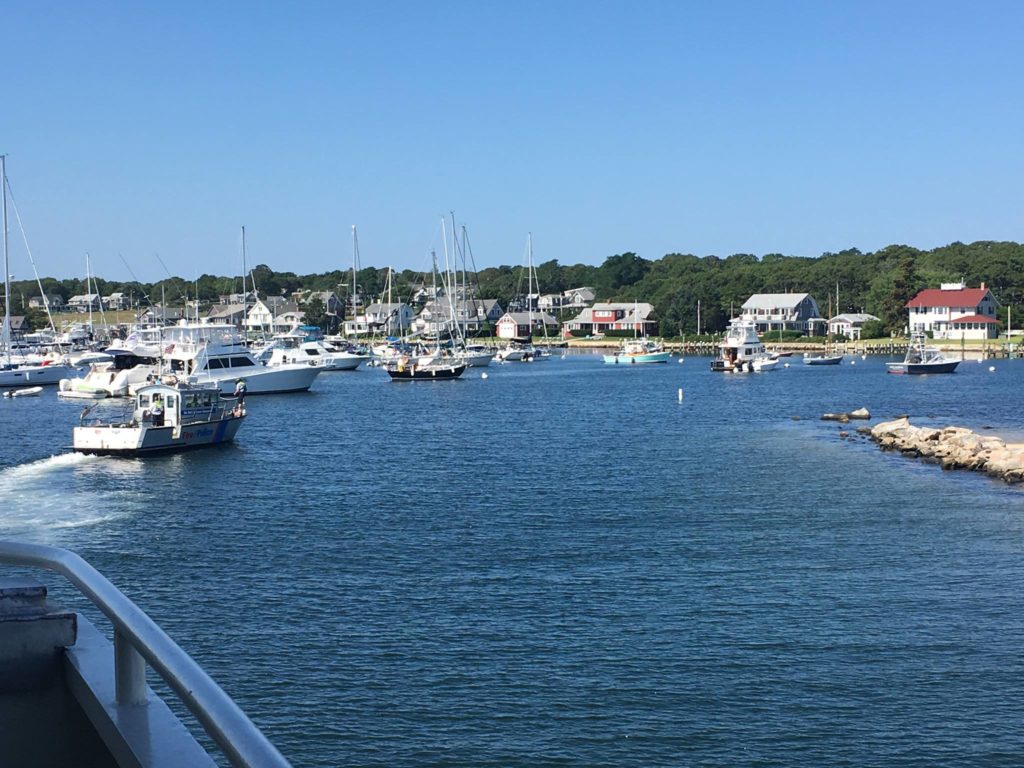 I would spend more time in Oak Bluffs towards the end of the day, prior to island departure. However, I would first take the convenient island bus to the town of Vineyard Haven. A small, white sand beach resides adjacent to the bus stop where we arrived. There is no fee for any resident or visitor who wishes to enjoy the idyllic shores.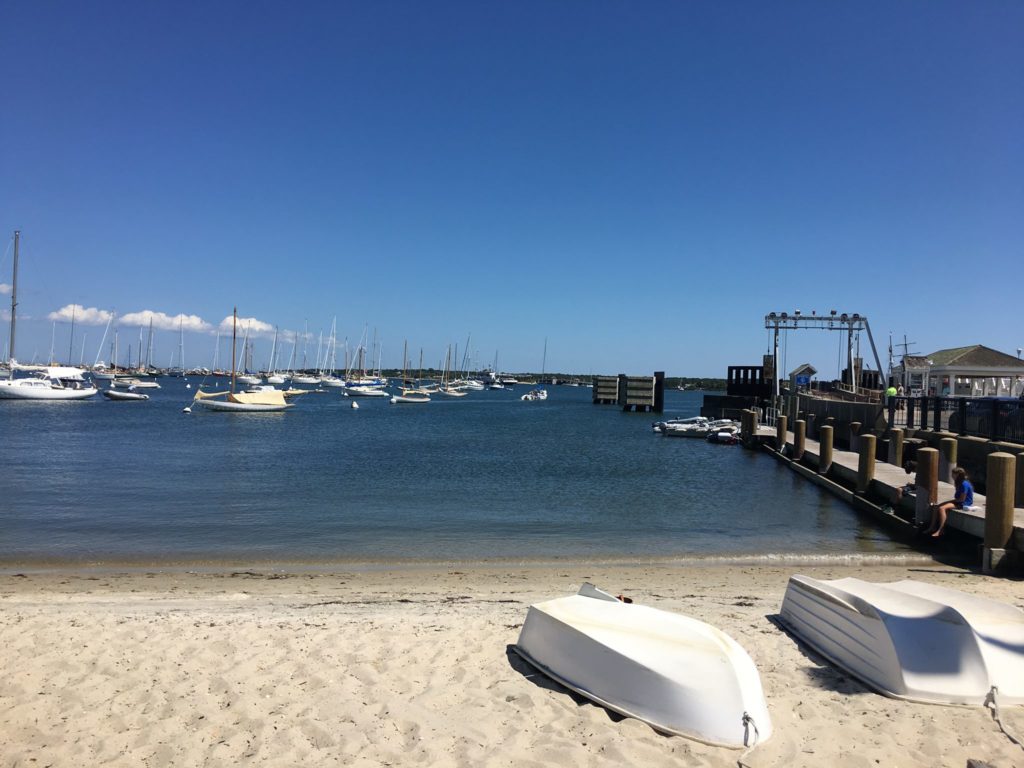 Perusing the town's main street gift shops, jewelers, and clothing boutiques are a must for any visitor to the island. I did some window shopping, as well as popping into a few shops and art galleries. The shops run the gamut from inexpensive trinkets to expensive baubles and clothing.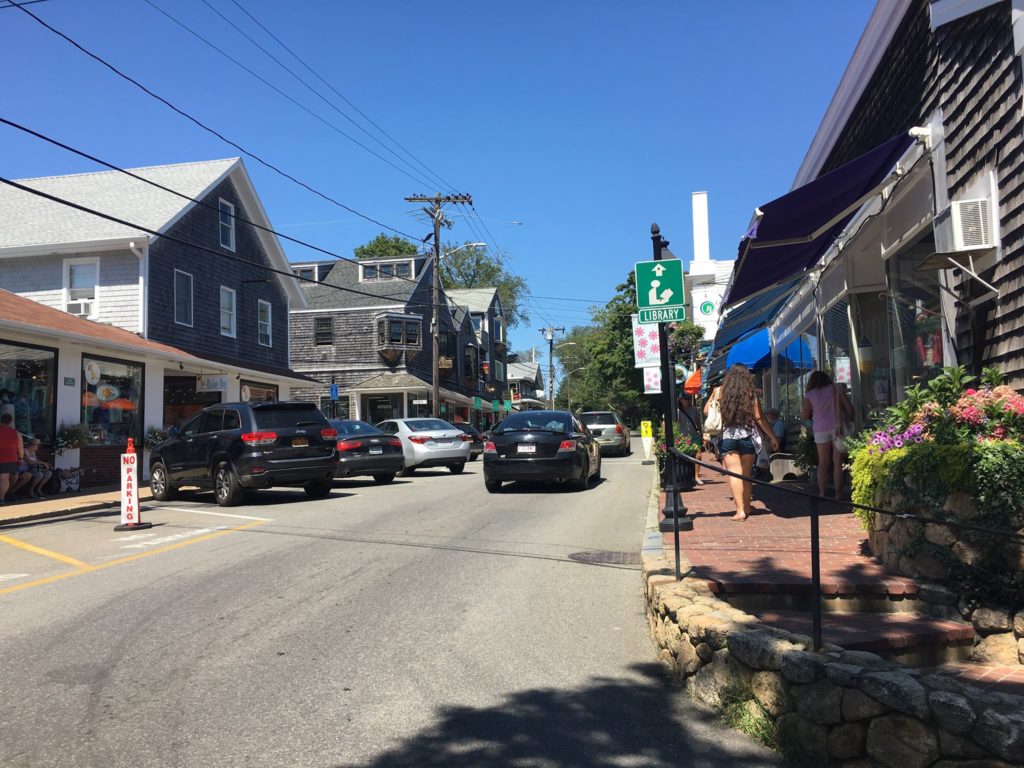 My morning arrival called for a breakfast meal pronto. Fortunately, The Art Cliff Diner (The Art Cliff Diner) includes a couple of vegan options on their breakfast menu. I opted for the vegan French toast topped with fresh fruit, powered sugar, rice crispies, and maple syrup. The casual diner is spacious and inexpensive. Crowds flock to eat there and the food is really tasty. However, during busy times, one may typically find a spot eating at the counter. This restaurant is a must-visit for vegan travelers seeking a great breakfast.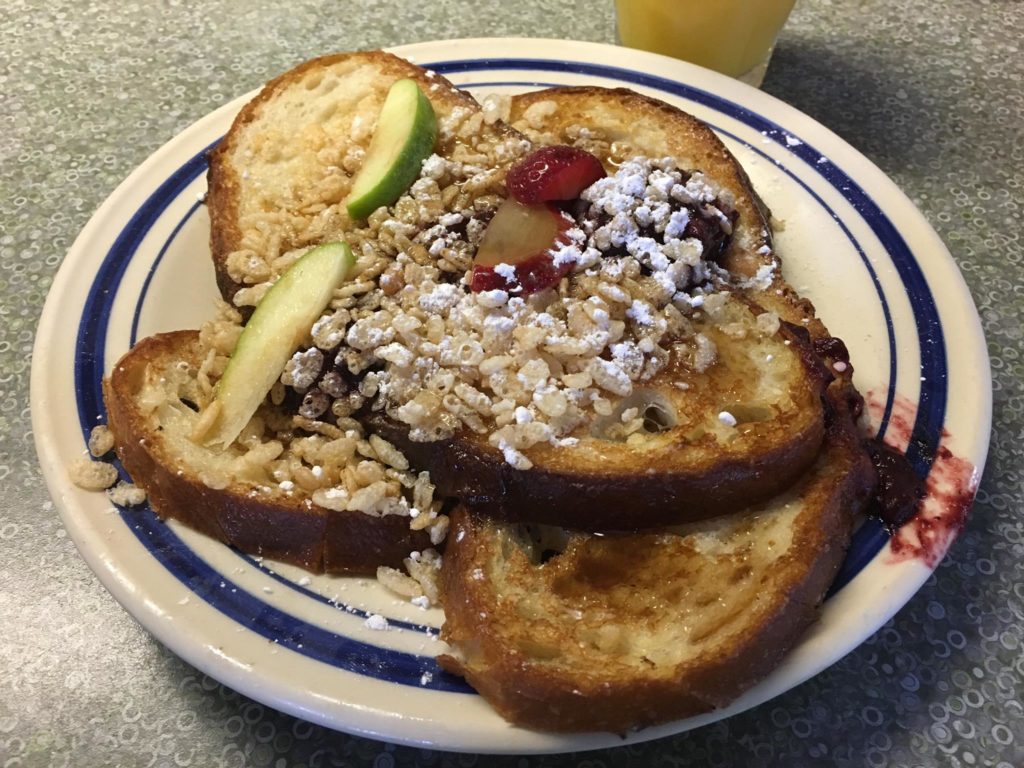 For lunch, I was eager to try out the "Not Your Sugar Mama's café, of vegan "chocolate bar" fame (Not Your Sugar Mama's). A glass case displays the café's variety of vegan chocolate bars, cookies, cakes, pies, and chocolates. A chalkboard menu on the wall displays sandwiches, smoothies, and other delectable offerings. A refrigerated glass case displays takeaway vegan salads and other meal options.
I purchased a lavender sea salt chocolate bar from the display counter.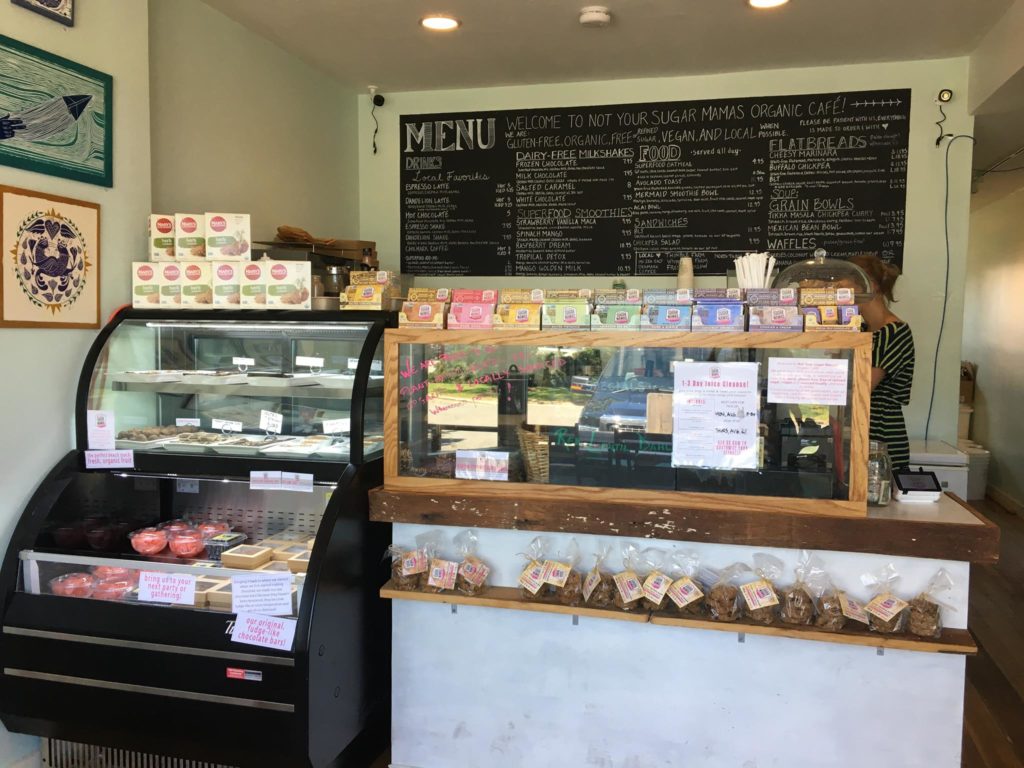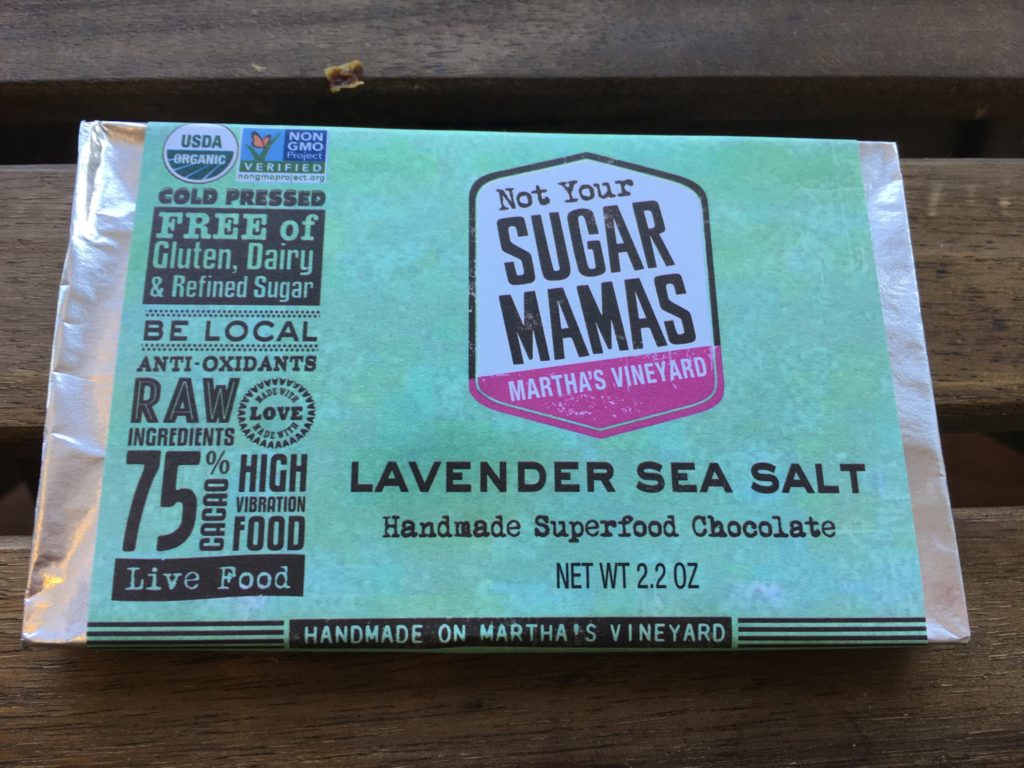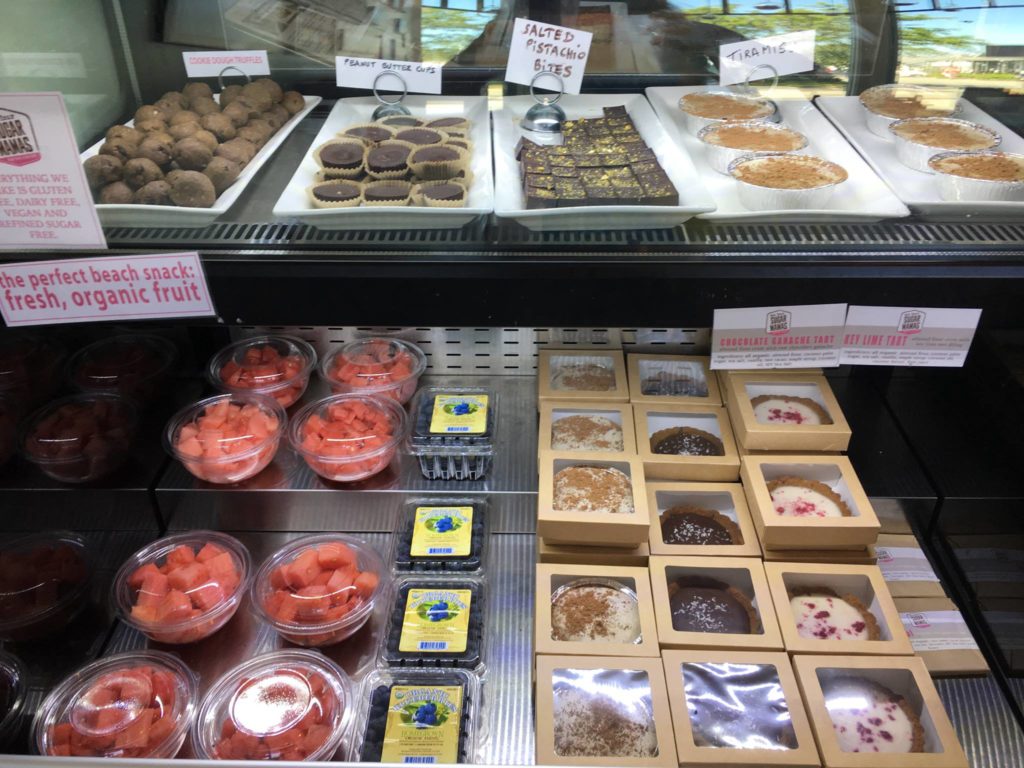 I decided to purchase a cookie dough truffle and a pistachio chocolate square. Yummy!

My lunchtime meal was a delicious buffalo chickpea flatbread with cashew cheese, hot sauce, chickpeas, arugula, and evoo on flatbread. A refreshing Raspberry Dream smoothie with raspberries, almond butter, dates, and banana accompanied my meal.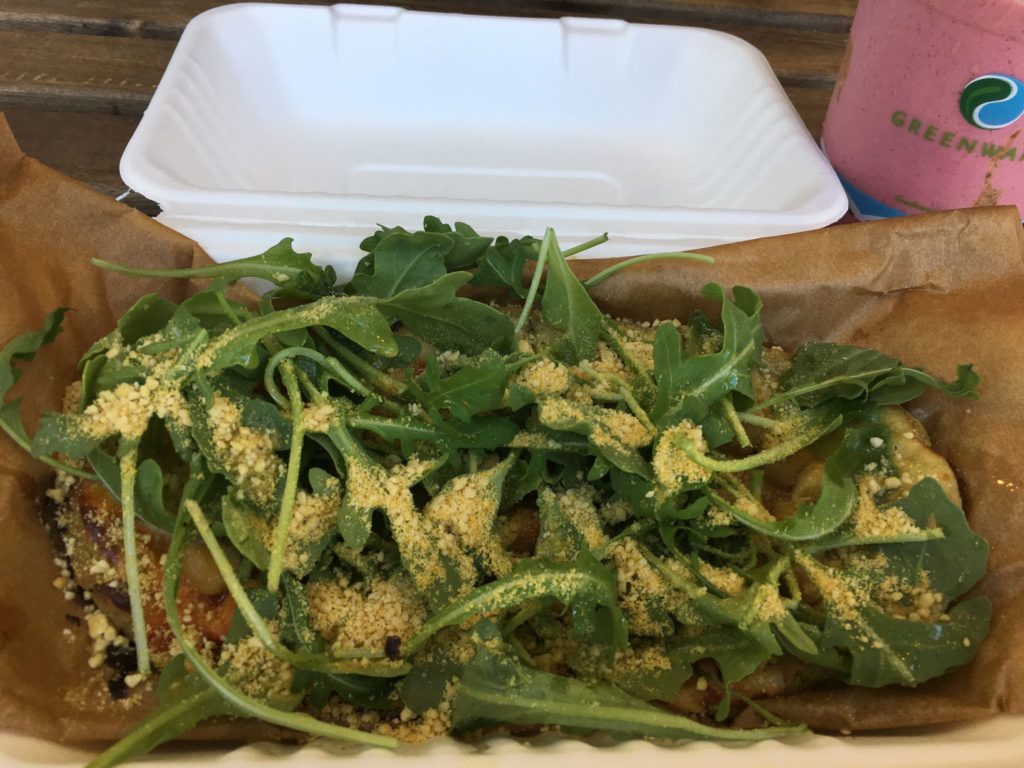 I also tried the frozen chocolate milkshake with superfood chocolate mix, cashew milk, dates, and raw chocolate sauce. This popular beverage was indeed decadently satisfying. With the chocolate smoothie in my hand, I would take a sip every now and again, walking back to town on this hot summer day.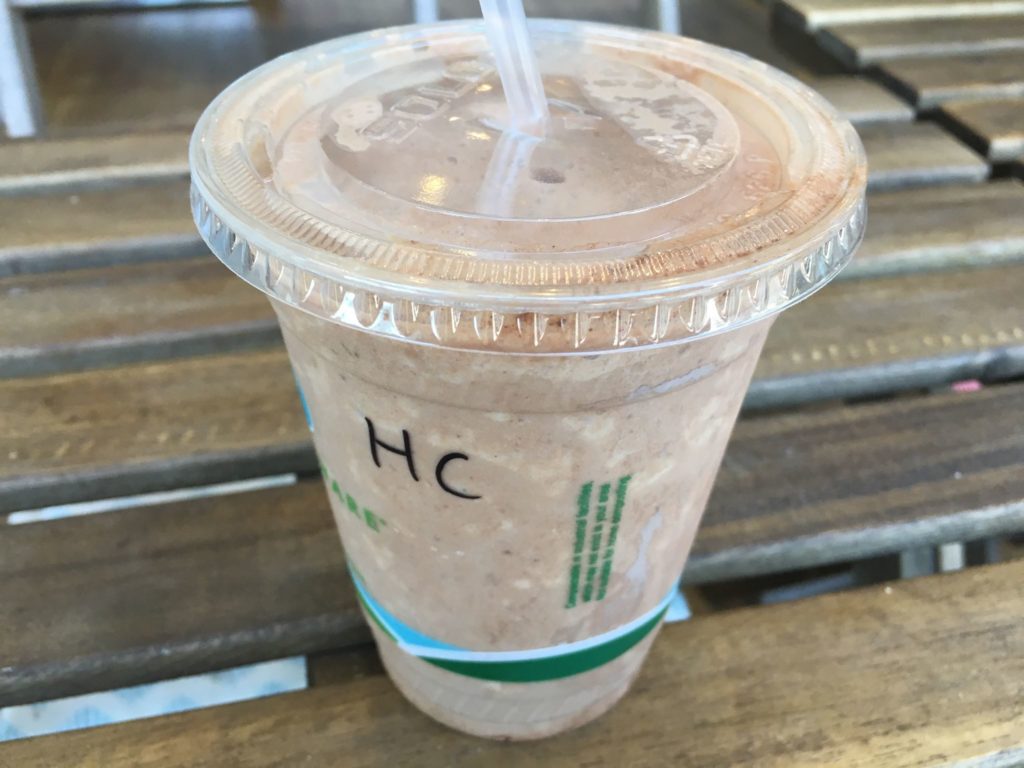 A bus journey to neighboring Edgartown was next on my agenda. Stately government buildings, historic churches, and affluent homes with gorgeous hydrangea gardens encompass the town.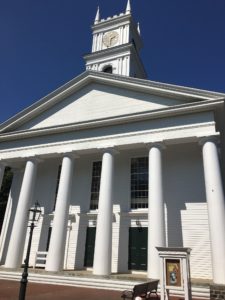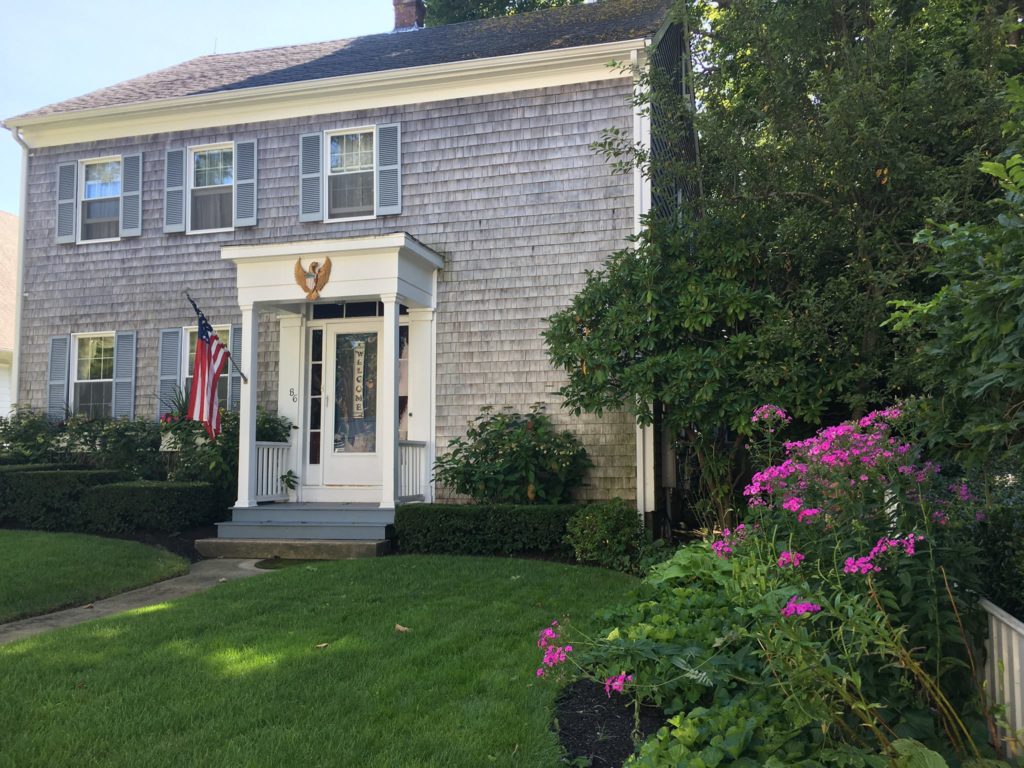 For the first time in my life, I took it upon my self to climb the many steps to the top of the Edgartown Lighthouse. An invigorating walk through some fields and winding paths brought me to its entrance. It was quite a hearty stroll and great exercise to arrive there. I entered the structure and started reading about the lighthouse's history on the inscriptions on its interior walls.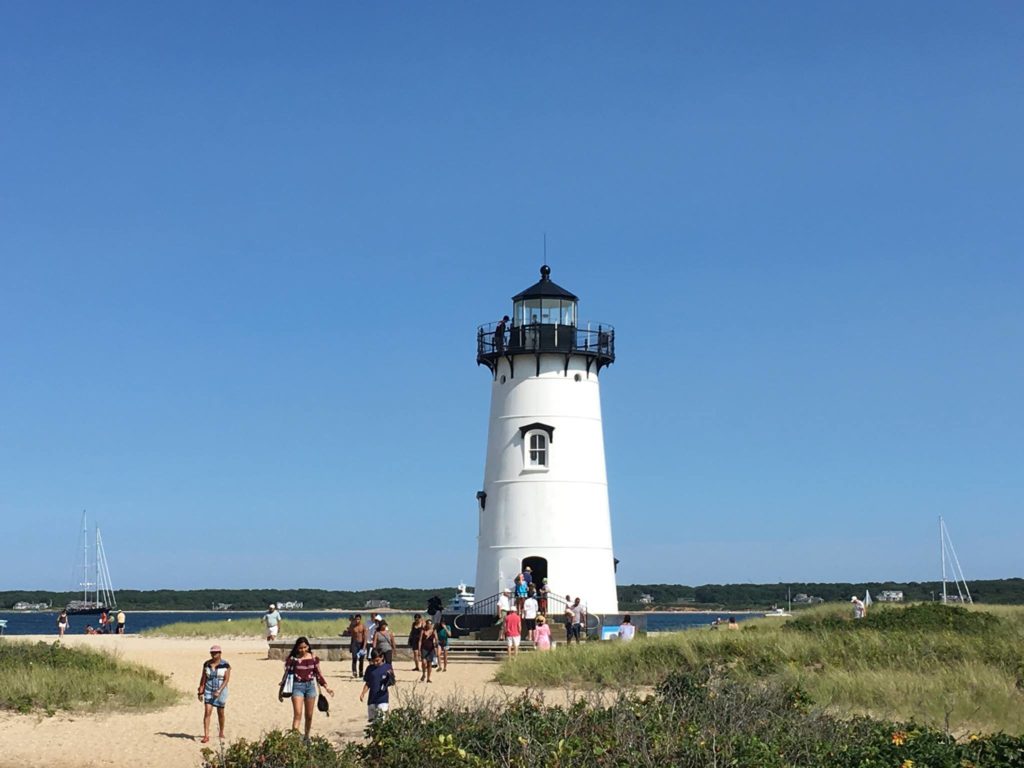 As I made my way on up, I appreciated the scenic island views through its porthole windows.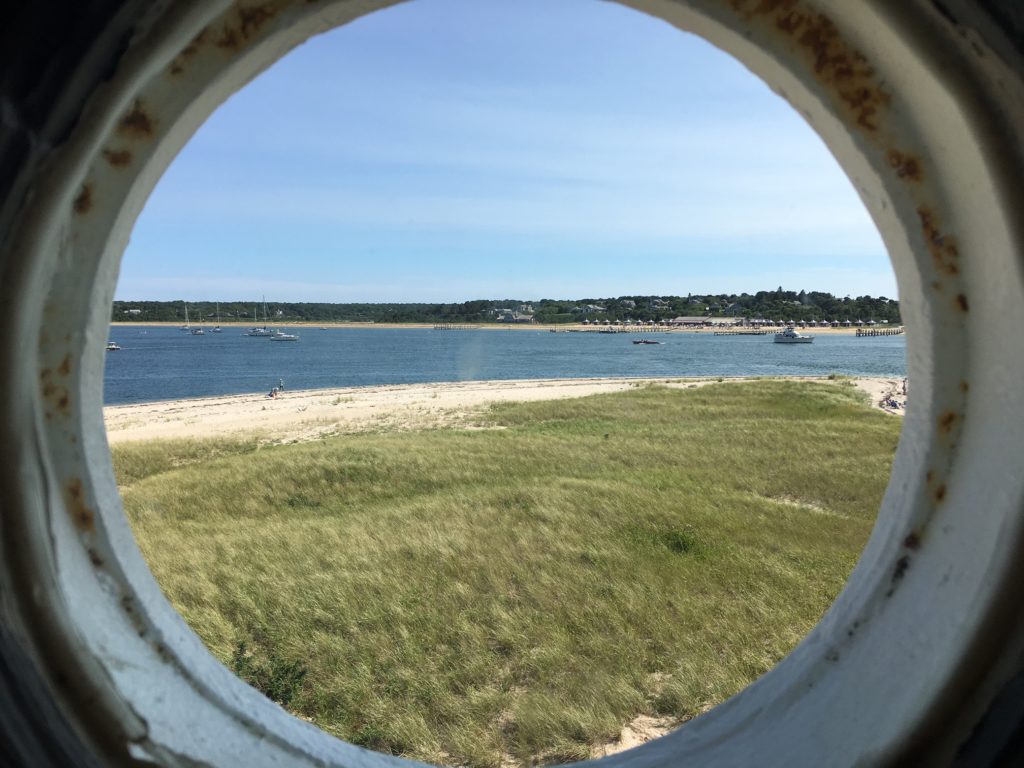 When I started walking back to town, I noticed some pretty cool seafaring sculptures along my path.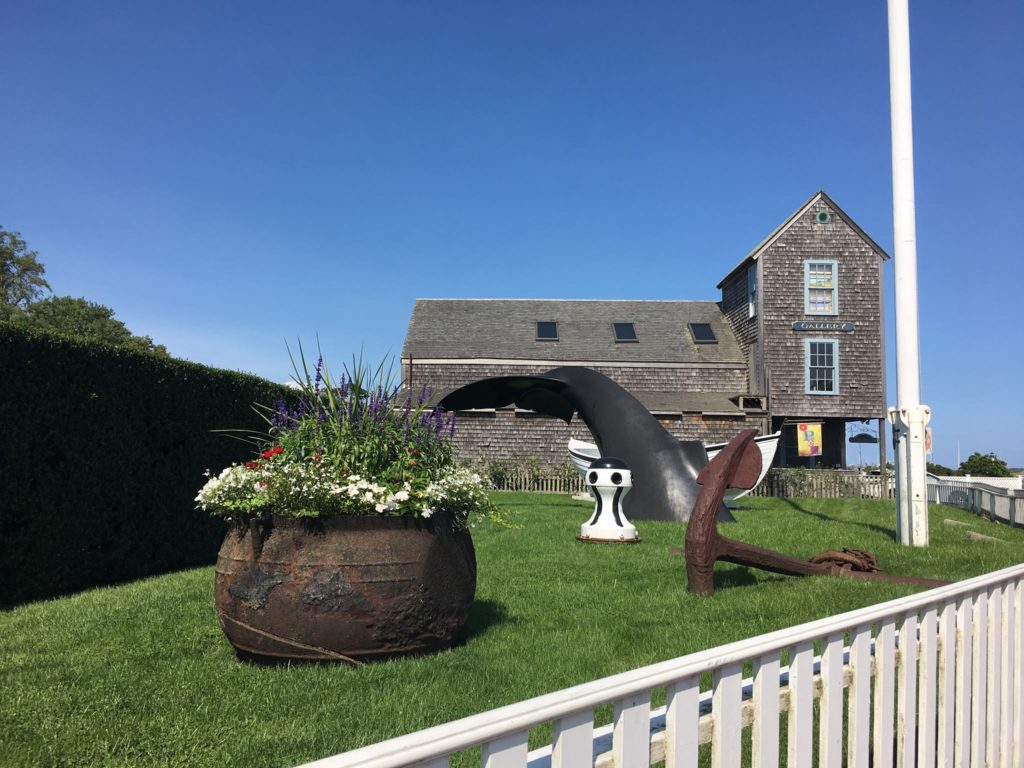 Traditional Cape Cod cottages with hydrangea gardens lined the oceanside roads. The island is very patriotic with American flags and red/white/blue memorabilia décor.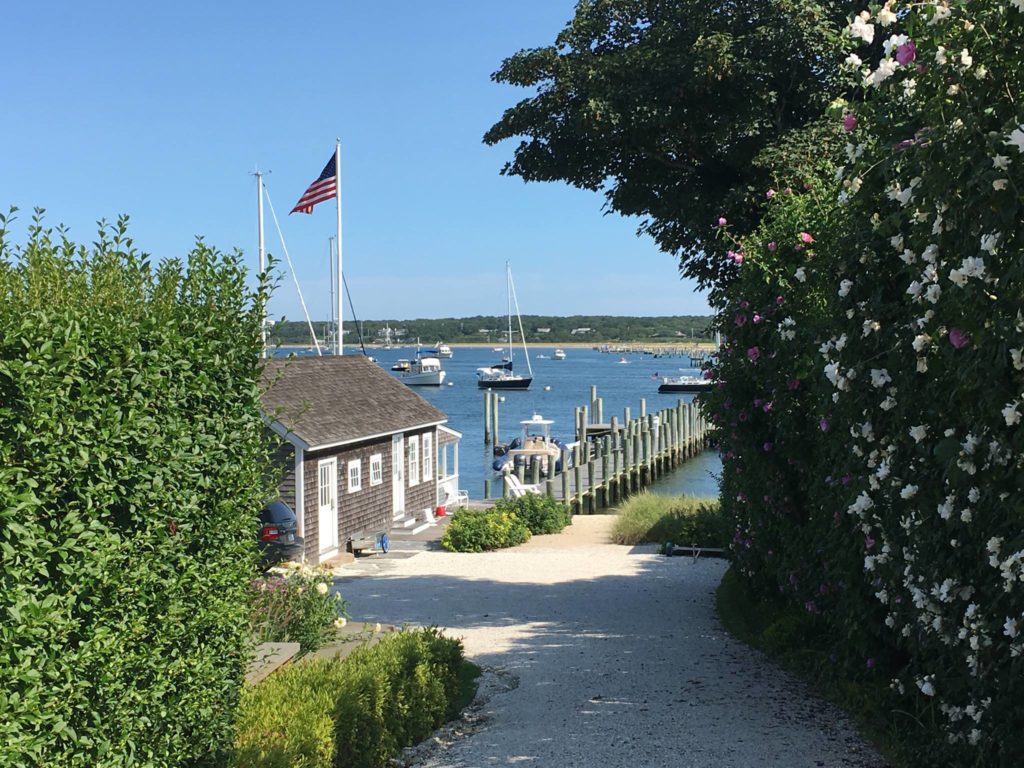 Upon my arrival back in Edgartown center, I strolled about the main street to do some shopping. The popular designer Lilly Pulitzer clothing boutique resides in town. I also found a few gift shops that sell clothing and gifts inscribed with the island's name. Edgartown's shops tend to be more on the upscale side, offering posh clothing and gifts.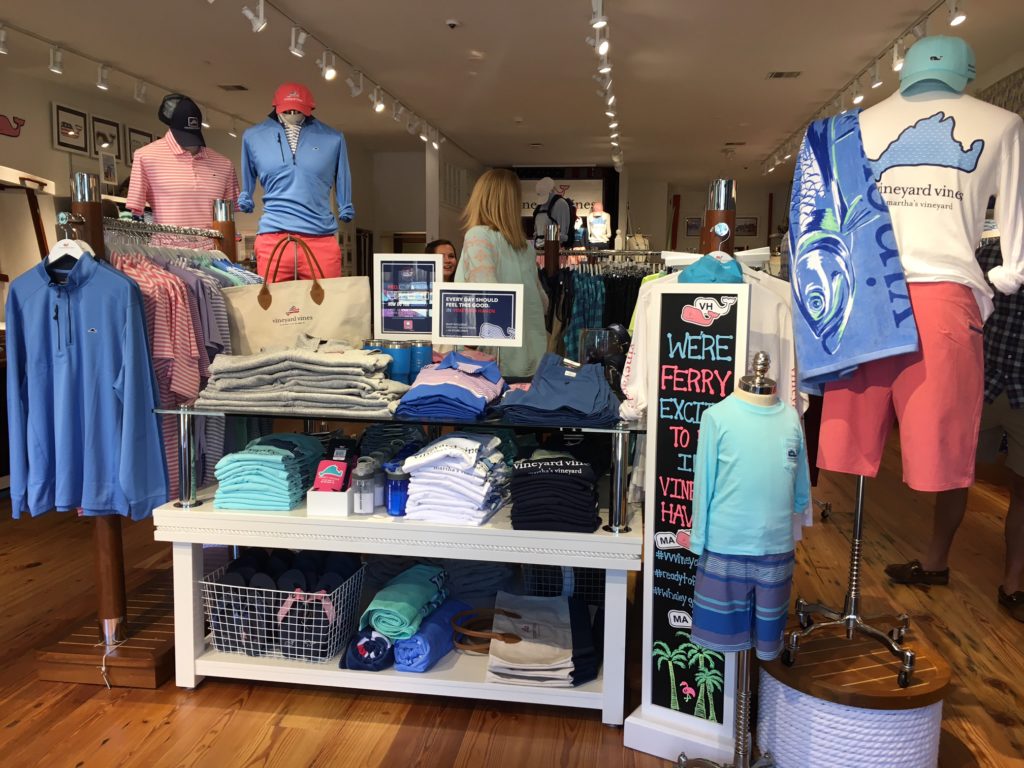 Jewelry shops range from costume jewelry to very expensive and exquisite gems.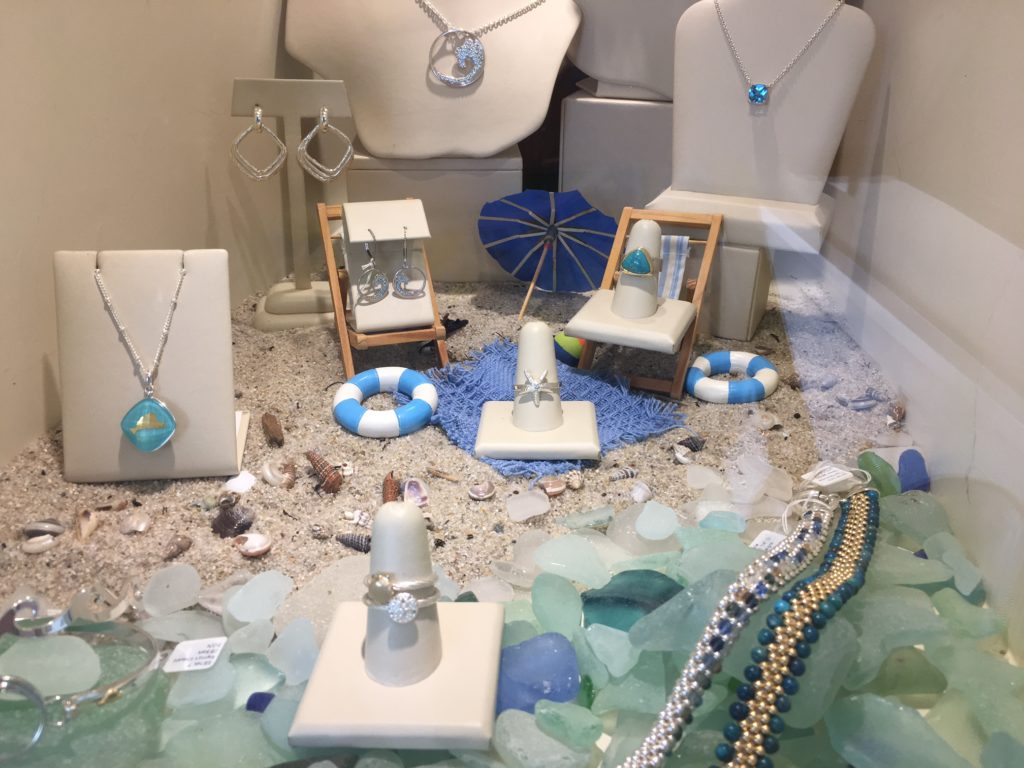 A casual café called "Espresso Love" (Espresso Love) offers a few vegan options such as sandwiches and desserts. My dinner choice was the veggie black bean burger sandwich with a pickle, tortilla chips, and a lemon cake. They were really good.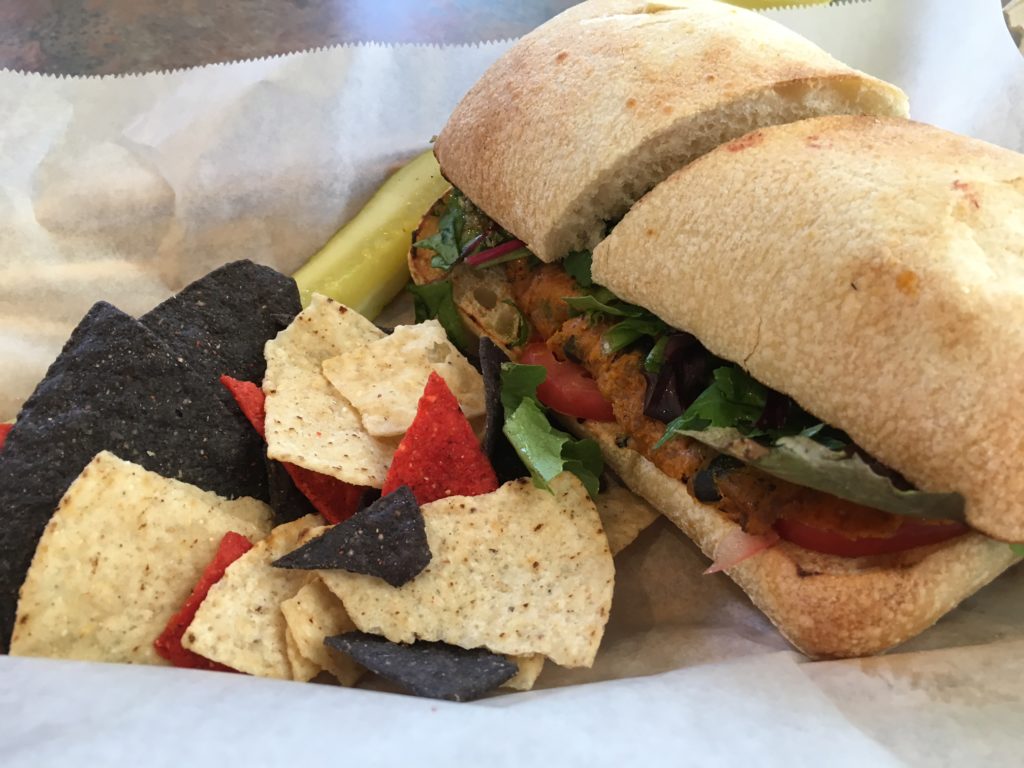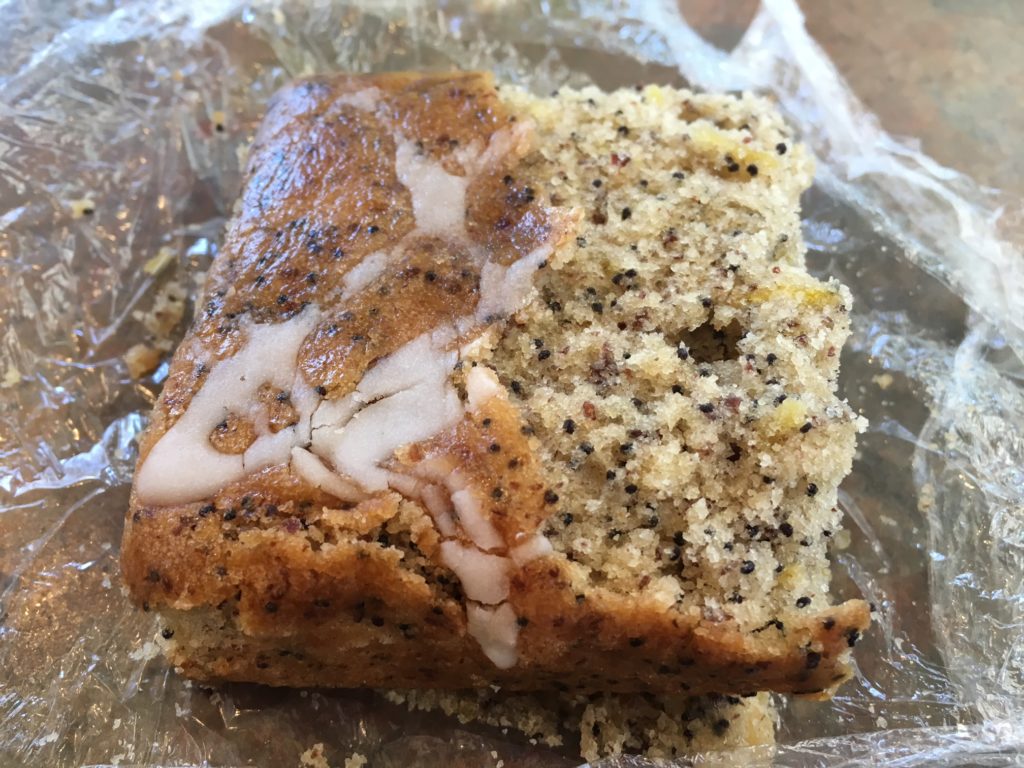 After dinner, it was time to take the bus back to Oak Bluffs. Along the route, we drove over the infamous bridge that was shown in the 1970's movie "Jaws".

Upon arrival in Oak Bluffs, I took time to relax at State Beach near town center. The lengthy beach is free for visitors. Soft white sand beneath your beach towel and miles and miles of sea before you, there is no better place to unwind and enjoy nature.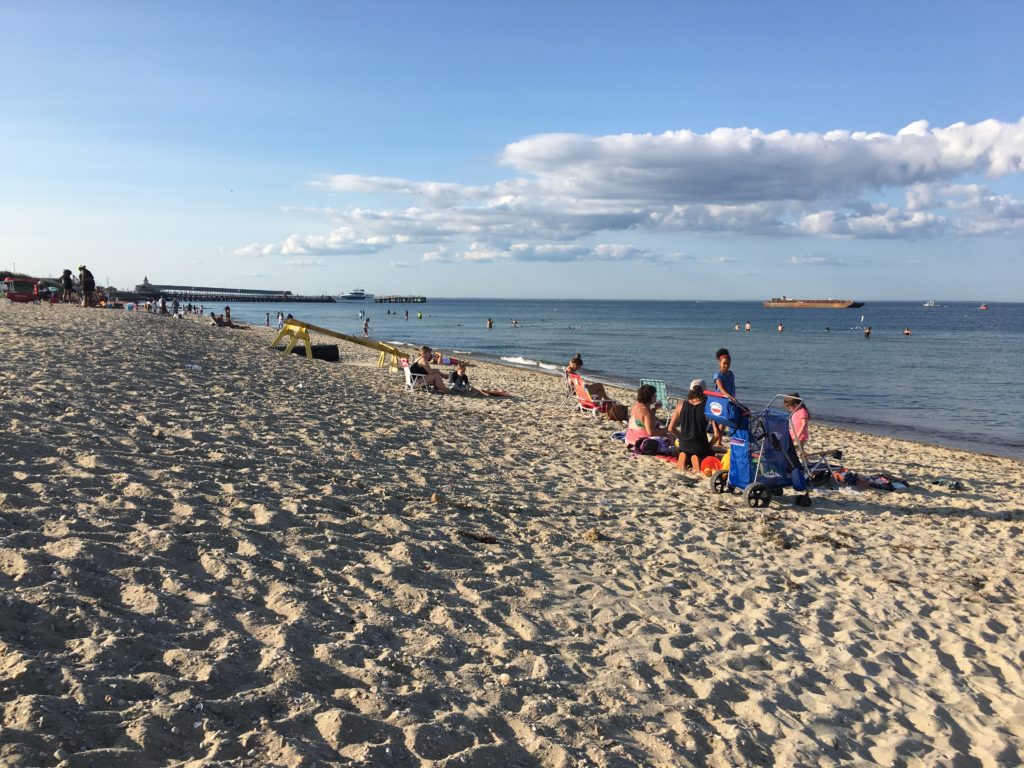 The must-see attraction of the island is the colony of "gingerbread cottages" in Oak Bluffs. The early 19th century homes were erected by the Methodist religious community who arrived in the region for multi-day camp meetings. In 2005, the cottages were designated a National Historic Landmark. With unique Gothic style exteriors trimmed with pastel colors, tourists just adore strolling by and admiring each and every one of them.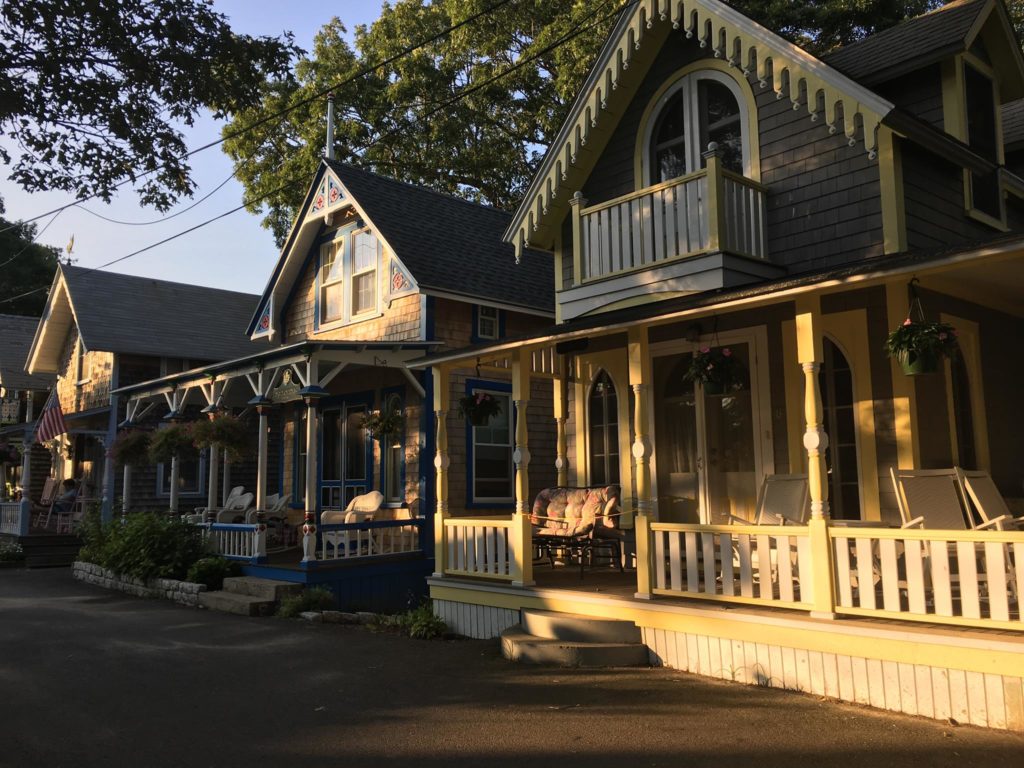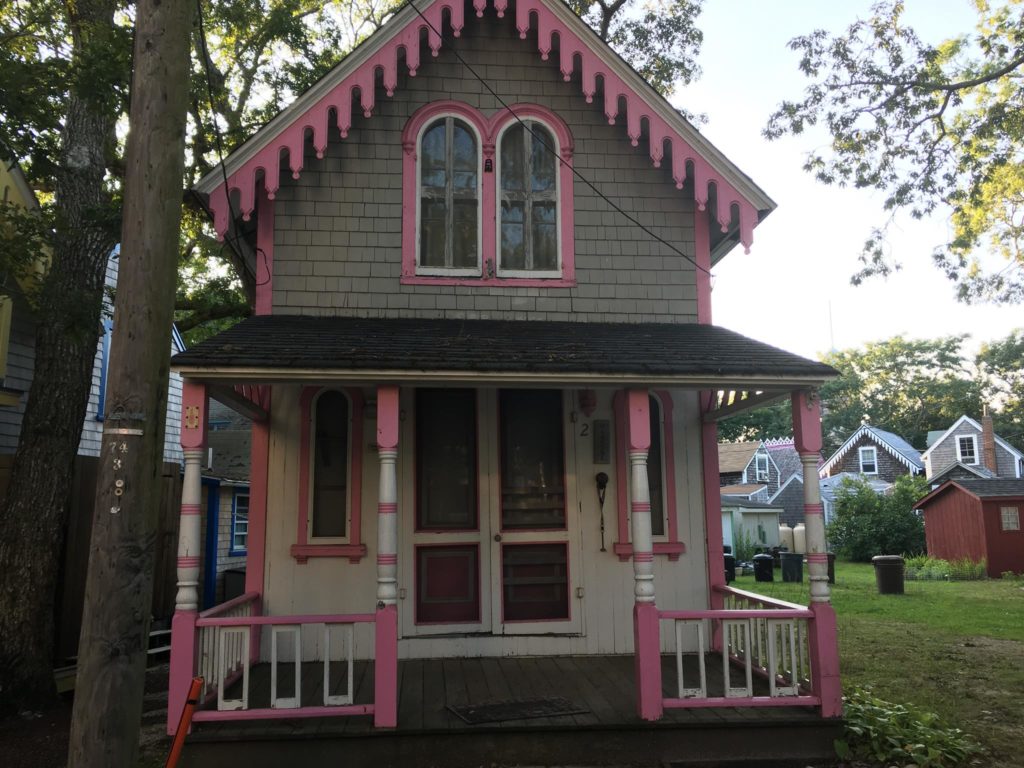 As a vegan, you never know what vegan items you will encounter during your travels. I walked by a homemade chocolate and candy shop called "Good Ship Lollipop" (Good Ship Lollipop) in Oak Bluffs and noticed on their window sign that they sell some vegan goodies. Their website even has a special page referencing vegan chocolates. I purchased a vegan almond dark chocolate cluster piece. The chocolate quality was superb.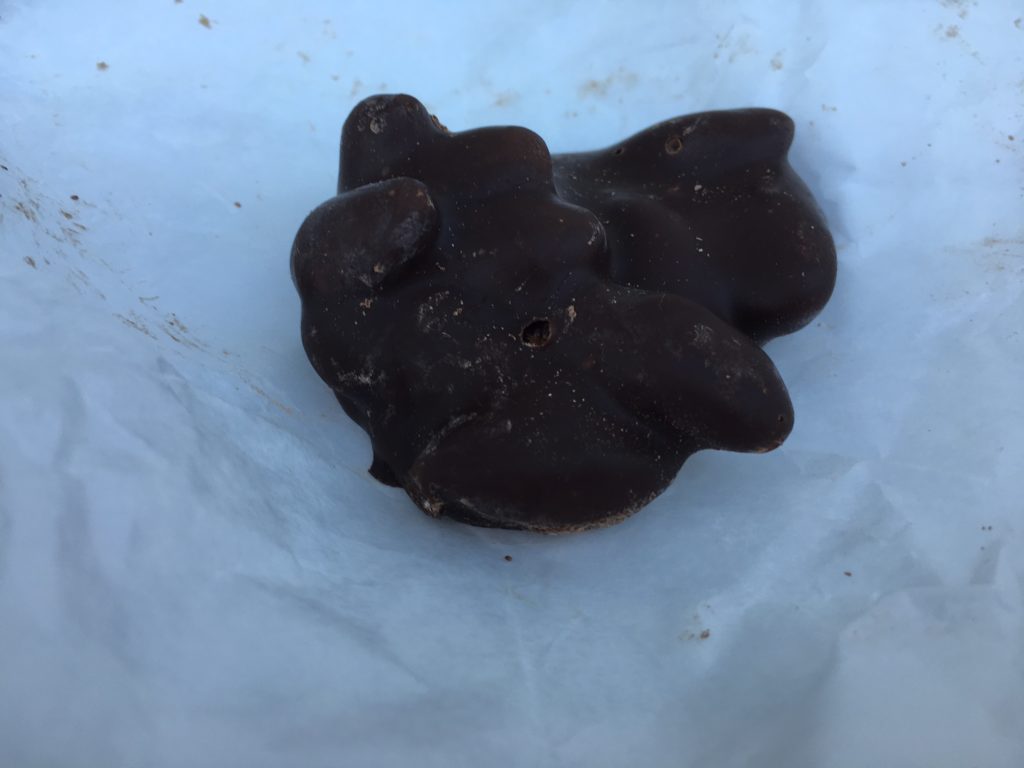 My walk through the main shopping road took me to Ben and Bill's Chocolate Emporium ice cream shop(Ben and Bill's Chocolate Emporium). Much to my joy and amazement, a sign I noticed in the window pointed to a vegan ice cream offering. I headed inside and purchased a vegan pistachio ice cream. It was really good. I then spent some time popping in and out of several gift shops on this lengthy touristy Circuit Ave. Shops in Oak Bluffs tend to be more budget-friendly with touristy souvenir offerings.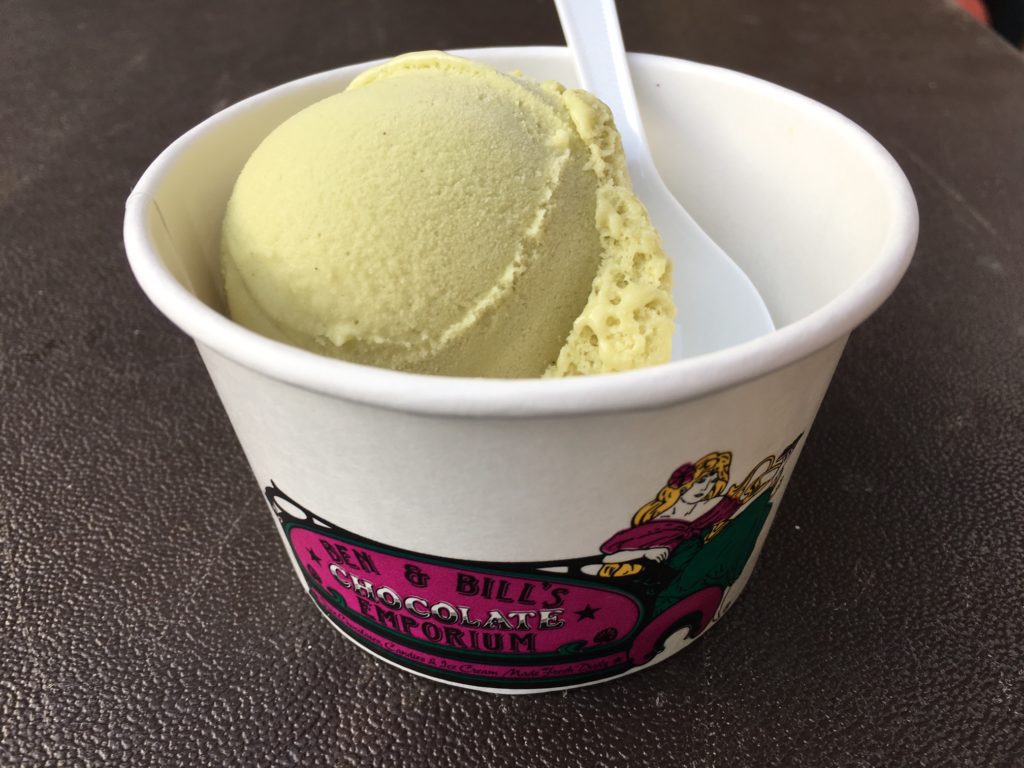 Heading over to the Town Green, a music performance was about to begin. The Green is a large grassy field with a veranda. Locals and visitors to the island enjoy picnicking, relaxing, and concerts in this space. Hundreds of people were setting up their lounge chairs, blankets, and picnic baskets, awaiting this evening's entertainment.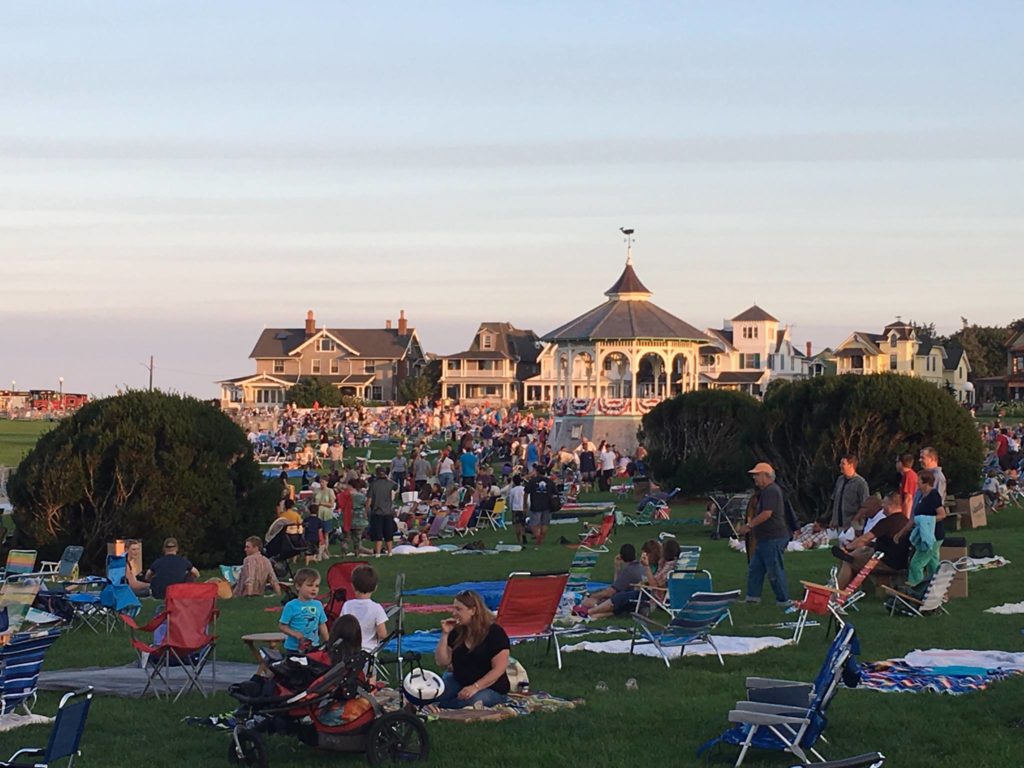 My visit to the island was coming to a close. A spectacular sunset met my glance, as I awaited the ferry back to the mainland.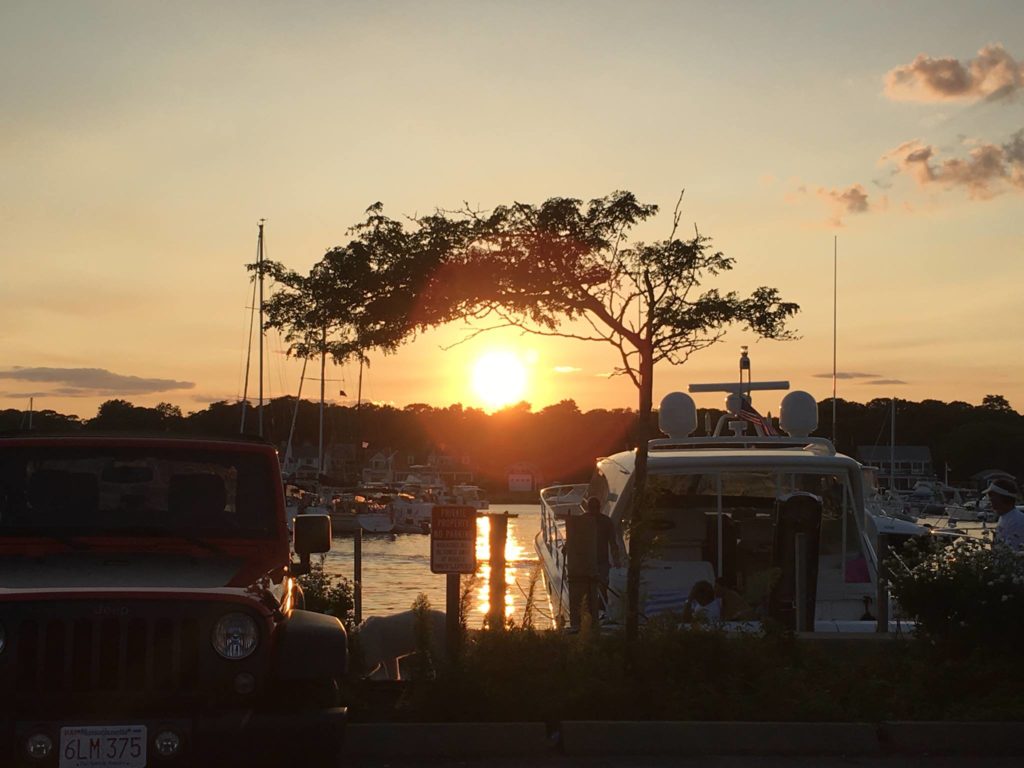 The sunset turned to the dark of night, while the lit up buildings behind me sparkled with their reflections on the water.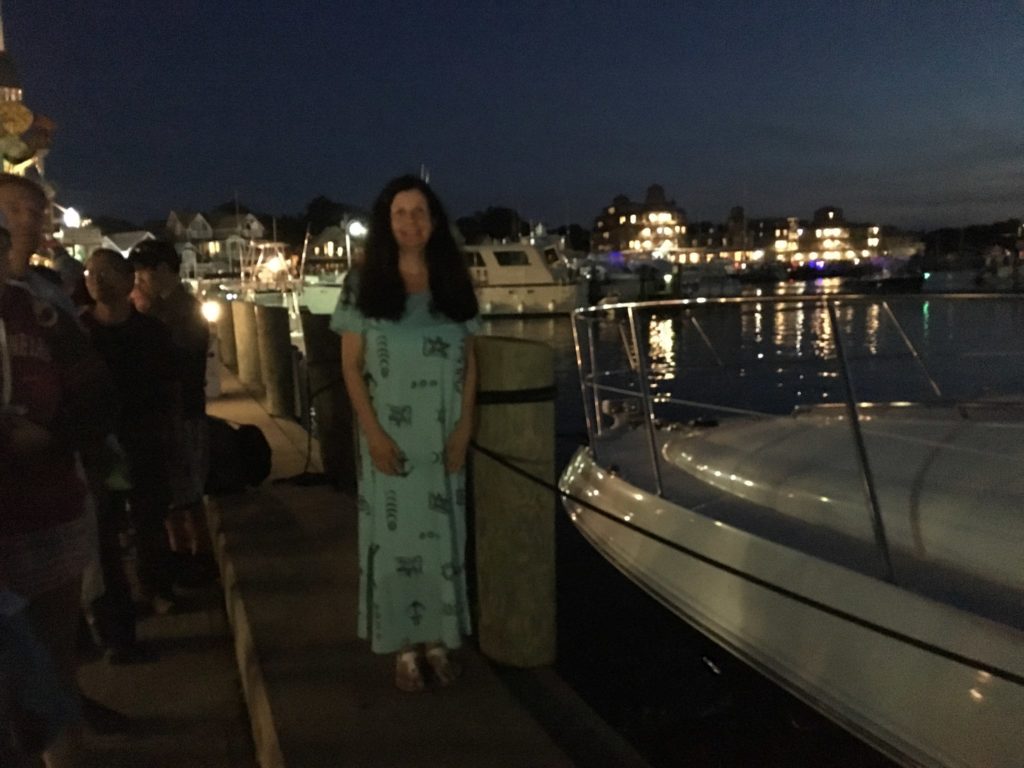 I really enjoyed this year's visit to Martha's Vineyard island. From my adventure climbing the towering lighthouse to the local boutiques and galleries to the newer vegan-friendly dining spots, I had a fabulous time! You will enjoy it too.
My previous blogpost about Martha's Vineyard: