No holiday in northern India would be complete without a visit to the majestic Taj Mahal. The white marble mausoleum was built in 1632 by Mughal Emperor Shah Jahan, in memory of his cherished wife, Mumtaz Mahal. Her tomb resides here. 20,000 workers were required to complete its construction. Its Mughal architecture integrates components of Persian, Islamic, and Indian styles. The complex is also home to a mosque and what was an 18th and 19th century banquet hall for visiting princes. We left our Agra hotel bright and early this morning, in anticipation of a sunrise arrival at the Taj Mahal grounds.
And what a spectacular sunrise it was!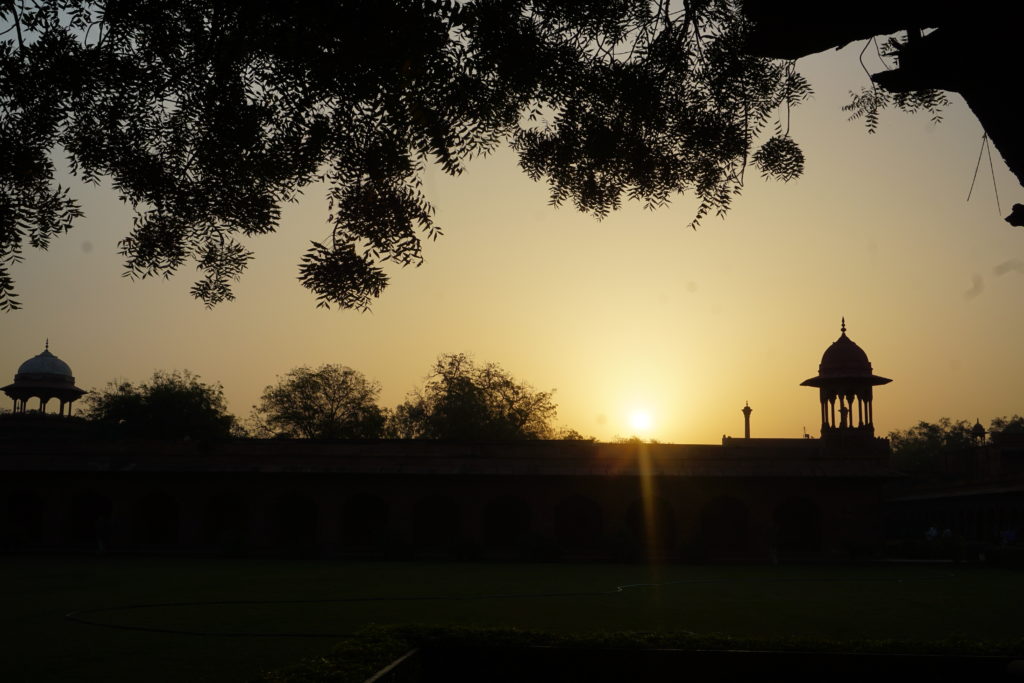 The setting of the mausoleum is quite serene. A lengthy pool is situated in front of the colossal marble monument.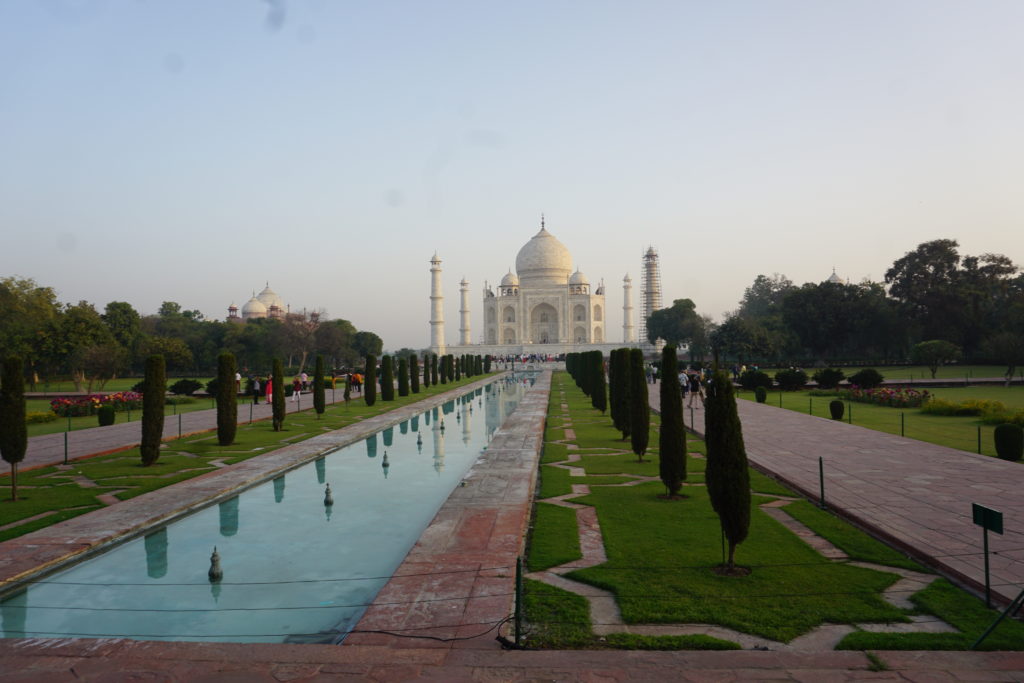 The shrine's reflection shimmers in its' tranquil waters.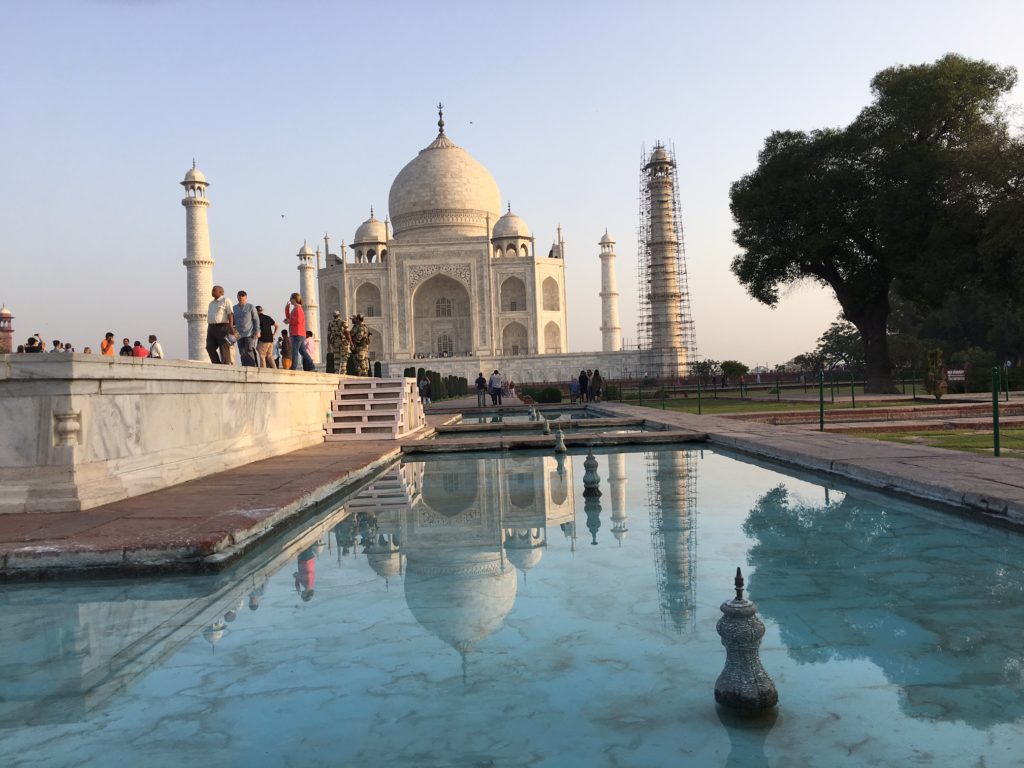 A lovely square garden leading up to the mausoleum, is meant to resemble paradise.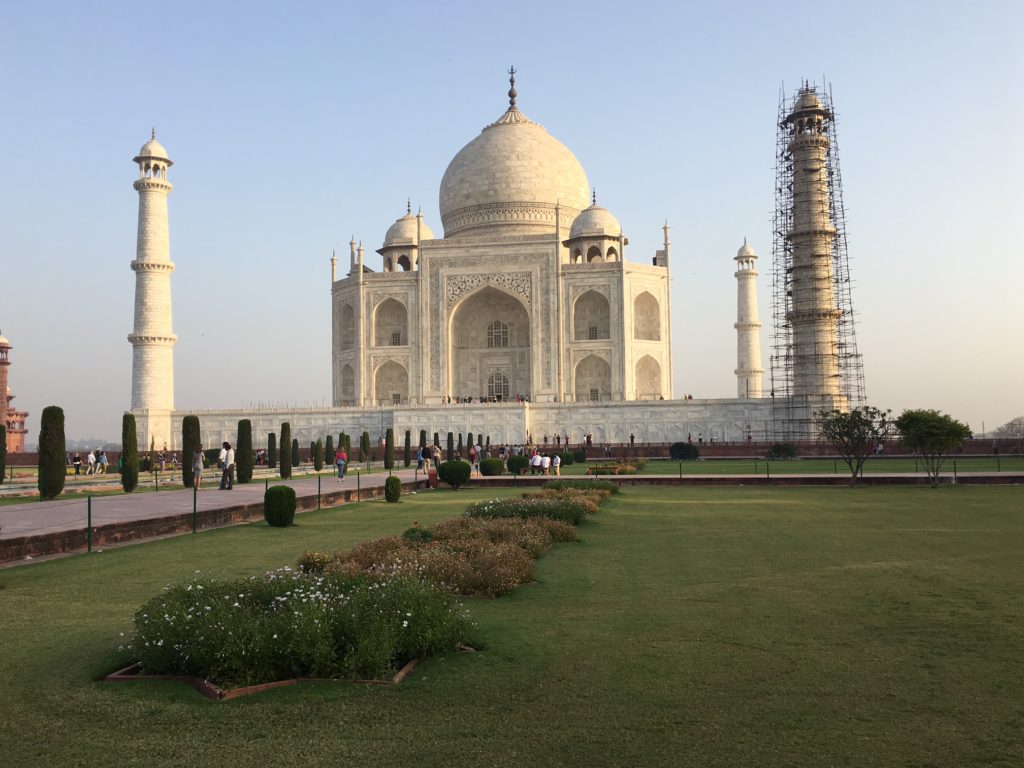 Prior to leaving the complex, I just had to take this photo opportunity to pose in front of this stunning "Wonder of the World".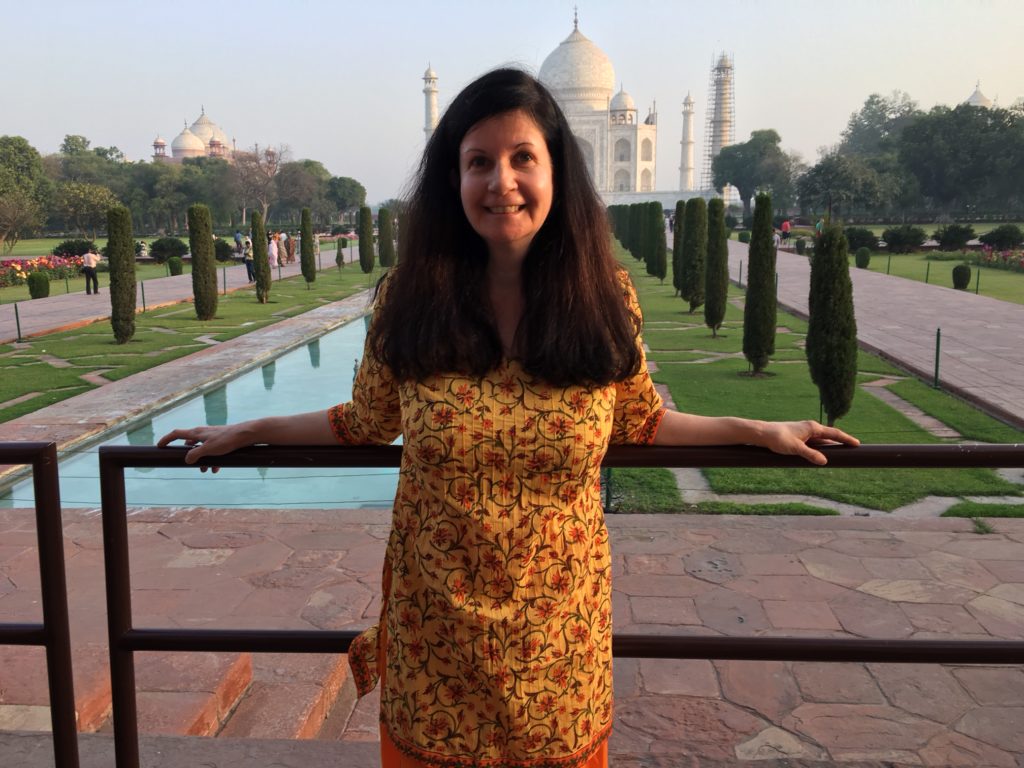 After our allocated time at the complex, we boarded the bus and headed back to "Hotel Pusp Villa", our hotel for the night.
The hotel restaurant provided breakfast options for us. My breakfast included roti bread, beans in tomato sauce, rice with vegetables, and potatoes. I appreciated the flavorful and nutritious morning meal.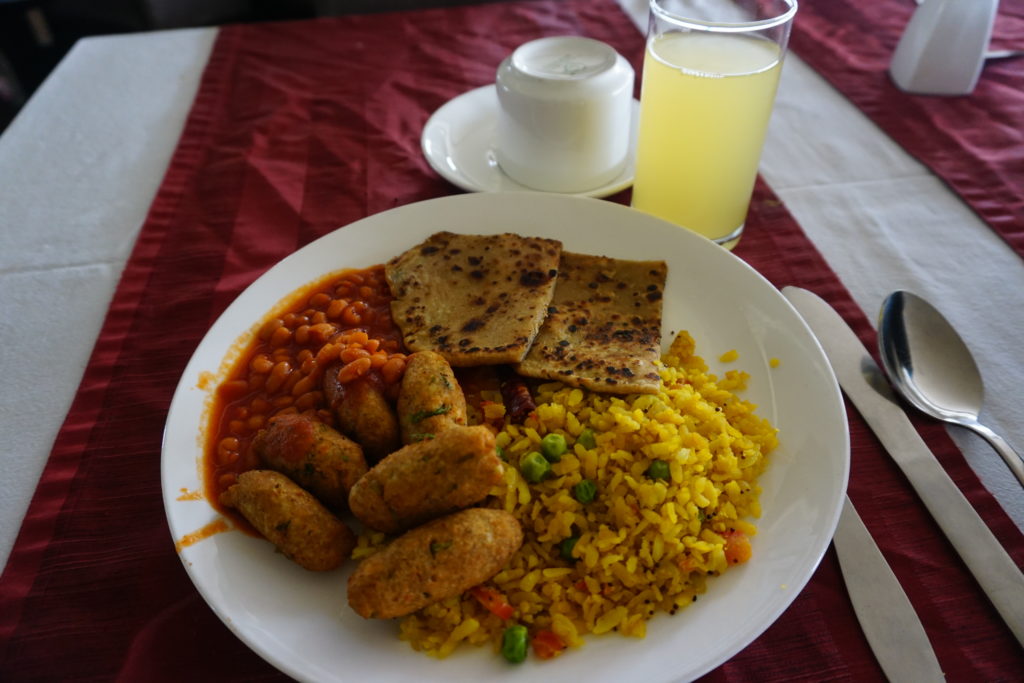 Next on our agenda was a visit to the Red Fort of Akbar, located in Agra. This 16th century fort had been in ruins until Mughal Emperor Akbar had it rebuilt with red sandstone, completed in the year 1573. Mughal Dynasty rulers resided here until 1638, when the capital was moved to Delhi.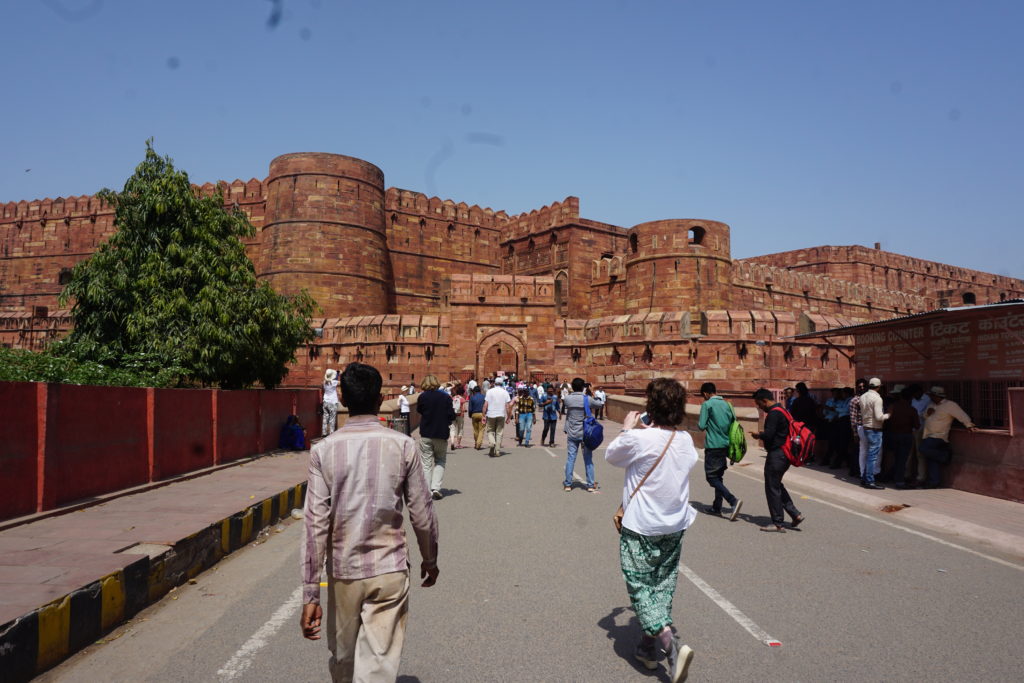 Four monumental gates provided security for the fort. Once inside the gated property, lush green gardens and flowers grace the landscape with their beauty.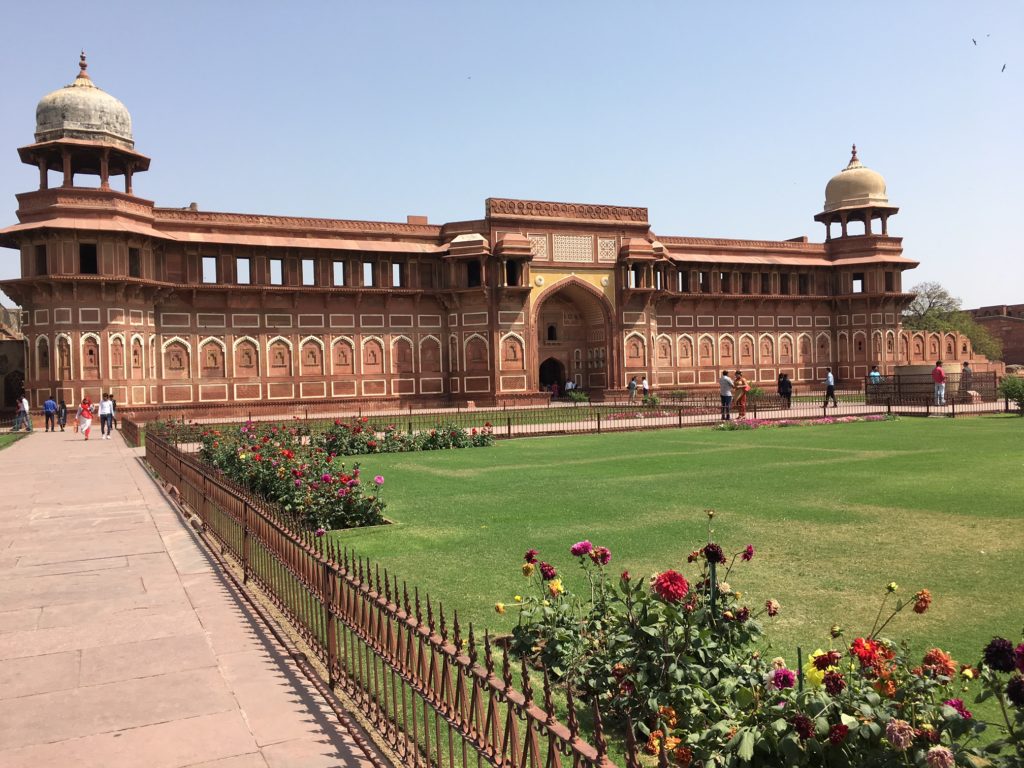 The intricate silver patterns on the walls and ceilings are absolutely exquisite.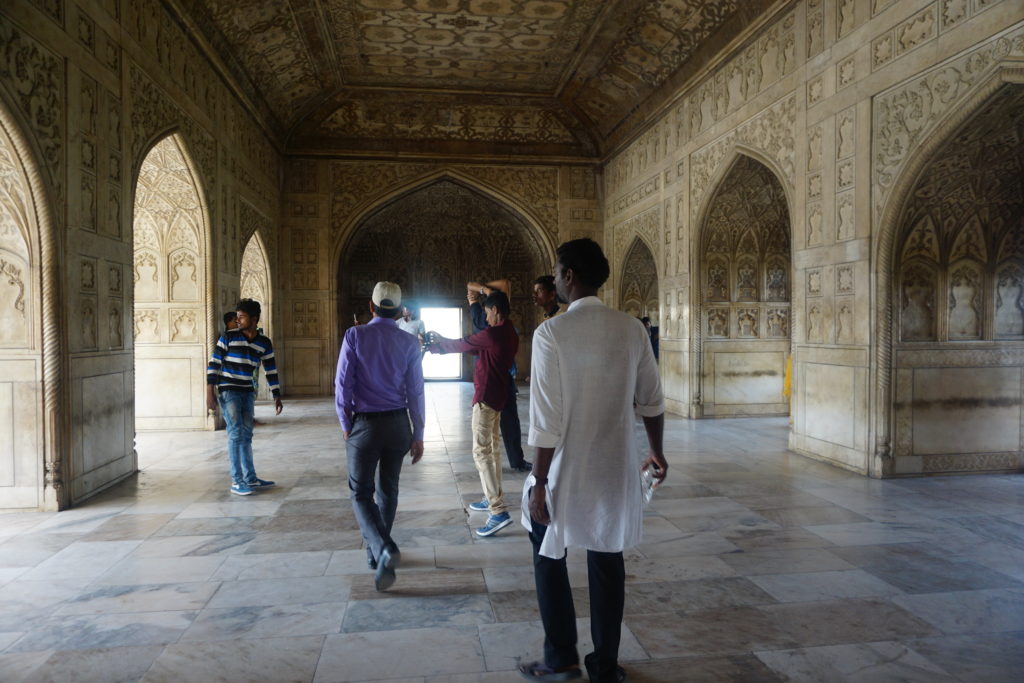 The fort compound is home to lovely courtyards, two palaces of red sandstone and white marble, a hall of public audience, a mosque, and residences for spouses and family members.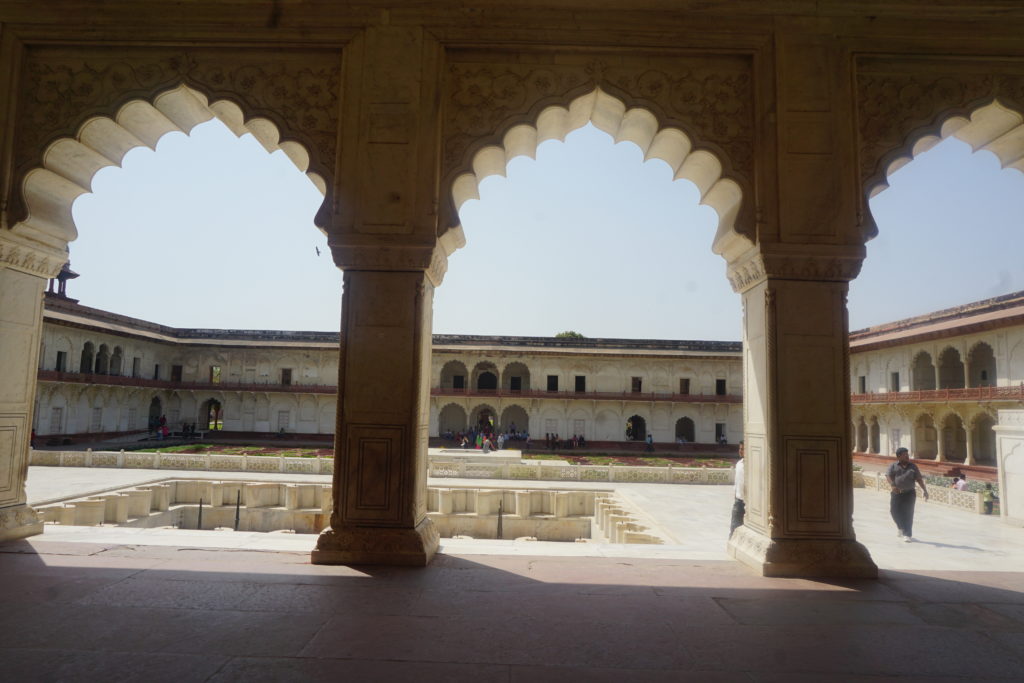 Hall of Public Audience: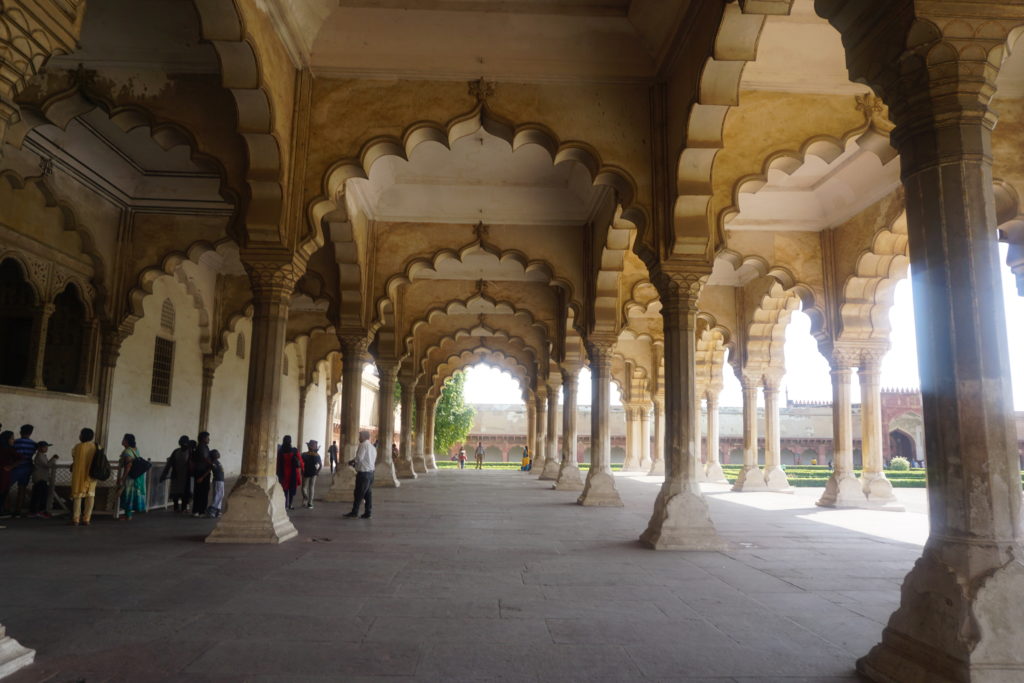 Wives Residence: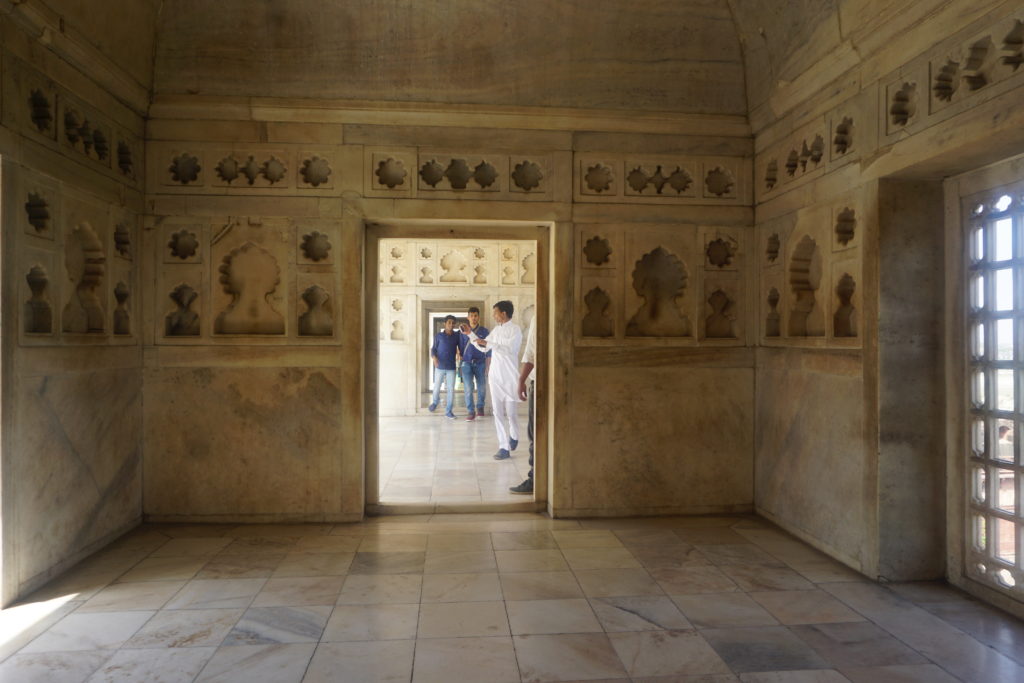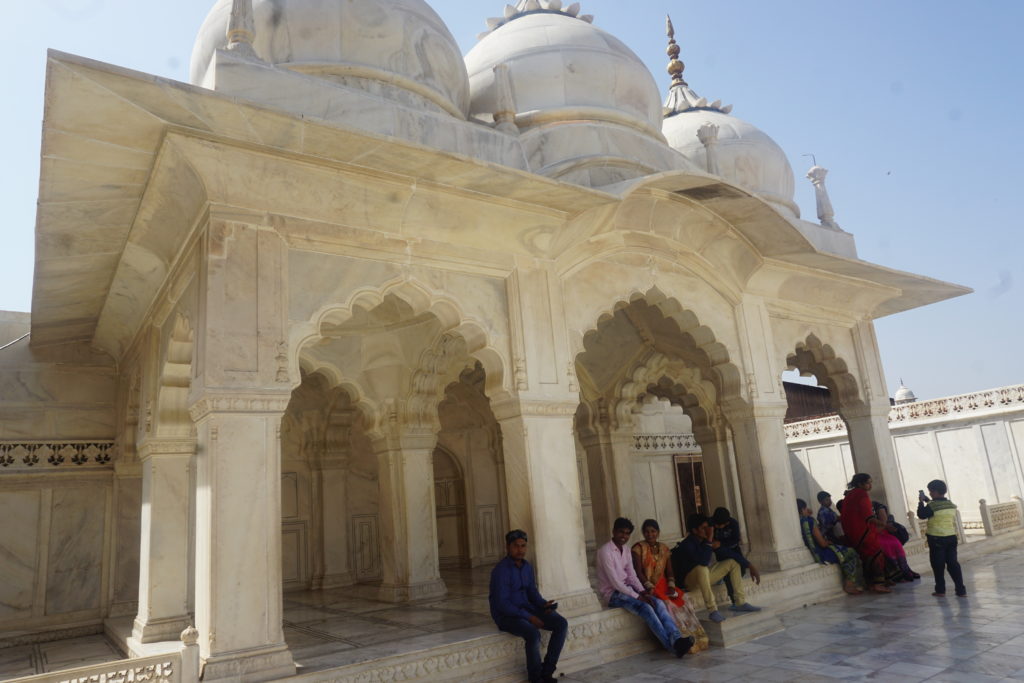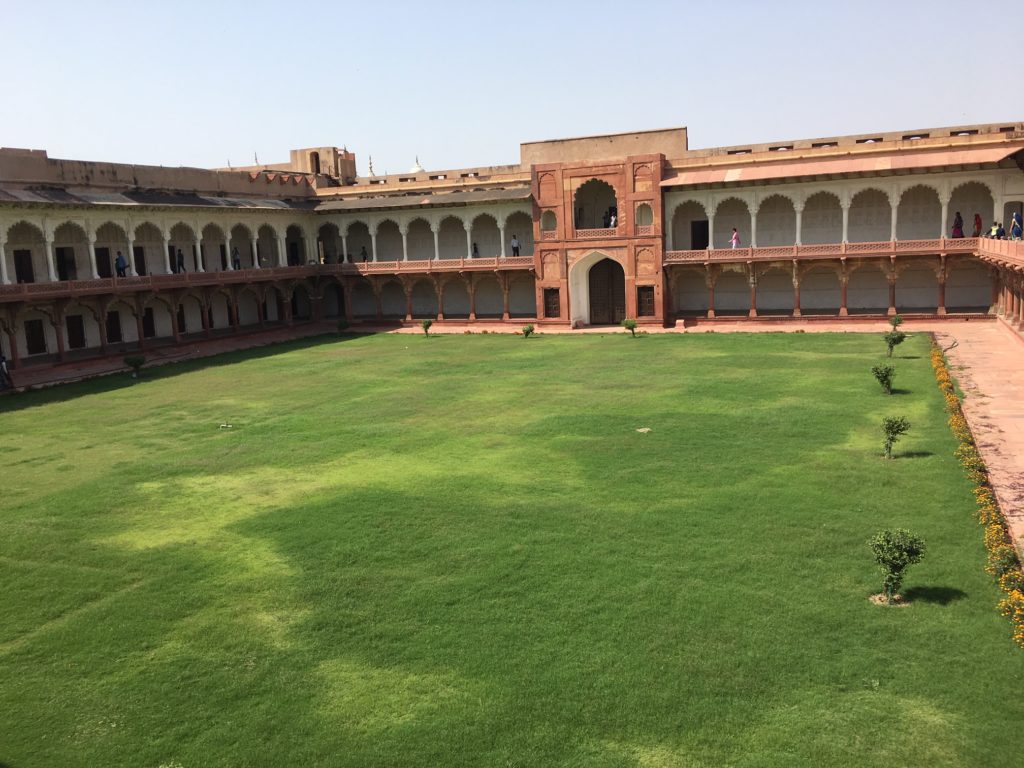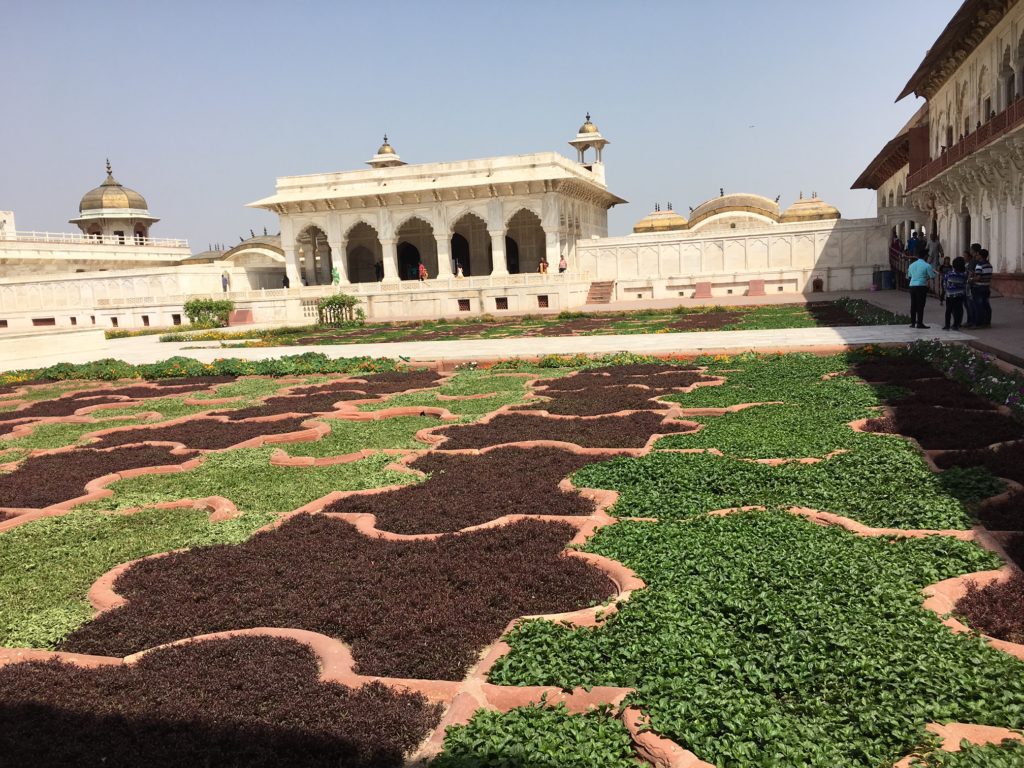 Our morning excursions left us famished, so we drove to an Agra restaurant to have some lunch. The "Namaste India Restaurant" (V I P Road, Near Kalakriti, Fatehabad Road, Agra, Uttar Pradesh) offered a few vegan options. I dined on a thali platter containing portions of vegetable jal frezi (spicy curry), ginger nan, chana masala(chickpeas), and basmati rice.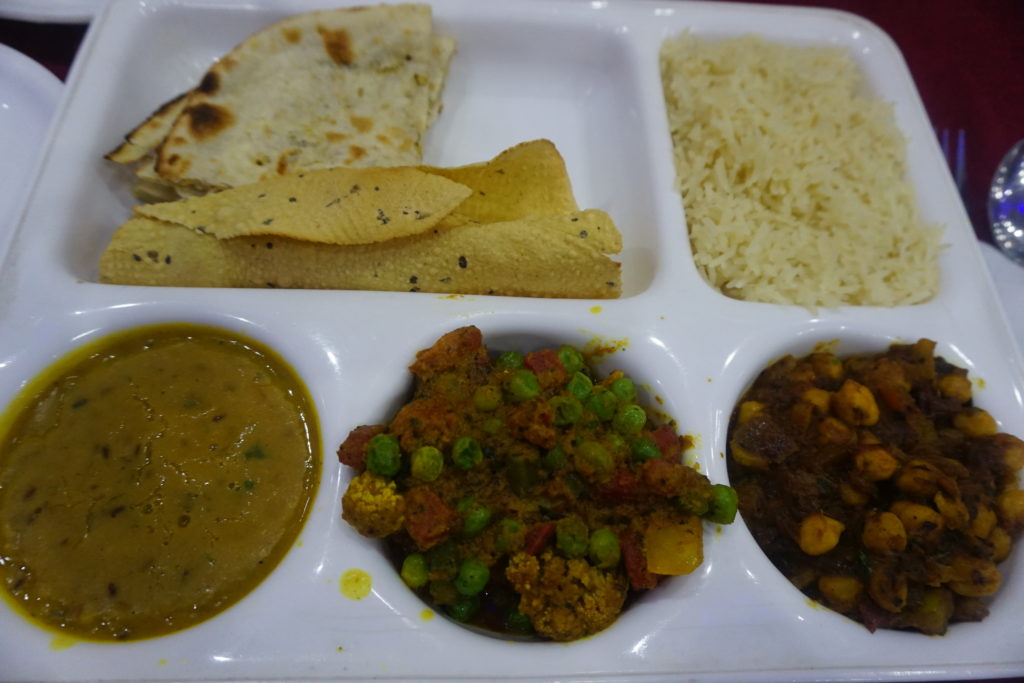 We ended our afternoon by paying a visit to a local shop where craftsmen create elegantly painted tile pieces such as small tables, vases, candy dishes, and other household objects.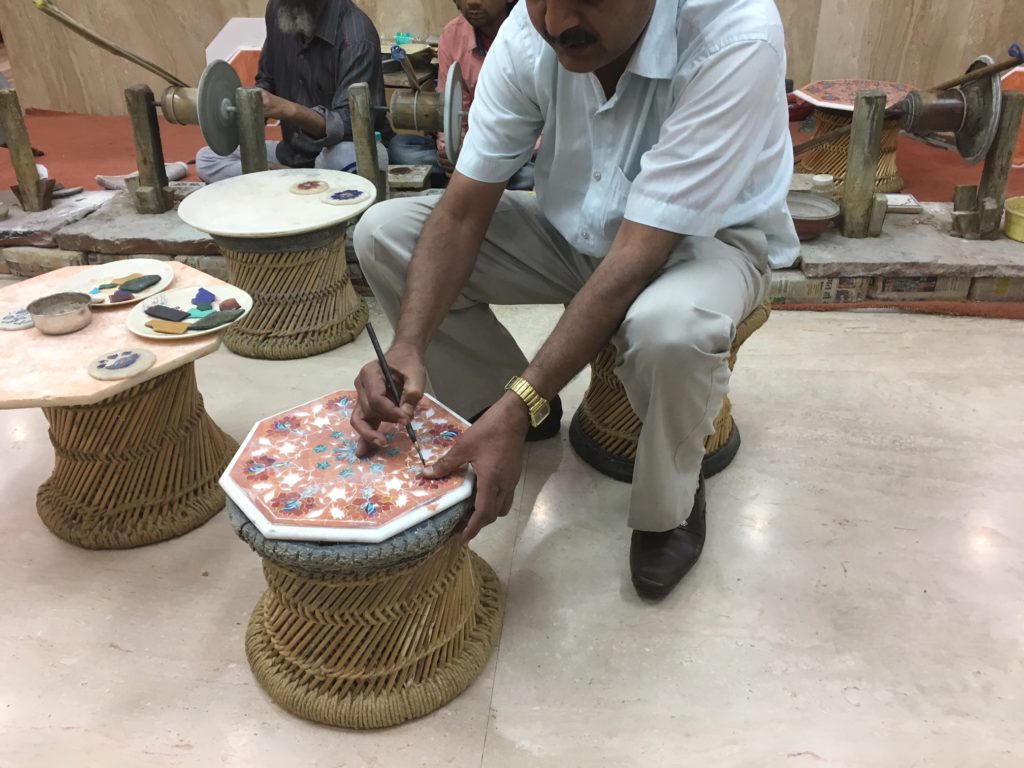 When evening arrived, we headed to the train station to board the overnight train from Agra to Varanasi. The sleeping compartments were small and simple compared to western standards. However, my bunk bed was comfortable and clean. Face towels and blankets were provided. Both western and eastern toilets were available down the hall.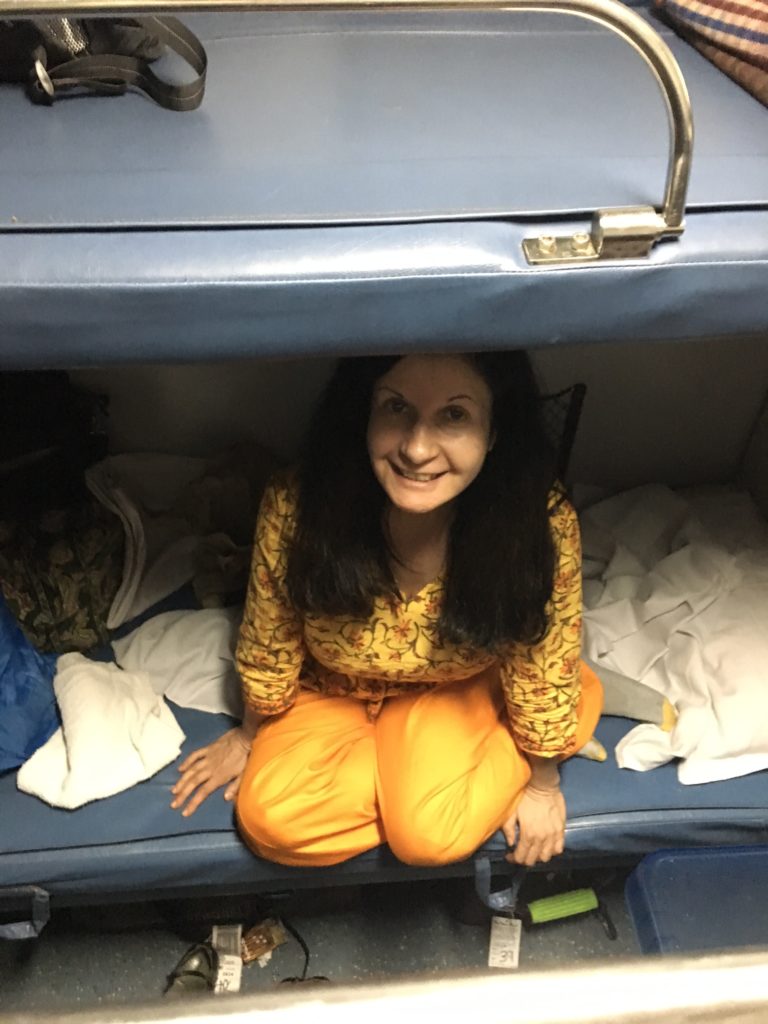 Our tour leader had ordered some takeaway dinner snacks for our twelve hour journey. My evening meal consisted of a tasty naan bread, a vegetable samosa, a banana, and mango juice.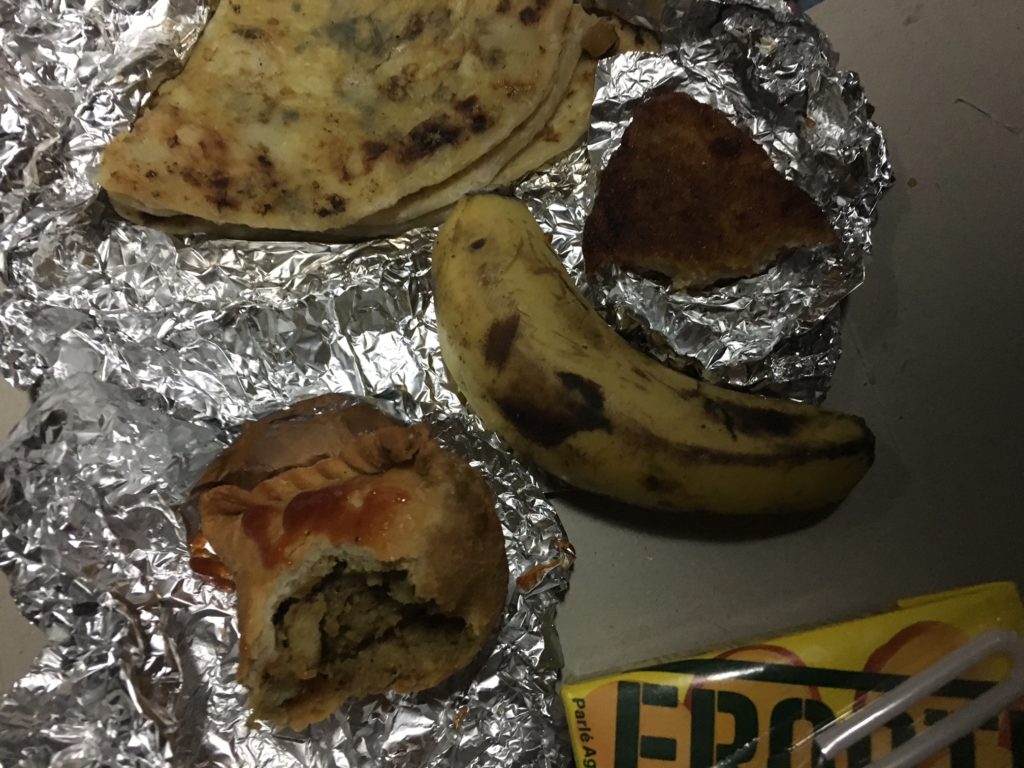 I really enjoyed the visit to Agra with its elegant Taj Mahal and impressive Red Fort. Our stop at the tile making shop was a wonderful surprise. My vegan meals were really good. The overnight journey by train would bring us to the holy city of Varanasi, where more exciting adventures are in store for us.