When we think of Northern India, images of the majestic Taj Mahal, devoted pilgrims soaking in the Ganges River, and spicy curry dishes come to mind. This exotic land had been on my "Must See" list for quite some time. During the month of March, I made that dream a reality. A fascinating tour of the popular "Golden Triangle"(Delhi, Jaipur, Agra) and the holy city of Varanasi would await me.
My flight on Emirates Airlines commenced on a Wednesday evening and arrived in Delhi, India during the early morning hours of that Friday. This was my first time on this airline. Fortunately, vegan meal options were offered.
During the first evening's flight, my dinner consisted of sauteed zucchini, squash, and broccoli with a nice portion of pasta in a tomato sauce. A small salad, a roll and bread sticks, and a dish of mixed fruit accompanied the meal. Everything was tasty and filling. Airlines typically do not offer vegan breakfast, so I always come well-prepared with a cup of oatmeal by the Dr. McDougall brand. After an overnight rest, I consumed the oatmeal with a hot cup of water from the flight attendant.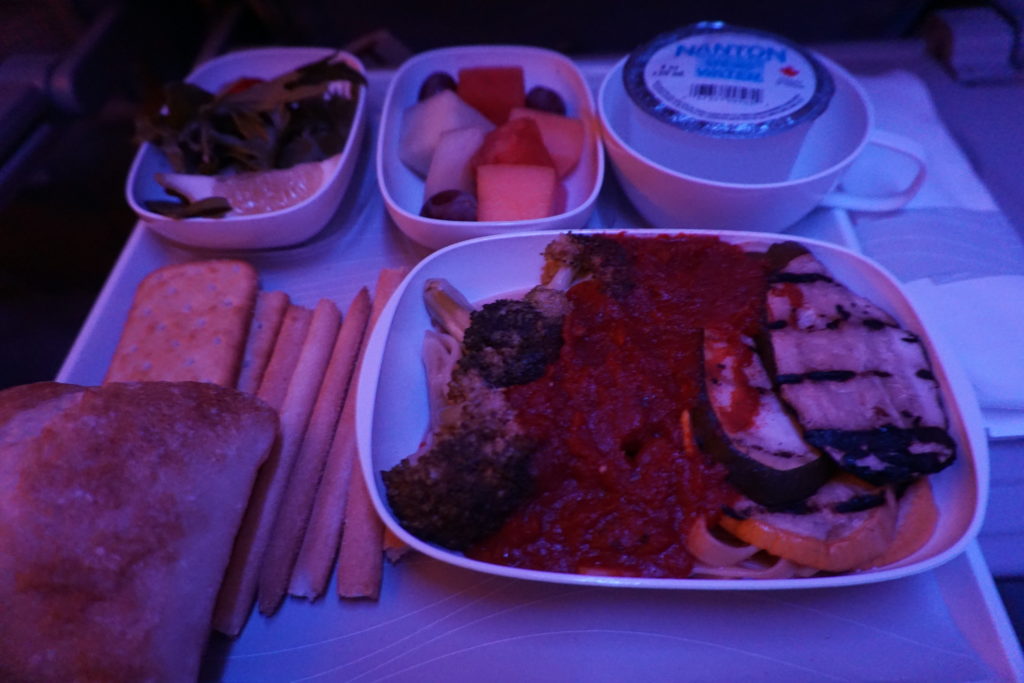 Upon arrival at the connecting airport in Dubai, I switched to another Emirates flight heading directly to Delhi.
A wonderful lunch of sauteed mushrooms, peppers, tofu, potatoes, and greens was served. A side dish of finely chopped onion with tomato and a chocolate dessert rounded out the meal. I enjoyed every bite. The airline does a great job with their vegan offerings.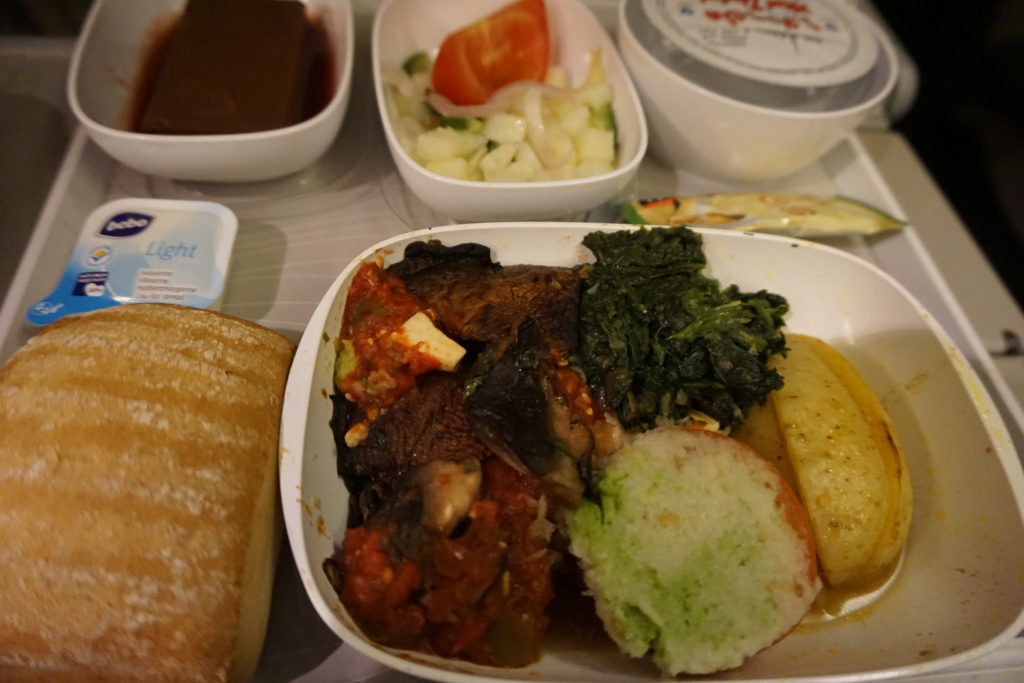 Dinner time had arrived and I was served a zucchini and squash sandwich. It was another tasty meal. Emirates satisfies the vegan palate with a variety of good food.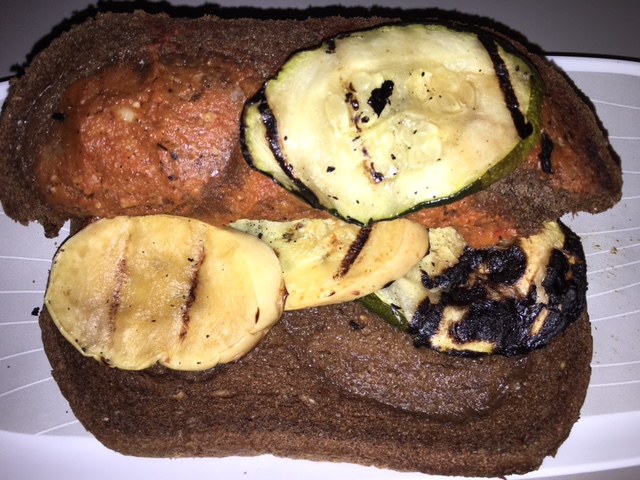 The following morning's breakfast was another oatmeal that I stashed away in my carry-on. After a lengthy flight from the USA with a connection in Dubai, I finally arrived in Delhi, India. Among the sea of tour companies waving their signs at the airport arrivals gate, I was able to locate the tour company with whom I had arranged to go on tour. Our group guide was to transport us by mini-van from the airport in Delhi to the city of Jaipur where our official tour would begin. As the journey would take approximately seven hours, it was crucial to make a lunch stop along the route.
Our guide suggested that he take us to a popular chain restaurant which was not too far from Delhi. Heavy traffic backups would delay our drive, so this location appeared to be the best option. Haldiram's Restaurant (Haldiram's Restaurant) offers a few items on their menu that are vegan. Every entree and side dish is picked up in a buffet-style cafe. Just to be certain, I asked my guide to confirm what is vegan. My late lunch consisted of chole(chickpeas) in spicy tomato sauce, steamed rice, and plain naan Indian flat bread. This chain restaurant meal was quite good.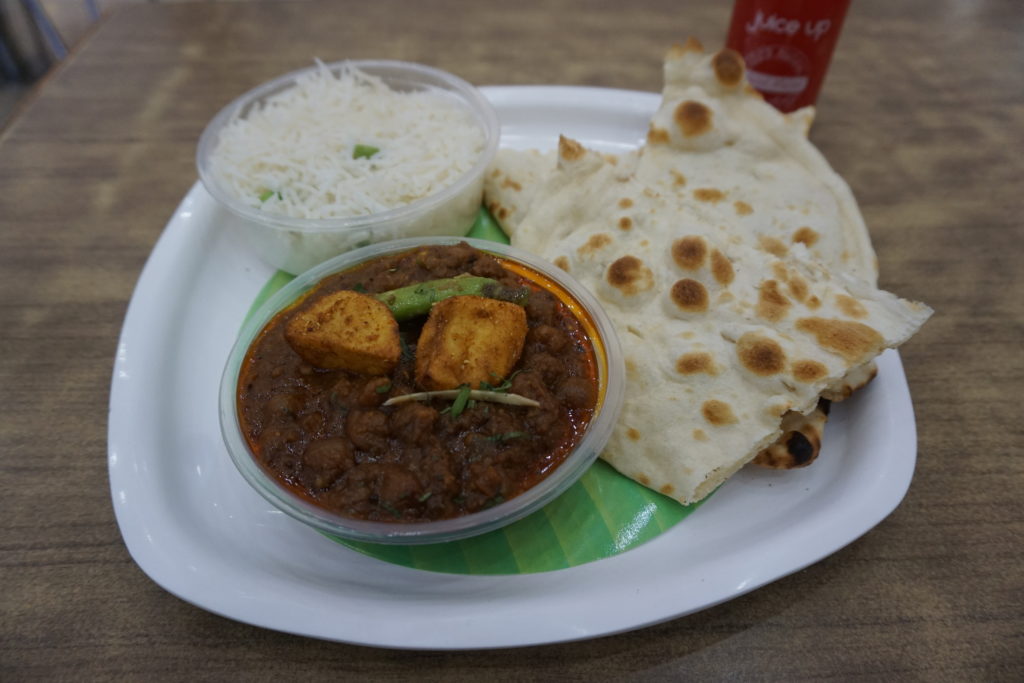 After quite a traffic-ridden journey, we arrived around 10 or 11pm at our Jaipur hotel "Fort Chandragupt Hotel"(Fort Chandragupt Hotel). The staff kindly greeted us with a beautiful necklace chain of colorful flowers.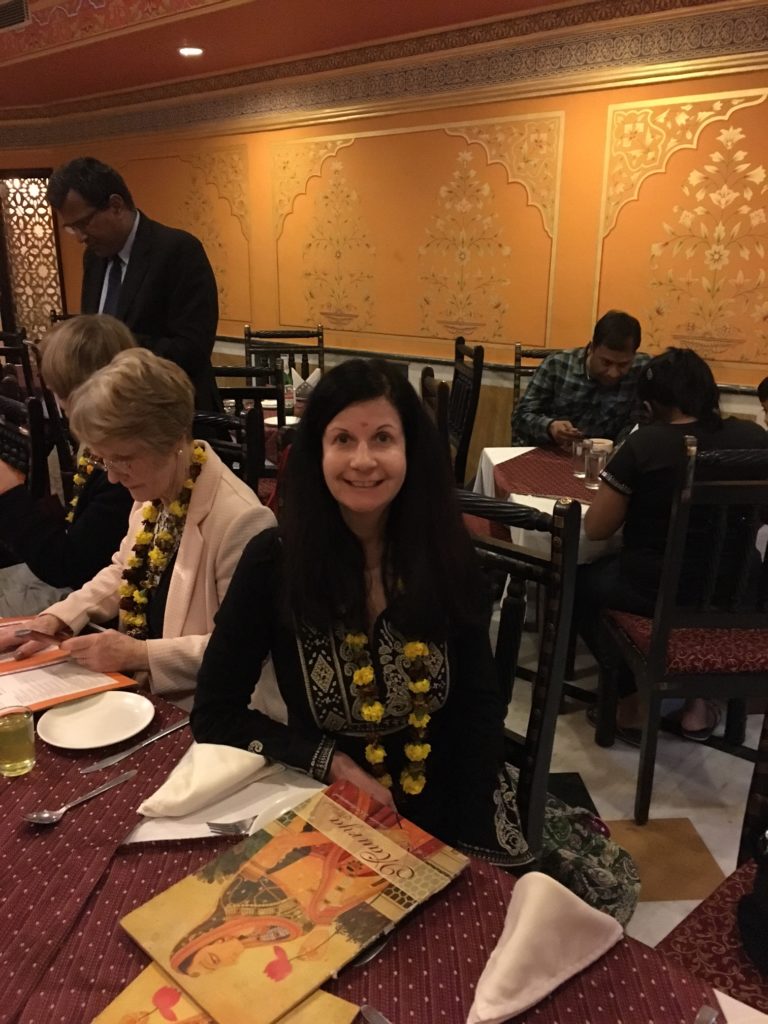 They also provided us with menus for a late night dinner at their on-site restaurant. The majority of my meals in India were consumed at our hotels' onsite restaurants. Tour lengths and locations made it virtually impossible to go off the beaten path for a meal on my own. Heavy traffic abounds across the entire region. On a positive note, I was quite impressed by the vegan-friendly offerings at these hotel restaurants. My local tour manager frequently assisted me by asking restaurant waiters what on the menu was vegan.
I selected the roti wheat bread, plain rice, aloo gobhi(potatoes and cauliflower), and dal(lentils) for my dinner at the Jaipur hotel restaurant. Everything was really tasty. Truly, the wonderful flavors of Indian cuisine met my high expectations. After enjoying our meal, I headed to my room and fell into a deep slumber until the next morning.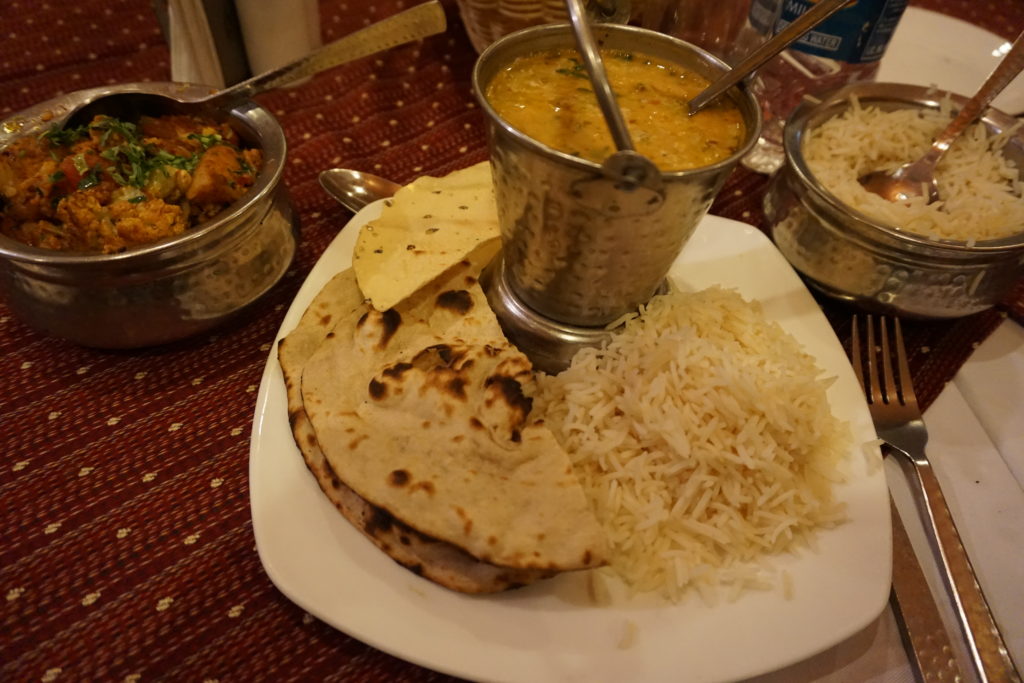 Upon waking up at the break of dawn, our tour group headed to the hotel restaurant for breakfast. I enjoyed the poori (puffy bread), soup made with tomatoes, potatoes, lentils and pumpkin; and a bowl of steamed basmati rice.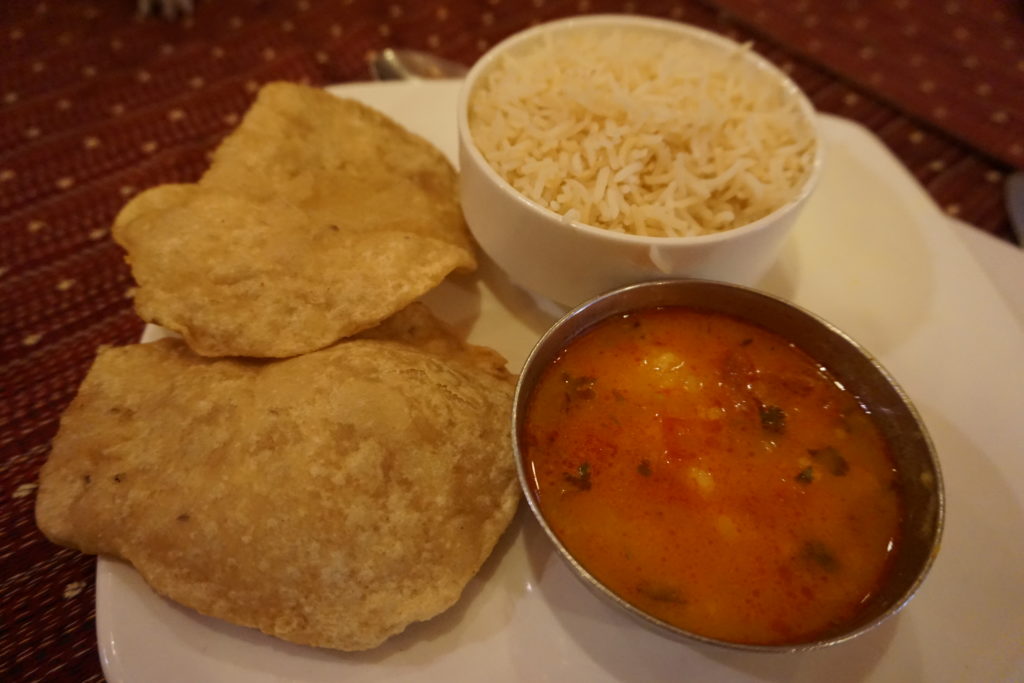 Off we went to officially begin our tour of northern India in the city of Jaipur! Fondly known as the "Pink City", Jaipur's most notable landmarks include the City Palace (Mahajara's Palace), Hawa Mahal, the observatory of Jai Singh, and Amber Fort. Its extraordinary architecture and flavorful foods have earned Jaipur an international recognition. Jaipur was founded in 1727 by Maharaja Sawai Jai Singh II as a capital city for the region. When the Prince of Wales visited in 1853, the entire city's architecture was painted pink in his honor and remains to this day.
The first stop on our itinerary was the impressive Hawa Mahal or "Palace of the Winds". Erected in the year 1799 for Maharaja Singh, the exterior resembles a high screen wall. This palace was constructed so that the royal women could observe outdoor festivals from the interior, yet not be seen themselves from its exterior. The red and pink sandstone façade is indeed stunning.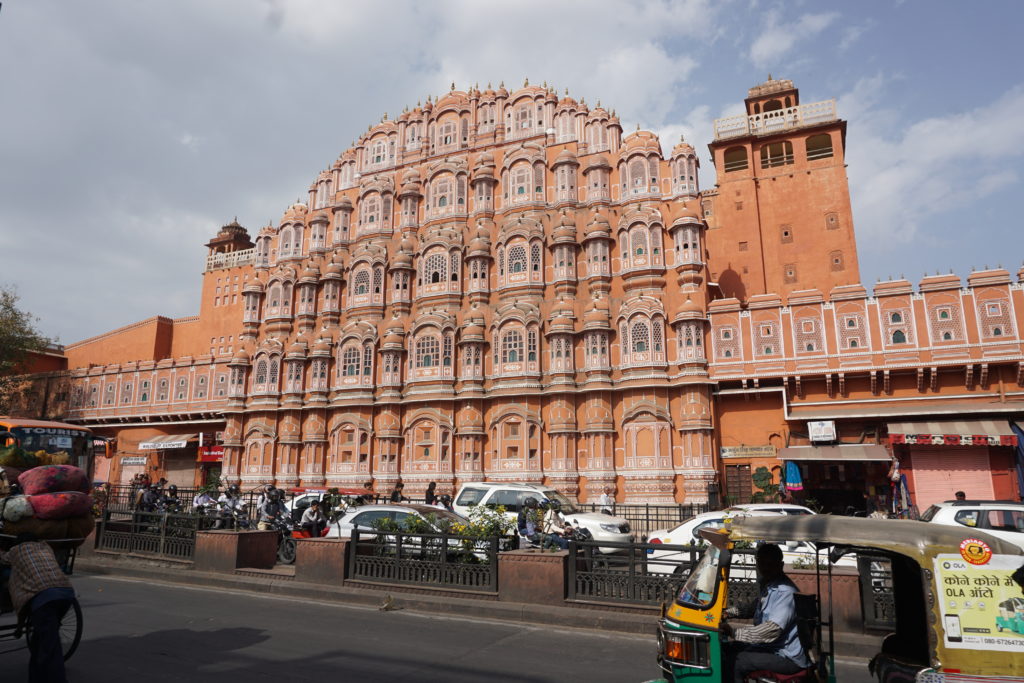 Shortly thereafter, we arrived at the Jantar Mantar Observatory. Maharaja Sawai Jai Singh was fascinated with astronomy from a young age which fueled his desire to eventually have this observatory, constructed in 1734. Sundials and various instruments calculate astronomical measurements and the positions of the sun, stars, and planets. The observatory's main purpose was to determine horoscopes. Every zodiac sign is represented on the premises.
Sundials cast shadows from the sun, thus determining the time of day in a calculated fashion.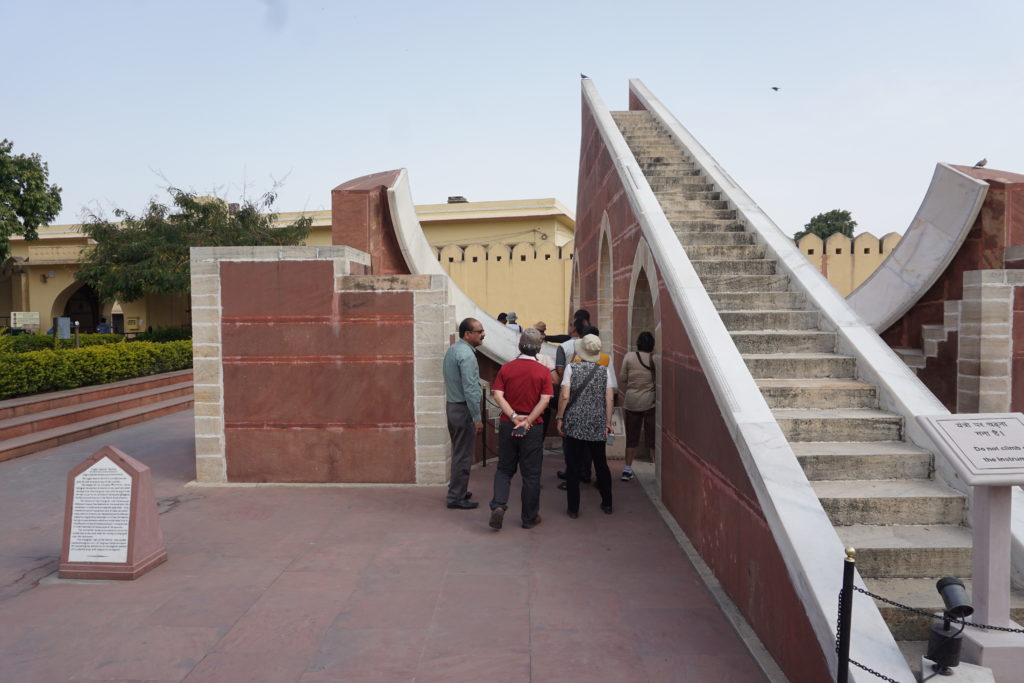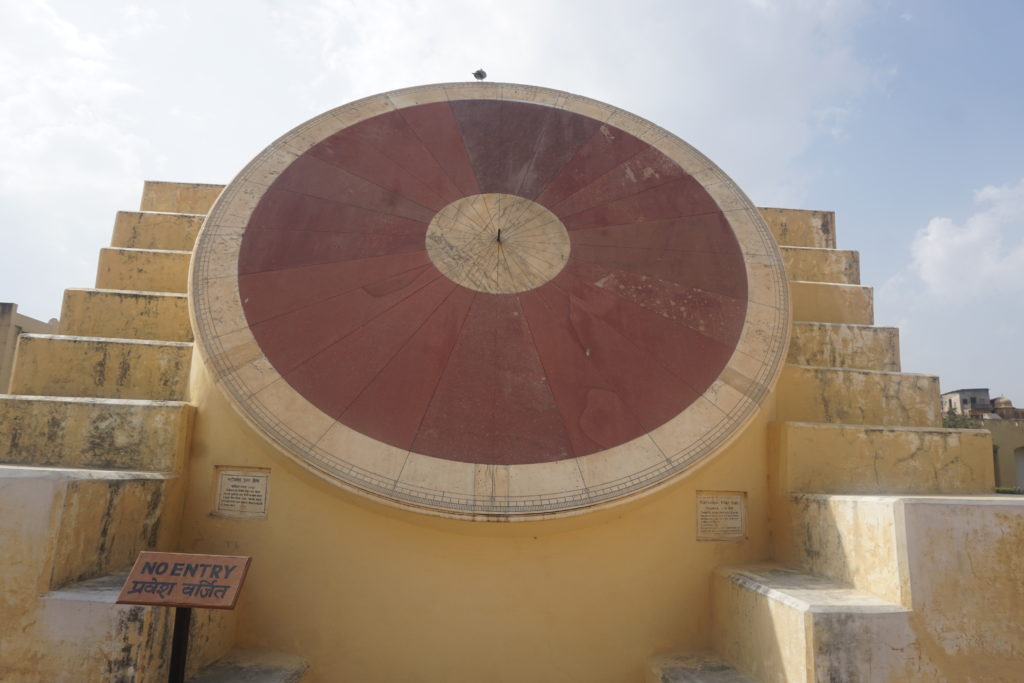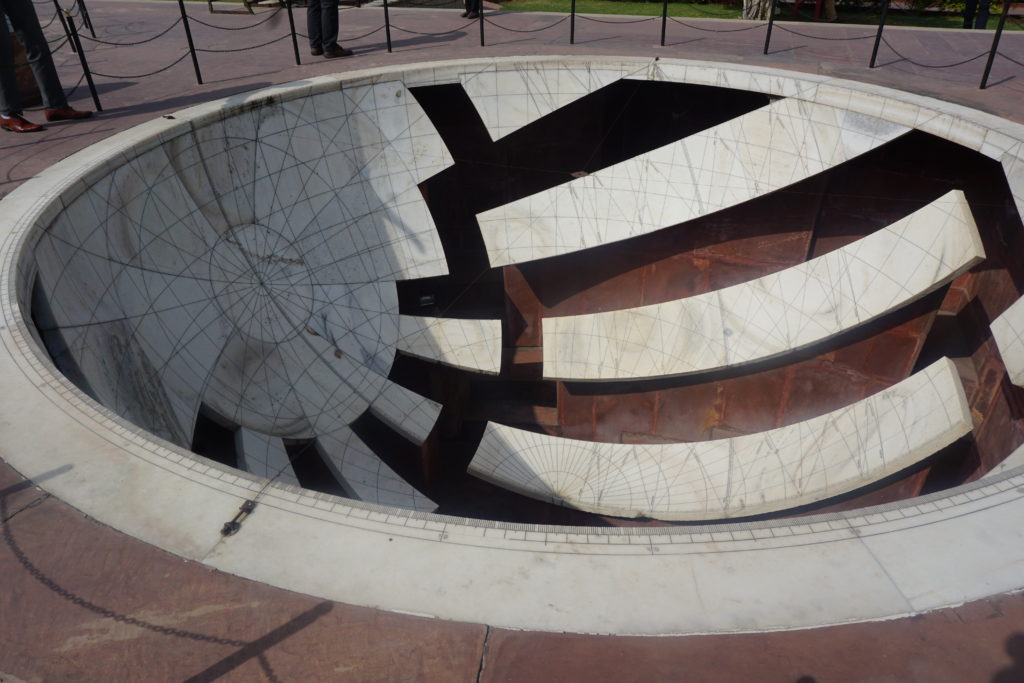 The Libra zodiac sign is represented in the photo below.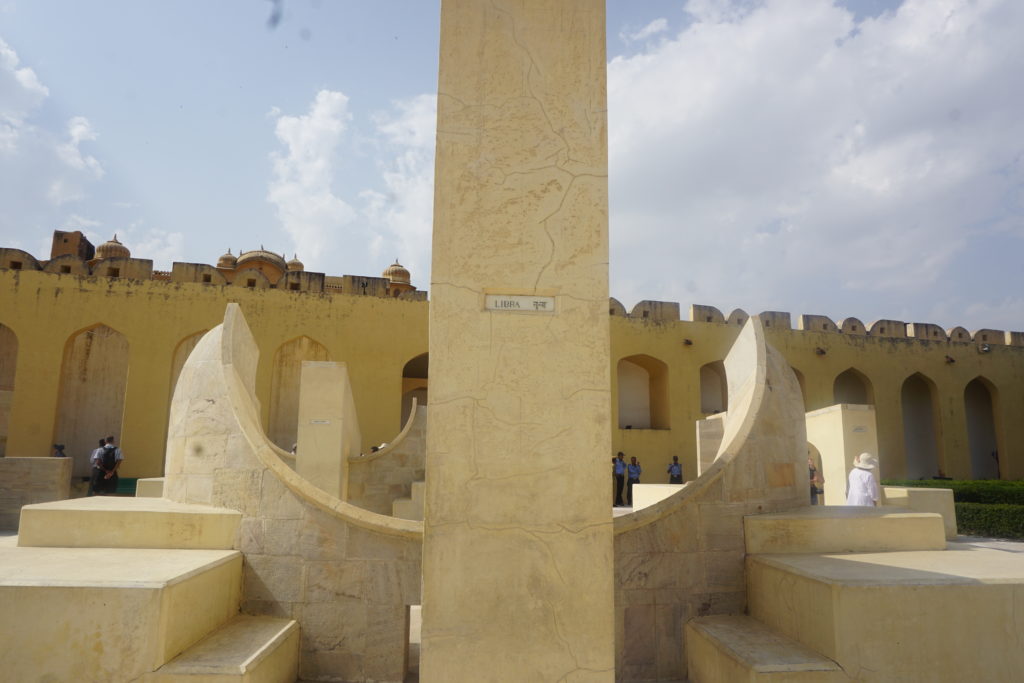 City Palace is a palace complex in Jaipur, containing several royal structures. It was the official seat of the Maharaja. This was the next destination on our day's agenda. Built in 1732 by Sawai Jai Singh II, the buildings include 'Chandra Mahal', 'Mubarak Mahal', 'Diwan-I-Khas' and the 'Govind Dev Ji Temple. Architecture among its structures include Rajput, Mughal, and European styles. Elaborate walls and gates represent Mughal design. The 'Chandra Mahal' is currently a museum showcasing handicrafts and items relevant to the palace's royal legacy.
Guardsmen in royal attire patrol the front entrance of the palace.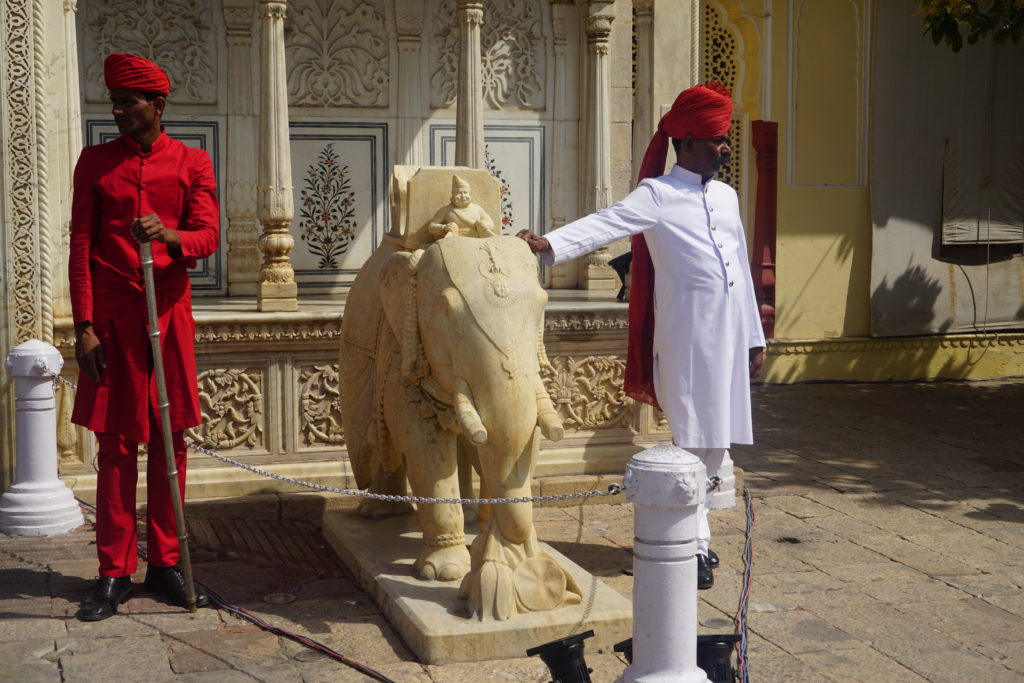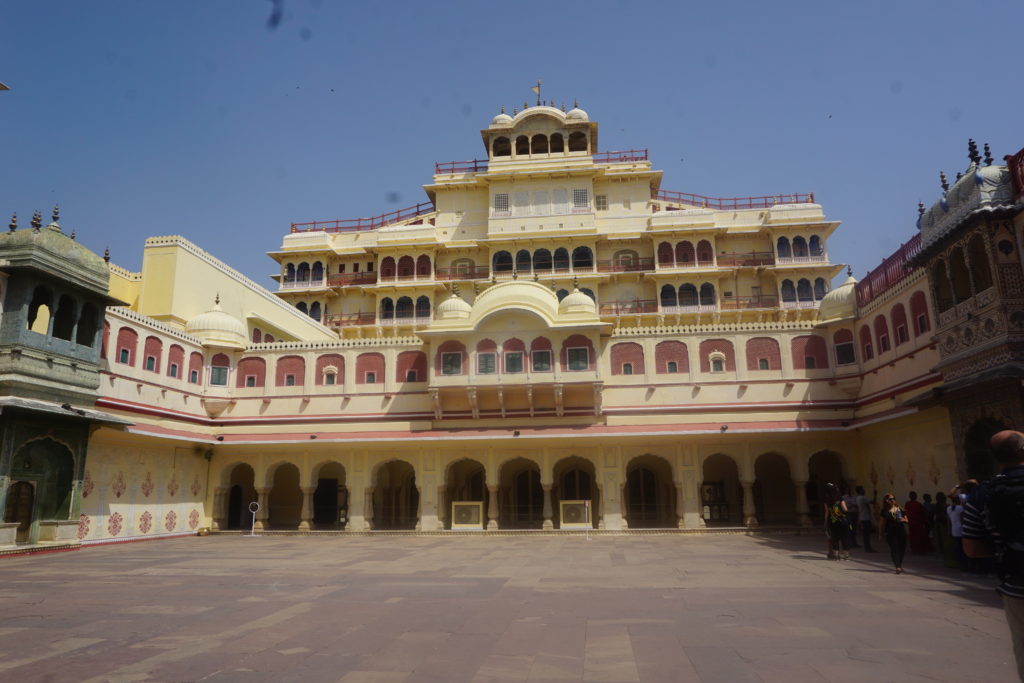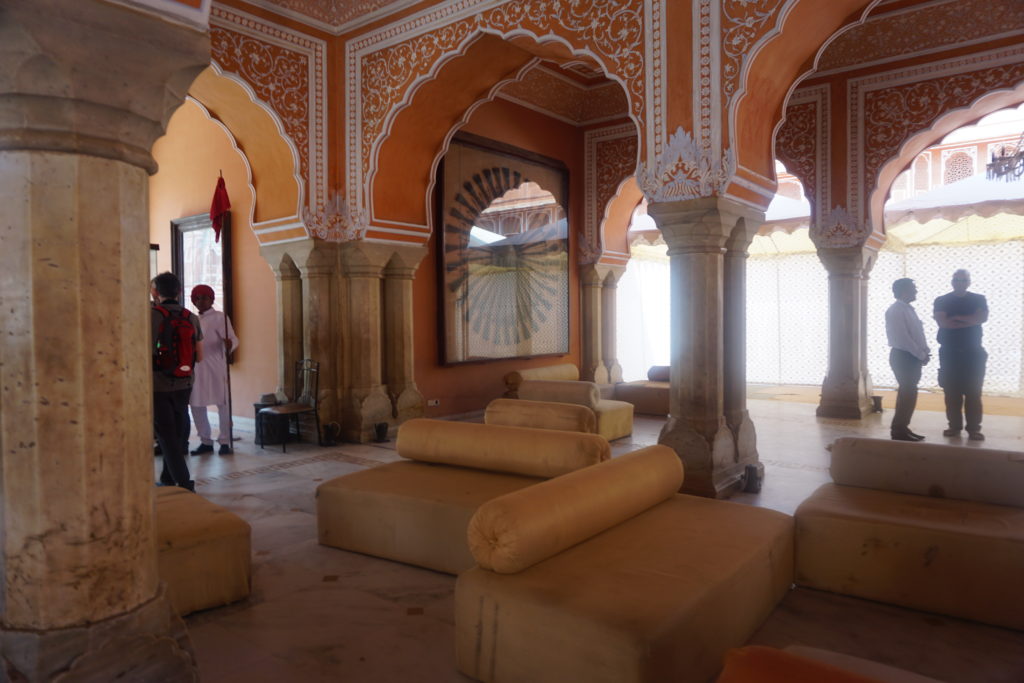 Local musicians with their dancing puppets entertain visitors to the palace complex.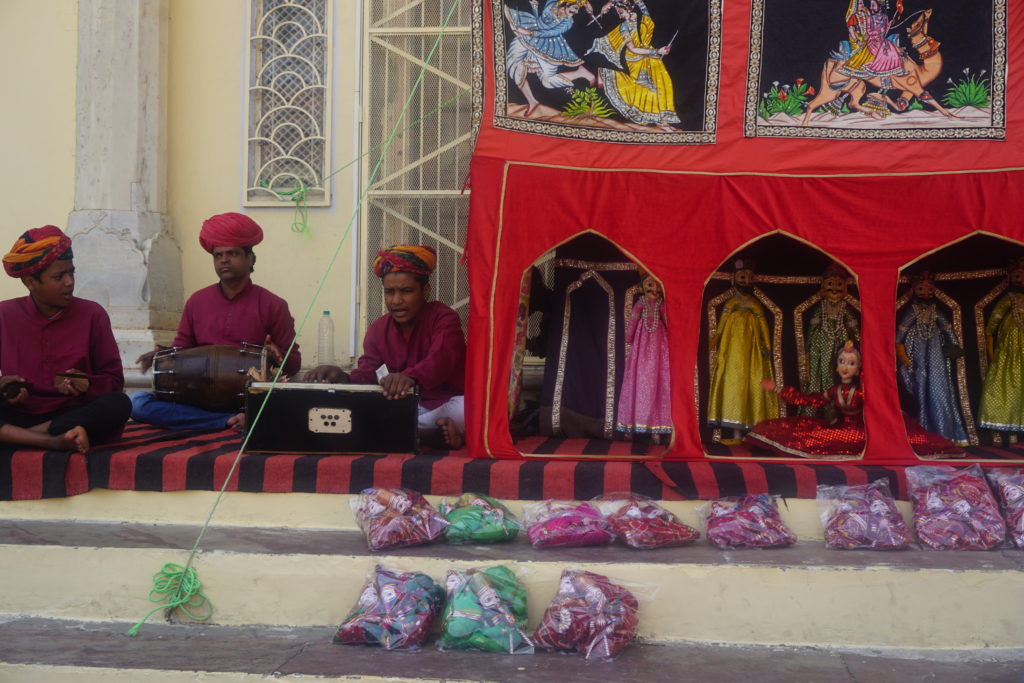 Our tour guide then made a quick stop at a popular street vendor for lunch. We dined on Indian "street snacks" of samosas, kachoris, and other fried flaky pastries filled with potato, pumpkin, broccoli, and onions. These spicy treats were very appetizing.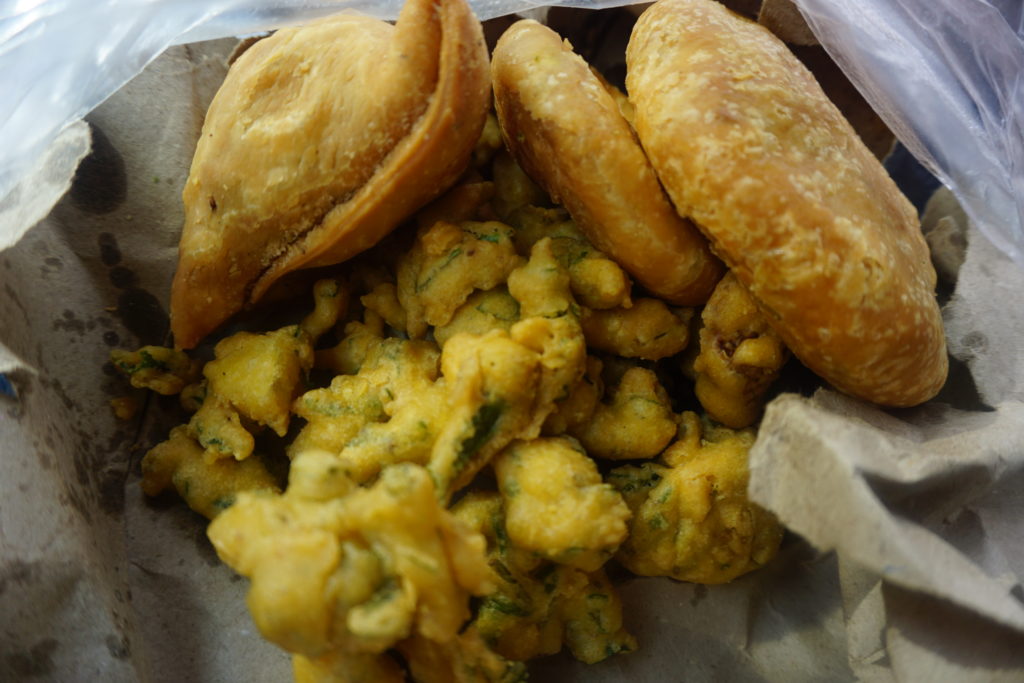 Amber Fort was next on our agenda. Erected in the year 1592 by Raja Man Singh I, the gorgeous and huge complex consists of a palace, courtyard, and temple overlooking a charming lake. The exquisite building's exterior is made of red sandstone and white marble. Located 11 kilometers from Jaipur in Amer, it was the original seat of the Rajput rulers.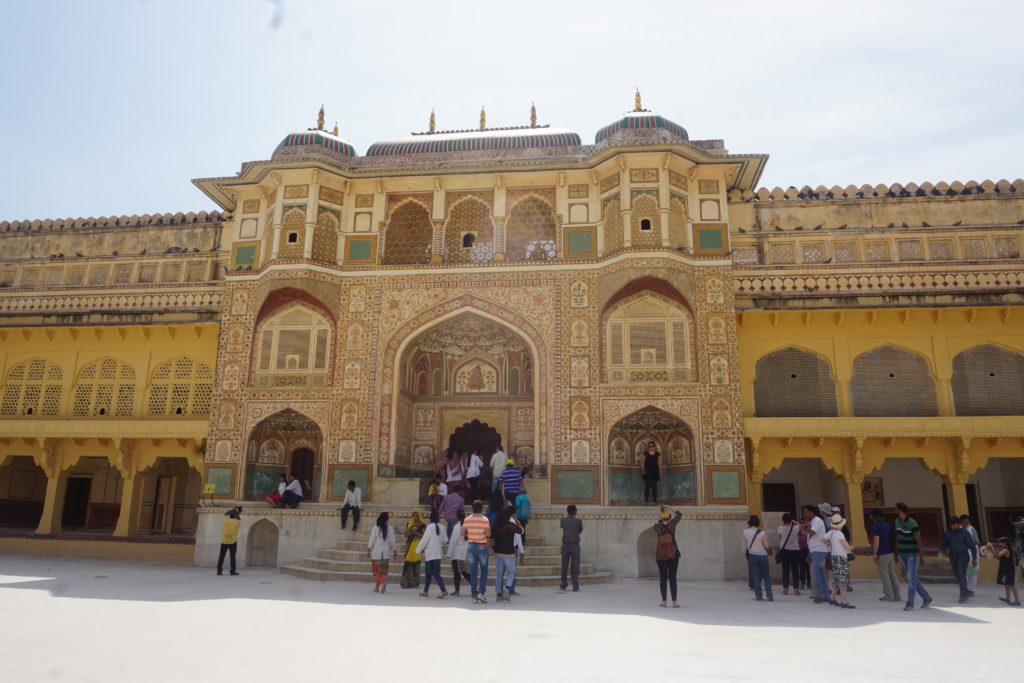 One of the structures contains ornate walls and ceilings in a breath-taking shimmery silver tone.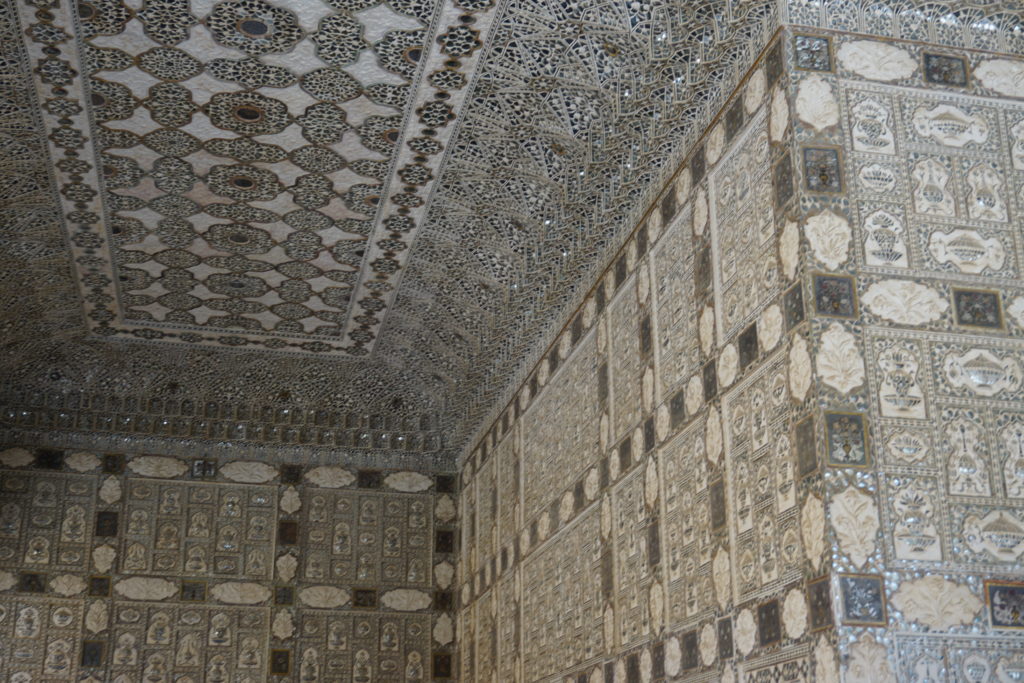 I enjoyed maneuvering among the many passageways to find a number of rooms where the Maharaja's concubine resided.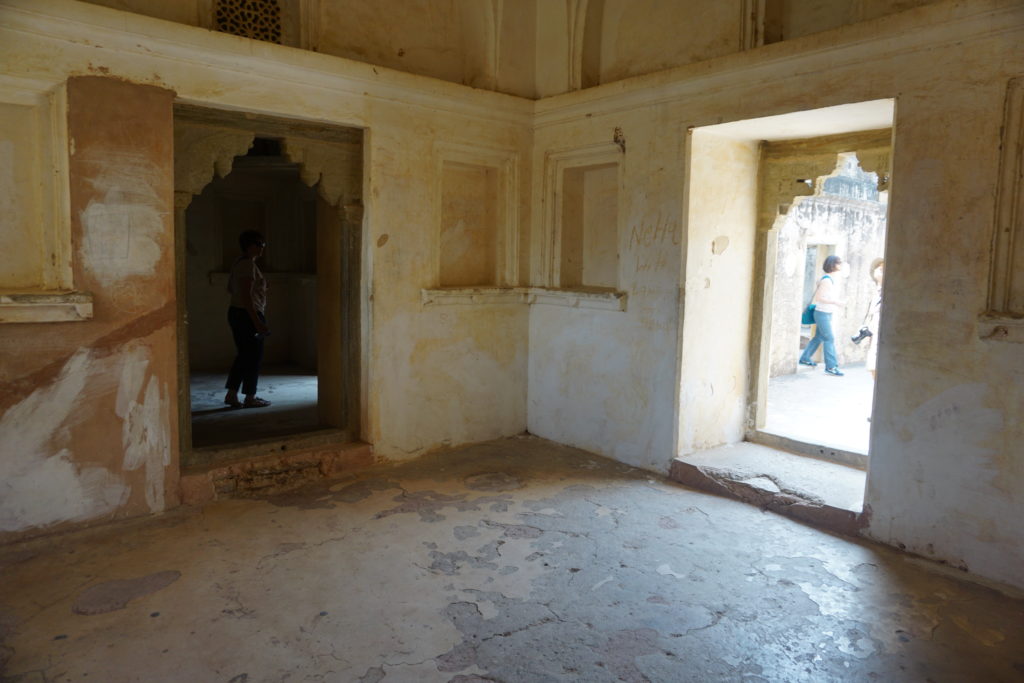 The complex also housed a gorgeous garden with a variety of shrubs, plants, and flowers. We spent an hour or two exploring the massive grounds and buildings of the fort.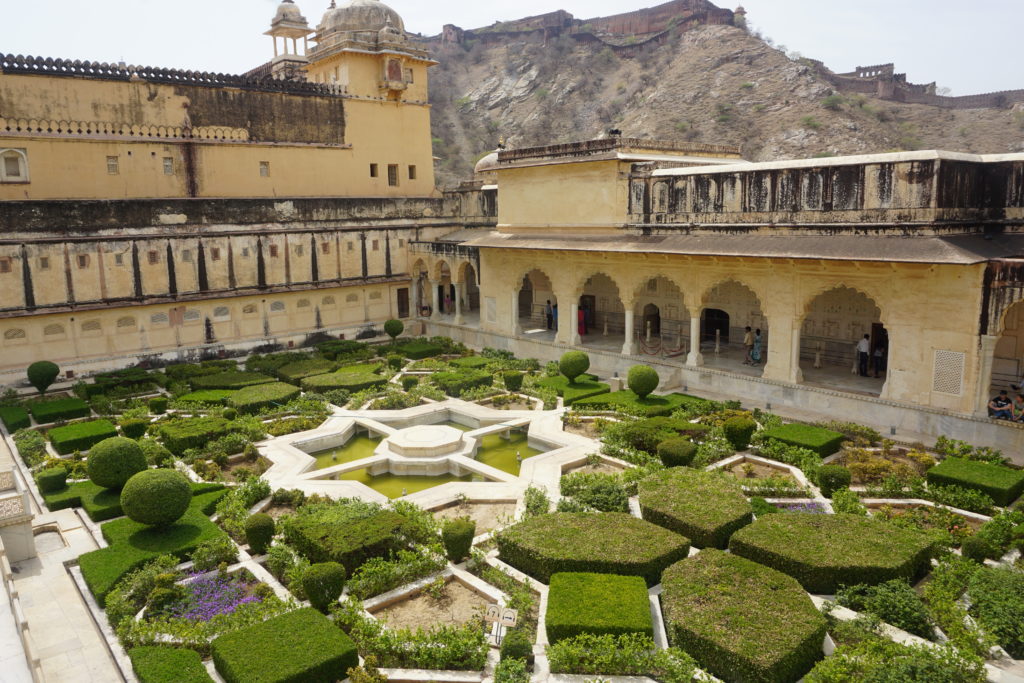 As we made our way through the city, our guide made a stop to view the beautiful "Jal Mahal Palace" in Jaipur. It resides in the middle of Man Sagar Lake. The five story palace was built in the year 1799 by Sawai Pratap Singh. Only the top level of the red sandstone building is above water. The palace is now empty and not open to visitors. However, it is a popular "photo stop" tourist attraction for its sheer beauty and lake setting.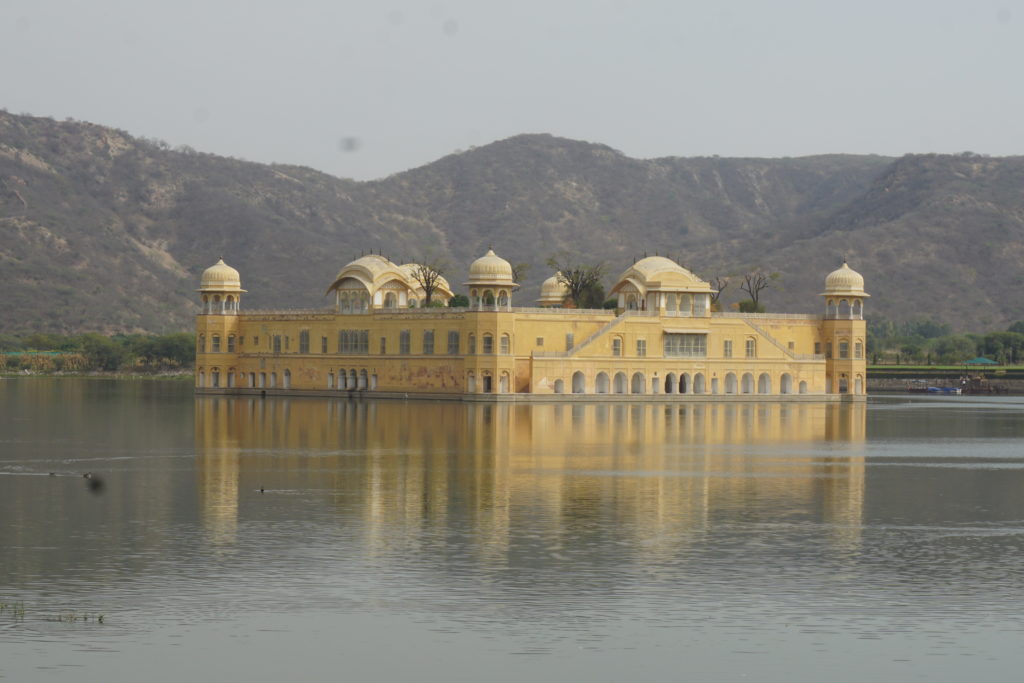 The historic landmarks tour was complete. Next on the agenda was a visit to a print-making shop. Artisans proudly demoed their process of creating printed patterns on fabric. They dipped their metal mold into various containers of colorful inks, then carefully pressed it down firmly onto the fabric, creating beautiful designs.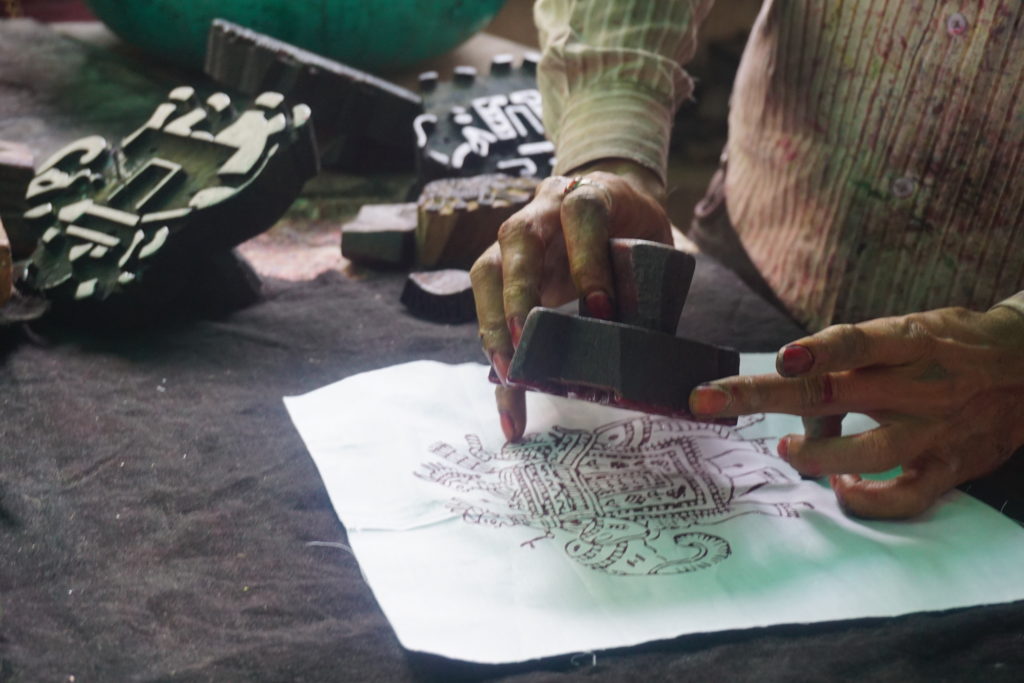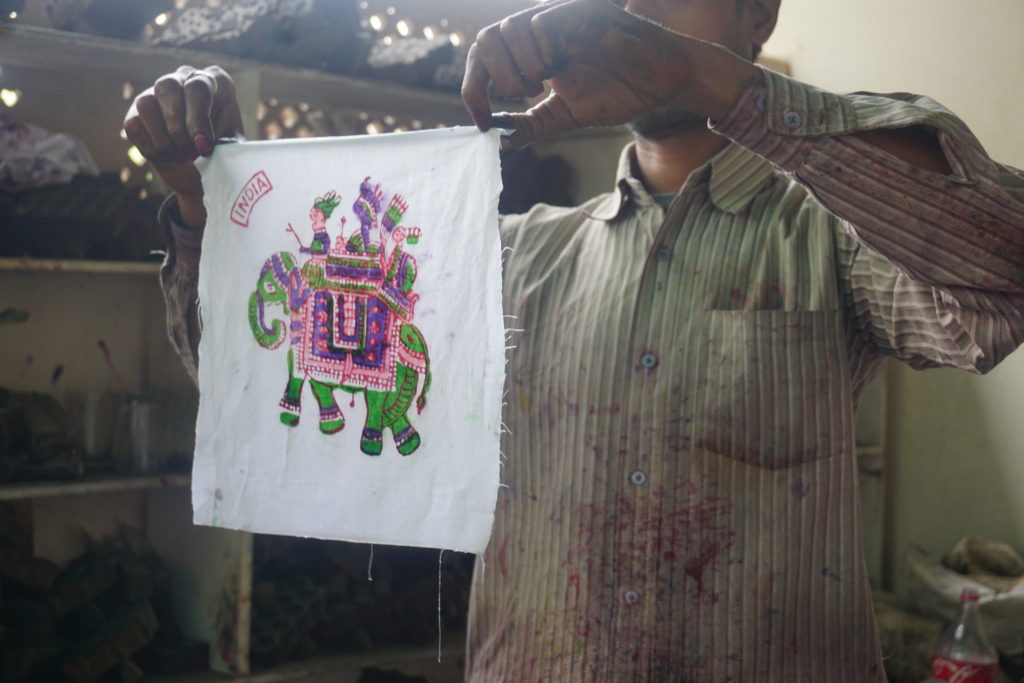 Another level of the shop housed a rug-making shop. The weavers showed us each step of the rug-making process from the initial weaving to the trimming of any extra long strands of yarn on the completed rugs.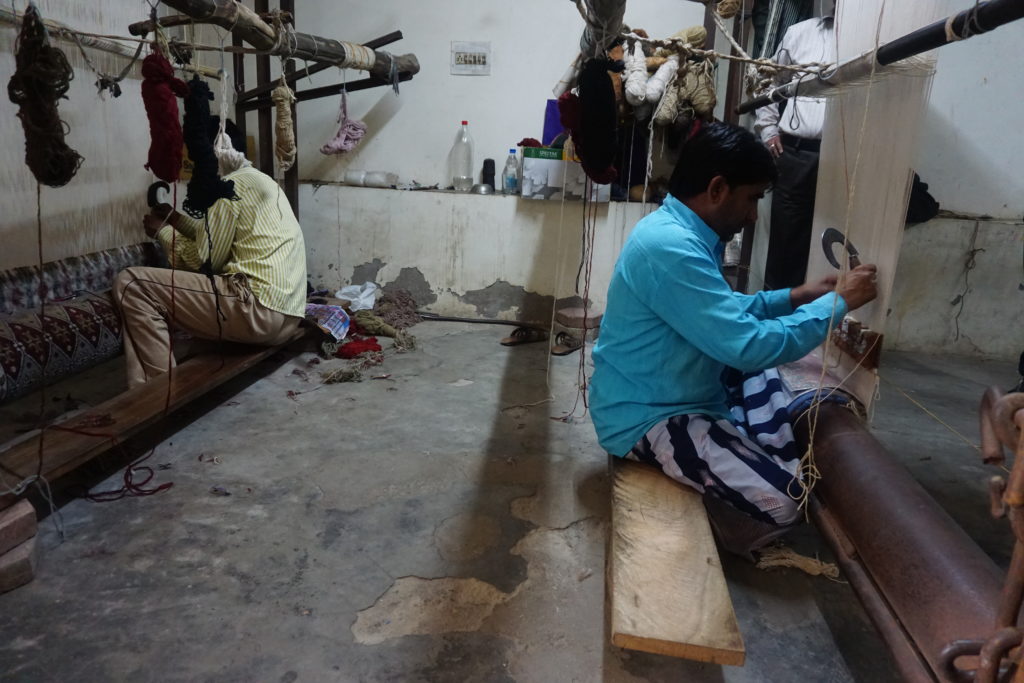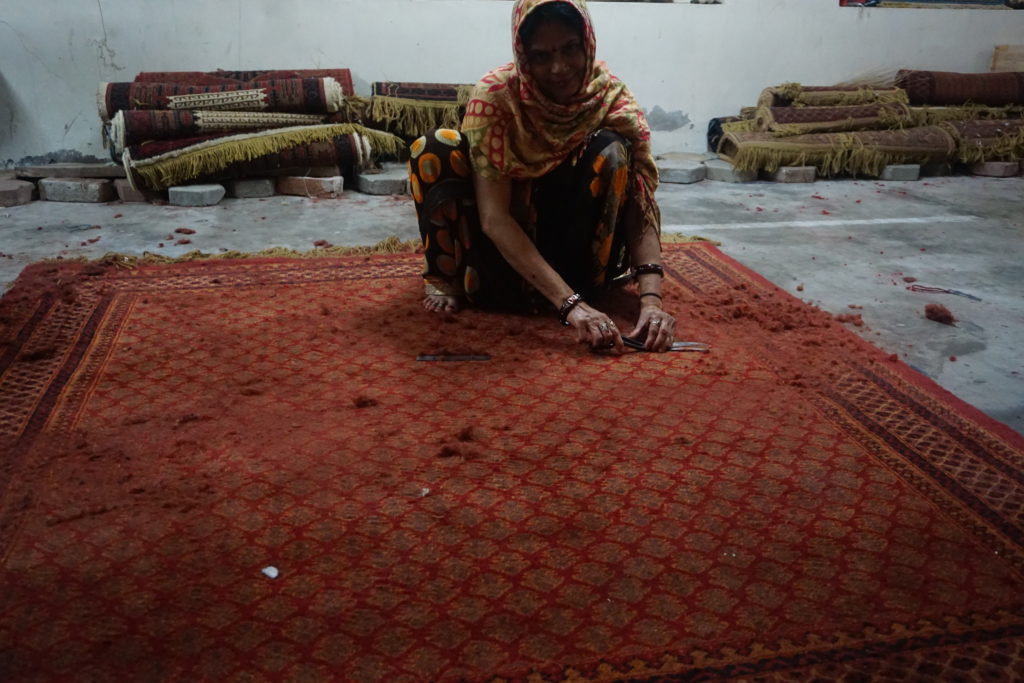 Our tour group was in for a nice surprise as our guide revealed that he would be taking us to dinner at a restaurant with an Indian dance performance. Green Pidgeon Restaurant (Green Pidgeon Restaurant) has a vegan-friendly menu and my guide verified with the waiter that this was indeed the case.
Dancers in colorful attire presented traditional dances.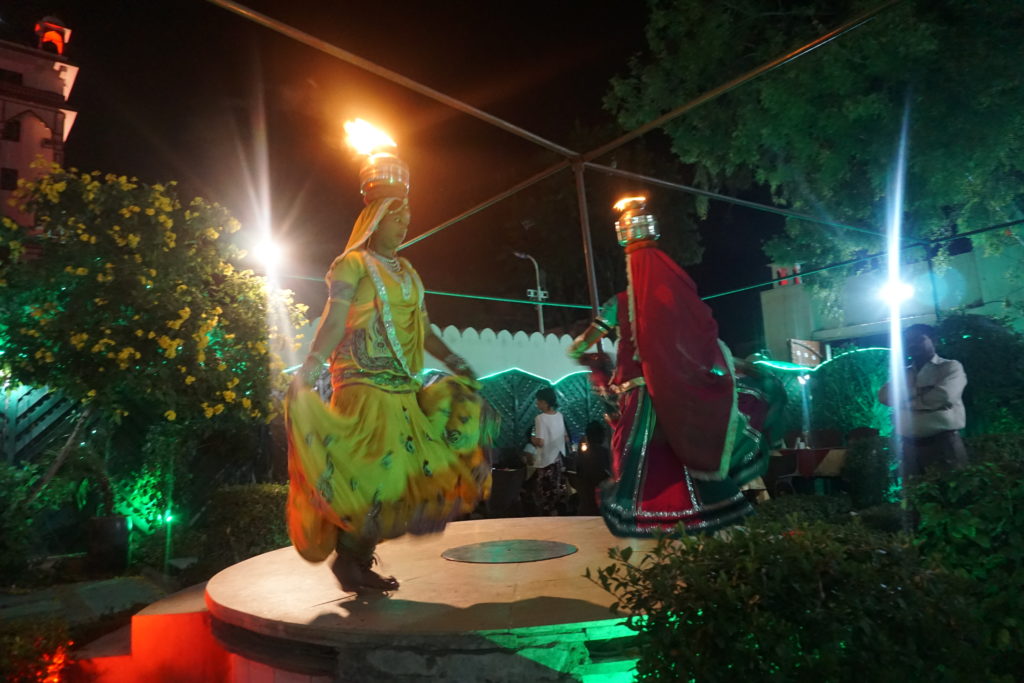 My meal consisted of a mulligatawny soup and a vegetable pulao rice entrée with peas, string beans, and tomatoes. Everything was satisfying.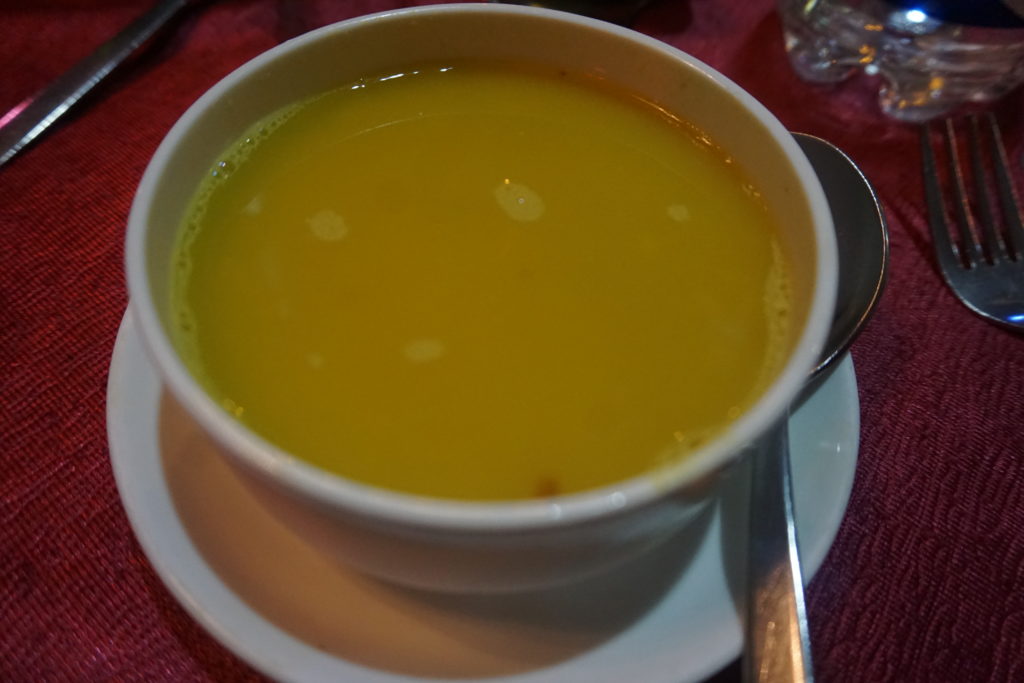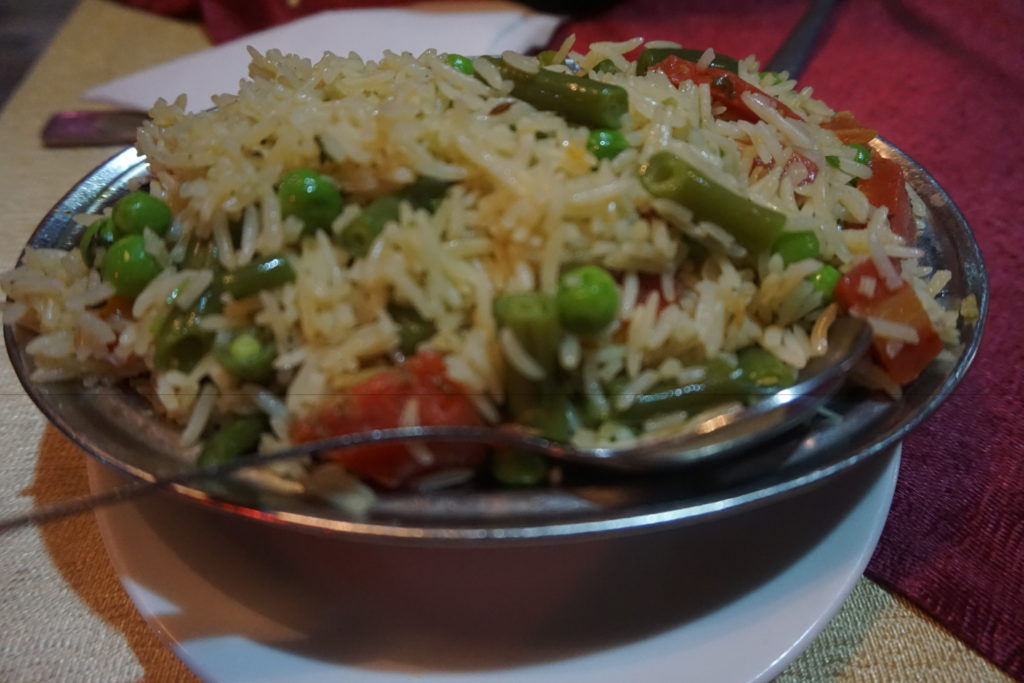 What an exciting arrival in India! From the alluring architecture to the local arts and crafts to the flavorful cuisine, I had a wonderful introduction to this country. I looked forward with eager anticipation to the next day's adventure at Ranthambore National Park.