I boarded the overnight train from Varanasi to Delhi, India during the late evening hours. The sleeping compartments were clean and comfortable, and even spacious enough for this part of the world. We chatted amongst ourselves, but eventually the time had arrived to catch some sleep for the overnight trip. The next morning, my tour guide had provided our group with a small breakfast take-away box that he had purchased for us from the train's kitchen staff. I enjoyed the spicy vegetable patties and naan bread that we ate while still aboard the train.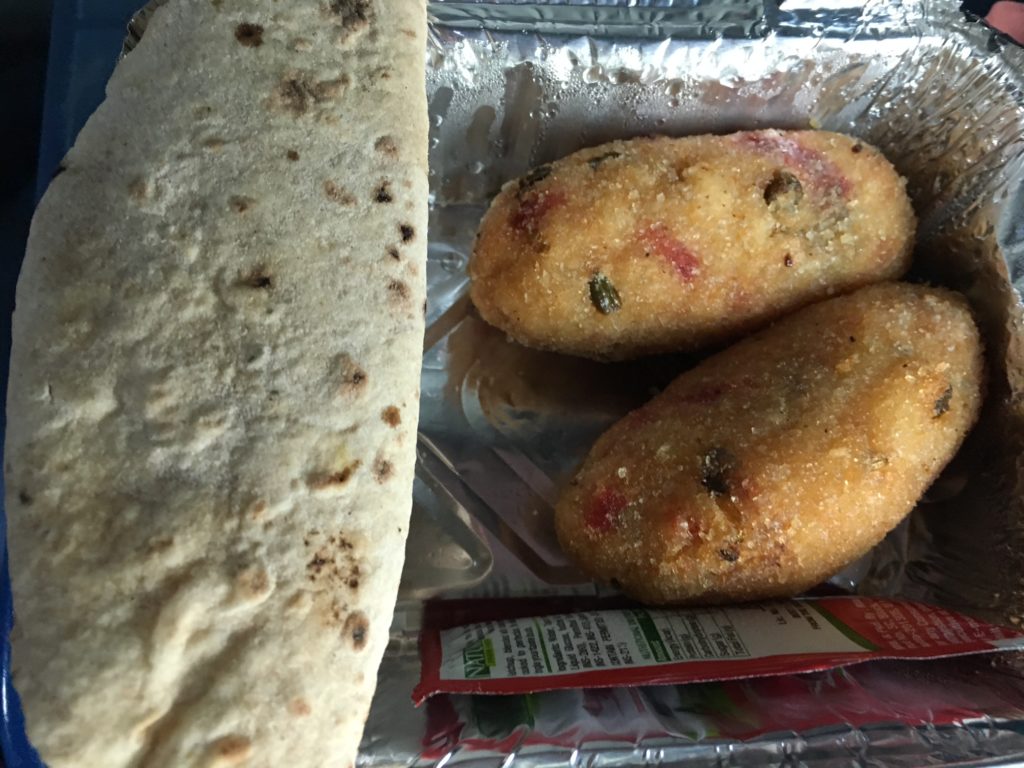 After a 14 hour journey, we had finally arrived in Delhi. Our accommodations for the night were at the lovely Hotel Singh Sons. Group members were free to relax or to visit whichever attractions interested us. I opted to hire a private car through the hotel, at a very reasonable price. I was a girl on a mission.. with my self-devised itinerary in hand. Our guide had helpfully suggested several sightseeing options, so I chose the ones that interested me the most.
My first stop was Delhi's famous "India Gate". The gate is a memorial to the thousands of soldiers in the Indian army who died during the first World War.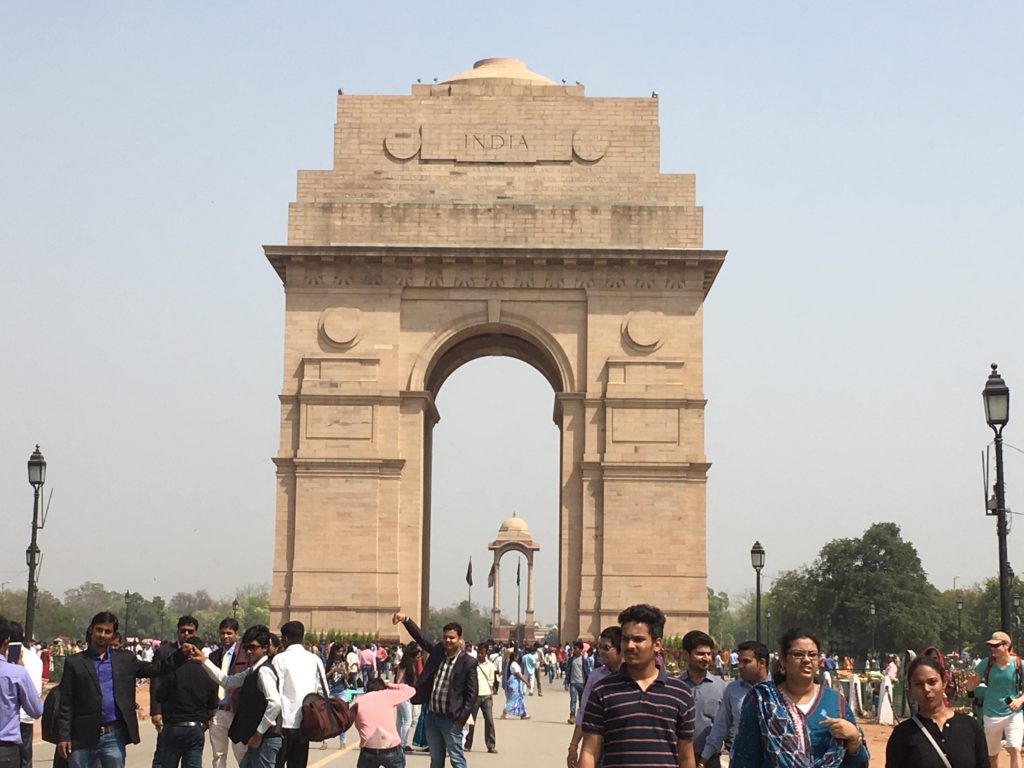 Lunch was next on my agenda, so we headed to vegan-friendly Sagar Ratna Restaurant (Sagar Ratna Restaurant) in Delhi. I dined on a delicious gobhi masala(cauliflower with masala spice) and vegetable pulao rice. The restaurant has a nice atmosphere and could be labeled as somewhere between "casual dining" and 'upscale". Their prices are reasonable for gourmet meals.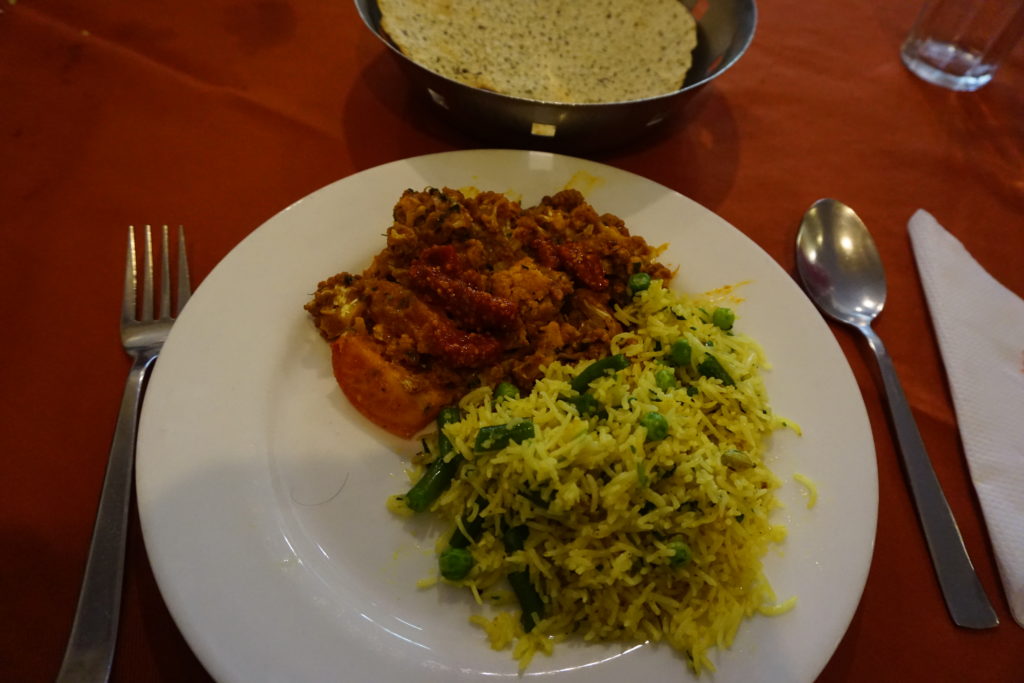 Next on my itinerary was the Gurudwara Sikh temple in Old Delhi. Sikhism emerged in the Punjab region of India during the 15th century. This monotheistic religion is based on the spiritual teachings of "gurus" who practice devotion to God and who aspire to uphold social justice for all. The gold-domed marble building is absolutely stunning. Originally erected in 1783, it is associated with the eighth Sikh guru. He resided here during the 17th century and is remembered for providing people with assistance and water during the smallpox and cholera epidemic.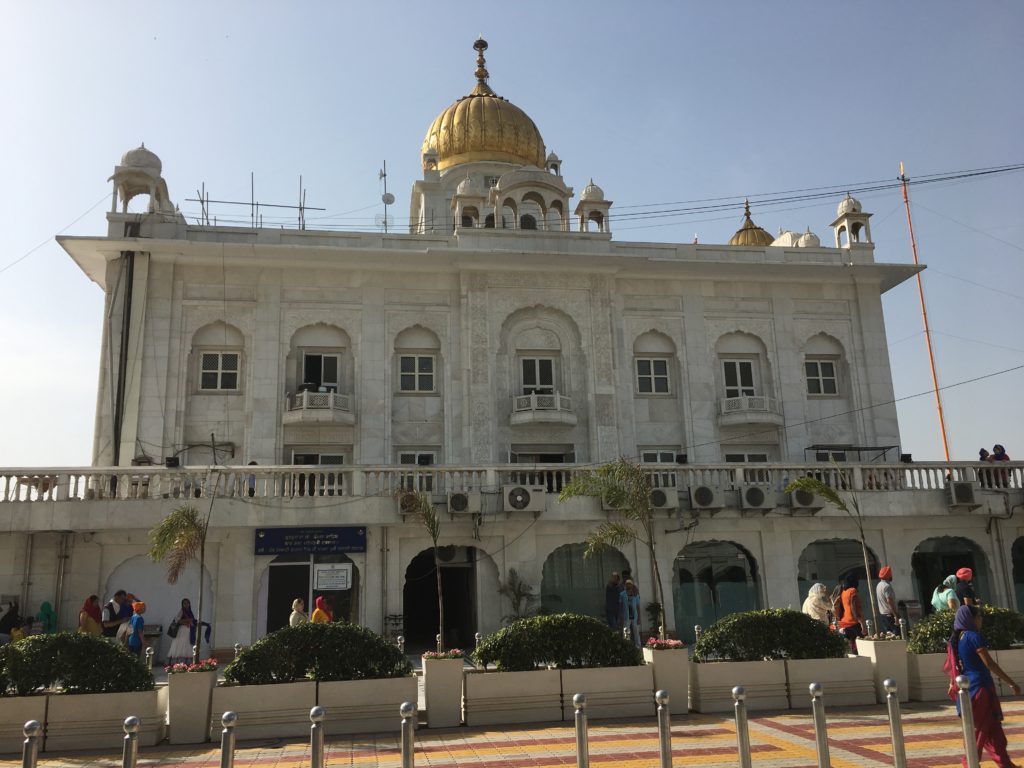 Each and every day, Sihk temples provide free vegetarian meals to anyone who shows up in the huge hall. I walked by the kitchen area where multiple cooks were busy preparing the day's meal. Large pots of food and ovens were carefully attended by the kitchen staff.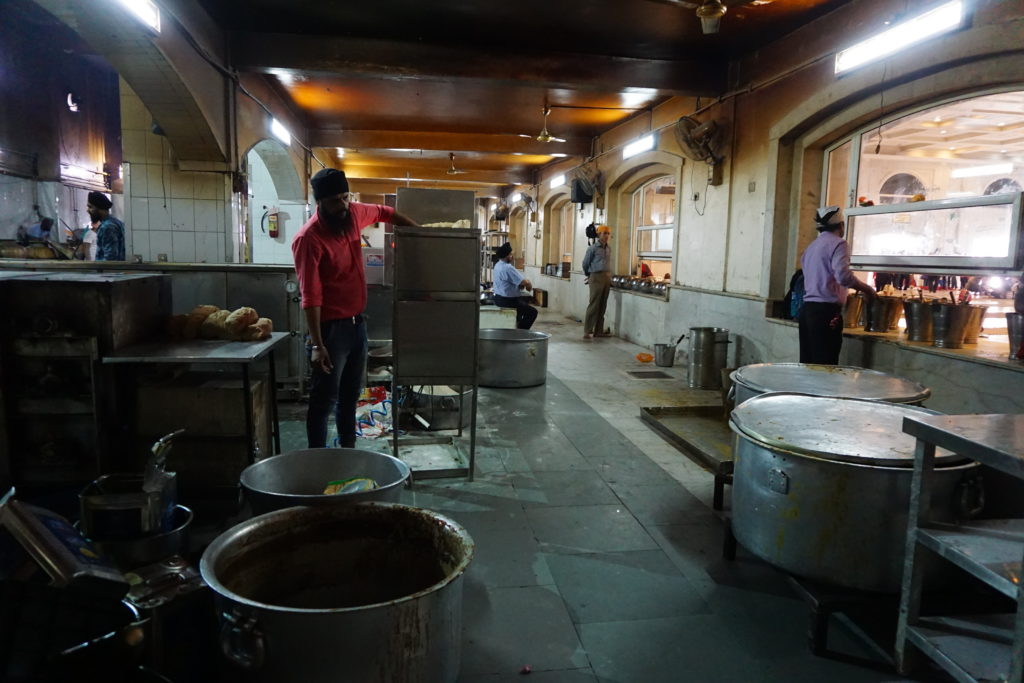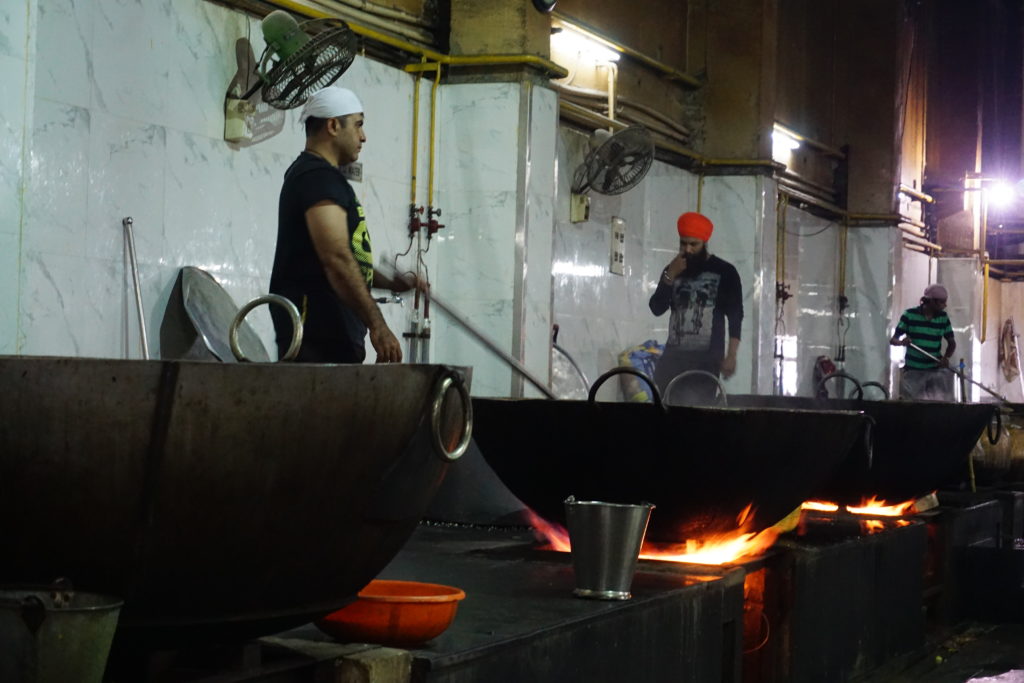 Meanwhile in the dining room, hundreds of guests had arrived for an afternoon bite to eat. They lined up row by row, sitting on the floor.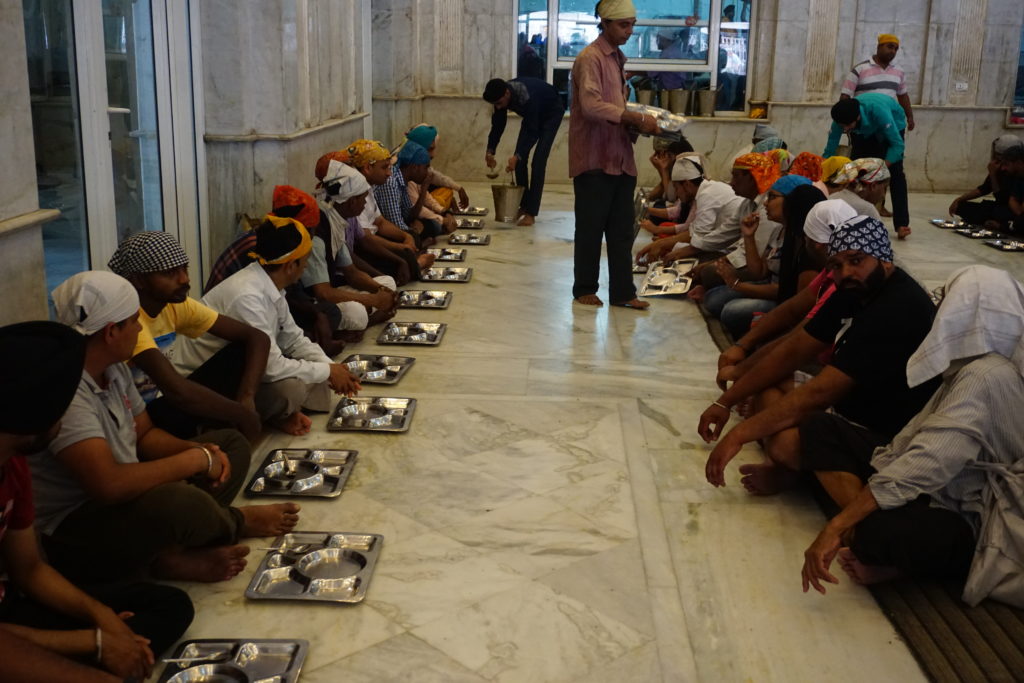 Dining hall staff handed each visitor an empty platter. They made their rounds again, this time providing the food.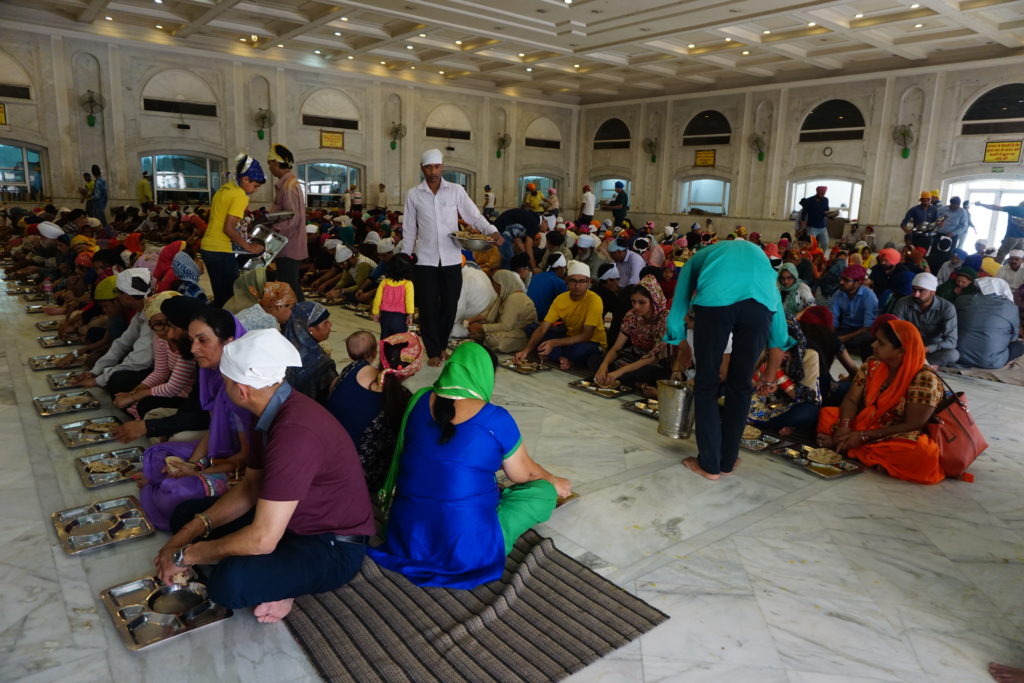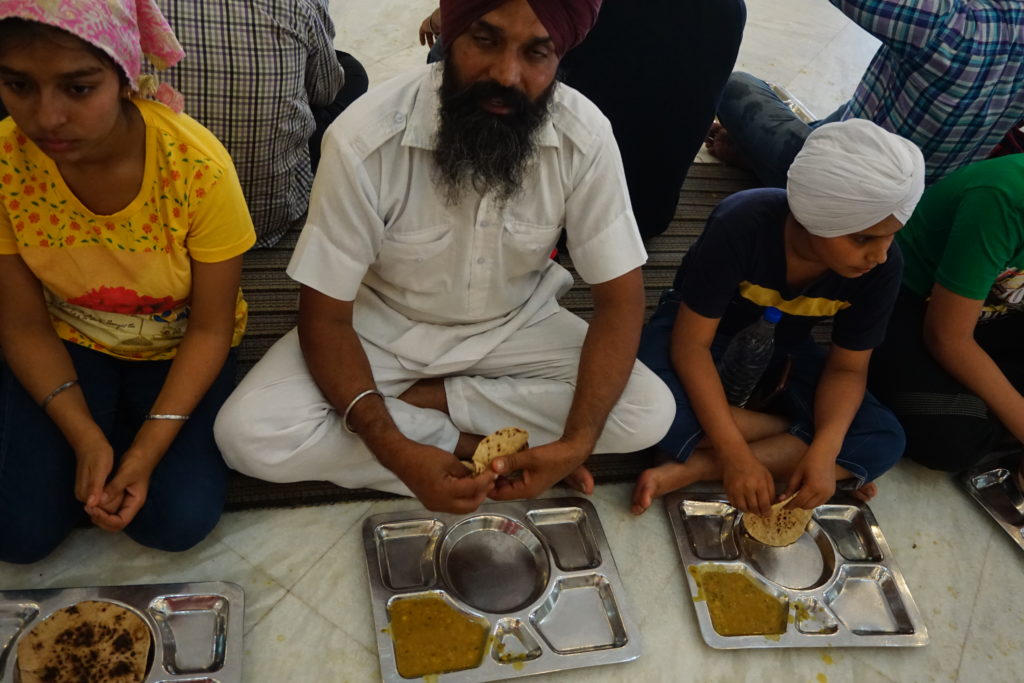 Visitors are allowed to enter the temple, so that is where I headed from the dining room. A series of steps takes visitors to the upstairs level where the entrance is located. However, prior to climbing those steps, each visitor must walk through a small pool of water for cleansing. Head scarfs must be worn prior to entering the temple. They are provided for visitors who do not bring their own.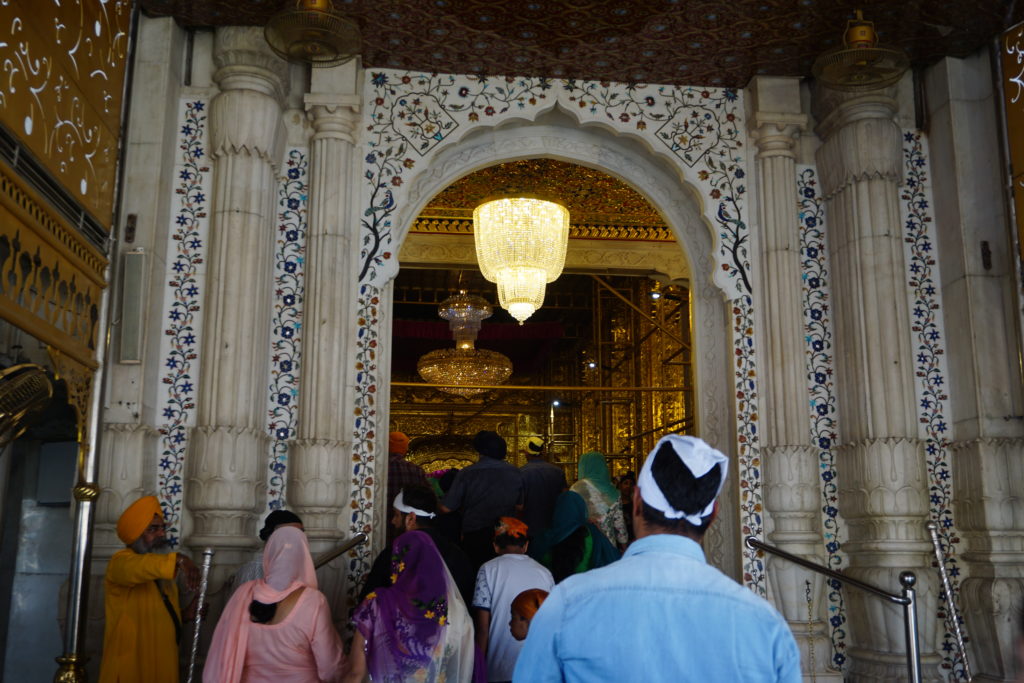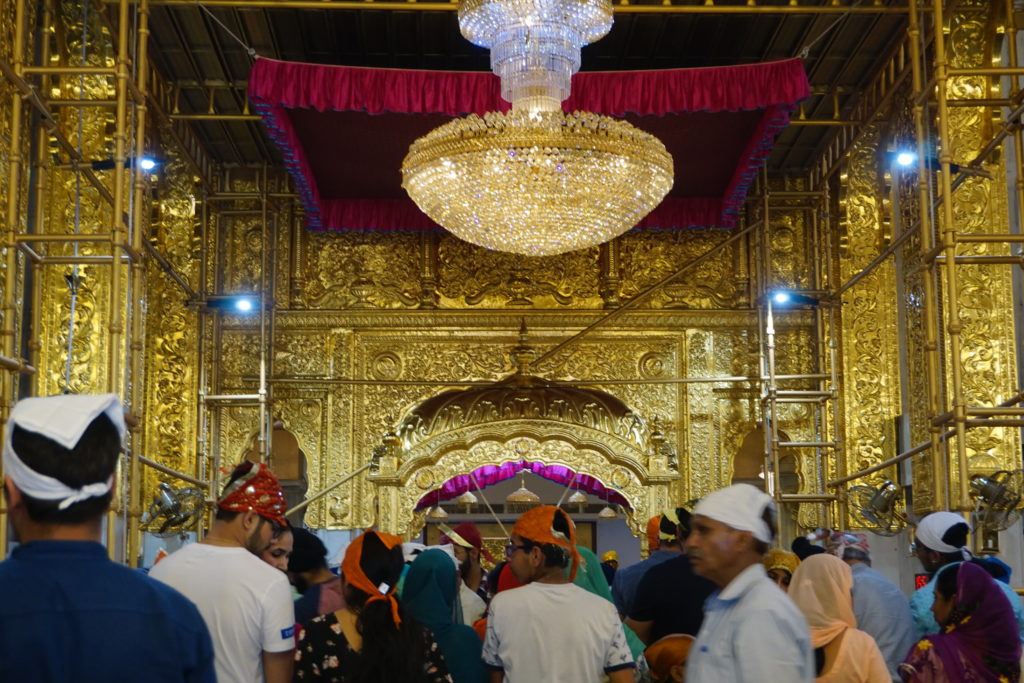 The prayer hall, adorned with gold and flowers, houses the Sikh religious scripture.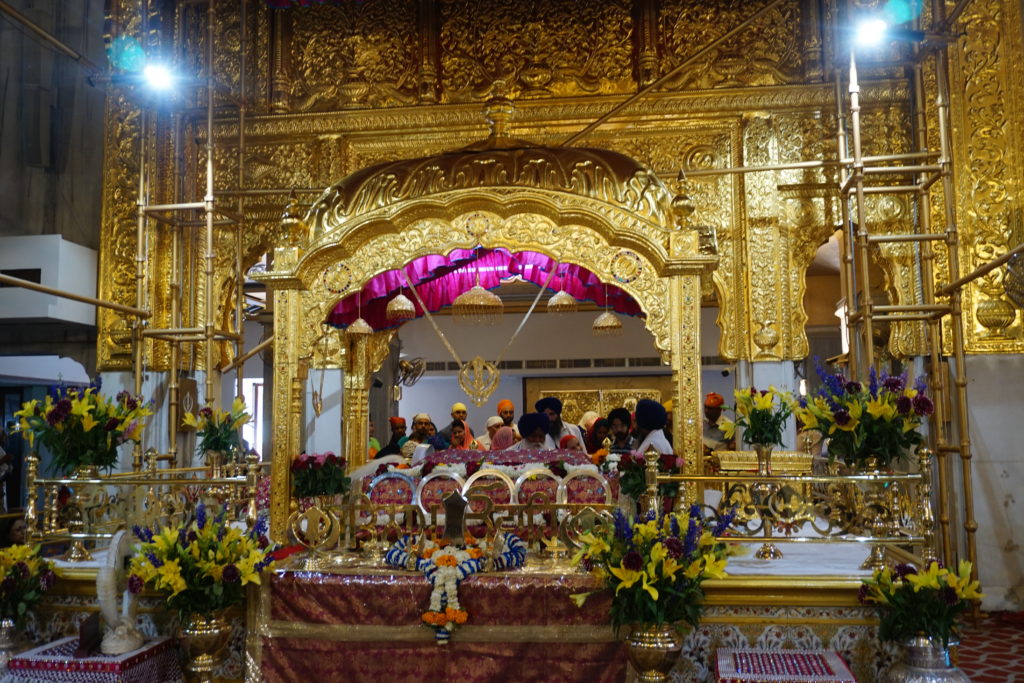 Many devoted Sikhs arrive to sit on the hall's carpet and spend time praying.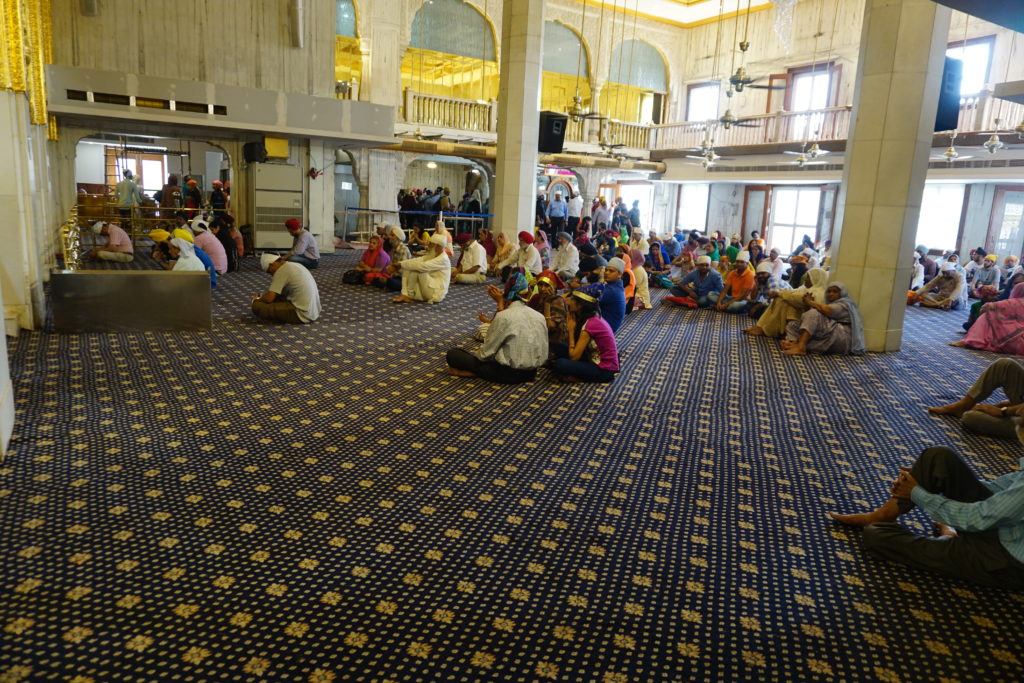 The eighth guru also blessed the waters of the well, from which he provided water for those in need. A pool was built over the old well. Known as the "Sarovar", faithful followers still come to take a dip in this holy pool of water, in hopes of healing from their illnesses.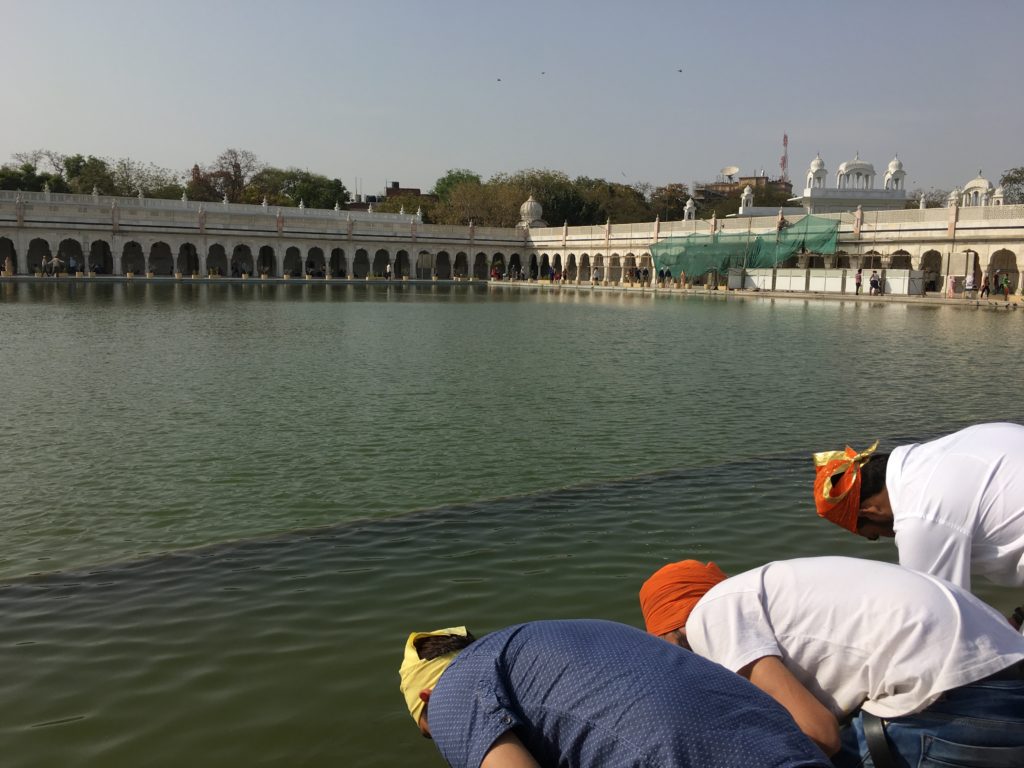 Onward my hired driver took me, until we reached Mahatma Ghandi's final residence in Delhi. Gandhi Smriti (or Birla House), as its known, is now a museum dedicated to him. This is where he spent the last 144 days of his life and was assassinated there. You can certainly sense the spiritual nature of the peaceful complex.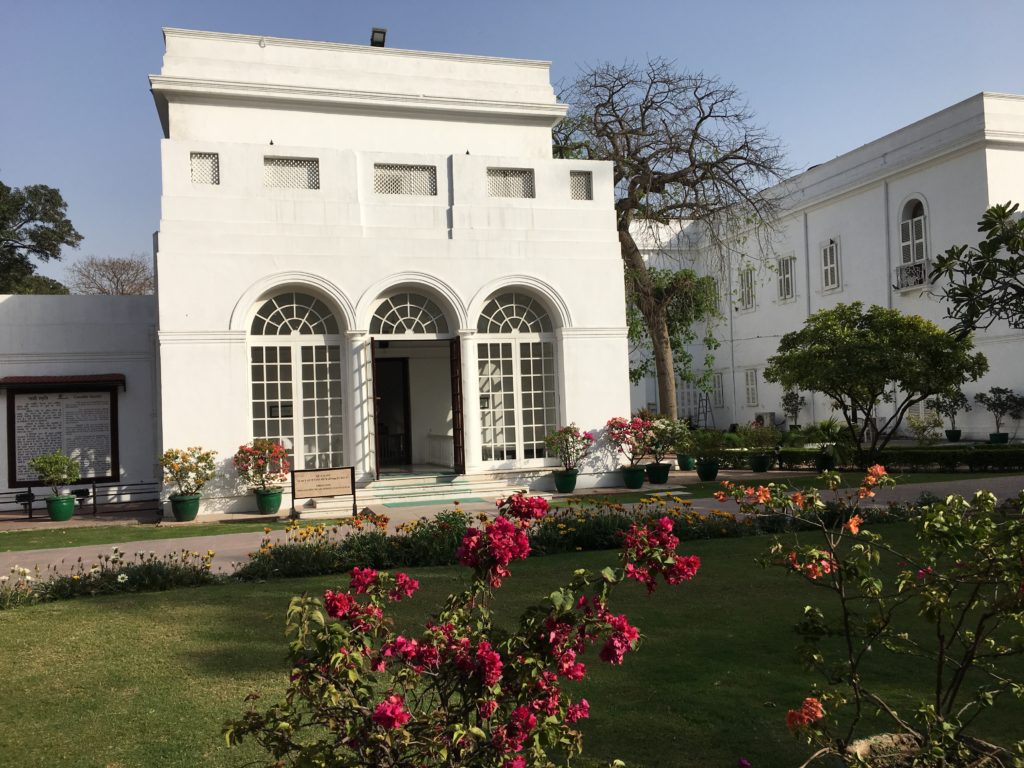 The room where he slept was preserved, along with his bed and other belongings.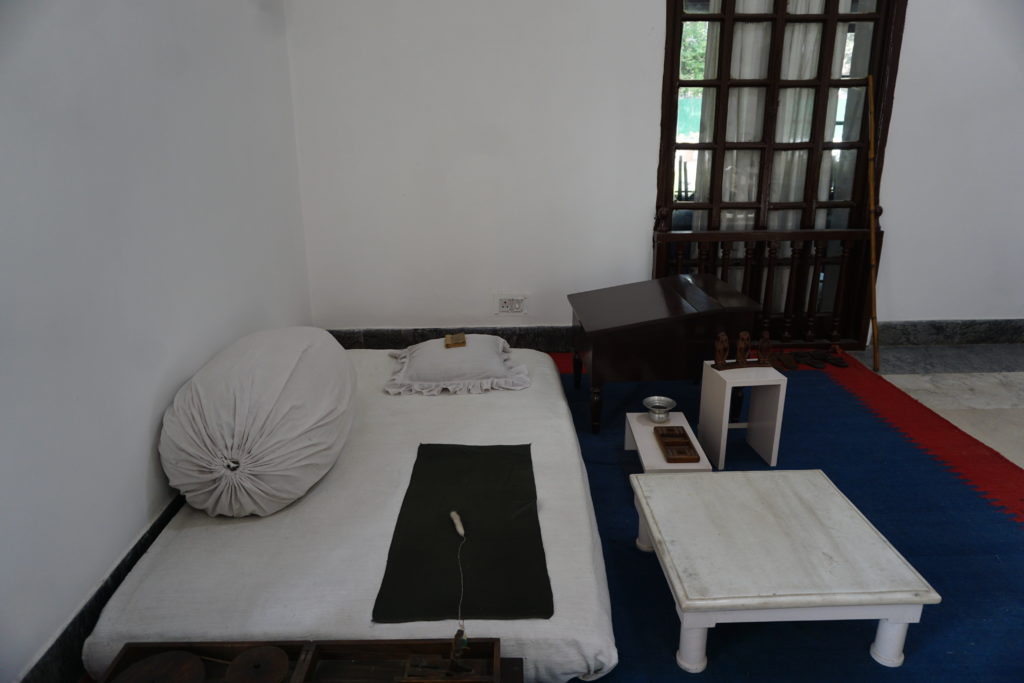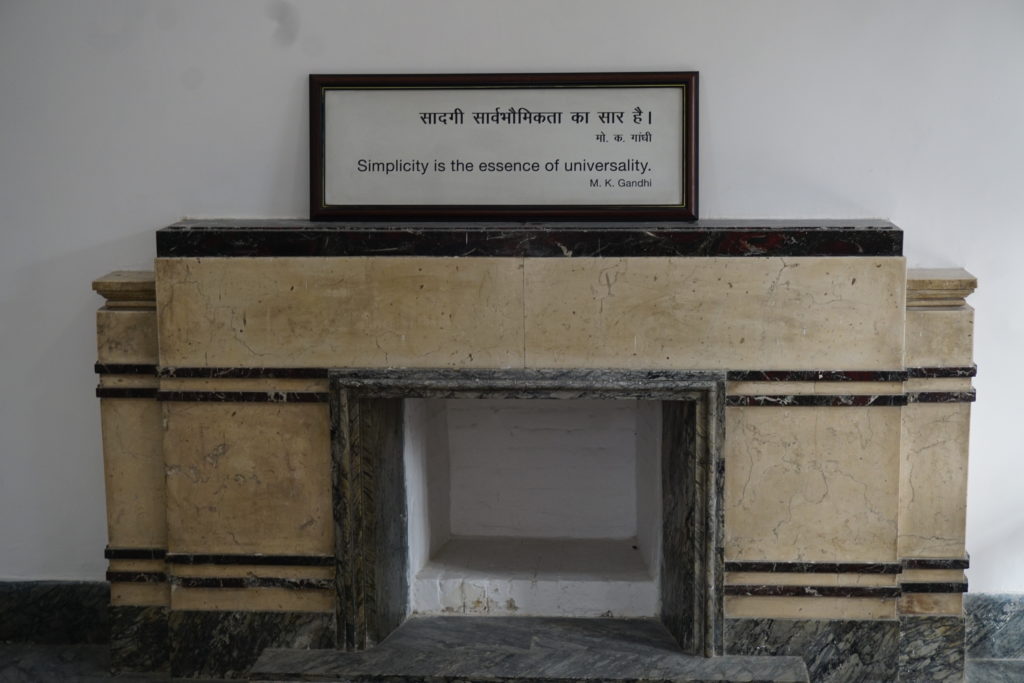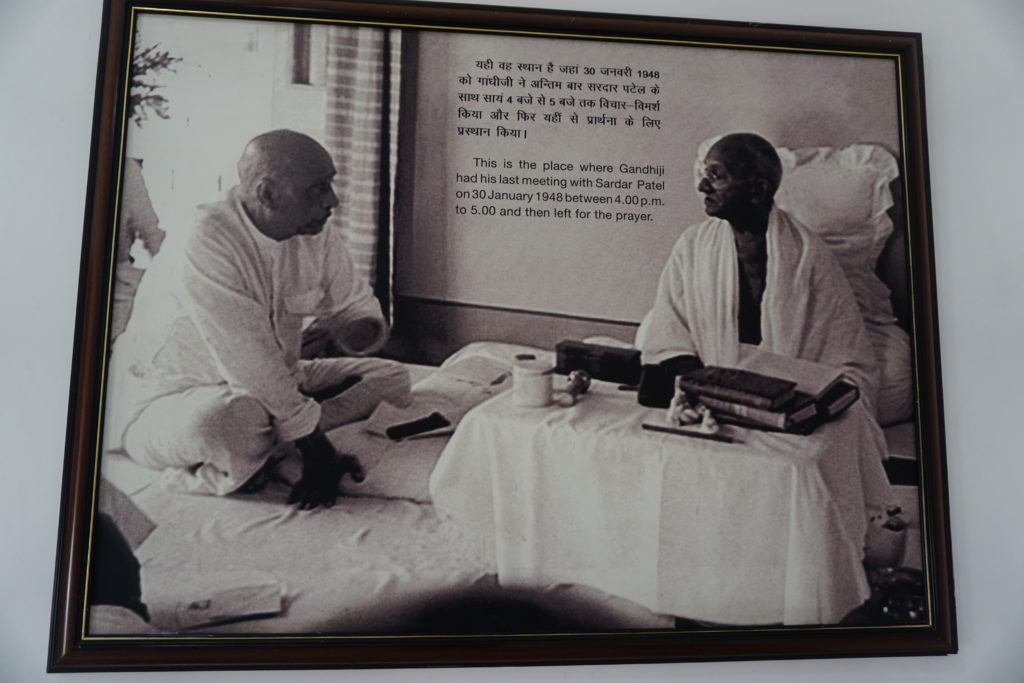 A glass display case houses some of his belongings, such as his reading glasses.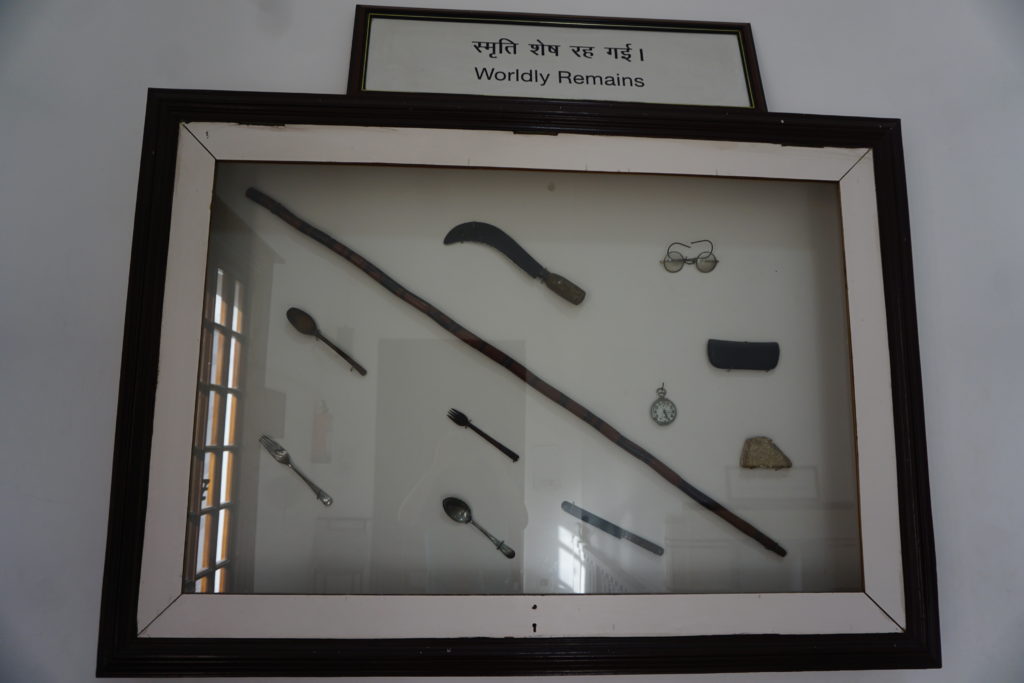 Outside of his window, one sees cement footsteps marking he path he took to where he was assassinated during his regular evening walk.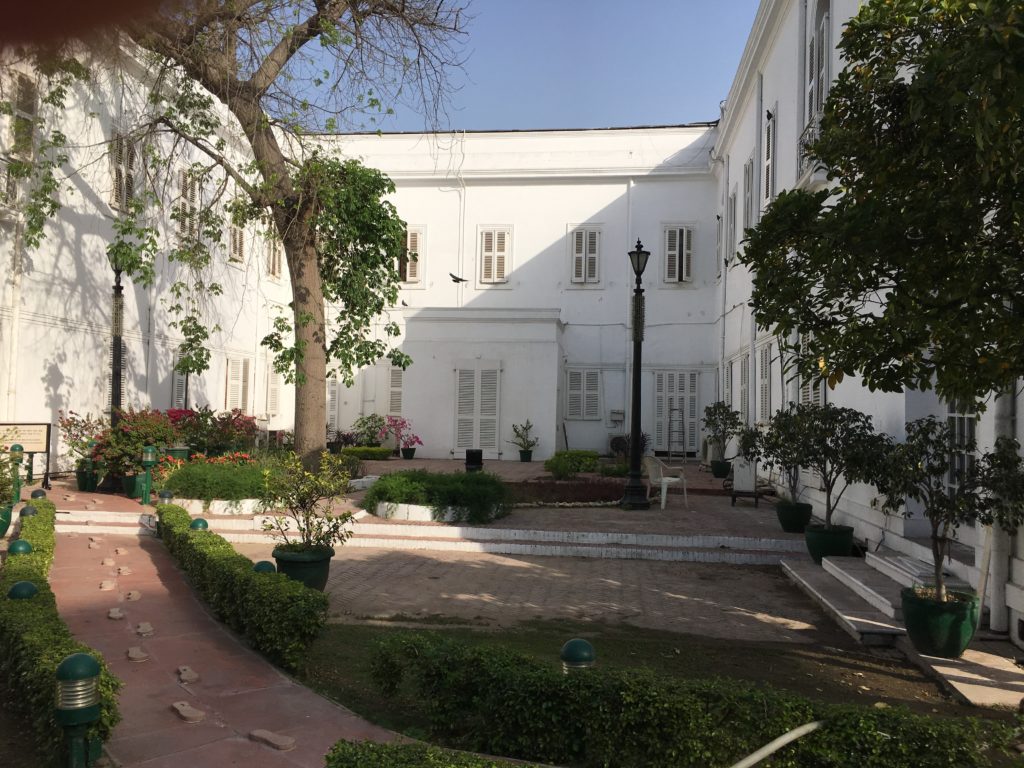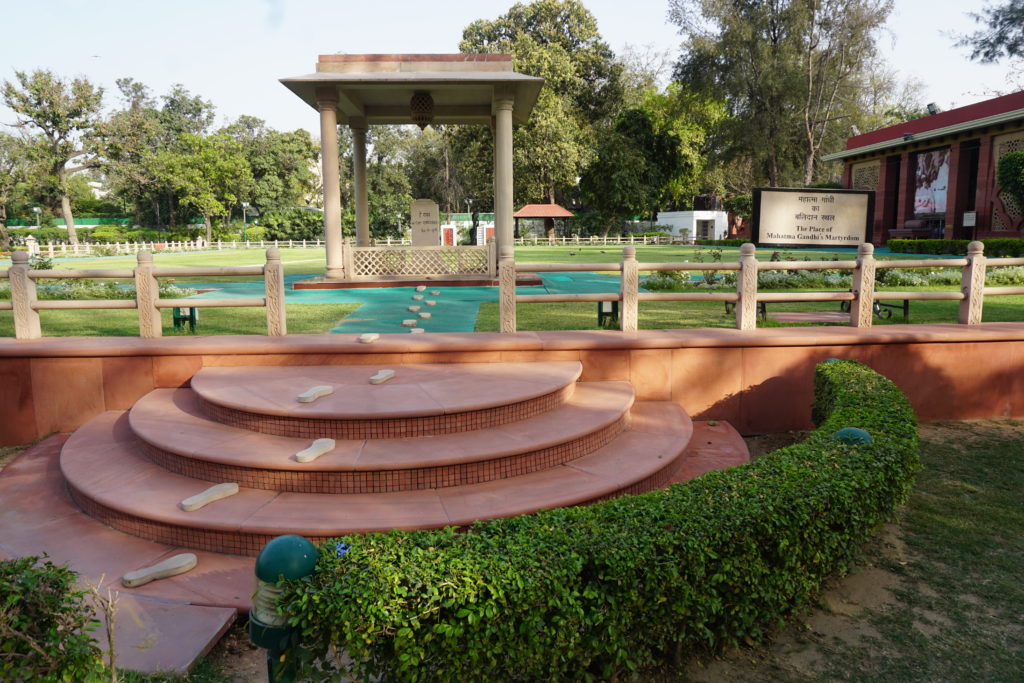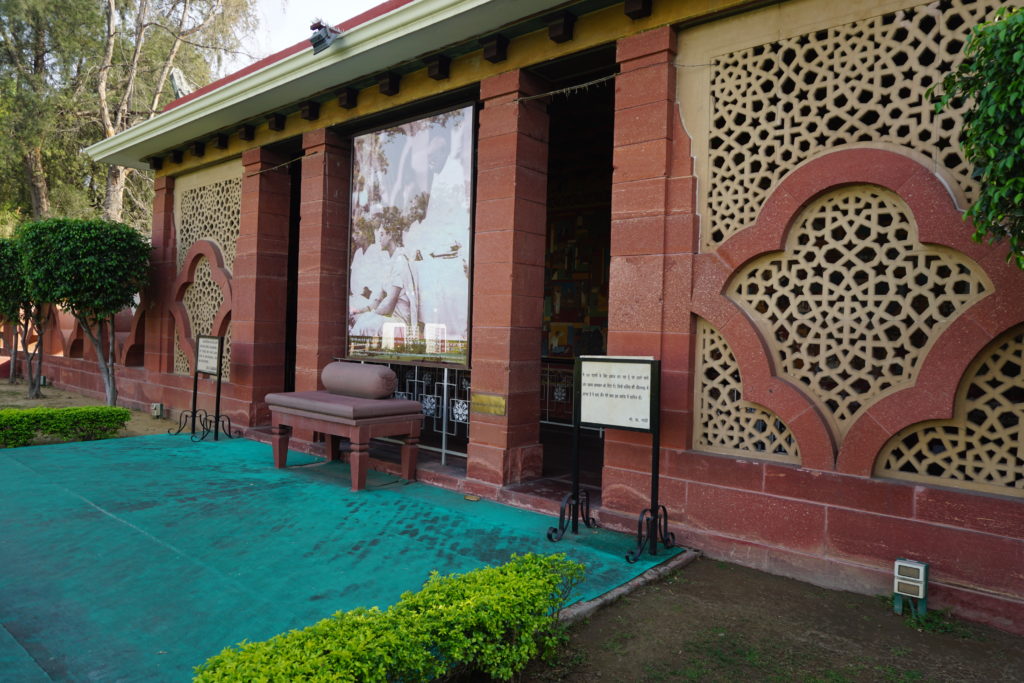 A small "shrine" building contains wall murals depicting various scenes from Ghandi's life.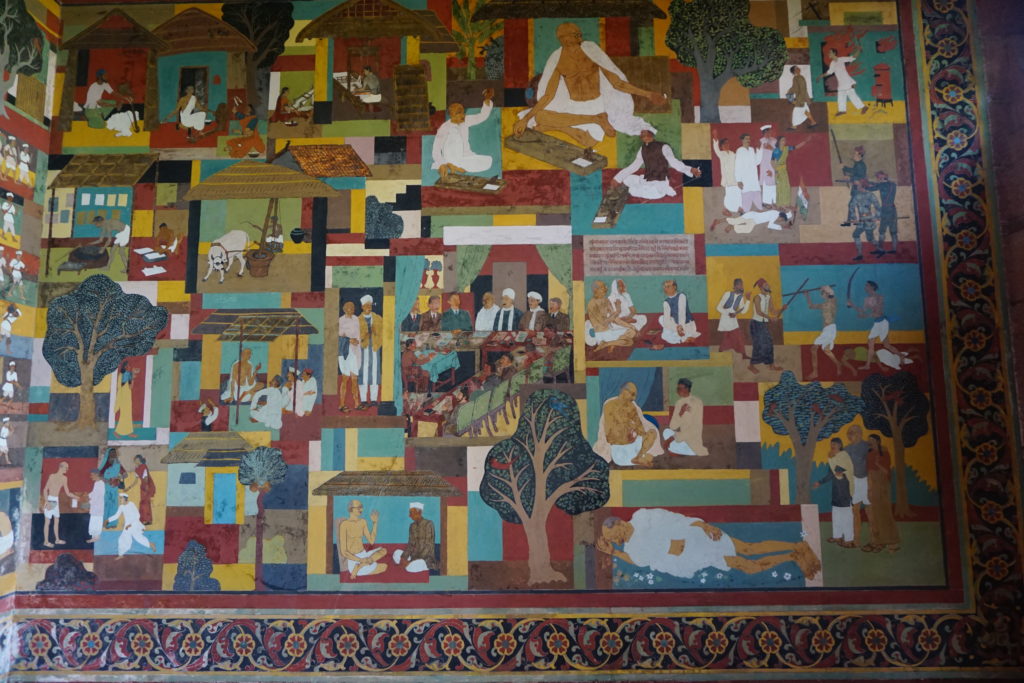 An arched walkway takes visitors through a text and pictorial depiction of Ghandi's life and spiritual growth.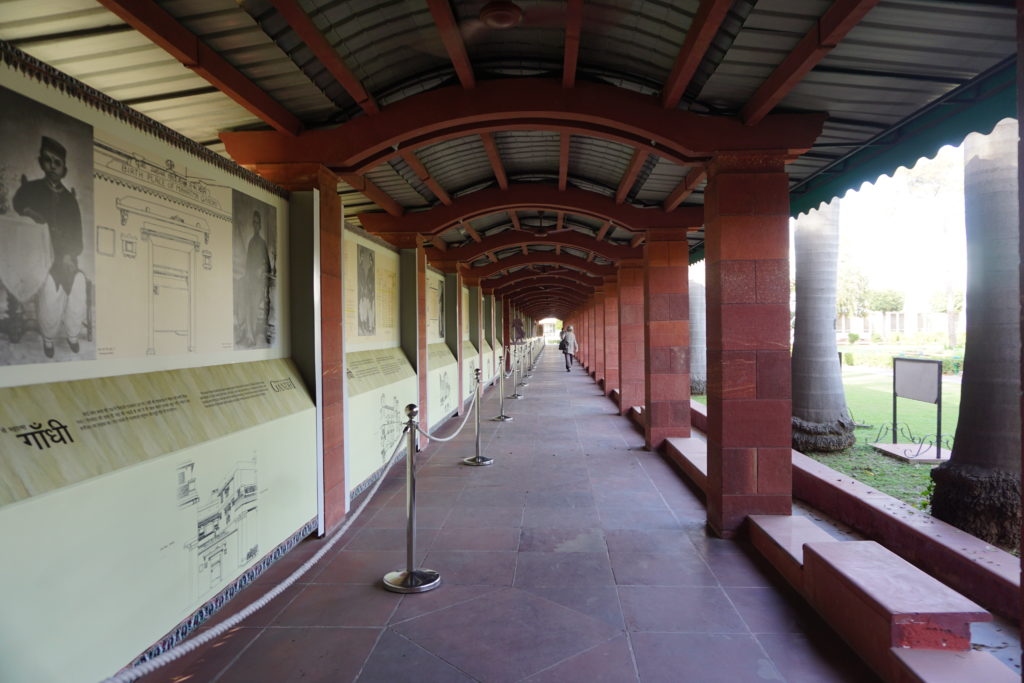 The final destination on my day's agenda was the Chandni Chowk" market area of Old Delhi. From vendors offering inexpensive trinkets to shops selling exquisite scarves and crafts, the market had something for everyone. I stepped into a few shops to browse.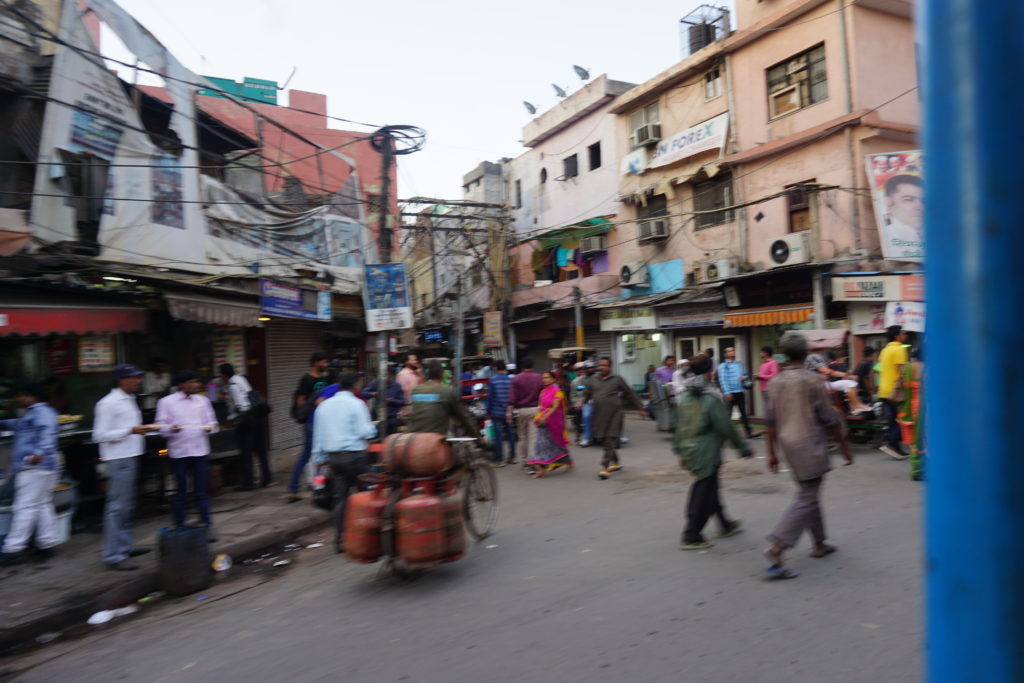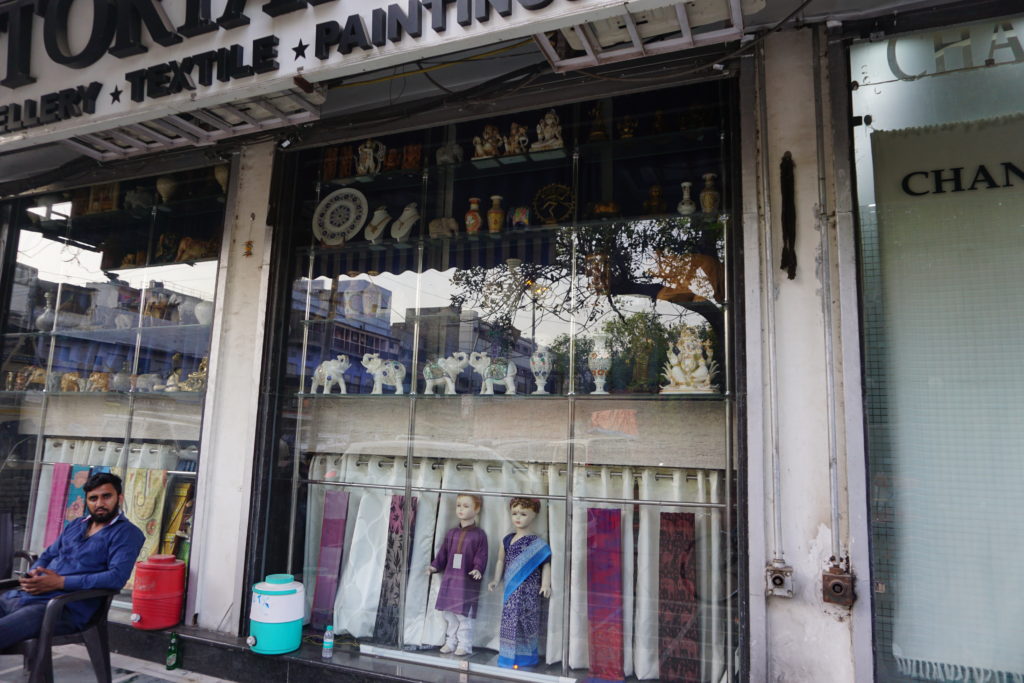 A spice bazaar in the neighborhood also provided wonderful souvenir options for tourists.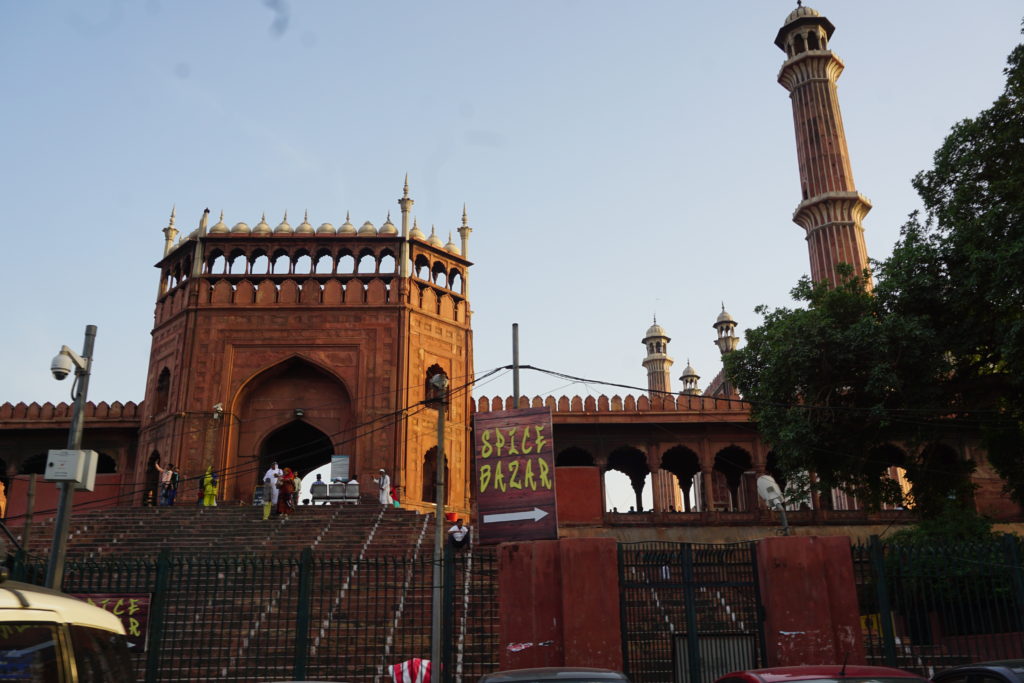 As we left the market area, we came across the Ajmeri Gate in Old Delhi. The gates of Delhi were built by Dynasty rulers of several time periods. Built in 1644, the road through this gate leads to the city of Ajmer in Rajasthan.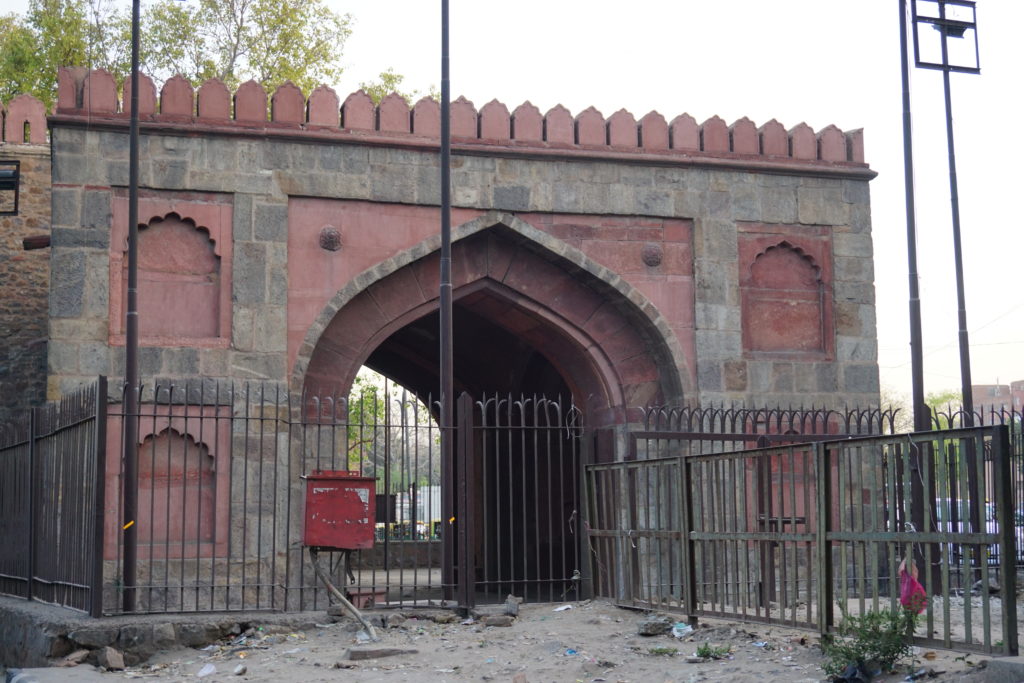 My wonderful, self-guided our was complete. I eagerly looked forward to a delectable dinner back at the hotel restaurant. I opted for spinach soup, jeera allo (cumin potatoes), papad lentil wafer, and mango juice. Everything was delicious.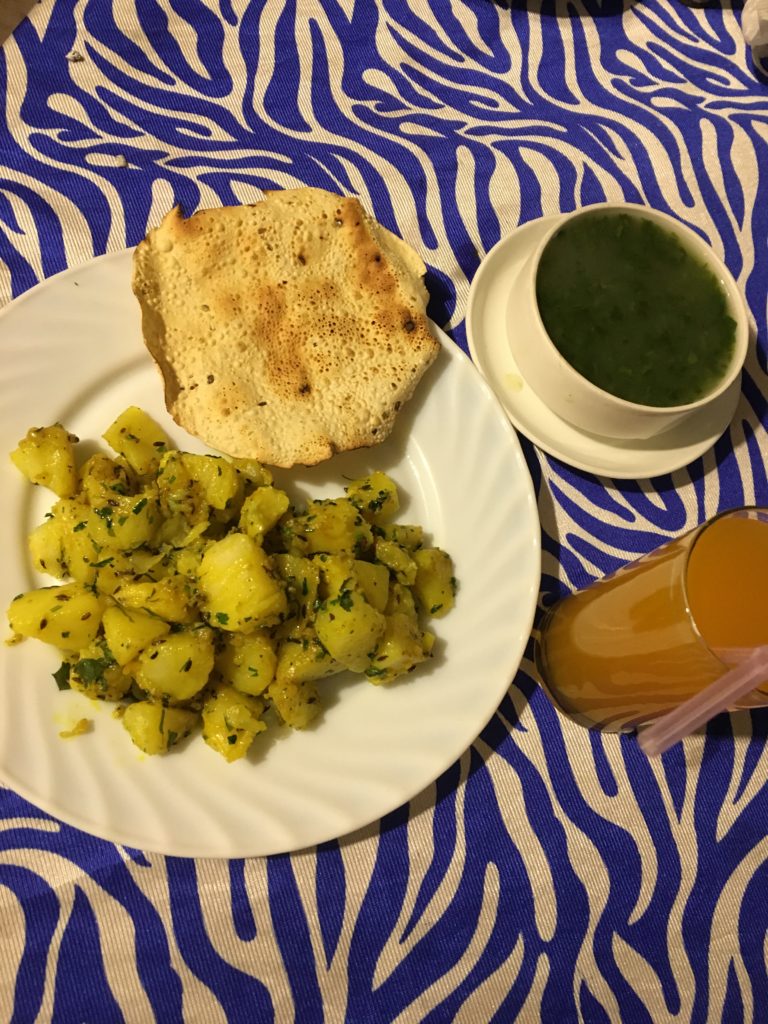 I had to get plenty of sleep, for the next morning would be my flight back home. The following morning, my wonderful breakfast at the hotel restaurant included poori bread, potato and pea curry, a bowl of oatmeal, and mango juice.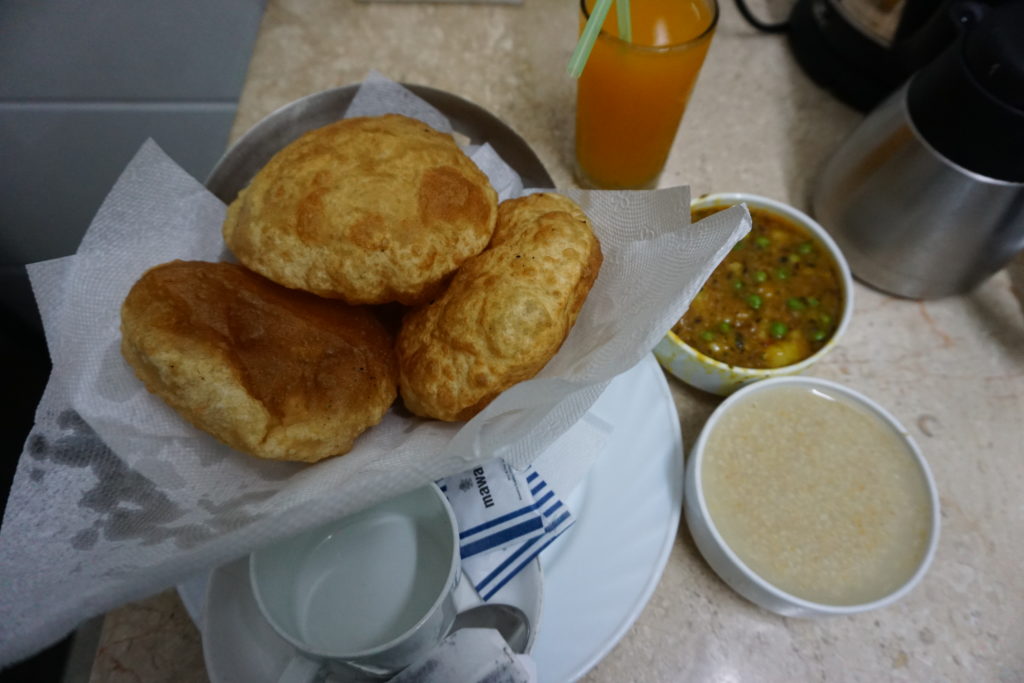 By noon, I had arrived at the Delhi airport. My lunch meal at the airport food court was a flavorful thali platter of idli(spongy lentil cakes), a vegetable cutlet, lentil soup, and various chutney sauces.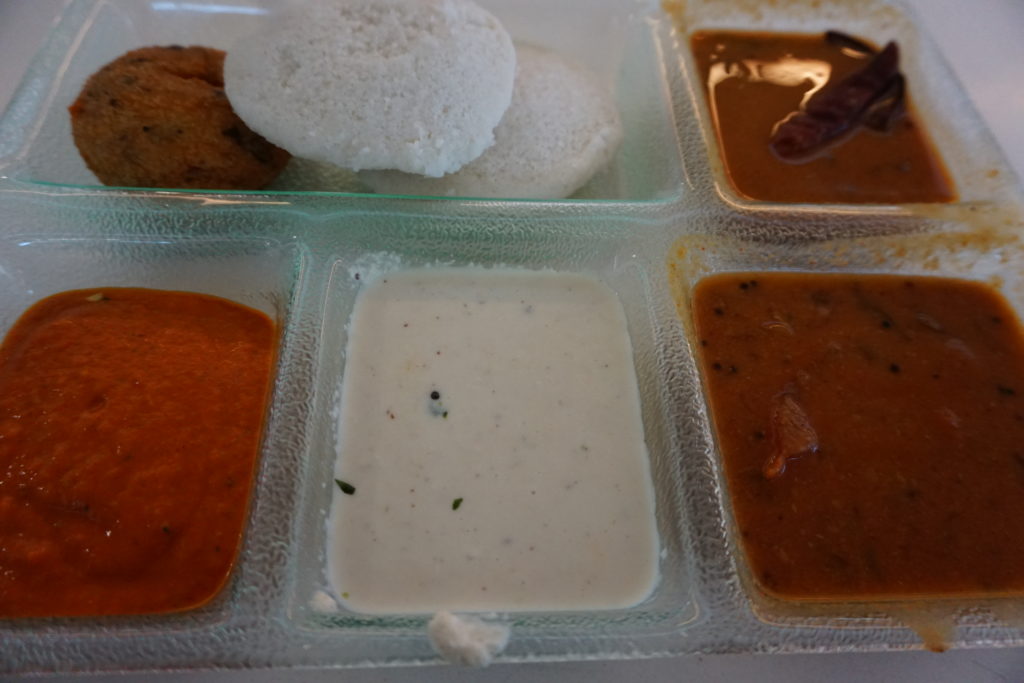 My first flight from Delhi to Dubai included a dinner meal. The vegan option provided a noodle and veggie entrée, a bread roll, and a dessert of pureed fruit. I enjoyed my meal.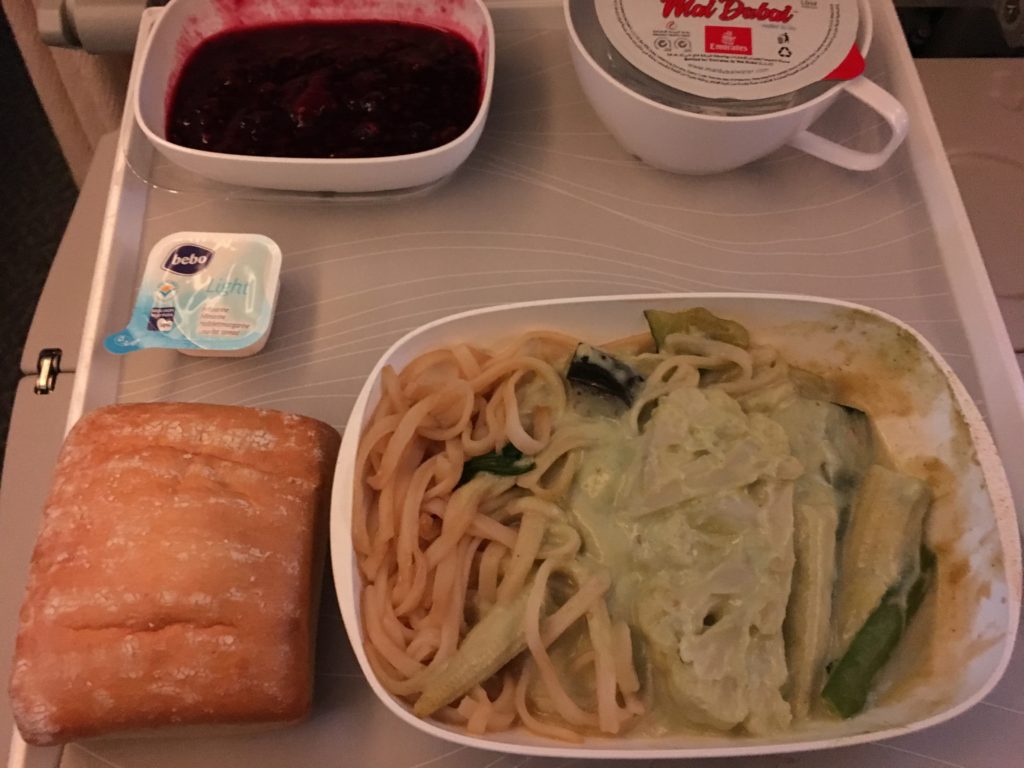 On the connecting flight from Dubai to Boston, two meals were provided. The first meal included sautéed mixed veggies, a salad, and chocolate cake. Everything was good.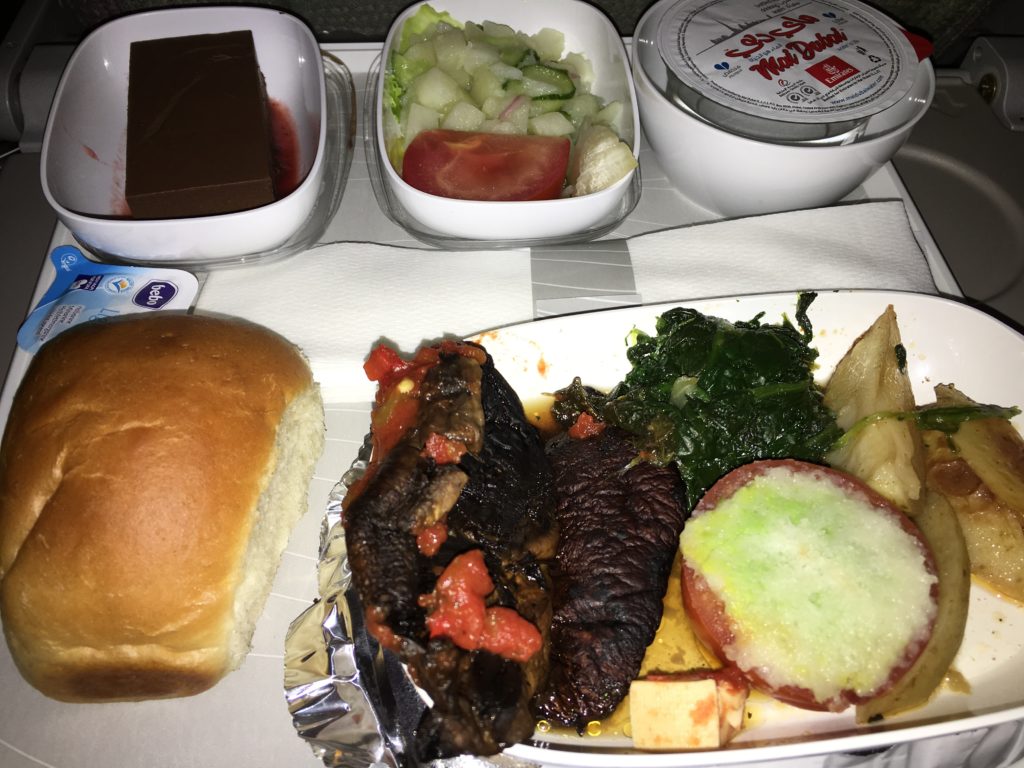 The following meal included potato croquettes, mixed veggies (spinach, mushrooms, tomatoes), beans, and a chocolate cake. My meal was really good.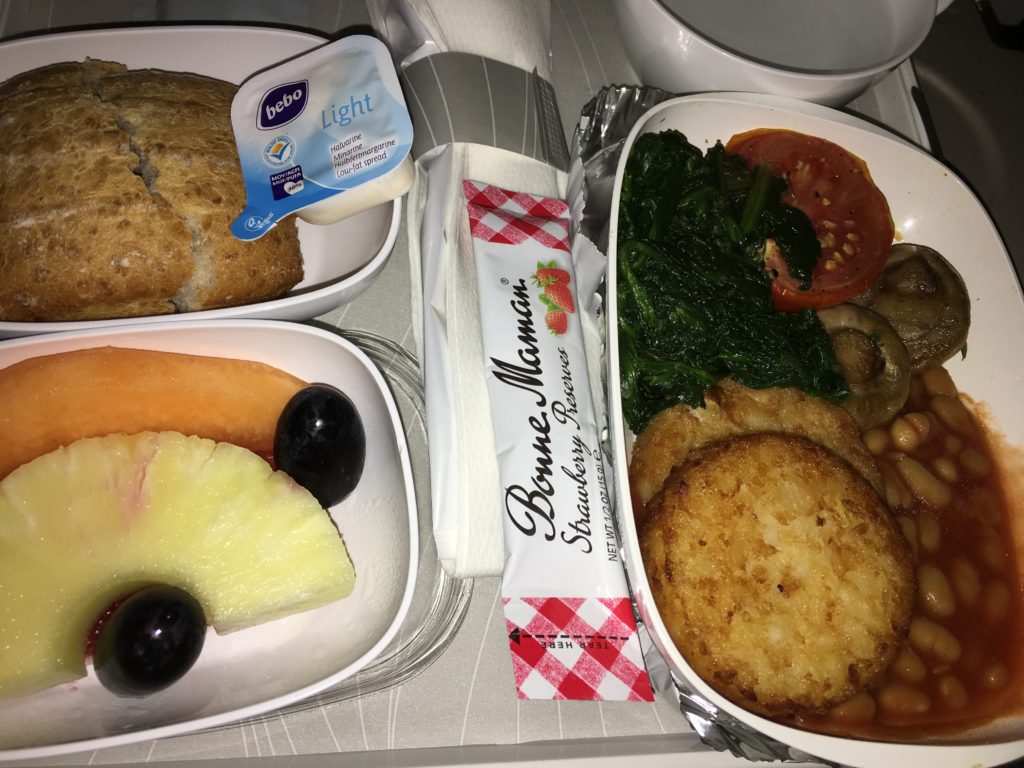 When I arrived back home in the USA, I fondly recalled my amazing vacation in India. From the magnificent Taj Mahal in Agra to the grand Red Fort in Jaipur, the tranquil waters of Varanasi, and the peaceful Ghandi Museum in Delhi; my holiday was filled with awe-inspiring sites. The vegan food scene was phenomenal, as well. I am glad to have experienced travel in this amazing region of the world.