Today I would like to reminisce about my very first trip ever to another continent! I used to have a major fear of flying. However, back in 1998 I had the opportunity to visit my aunts in Romania. My desire to meet my relatives for the first time was STRONGER than my fear of flying! So then..I decided. I would get on a plane for the first time and travel to Europe to meet my family!
I traveled with my dad from the USA to Romania where we would meet up with his two sisters (my aunts) whom he had not seen in years! The plane landed in Budapest, Hungary where my two second cousins picked us up. We drove over the border into Romania. The picturesque landscape was dotted with gold colored ranch-style homes and bright orange thatched roofs and there were Orthodox churches everywhere along the way.


It dawned on me, as we drove down the roadway. I was actually HERE…in a foreign land for the first time..in my ancestor's country! After a few hours, we arrived in the city of Cluj. I was so thrilled to meet my two aunts! We stayed at the high-rise apartment of my aunt Ana. Hugs and tears of joy followed. The city, much to my surprise was very modern and cultured. There were high-rise buildings everywhere. Coca Cola logos were on window awnings and restaurants. Shopping malls existed here also.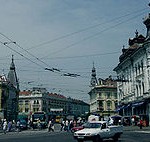 The downtown area had many cultural centers such as the opera.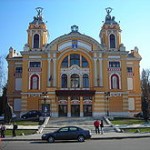 ,
I also enjoyed the international art gallery and other entertainment venues. I chose to visit the Folk Art Museum and The National Museum Of Art one afternoon. The National Museum had quite an impressive collection of European art from the 15th century onward. The Folk Art Museum housed Romanian art, pottery, costumes, and woven handcrafts. In the gift shop, I purchased a beaded, traditional necklace and a Romanian, handpainted egg with intricate details and patterns. My afternoon of culture was quite enjoyable.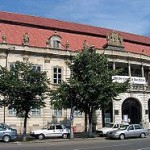 In the evening, I ate dinner with my relatives: aunts, cousins, distant relatives all gathered to meet me and get re-acquainted with my dad. I was overcome with joy! My aunt prepared the meal, including some vegetable dishes for me. I wish I could remember what I ate. What I do remember is that I did indeed feel stuffed. Romanian cuisine does consist of enough vegetable side dishes to satisfy a vegan. The evening was also filled with hugs, story-telling, and looking at family photos.
When I awoke the next morning, I ate a traditional Romanian(European) breakfast. It was not an Americanized, sugary breakfast. It was instead a meal consisting of hearty breads filled with vegetables such as tomatoes, cucumbers, and olives. I enjoyed the healthy start to the day!
I met with my cousins shortly thereafter. They brought me to the popular park in town where we spent some time on a canoe paddling around the pond. It was very tranquil and pleasant. The park was huge and lined with many trees to cool us off in the summer weather. We also visited the Botanical Gardens. They contained an impressive array of plants, tress, and flowers.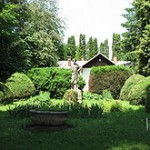 On the way home, we passed by an old settlement, a village that goes back in time several hundred years and is now a tourist attraction. Dinner was at my aunt Rosalia's ranch-style home where many of the family gathered again. It was no problem preparing veggies for me again.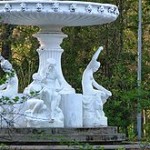 The next day, I joined my relatives for a walk around the center of town. Gypsies begged us for money on the streets. We saw the government buildings and the square where former Romanian dictator Nicolae Coscescu had caused riots to take place in the late 1980s. I also visited a historic, old Eastern Orthodox church and saw the ornate opera building. In the evening my relatives brought me to a fancy restaurant in downtown Cluj. There weren't then and are not now any vegan or vegetarian restaurants in town. My aunt spoke to the waiter and the chef was indeed willing to prepare some vegetable side dishes for me.
Another stop during my travels was in the city of Timisoara to visit my dad's cousin who is chief of staff at the hospital there. I did not get the opportunity to visit the capital city of Bucharest, which has a couple of vegetarian/vegan-friendly restaurants.
I spent several more days hanging out with relatives, including a day with my uncle, another day with my first cousins (Andrei, Lucian, and Cristina) at the local park, and a day at my second cousin's home for dinner. My cousins brought me shopping for Romanian music. I also went for a tour around town with my aunt's neighbor. Everyone was very friendly. My young cousins mentioned that just a few years prior, it was illegal for citizens to discuss politics with a foreigner out in the open in a city park. However, since the overthrow of the dictatorship, they were free to discuss anything with foreign visitors in public sight and within hearing range of the local government officials.
After several days experiencing the sights and sounds of Cluj and spending time with my family, I decided that I really wanted to visit Dracula's Castle in Transylvania. A few of my relatives joined us, as my cousin drove us north. The Romanian countryside is dotted with picturesque landscapes and Eastern Orthodox churches every few hundred yards (It seems) along the way. We would notice livestock in front of homes, instead of little dogs. After a while, the region became mountainous..just breath-taking! We stopped along the way to visit an old convent, to have a picnic lunch and to purchase some pottery from a roadside vendor.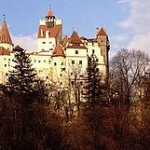 Finally, we arrived at our destination: Dracula's Castle (Bran Castle) near the town of Brasov, nestled in the Carpathian Mountains. The castle was built to protect against invading Ottomans. Prince Vlad the Impaler only spent one night at his fortress. This massive castle is perched upon a steep hill, reached by a narrow, winding road. We were excited to enter the castle for a tour. Its last use was as a hotel. They do give Dracula themed tours for tourists. We were escorted to the basement on the castle. The guide dimmed the lights and then spun tales of neck-biting and other atrocities, as he held his candle up to each storytelling mural on the walls. Suddenly, the lights went off completely, as did the candles. A figure then jumped out at us.. It was Dracula! The lights soon turned on again and revealed that "Dracula" was actually an actor in costume. It was quite an authentic and fun experience!
After a week of exciting adventures and meaningful relationship building with my newly found relatives, it was time to head back home. Although there were no vegan restaurants to be found, I did indeed find myself completely stuffed with wonderful, homemade meals with my family and a restaurant which provided some vegetable options. I am so happy that I met so many of my relatives and that this trip was the event that sparked my passion for world travel, which has only intensified with time!