For religious Hindus in the country of India, no city is considered to be as holy as Varanasi. Located on the Ganges River in the northern part of the country, the pilgrims gather here to pray and bathe themselves in the sacred waters. This spiritual city is quite popular among tourists. My tour group arrived in Varanasi by train during the early hours of the morning.
Our hotel ("Hotel Surya") provided a breakfast buffet. The vegan meal options included papaya, a pita with hummus and baba ganoush, Indian pohas rice with veggies, a banana, poori bread, dal beans, potato opera, utthapam, and chole(chickpeas), with mango juice. My breakfast was absolutely delicious.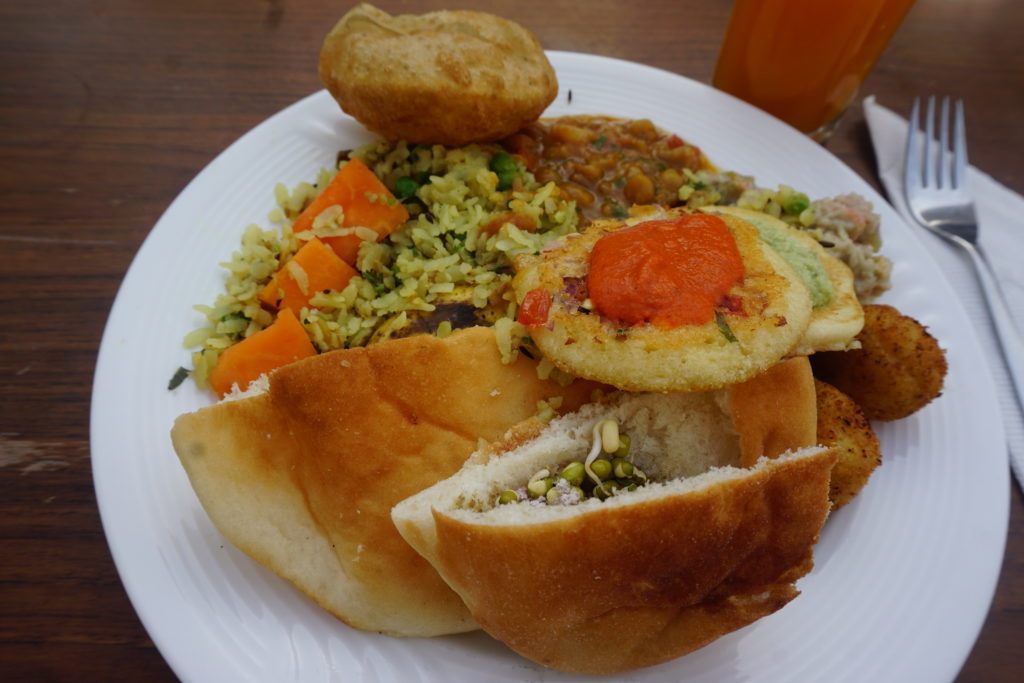 We were exhausted due to our lengthy overnight train journey, so we just wanted to take it easy for a while and take a leisurely stroll around the hotel property's gardens.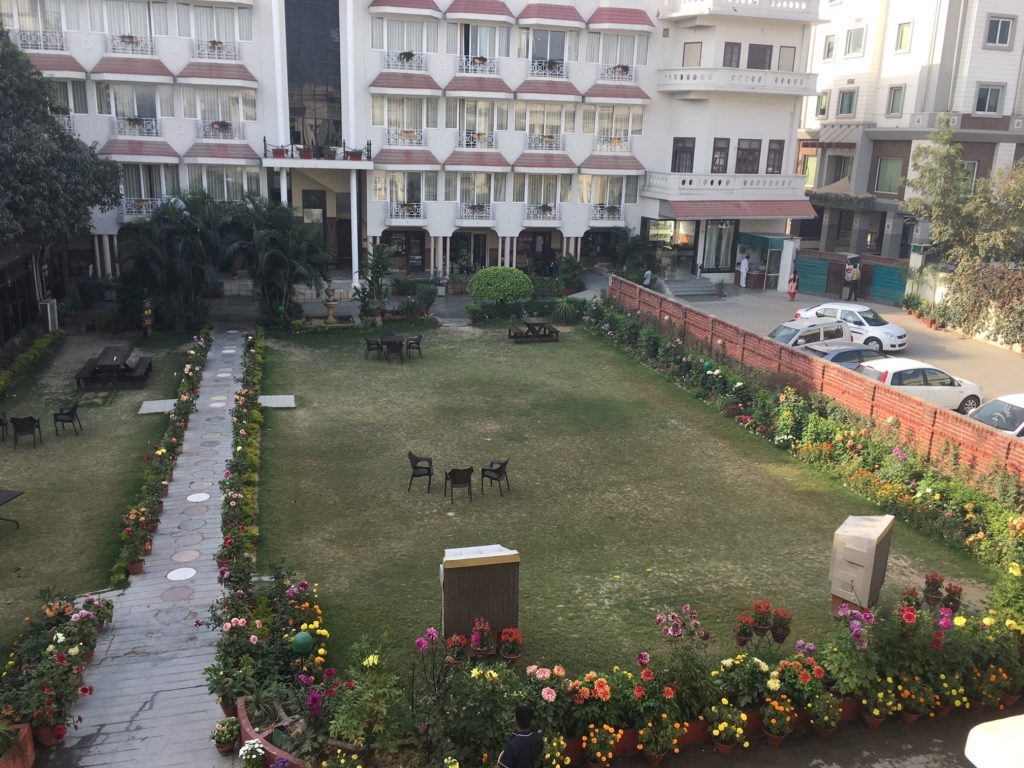 After a short rest, it was time to take a tuk tuk to check out the local shops. I headed to one of the districts where many a tourist seeks bargains and local handicrafts. While everything from Indian-style clothing to handbags can be found, I decided only to peruse the items during my first trip to the markets.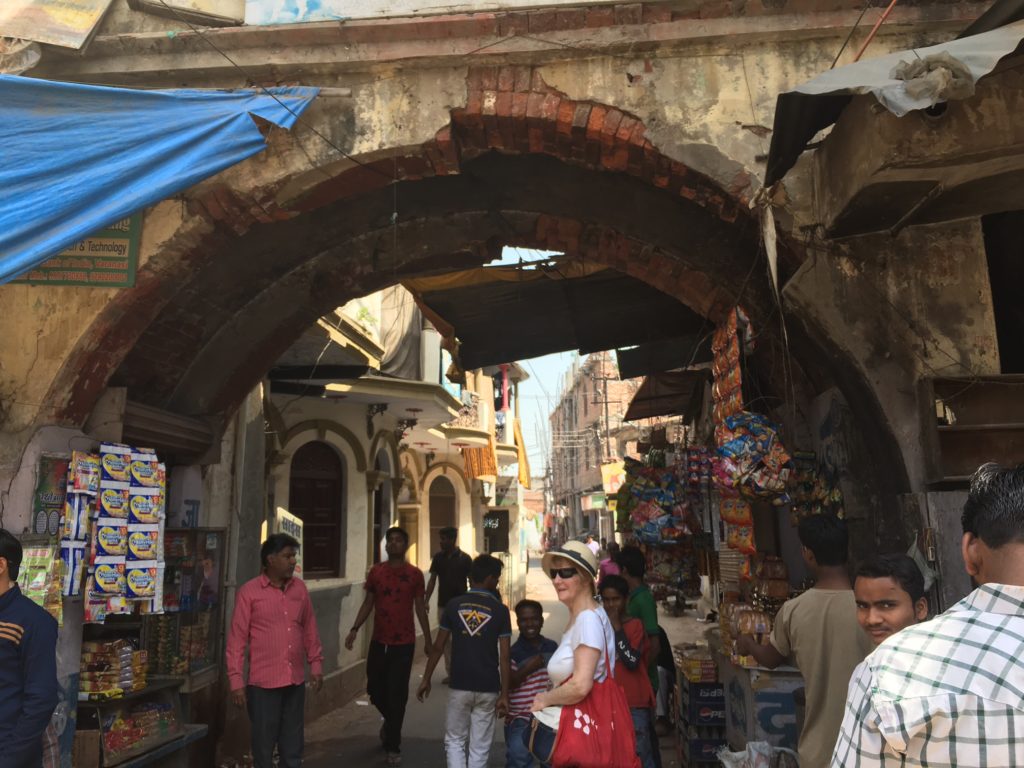 Upon arrival back at Hotel Surya, lunch options were available for us in their onsite restaurant "Canton Restaurant". I selected the Kale Channe Ka Shorba (kale and chickpea soup with spices), aloo mutter, and naan bread. Everything tasted amazing.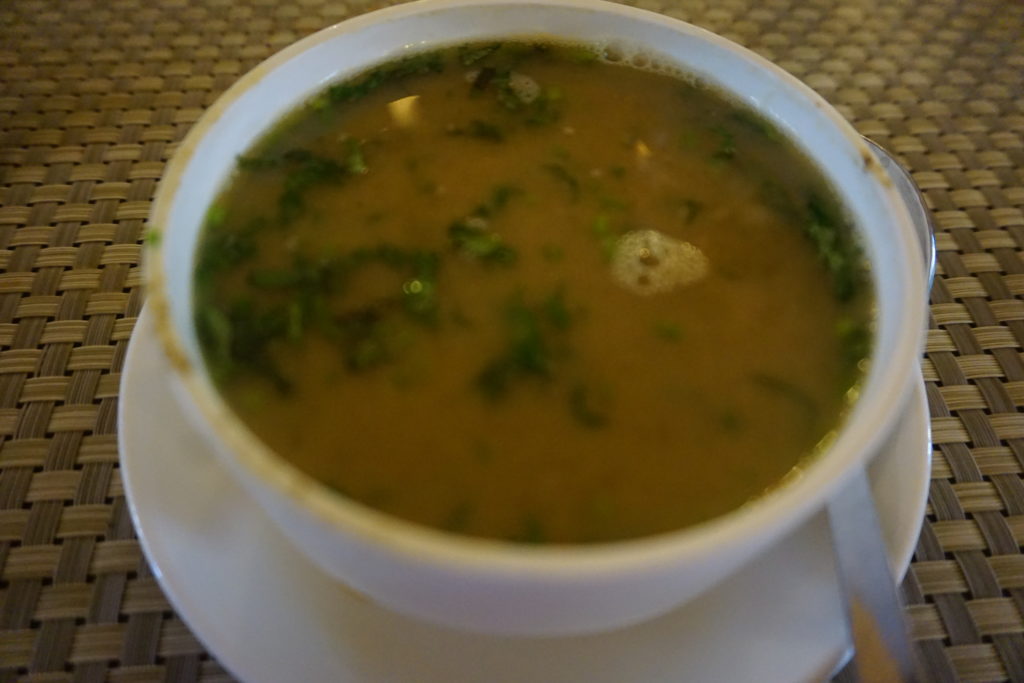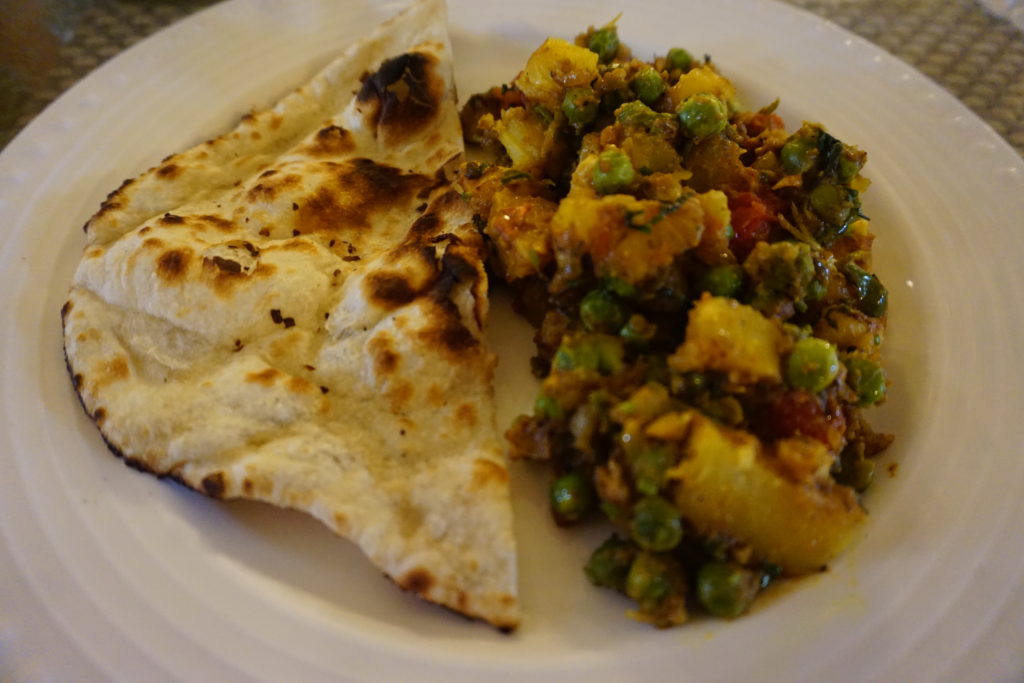 The hearty meal provided the needed nourishment for our two part journey to the Ganges River. Our well-organized guide led us to some tuk tuks, which then transported us to available rickshaws for the remainder of our ride. Maneuvering amongst pedestrians, other vehicles, and random livestock made this quite the challenging activity.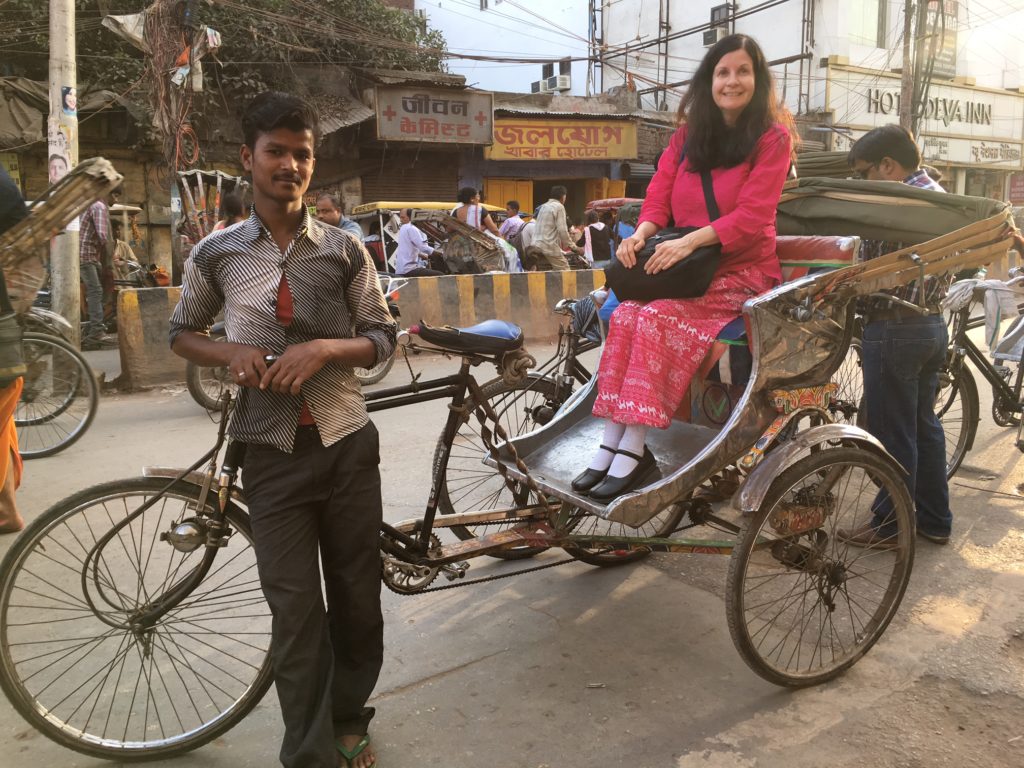 We arrived safely at our destination: the banks of the holy Ganges River. Riverside steps known as "ghats", lead visitors to the banks of the Ganges. Sadhus(Indian holy men) gather along the riverbanks to eat a meal, prepare for prayer, and bathe in the waters. Their traditional dress of oranges and yellows is quite vibrant.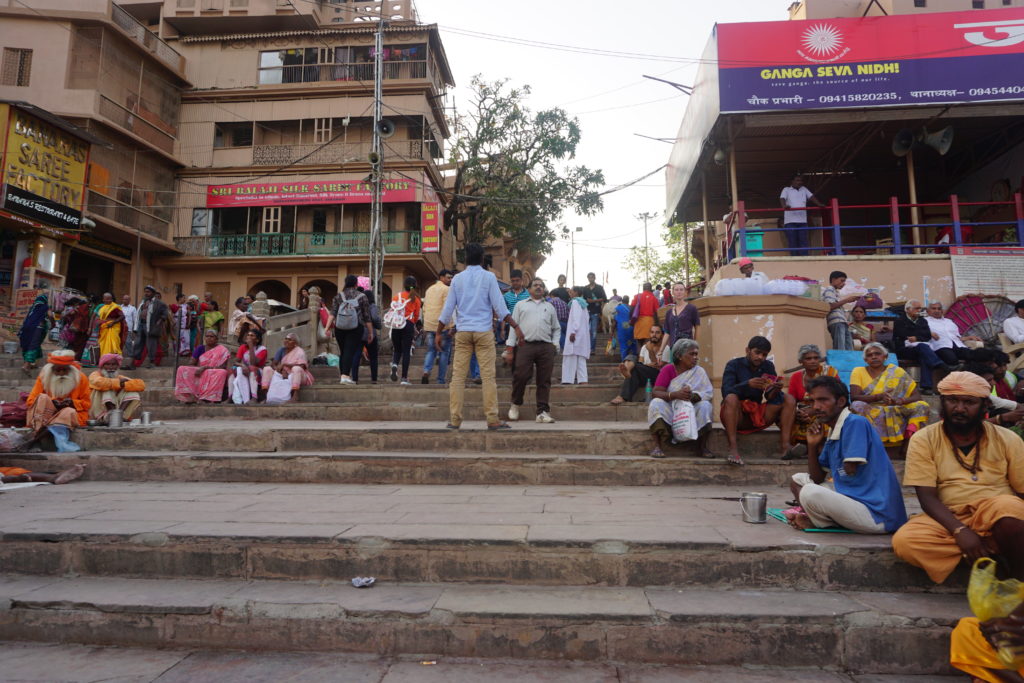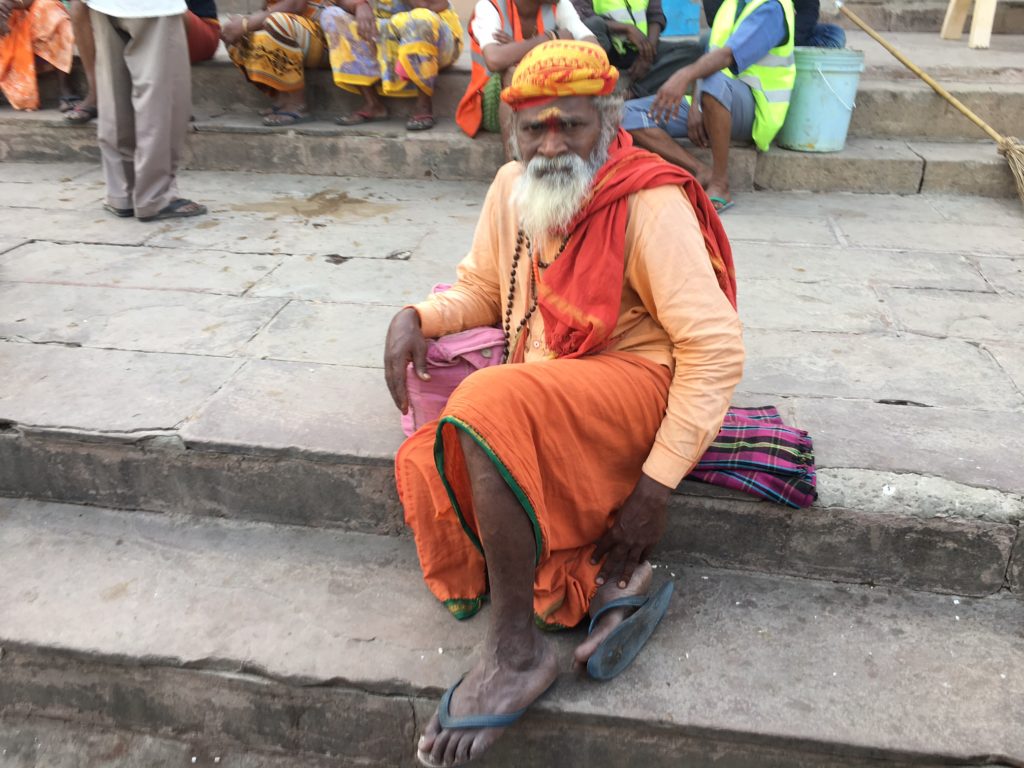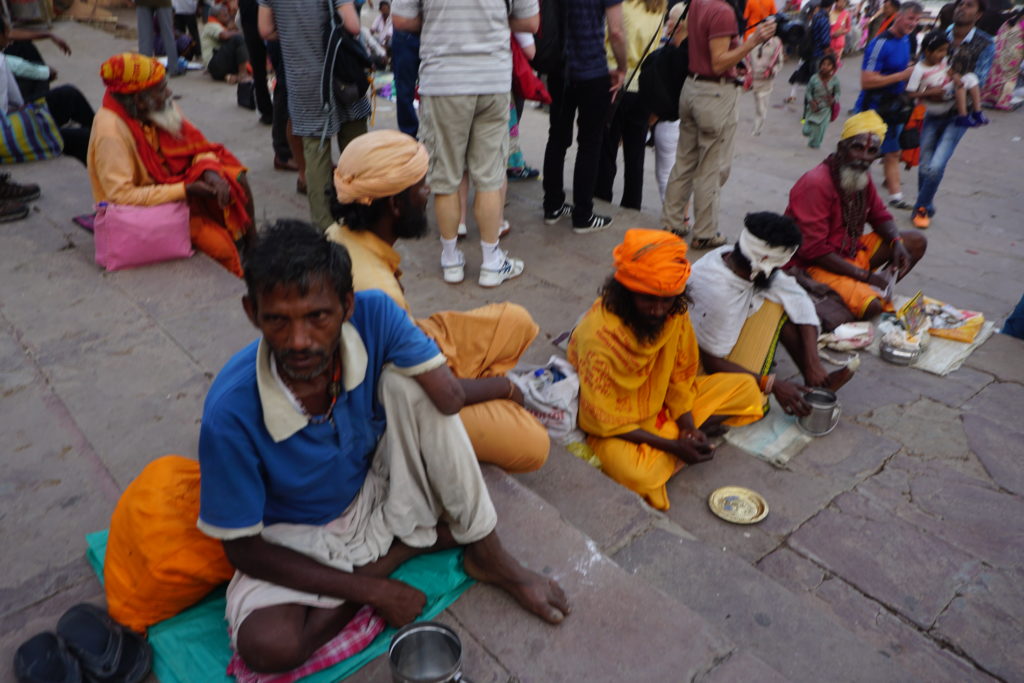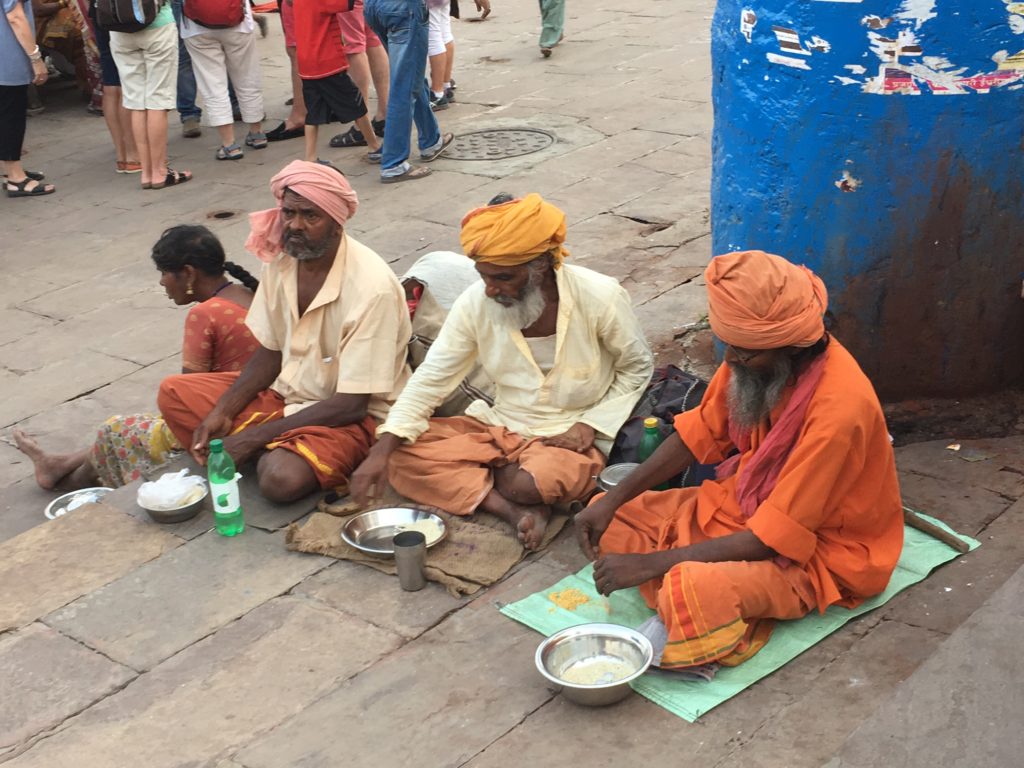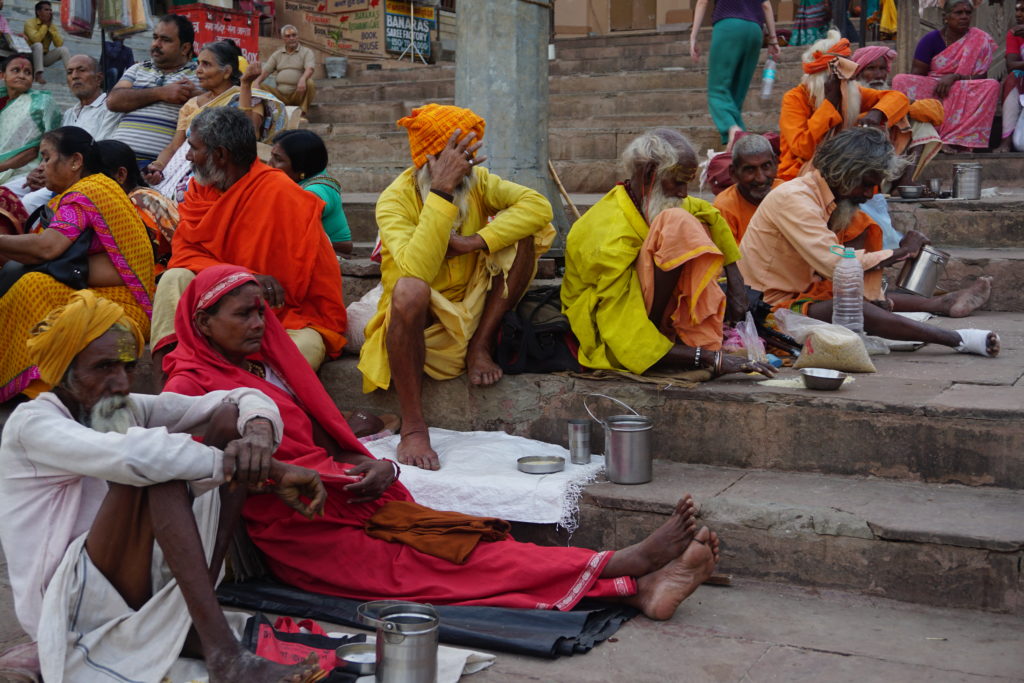 I observed a man getting his thick hair shaved off. This is a mandatory custom for Hindus to give their hair to God. The custom is performed to rid one of pride, as a full head of hair is seen as arrogant.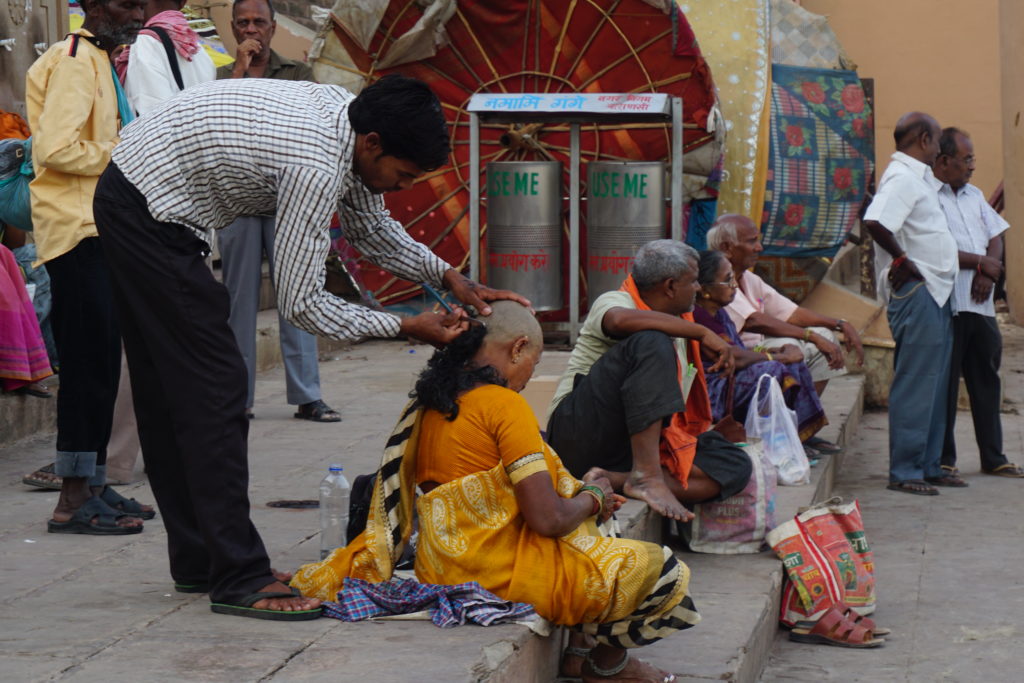 As we made our way towards the water, we came across vendors selling gorgeous flowers of orange and yellow hues. These flowers were also transported onto the small boats, for use in the religious ceremonies later in the evening.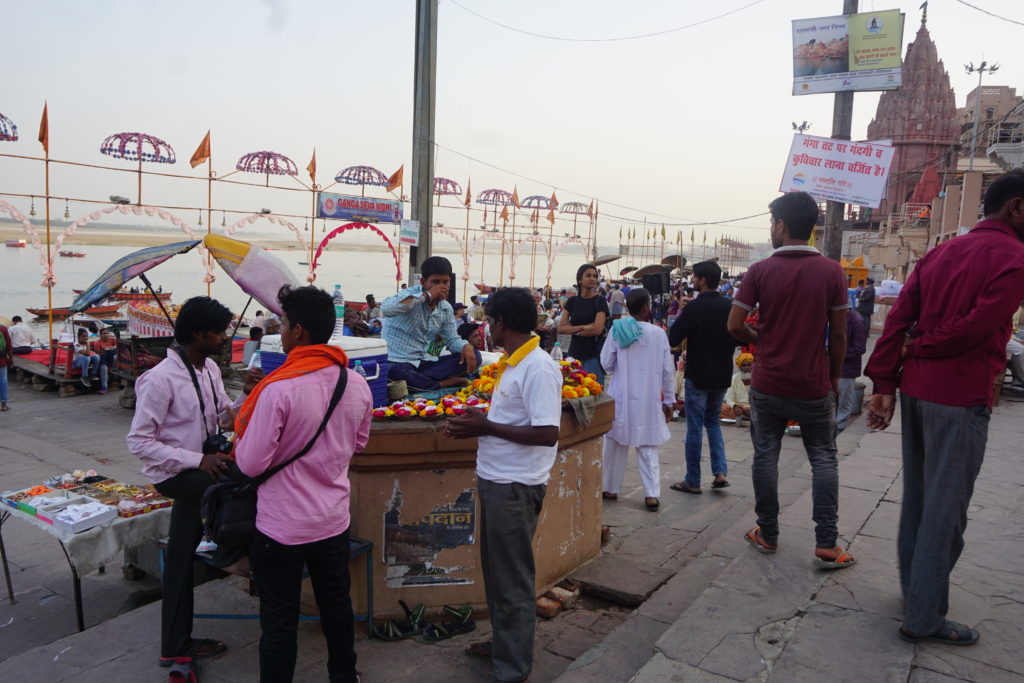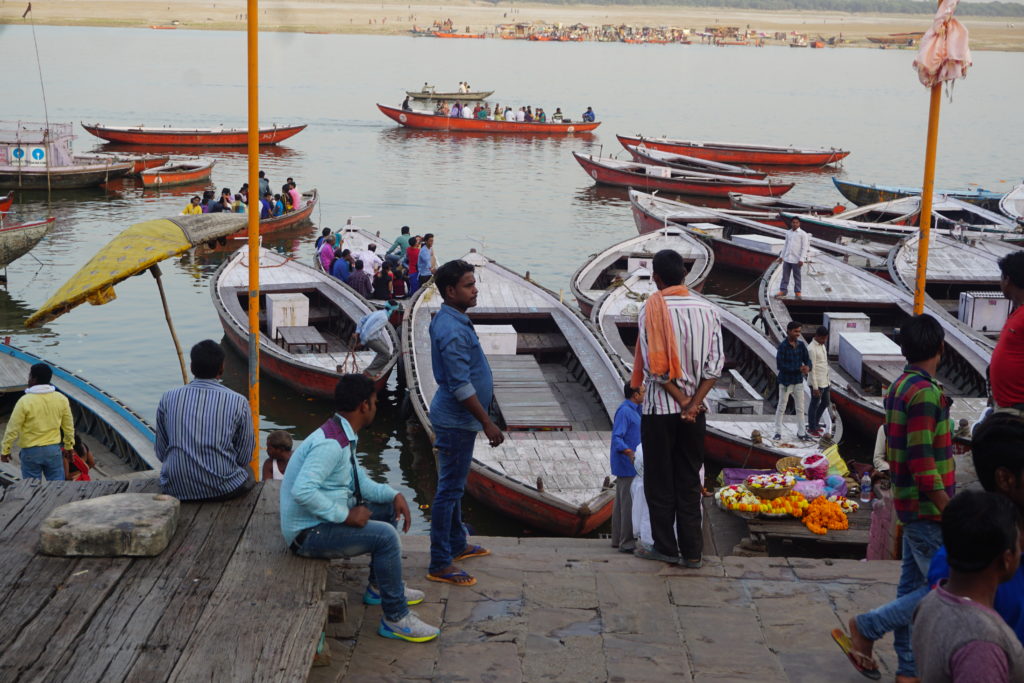 We boarded our small boat before sunset. Our tour guide brought candles onboard, placed in cups made with flowers for use in a spiritual ceremony later in the evening.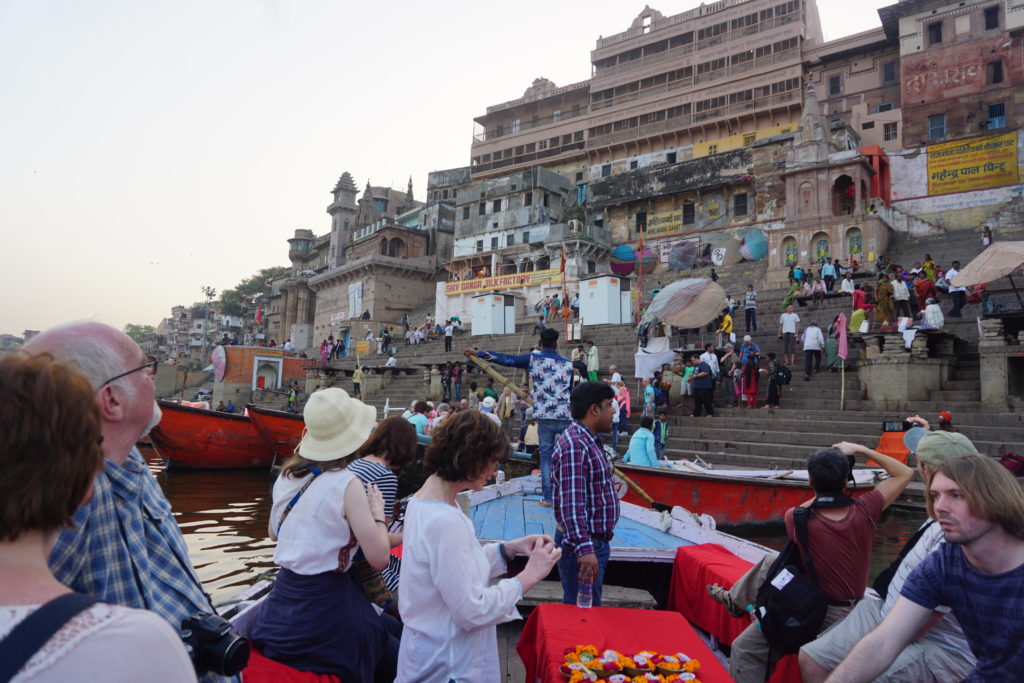 Many Hindu pilgrims lined the ghats, while throngs of tourists boarded a multitude of boats. Varanasi's 88 ghats are used for prayer and religious ceremony, cremation, and bathing. We cruised along the river, passing by many of these ghats as the daylight hours were coming to a close.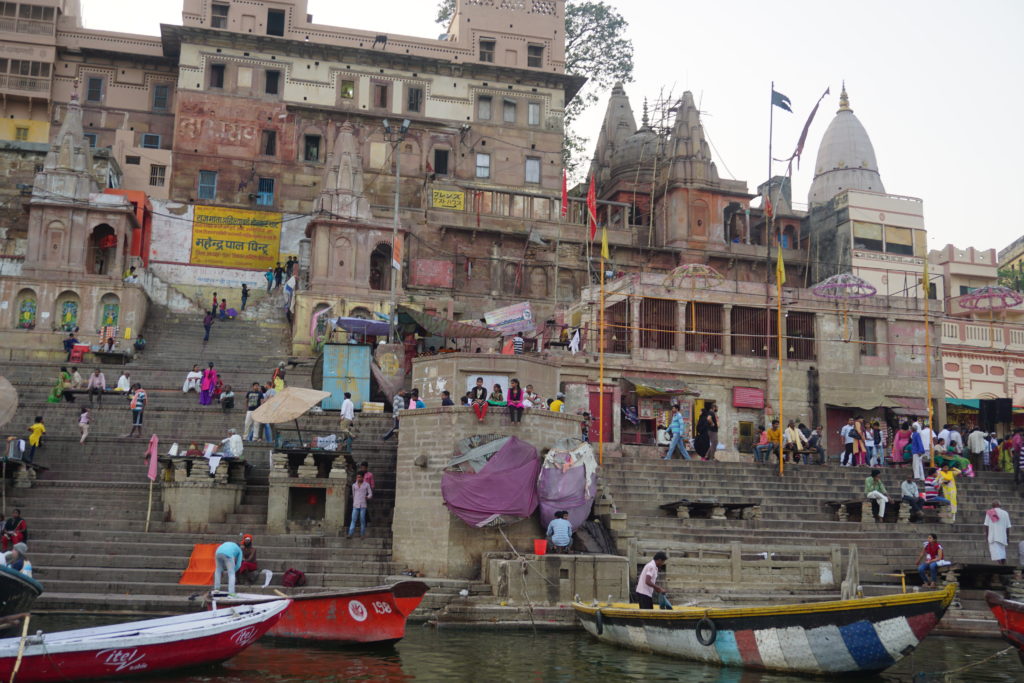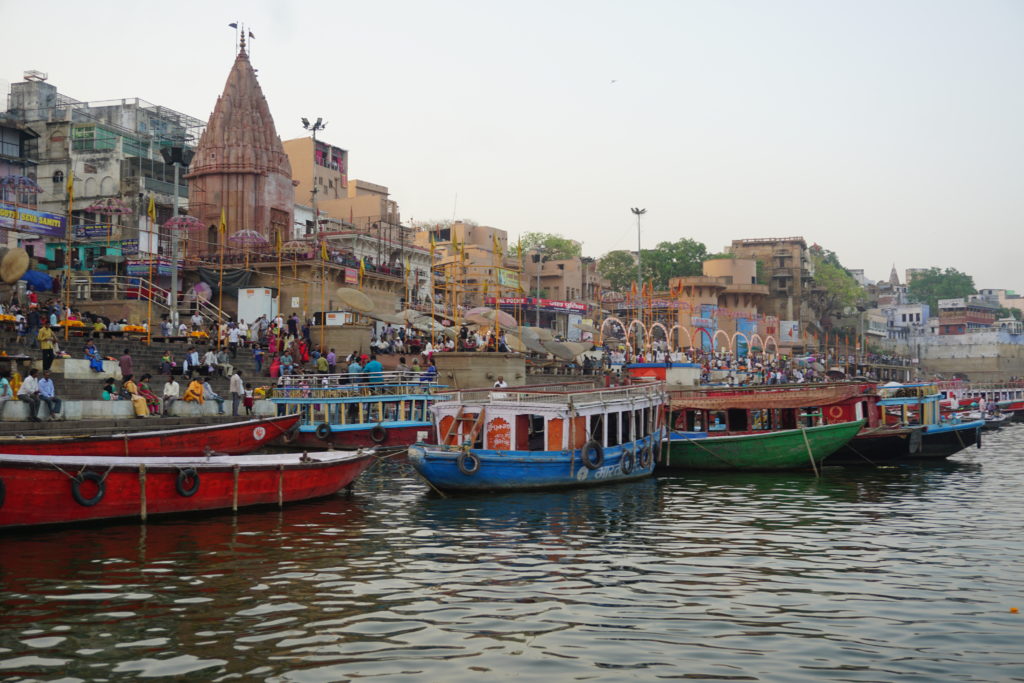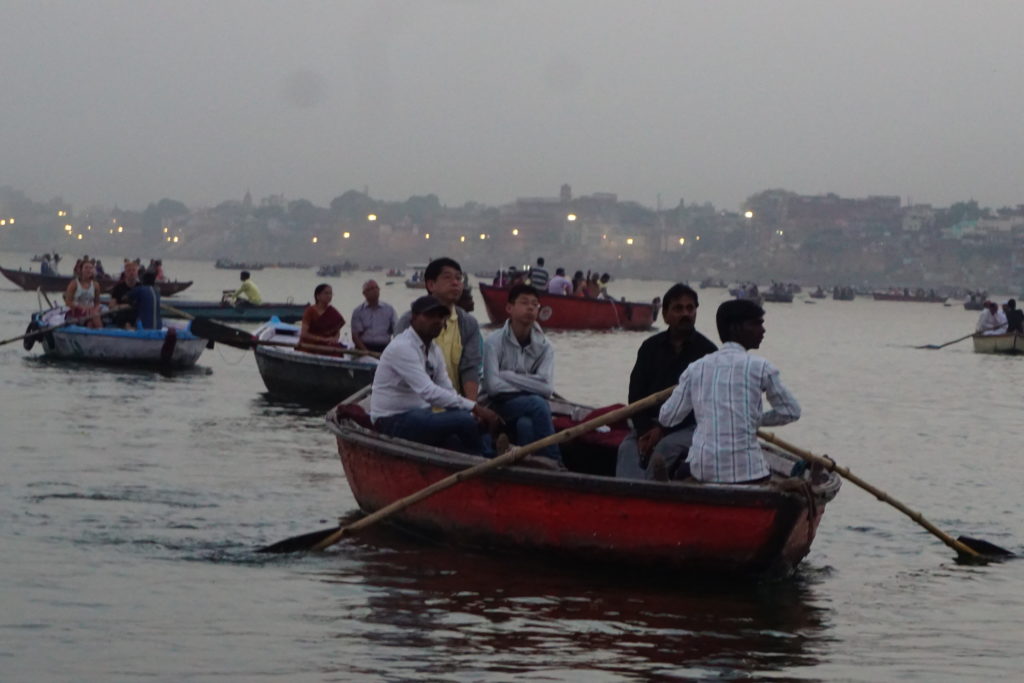 When the sun finally set, our guide lit each of the candles and we then placed them into the water to float down the river. This mystical ceremony is a ritual offered up for the river Ganges, revered as a goddess.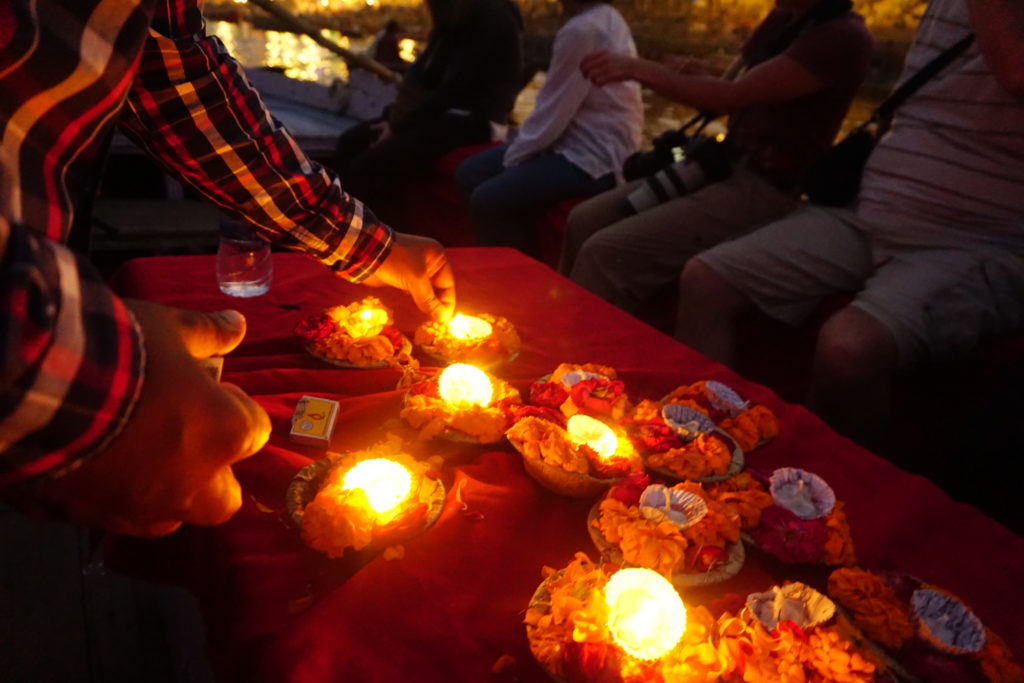 As darkness had fallen upon us, our boat temporarily docked at a particular ghat where holy rituals were taking place. Young men performed synchronized dance, played instruments, and chanted; while smoke and fire were released during prayerful reflection. Enormous crowds watched in awe from their small row boats.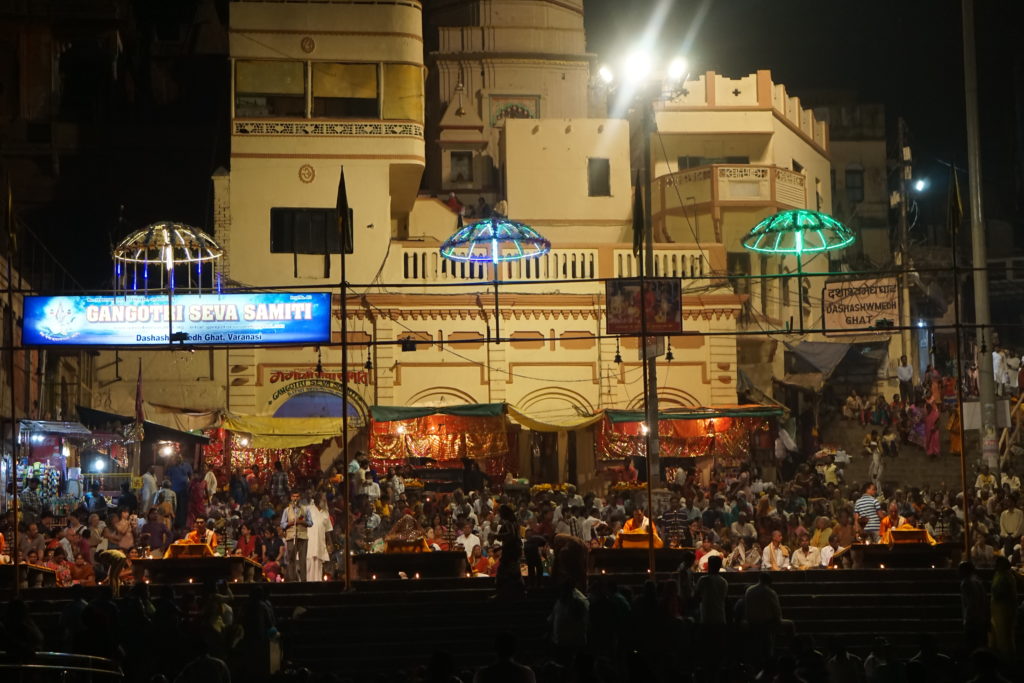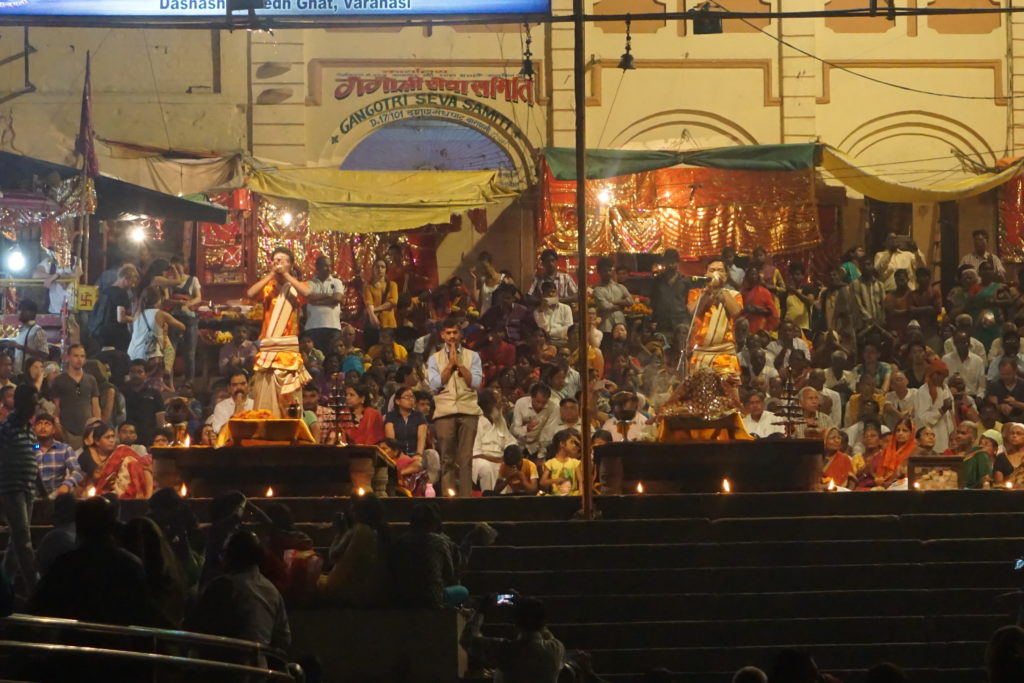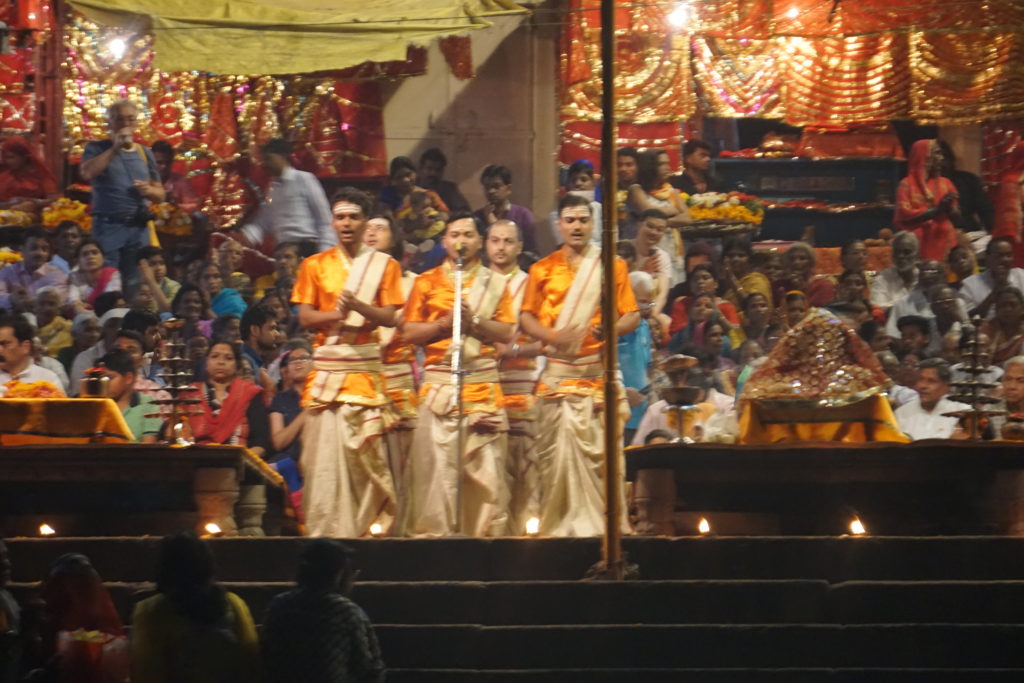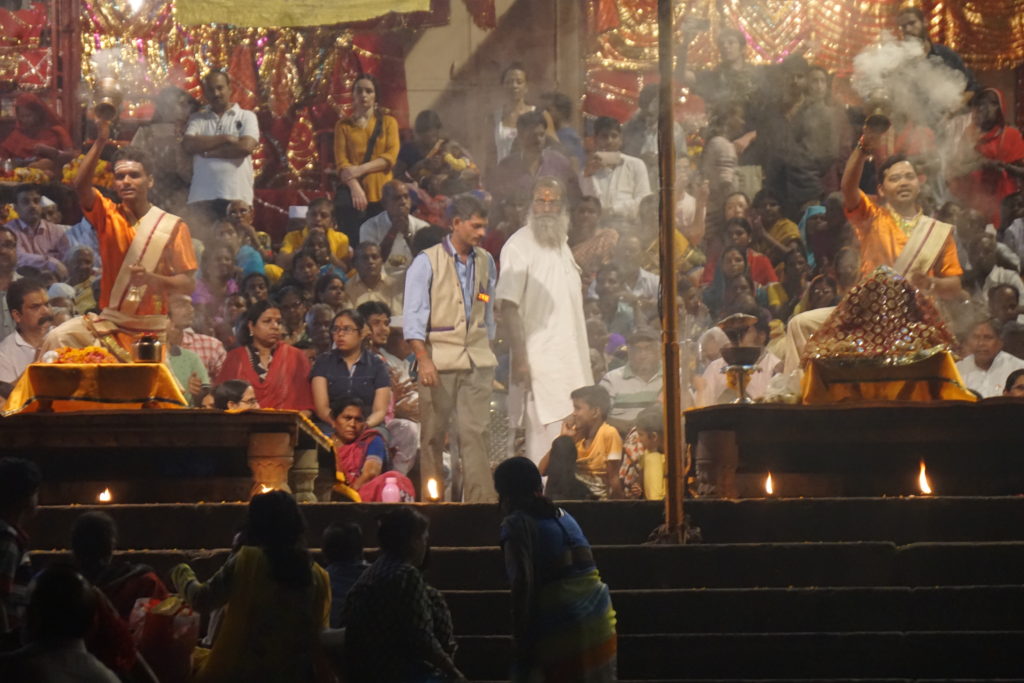 For dinner at our Varanasi hotel's restaurant, I opted for the roasted eggplant with garlic and tomatoes, steamed basmati rice, and naan bread. My meal was fantastically flavorful. A glass of pineapple juice washed down my entrée.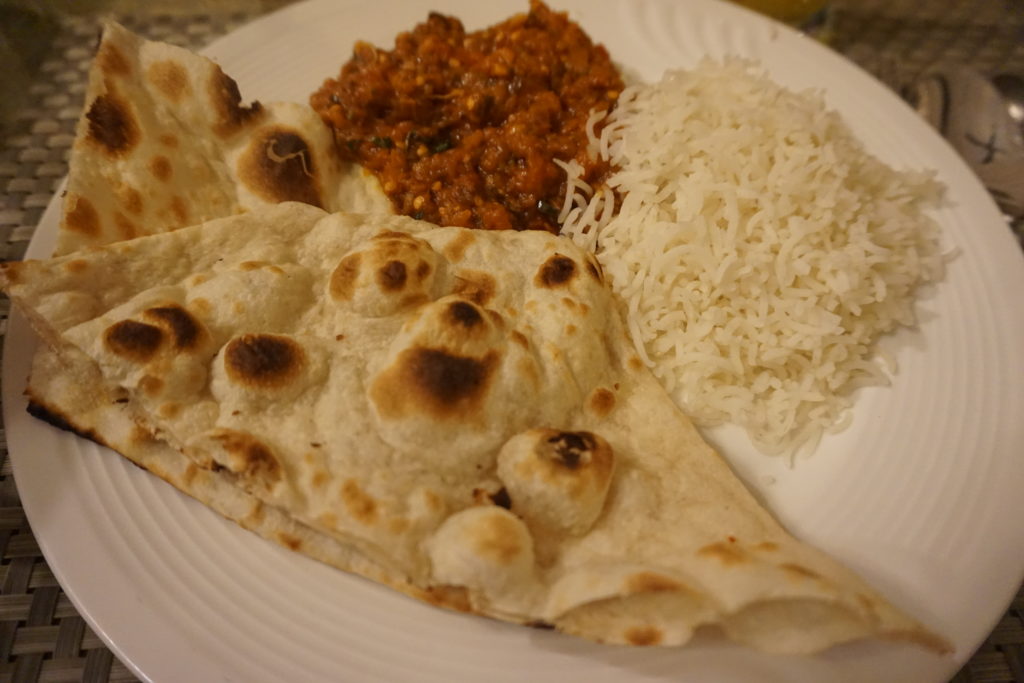 We awoke early the following morning for the opportunity to view the spiritual events that take place on the Ganges River around sunrise.
Upon arrival near the riverbank, we gazed in amazement at a Hindu temple, decorated with ornate and colorful figures upon its façade.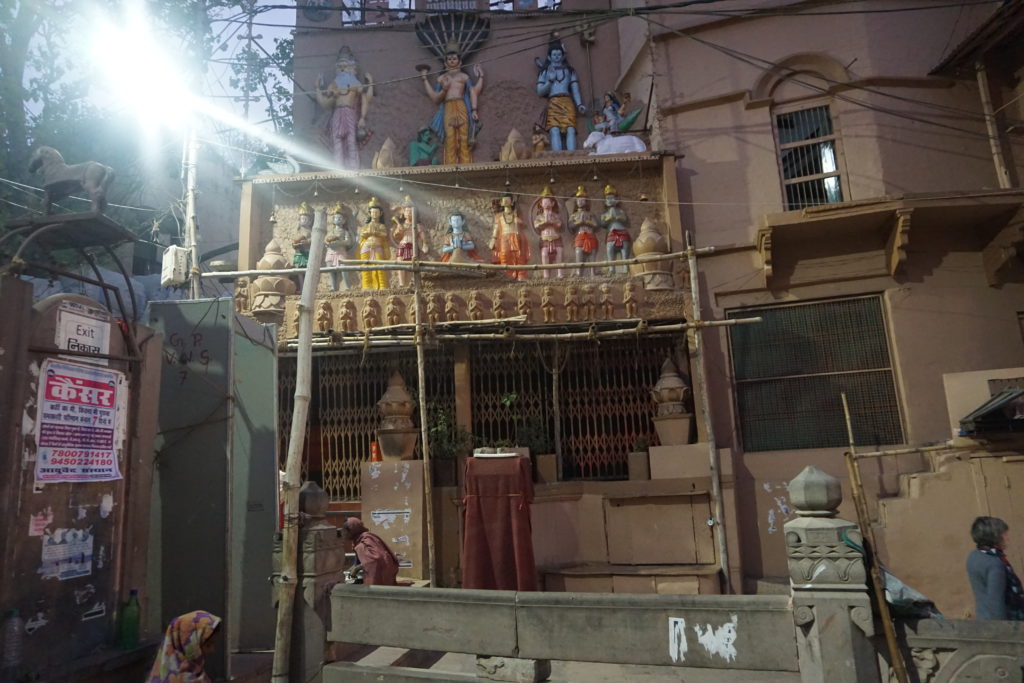 Our group eventually boarded a small boat on the river's edge and headed out into the water. Holy men("Sadhus") were bathing in the river at several of the ghats.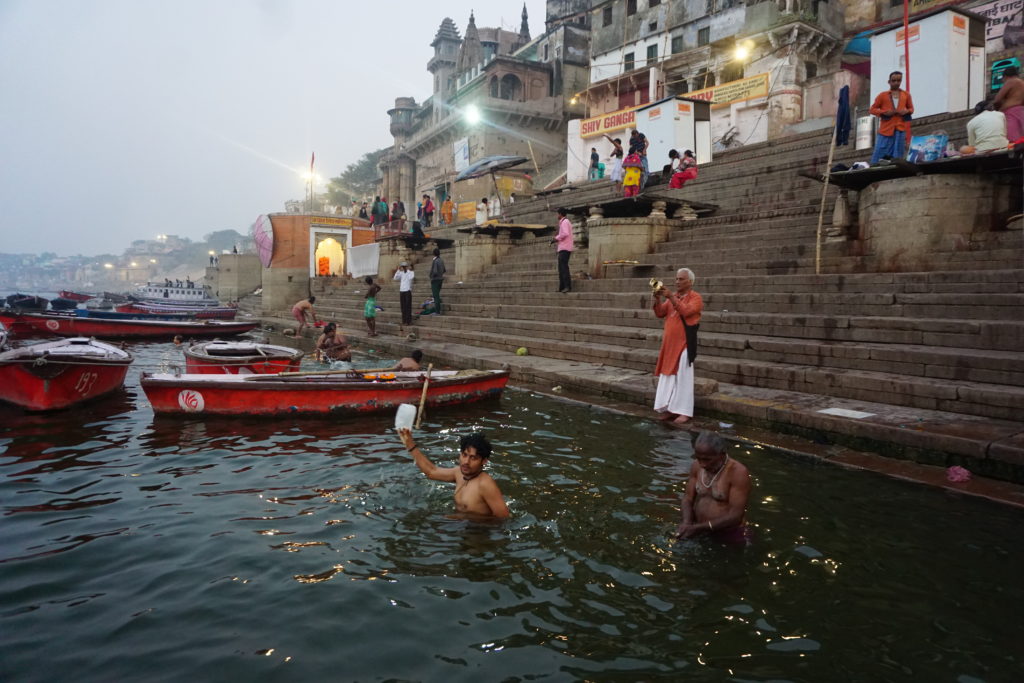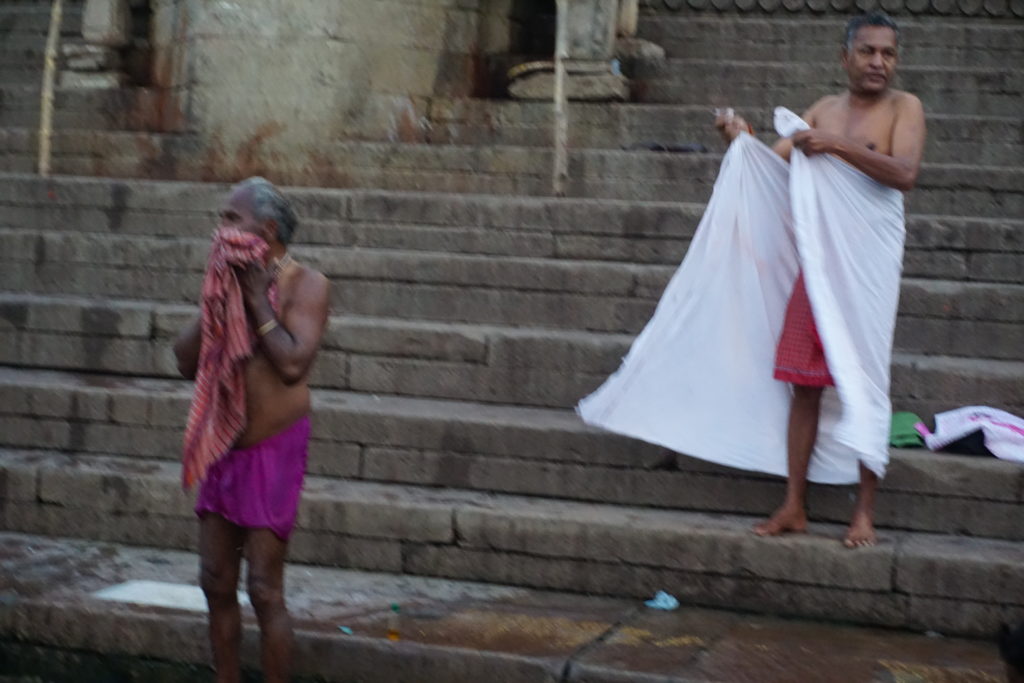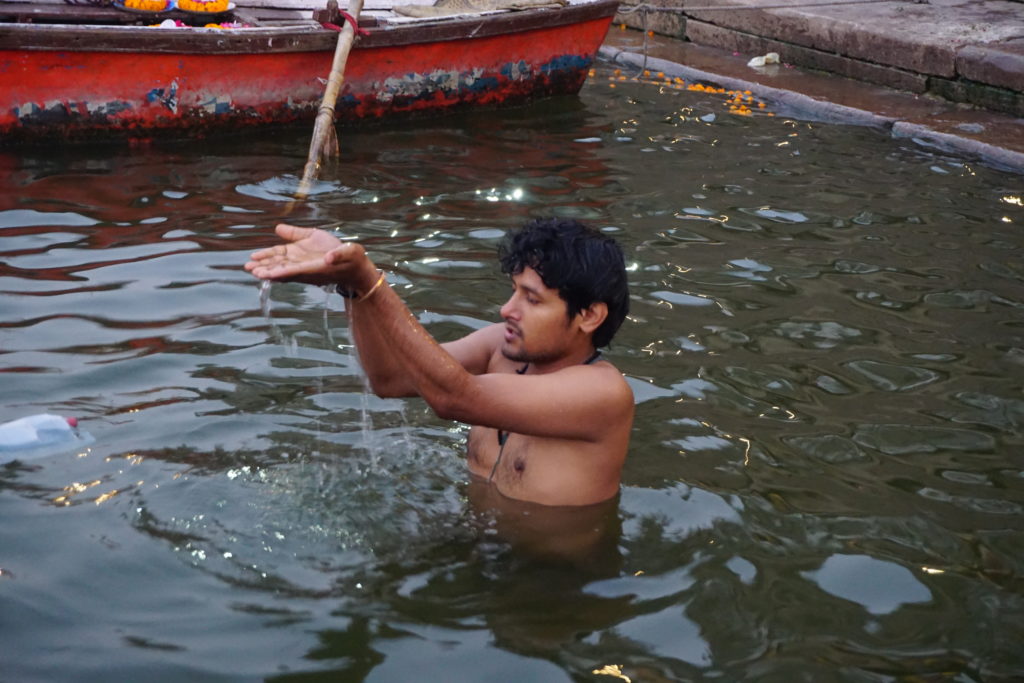 Women and men were doing their laundry in the waters of Ganges.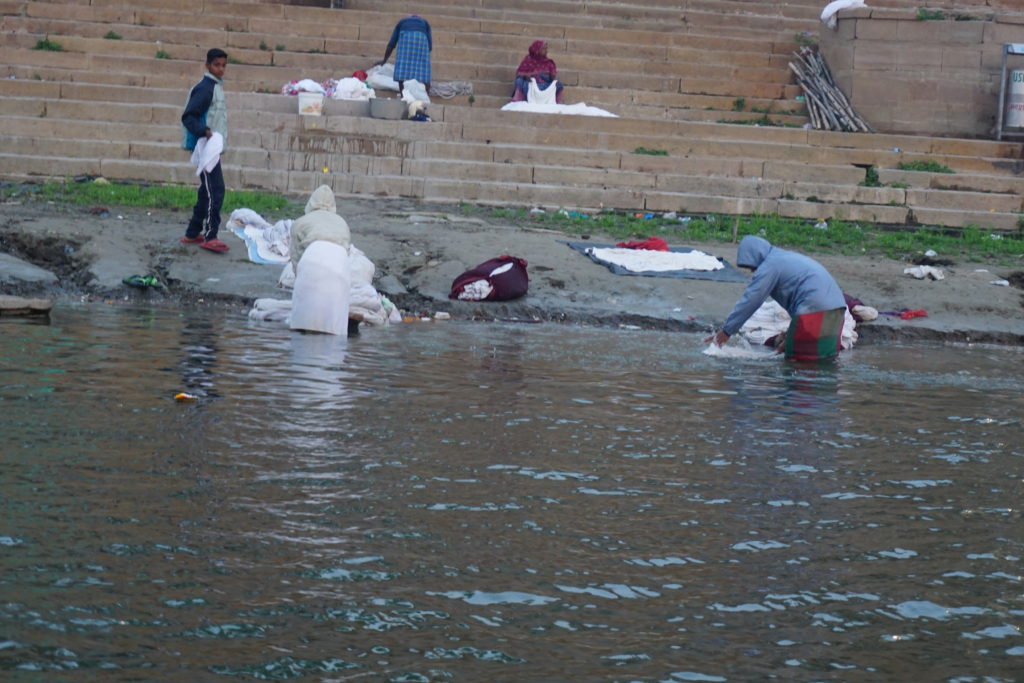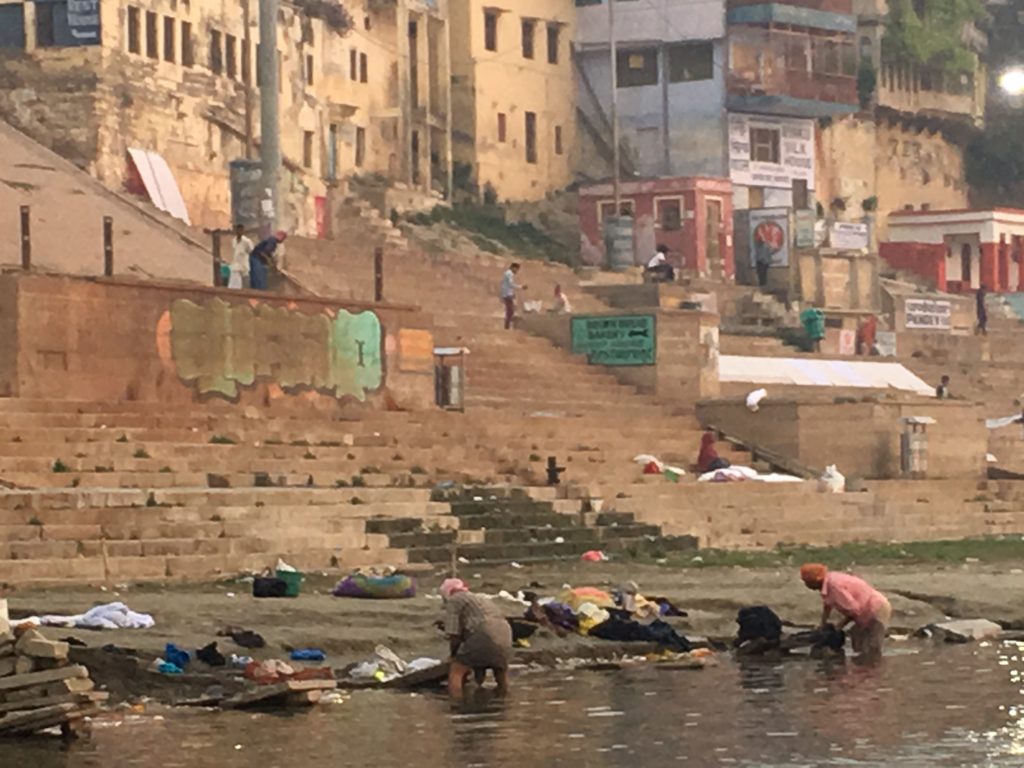 The sun started to rise during our boat journey. A stunning sunrise caught our eye as it rose above the horizon. It was quite a site to behold.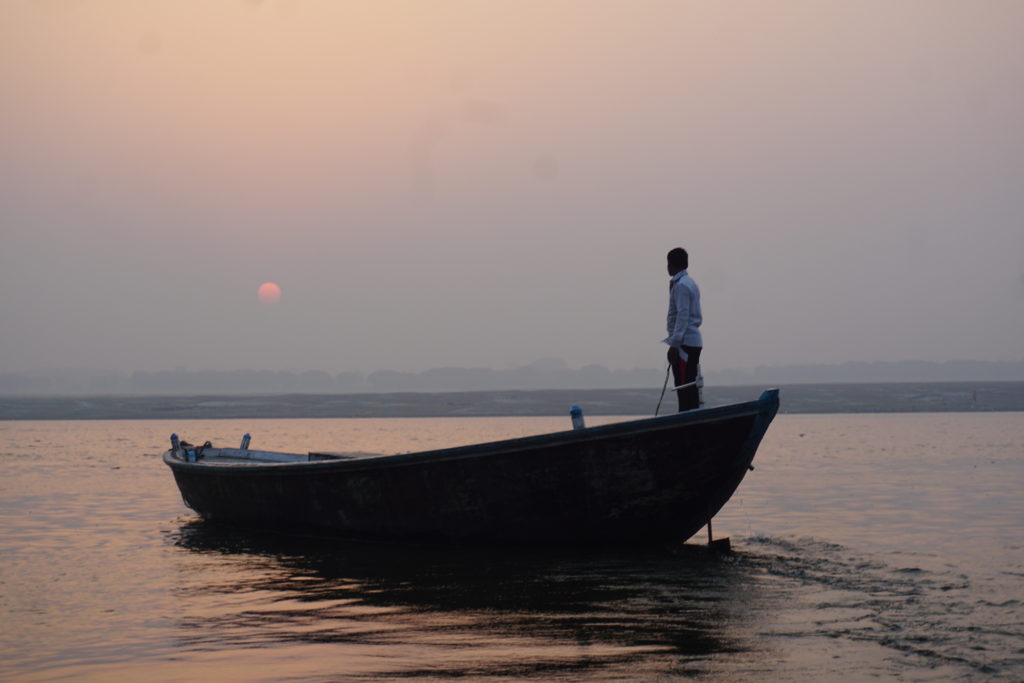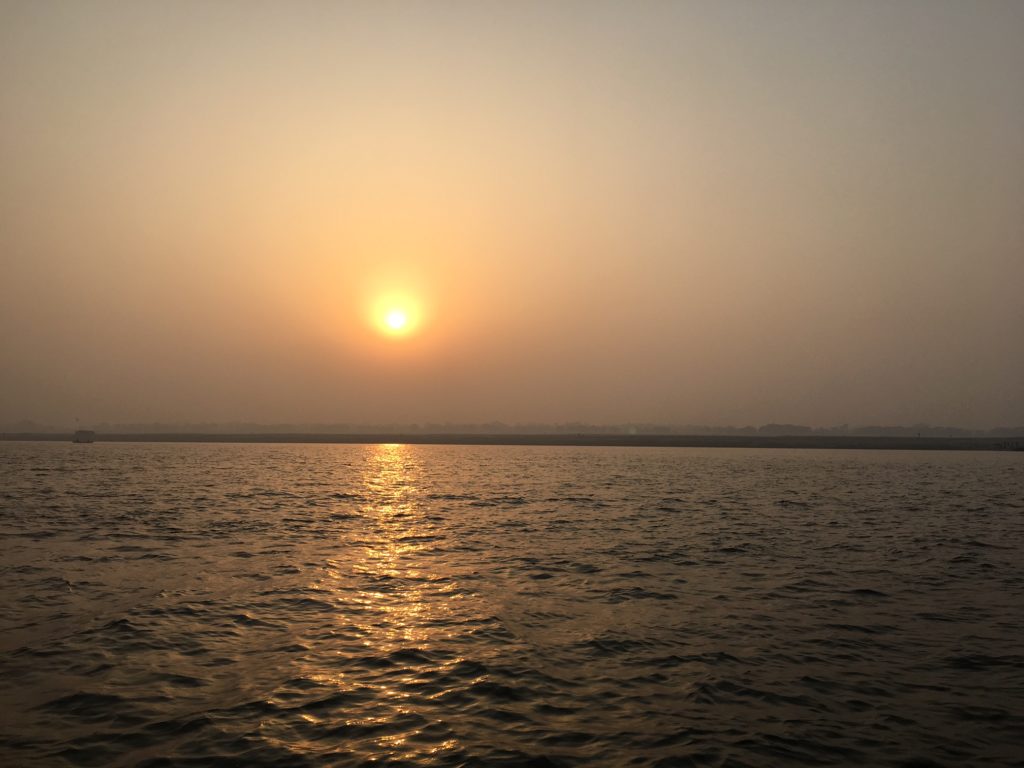 Our boat cruised by more ghats, temples, and people doing their laundry; as we started our return to shore.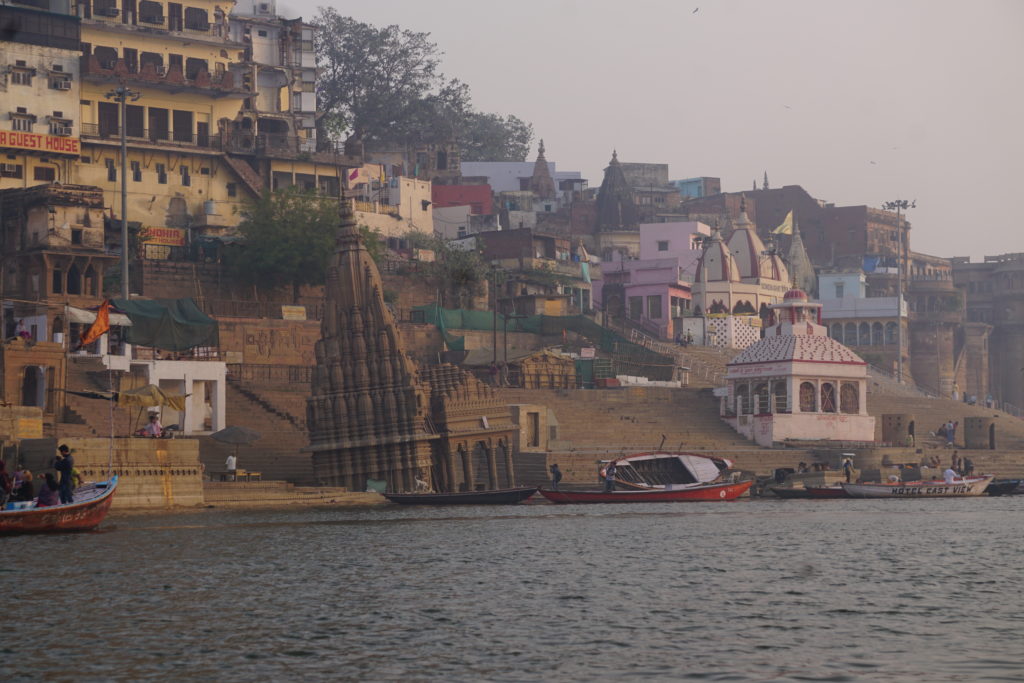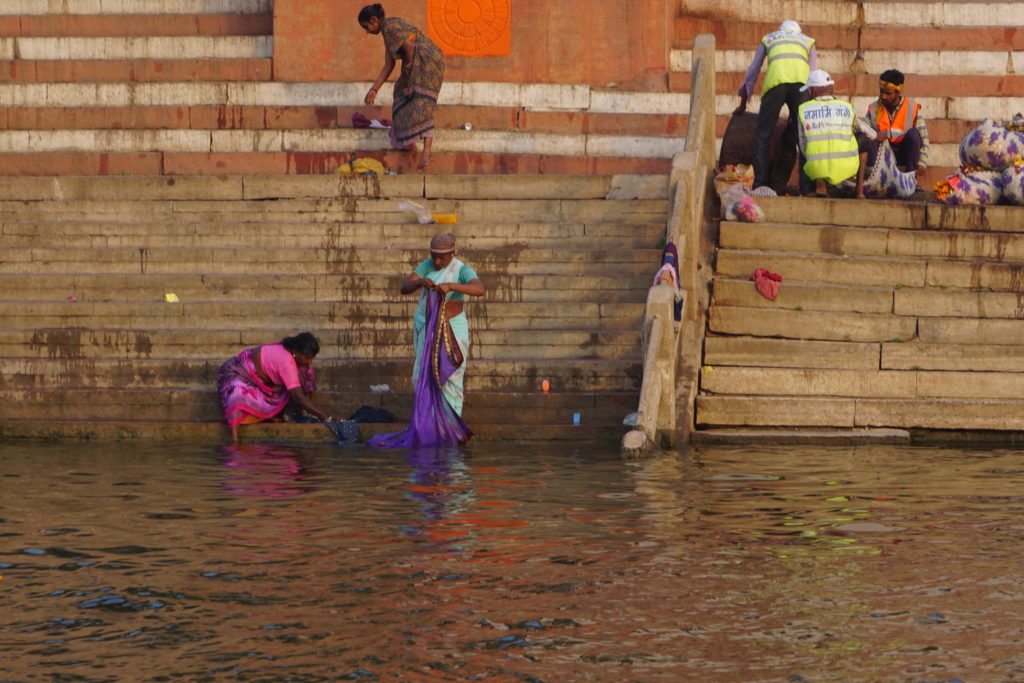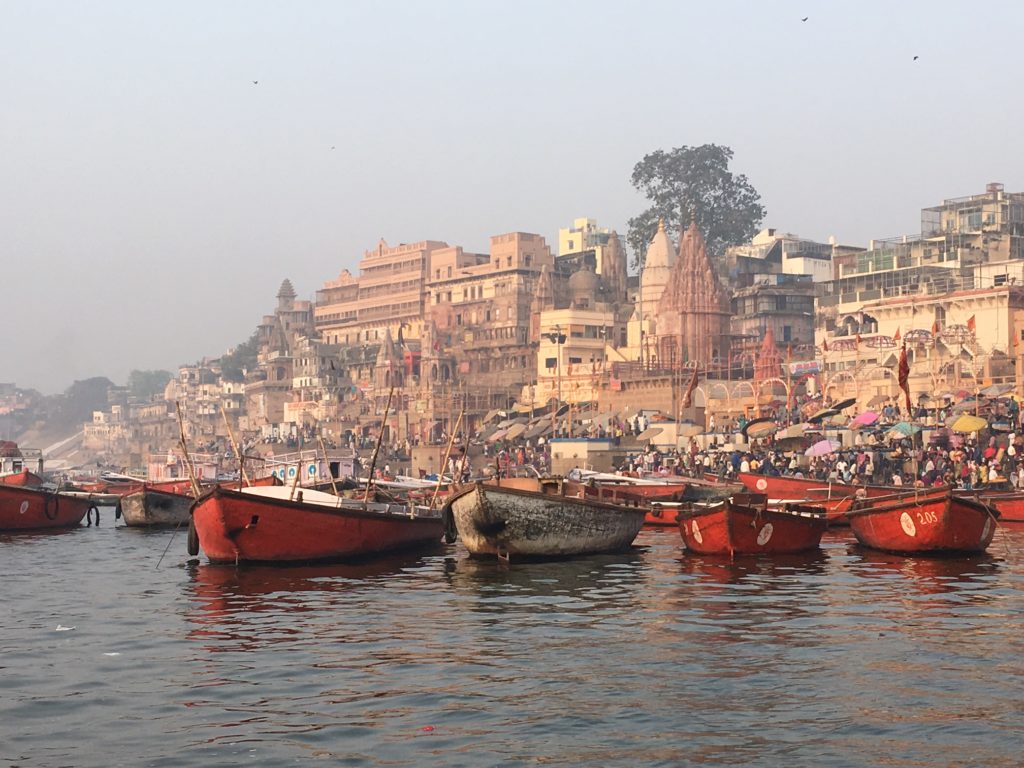 Back on shore, vendors were eager to sell their wares to us tourists.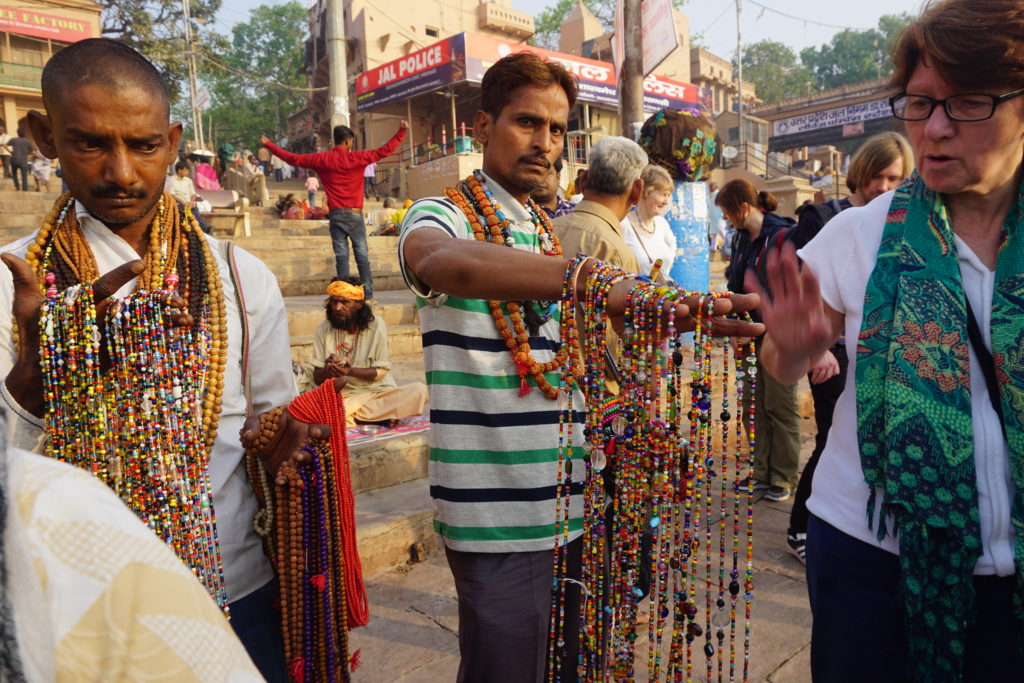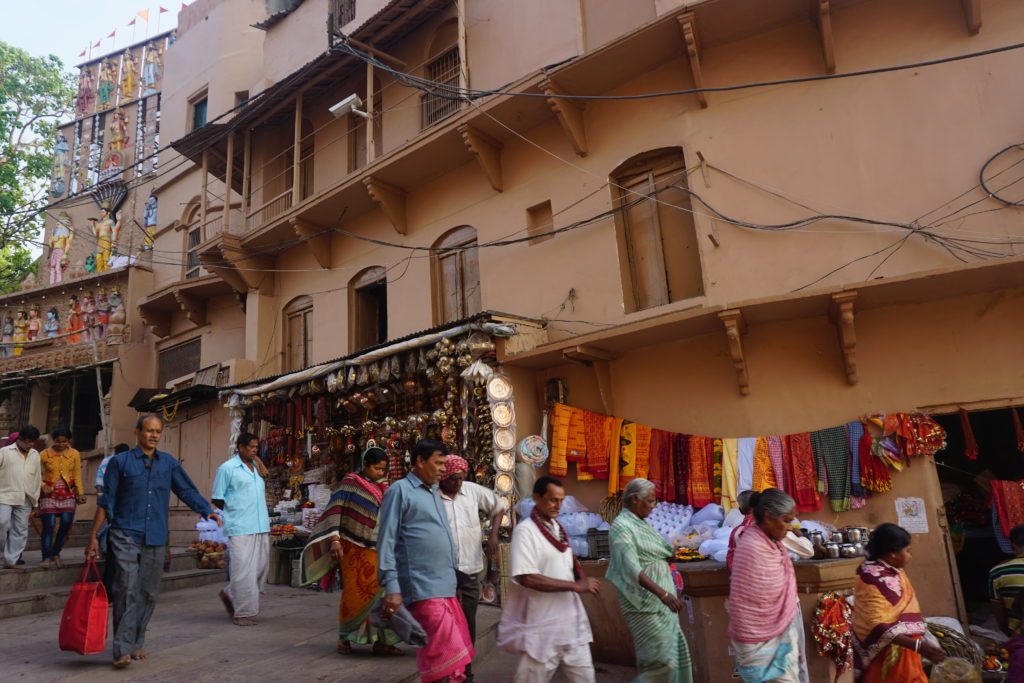 I was famished by the time we arrived back at the hotel. A lovely buffet breakfast was offered for hotel guests. My delicious selections included the vermicelli with vegetables, idli with mint chutney, sambar, and parantha bread.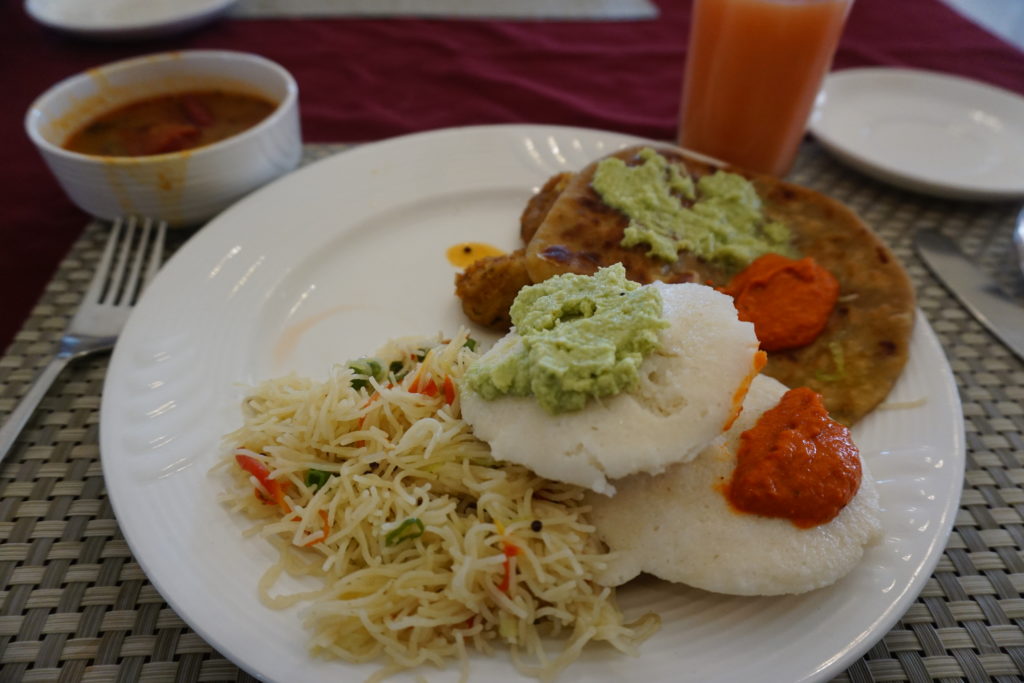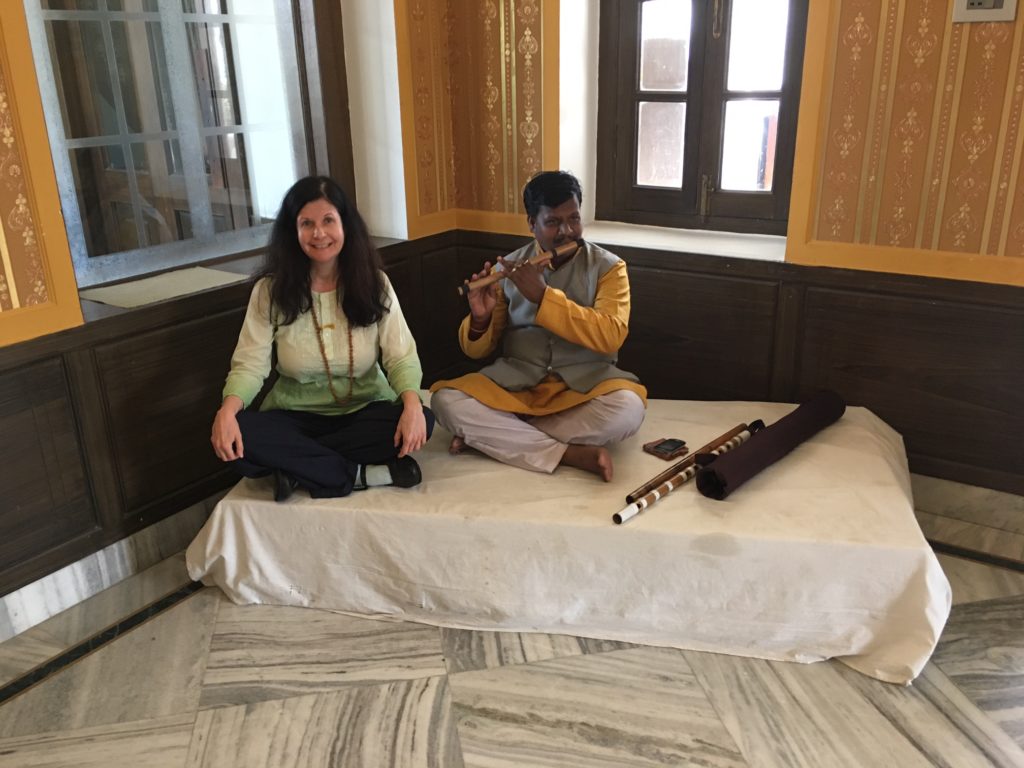 A tuk tuk ride brought me back to the shopping district to spend more time perusing the markets.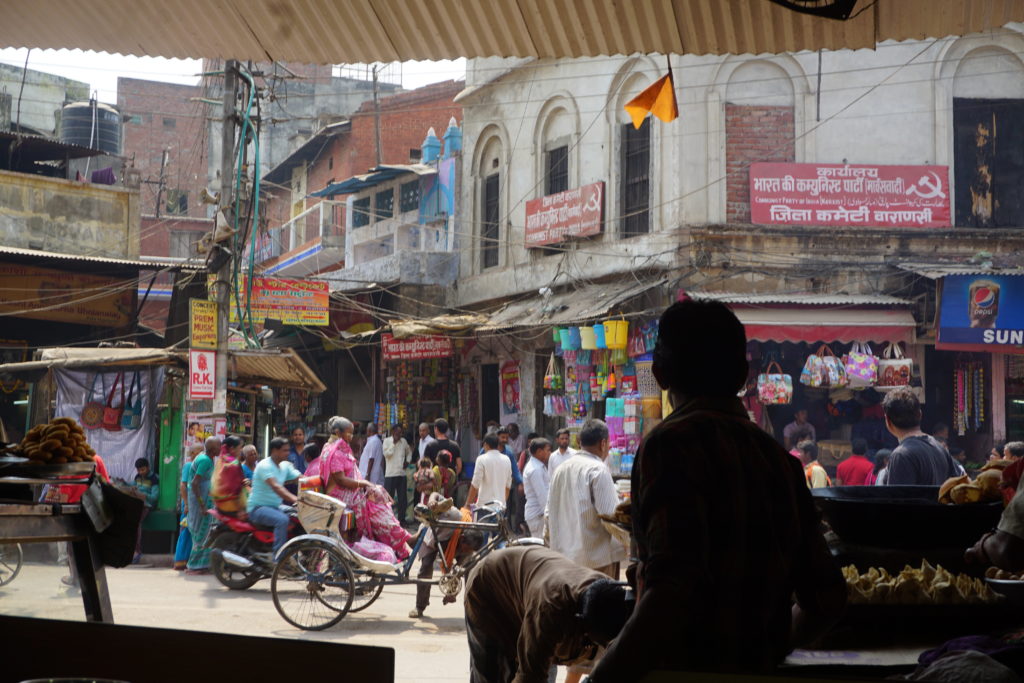 Fortunately, a vegan-friendly restaurant resides near the main market area. I dined on a spicy mixed veggie curry with chapatti bread at Madhur Milan Café (Madhur Milan Café). The lunch time option was quite good.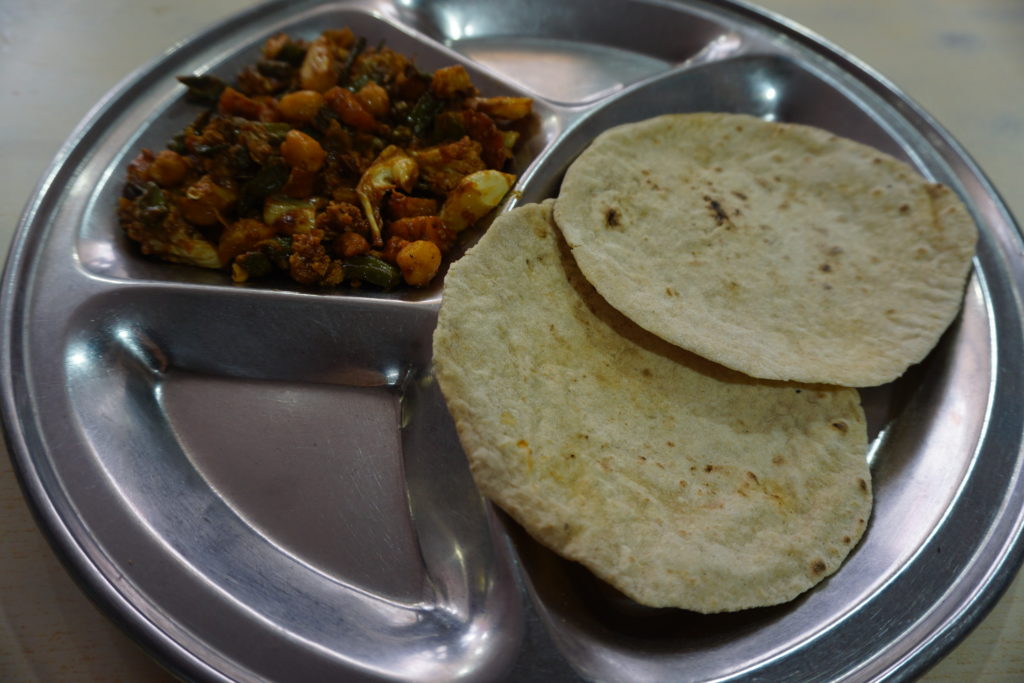 There were more shops in the neighborhood awaiting my visit. A winding maze of streets and small alleyways each gave way to a variety of shops. I explored several shops that sold an array of goods such as handbags, local jewelry, and scarves. Then another quick ride by tuk tuk took me back to the hotel.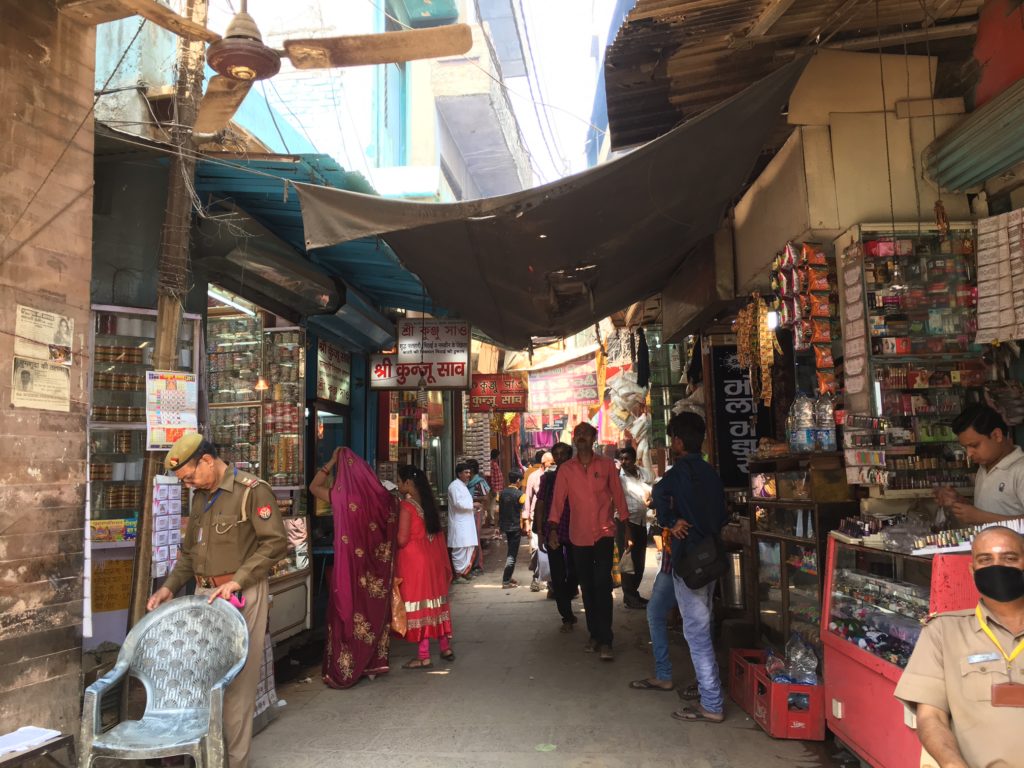 I decided to relax and take a nap before our impending train journey that evening.
By 8pm, we were onboard the overnight train to Delhi. Our thoughtful guide had brought along some hearty naan bread for our dinner meal.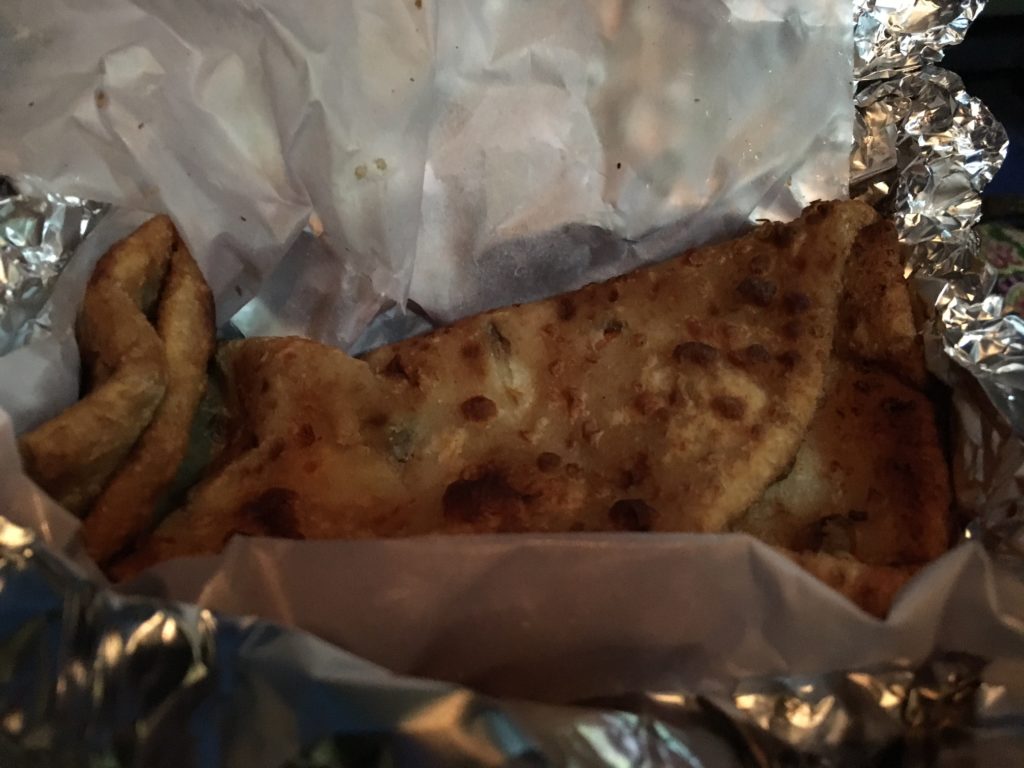 I really enjoyed my two days in Varanasi. From the boat ride on the holy Ganges River to watch the spiritual rituals, prayers, and bathing of the Hindus to the delicious vegan food; my visit was indeed satisfying. During the overnight train excursion, my thoughts turned to the attractions that I would be experiencing in Delhi on the following day.