Ranthambhore National Park is a large national park in northeastern India. Situated in the state of Rajasthan, it is home to a large variety of wildlife and birds. The popular destination was on my tour group's itinerary for an afternoon drive and for the following morning. Wildlife is not confined, but instead have a spacious landscape on which to roam. Tour vehicles keep their distance from the animals. The beautiful creatures are also not used for entertainment purposes or exhibits. Hence, it is a vegan-friendly environment. I anxiously anticipated the amazing wildlife activity that we were about to experience!
My day started off with a lovely breakfast at our "Fort Chandragupt Hotel" in Jaipur. The tasty breakfast meal consisted of poori (an Indian bread),potato puffs, tomato potato soup, and pumpkin lentil soup.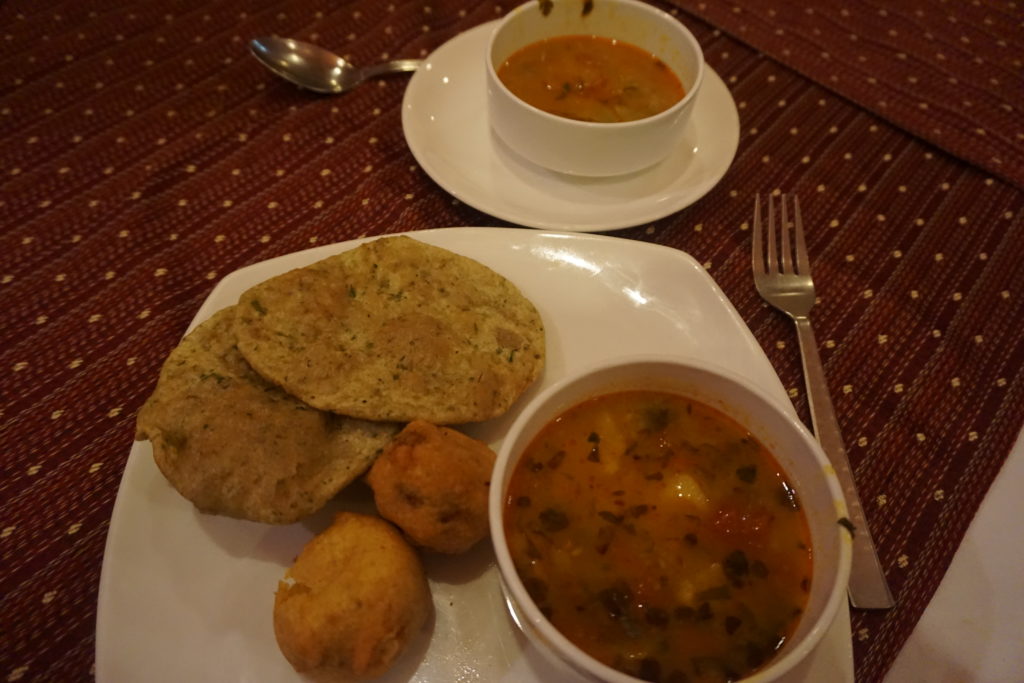 Our morning meal provided the nourishment that we needed for our five hour journey through rural India, heading towards our destination of Ranthambhore National Park. Local village markets, women working in the crop fields, and an ever-changing landscape from rivers to grassy fields to bustling village centers came into view during our travels.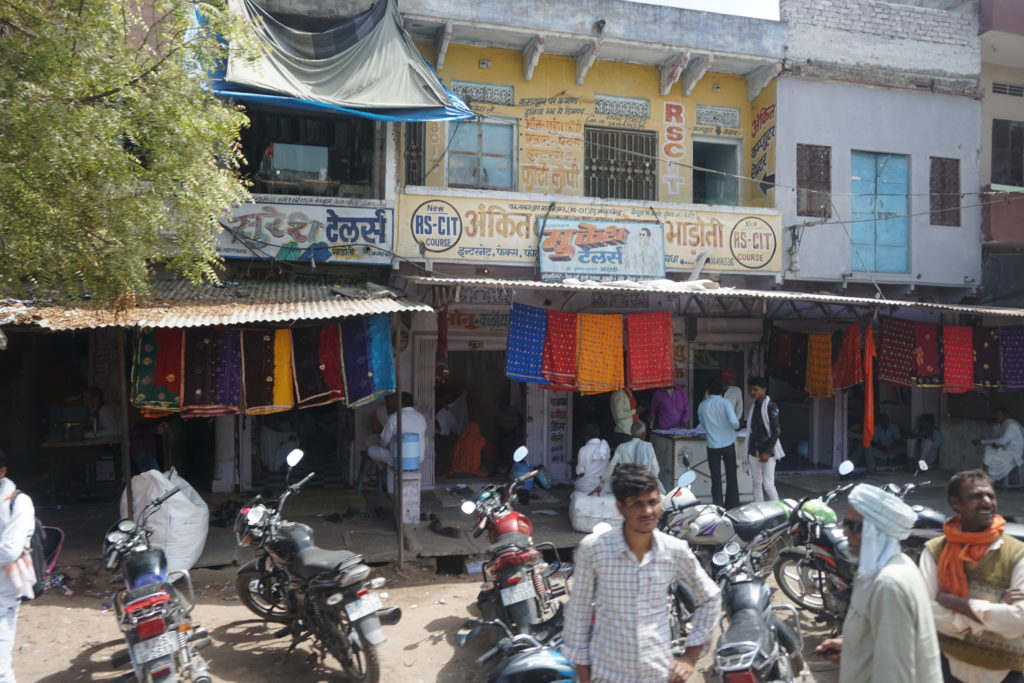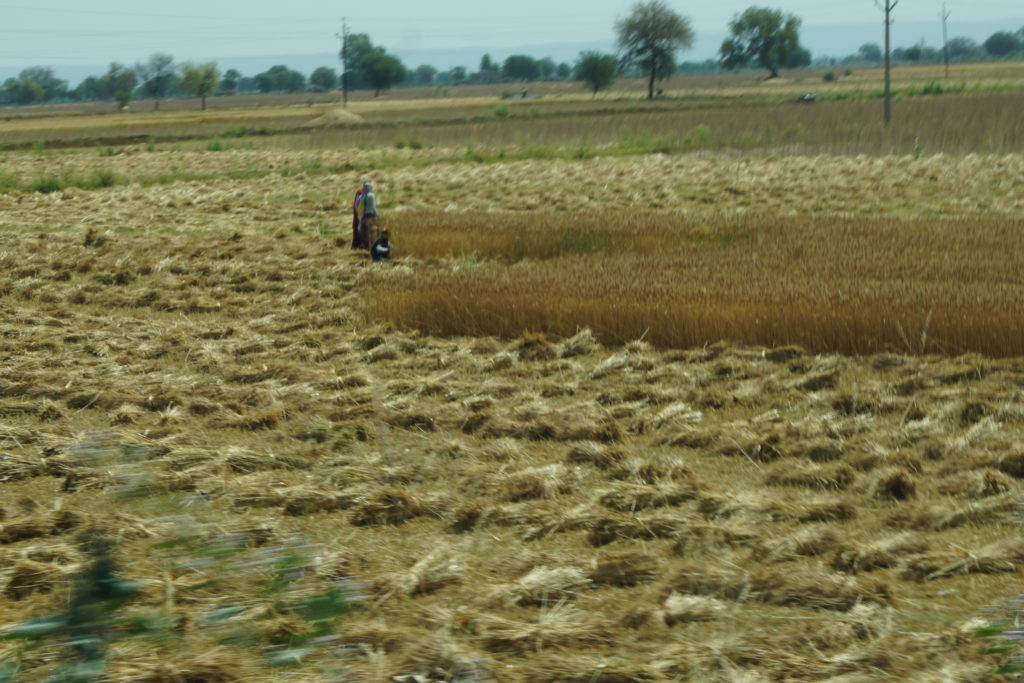 We happily arrived at our charming accommodations at "Hotel Raj Palace" in the village of Sawai Madhopore. This is located in the town closest to Ranthambhore National Park. Our group was greeted with the customary flower necklaces and a henna dot placed on our foreheads. Aesthetically gorgeous flora and fauna surrounded the hotel and its many cottages.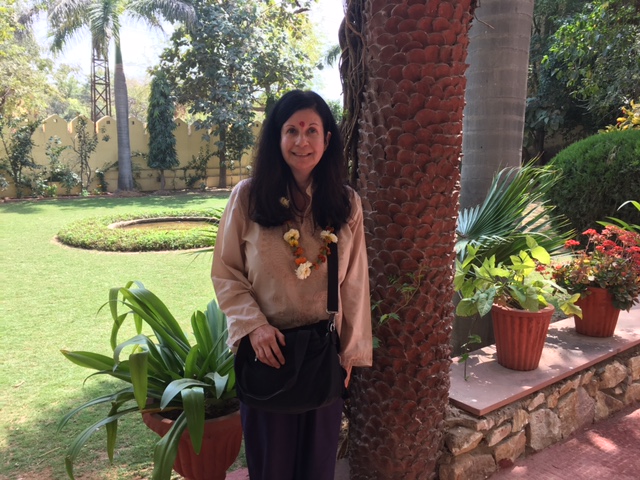 My spacious and airy cottage had an exotic feel and was furnished with tropical green curtains, beautiful dark wooden dressers, and gleaming white walls.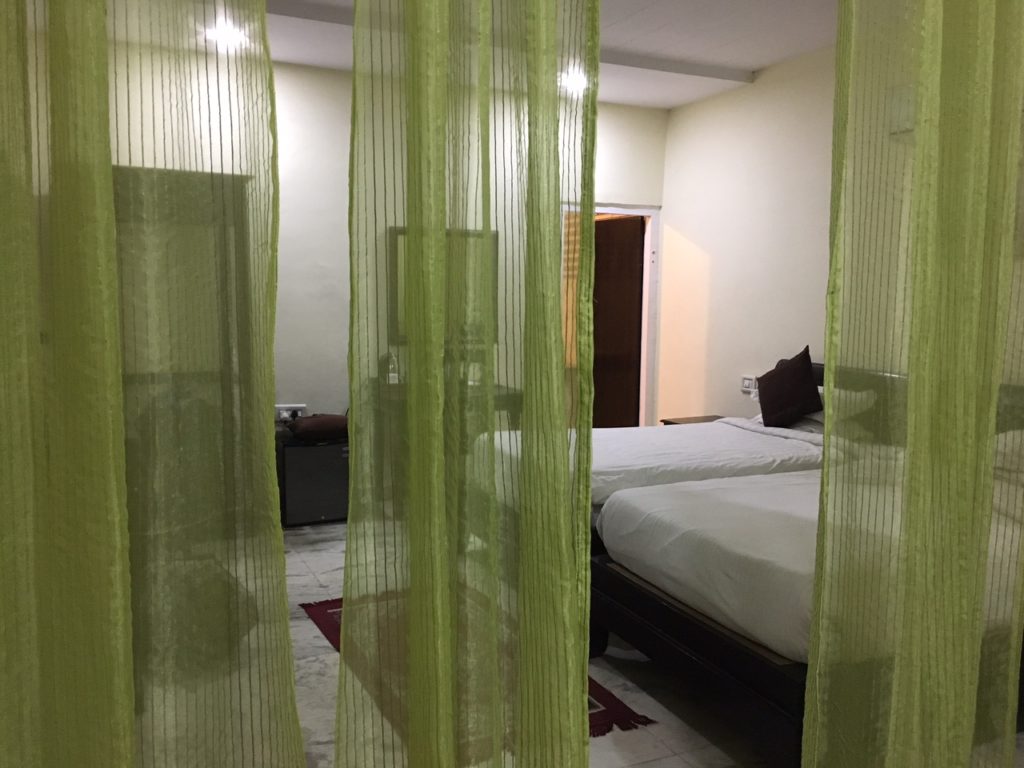 Lunch was provided by the hotel, in their onsite restaurant. I dined on steamed basmati rice, aloo ghobi(spicy potatoes and cauliflower), and lentil soup. The meal was aromatic and flavorful.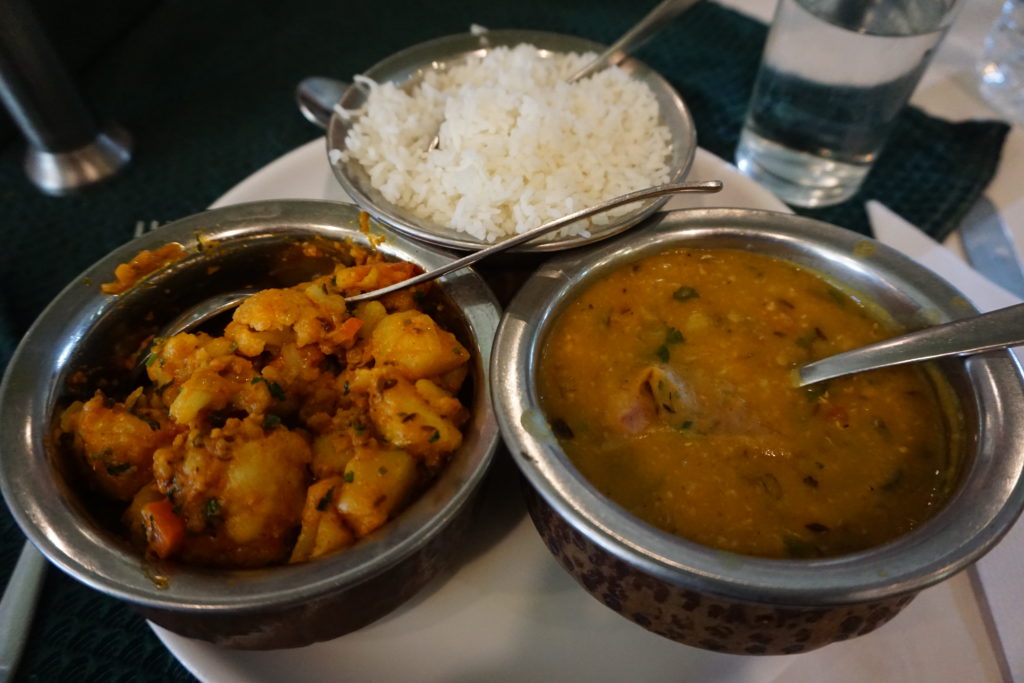 After lunch, we excitedly boarded the tour van for our excursion to Ranthambhore National Park! Known for its tiger population, the massive park is also home to a large variety of other wildlife and birds. Within the park, we maneuvered by streams, wooded areas with towering trees, and the abundance of wildlife in our path.
We encountered a vulture spreading its expansive wings, as he glided across a grassy field.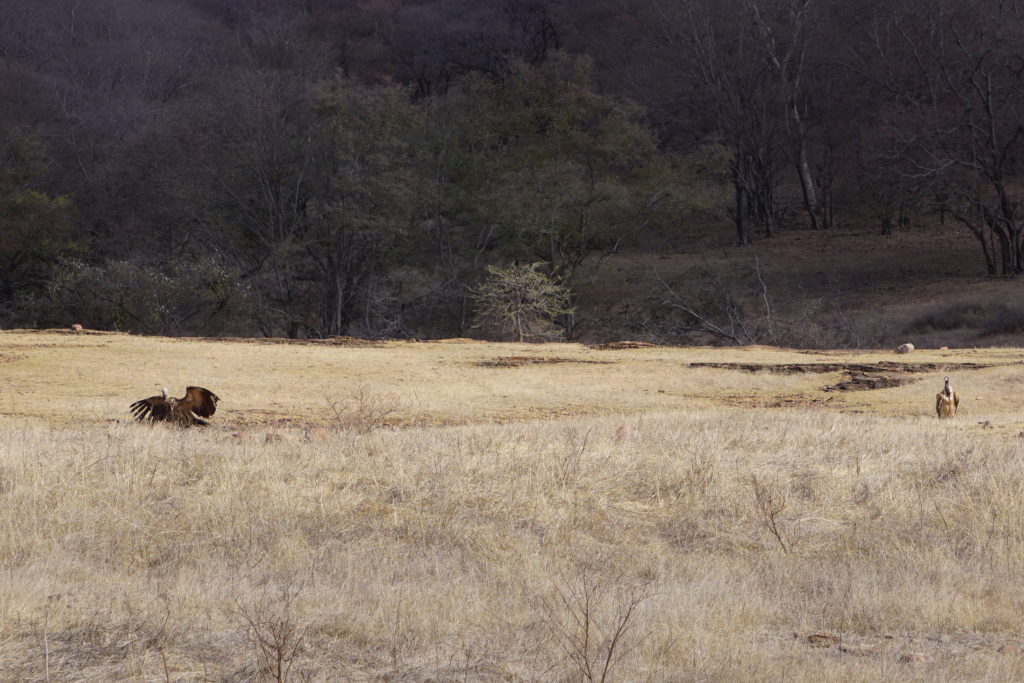 Massive trees with trunks and branches twisted like a pretzel, came into view throughout our excursion.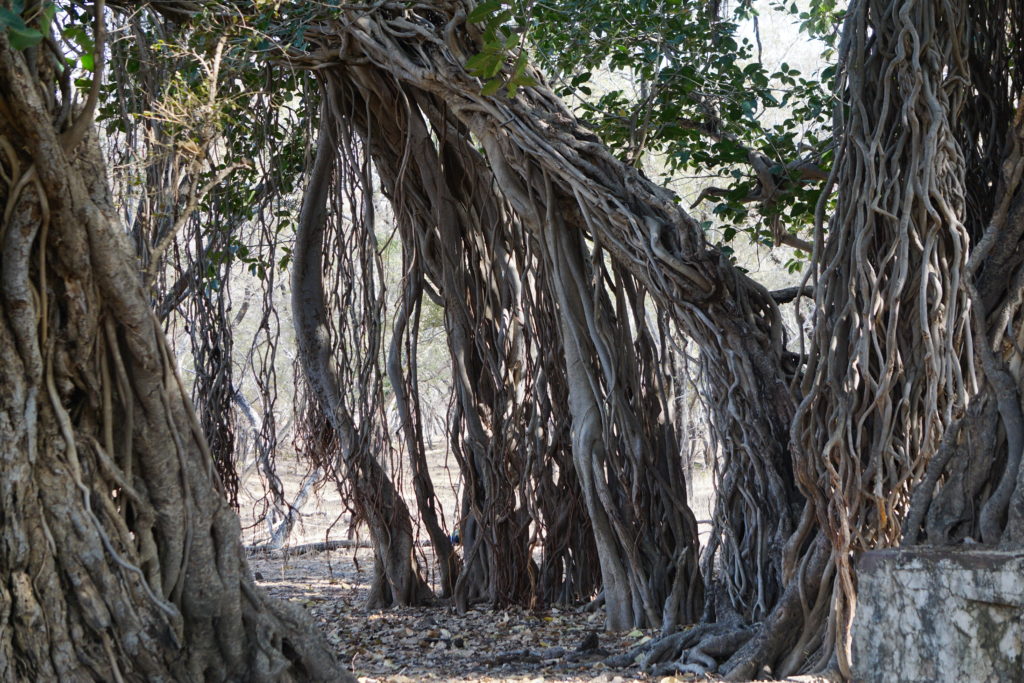 In the distance, we spotted some antelope.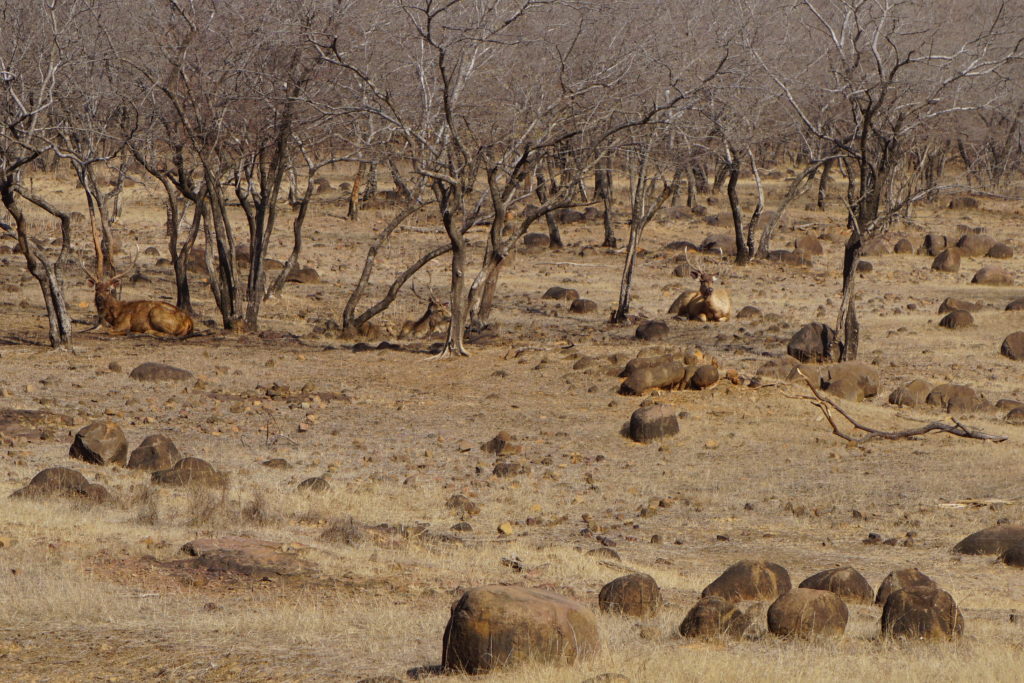 Peacocks are plentiful throughout the park. We took notice of these gorgeous creatures spreading their colorful plumes of deep blues and greens.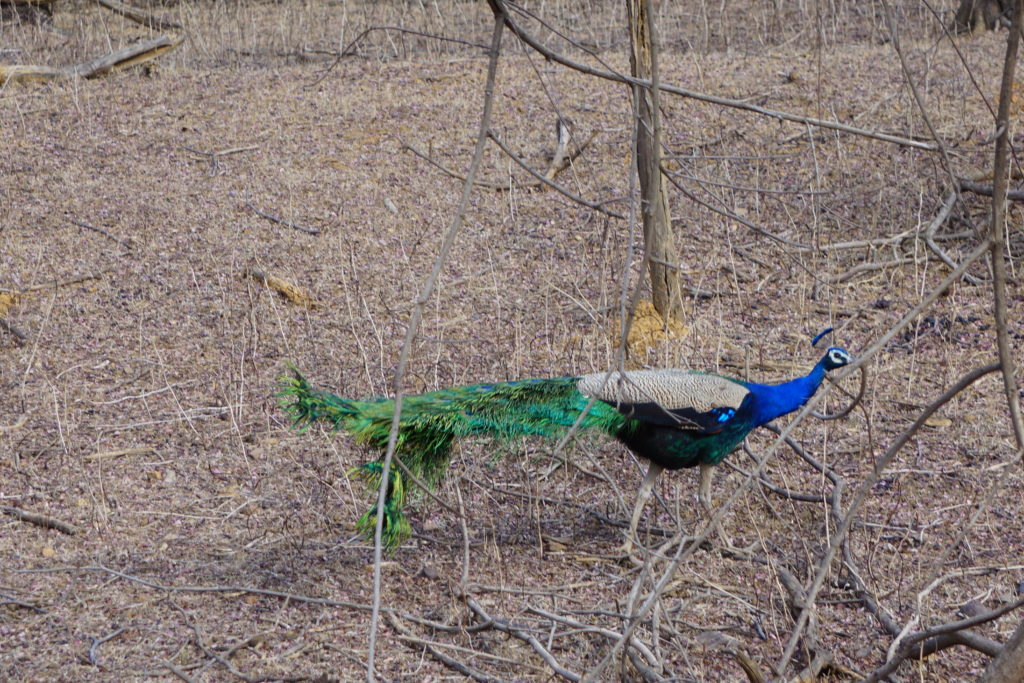 Throughout the day, we encountered several varieties of deer, squirrels, peacocks, many types of birds, and even a few alligators.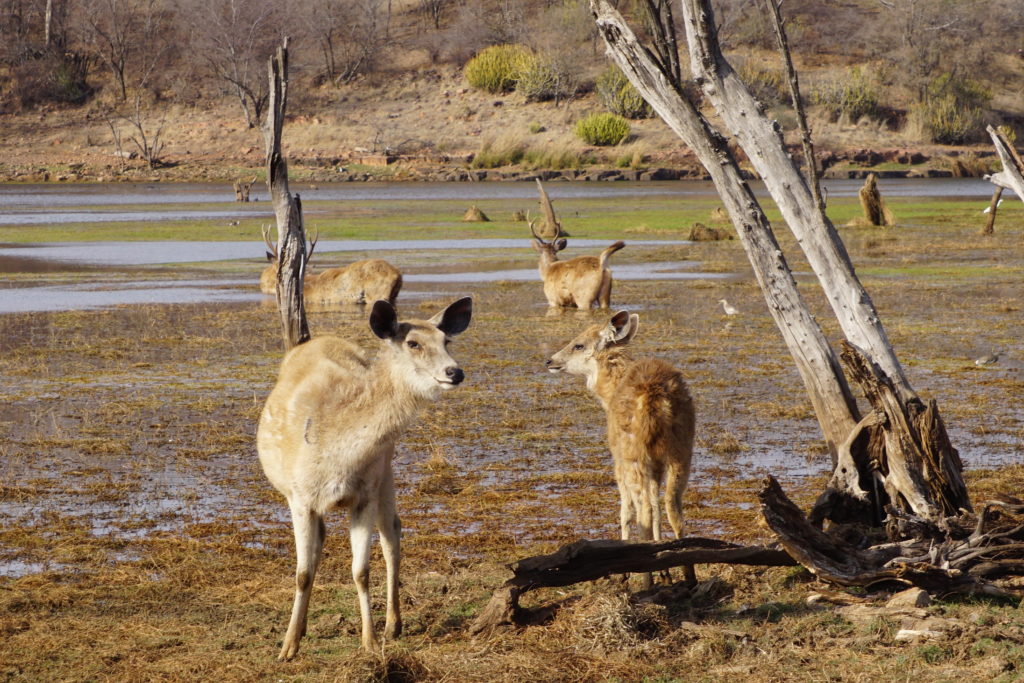 The animals in the park tend to peacefully coexist with birds and other wildlife within close proximity. It is not uncommon to find birds perched on the back of a deer or mammals drinking water from a stream, alongside various storks and other winged creatures.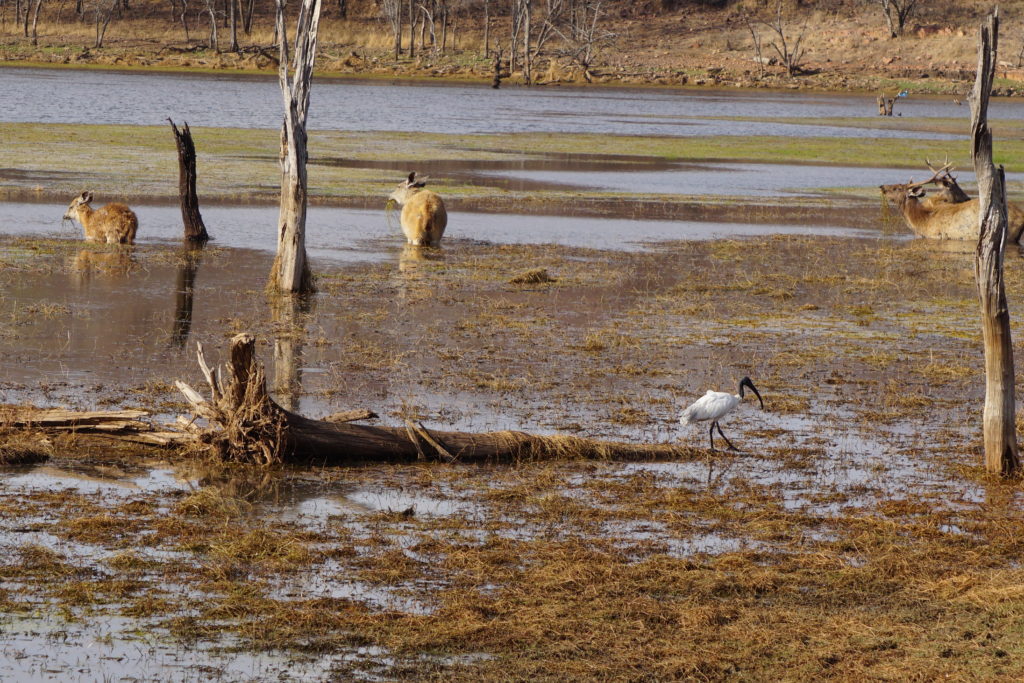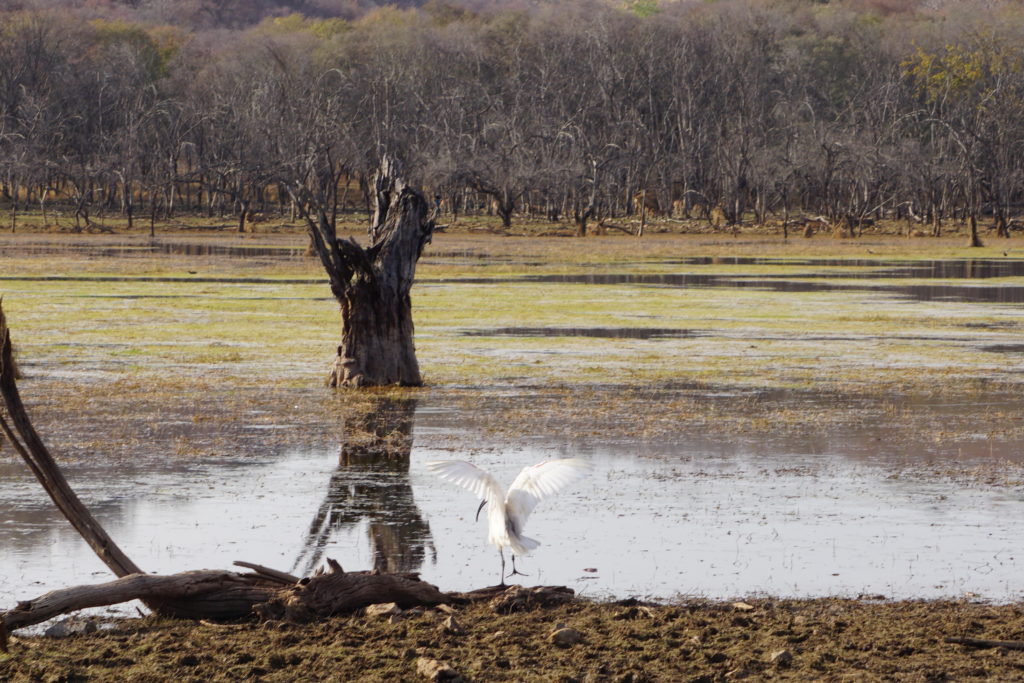 The spotted deer enjoyed roaming about in herds.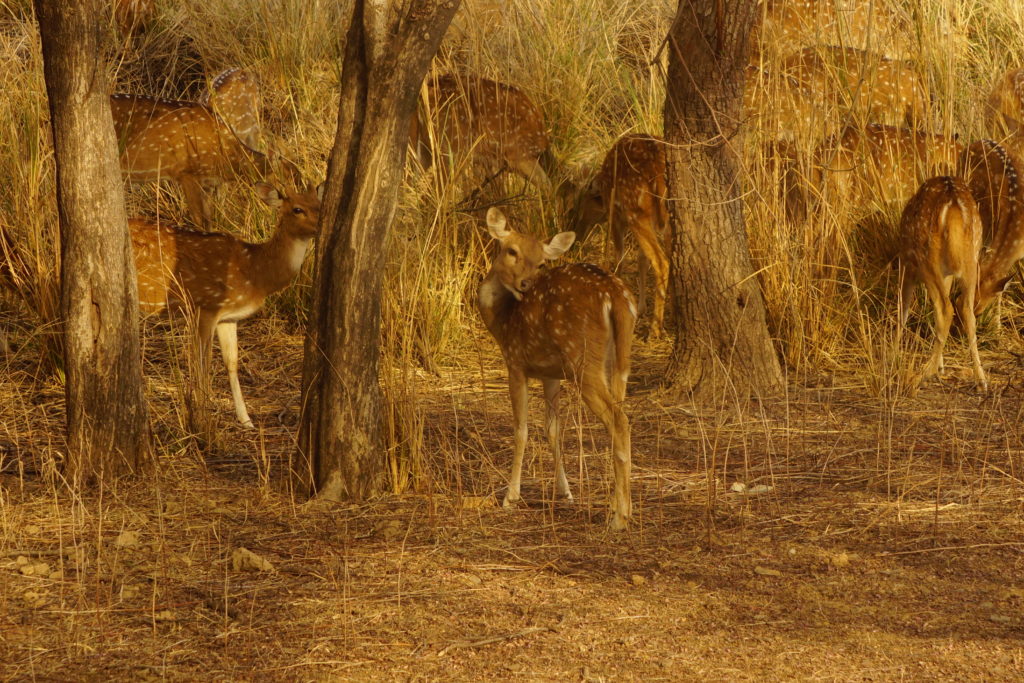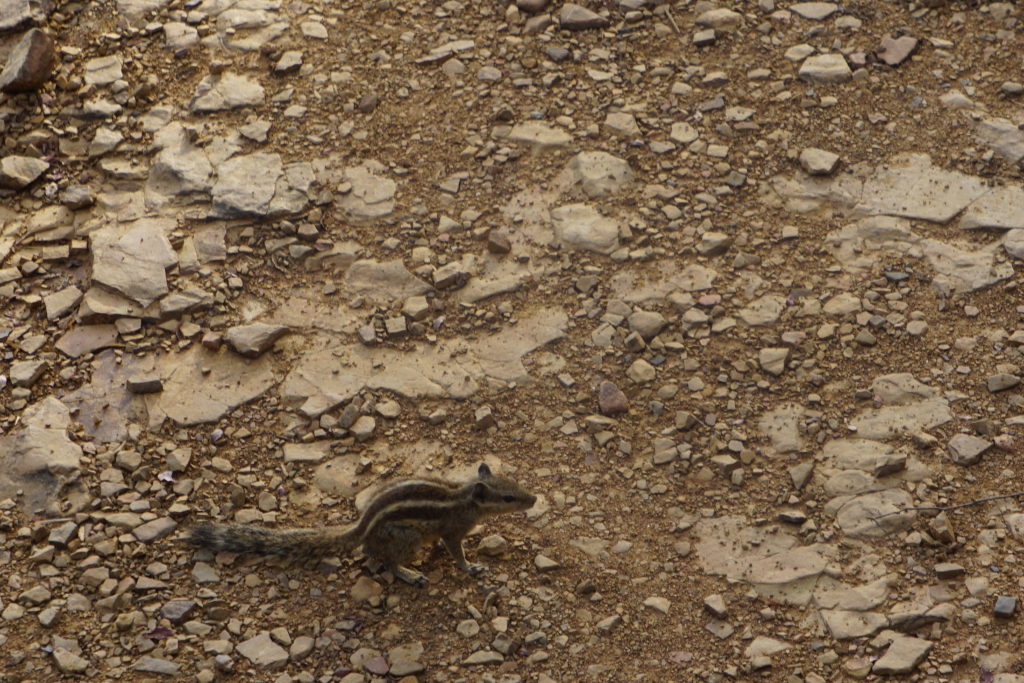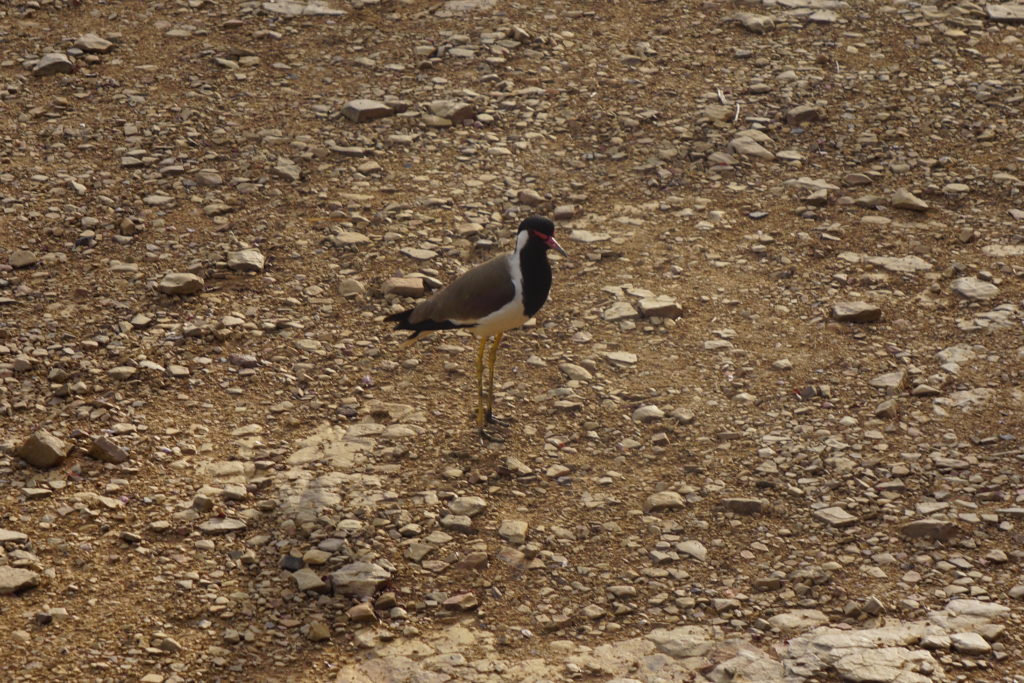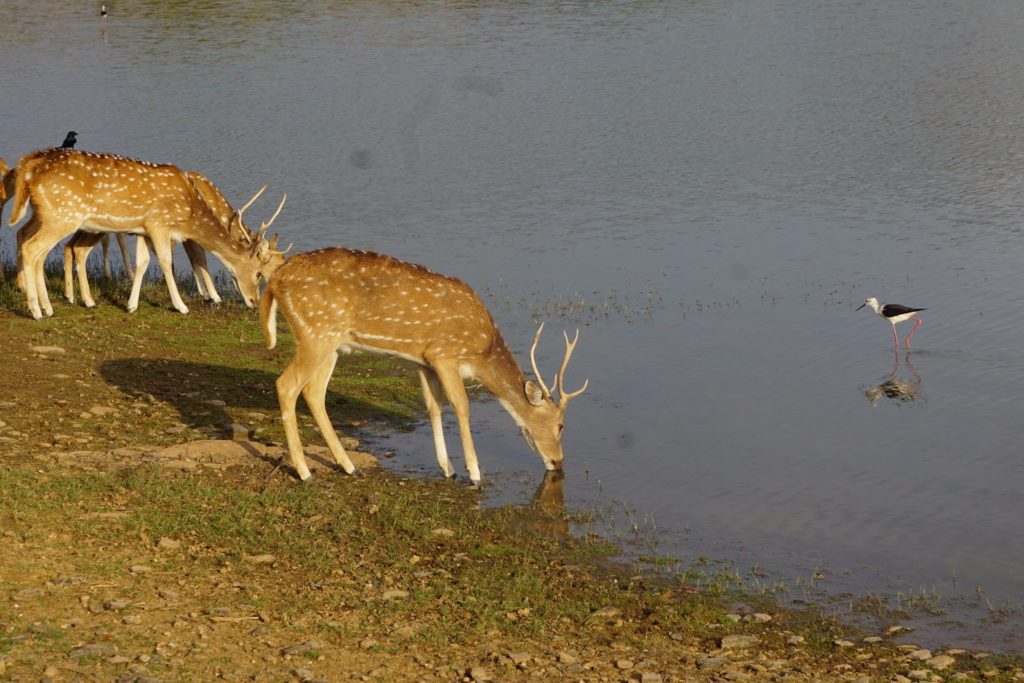 An alligator crawled slowly back into the waters before our very eyes.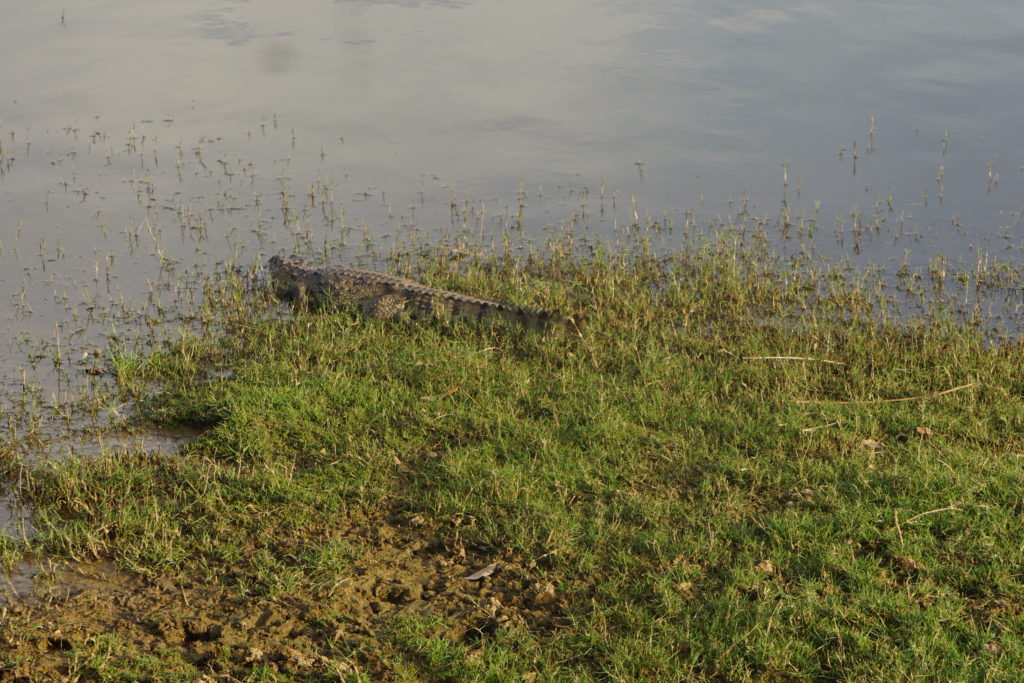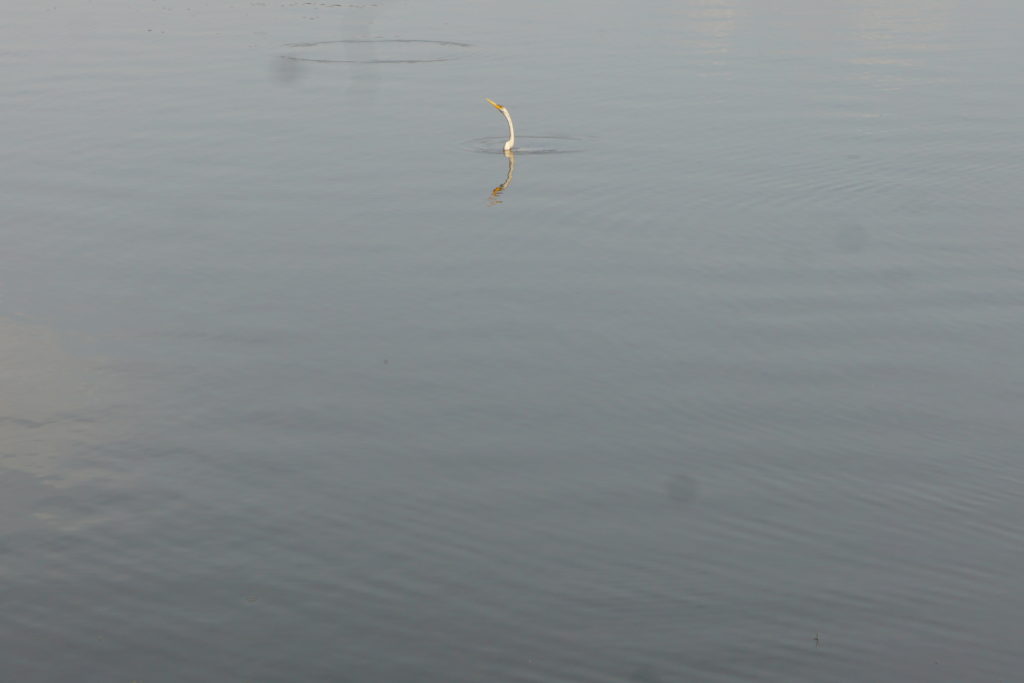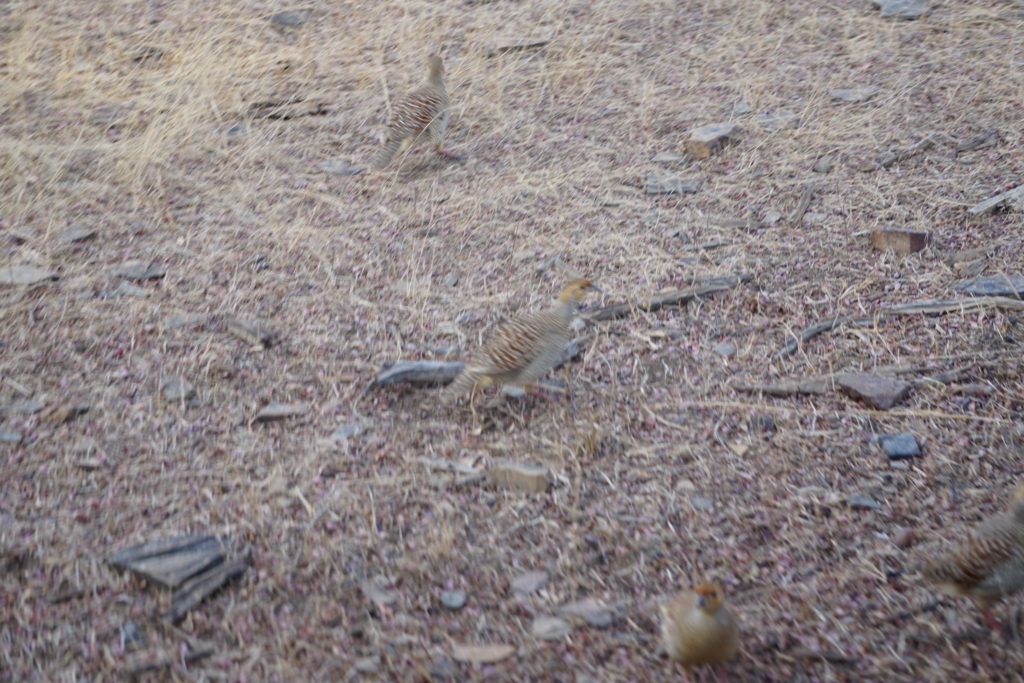 A spectacular sunset provided the perfect setting, as our day in the park came to a close.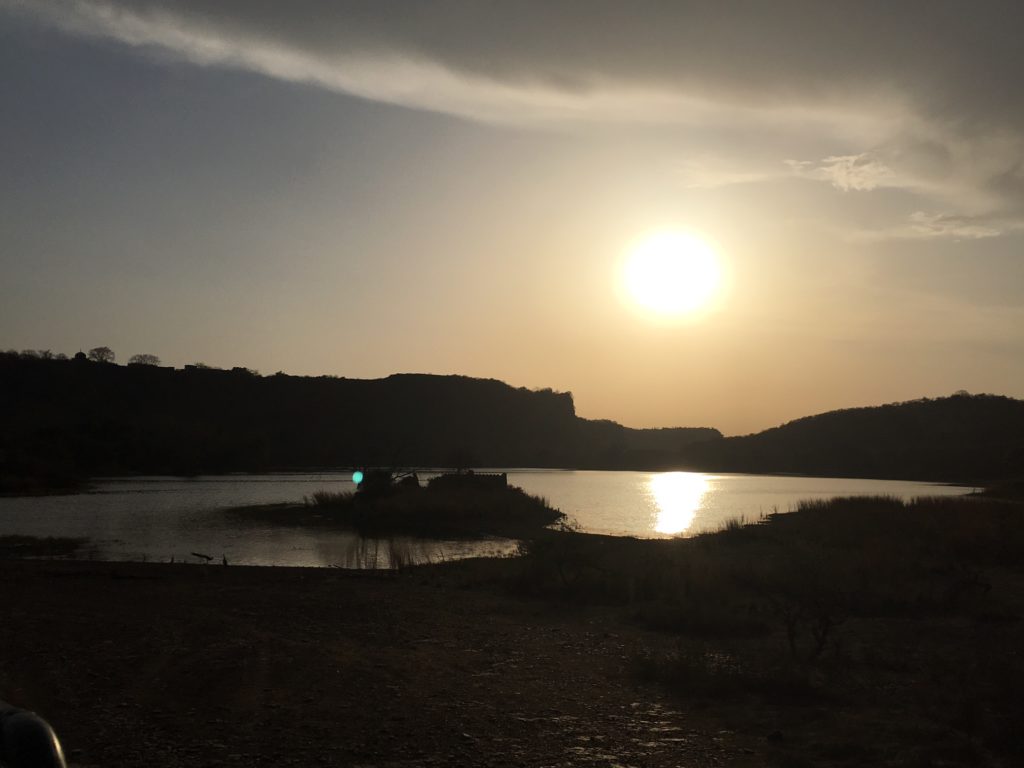 Before exiting the park, we viewed the exterior of the old Ranthambhore Fort, built by a Rajput ruler during the 11th century.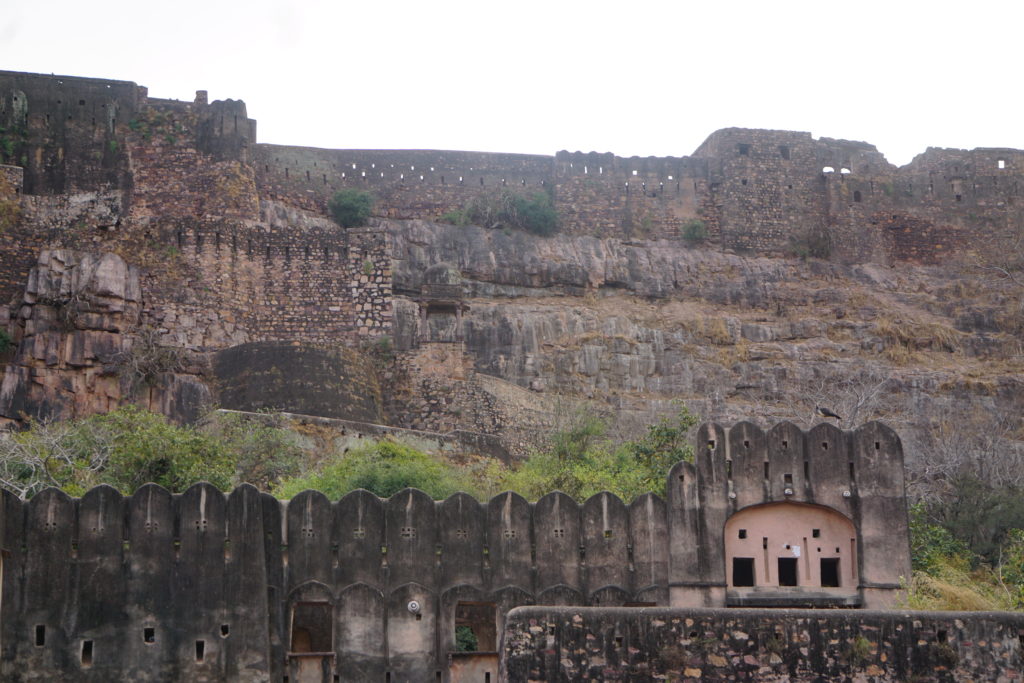 It was time for dinner when we arrived back at our accommodations. I devoured a delicious plate of aloo ghobi (cauliflower and potatoes), cumin rice, and some Indian parantha bread at our hotel restaurant.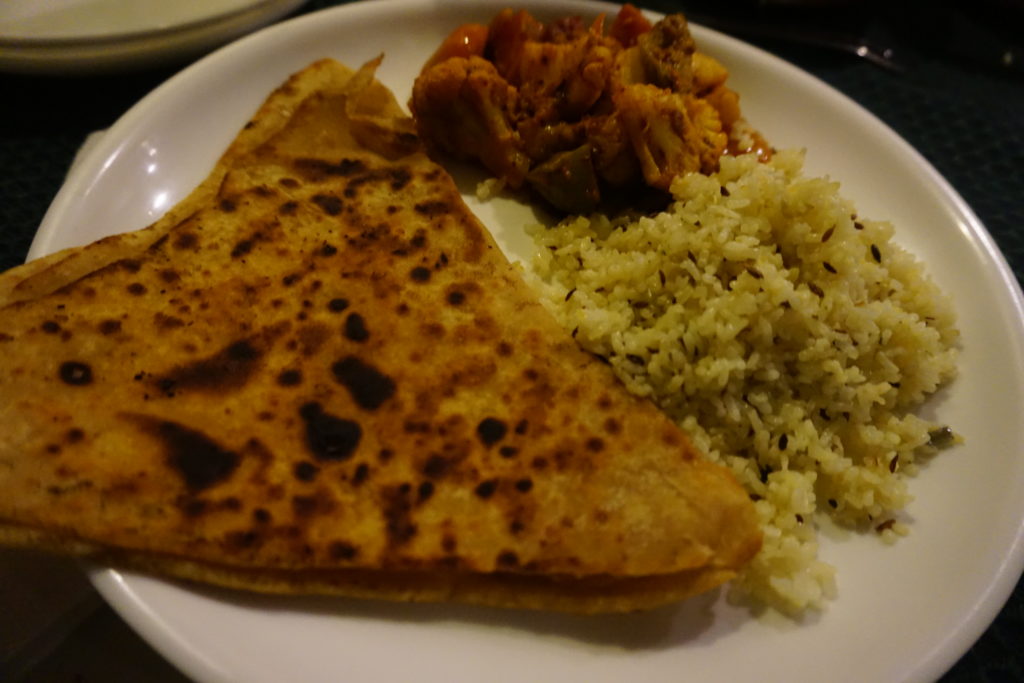 The next morning, we awoke at dawn for an early excursion back to Ranthambhore National Park. Often at this hour, visitors may see different wildlife than they would during the afternoon. Our tour group was fortunate enough to view monkeys, deer, wild boar, peacocks, storks, owl, crony birds, green birds, brown birds, mongoose, squirrels, a large beehive, and antelope.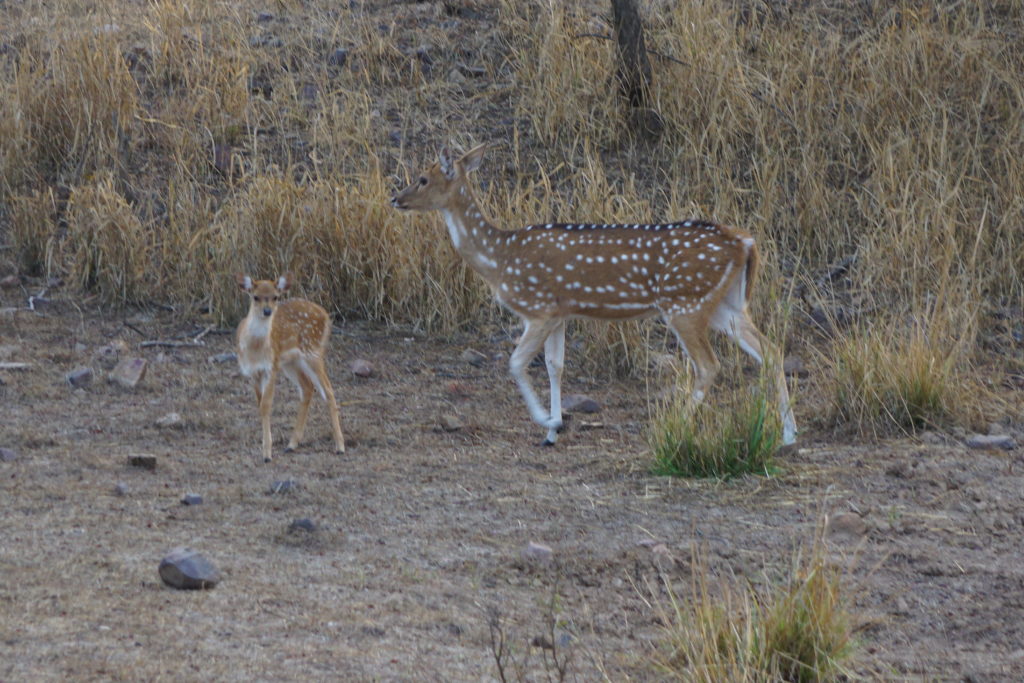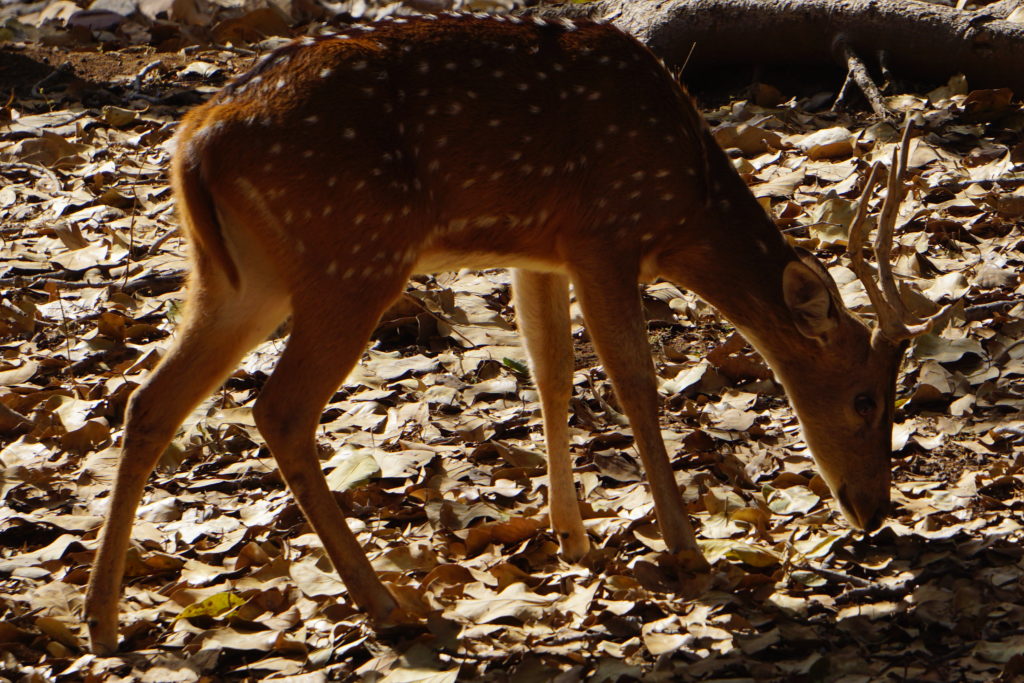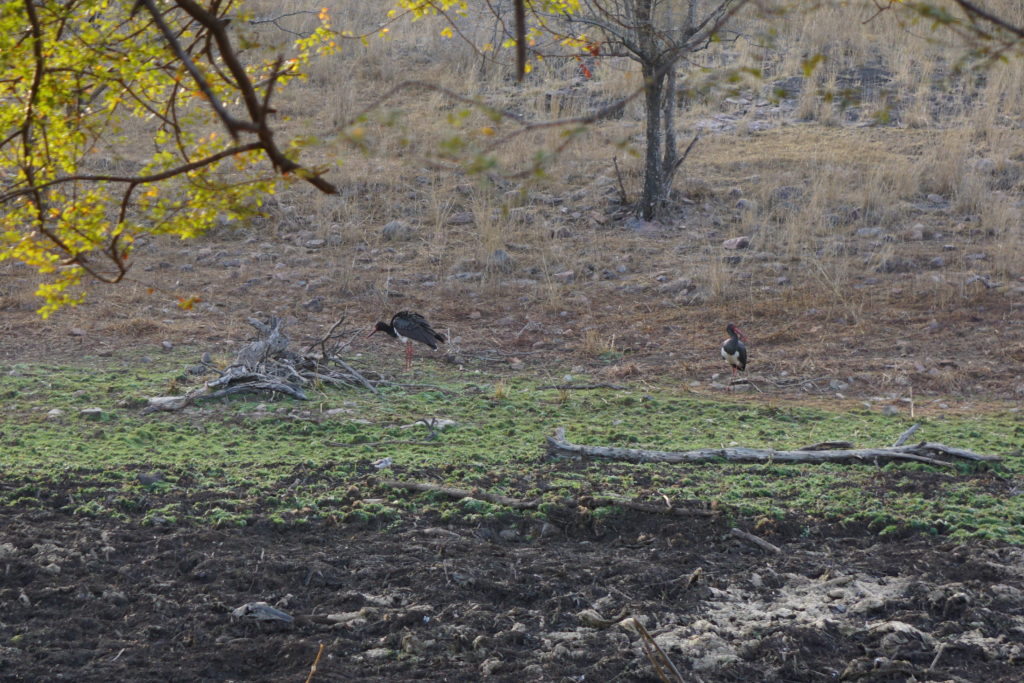 A pair of owls peeked at us from their perch inside of a hollowed tree trunk.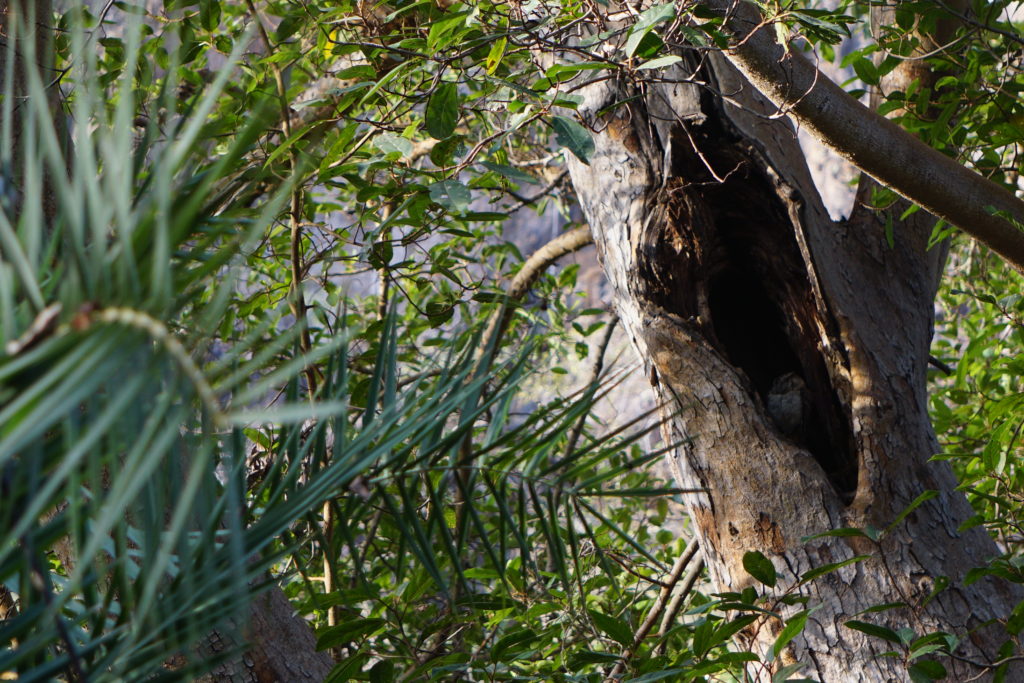 Throughout the park, we were quite fortunate to encounter a variety of exquisite birds in colorful green, blue, orange, red, and brown hues.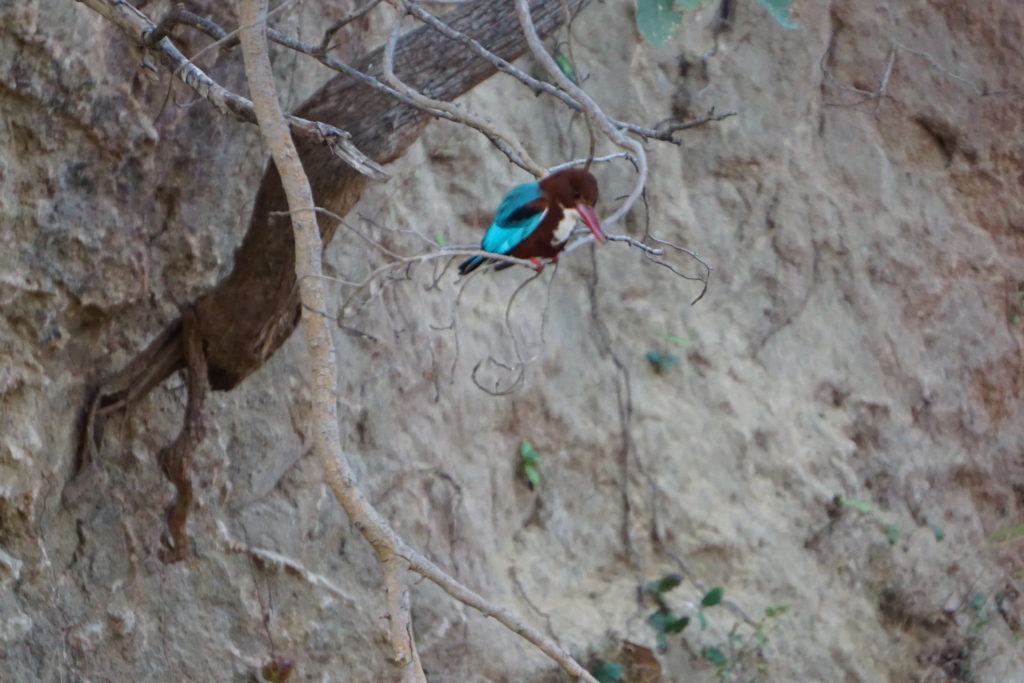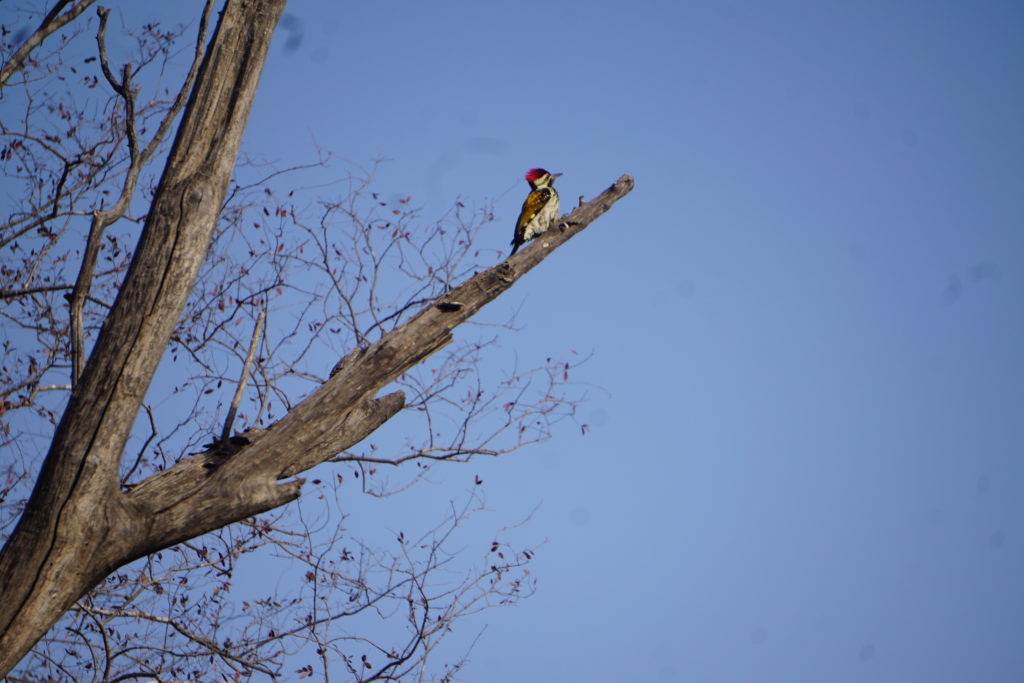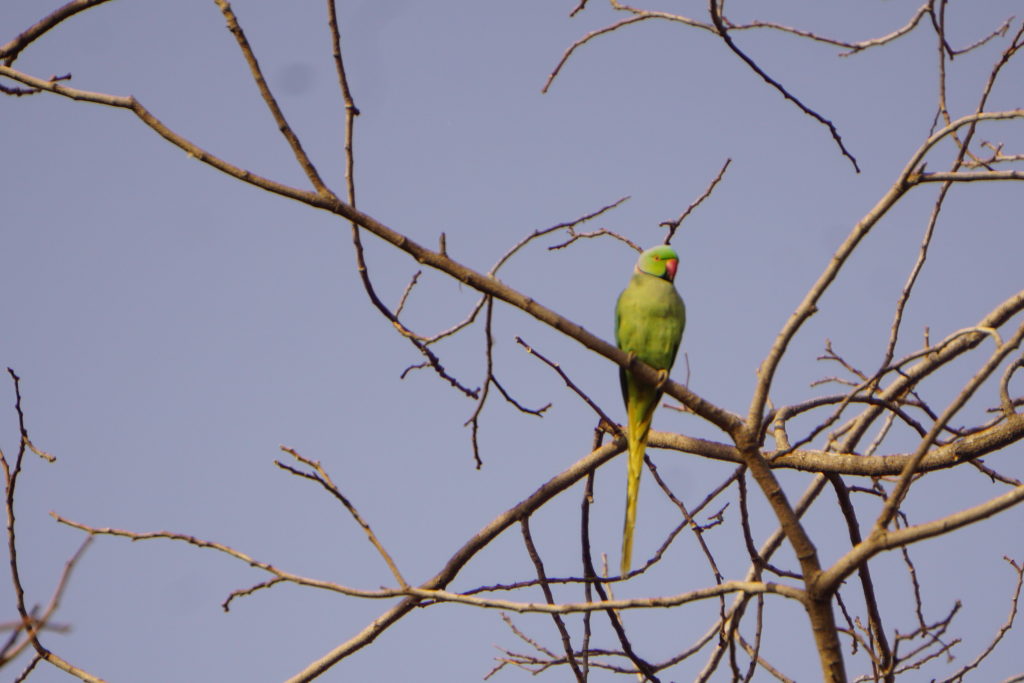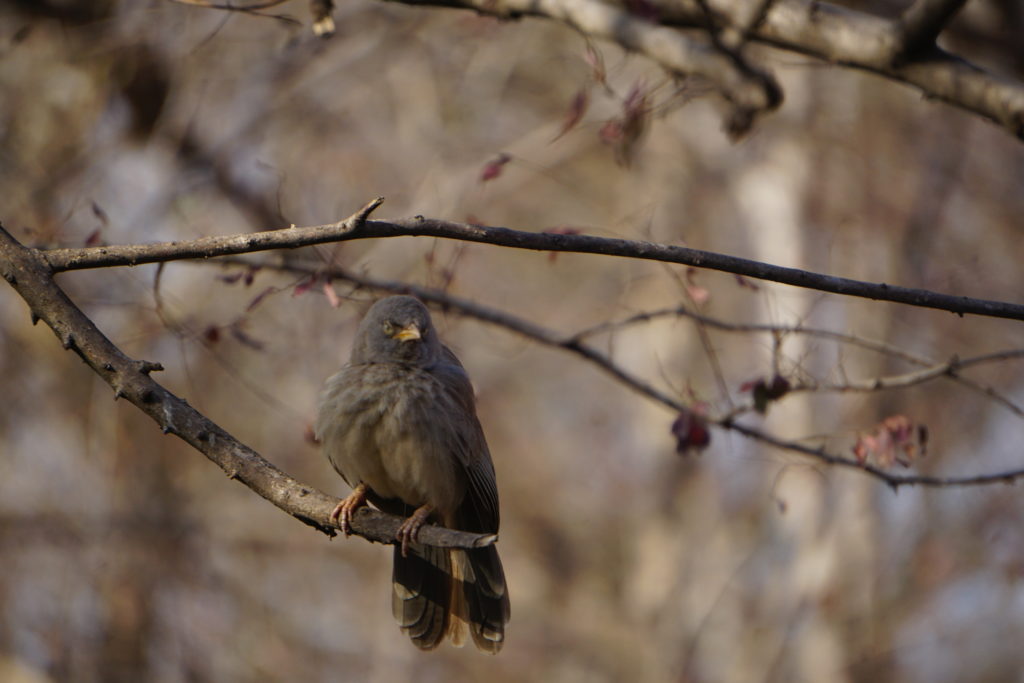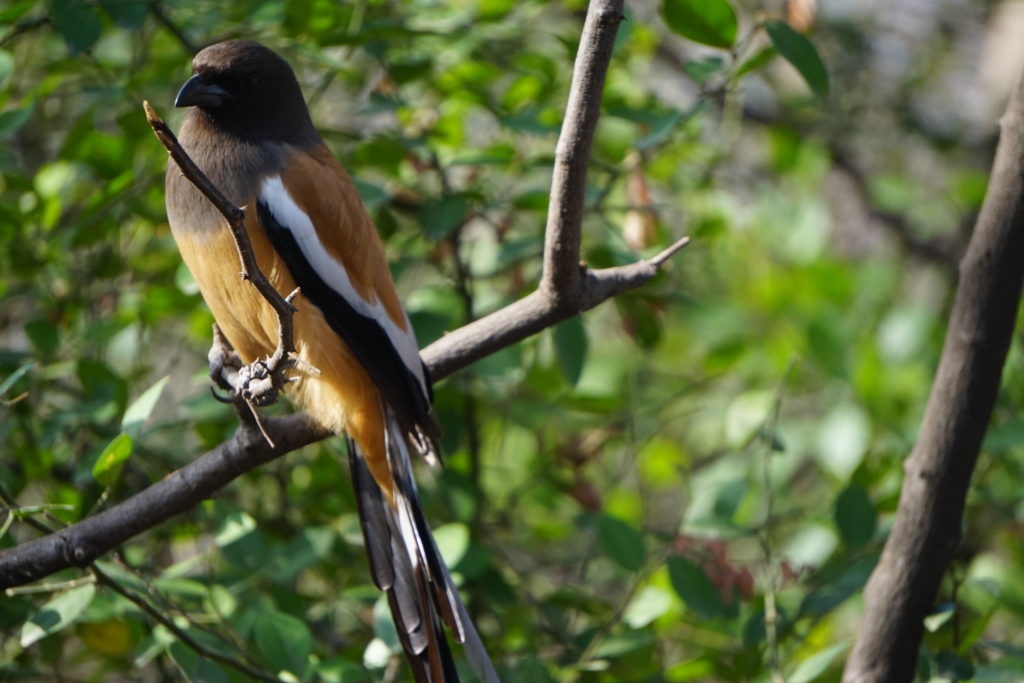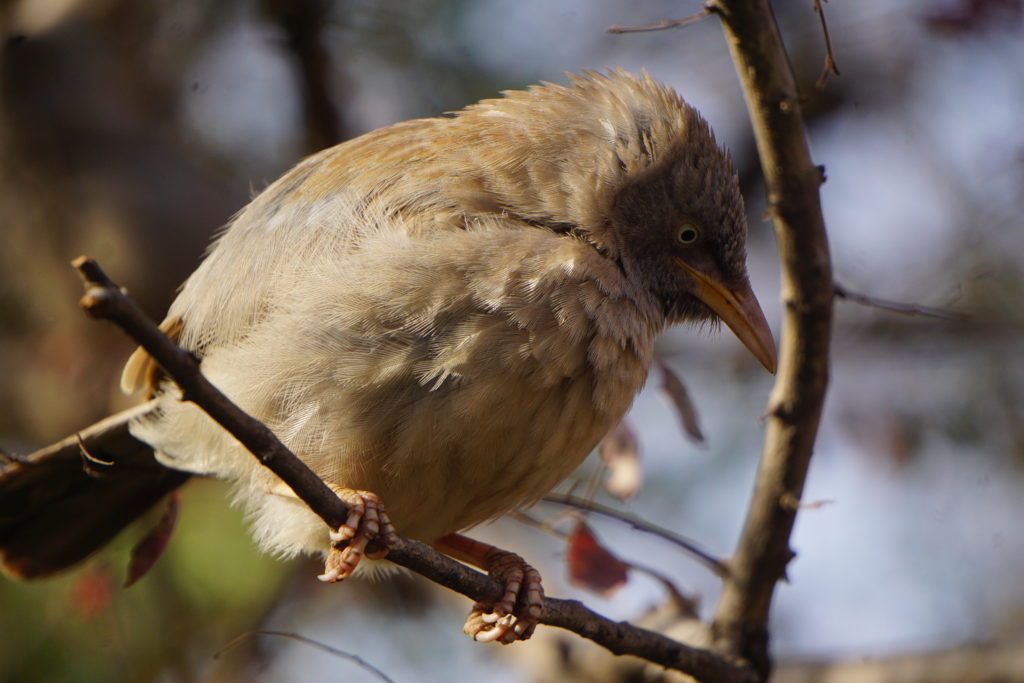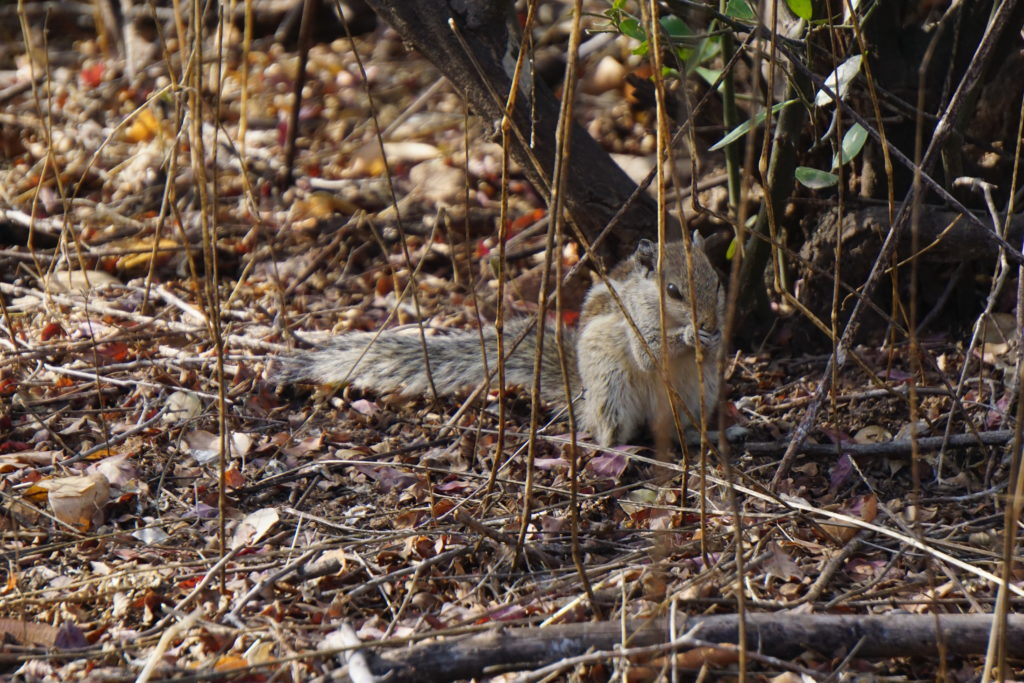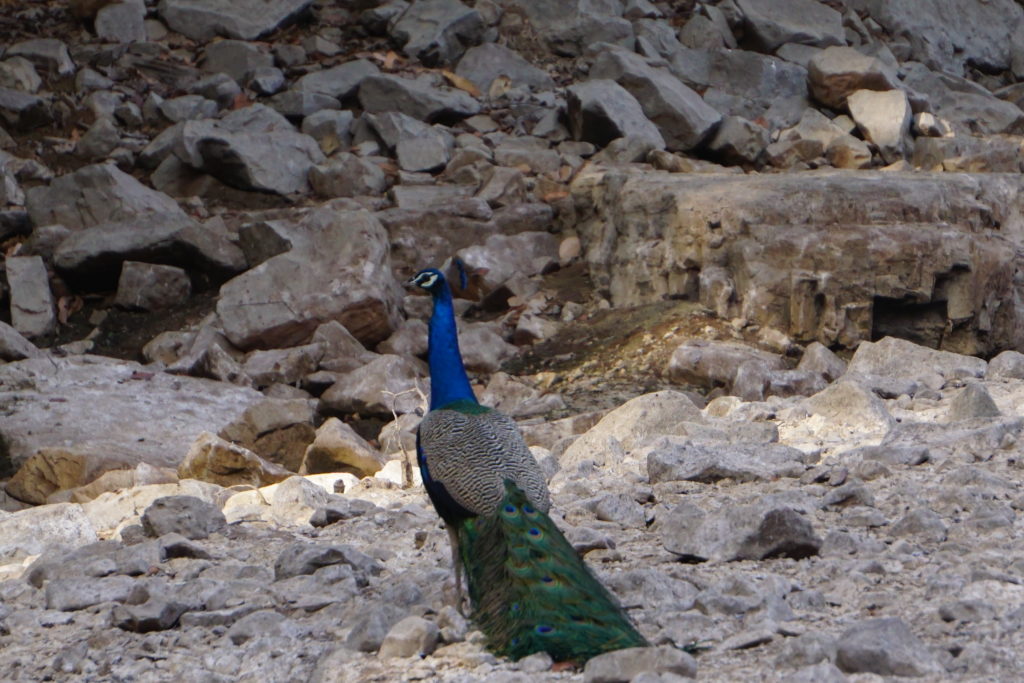 A wild boar slowly made its way through the forest.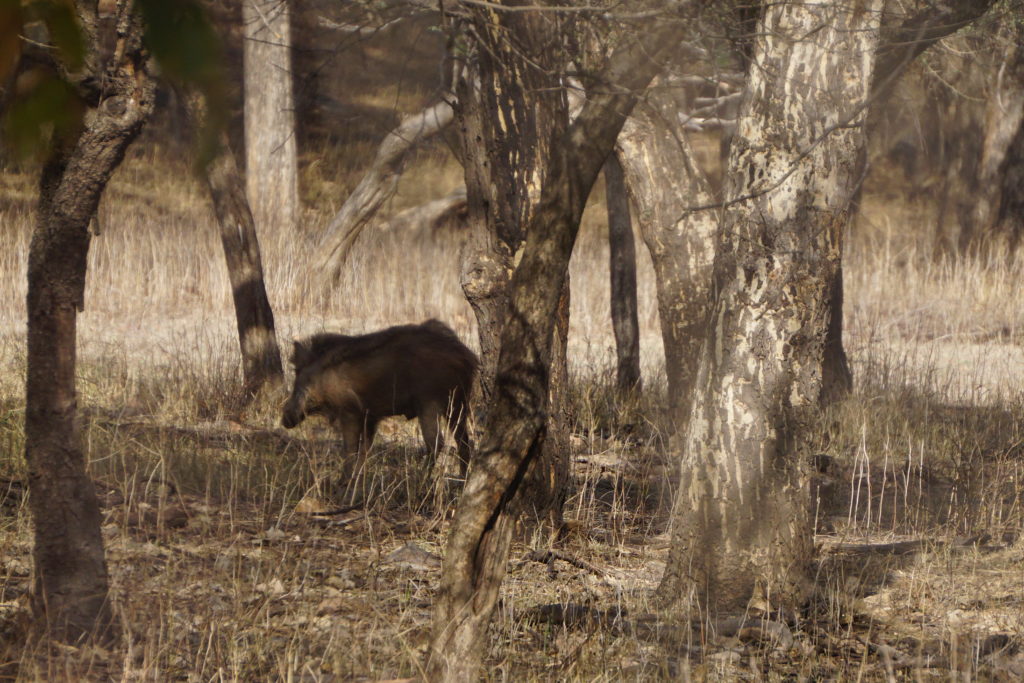 Several alligators crawled upon the shore and reclined on the grassy land to rest for a bit.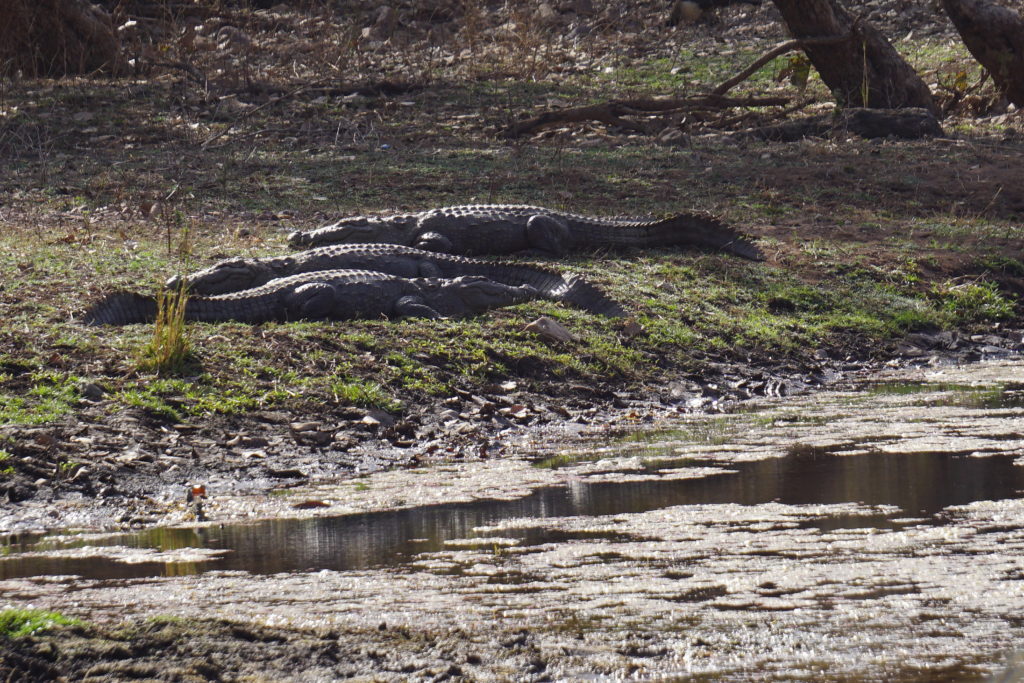 Langur monkeys are plentiful in the park. They can be found swinging across treetops or frolicking in the forest chasing their furry companions. As with much of the wildlife, many of the animal species can coexist in the same area without bothering one another.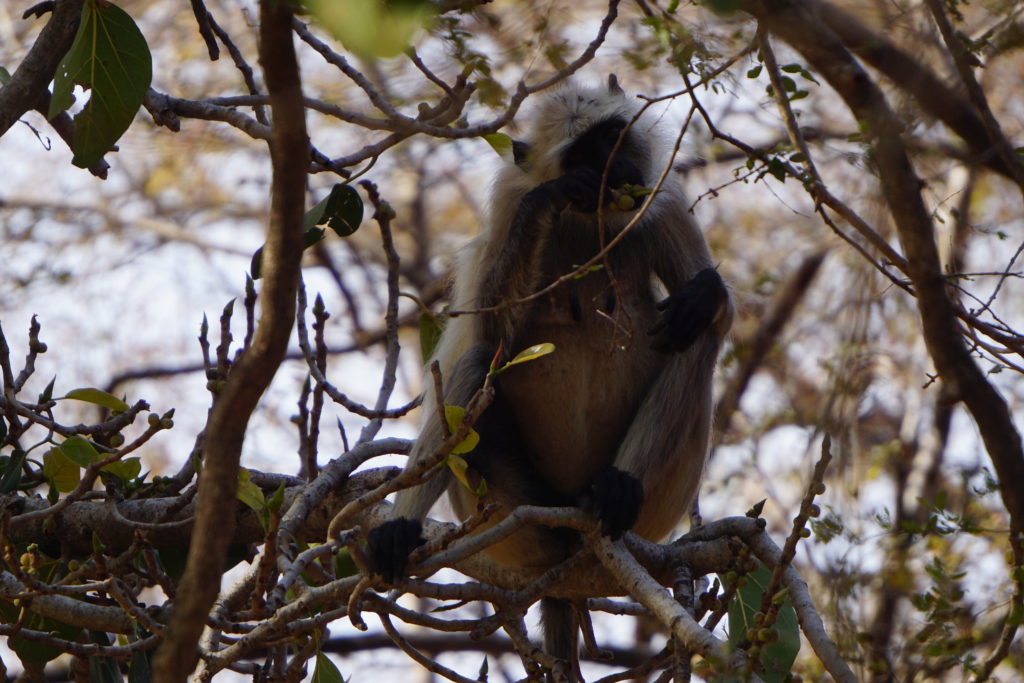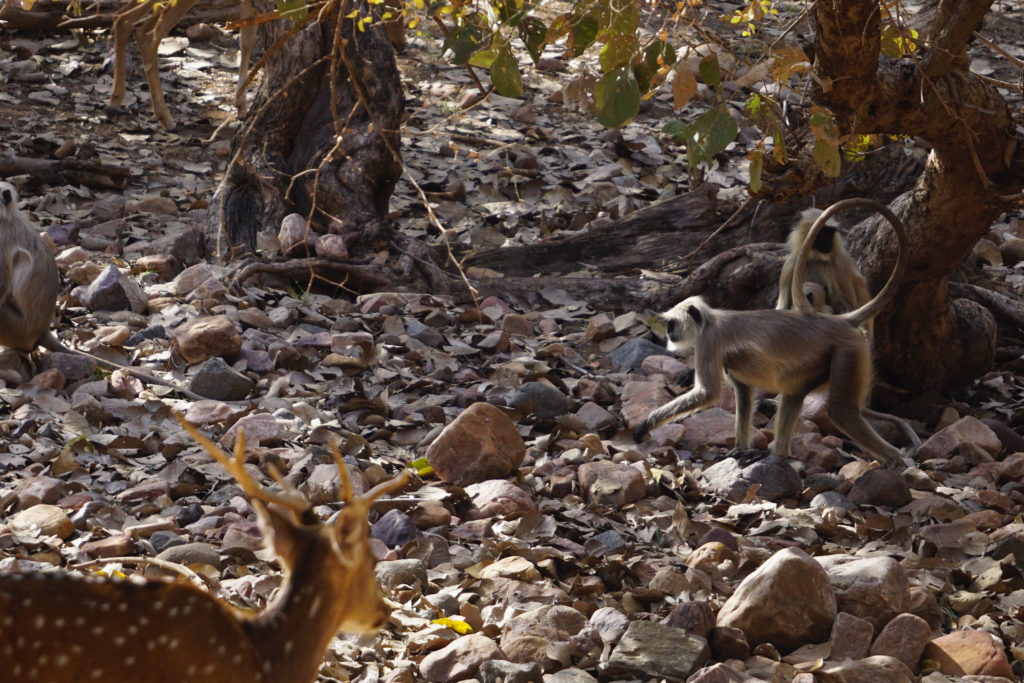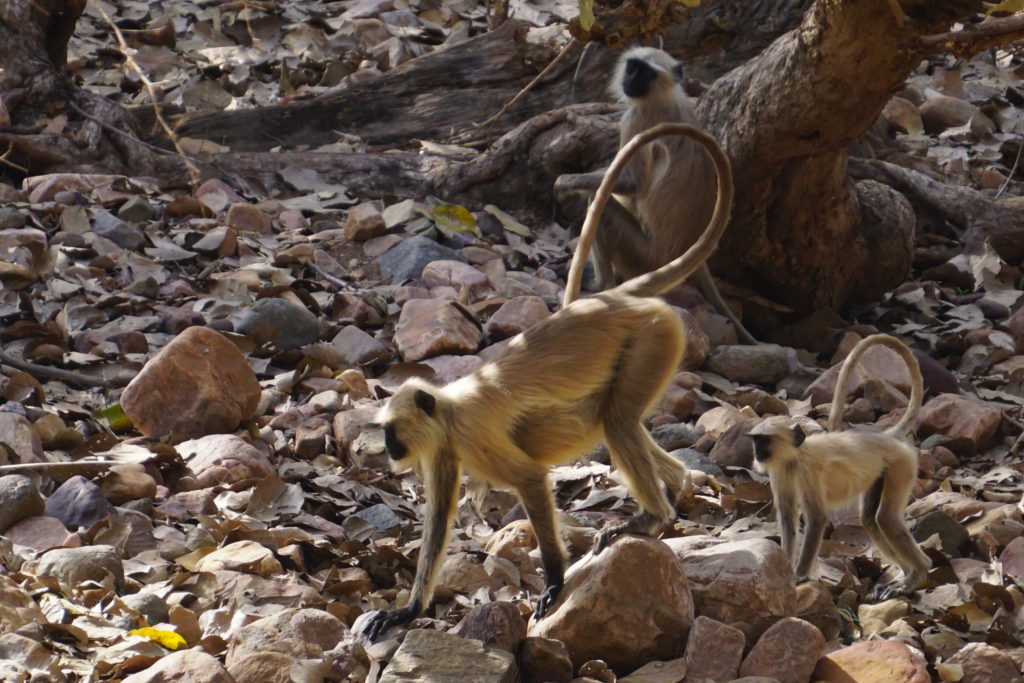 A large antelope foraged his way through the forest until he disappears from our sight.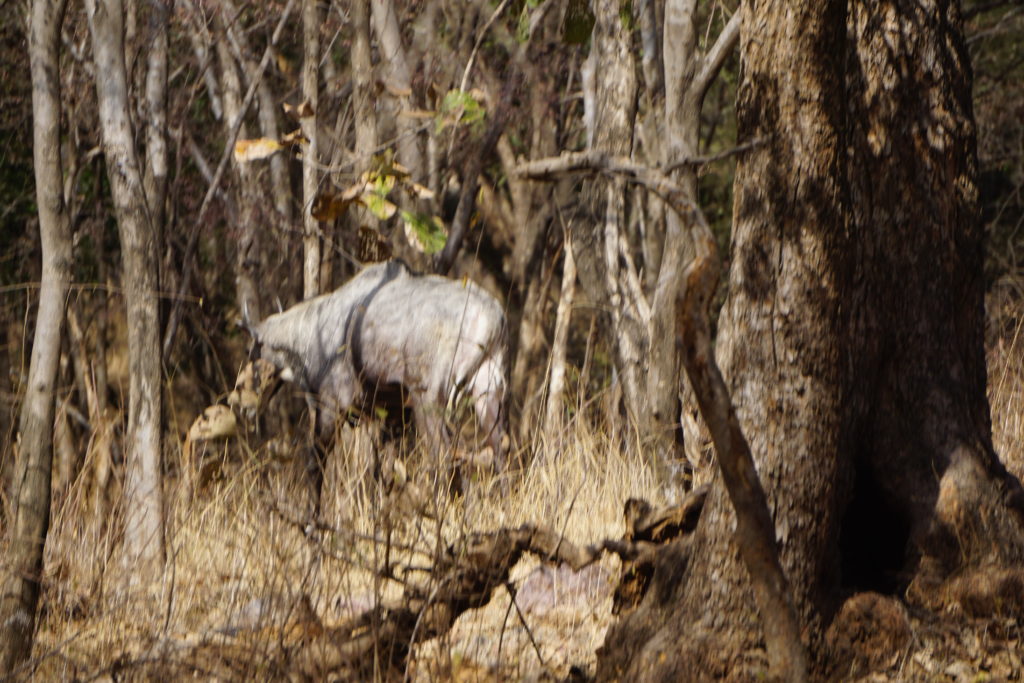 As we were leaving the park, a few of the monkeys were seen with their babies. I noticed one adult Langur caressing her adorable newborn.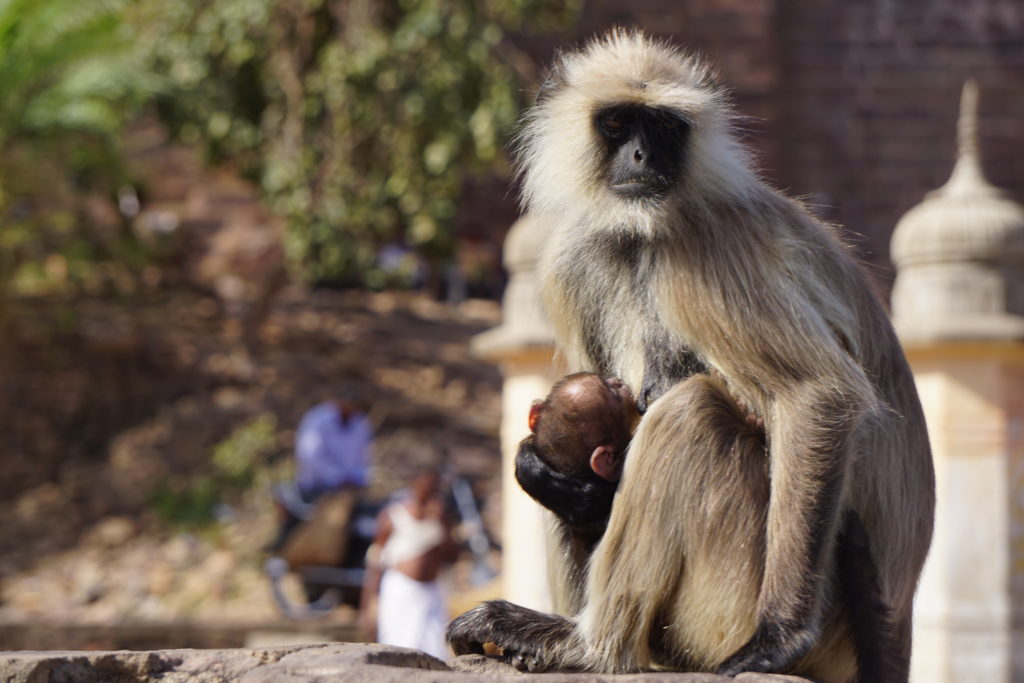 Arrival back at the hotel gave us time to freshen up and to have some breakfast.
I enjoyed some tea, porridge, baked beans, poha rice flakes, and sliced papaya.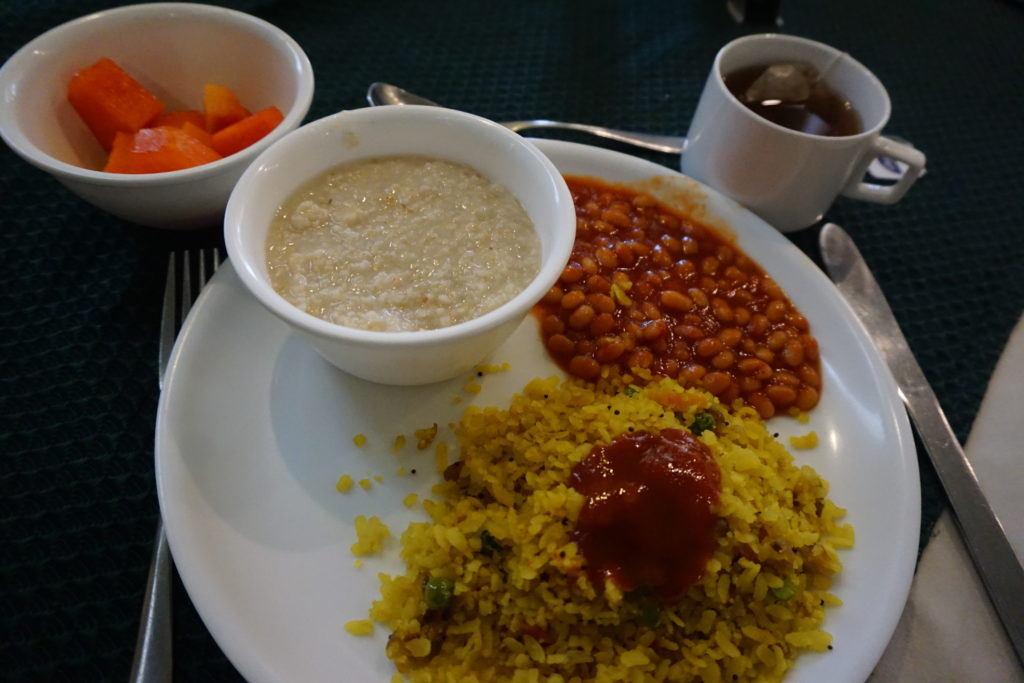 As we boarded the tour bus, our guide gave us a boxed lunch to eat during our lengthy ride toward our next adventure. My lunchbox contained a decent afternoon meal of a banana, roti bread, and mango juice.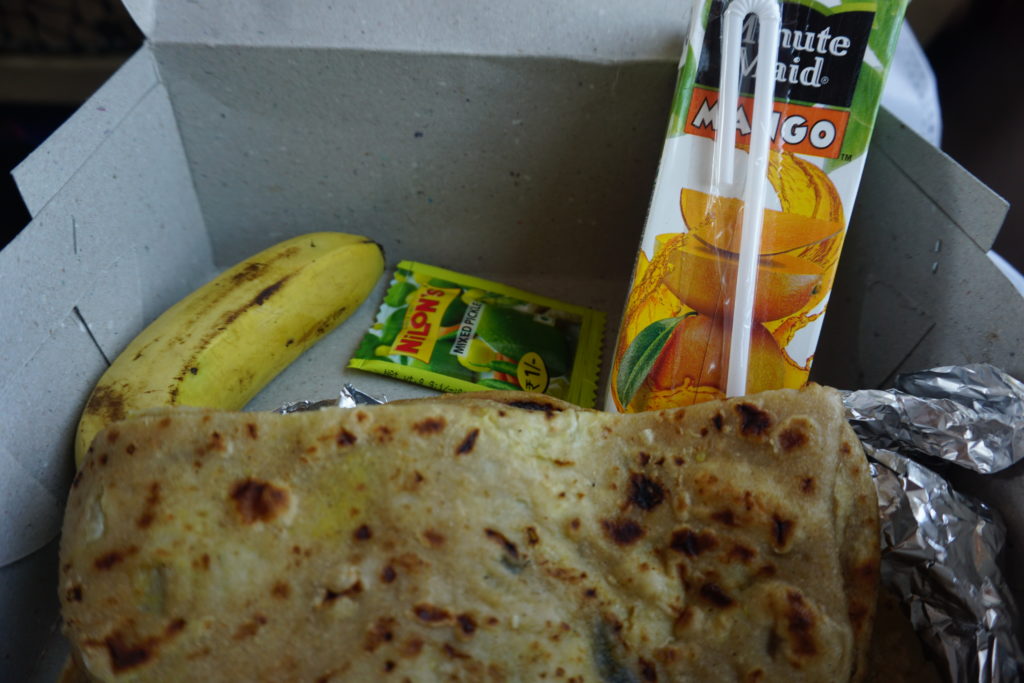 Our final destination for the night would be Agra. However, we would make a stop along the way to visit Fatehpur Sikri. The famous city complex was founded in the year 1569 by the Mughal Emperor Akbar. The capital of the Mughal Empire resided here from 1571 to 1585 and was later abandoned. As the location is not reachable by tour bus, we took a tuk-tuk to and from the city perimeter. A tuk tuk is a small trailer pulled by a motorcycle and carrying passengers. The huge mosque at Fatehpur Sikri can accommodate up to 10,000 worshippers. Palaces and residences of red sandstone also occupy the city.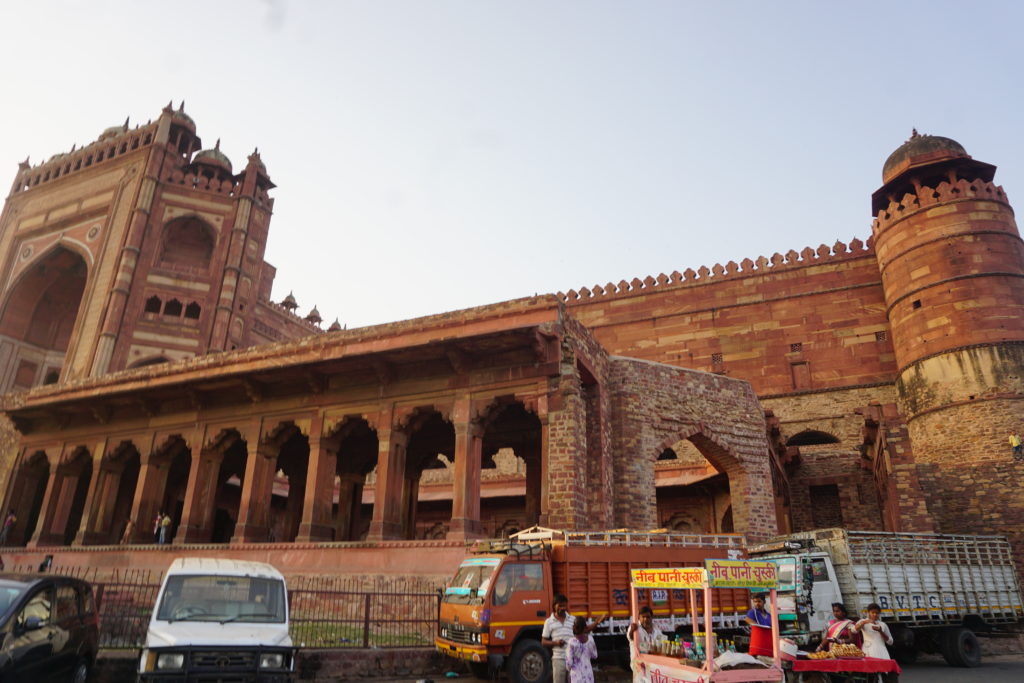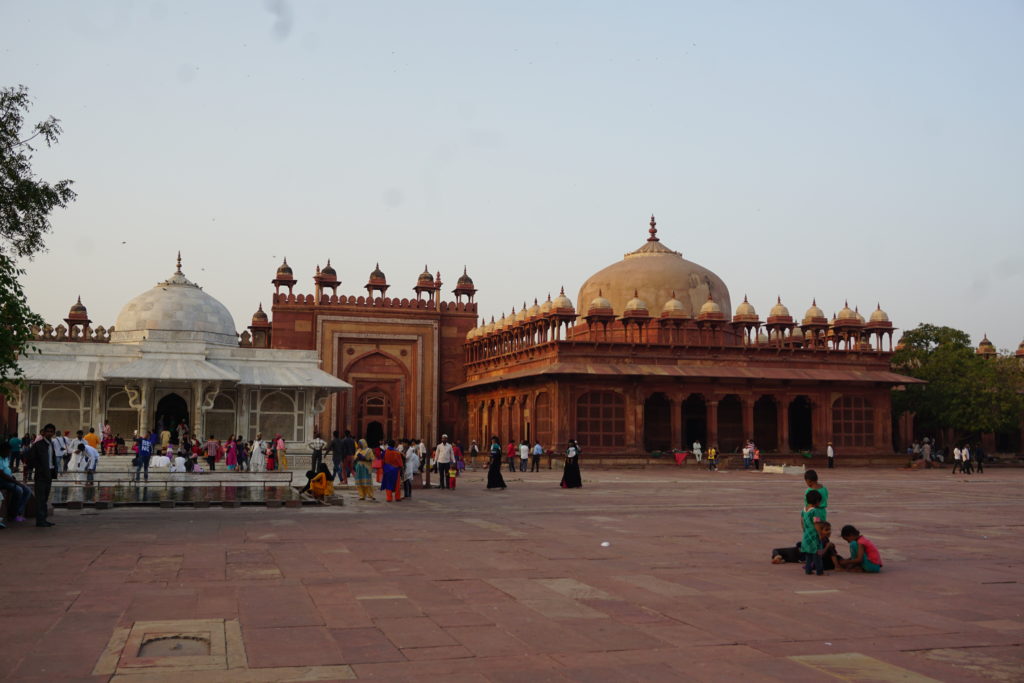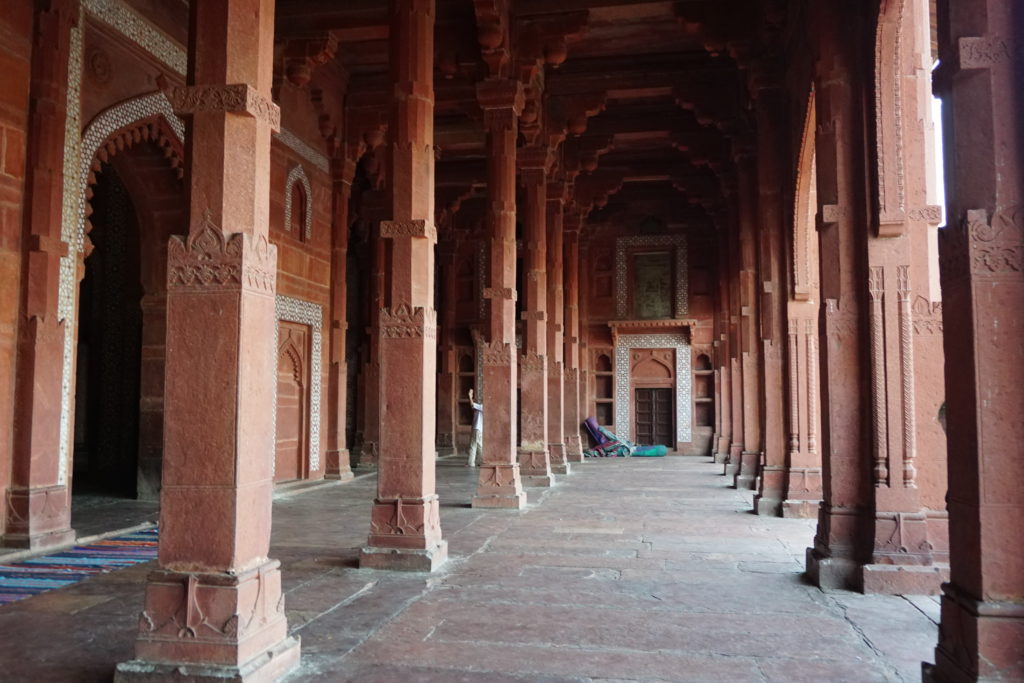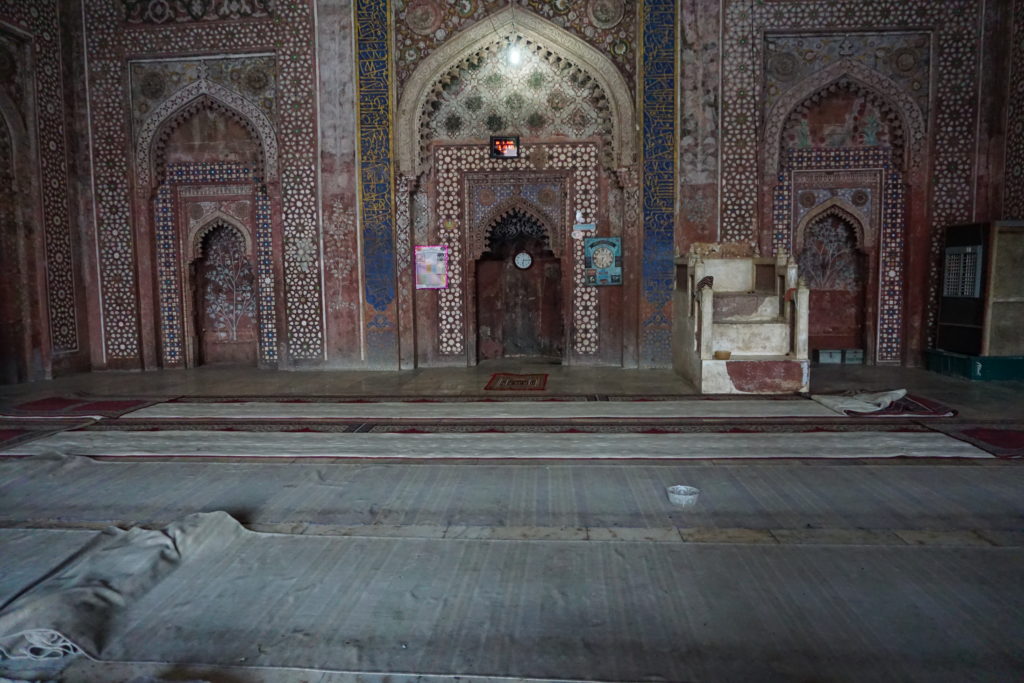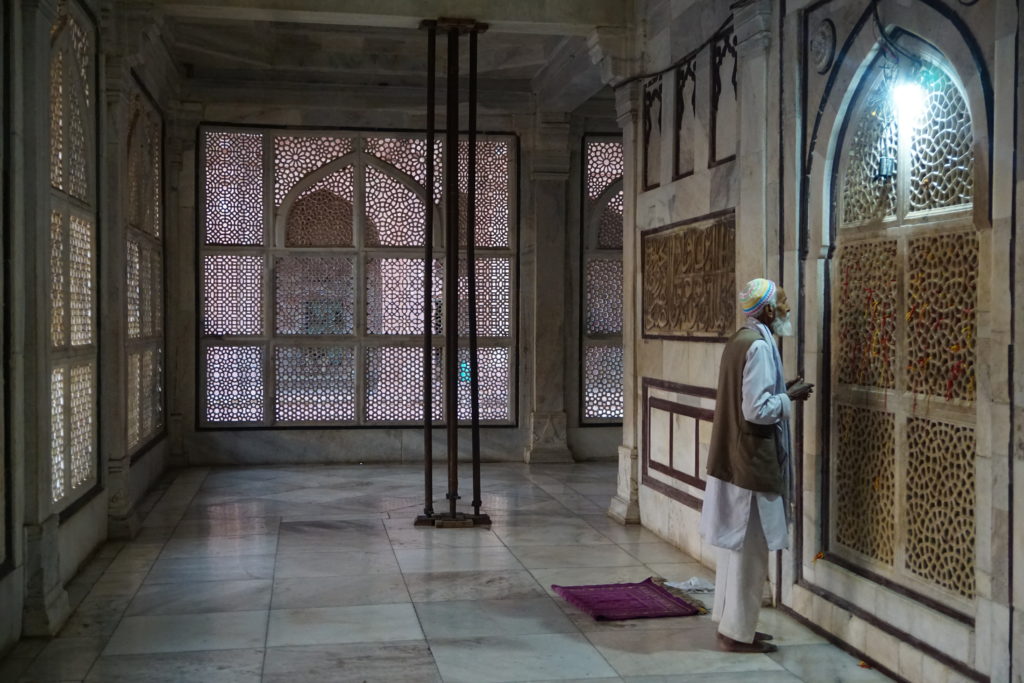 Upon the conclusion of our visit, groups of two to four boarded a cute little tuk-tuk back to our tour bus.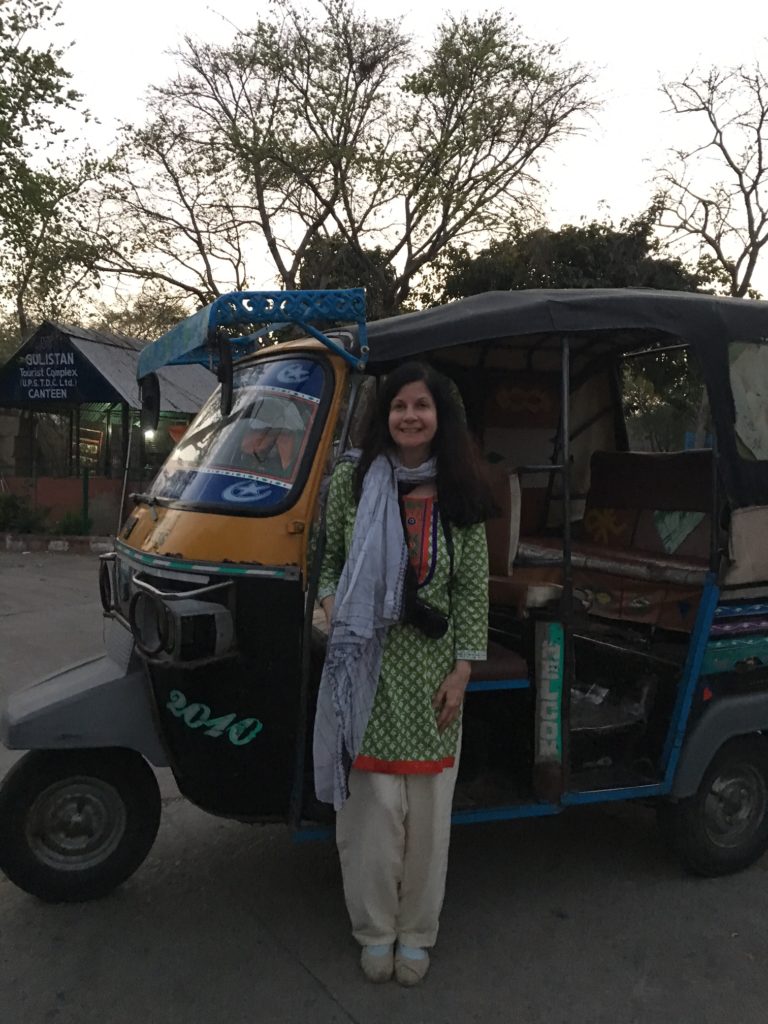 Our lengthy drive brought us to the city of Agra. Upon arrival at Hotel Pushp, the hotel restaurant provided our dinner for the evening. I dined on a delicious rice dish called vegetable biryani with some Indian roti bread.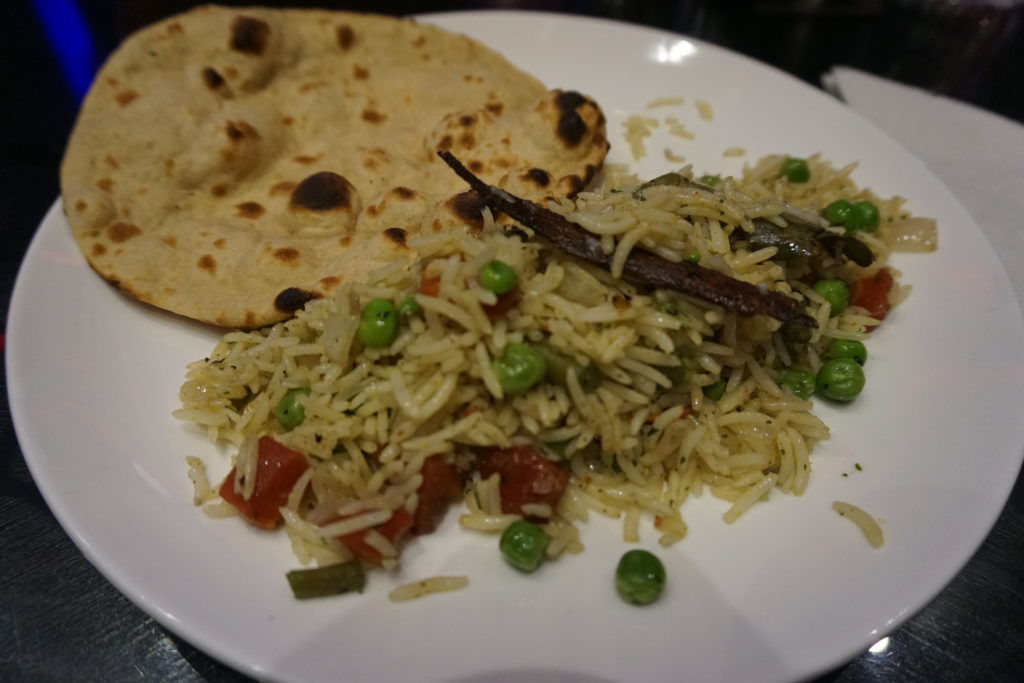 What a glorious two day adventure I had experienced in Ranthambhore National Park! The wildlife, flora and fauna, and fort impressed me with their natural beauty and serenity. Fatehpur Sikri's elegance and architectural allure was well worth a visit. As I expected, all of my vegan meals were amazingly delicious. I now looked forward to the next day's adventure of visiting the Taj Mahal in the city of Agra.