I had always dreamed of visiting the Christmas Markets in Germany, so I headed to Berlin during the first weekend in December. Christmas Markets originated in Germany during the 14th century and have now spread to other European nations. The Germany Markets are still among the most popular, centuries later. These street markets are held during the four weeks of Advent. Visitors come from across the globe to shop for Christmas gifts and to experience the joy of the holiday season.
My Aer Lingus flight included a pre-ordered vegan meal. The dinner entree included a baked tofu slice, mixed veggies in tomato sauce, rice, and salad. A bread roll with vegan butter and mixed fruit came on the side. As usual, the airline provided a tasty vegan meal.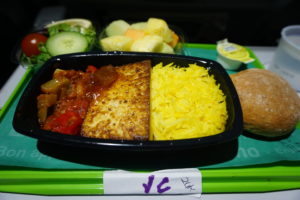 Airlines, in general, don't typically serve vegan breakfast. Thus I knew to bring my own cup of Dr. McDougall's cranberry oatmeal.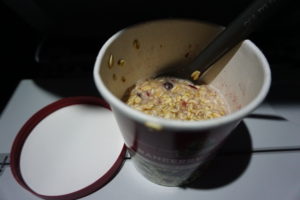 Upon arrival in Berlin, I checked into the funky Circus Hostel. Shortly thereafter, it was time to grab some lunch. Berlin has the reputation of being the #1 vegan city in the world. L'Herbivore (L'Herbivore) is a vegan deli offering various seitan-based 'meats'. The cozy cafe has a small seating area for diners. I decided upon the traditional German smokey seitan burger sandwich on flatbread made with tomatoes, sauerkraut, vegan mayo, sweet mustard, and onions. It was a great lunch.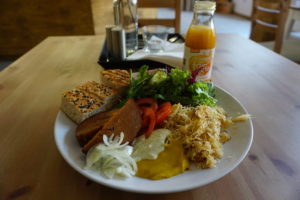 As I walked back to the train station, I noticed "Denn's Bio Market" (Denn's Bio Market). I thought to myself, "There is a good possibility that this shop carries vegan products". I was overjoyed to see that the shop sells vegan chocolate santas and German Lebkuchen Christmas cookies. What an exciting find this was! They would fit nicely into my luggage.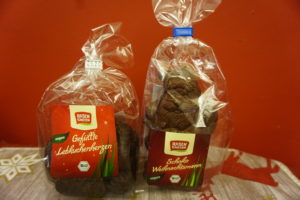 A quick subway ride would take me to the very first Christmas Market on my weekend itinerary. Opernpalais Christmas Market features a 100 year old ferris wheel, traditional German food stalls, and wooden stalls offering gifts ranging from carved wooden bowls to embroidered linens. The wooden stalls were trimmed with holiday greenery and bright lights. Narrow long streets are filled with revelers taking in the festive scenery, food, and crafts.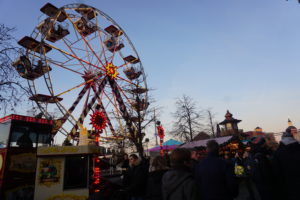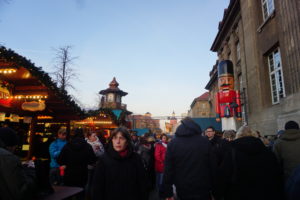 The traditional German wooden stalls offered everything from food to crafts.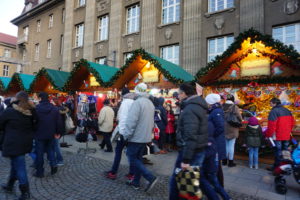 Iluminated stars were an ever-so-popular item at the markets.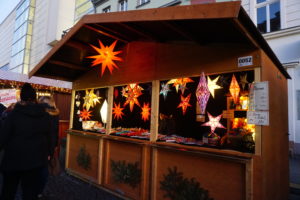 One vendor stall that caught my gaze, sold a wide variety of fresh herbs.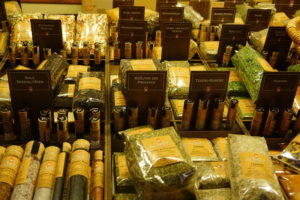 As is quite popular at these outdoor Christmas Markets, food vendors prepared batches of freshly roasted chestnuts. I enjoyed my yummy batch.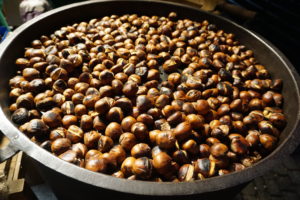 Walking along the market's main street, I noticed a vendor offering some lovey embroidered tablecloths and other home goods.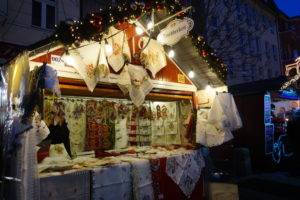 Strolling past each vendor, I encountered a food stall proudly displaying the sign "100% vegan". I was delighted to find that the traditional German potato pancakes were indeed vegan. Topped with applesauce, they were an absolutely delicious treat!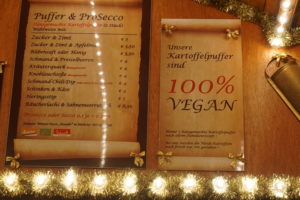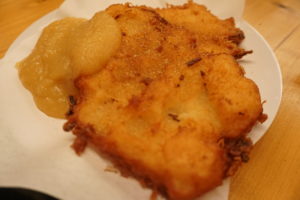 As the evening turned to night, the white lights along the wooden stalls made for a beautiful holiday scenery. The town church towering in the distance.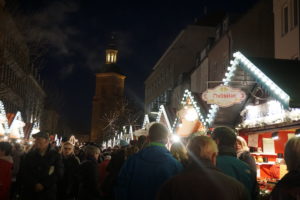 A unique craft vendor had glowing ornaments available for purchase.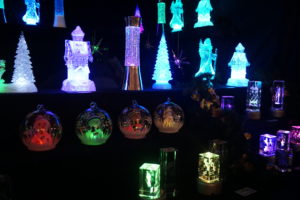 Yet another vendor offered colorful santa ornaments.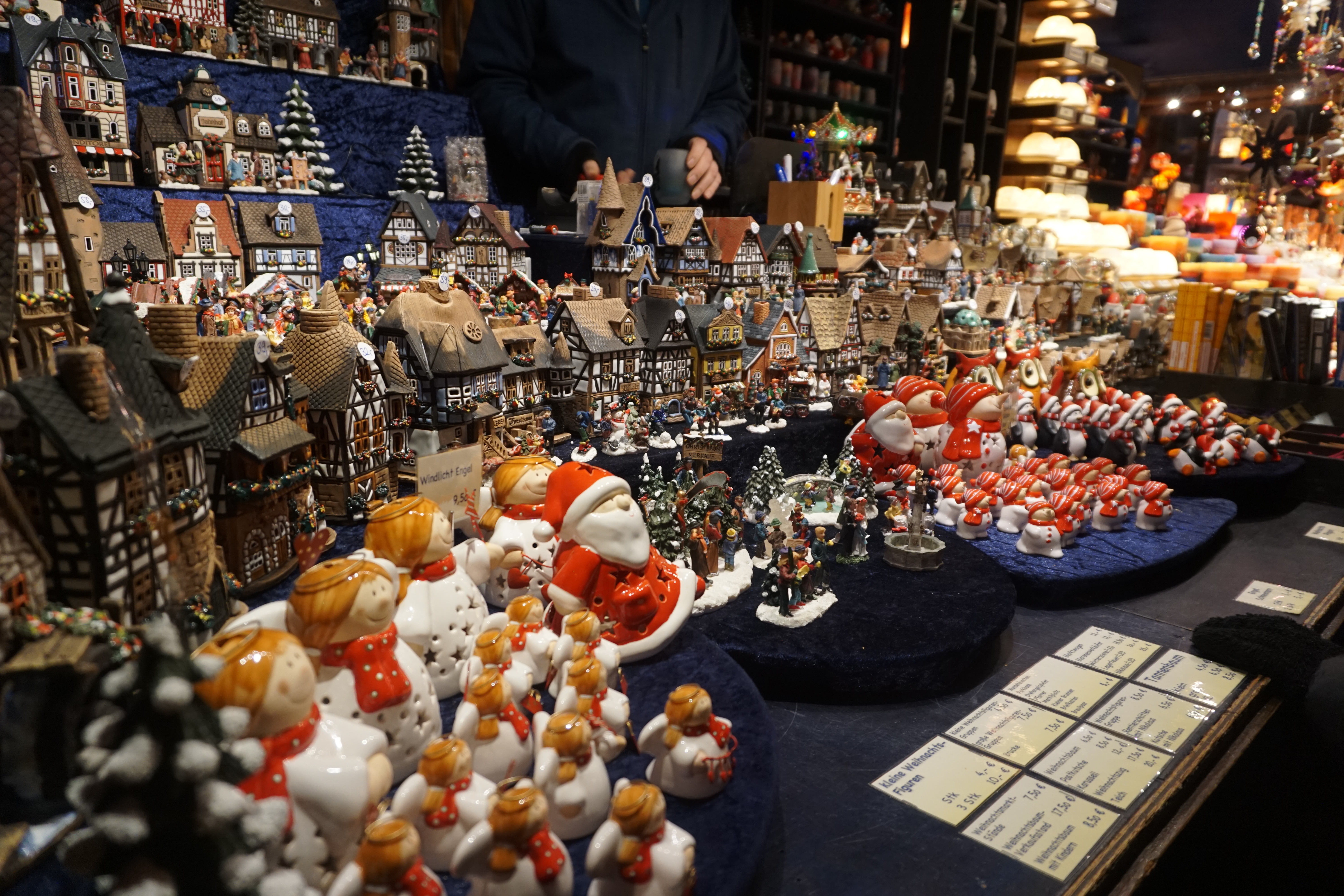 Street performers entertained the revelers and shoppers with fire juggling.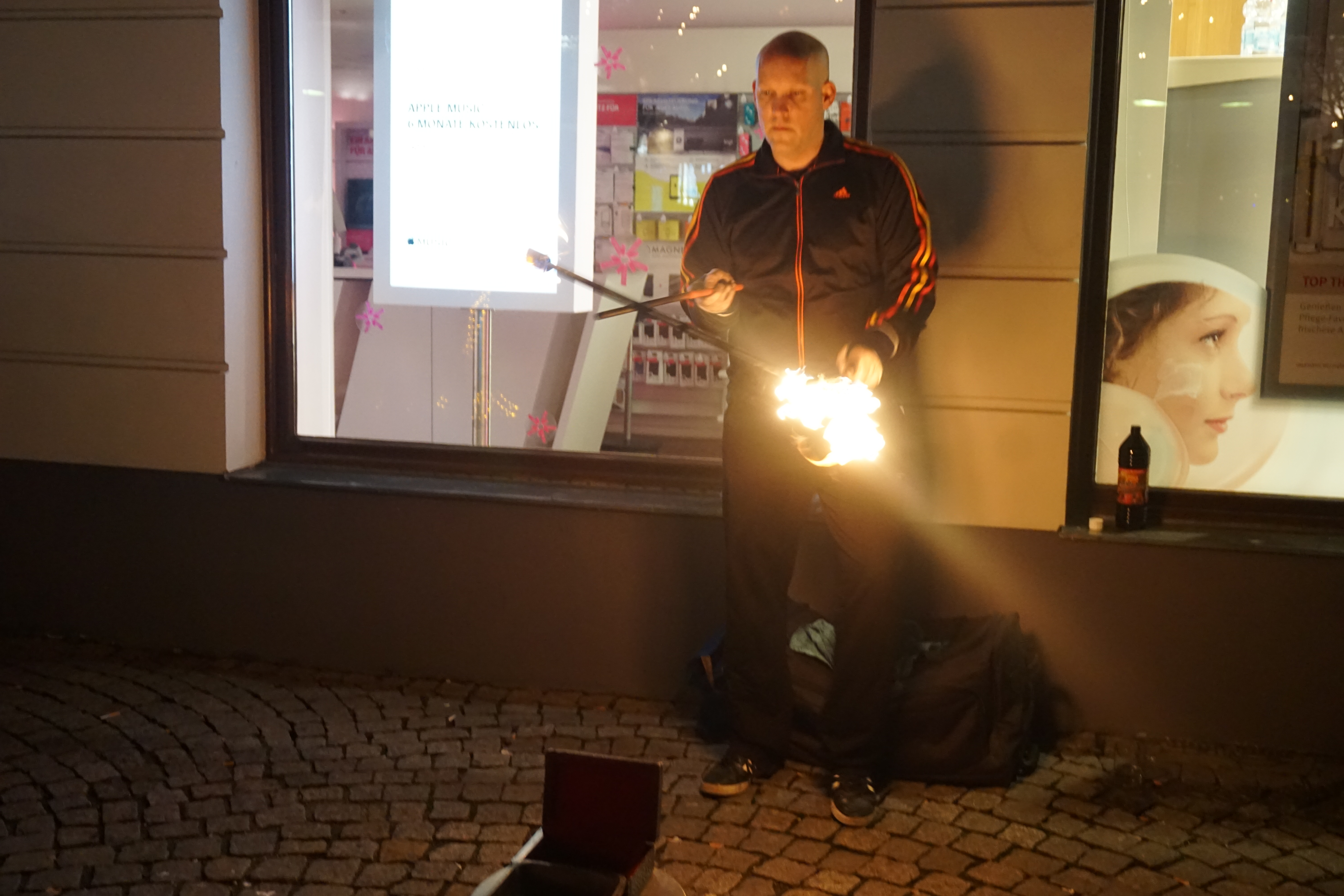 Thousands of festive white lights shone above the center of the market road. An impressive tree lit up in all its holiday glory stood nearby.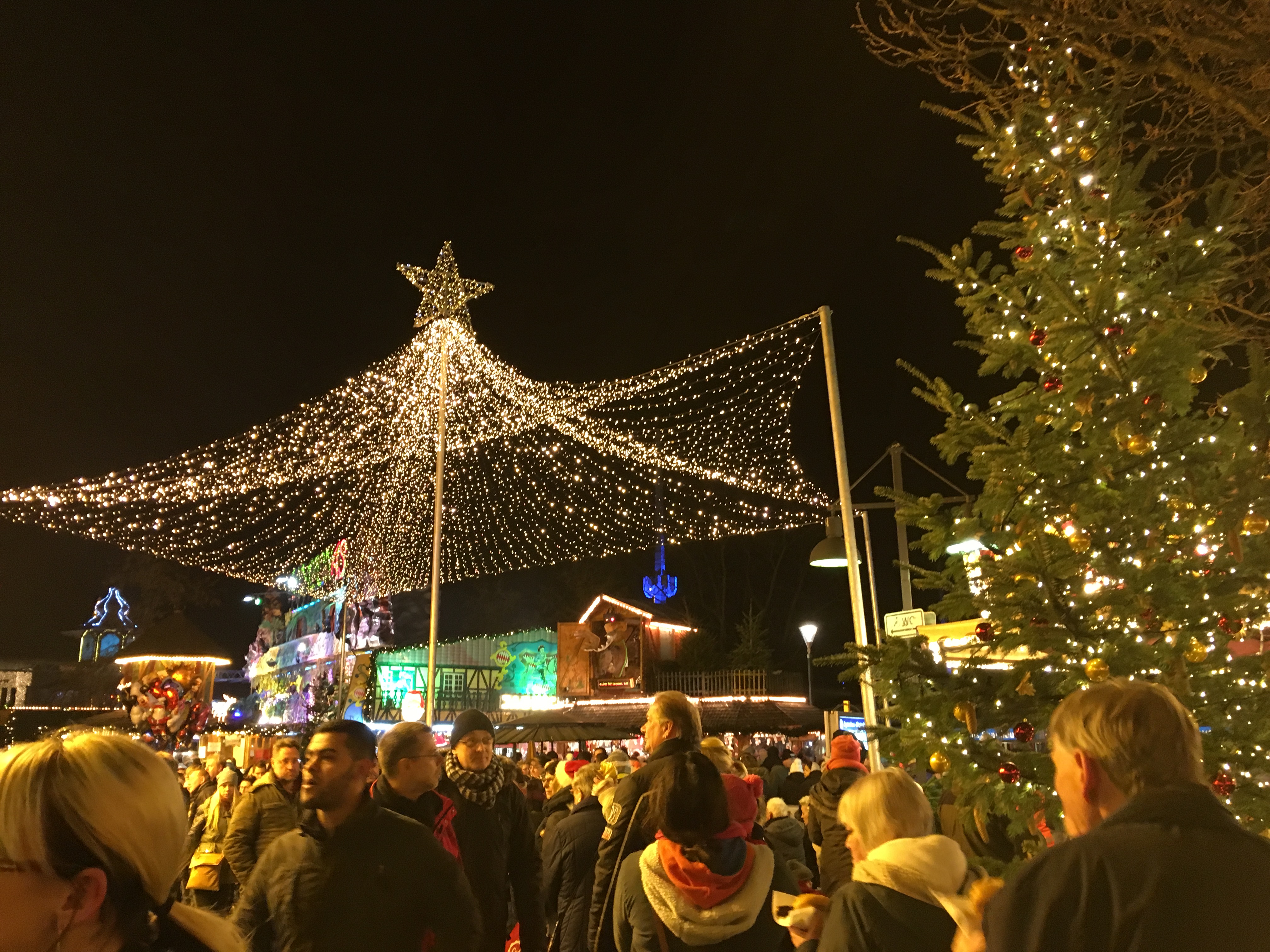 As I neared the church tower, I noticed the gorgeous tall Christmas tree ahead of me.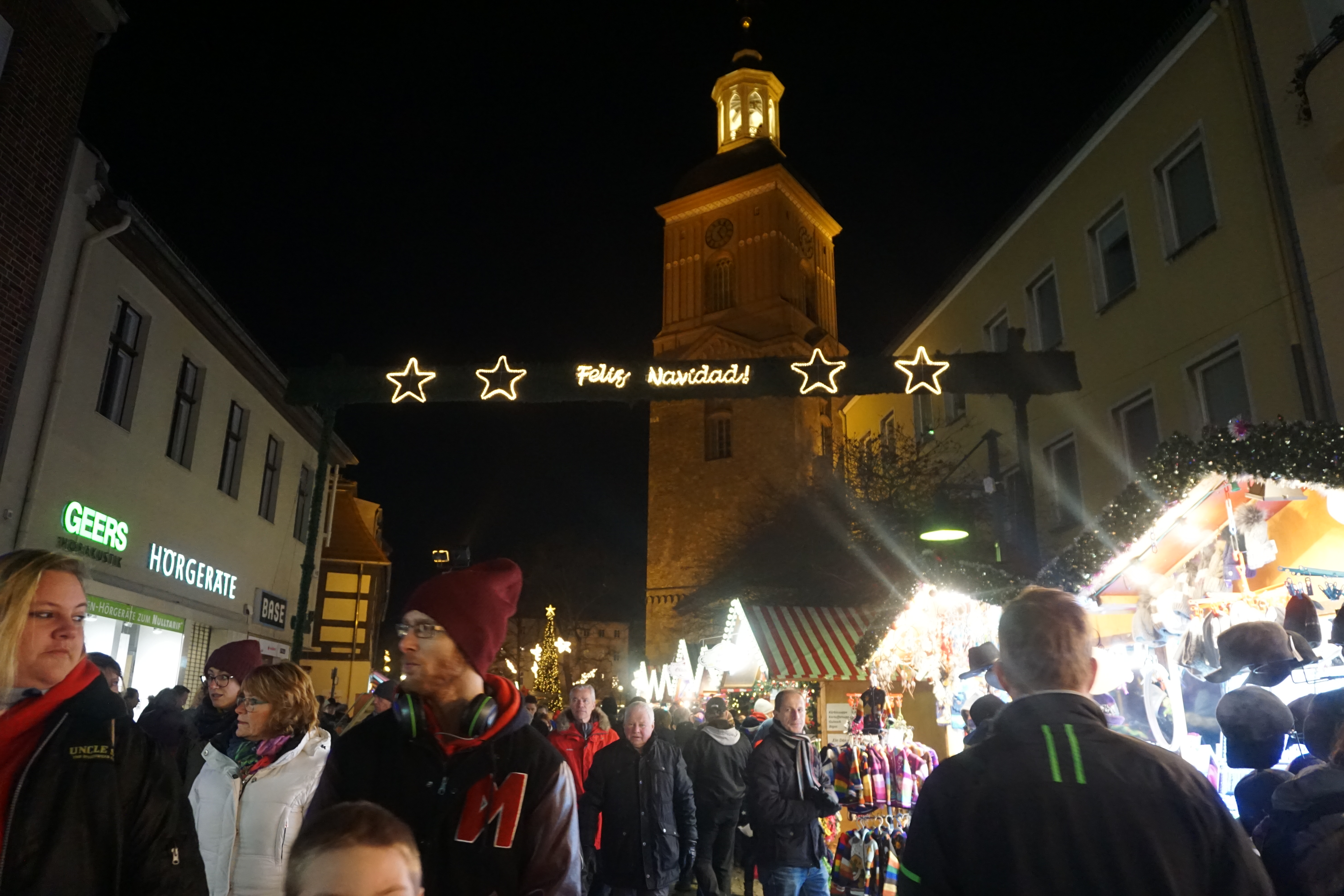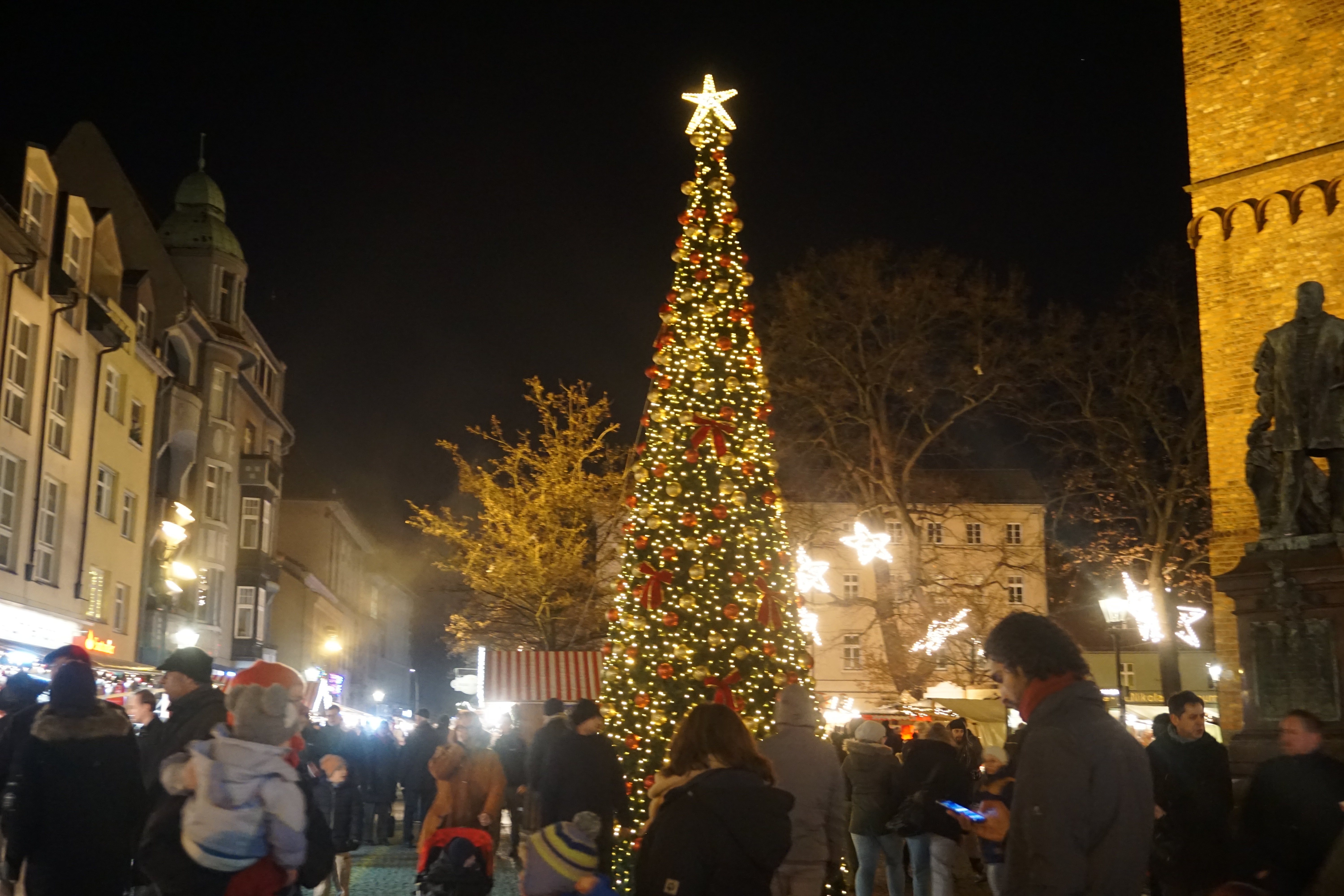 Inside of the historic church, I stopped to listen to a youth choir sing a few Christmas carols.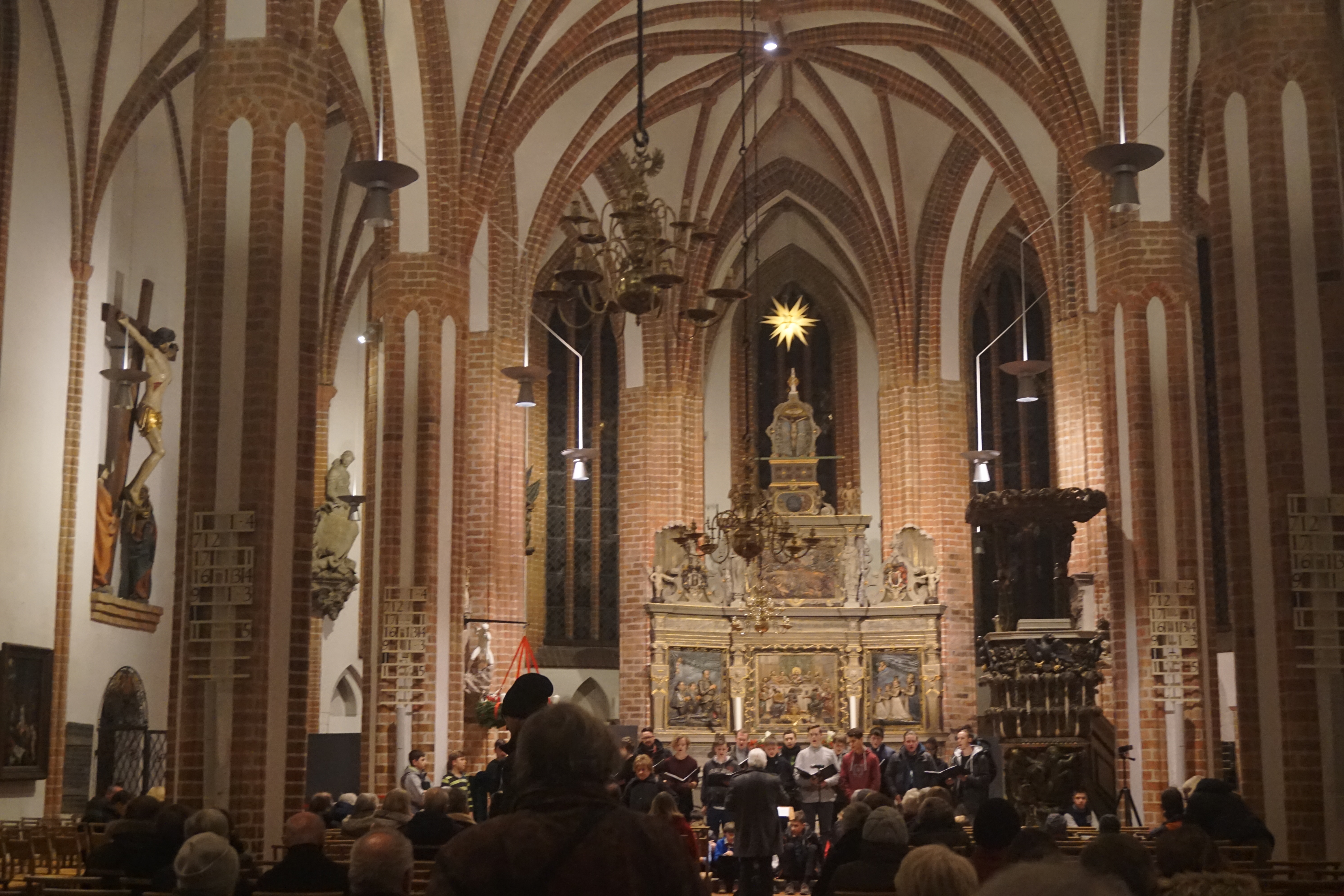 After having a wonderful time at my very first Christmas Market at Opernpalais, it was time for dinner. I dined at the elegant Kopps Restaurant (Kopps Restaurant). The all-vegan restaurant occupies a spacious venue and offers eclectic cuisine with an upscale ambiance. My main entree was a potato dumpling with prunes and carrots.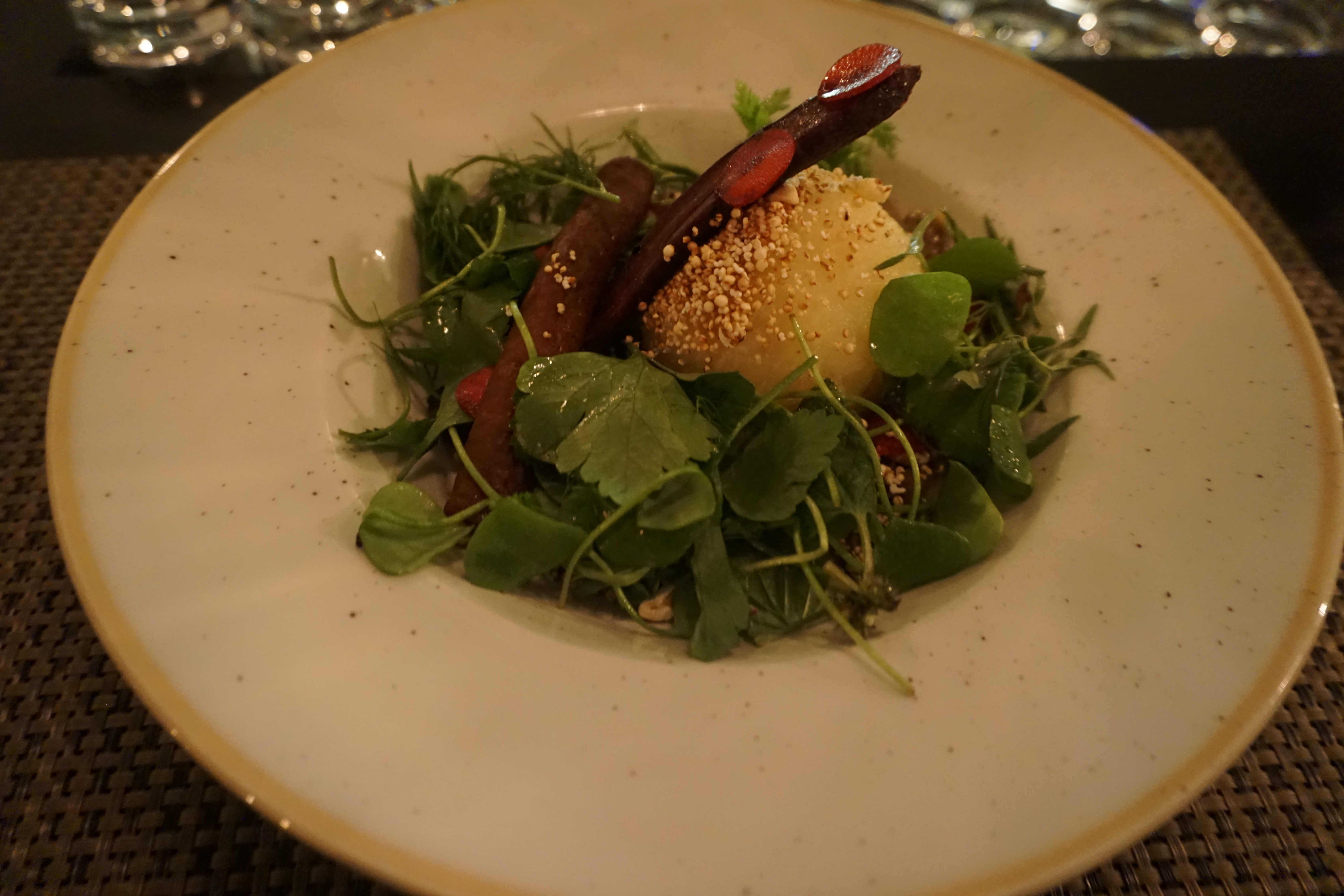 The dessert was an apple strudel crumble with a vegan cream topping. Both meal and dessert were superb and scrumptious!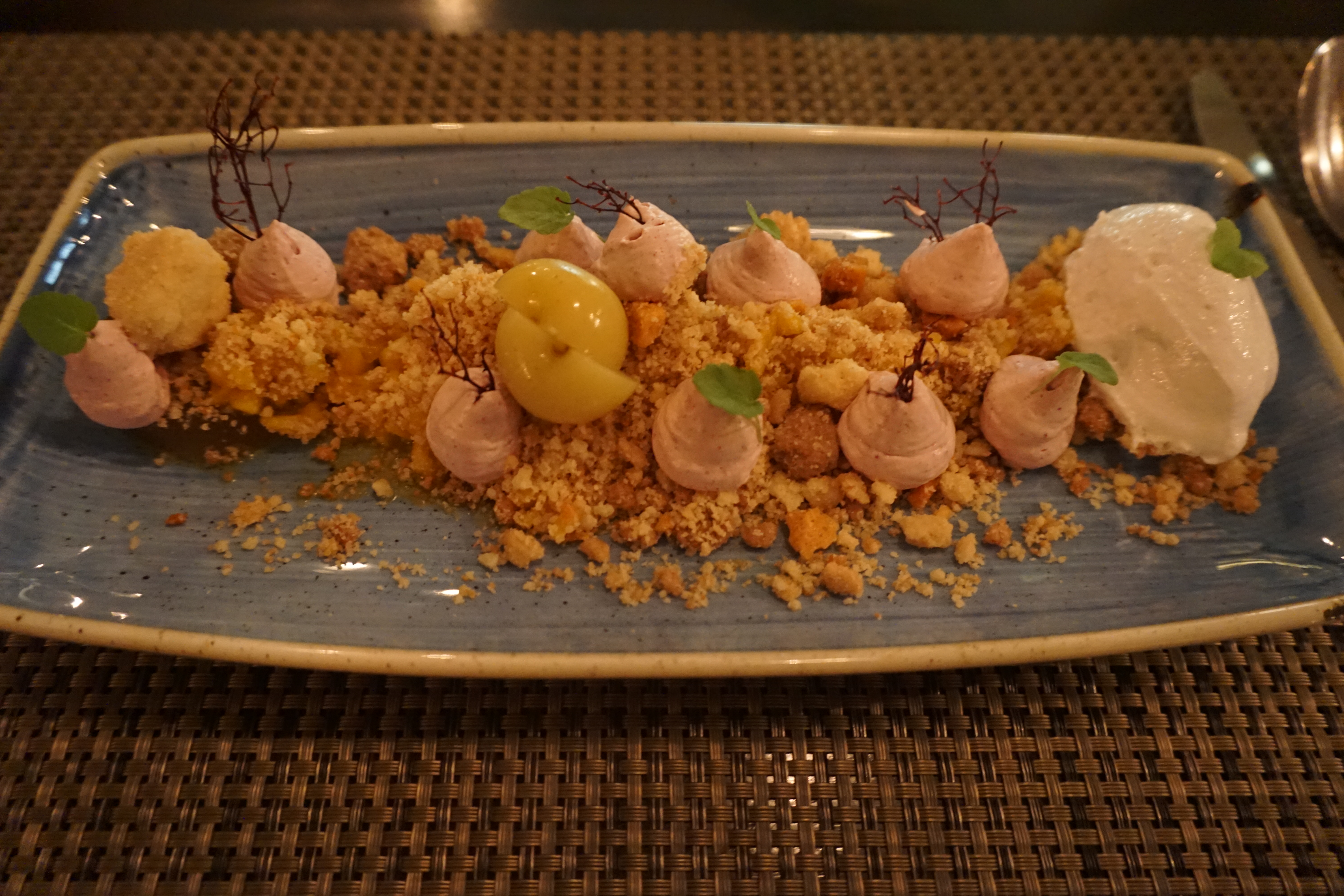 I hopped on the train to the next Christmas Market of the day; the Gendarmenmarkt. This elegant outdoor market offers rows of vendors under white tented stalls, each topped with a shiny and bright star.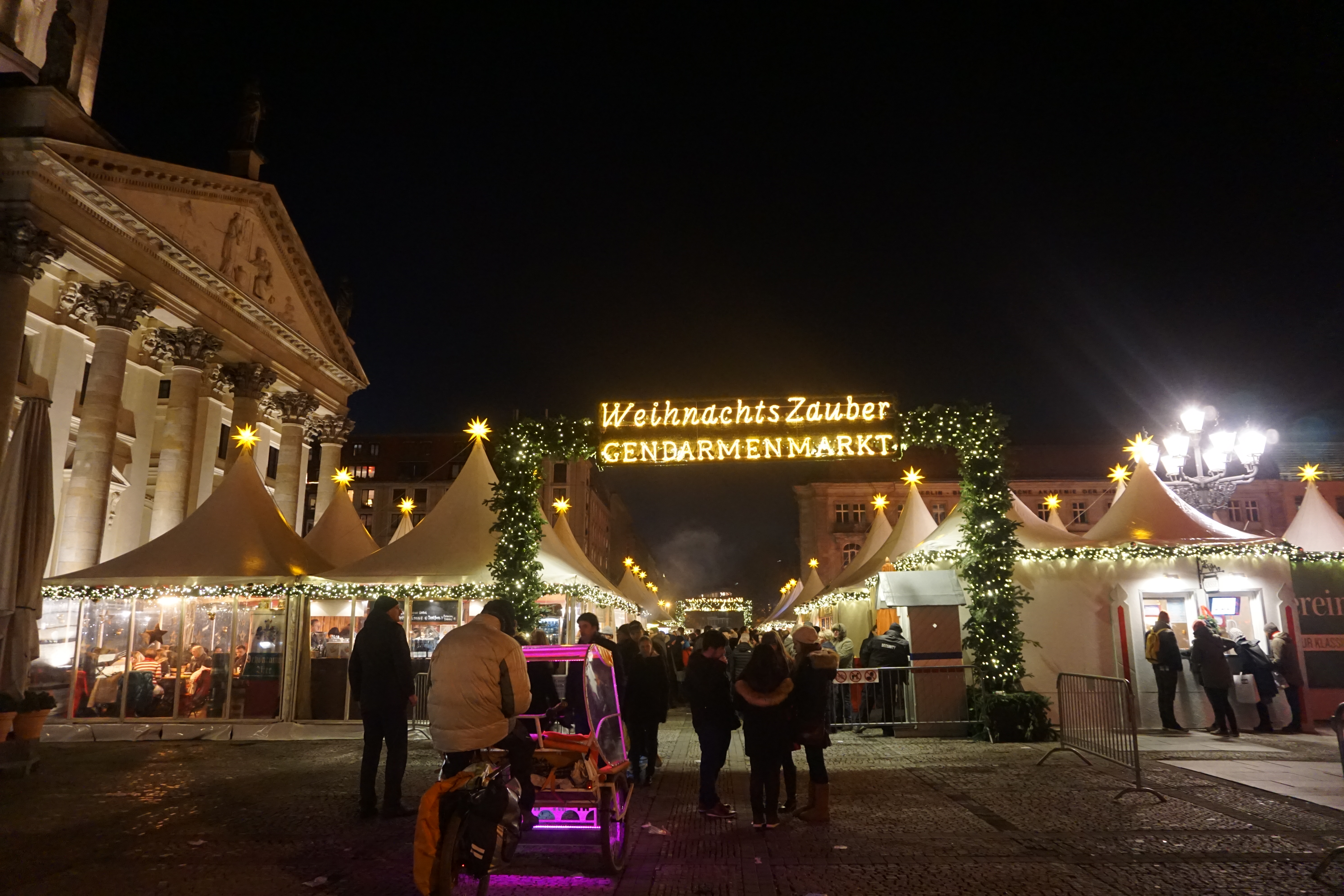 One of the food vendors served hot beverages, including warmed juices and Gluhwein(mulled Christmas wine popular with Germans). I opted for a warmed cherry juice. My flavorful warmed beverage kept me comfortable in the wintery outdoors.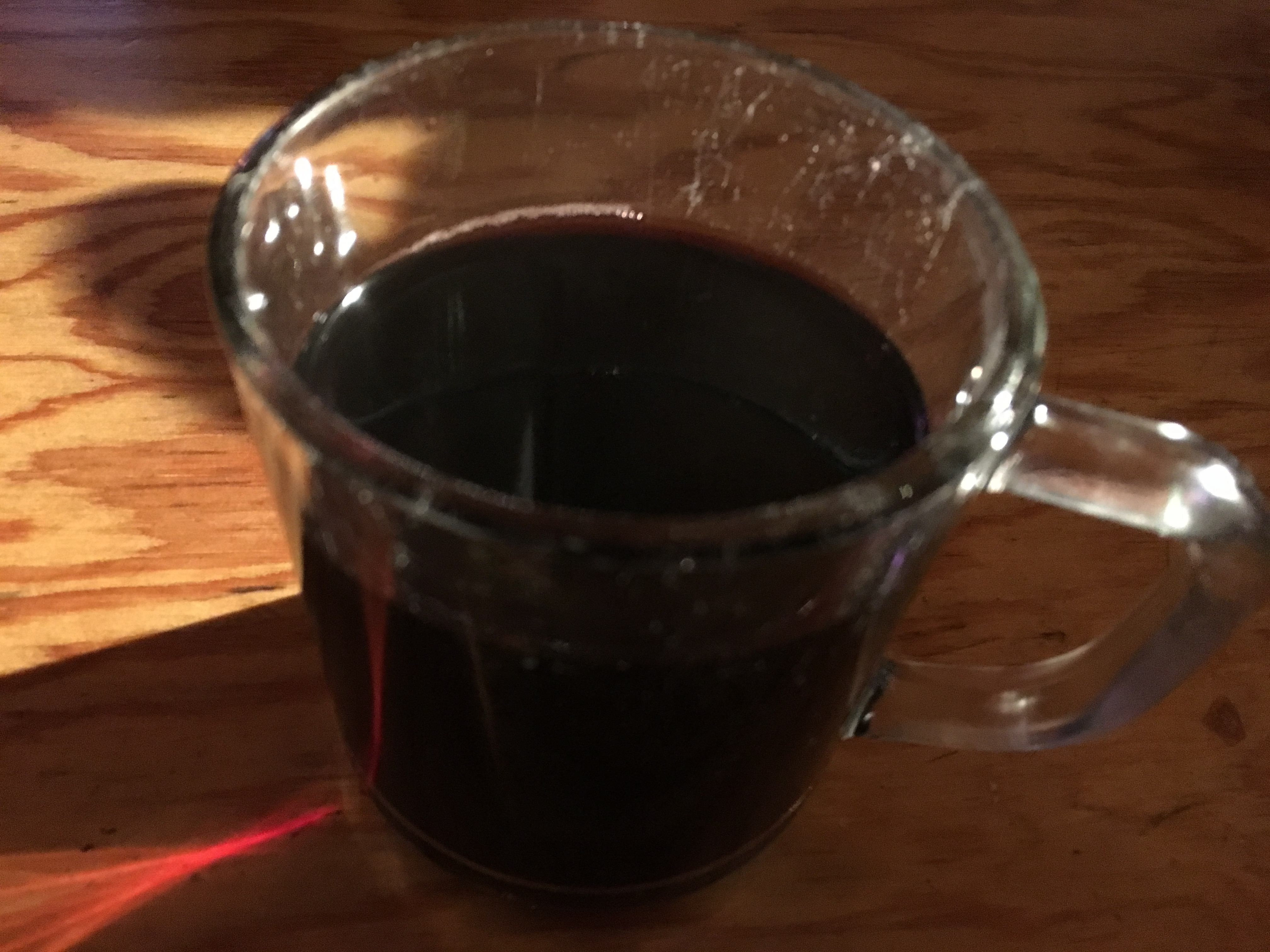 The local concert hall shone brightly in red and green hues, as a backdrop for the Christmas Market, along with impressive government buildings.

As I walked through each row of vendor tents, I came across jewelry gifts, wooden puppet toys, and intricate Christmas ornaments carved from wood.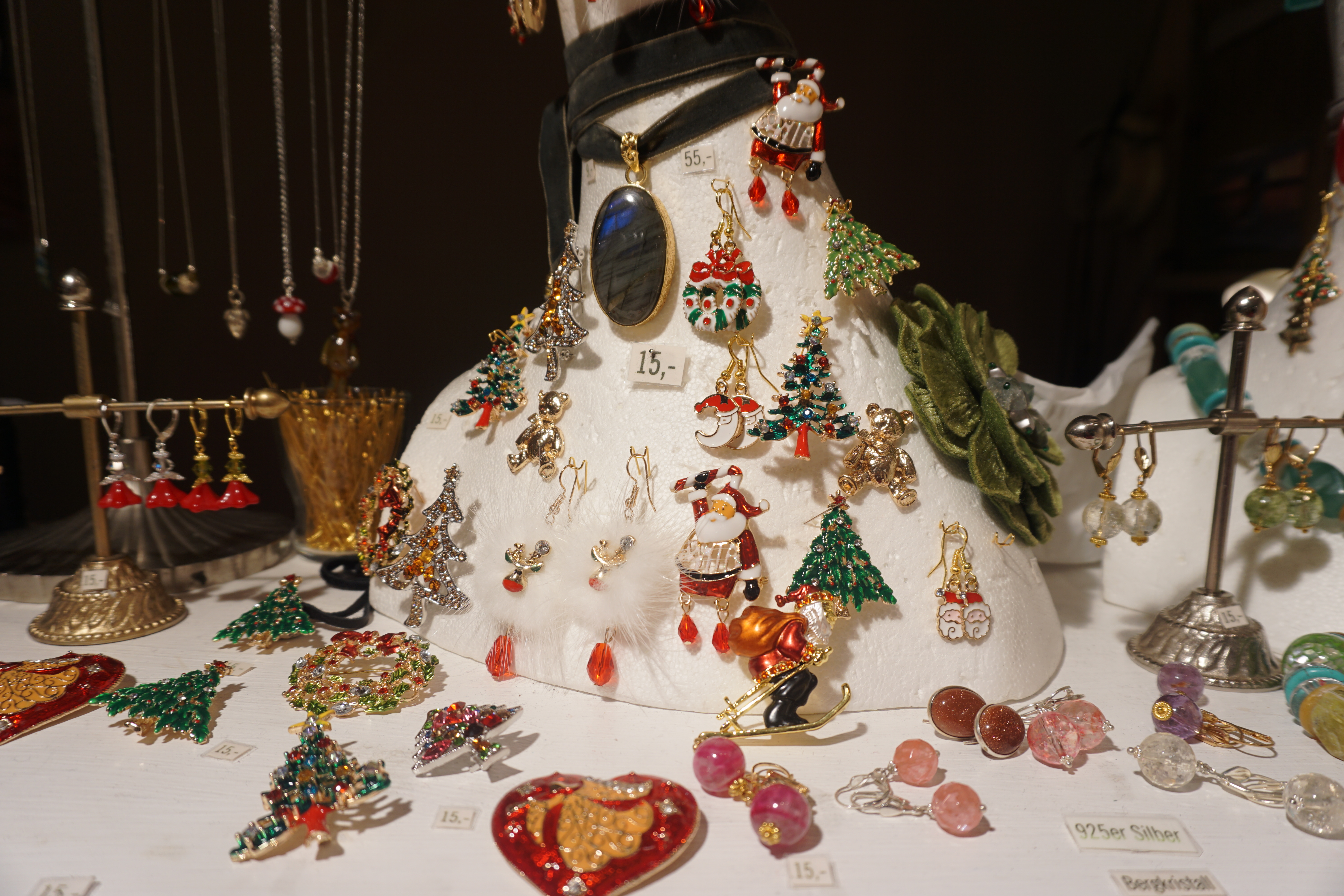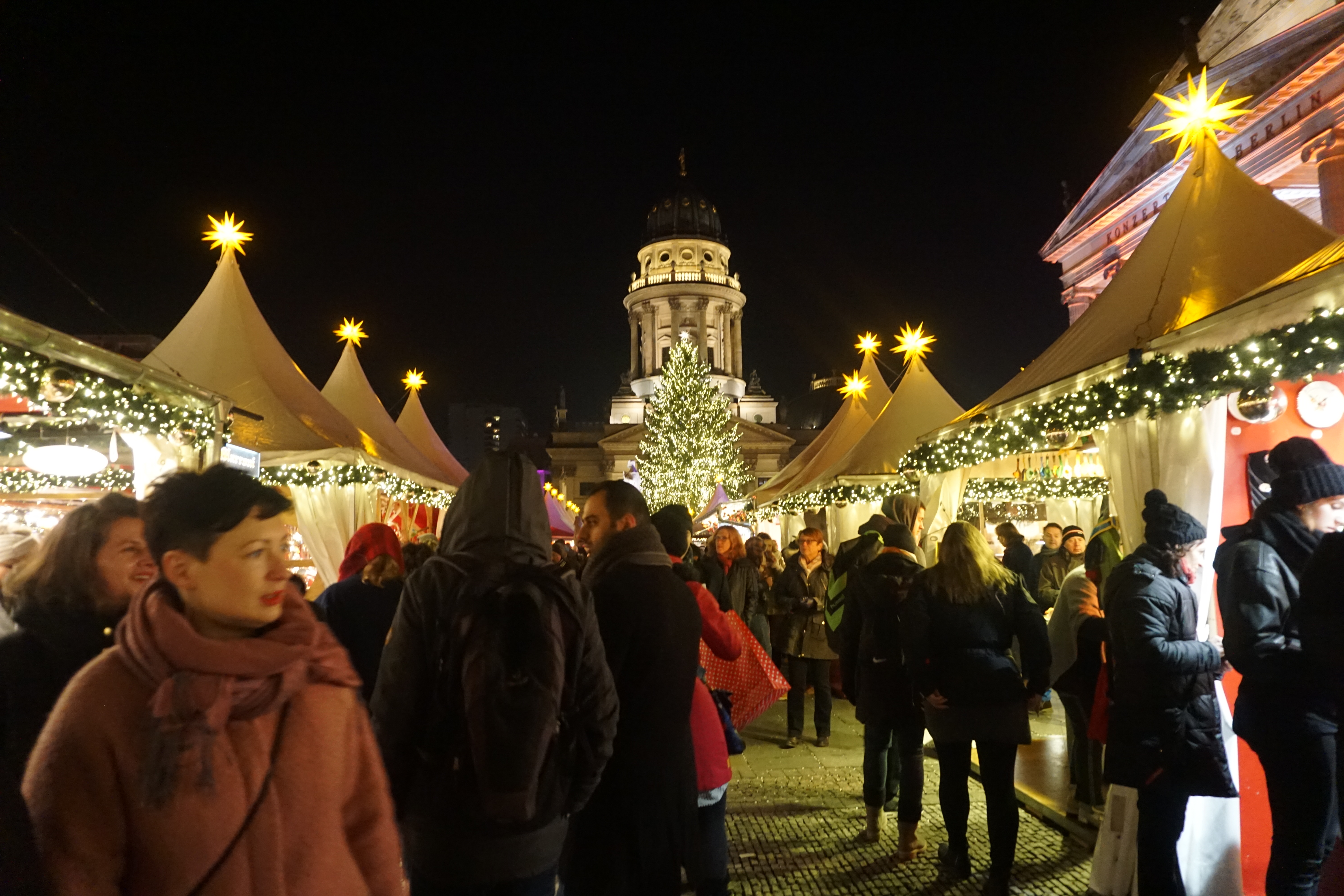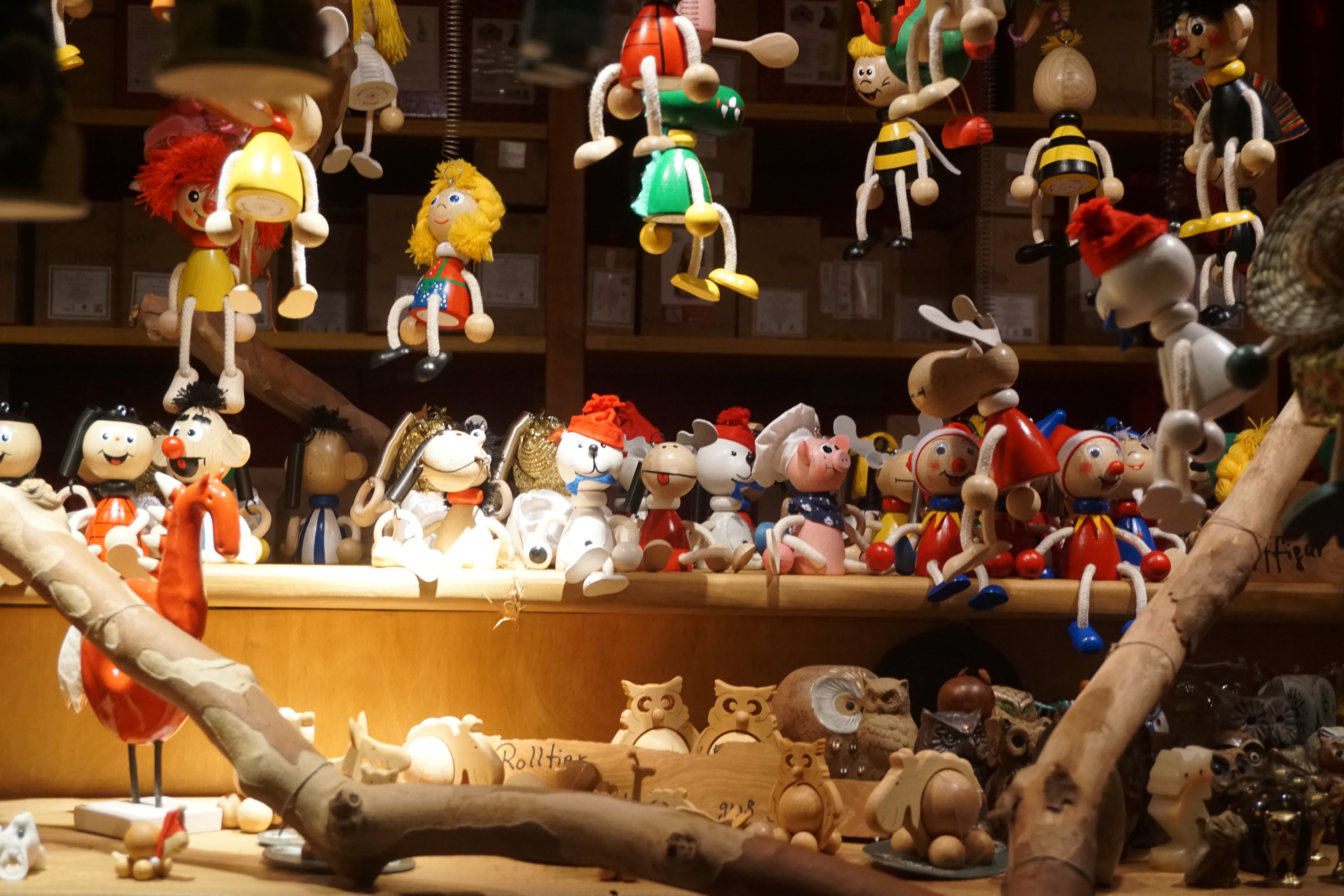 A singing group performed Christmas classic tunes.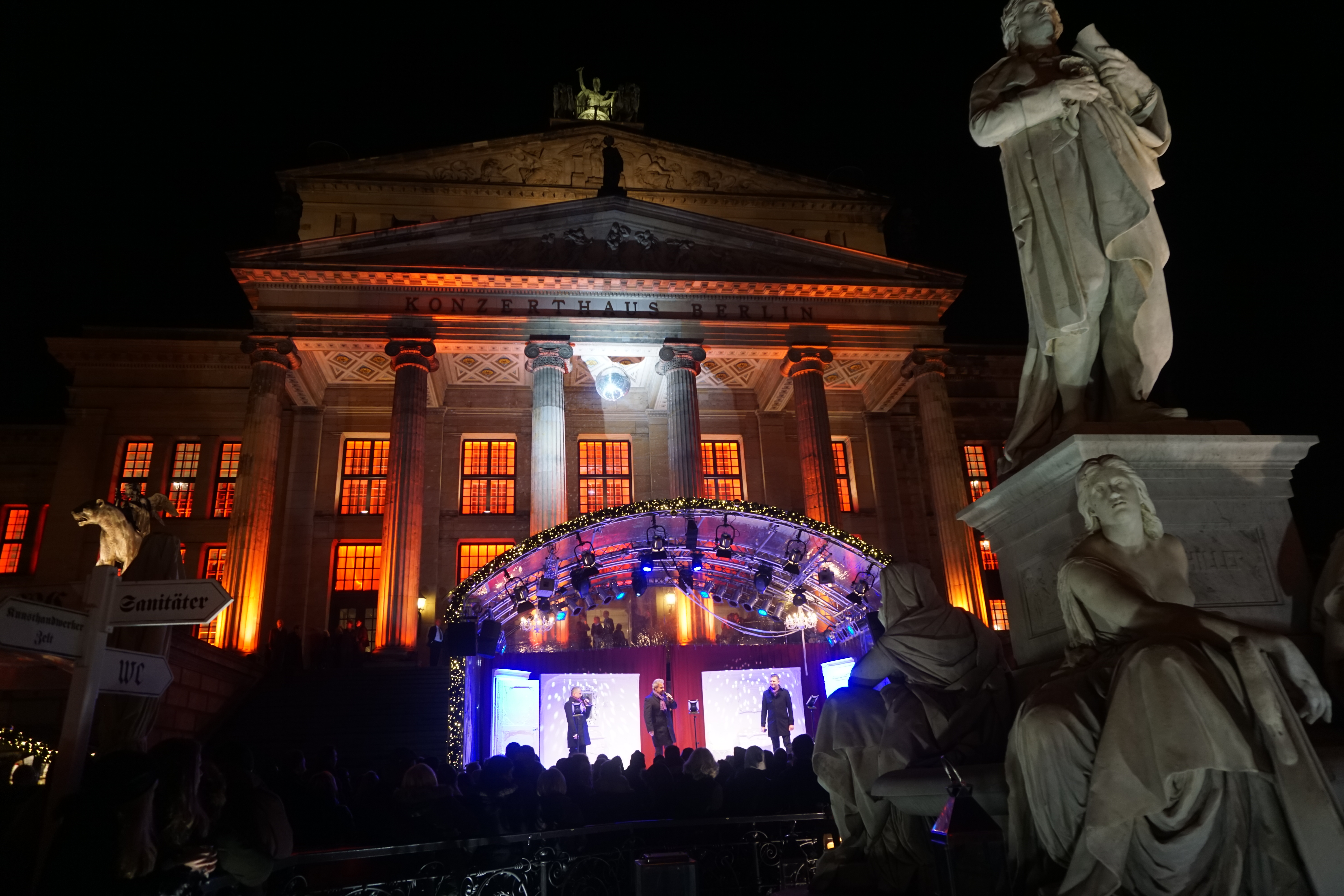 After stopping for a while to listen to the entertainment, I went back to strolling among the many rows of outdoor and indoor tent vendors. The merry holiday ambiance was definitely in the air, from the joyous musicians performing to the row upon row of Christmas crafts.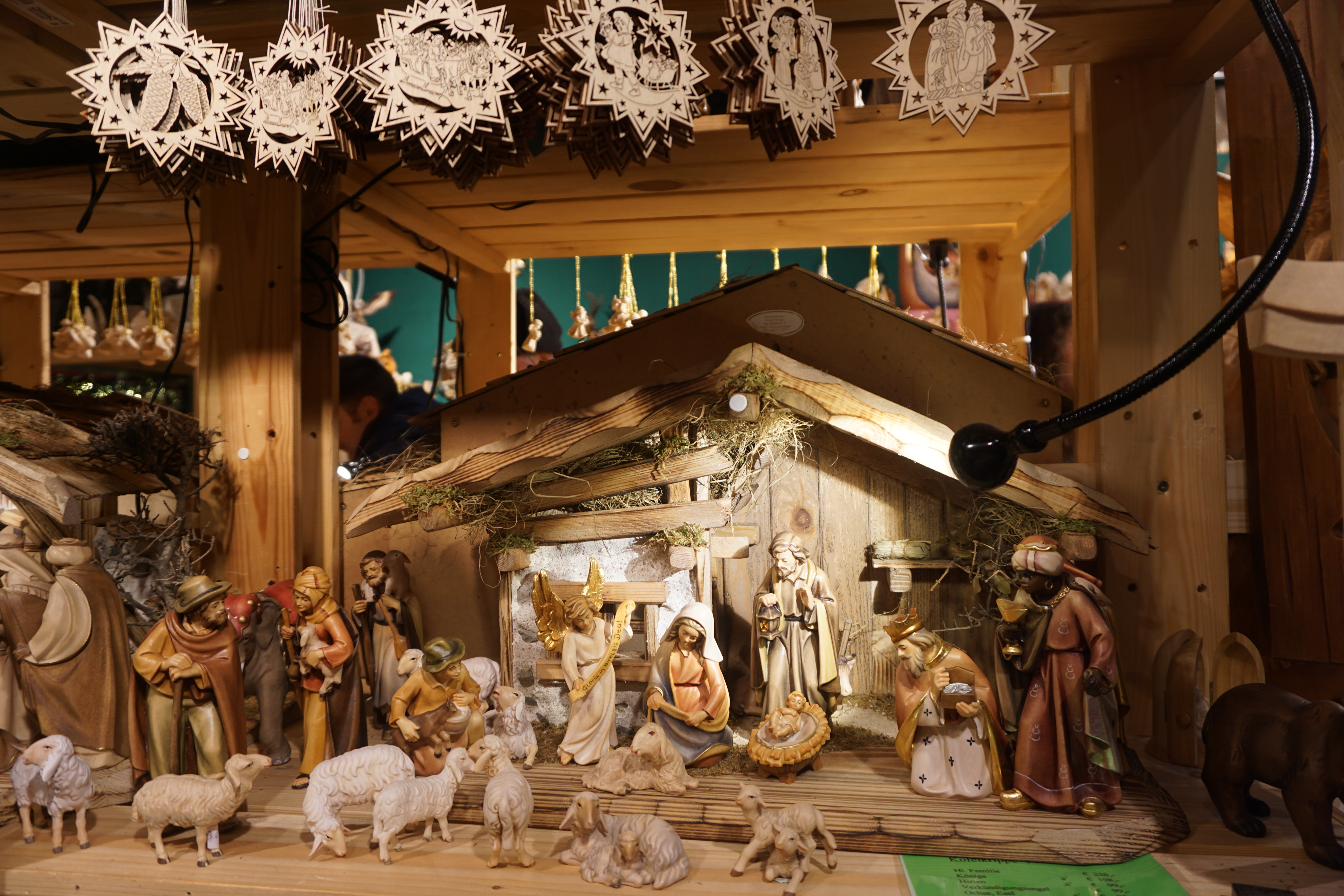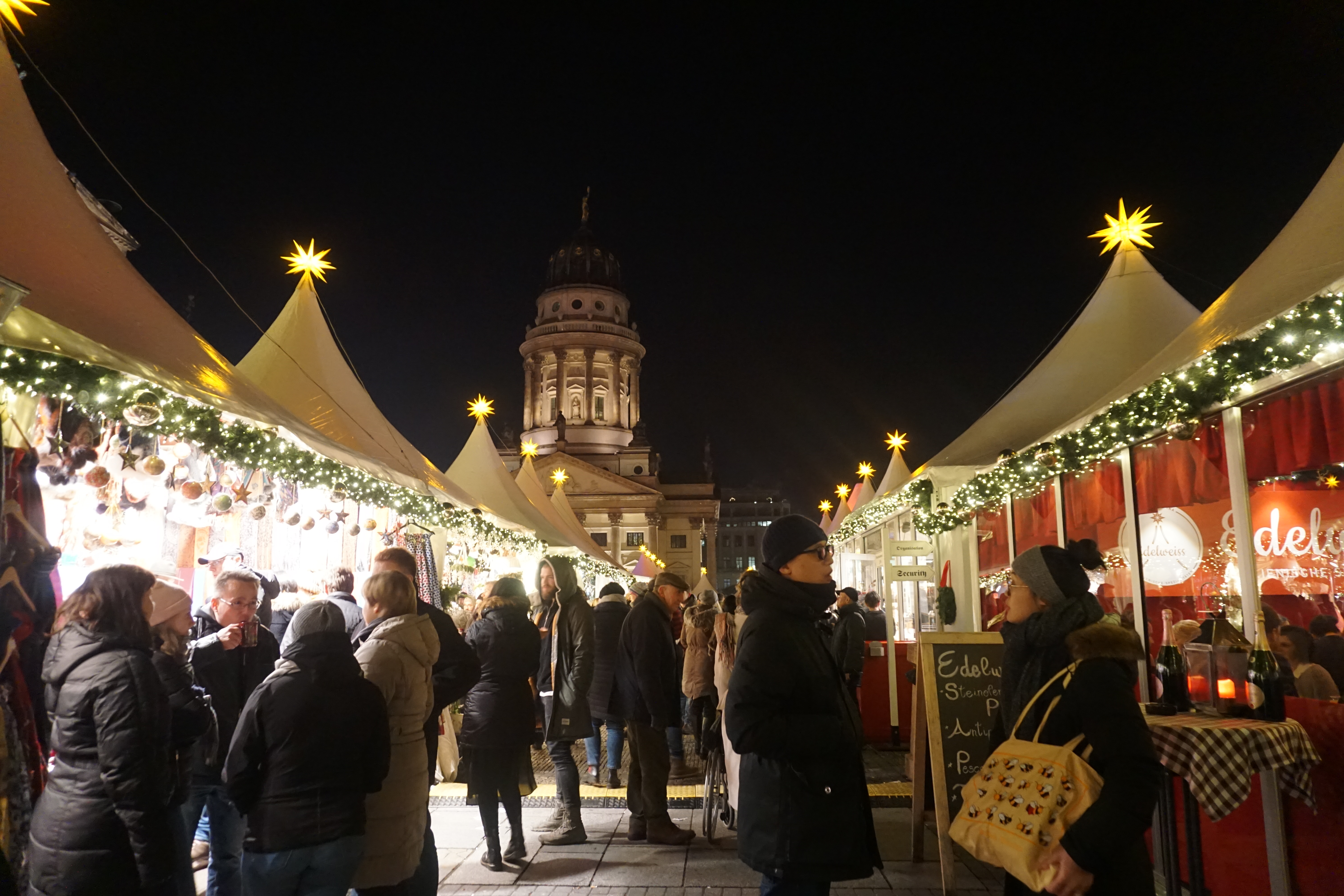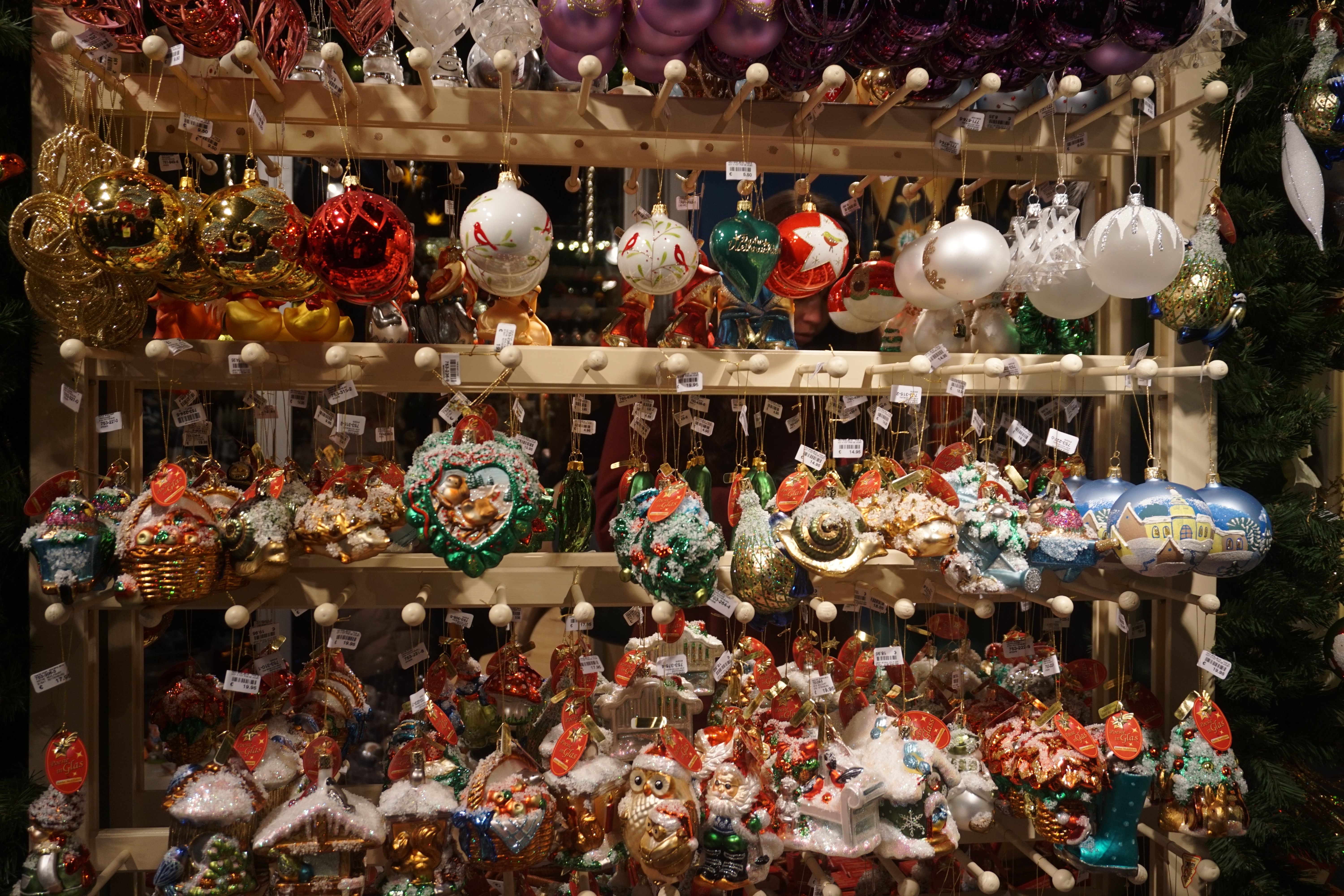 A beautiful manger scene graced the market space, as well.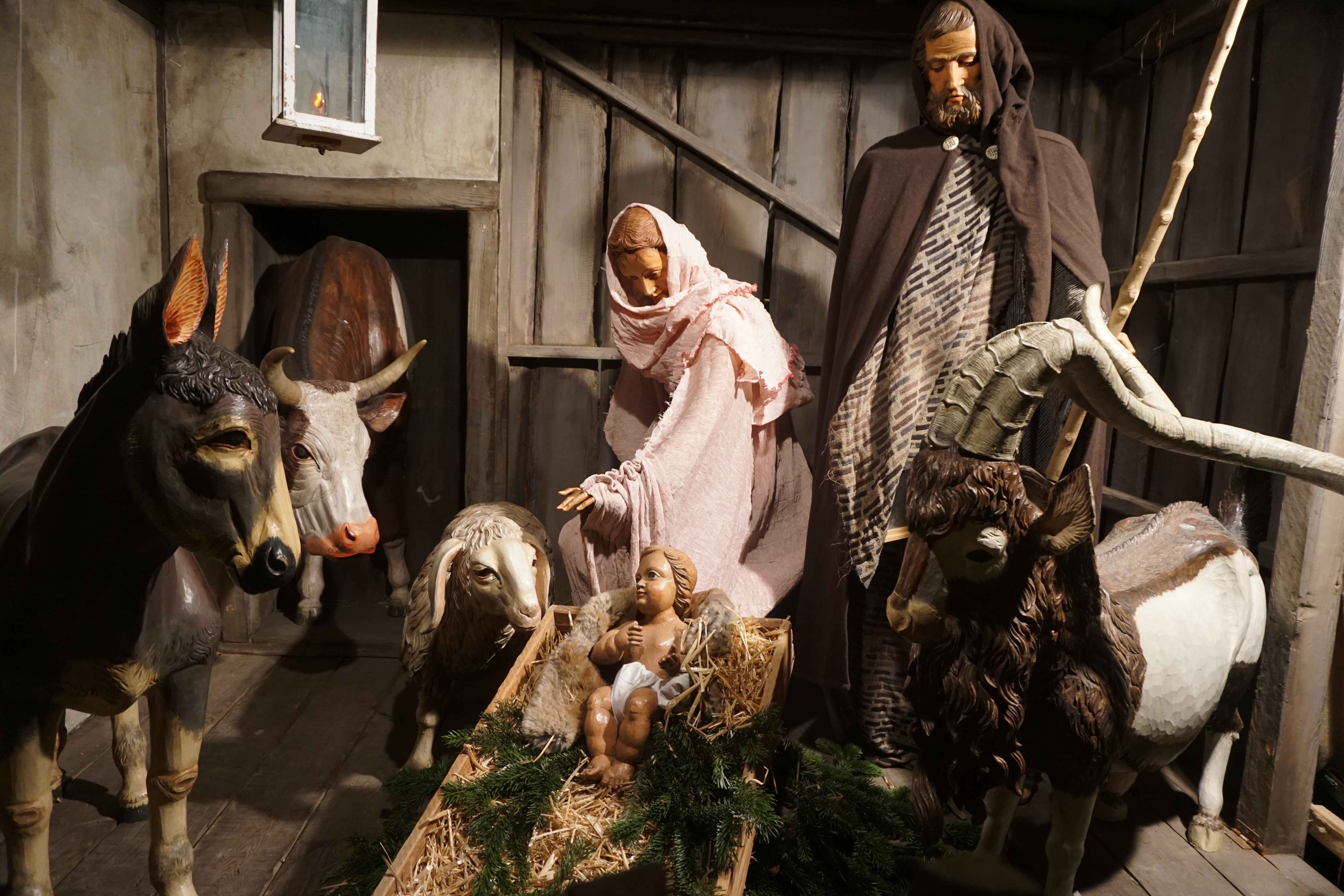 Prior to exiting the grounds, I purchased some warm roasted nuts, as a tasty snack.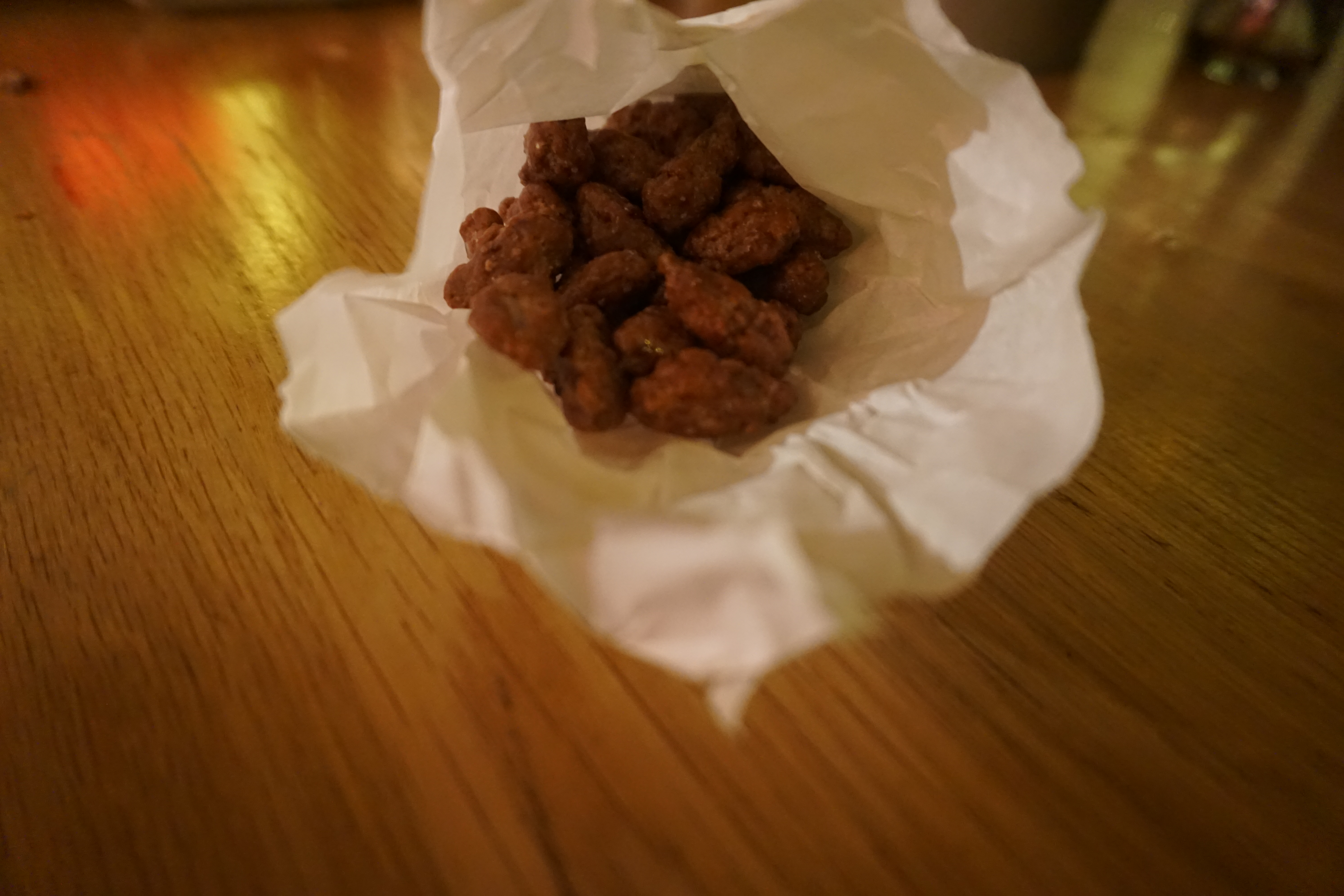 It was time to call it a night. The next day, I did some sightseeing of the popular historic sites. In the evening, I made my way towards my third German Christmas Market of the weekend: the Weinhnachtsmarkte Charlottensburg Palace. This Christmas Market offers 250 vendors displaying their goods in the traditional wooden huts, against the backdrop of the majestic Charlottensburg Palace.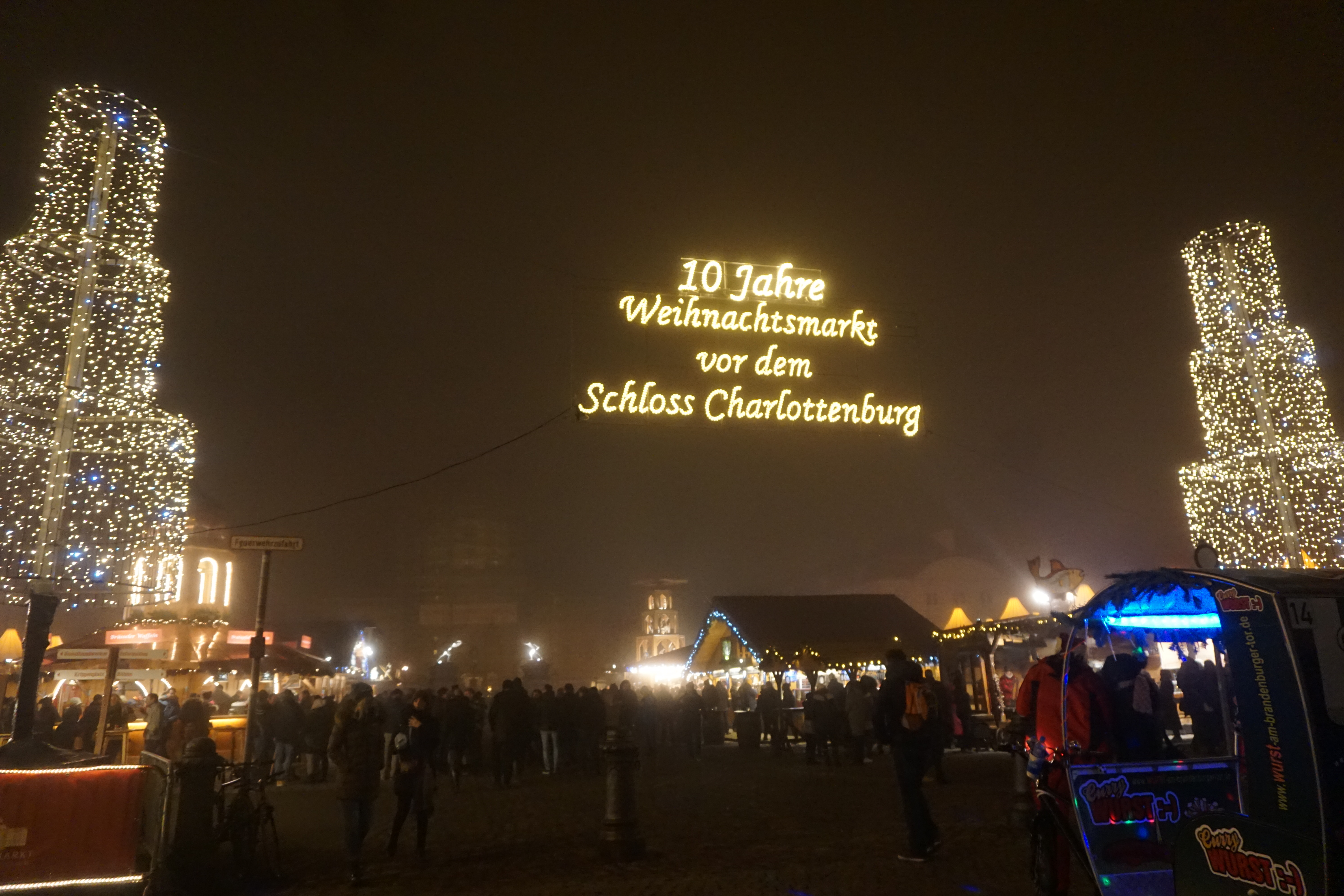 A stunning manger draws visitors near, upon arrival.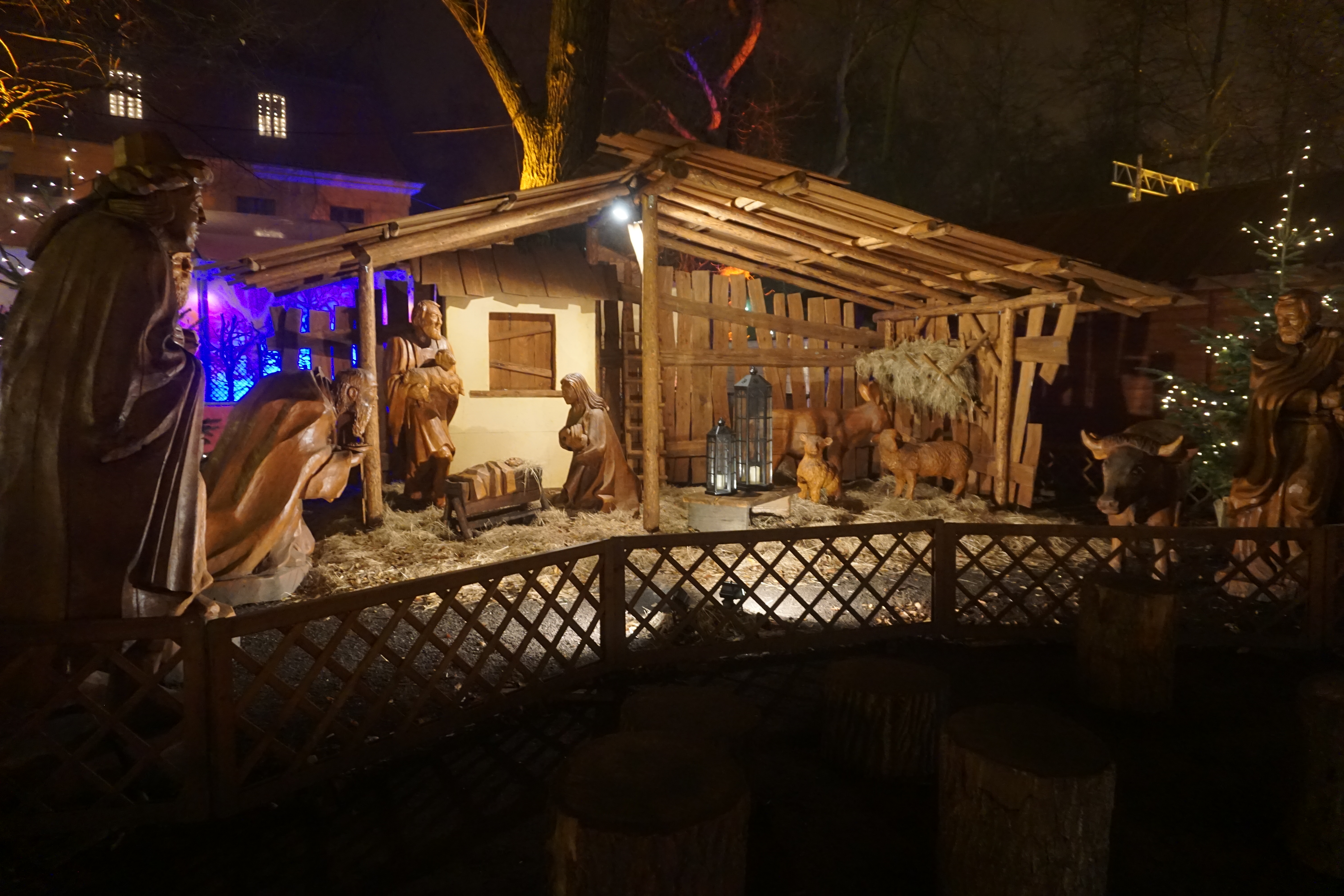 The first crafts vendor that caught my eye, had beautifully crafted snowmen figures available for purchase.

The renowned German wooden nutcracker statues were available at yet another craft vendor hut.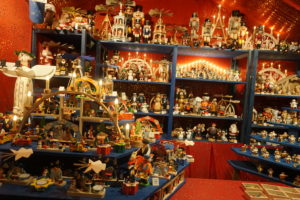 Much to my surprise and delight, I found a food vendor that offers all vegan products! Vegan Christmas stollen cake, gingerbread cookies, dried apple slices, and other completely vegan holiday treats were available at this wonderful hut.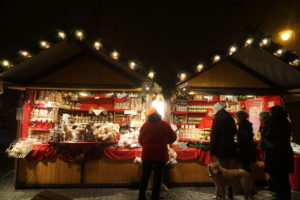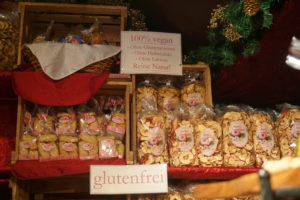 I continued to browse the many indoor and outdoor shops.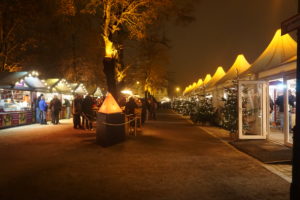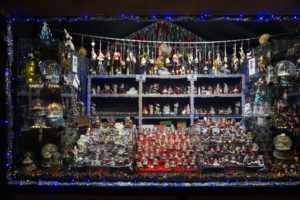 From jewelry to wooden bowls, there were gifts for every budget and need.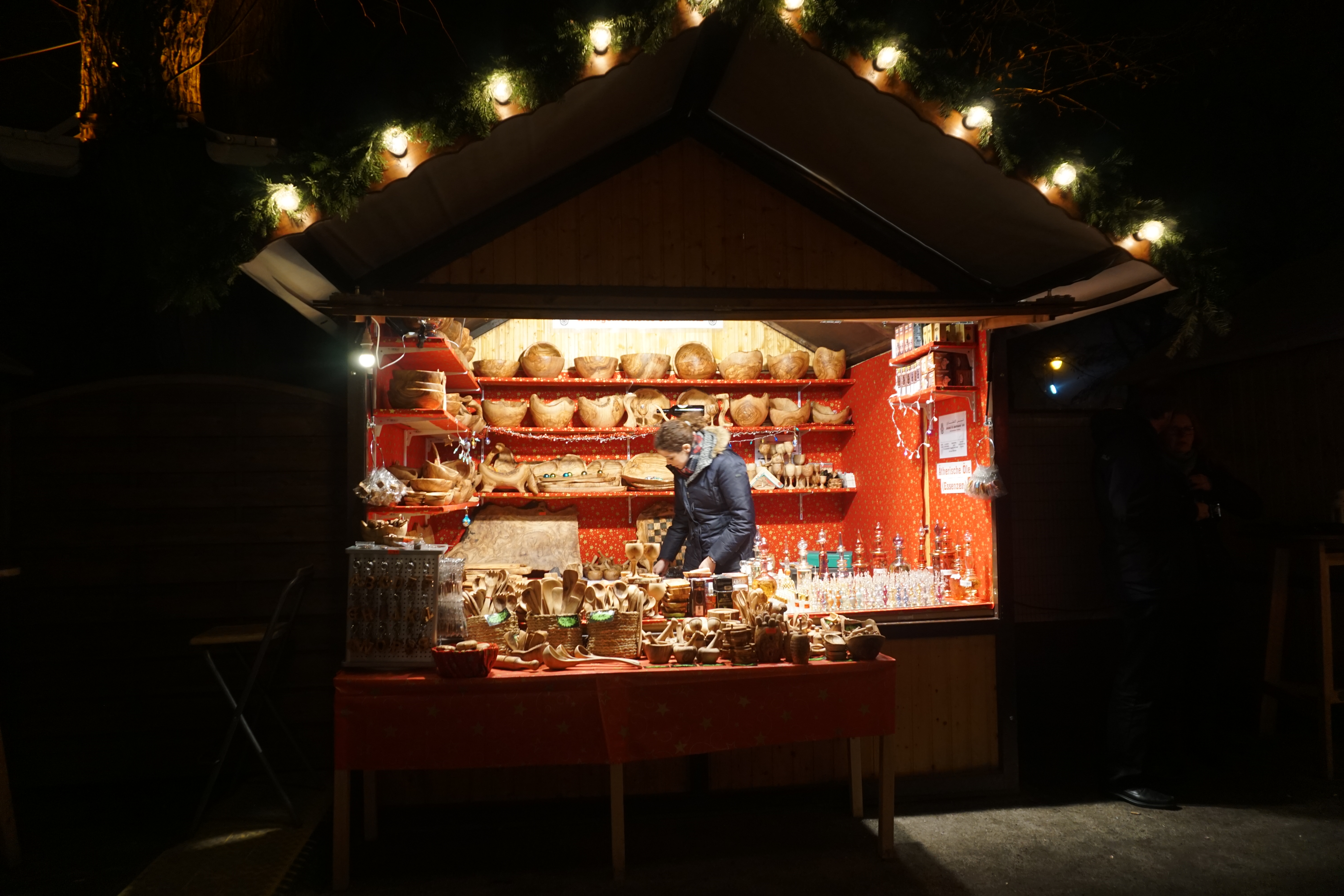 A trio of musicians played popular Christmas music for the throngs of visitors.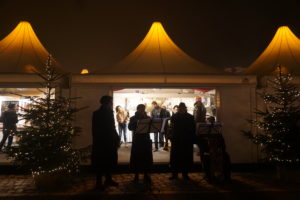 The Charlottensburg Palace was quite the distinguished background for this glorious Christmas Market.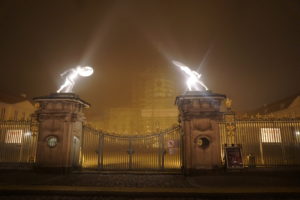 A musician playing an old-time windup organ provided additional musical entertainment for the crowds.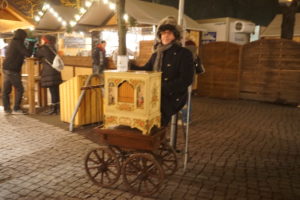 Before leaving the market, I made a final stop at the vegan vendor stall and purchased that delectable-looking Christmas stollen.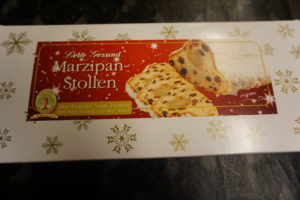 I immensely enjoyed my two day visit to the Berlin Christmas Markets. From the incredible vegan food to the gorgeous crafts available for purchase to the holiday entertainment, it was an amazing experience to attend these yearly holiday events. I highly recommend these Berlin Christmas Markets to every and all vegan travelers.