Travel enthusiasts. Travel bloggers. Travel entrepreneurs. I spent the past weekend with a lovely group of ladies who shared one particular trait: their passion for all things travel-related! The event that gathered us together was the "Women in Travel Summit" held in historic Boston, Massachusetts. Three hundred women from across the USA and the world eagerly awaited the weekend's festivities, workshops, and networking with like minds.
As a vegan, I was to be especially thrilled throughout the weekend to discover vegan-friendly travel items, a vegan lunch upon request, and even eco-friendly volunteer vacations offered by a participating exhibitor at the conference!
Three 'tracks' of workshops were offered to us: 1. travel blogger, 2. entrepreneur, and 3. traveler.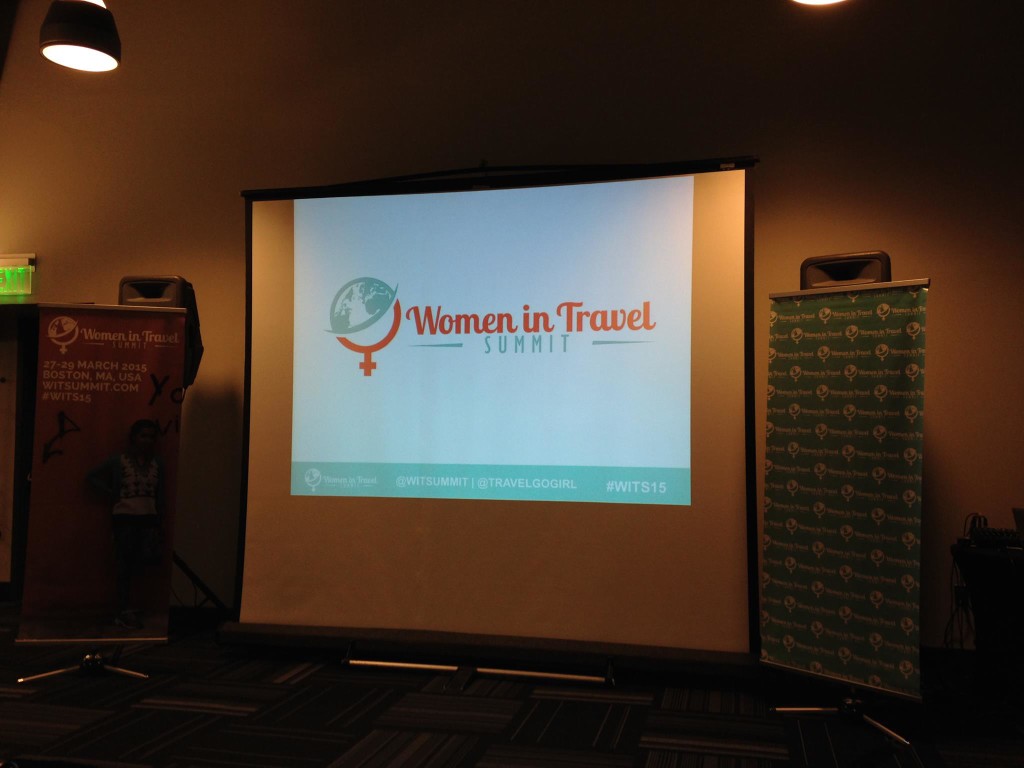 Our weekend began with a keynote speaker who started the Saturday morning program with a talk about how she went from being "at her lowest point" in life both financially and emotionally, to eventually become a very successful entrepreneur and world traveler.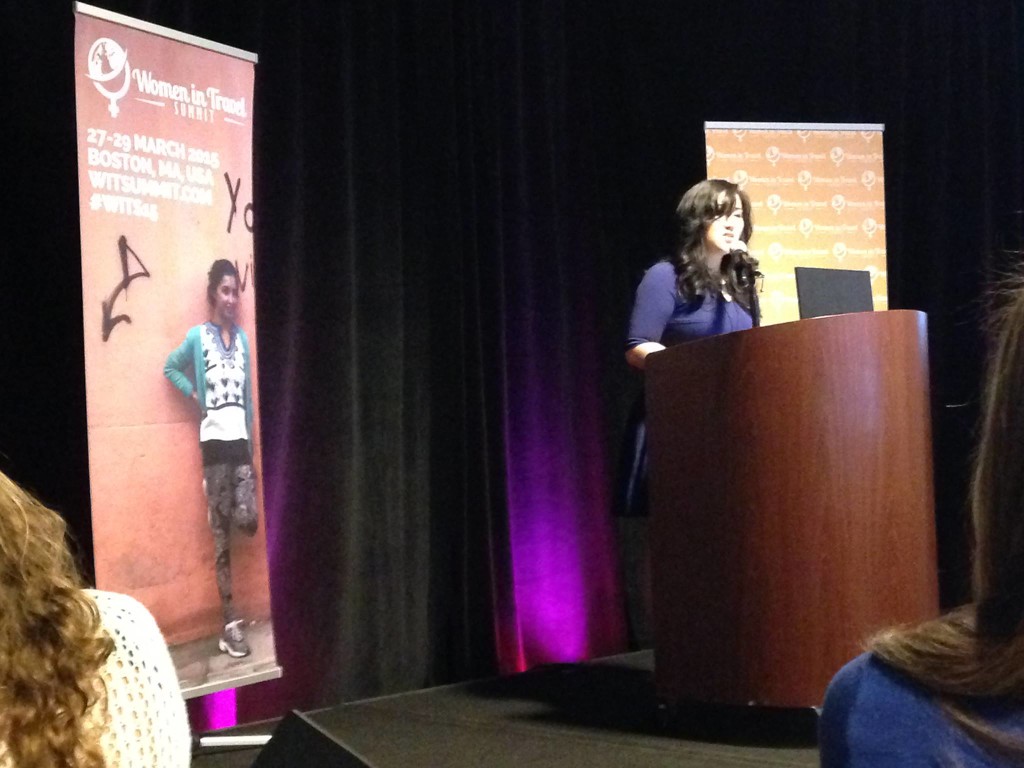 Dina Yuen is a respected author and businesswoman who takes many endeavors upon herself and accomplishes everything she sets her mind to do. Her triumphant mindset is firmly planted in the motto "Travel is Thy Medicine". She told of her initial struggles and how she went from losing it all to being at the top of her game in every business venture she creates. When she lost everything, she began to travel internationally and found herself helping more unfortunate souls. This meaningful life lesson fueled her desire to help others and that in turn helped her to heal. My takeaway from her talk was that we should not give up, but that we are able to accomplish anything and everything we set our minds to.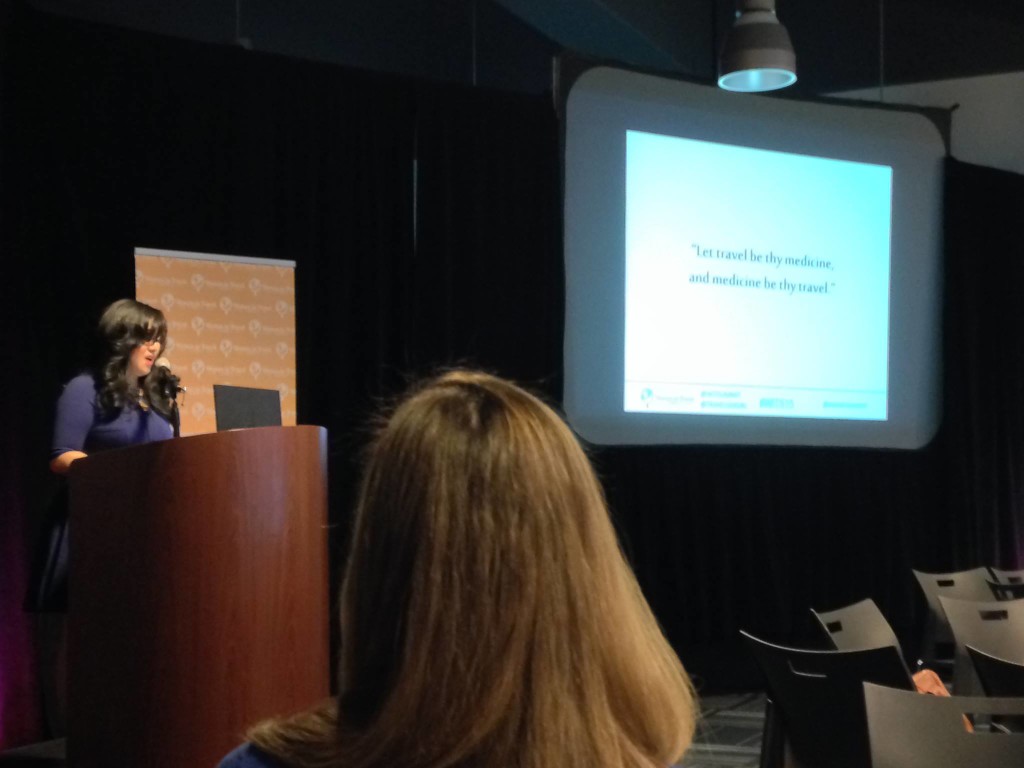 The first workshop I attended was in the blogger track. Kristin Winet held a creative writing workshop for travel bloggers where we shared useful tips with each other for more effective writing styles. I gained some insight as to what makes a story more captivating to its readers.
Presenter number two was Catrice Jackson. She is known as the "Boss Lady of Branding". Her goal is to help women discover their "soul brand". Ms. Jackson stressed the importance of knowing your "soul scent", that is what your convictions are and what you wish to convey to your audience with your brand. She inspired and motivated us! Unapologetic confidence is what she encourages us to exude to our clients and readers. This workshop was part of the entrepreneur track.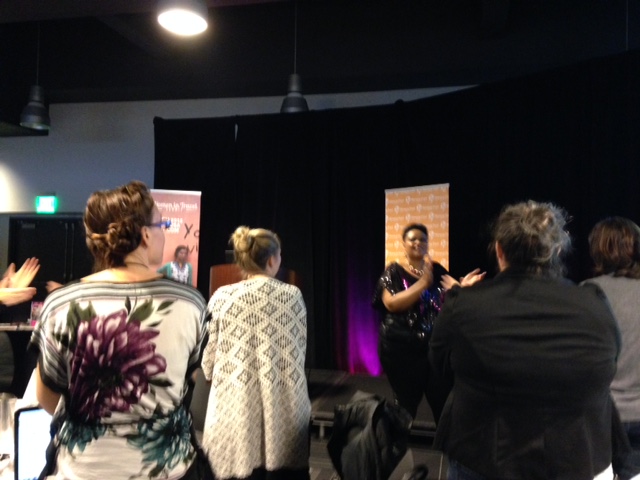 Break time gave us the opportunity to visit the various exhibitor tables in the hall. Lo and behold, I noticed a vendor with quite an interesting product. Squeezepod(Squeezepod) develops travel-size toiletries. What is unique about these products is that the 'pod' contains enough for one application. The small package only needs to be snapped off at the tip, then the product easily pours into your hand. No spill or mess. Perfect for flights, bus tours, or hotels. The product line includes moisturizer lotion, hair gel, shaving cream, and more.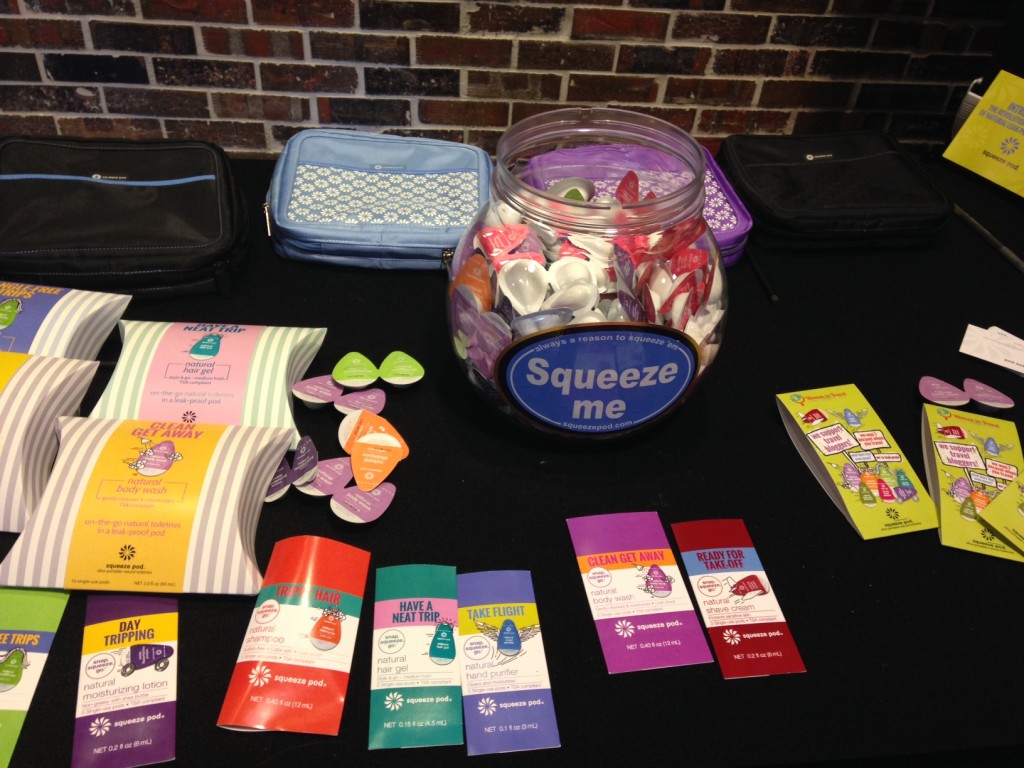 Attendees were given a compact zipped pouch with multiple samples of each toiletry item. Then I read the label on the pouch. Could it be?! Yes indeed! The label said "Vegan'! I was ecstatic to find this vegan 'treasure' for my upcoming travels!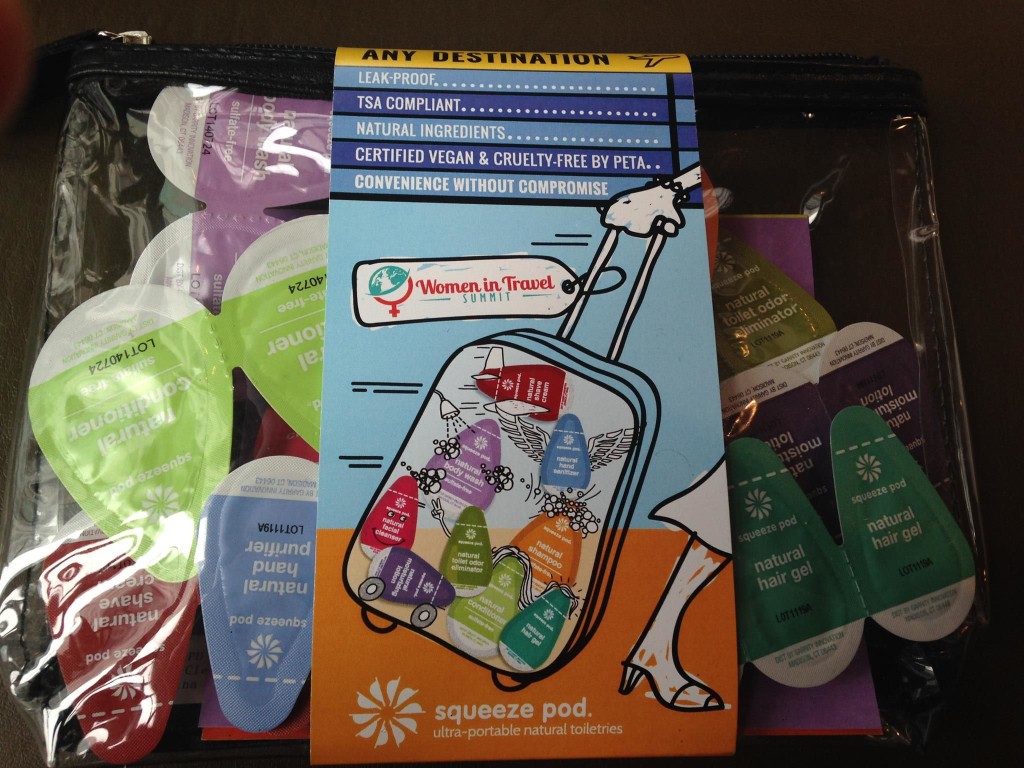 After perusing a few of the exhibitor tables, the lunch hour had arrived. As a well-traveled vegan, I knew to inquire about any vegan-friendly meal offerings asap. The dining staff manager told me that he will request his chef to prepare a vegan entree for me. As vegans, all we need to do is ASK, and meal options can most likely be offered to us almost anywhere we go.
In the meantime, the salad being served to attendees was perfectly vegan-friendly. The presentation was pretty, as the salad greens were rolled up into a dinner napkin shape. The greens and tomatoes were fresh and tasty. The dressing was a nice vinaigrette.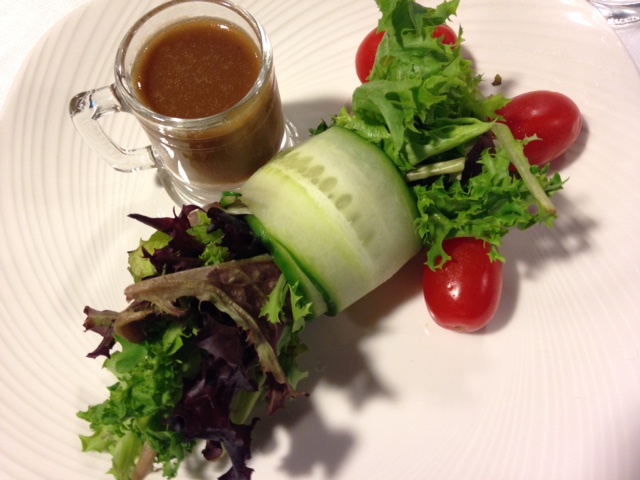 A wonderful platter of melons and berries also accompanied my plate.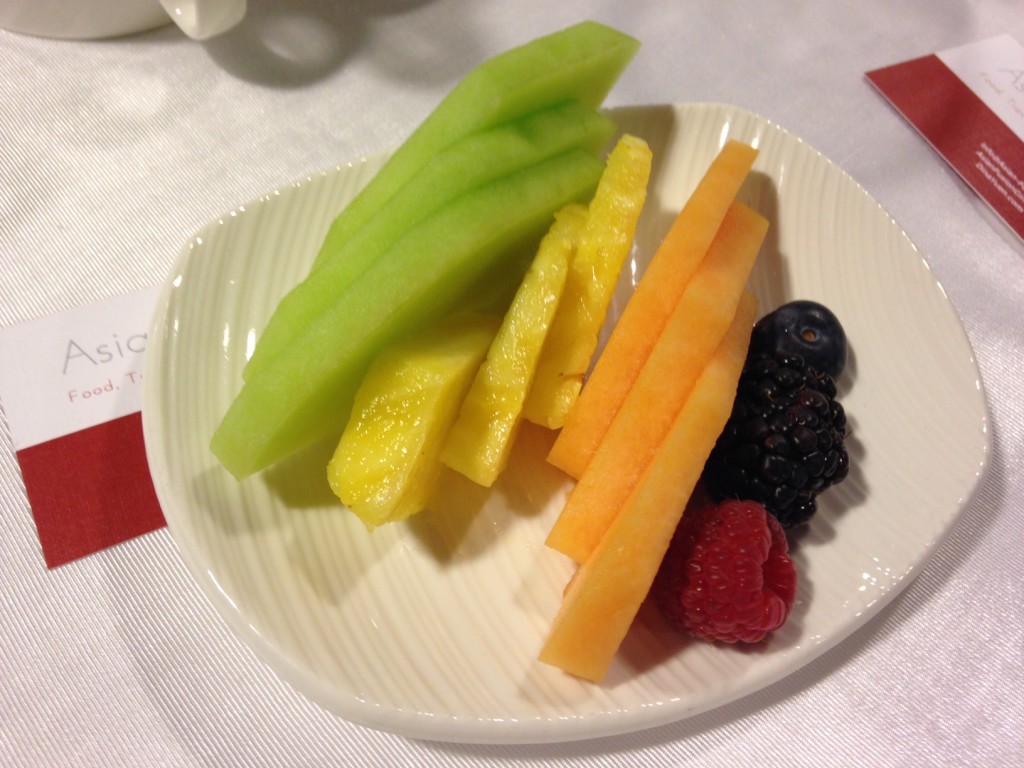 The vegan entree prepared for me was a plate of steamed veggies(okra, carrots, and squash), rice, and small potatoes with tomato. I was so happy to feast upon this delicious vegan meal!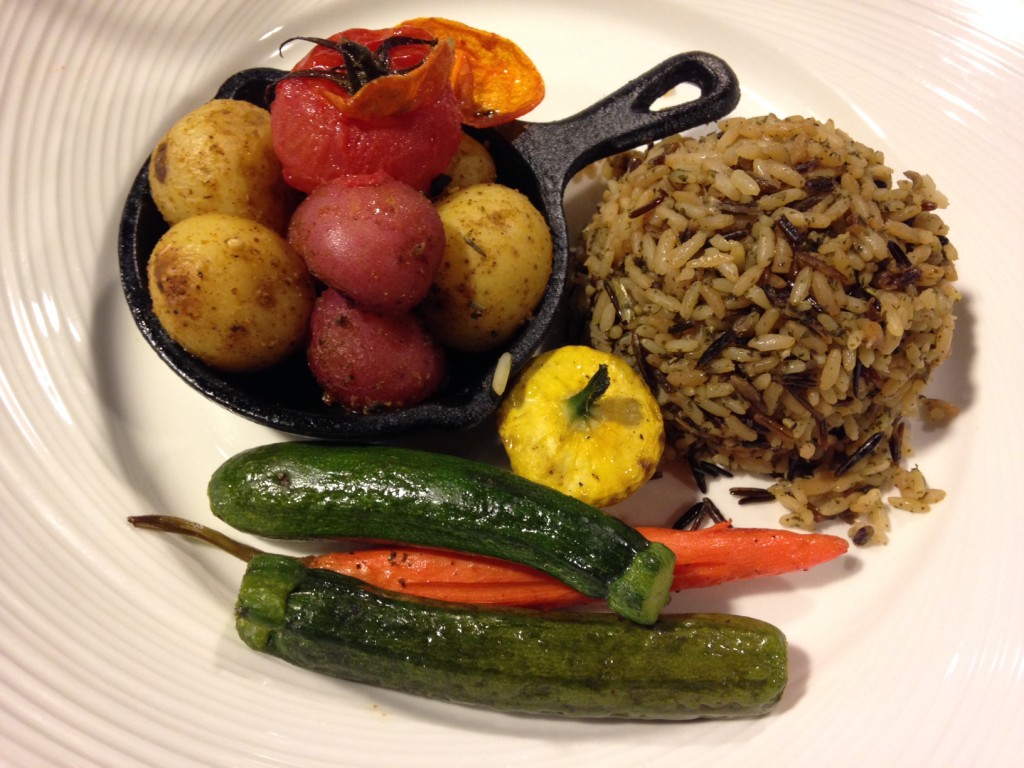 Much to my joyous surprise, even the chocolate layered cake topped with berries, was vegan!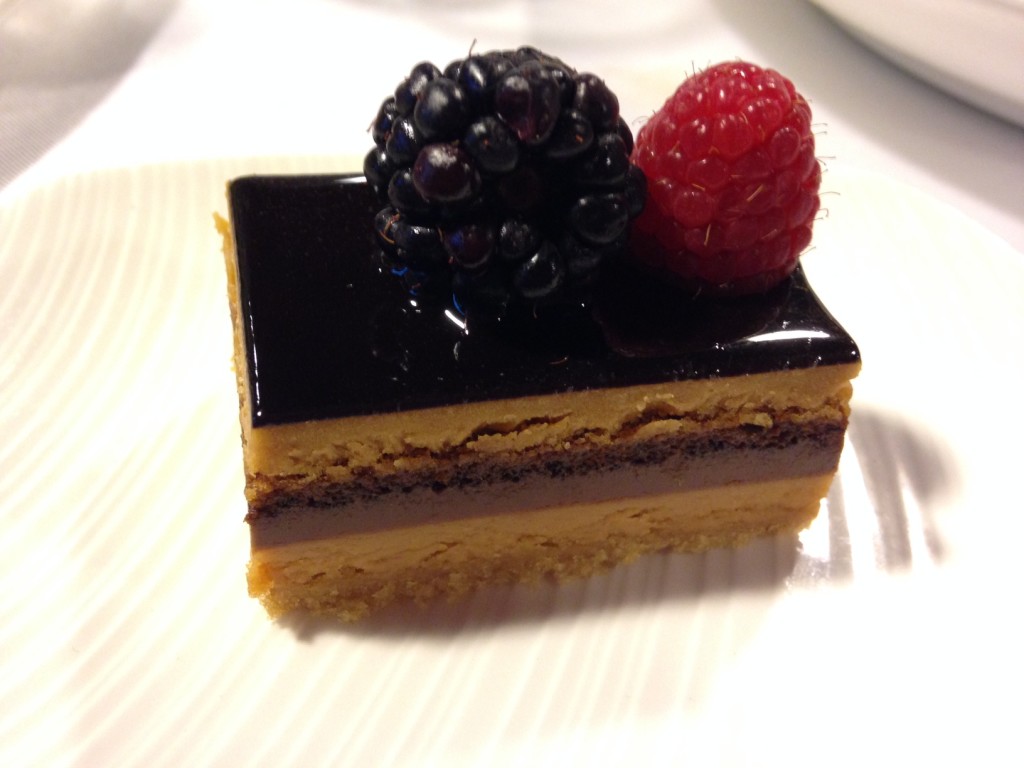 The first afternoon workshop I attended was a talk on search engine optimization, led by SEO guru Brooke Roberts. I am excited to put into practice all the important strategies that I learned at this extremely educational and informative lecture.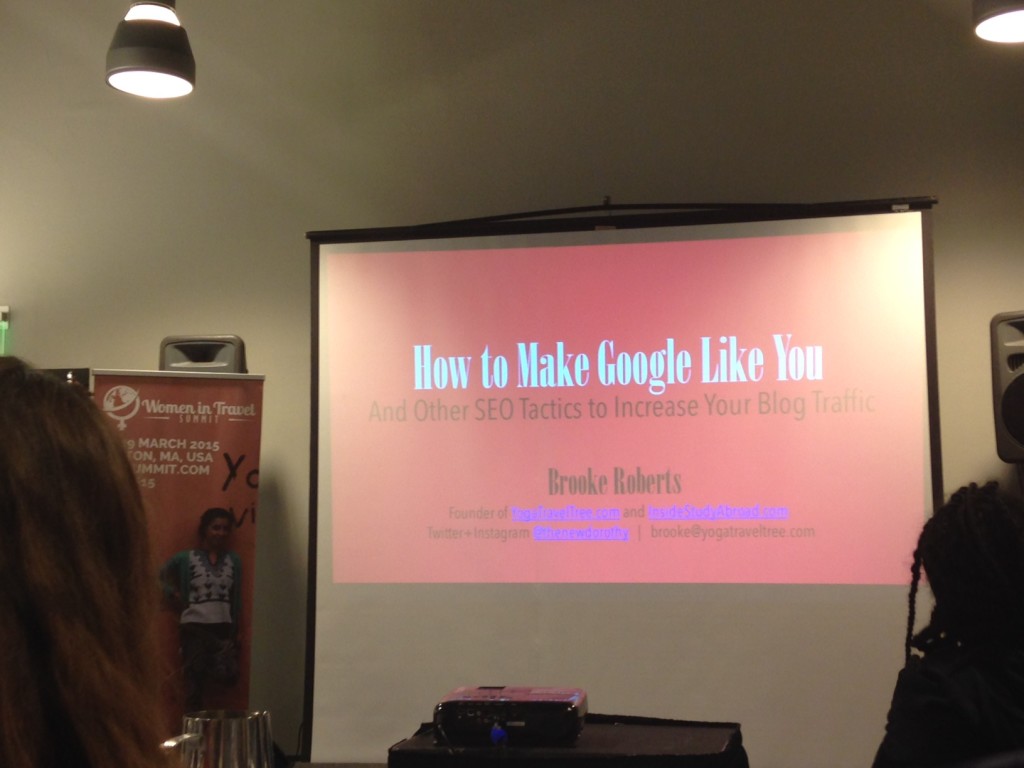 The final workshop of the day was on the topic of press trips. A panel of a well-established travel writers told of their experiences and adventures while on press trips sponsored by various tourism boards and visitor bureaus.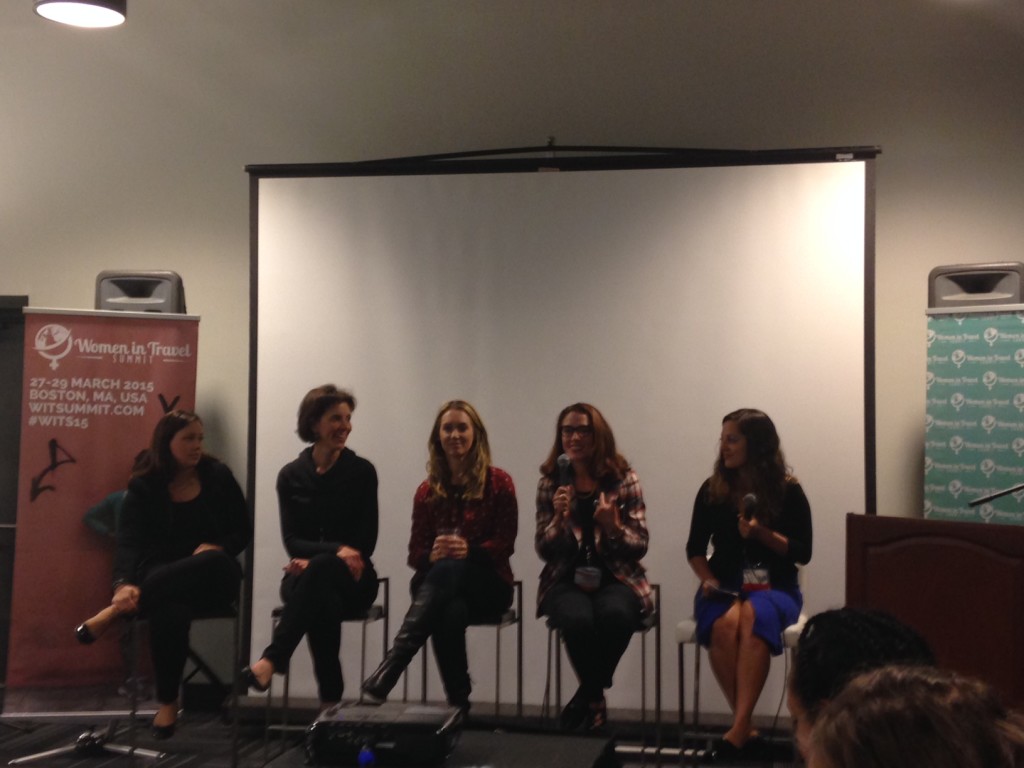 Day two of the travel summit opened with a keynote talk by the founder of the event, Beth Santos of Go Girls Travel Network. She encouraged women to travel and to write and to join travel organizations(such as Go Girls) to network with each other.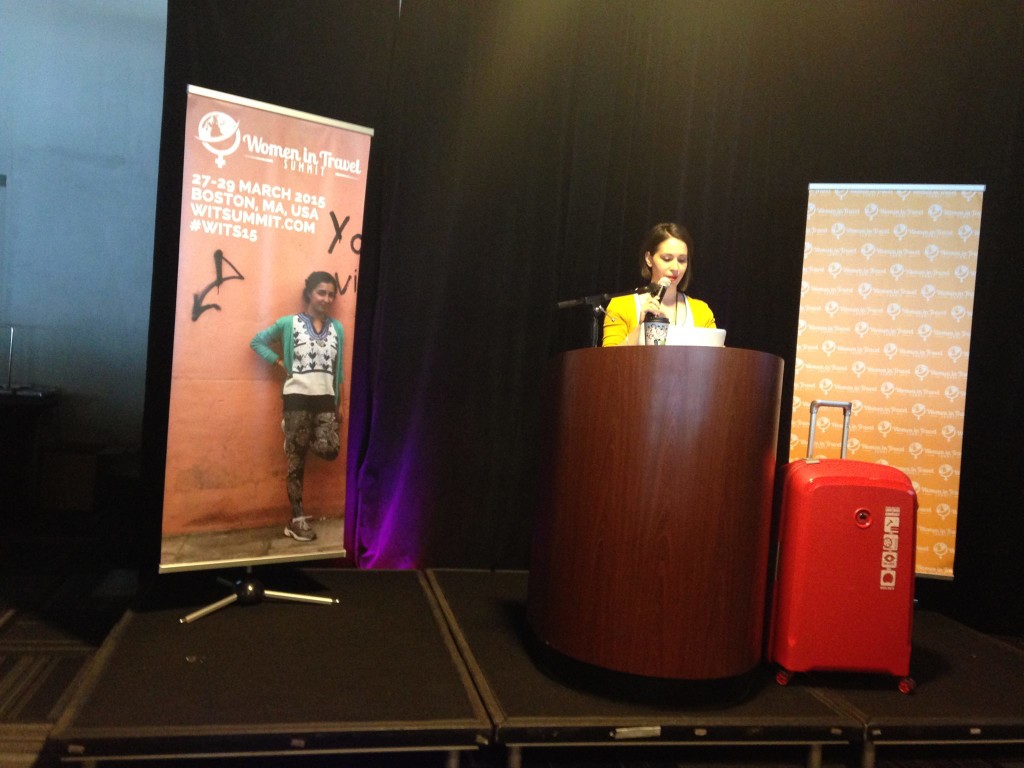 Beth also made an announcement to launch "Sheswanderful", the new name of the former "Go Girls". Great travel-related item perks are given to those who join the yearly membership.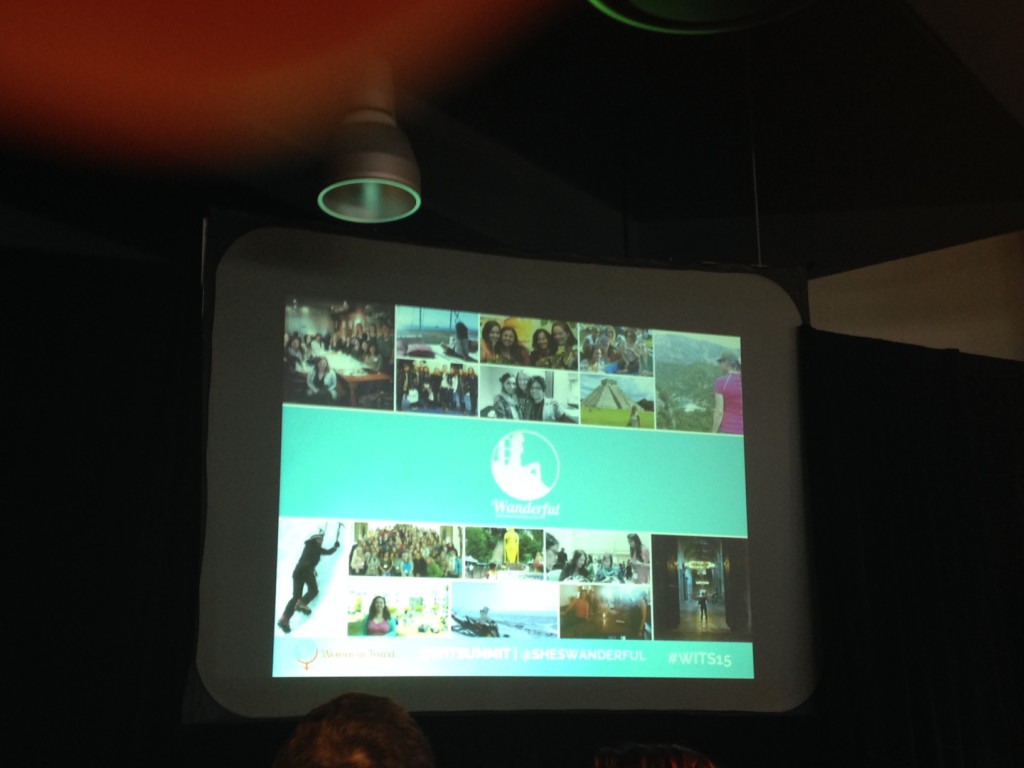 A representative from "Unearth The World" took the stage. Kathryn Pisco the founder shared with the audience, her company mission to match travelers with unique volunteer opportunities in various countries. Her mission was to create a company where clients would not need to pay any high fees just to participate in a volunteer project. The cost of her volunteer vacations is minimal. Volunteer costs include accommodations at local homestays, basic guesthouses, or tents. Vegans may delight in the Nicaragua opportunity to spend time on a farm project harvesting coffee or bananas. This farm uses permaculture design to sustain the ecological systems.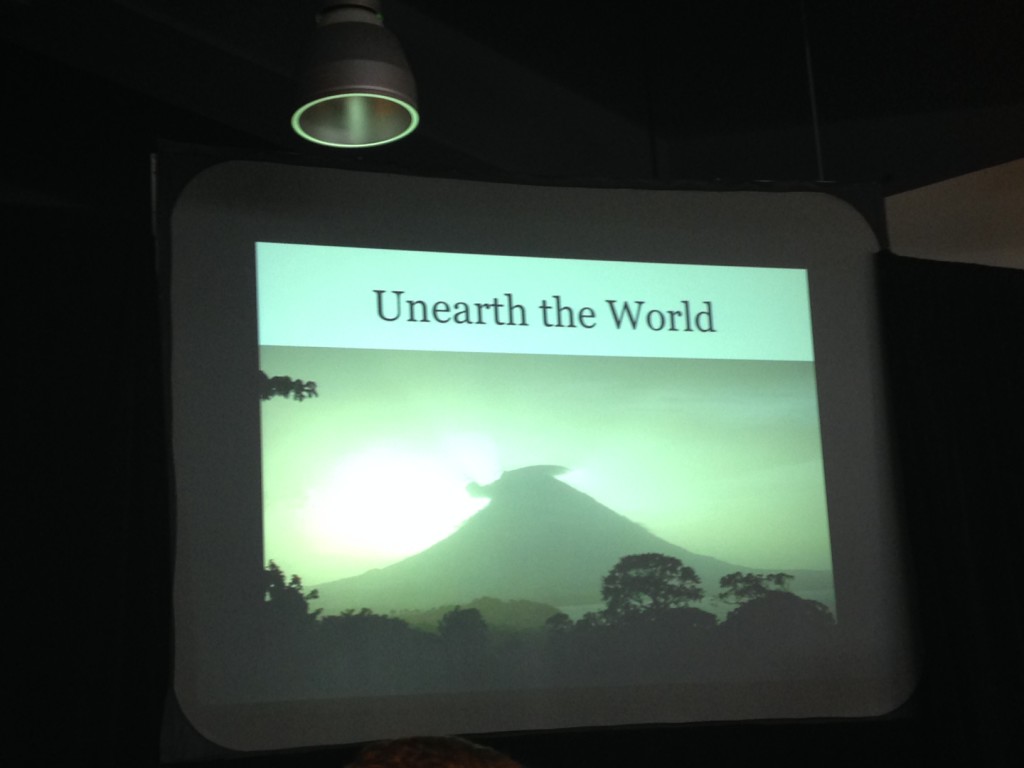 The first workshop on Sunday was by Melissa Hogan, on the topic of making wordpress sites run smoothly. Another super-informative and valuable lesson for me and for all of the travel writers in attendance.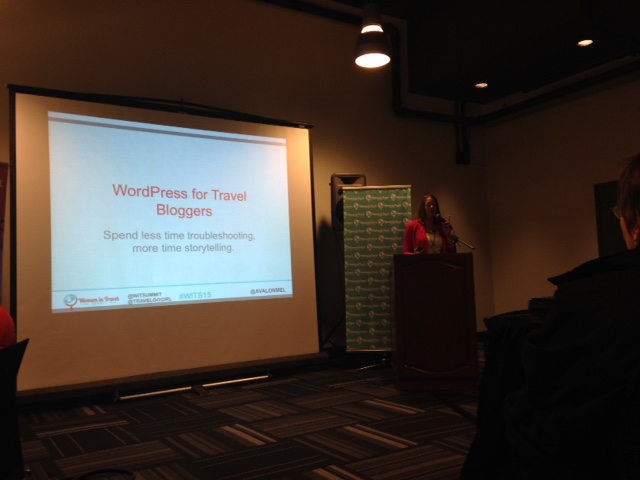 During break time, there were plenty of exhibitors to see. I stopped by Delsey. They manufacture some pretty cool luggage. Many pieces are vegan-friendly, non-leather materials!
A larger suitcase has a TSA lock built into the front.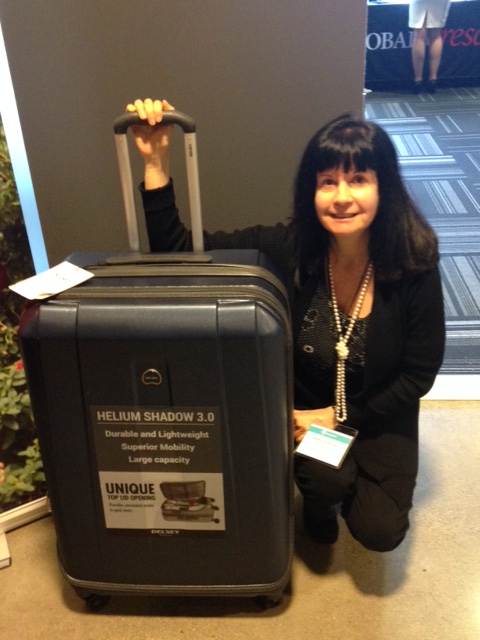 A stylish red piece is incredibly lightweight with spinner wheels, yet packs many items into its deep interior. Both the exterior and interior are fabric materials.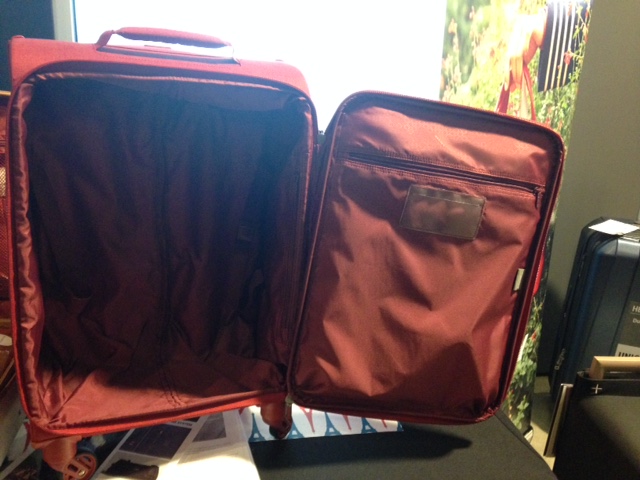 The next talk I attended, presented by Jess Ainlay, was on the topic of online protection. Attendees were well-informed about copyrights, trademarks, and what to do in case of infringement issues.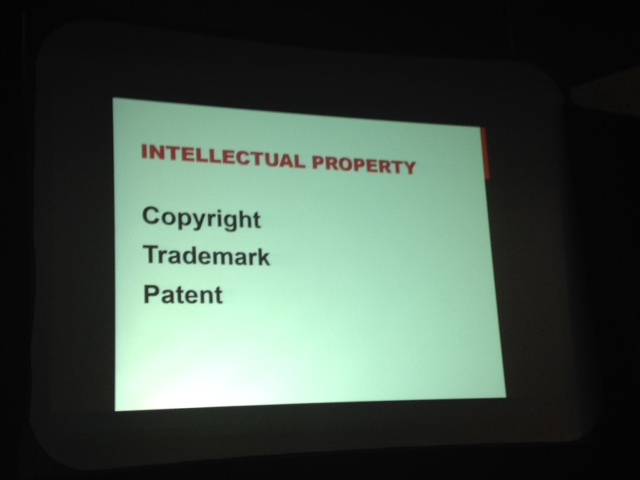 Theresa Christine spoke on the topic of content that travel writers can create, during the times when they are not traveling. She shared some very useful tips to keep readers engaged and interested.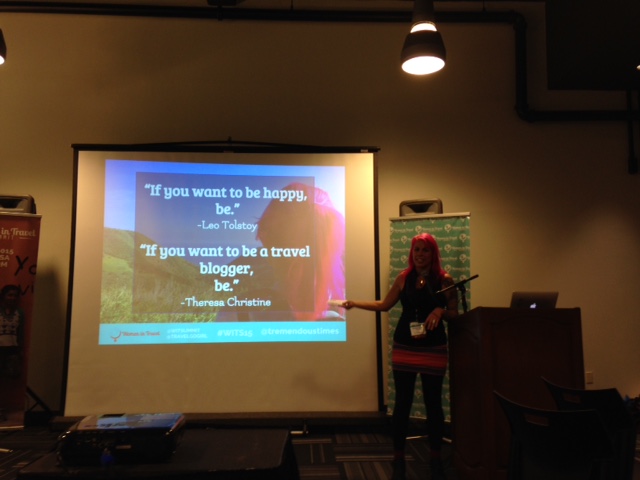 We were given an additional break, when we could meet with exhibitors or do some networking. I stopped by the WHOA travel travel. This vendor offers adventure travel. Whether your idea of travel is kayaking and ziplining or something a little less daring such as hiking, they've got it! Excitement, culture, and natural landscape beauty is what their trips have to offer! Their Costa Rica adventure offers an opportunity to experience some precious animals. Us vegans truly appreciate nature and wildlife, thus making this type of touring ideal for us!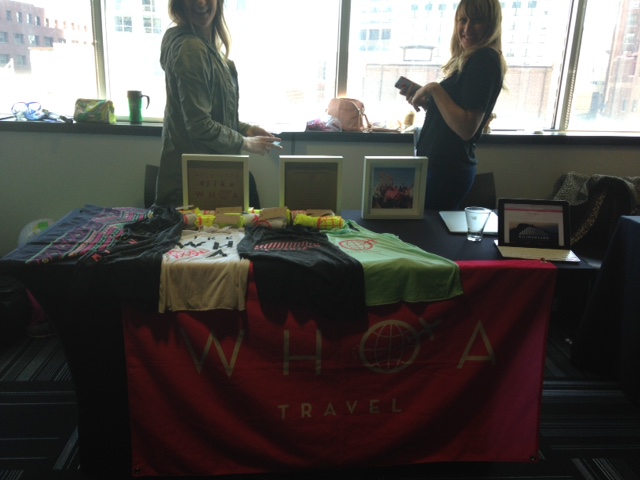 The travel summit weekend was wrapping up, but not before the final keynote speaker took the stage. Kate McCulley who quit her job five years ago to become a full-time professional traveler and blogger, gave a presentation on gender inequality among travel writers. She left us with a hopeful message that women can continue to produce great writing content, band together for support, and eventually gain the recognition that we collectively and individually deserve. She went on to mention quite a few female travel writers who produce great reads, photography, and adventurous travel experiences. The future is bright!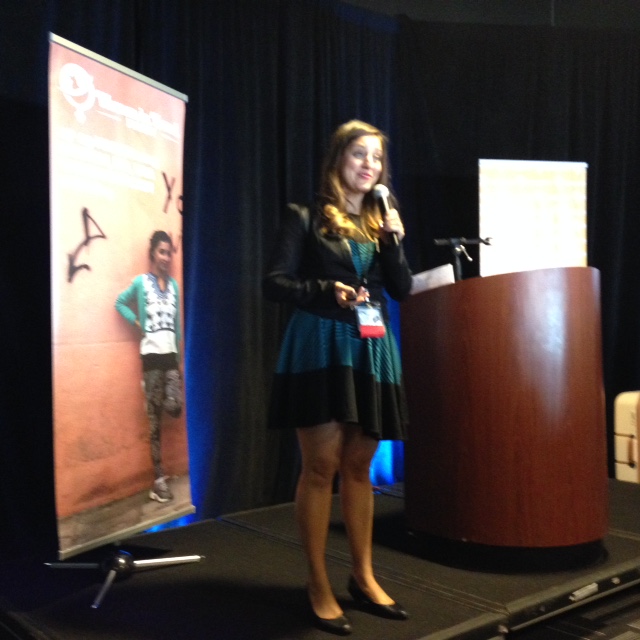 The event ended with a contest giveaway of three Delsey pieces of luggage to the lucky winners.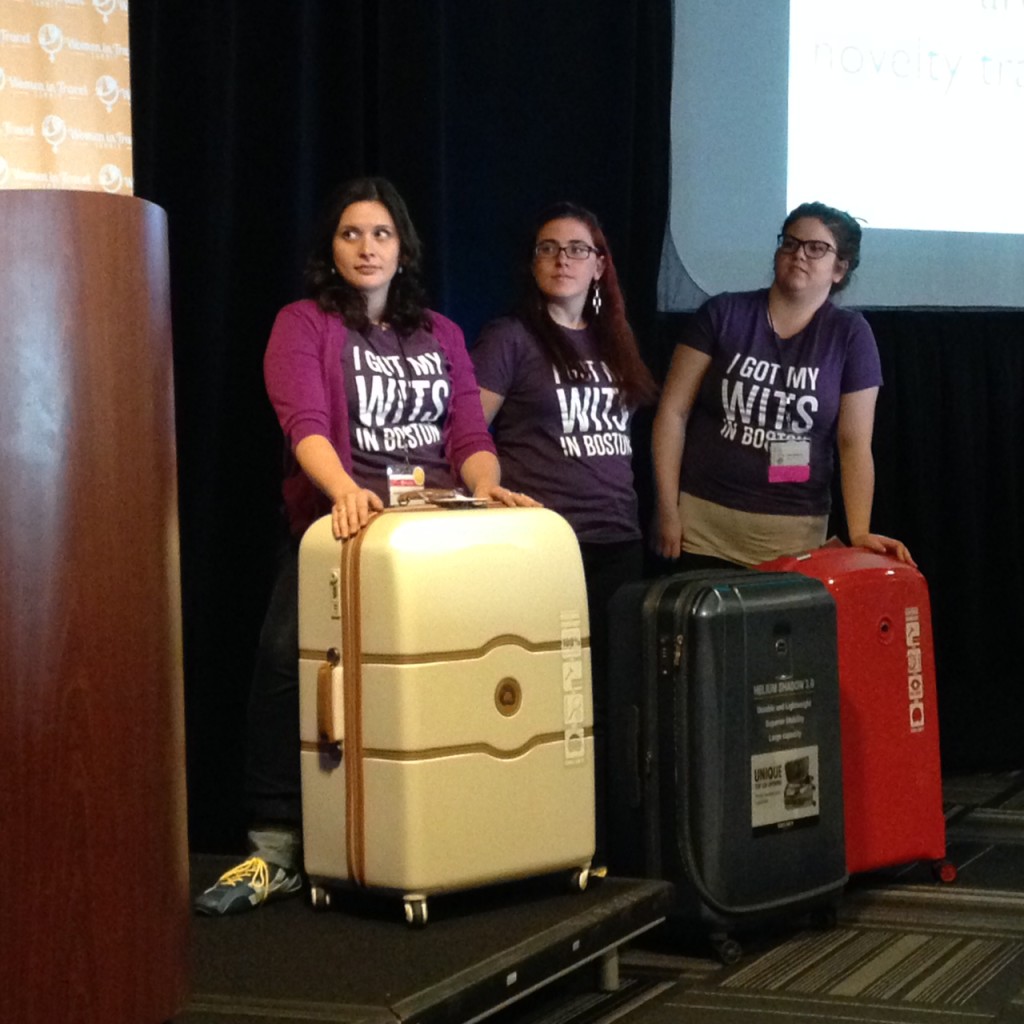 As the three female attendees gathered together for a group photo, we all took stock in this inspirational weekend in which we had participated. I am truly appreciative of the amazing weekend that I experienced at the Women in Travel Summit! The incredible learning experiences, the wonderful networking with other travel-enthusiast women, the awesome travel products exhibited, the magnificent volunteer travel opportunities presented, and the delicious vegan food offered, I will remember positively for a long time to come!