My final morning in beautiful Denmark had arrived. Two thoughts were on my mind when I awoke: 1. An amazing vegan breakfast and 2. the interesting sights along the way to the metro.
A few, additional vegan spots were unable to fit into my itinerary during my four day trip. Apparently there is a vegan bakery in Copenhagen that offers Danish pastries. It is called "Natural Bakery"(Frederiksborggade 29) near the Central Train Station. Though the website appeared to be down, the bakery itself may sill be open.
Copenhagen also is home to a few health food shops that sell soy ice cream, vegan cheese, and vegan chocolates. One such shop is "Natur and Sundhed Helsekost" (Norrebrogade 57, 2200 N, Norrebro ). During summer months, IsoBar(Havnegade 51 (at Nyhavn) offers vegan sorbet in their ice cream shop. "Eco Ego" (Eco Ego) is a green boutique that sells clothing and accessories.
My bags were packed and ready to check out of the hostel. As I started walking to the restaurant for breakfast/brunch, my eyes gazed upon the intricately carved war monument in the town square.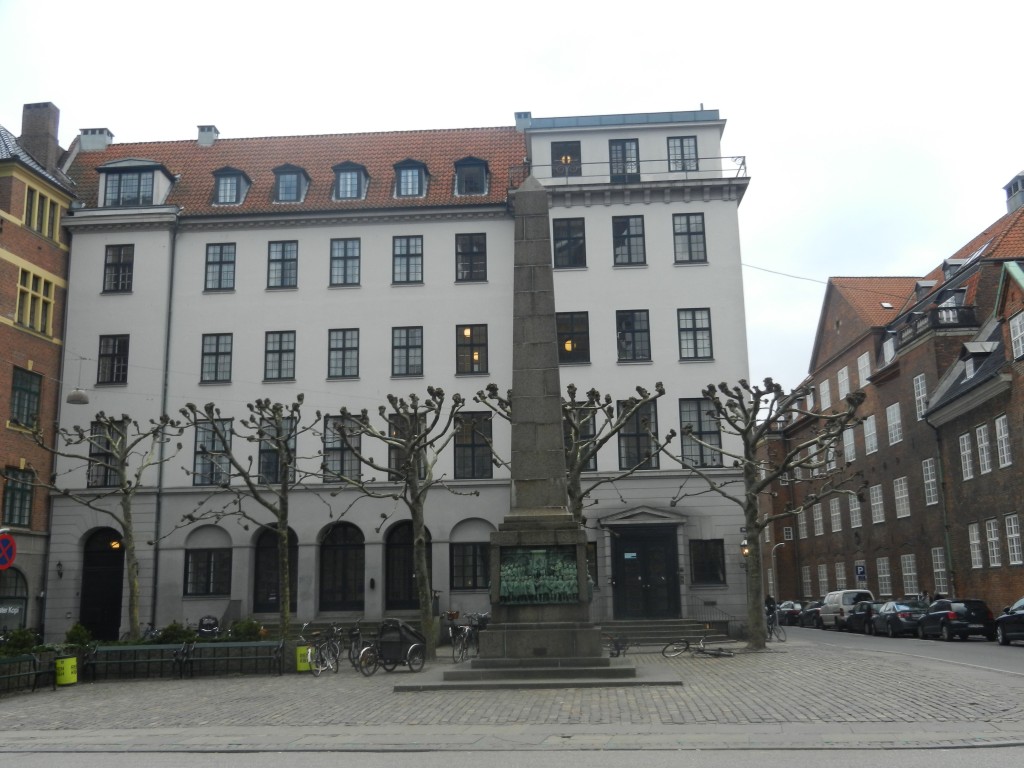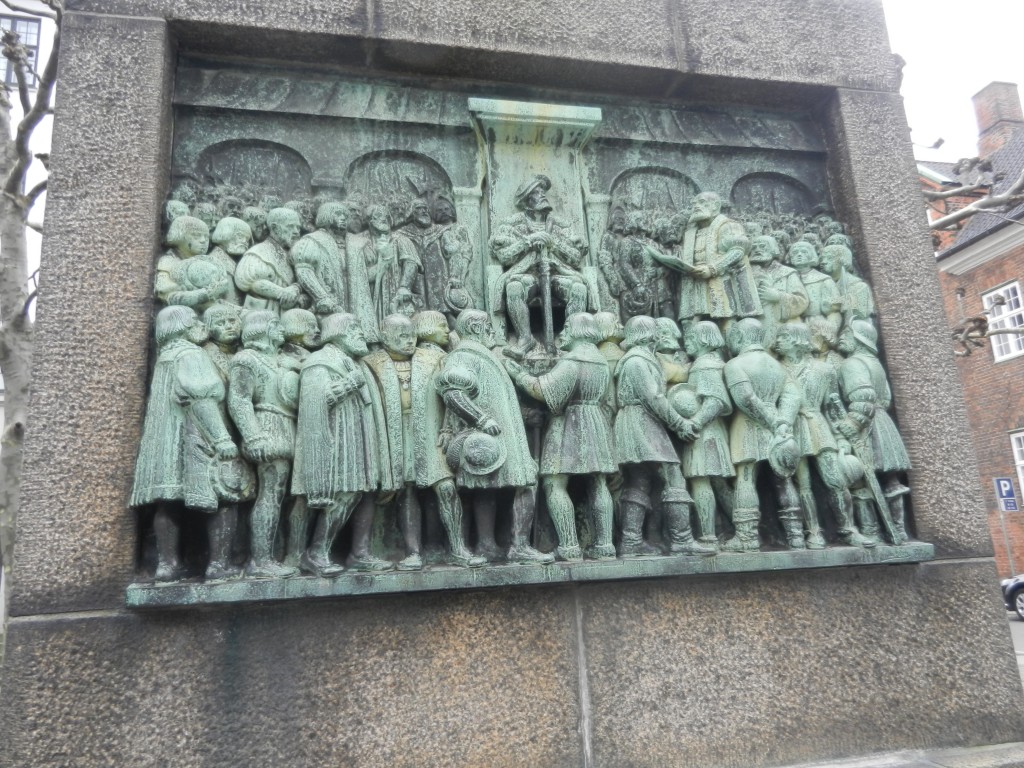 As I walked further towards the metro, the beautifully colored buildings made a lasting impression on me.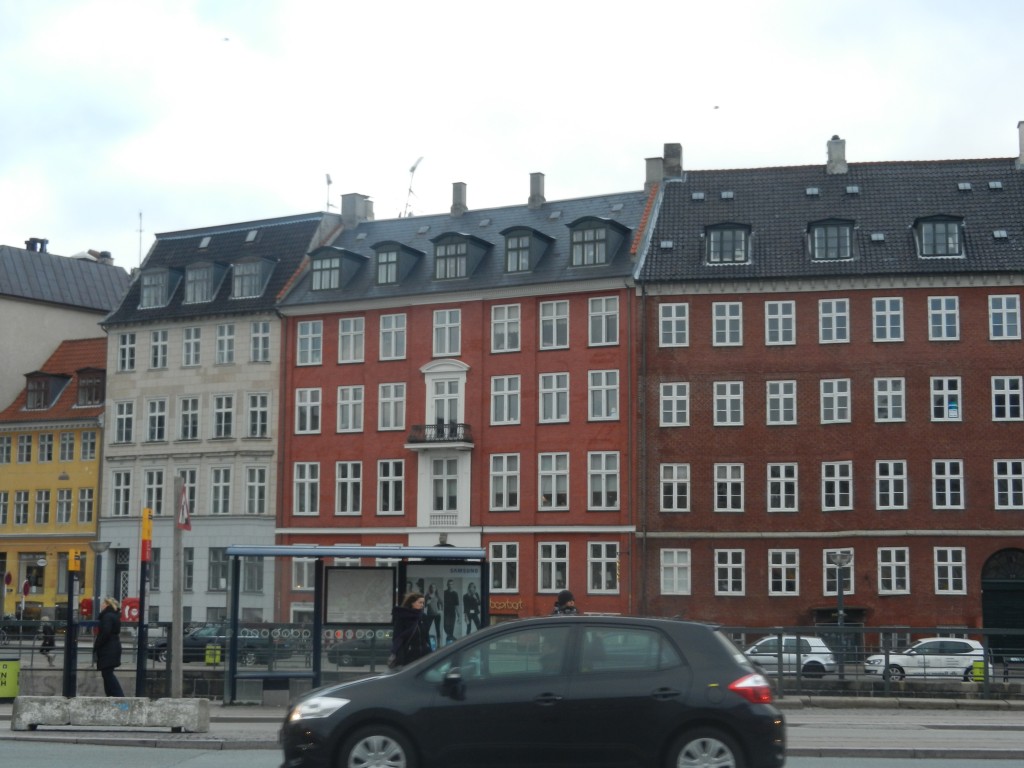 For breakfast/brunch, I decided upon Kalaset(Kalaset ). The locals refer to this restaurant as the BEST brunch in all of Copenhagen! My reason for dining there was the fact that they are known for offering a superb vegan breakfast!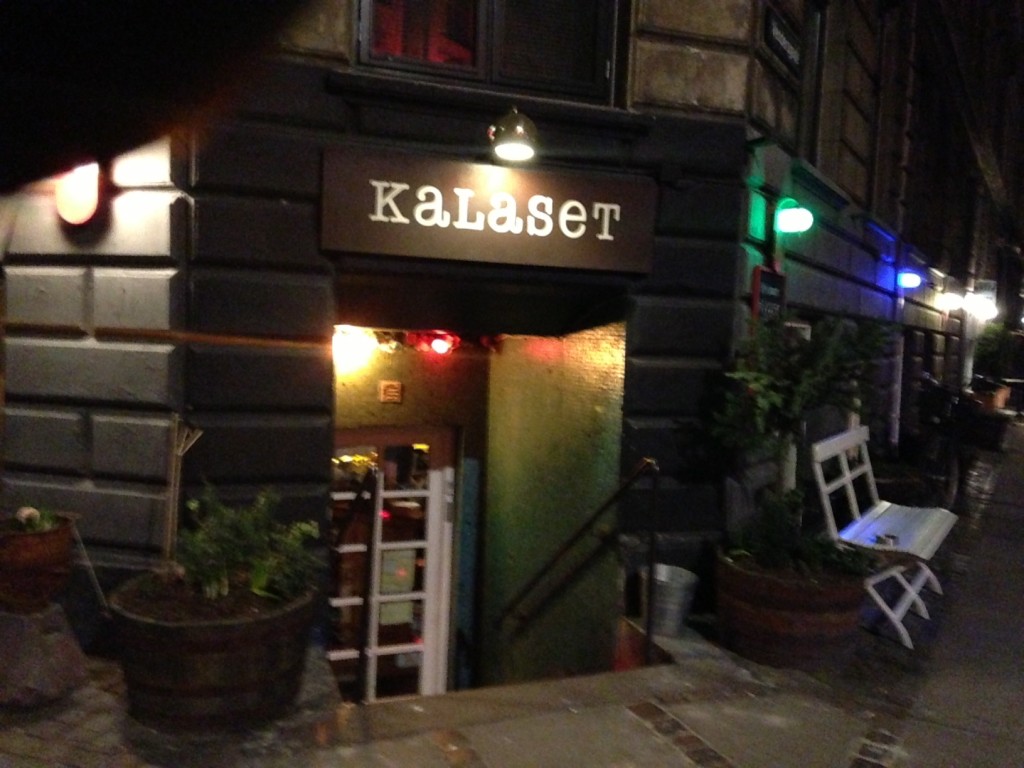 My vegan breakfast plate consisted of homemade vegan "nutella" on toast with fruit jams, potatoes, hummus, olive tapenade, stewed tomatoes, falafel, fruit vegan yogurt with granola, and salad. It was absolutely delicious! I HIGHLY recommend this restaurant to any vegan travelers!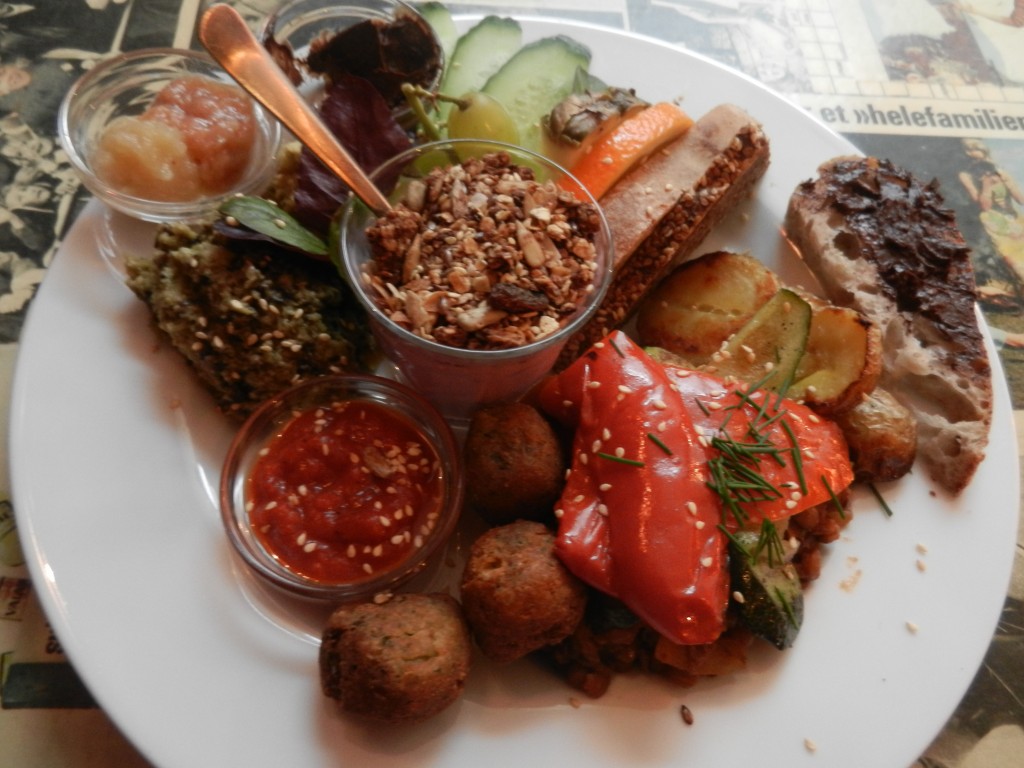 After breakfast, it was time for a quick jaunt to the metro subway for my ride back to the airport. Before my flight arrived, I had to find a vegan-friendly restaurant at the airport for my lunch. Fortunately, an Asian restaurant named "Yam Yam" offered a steamed veggie and tofu dish without any fish sauce. The meal came with rice and a plate of steamed veggies(greens, corn, onions, carrots, squash) and tofu. The hot meal was tasty, filling, and perfect for a winter day!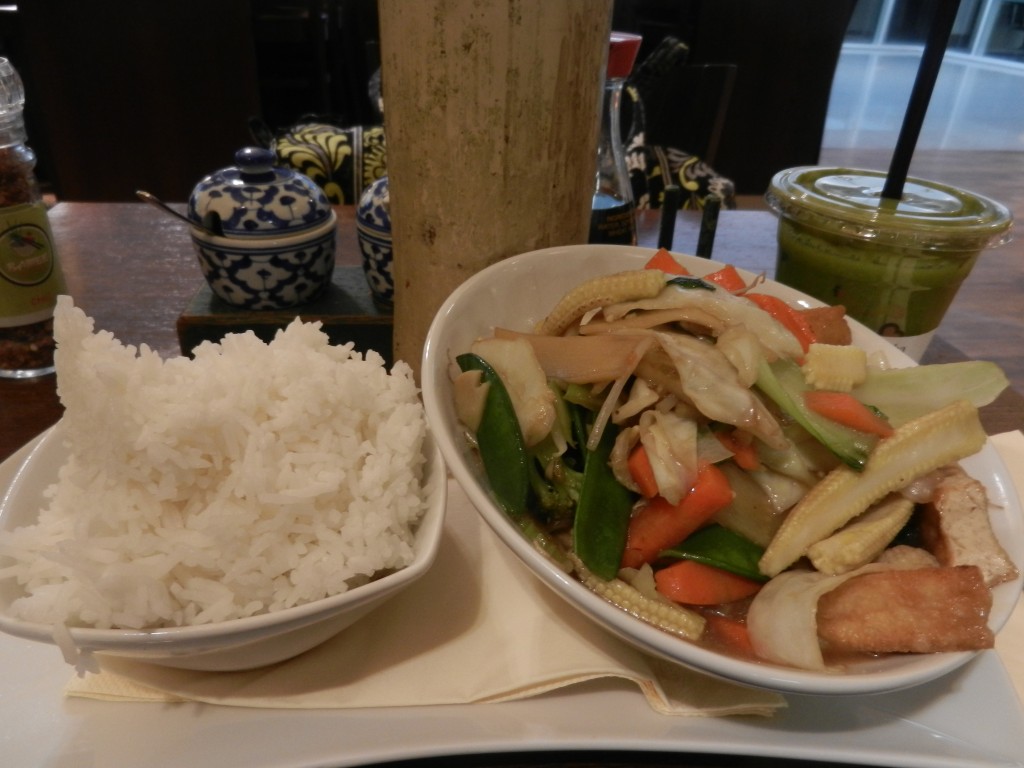 My Lufthansa airline flight offered a VGML vegan dinner meal. It was a flavorful potatoes and vegetable entree with crumbled tofu and tomato sauce. A wonderful vegan spread was the perfect condiment to the vegan bread roll. A small salad with vegan dressing and mixed fruit accompanied the main course.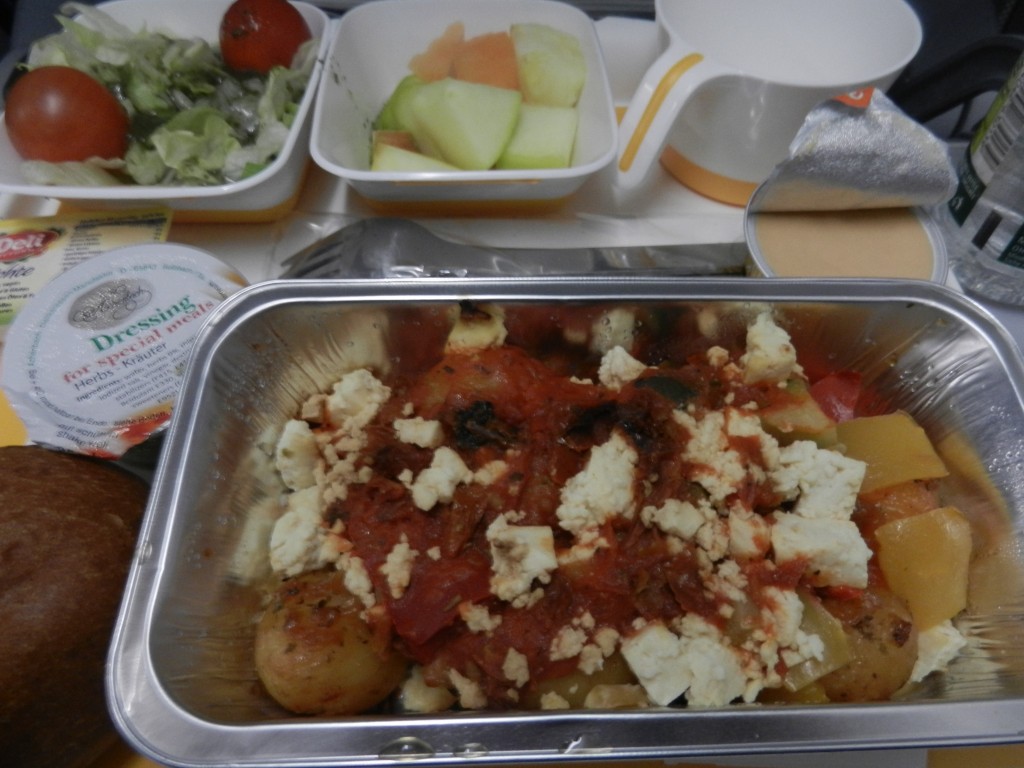 Lufthansa offered a vegan breakfast item also. My meal was the VGML vegan breakfast sandwich, with a date bar as a snack. It was really good!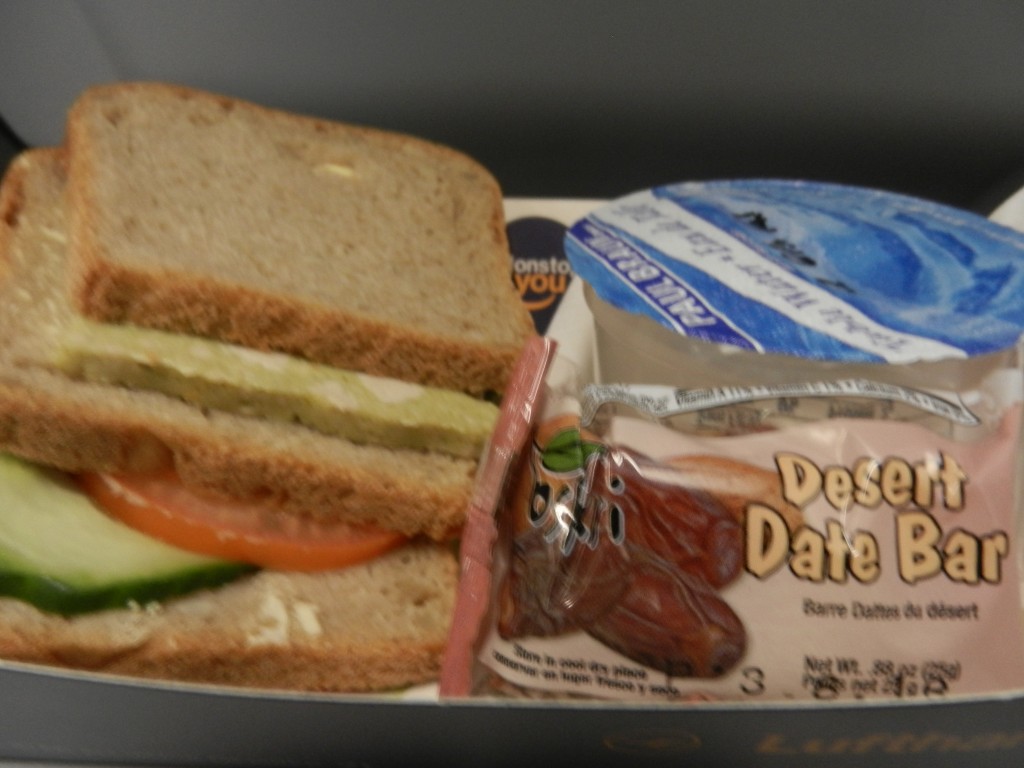 My vacation had now come to an end. I arrived back home in the USA with wonderful memories of Denmark's palaces, castles, colorful waterfront architecture, H.C. Andersen fairytale landmarks, and yummy vegan meals!
Tweet This Post