Day#7 of my Turkey vacation was the only "Free Day" of my trip. Fortunately, guests can experience many amenities at my hotel in Pamukkale!
I started my day with a nice breakfast in the hotel dining room. A large simit(gotta LOVE those!) with strawberry jam, a plum, and dates comprised the sweet portion of my meal, while green and purple olives, sliced tomatoes, and cucumbers provided savory goodness!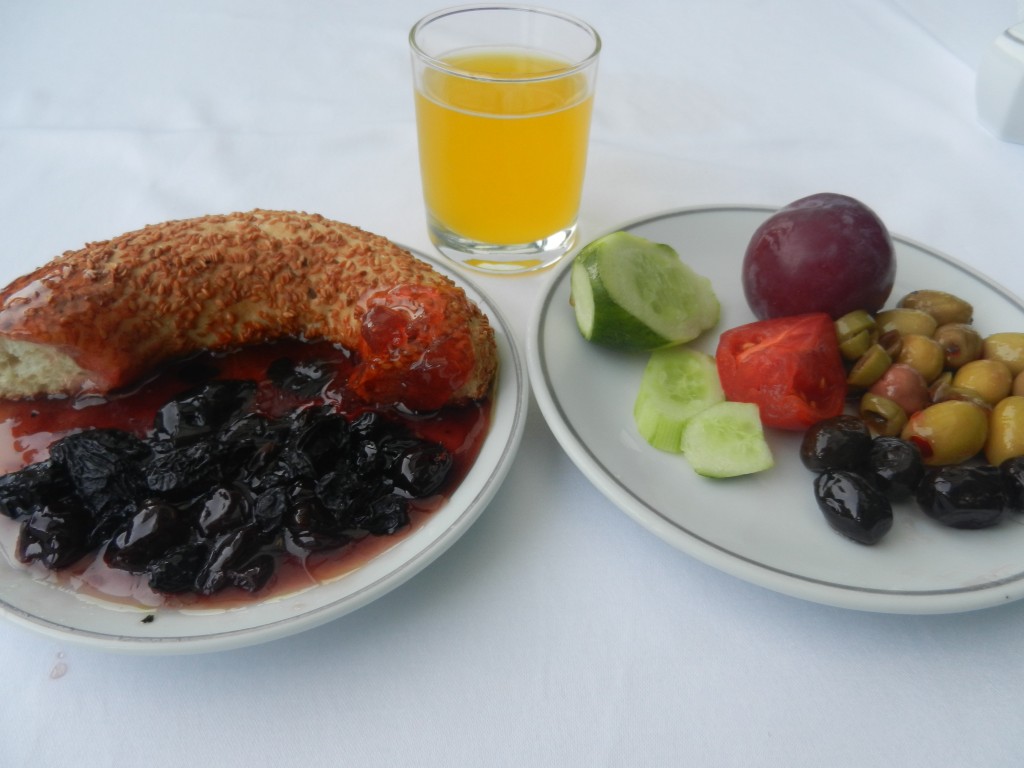 I decided to go for a walk in the hotel's garden and pool area outside. My enjoyable morning relaxation began with swinging back and forth on a hammock within the beautiful, tree-lined garden. This was such a tranquil and lovely experience! Turkish pop music was being played on the poolside radio.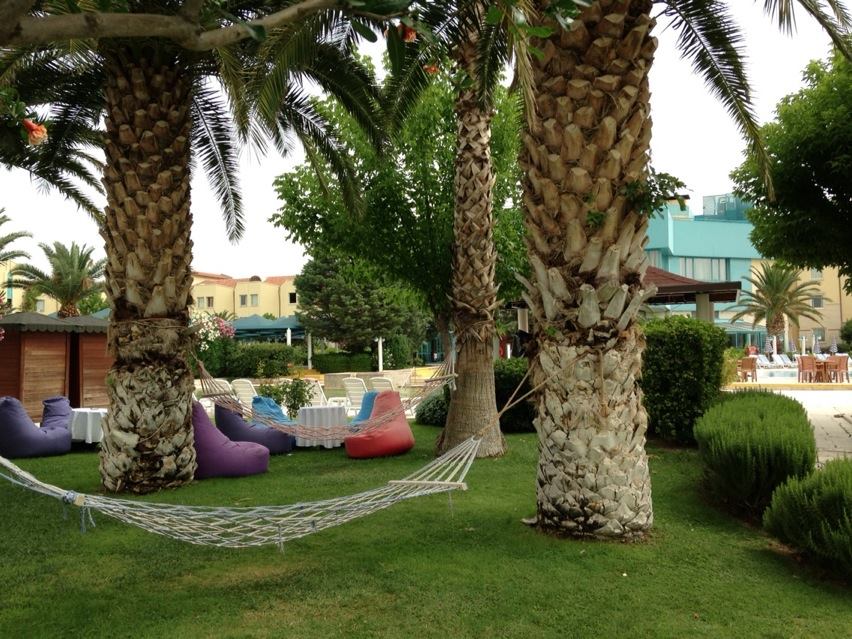 Palm trees, various shrubs and some flowers graced the gorgeous area behind the hotel. I even saw different types of birds flying above in the skies and landing on the lamp posts beside me.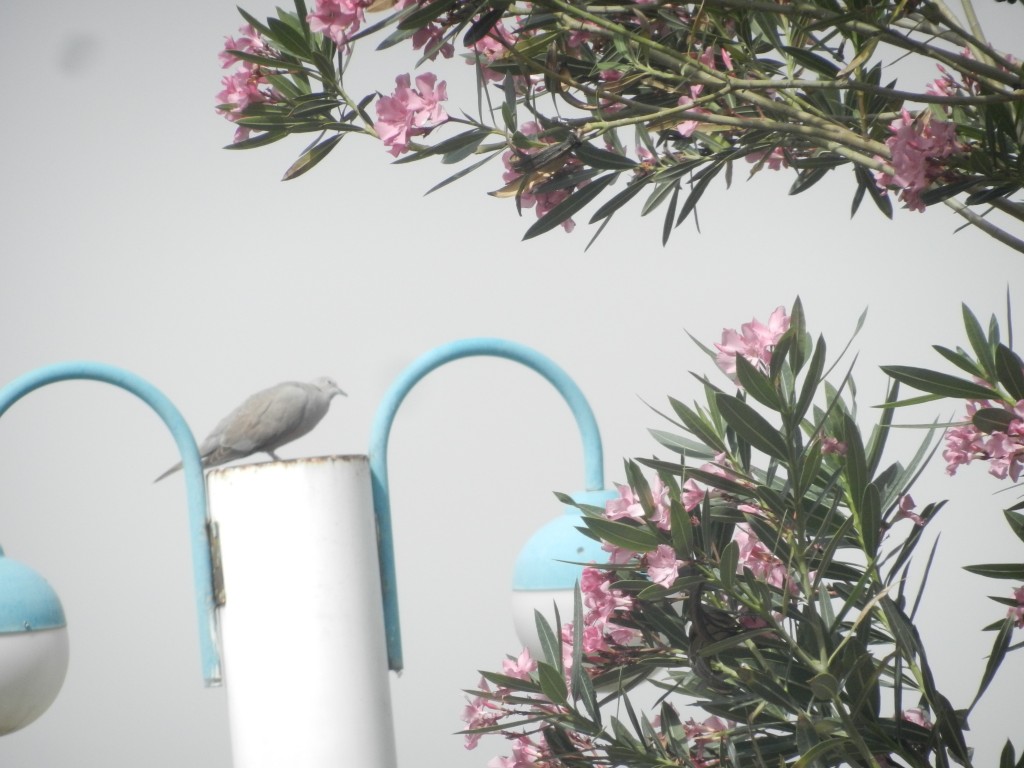 Adjacent to the hammock area, a large pool and a smaller thermal pool are found. I dipped my legs into the healing, warm waters of the thermal pool. What a soothing and calming environment!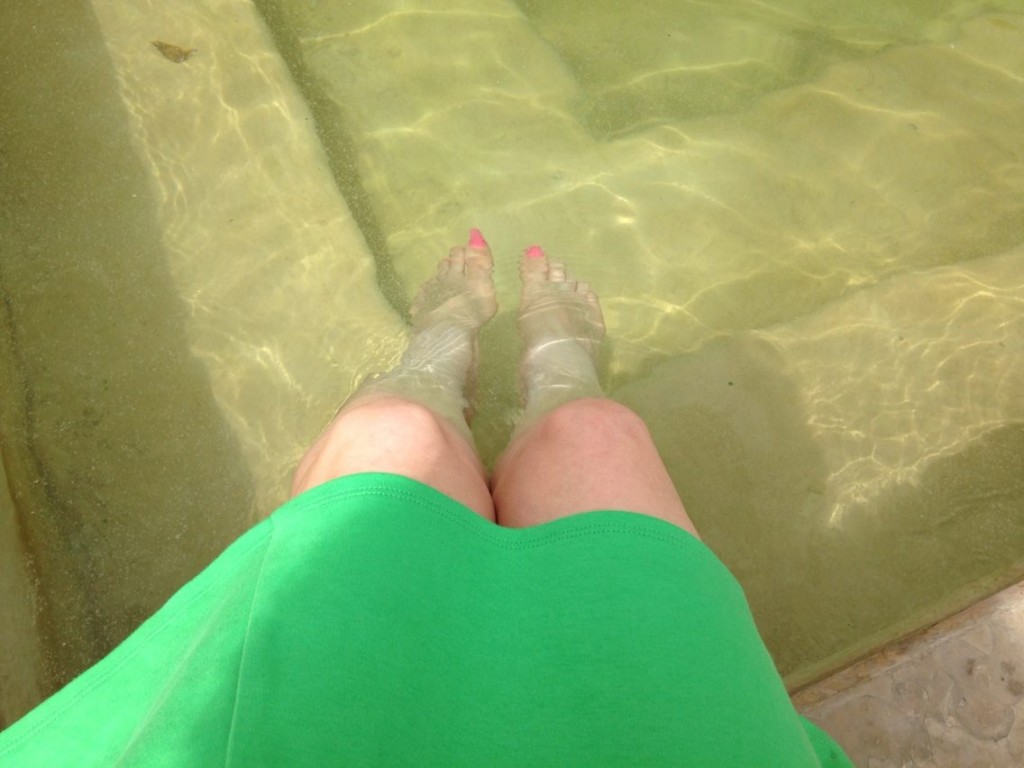 Next on my day's agenda was a visit to the hotel's spa. In Pamukkale, spas offer a clay mask treatment using the clay from the bottom of the wonderful thermal pools in the region. That is what I just had to experience for myself! It was quite soothing and my face glowed afterwards with clean pores! The esthetician even gave me several packets of clay mask treatments to take home with me.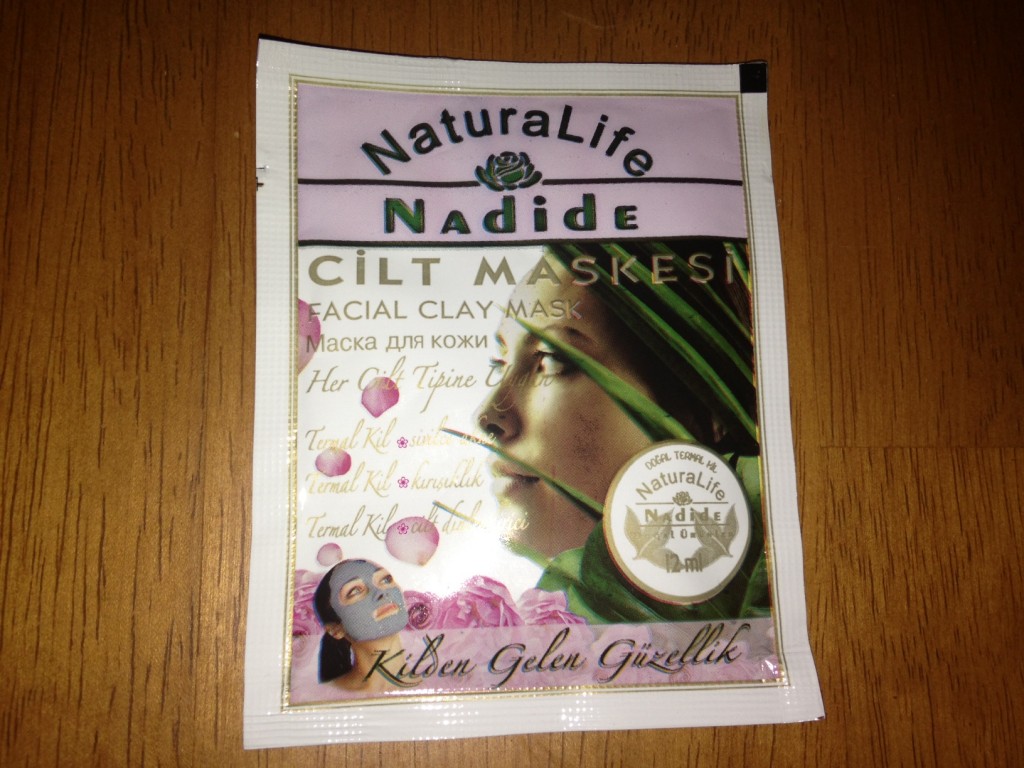 My lunch options in the hotel were somewhat limited. However, I was able to have 'apple' potato large slices fried in veggie oil. They were not greasy and were indeed tasty. For a side dish, a nice salad filled my tummy. The food was fresh and well-prepared.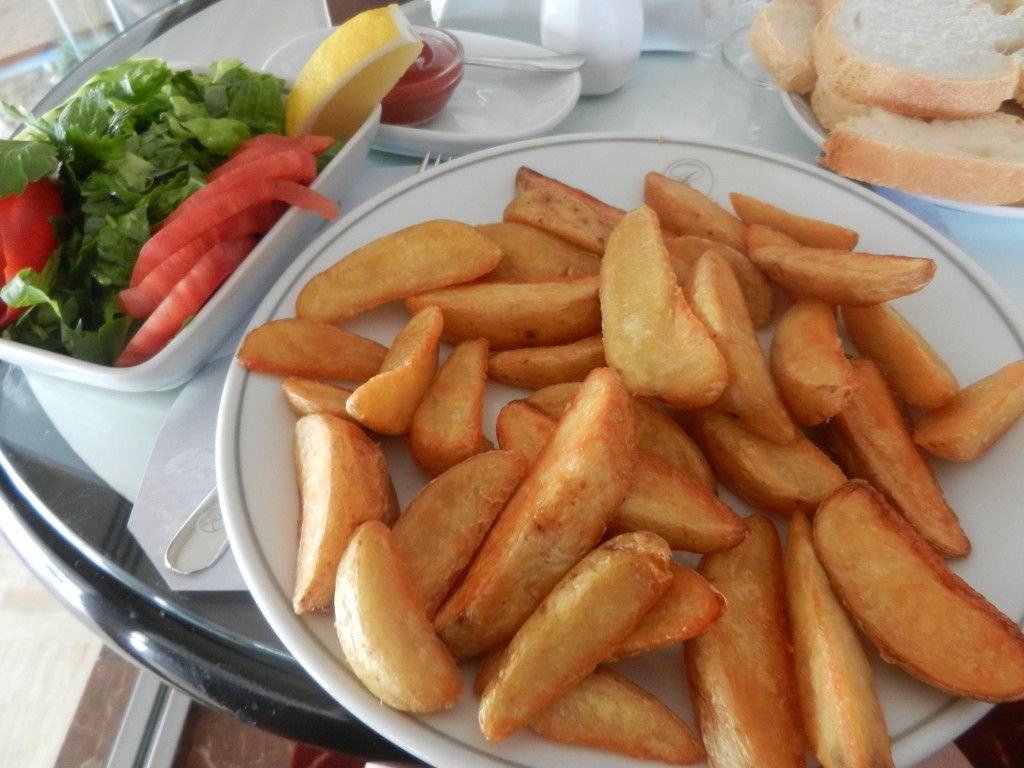 My dessert was a plate of mixed fruit: watermelon, plum, sliced bananas, and cherries. This was a great treat!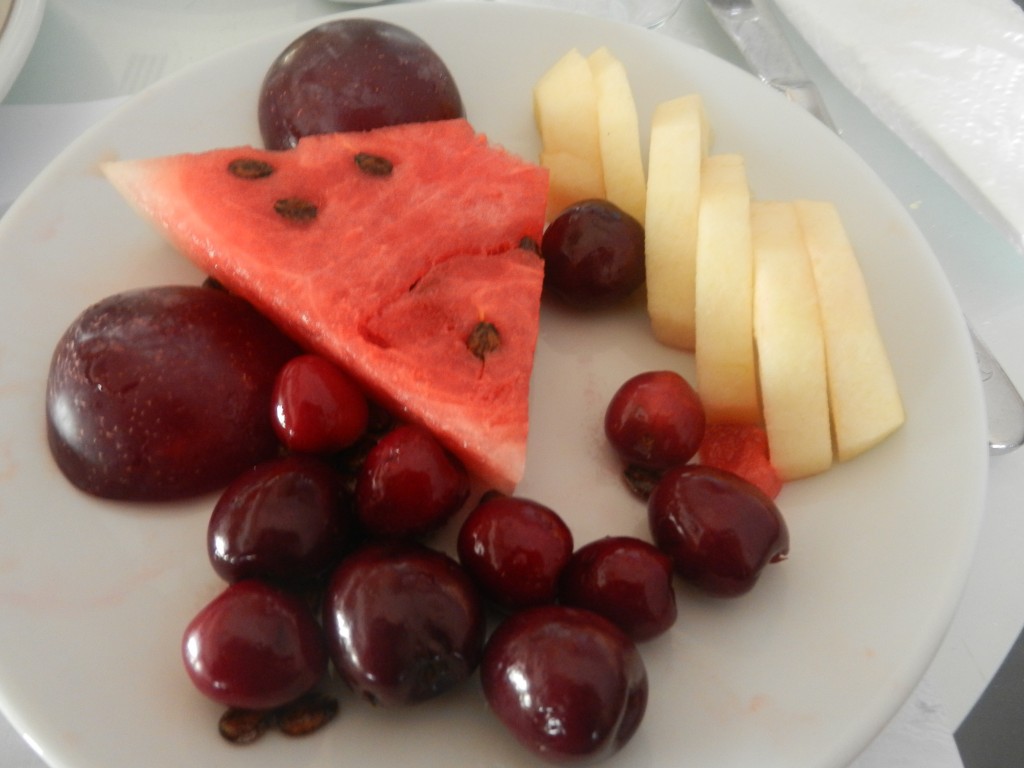 At approximately 3pm, my transportation had arrived to take me on a five hour ride to my next destination: the city of Kusadasi.
Along the way, the landscape provided changing vistas of hills and plains and various trees. We came across many fields of olive trees. Turkish olives are renowned worldwide and seem to be incorporated into every meal of the day.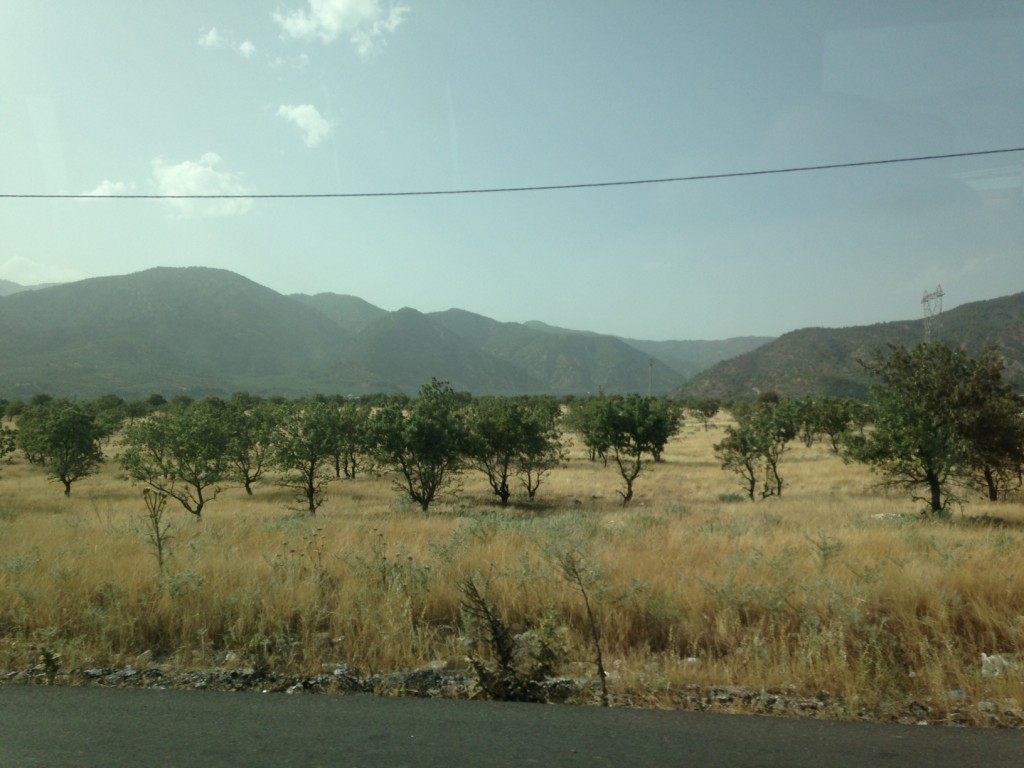 This region of Turkey is also known for its oranges. We drove past many fields of orange trees also. I really enjoyed drinking orange juice with many of my meals throughout my vacation in Turkey!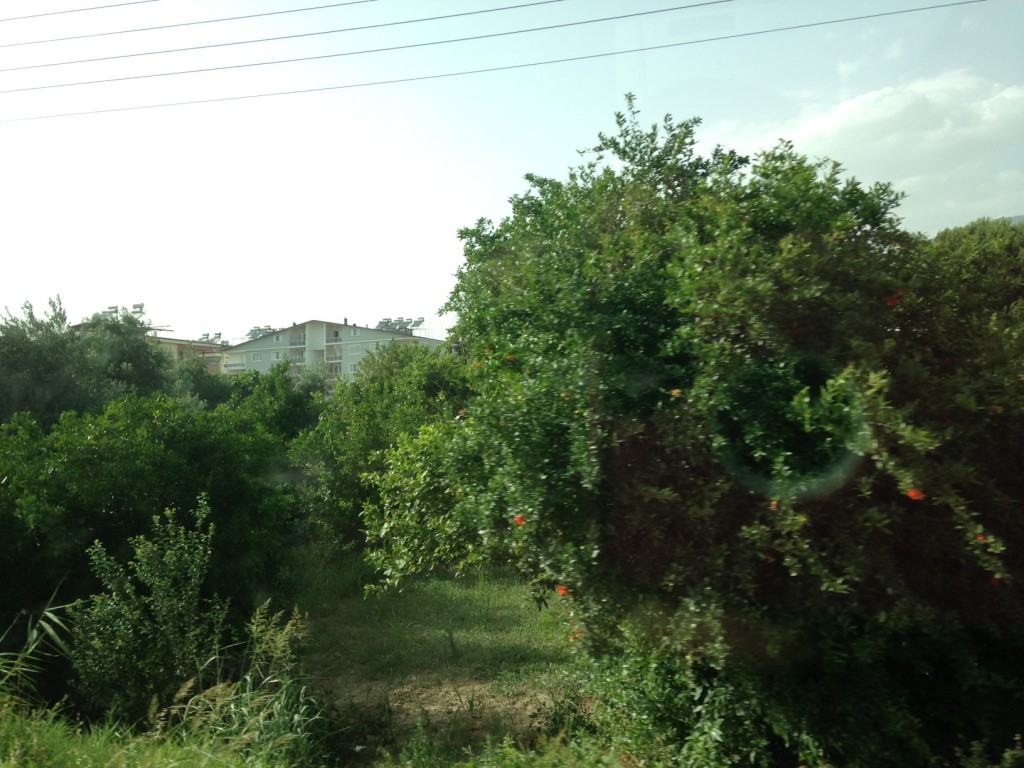 After a couple of hours had elapsed, our bus driver stopped at a rest area for the obligatory restroom and snacks break. I found a wonderful beverage at the rest stop's café. It was a delicious, freshly squeezed strawberry juice!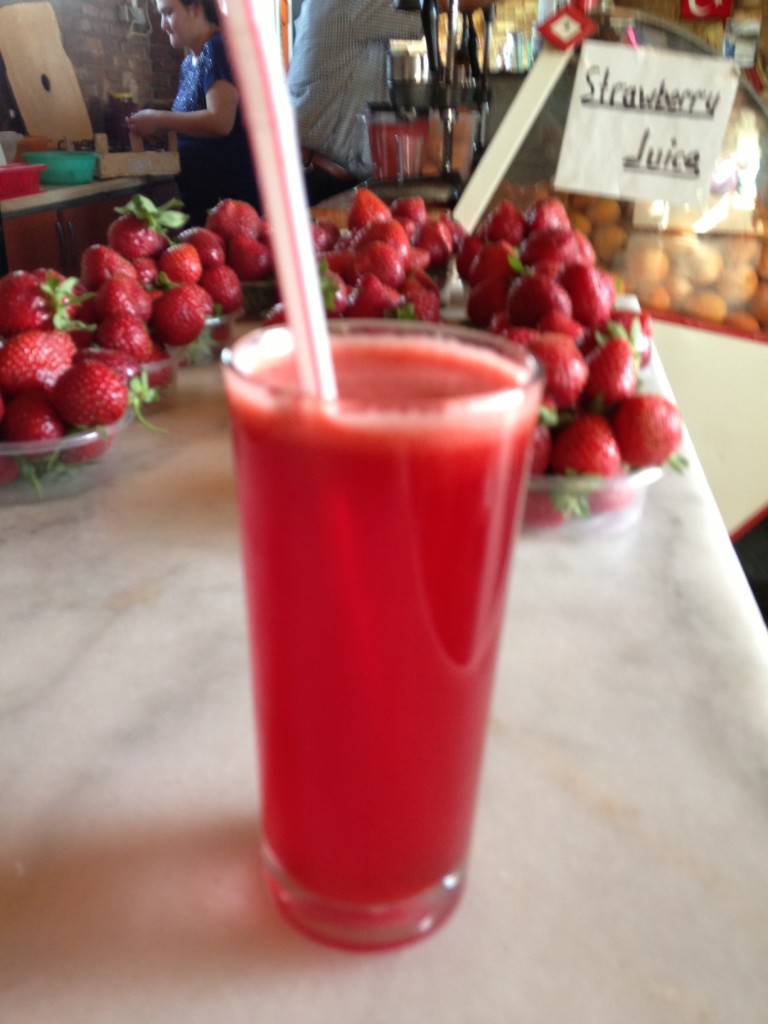 I also purchased some Turkish figs to appease my hunger during the afternoon bus journey. They were really flavorful!

Some lovely, purple flowers graced our window view from our bus seats, as we continued to make our way to Kusadasi.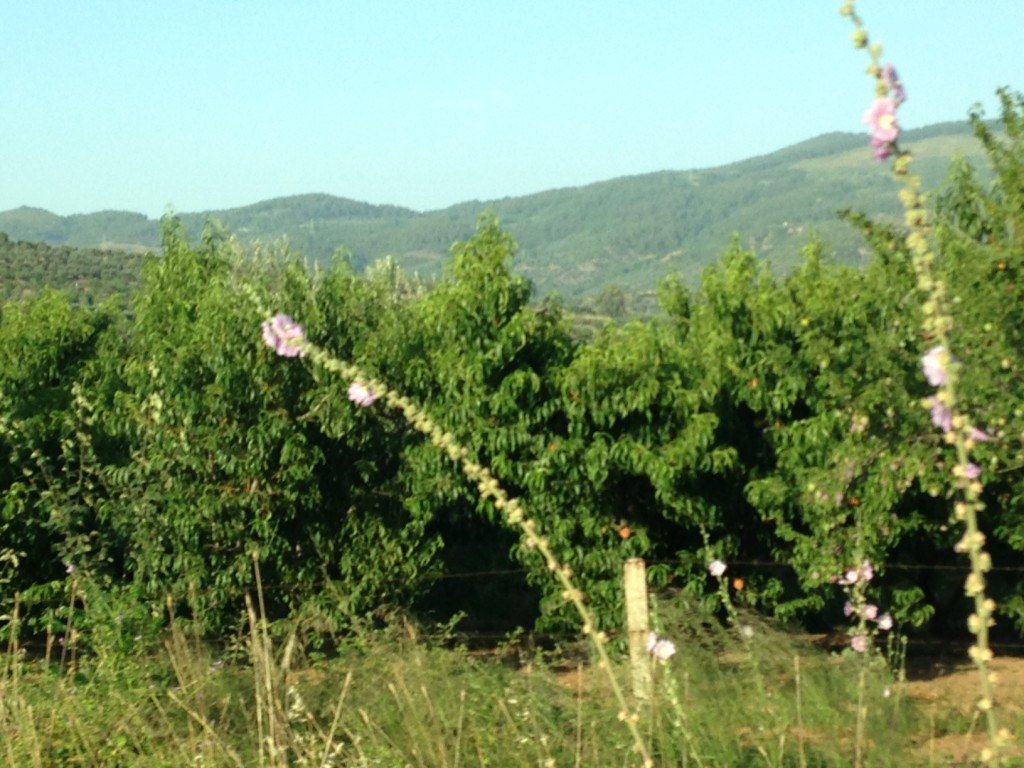 We finally arrived in the seaside resort town of Kusadasi. The sun was setting over the Aegean and provided such gorgeous views!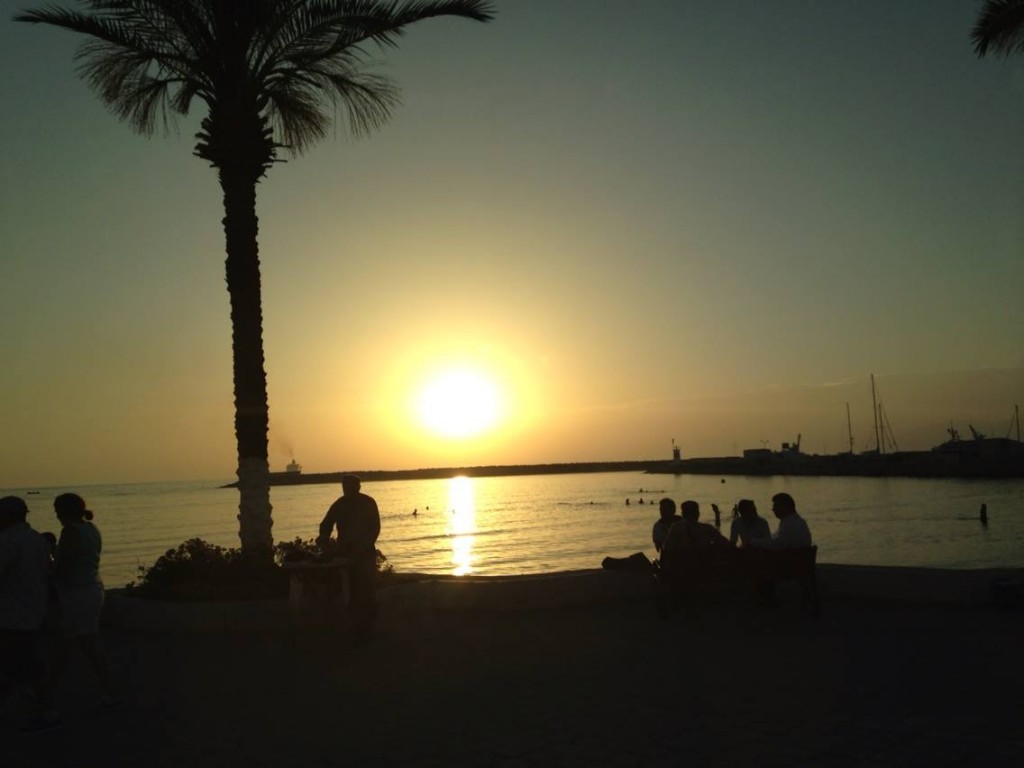 After freshening up at my hotel, I headed to the Ladie's Beach waterfront for dinner. Saray Restaurant(Saray Restaurant) is known to be one of the few vegan-friendly restaurants in the area. I dined on an entrée of Vegetable goulash containing various vegetables(cauliflower, broccoli, zucchini, eggplant) with rice. The homestyle cooking entrée was filling and really tasty.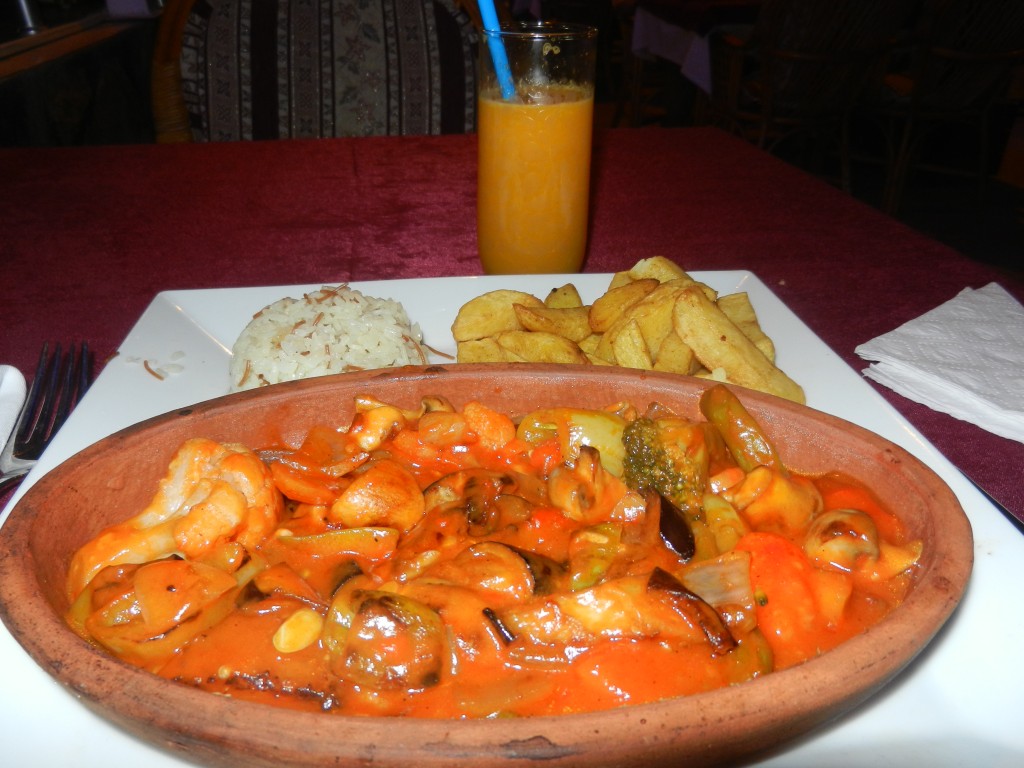 Entertainers graced the walkway between the beach and the row of restaurants and shops.
Break dancers performed their fancy moves to old and new pop music.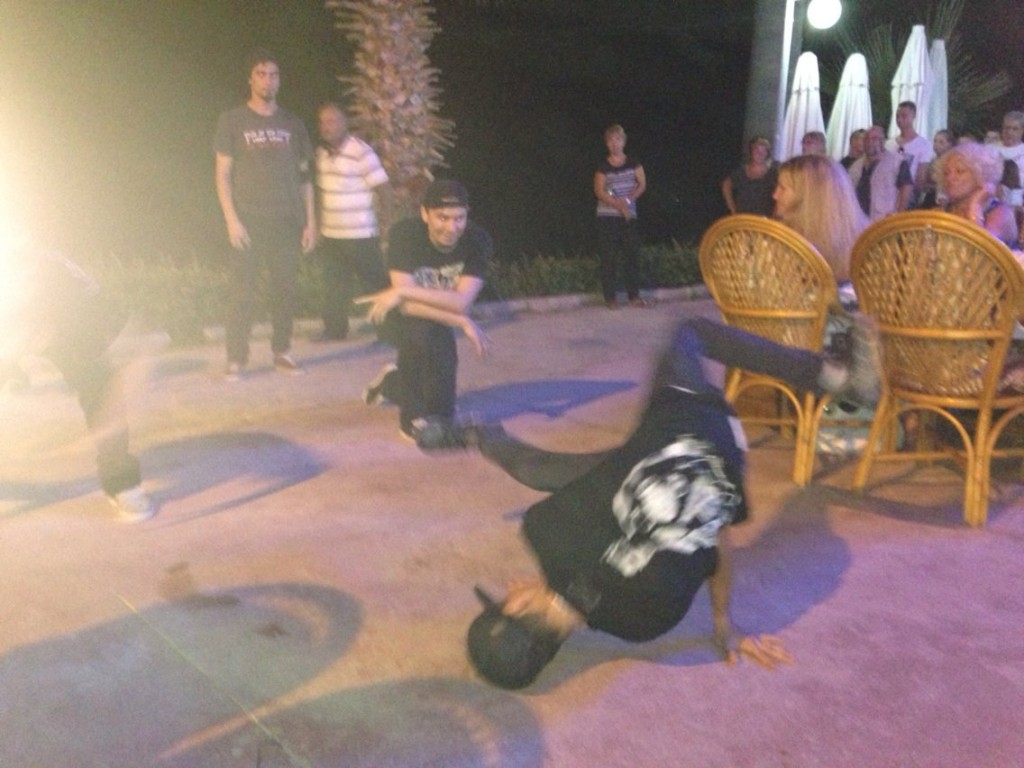 Restaurant waitstaff grabbed some diners to perform some Turkish line dances to local music. All in all, it was a fun night on the waterfront!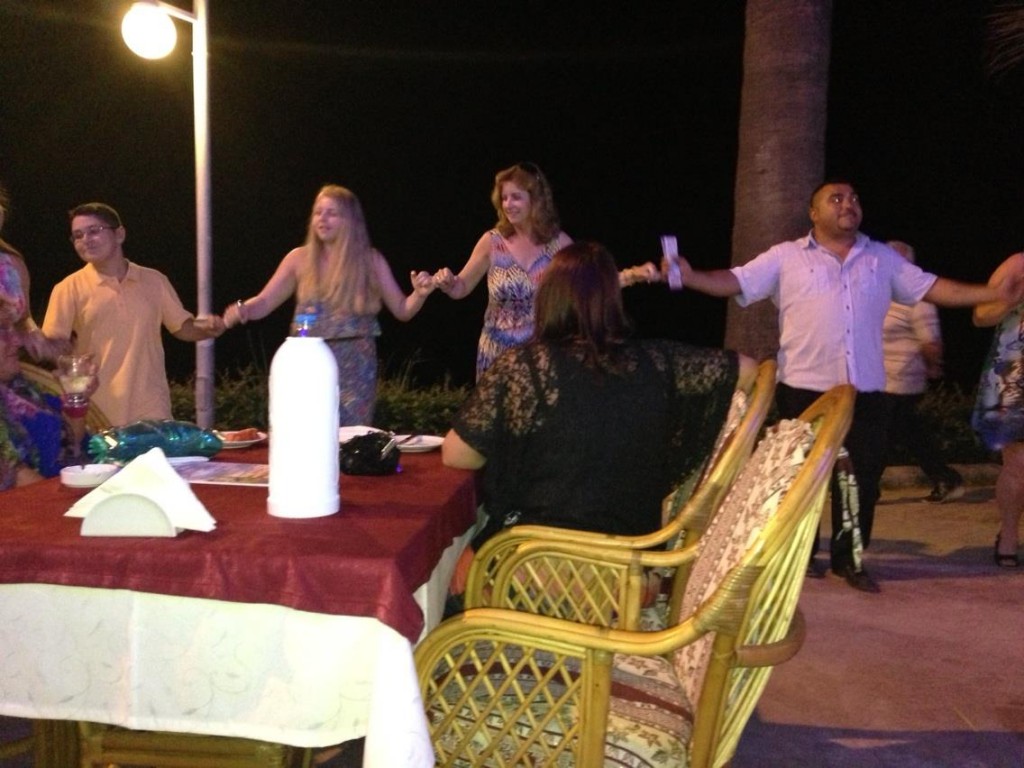 As I headed back to my hotel, my thoughts turned to the interesting day ahead with my upcoming visit to the ancient ruins at Ephesus!
Tweet This Post