Once a year, I embark on a weekend mini-holiday to a different European country. My country of choice this year was Spain. Thus last Friday, I set forth on my flight to Barcelona!
Fortunately for us vegans, Aer Lingus airlines offers some tasty VGML vegan meals! My dinner included a main entree of baked tofu, rice, and mixed veggies(diced zucchini, tomatoes, onions) in a flavorful tomato sauce. A side salad with bread accompanied the meal. Dessert was a bowl of melon slices. The meal was filling and really good. Even the buttery spread was labelled as "vegan". Aer Lingus knows how to "do vegan right"!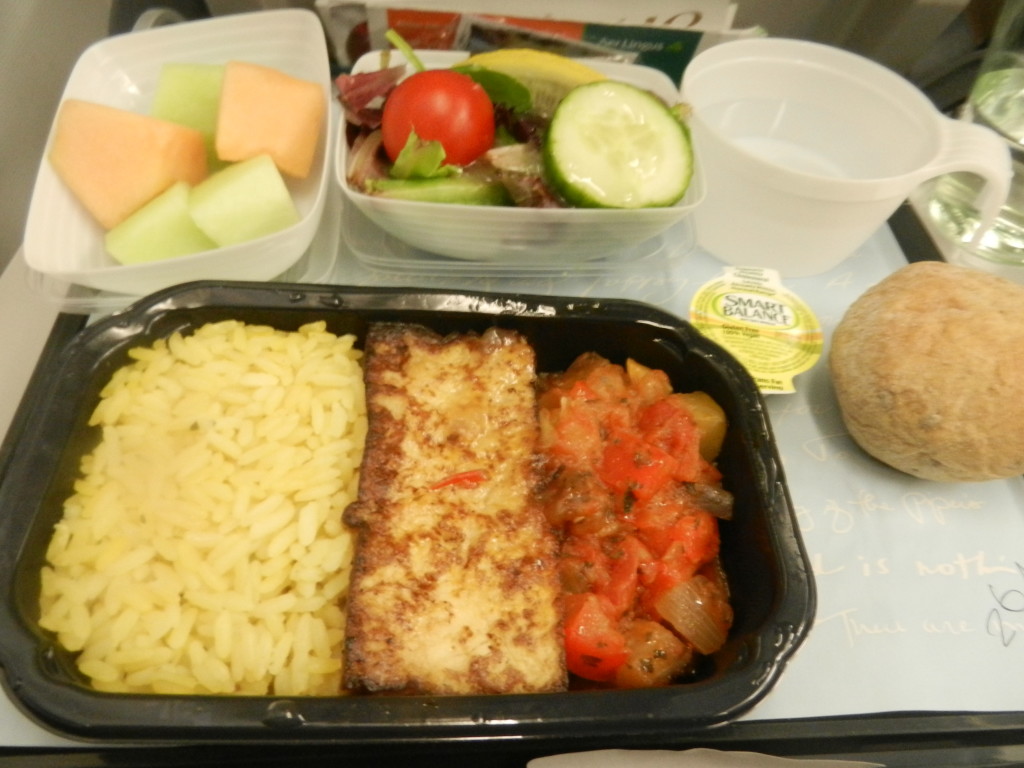 Airlines typically don't provide a vegan breakfast option, so I brought my own packaged oatmeal(apple flax) from home. It was Dr. McDougall's vegan brand oatmeal cup.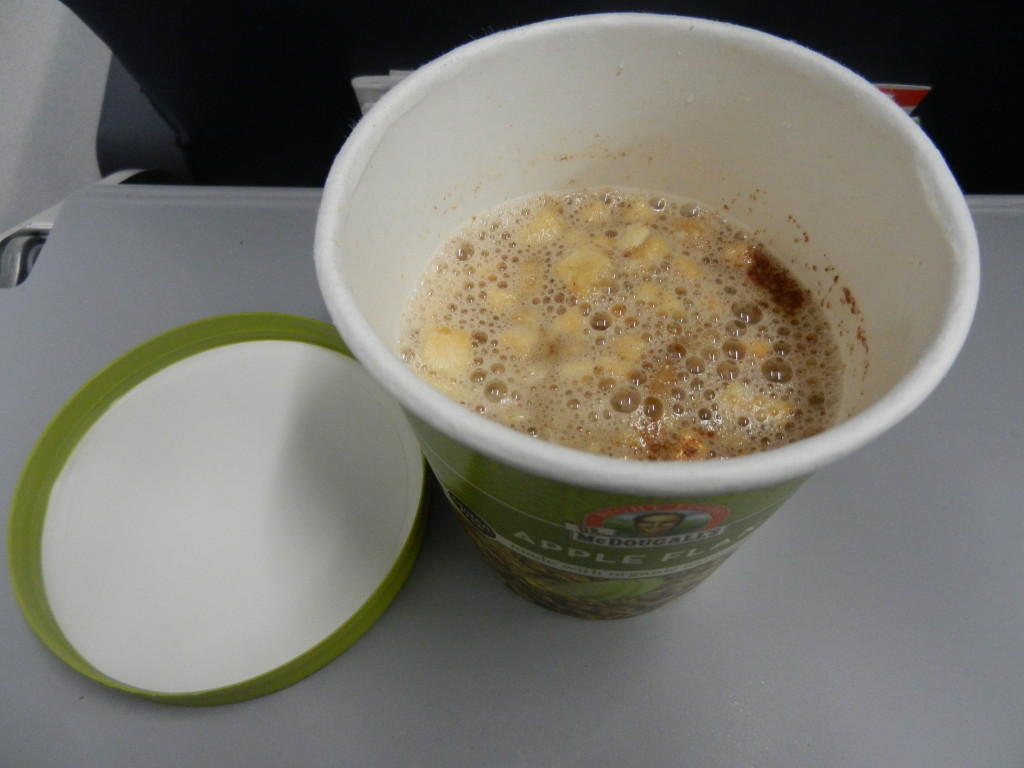 Many of the hotels in Barcelona are inexpensive. I chose to stay at a small hotel near the university. It is quieter than the "old town" where many travelers stay, yet close enough to walk to La Ramblas pedestrian mall and the old gothic quarter within a few minutes. It did indeed provide a good night's sleep! Upon arrival in Barcelona center, I was awestruck by the beautiful old church nearby my hotel.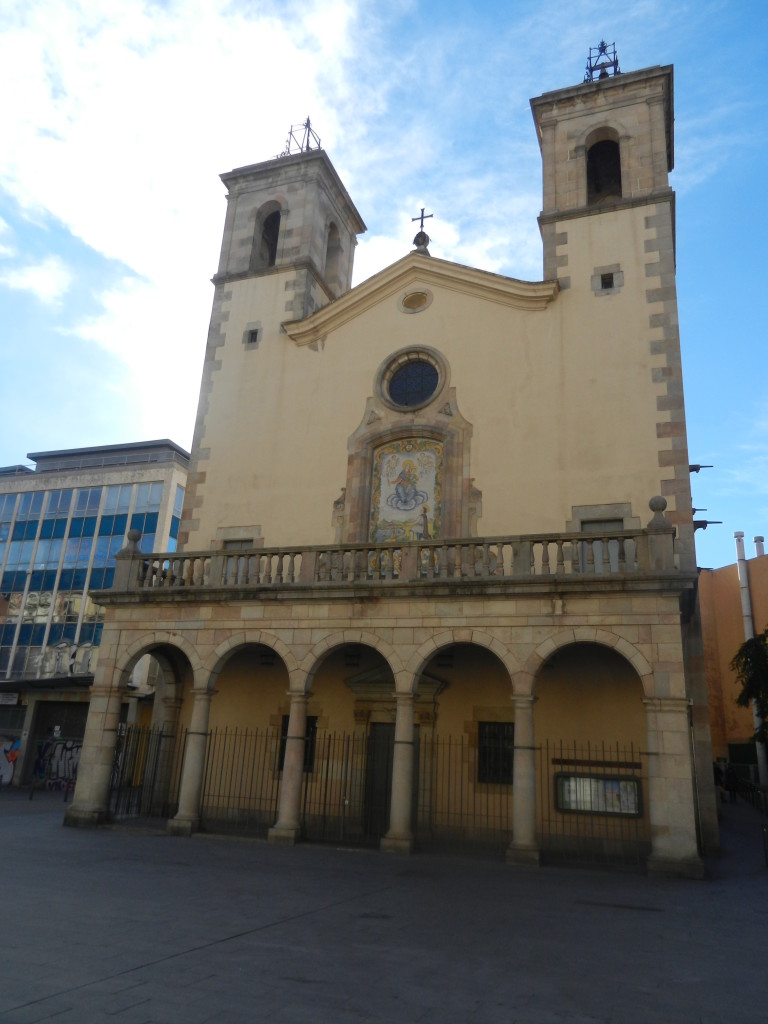 After checking into my hotel, I thought I would check out the all vegan market. The walk down La Ramblas tree-lined street brought me to the location of the shop. It happened to be closed at that hour, but I made to sure to take a photo of its colorful exterior. The vegan shop "Veganoteca"(Veganoteca Shop) carries vegan food, vegan 'meats' and vegan 'dairy', as well as chocolate spreads, soy chorizo, vegan vitamins, and ecoogical products.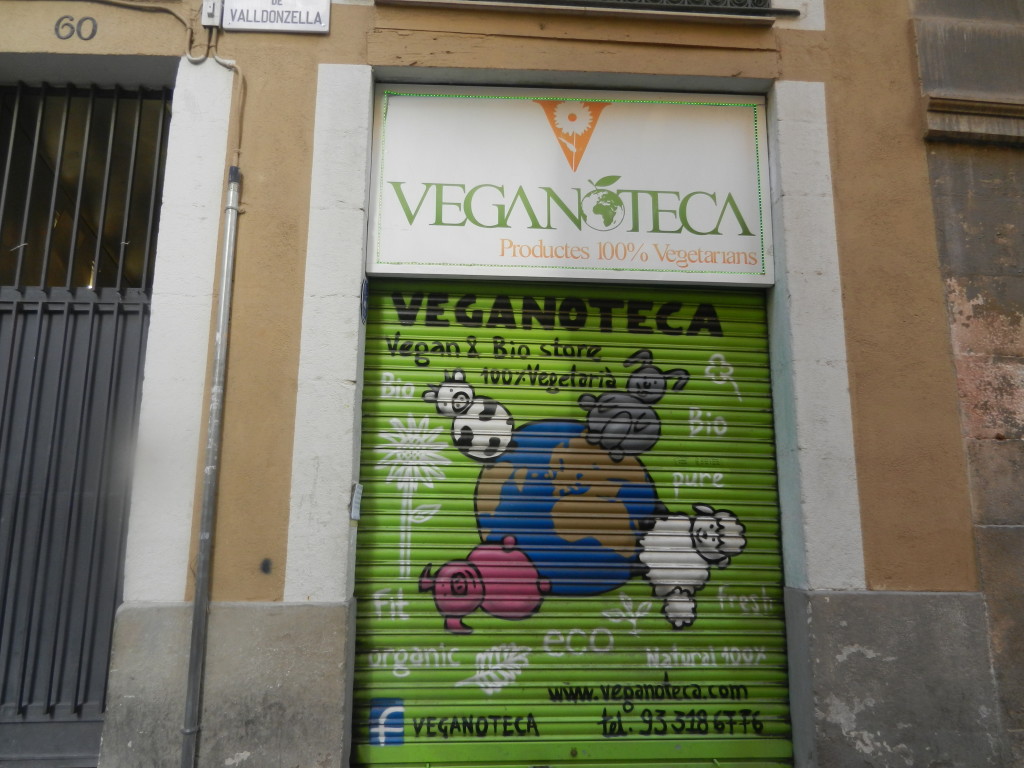 A vegan shoe store also resides in Barcelona, but alas a visit there did not fit into my time schedule. Amapola (Amapola Vegan Shoe Store) sells vegan shoes, handbags, and accessories.
Another place whose hours did not fit into my schedule was Gelaaati Di Marco (Gelaaati Di Marco). The ice cream shop is known to offer several flavors of vegan gelato ice cream made with rice milk.
I strolled along the lengthy La Ramblas pedestrian mall street. Restaurants and gift shops line both sides of the road. Kiosks in the center offer tourists everything from local snacks to traditional Barcelona gifts!
Pasteleria La Estrella Cake Bakery (Carrer Mallorca nº 330, tel. 0034-93-207-57-85) is located just off of La Ramblas. This bakery has a refrigerator case full of vegan sweets made by Lugeria Vegana bakers. The building sign says "Pujol", not Pasteleria La Estrella. This is where I ate my morning meal.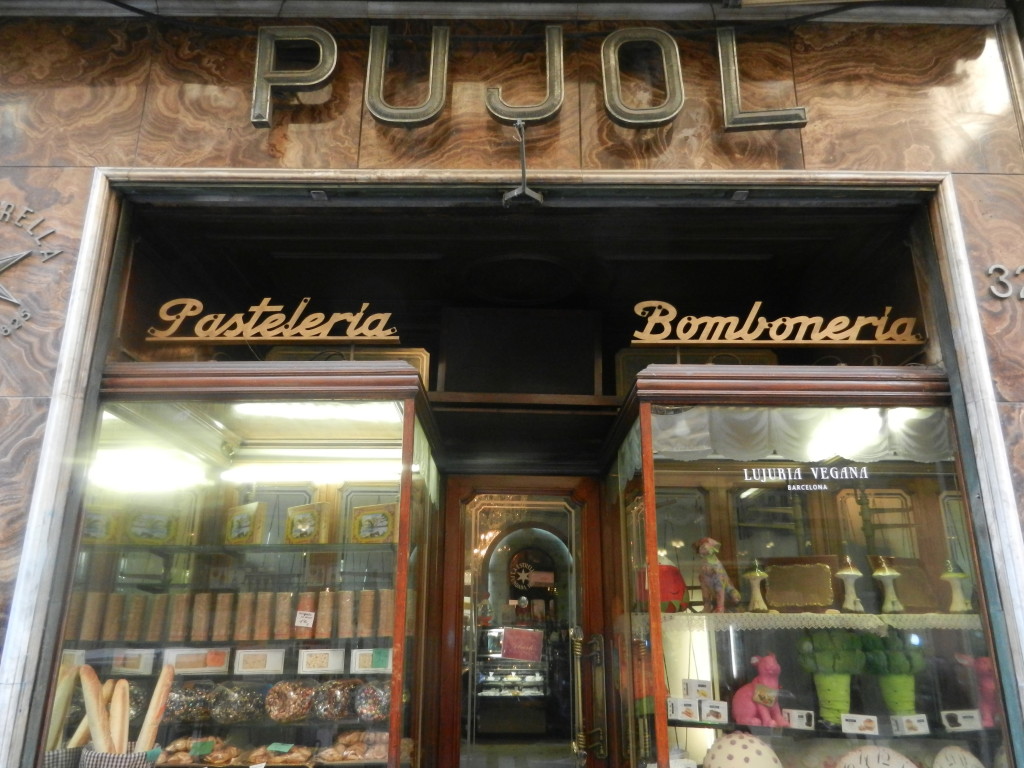 My breakfast was the pistachio and strawberry cake slice. It was wonderfully sweet and melt-in-your-mouth delectable!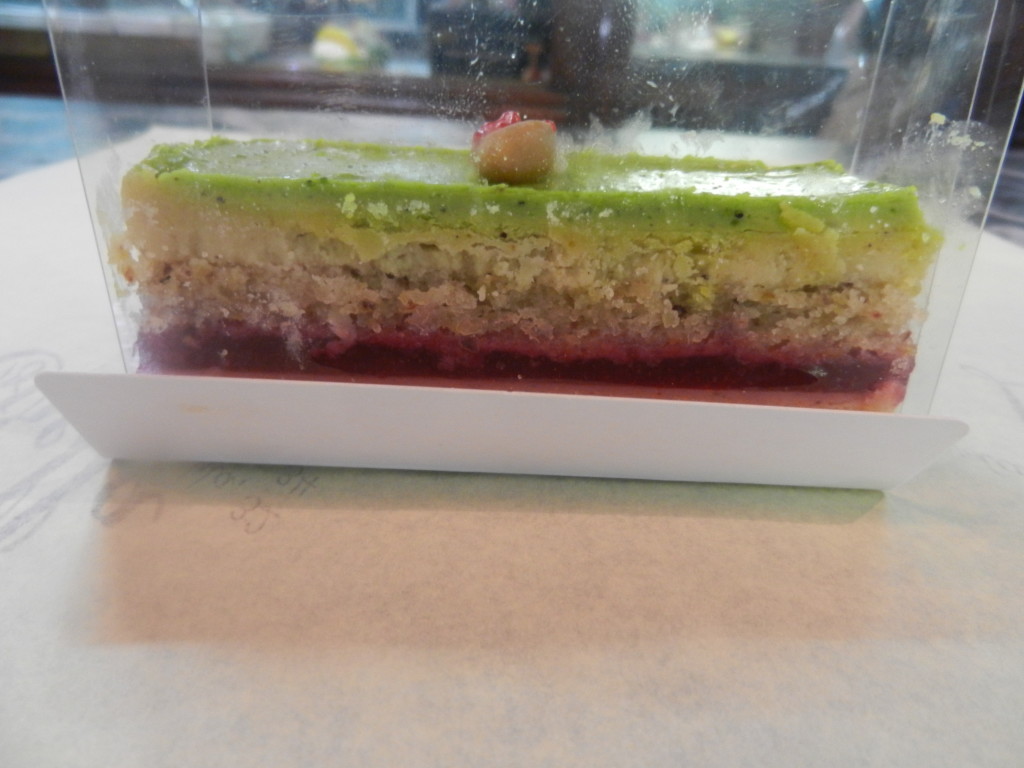 Walking down La Ramblas again, gave me time to purchase a few local souvenirs.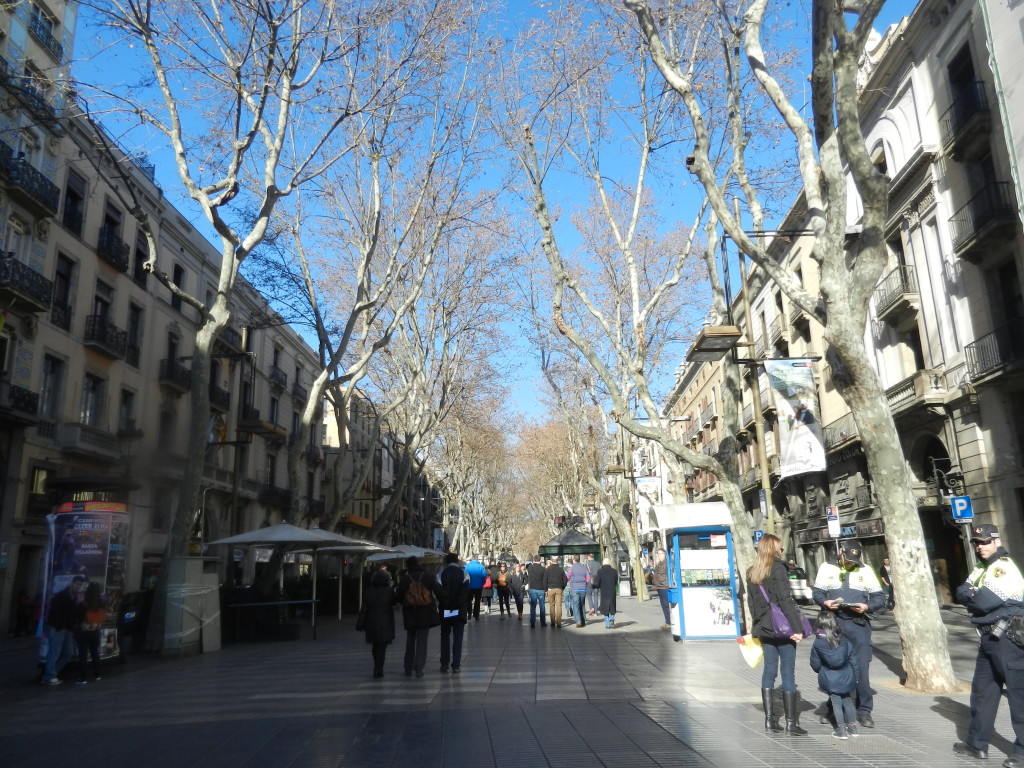 After some shopping, lunch time had arrived. Gopal (Gopal Vegan Restaurant) is an all-vegan restaurant that offers breakfast, lunch, dinner, and sweet treats.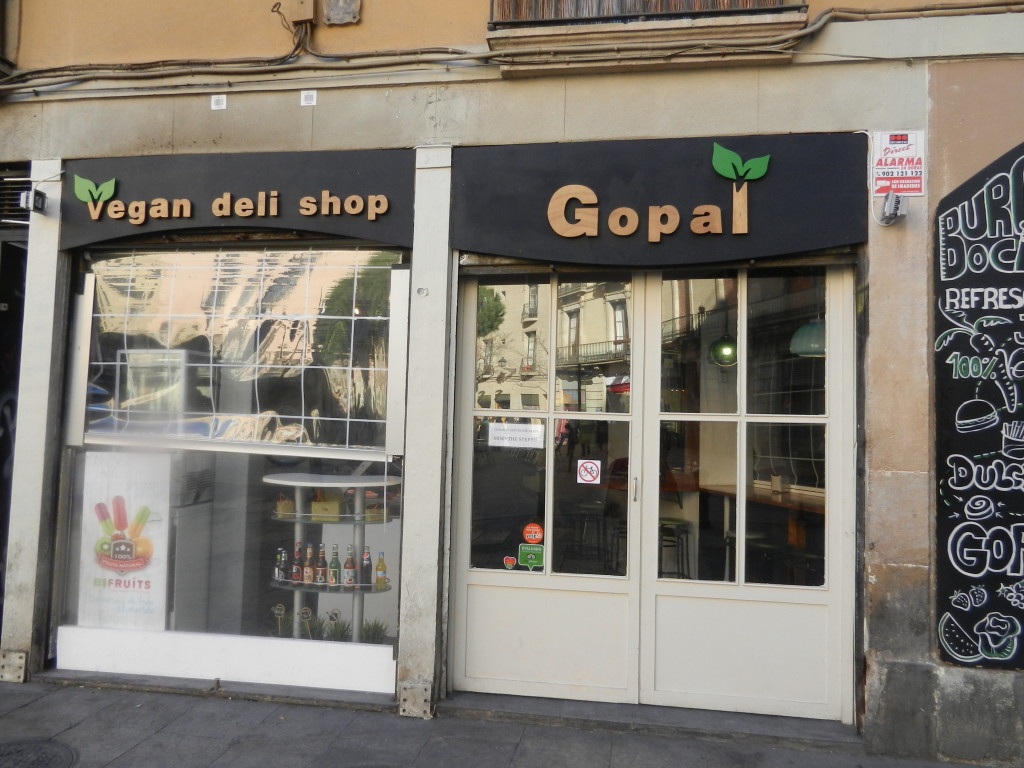 For lunch, I selected the popular Spanish zucchini tortilla topped with vegan mayo and a side salad. My meal was delicious!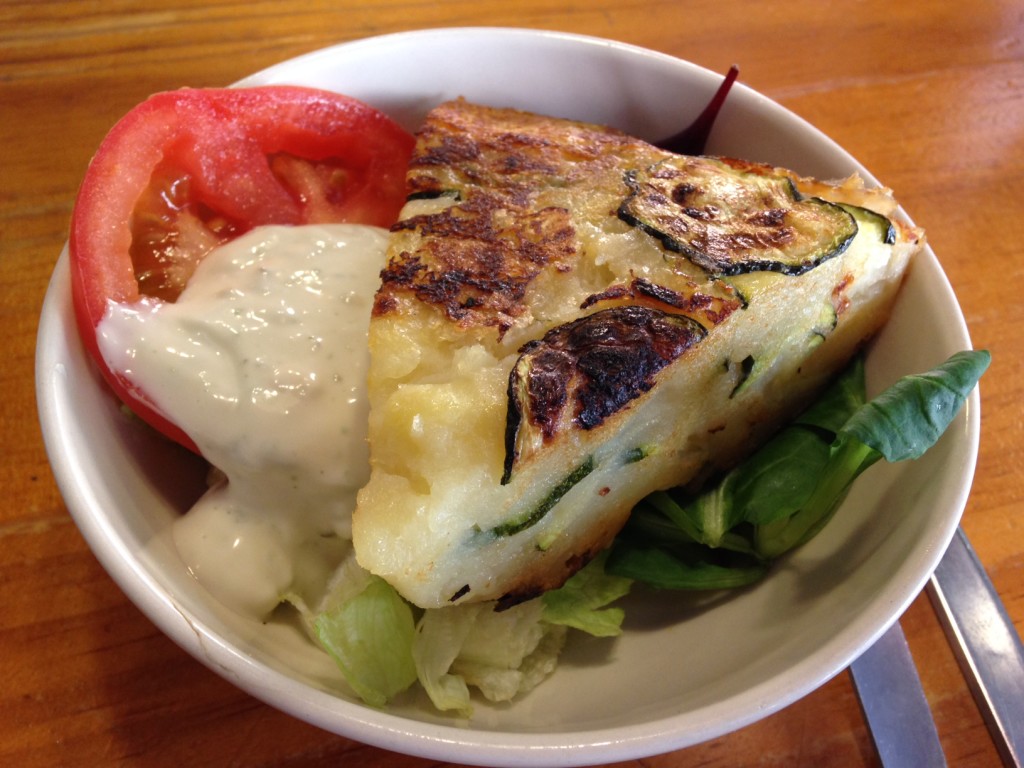 For dessert, I opted for a mini-doughnut filled with chocolate and topped with lavender frosting. This was a yummy snack!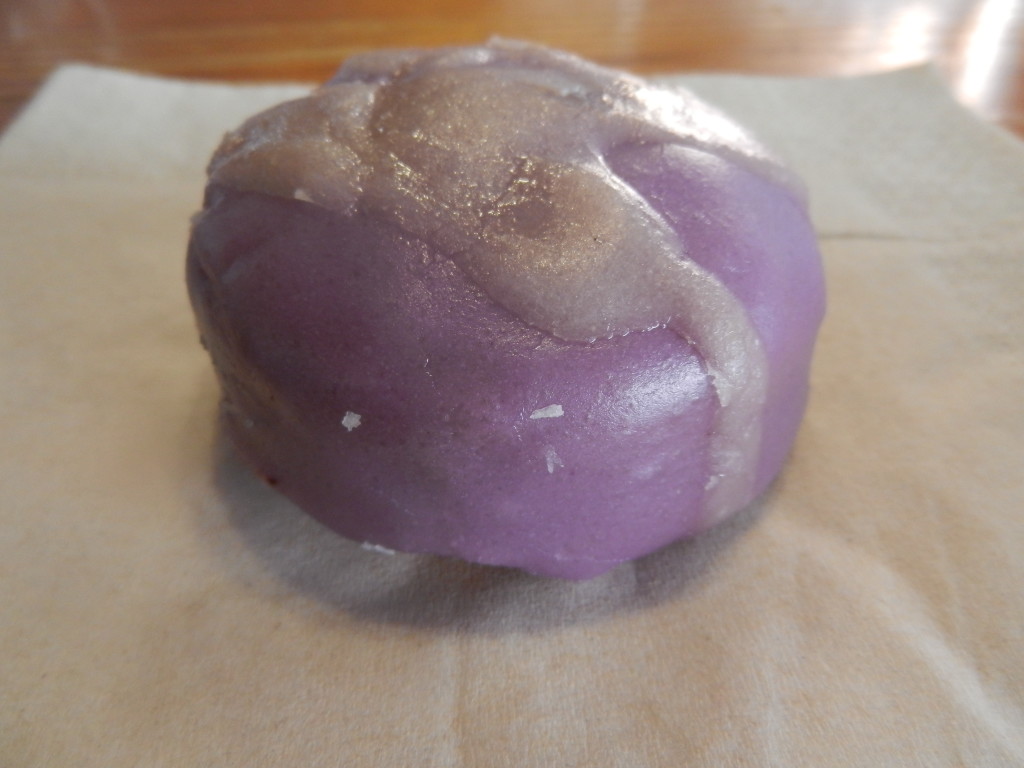 It was time for some sightseeing! The top attraction in Barcelona and in all of Spain, is La Sagrada Familia. The large Catholic church was designed by Catalan architect Antoni Gaudi. Construction began in the year 1882 and is still ongoing. Its style is Spanish late Gothic and Catalan Modernism. It will possess eighteen spires (representing the apostles, Mary, Jesus, and The Four Evangelists), three grand facades (representing The Nativity, The Passion, and The Glory), and a Latin cross-like interior layout.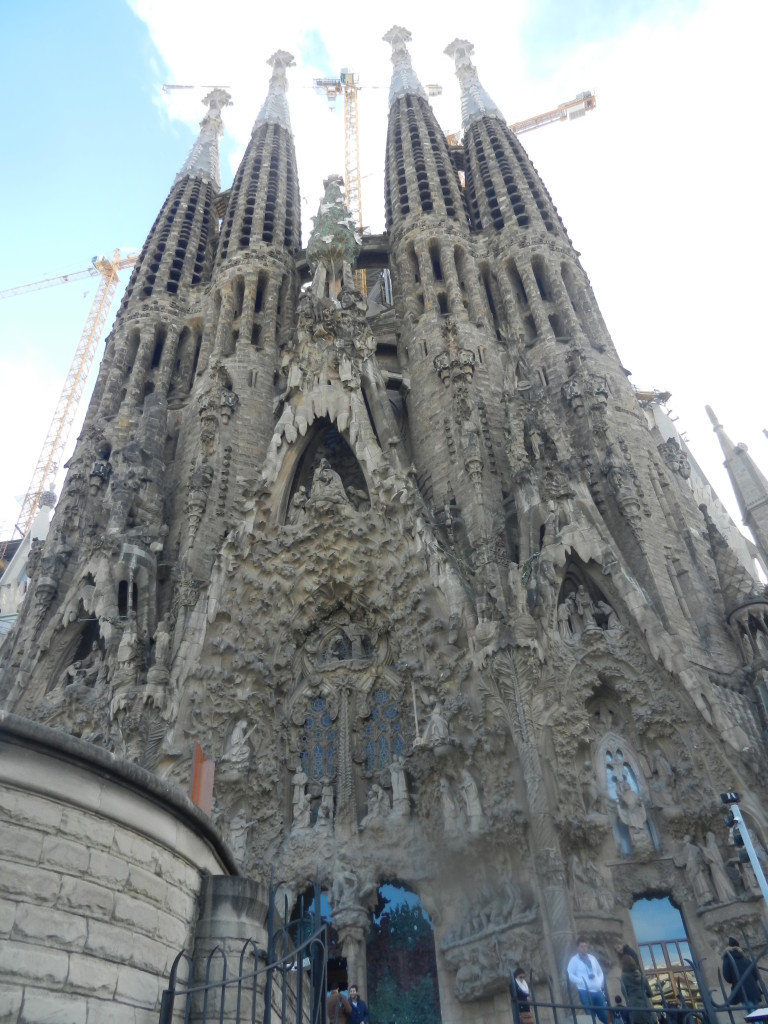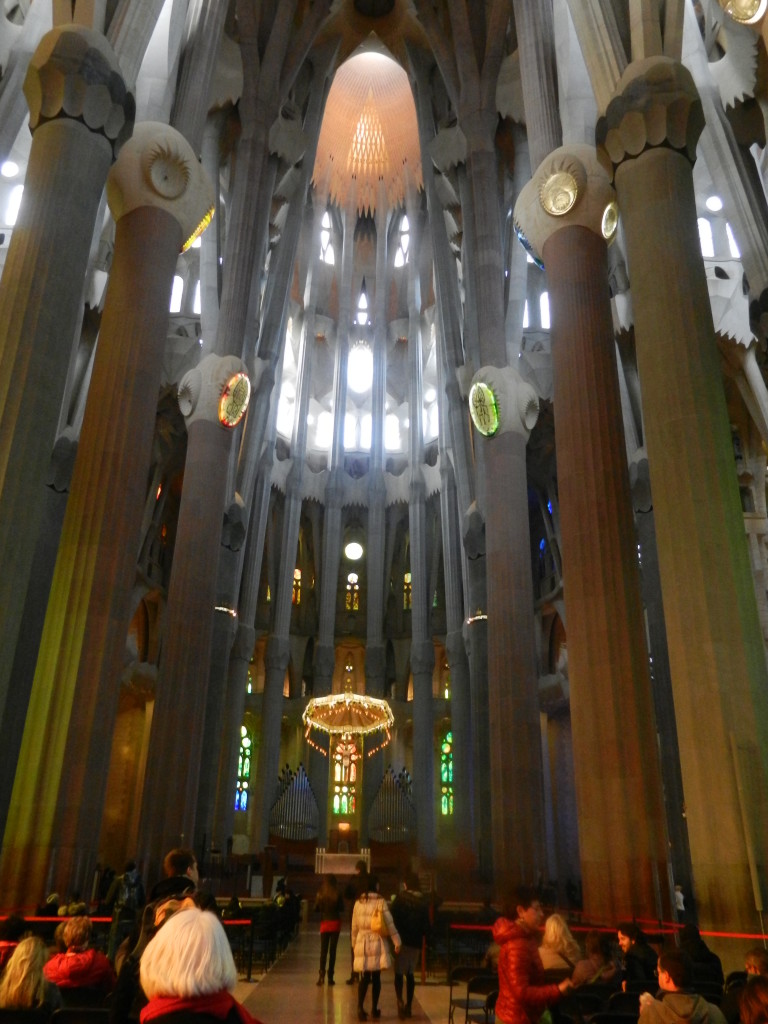 The stain glass windows are absolutely gorgeous, encompassing an amazing palette of colors!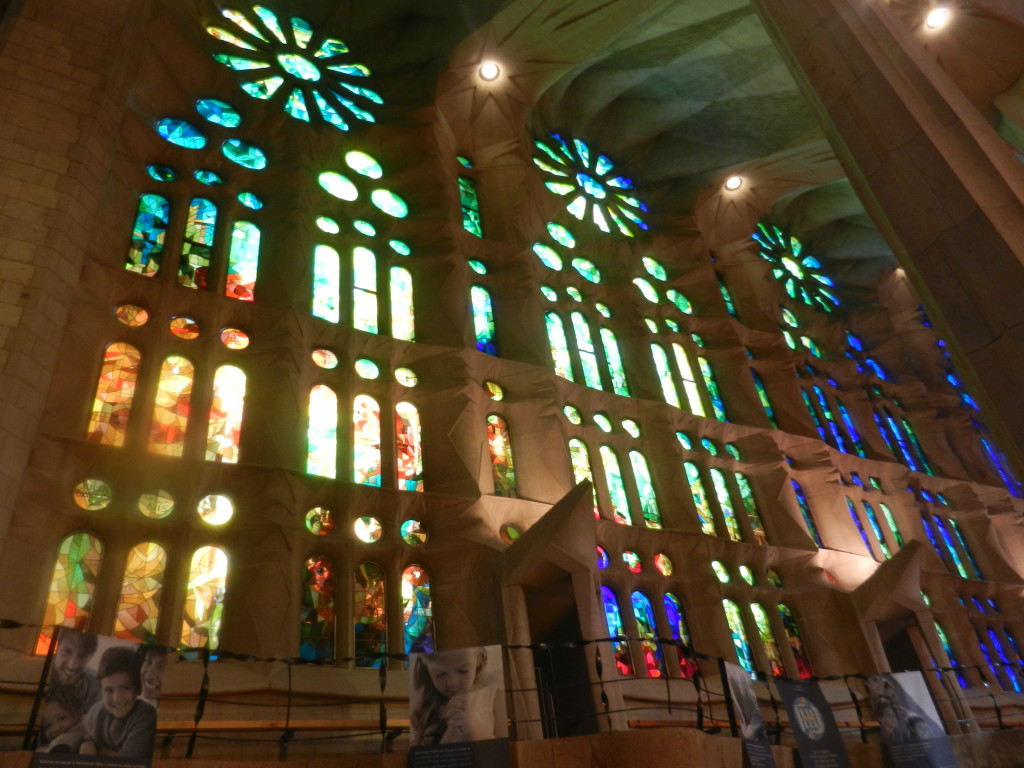 One can't help but to ponder over the intricate details of the exterior's facades.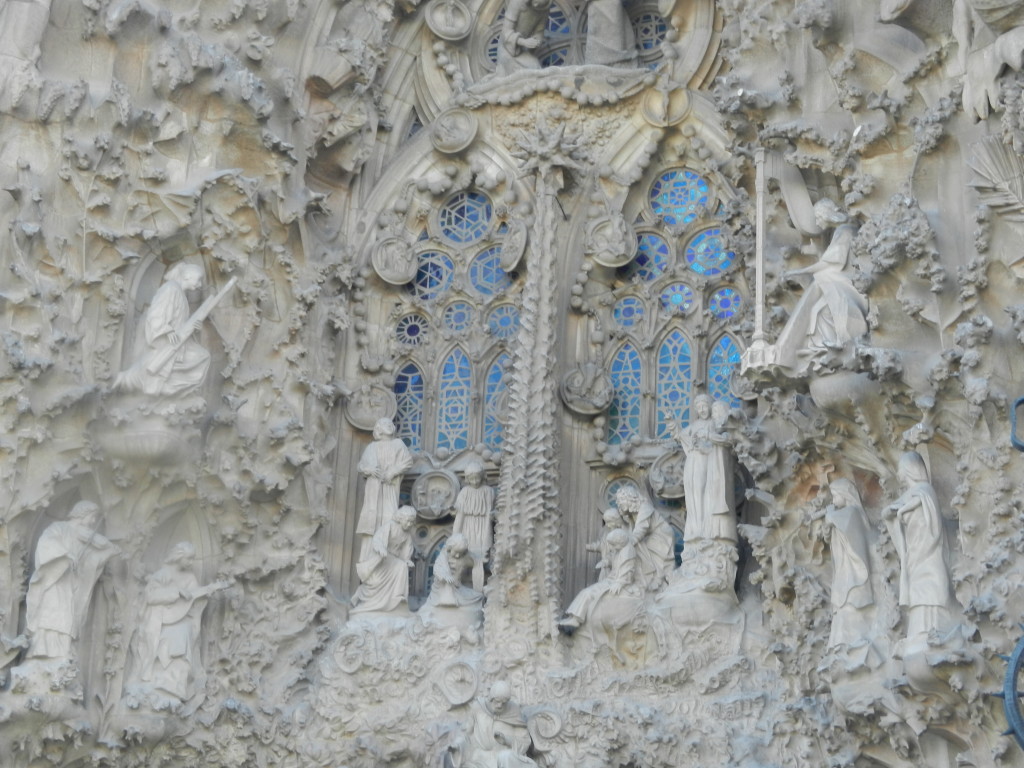 Palm trees sway on the corner across the street, reminding tourists of the pleasant Mediterranean climate here year-round.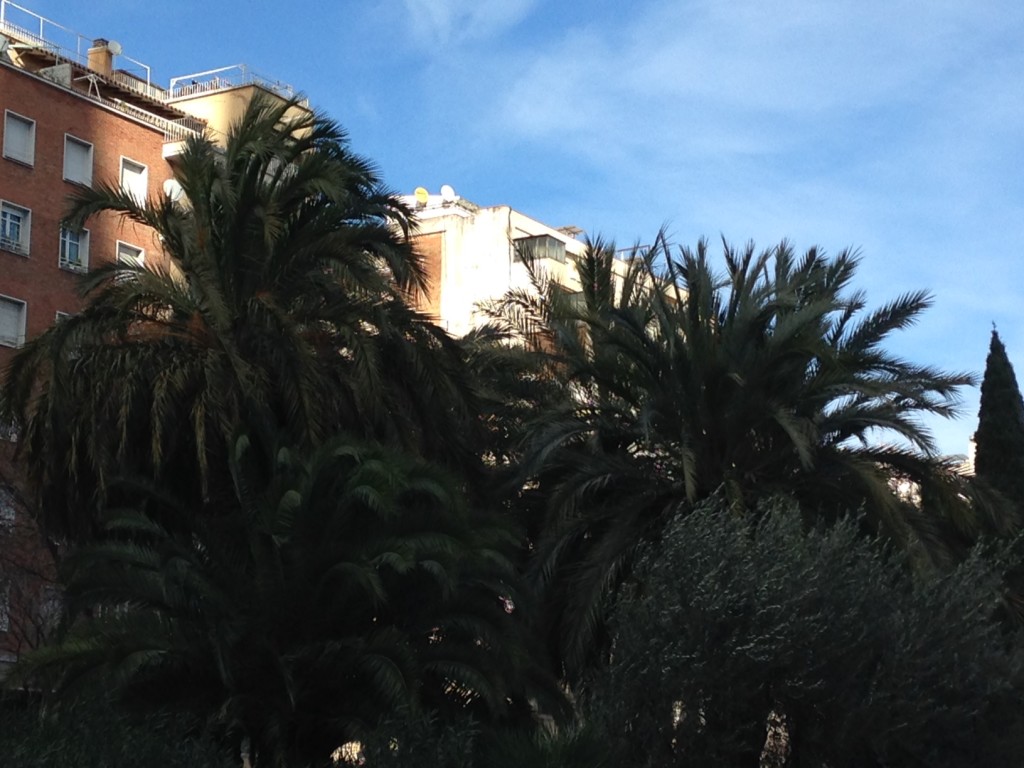 Another popular attraction in Barcelona is Casa Batllo. This Modernist masterpiece designed by Gaudi, was built in 1877. Josep Batllo purchased the residence in the year 1900, due to its central location. The textile magnet wanted a unique home, like no other. It is known locally as "the house of bones", due to the skeletal look of the exterior. The facade is decorated with colorful ceramic tile.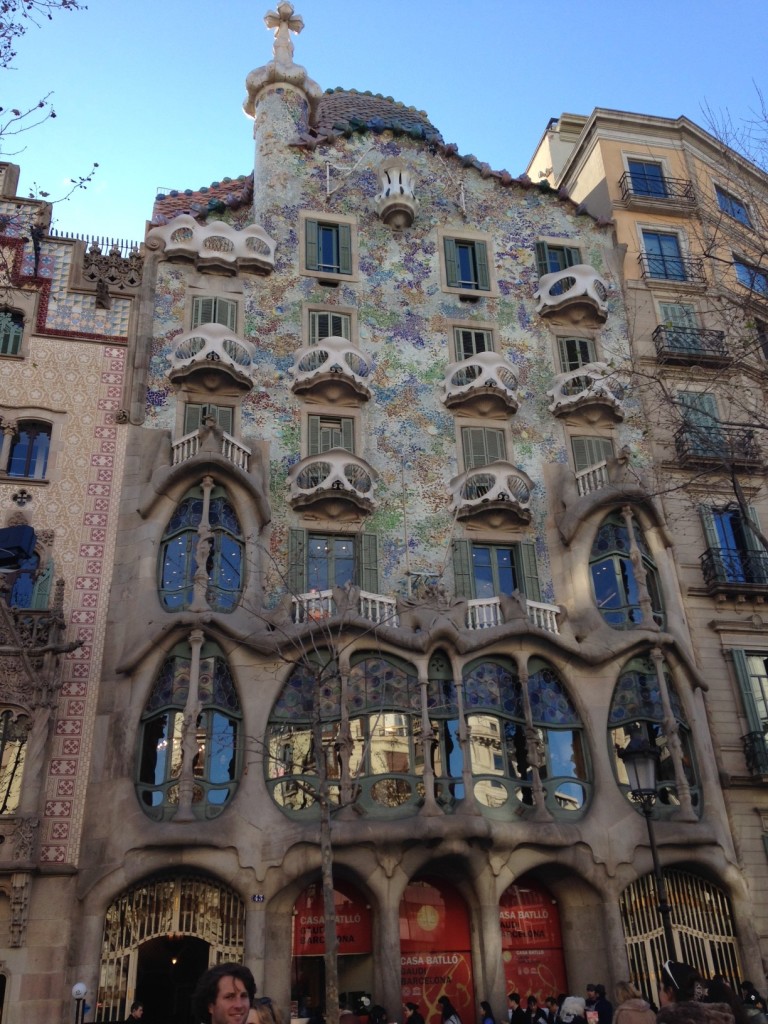 The main floor, known as the "Noble Floor" has curving vaulted walls and doorways. The stained glass windows display blue circular patterns.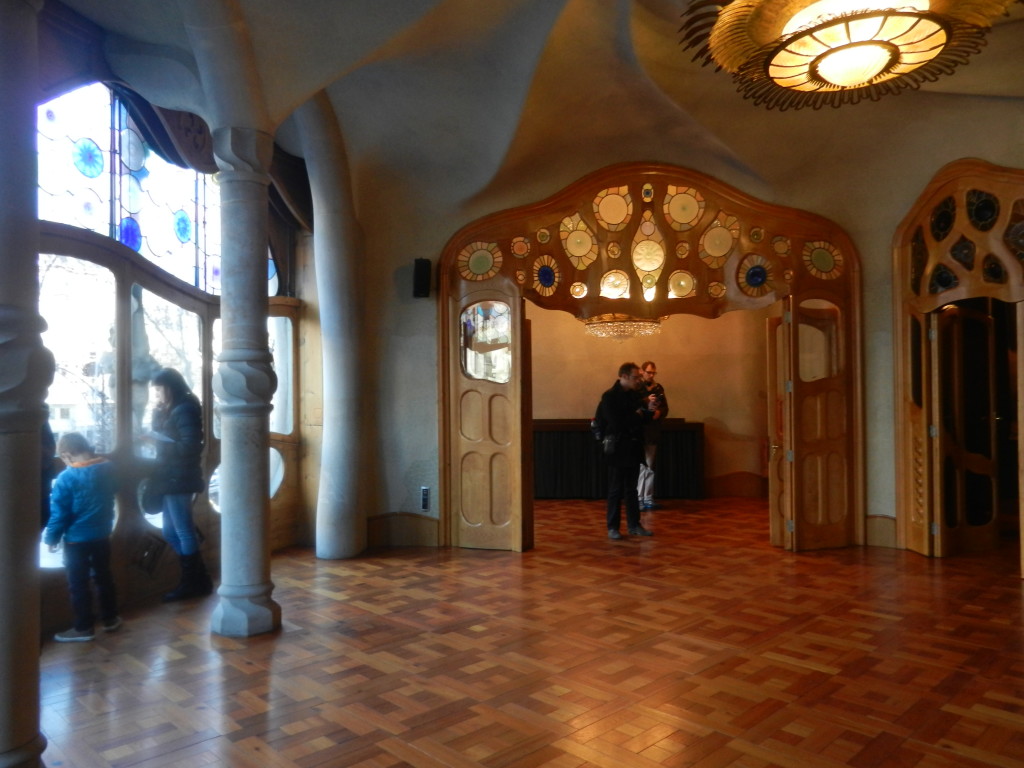 The tiled walls appear to turn a darker shade of blue as one climbs up each flight of stairs to an upper level.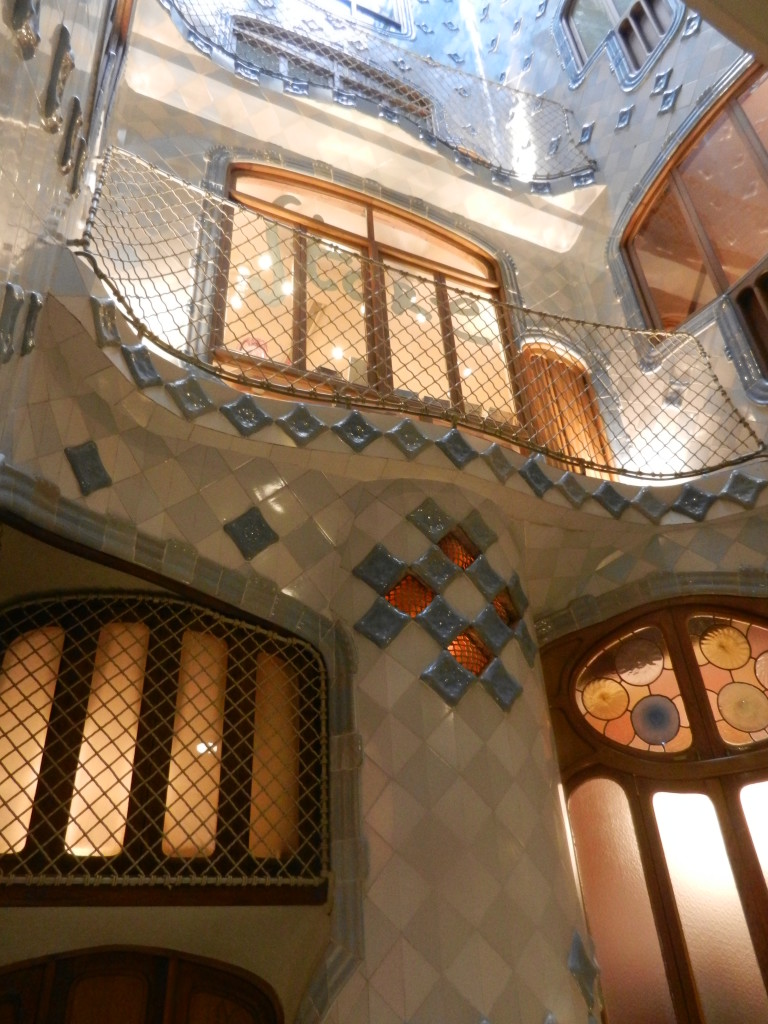 The roof is designed to resemble a dragon's back spine, with four chimney stacks to prevent backdraft.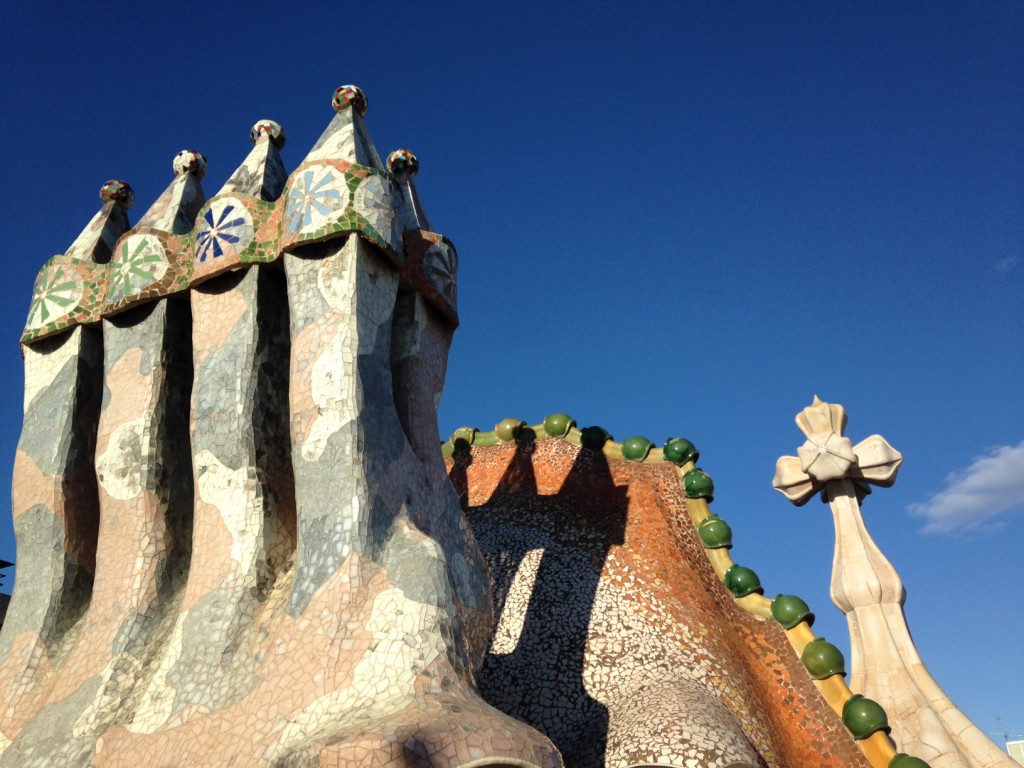 Onto La Pedrera next! Another of Gaudi's creations, this colossal apartment residence was the last civic work designed by the architect between the years 1906 and 1910. The stone facade possesses twisted wrought-iron balconies and windows. It was built for the wealthy businessman Pere Mila and his family.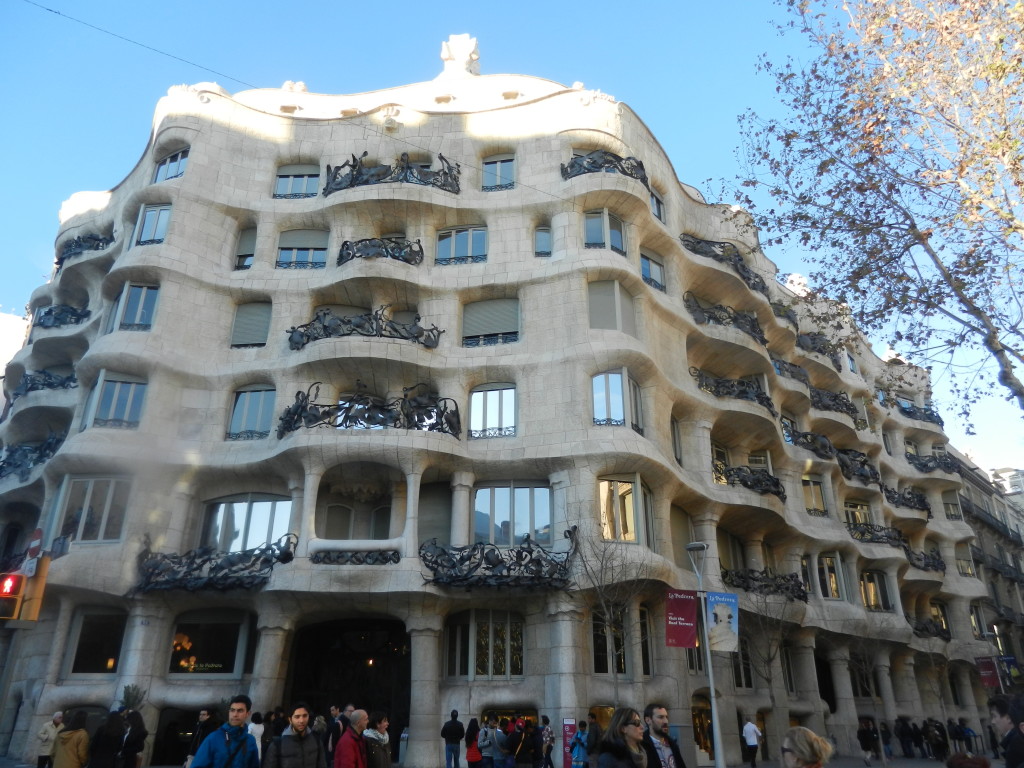 Two courtyards provide light to the nine level apartment building, of which the first floor was the Mila's residence.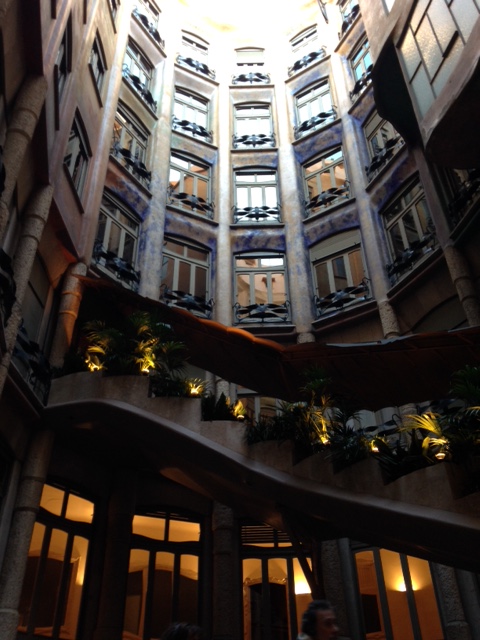 This home contains period Catalan Modernism furniture. Servants' quarters, laundry room, dining room, living room, and bedrooms can be viewed here with Gaudi period furniture.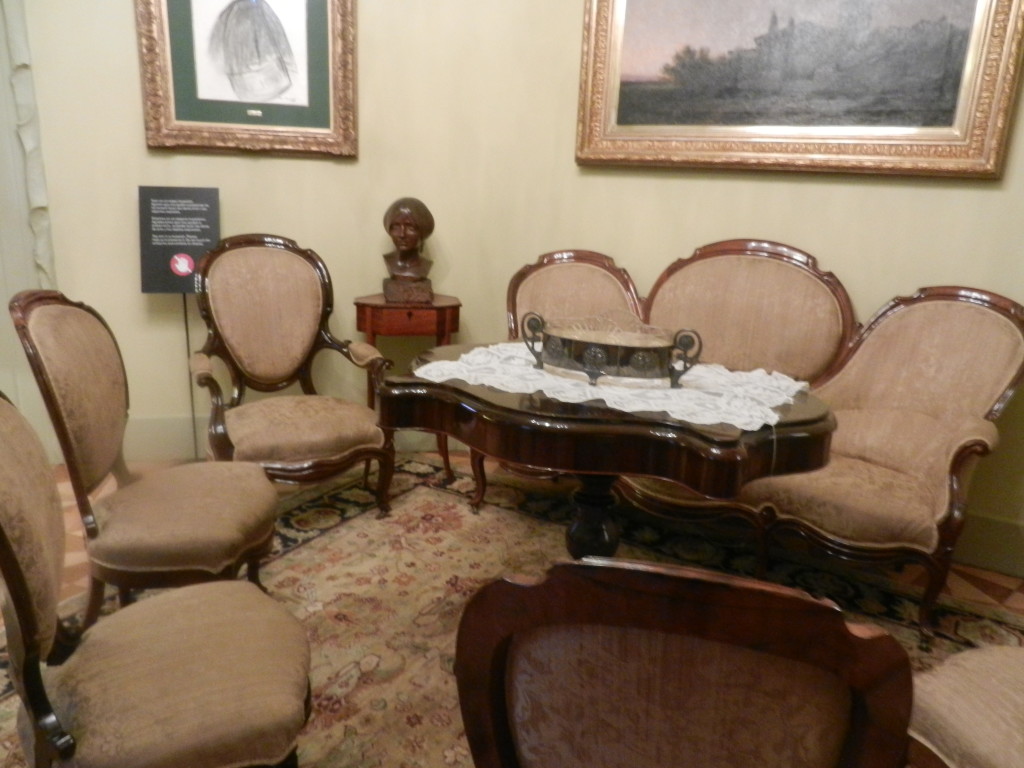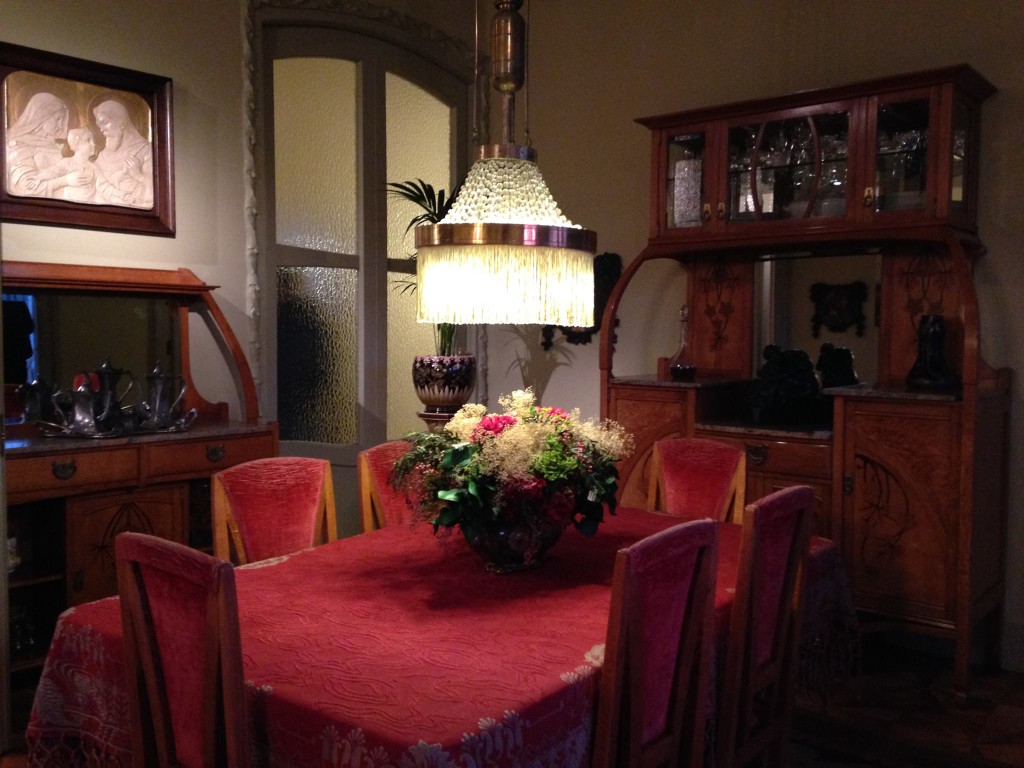 La Pedrera's roof is a visitor's delight! Twenty eight chimneys rise up in a twisted form so that smoke is released better. The stepped roof has six staircases and skylights decorated with some Valencia broken tiles.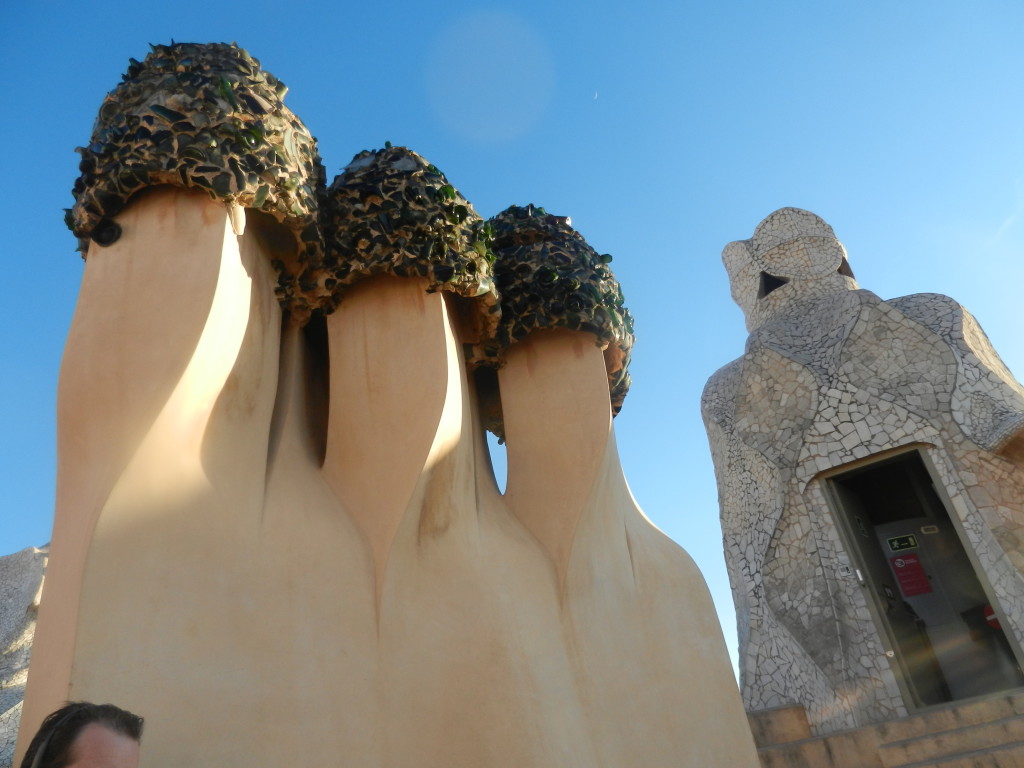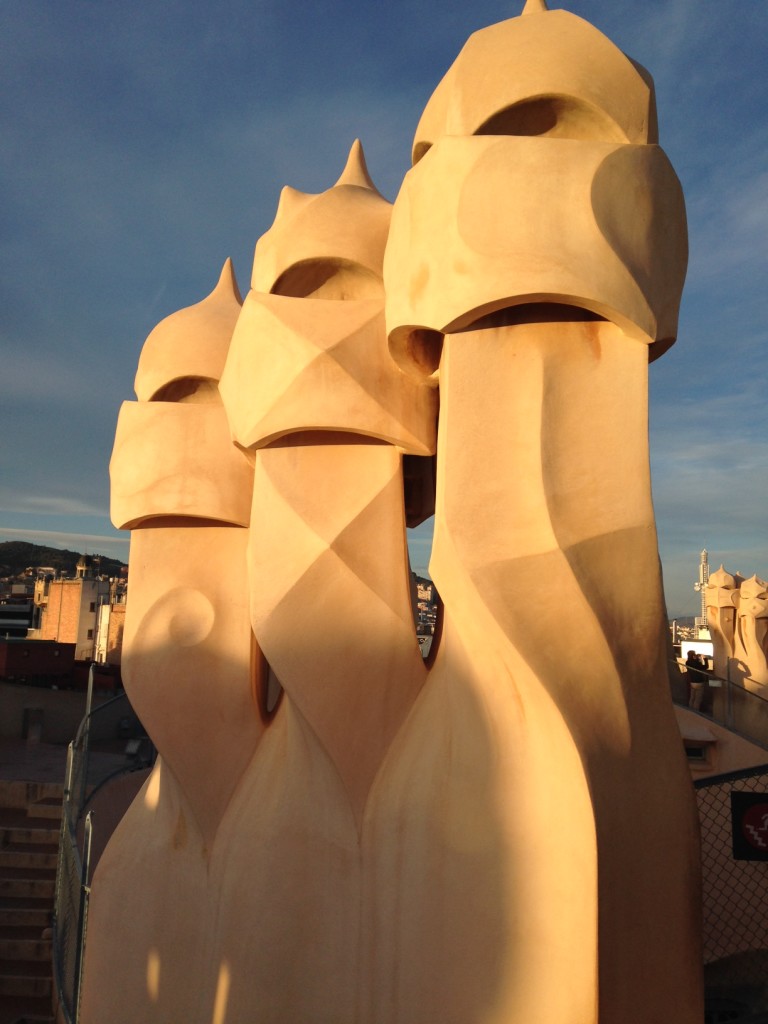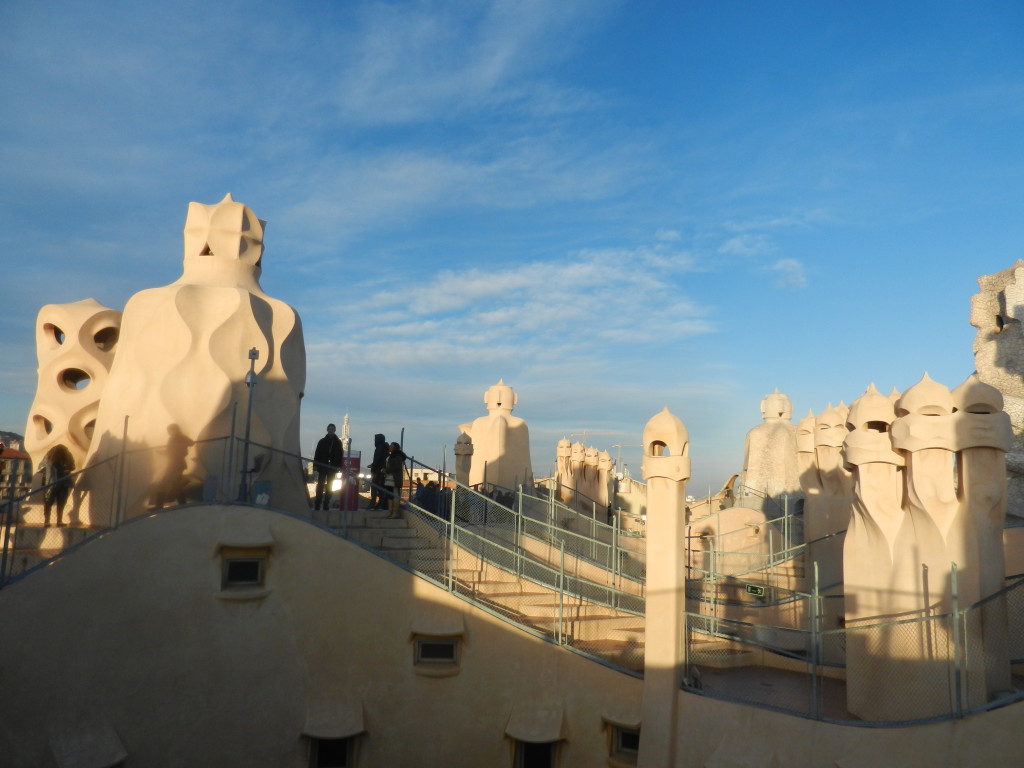 After my visit, I scurried outside to catch the evening bus to Parc Guell. Yet another Gaudi creation, this outdoor attraction is a creative masterpiece of gardens and architecture in a huge public park system.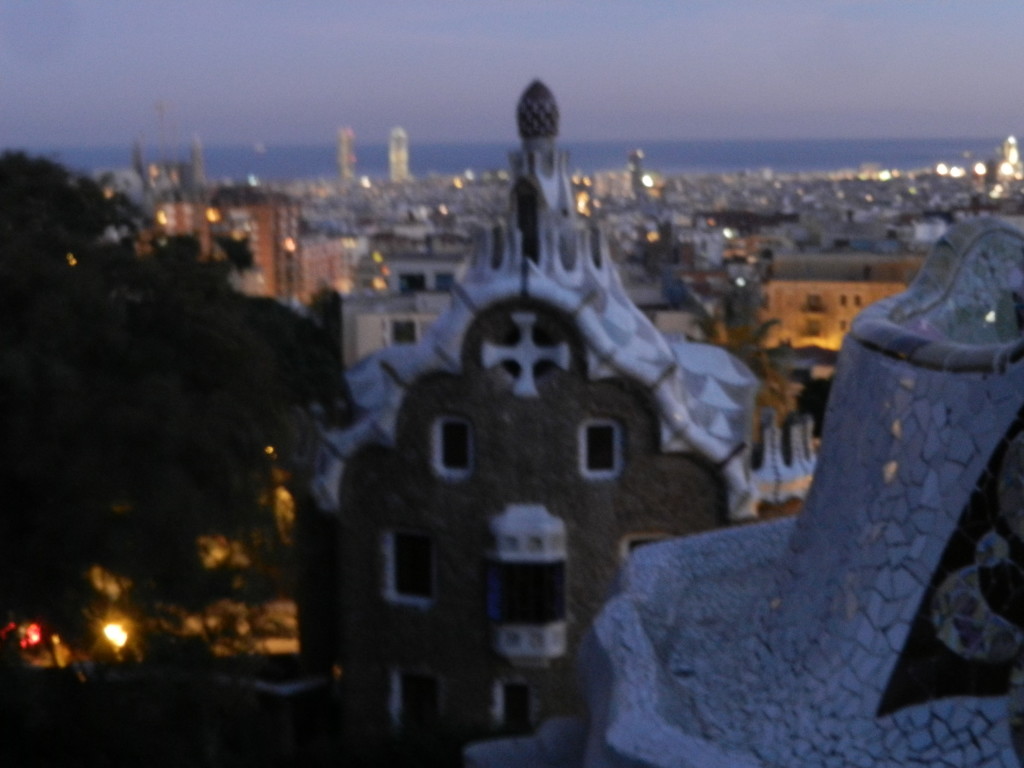 Gaudi's multicolored mosaic salamander greets the visitor at the entrance on the Roman steps.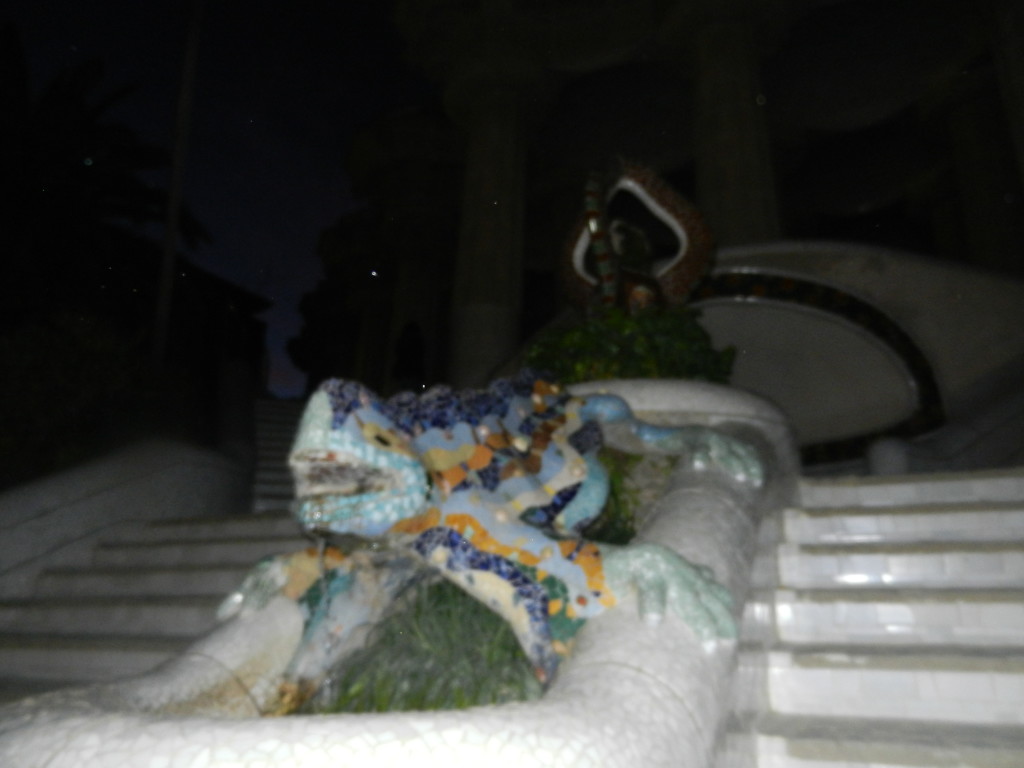 The long bench designed with a mosaic pattern, in the form of a sea serpent adorns the main terrace. The curvature of its shape forms enclaves that allow for more social interactions.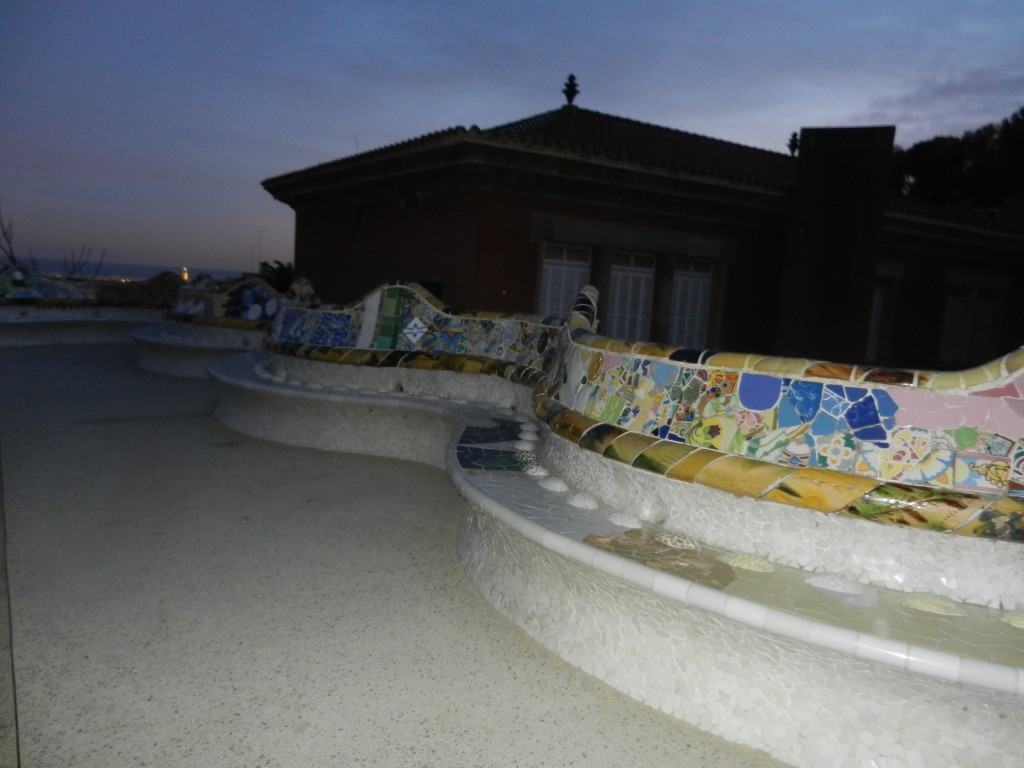 Gaudi's furnished house "La Torra Rosa" is a museum on the property and is available for tours during the day.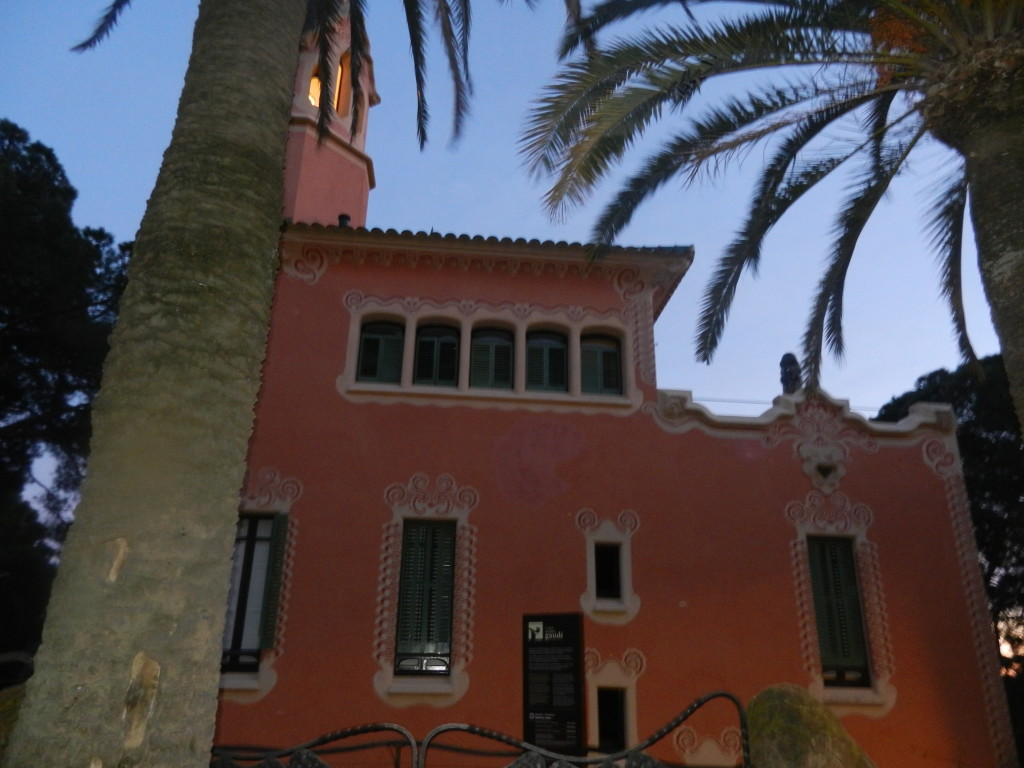 Night had befallen us, so I hopped on the bus and quickly headed to the old Gothic Quarter of Barcelona.
An old Roman Wall stood behind protective iron gates.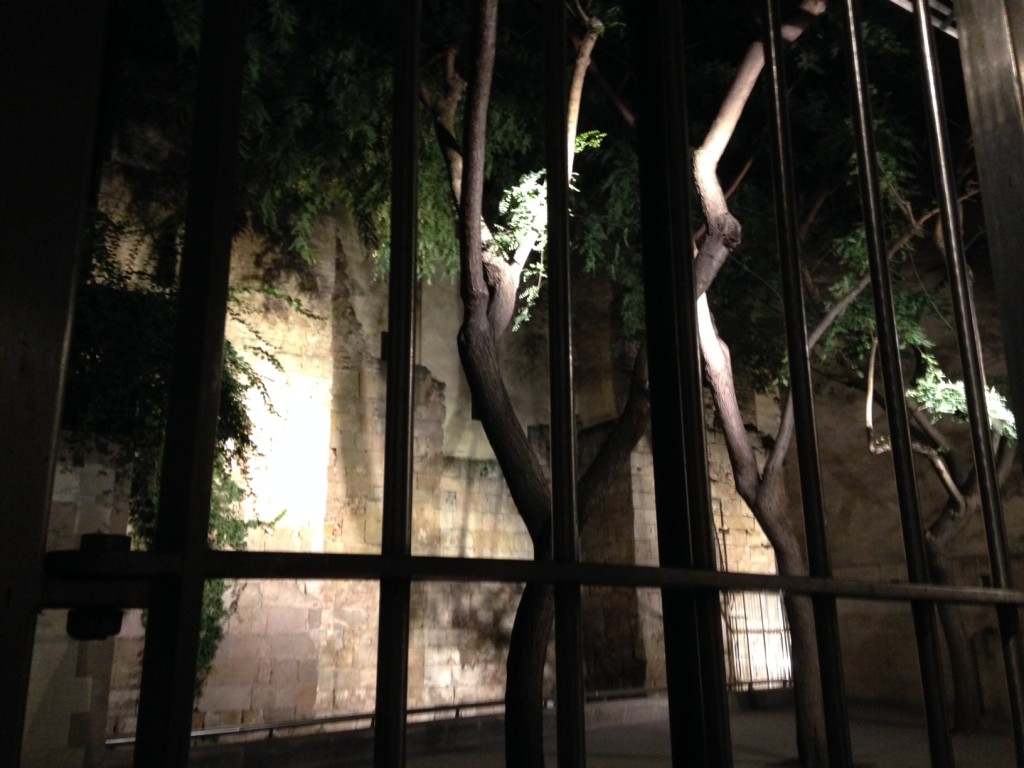 Many of the building dates back to the Medieval period. Carrer del Bisbe was the main road of the Roman era. This charming throughway is accessed by a door in the Roman Wall with a circular tower on each side.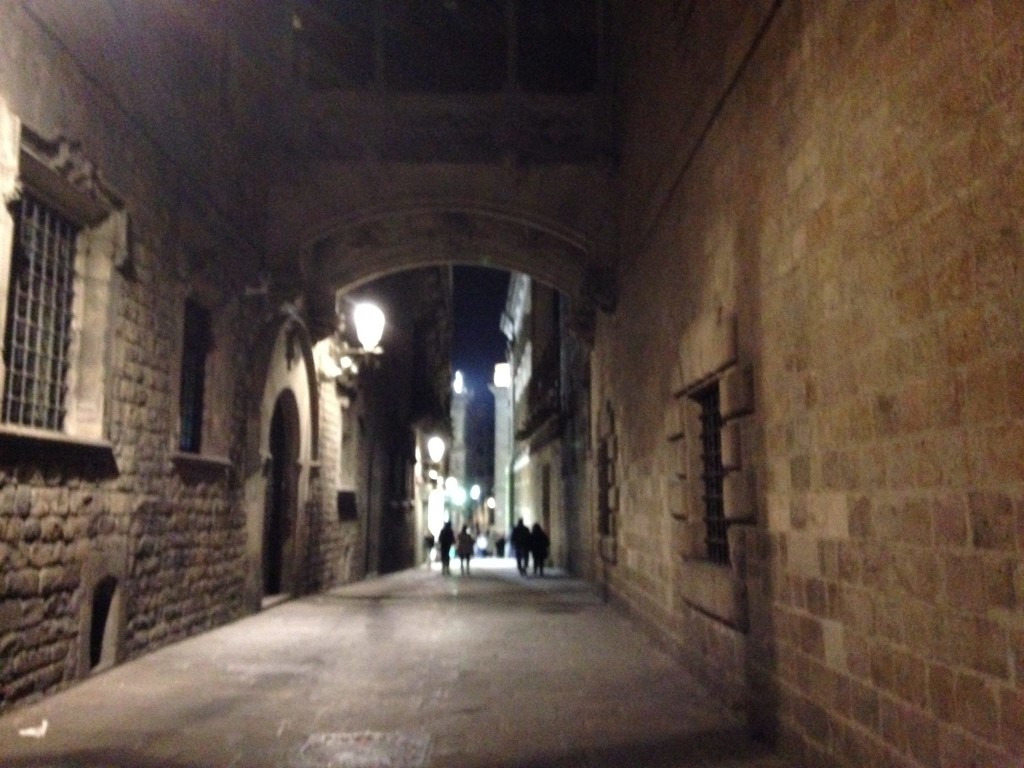 Performers were singing opera music outside of a medieval period church.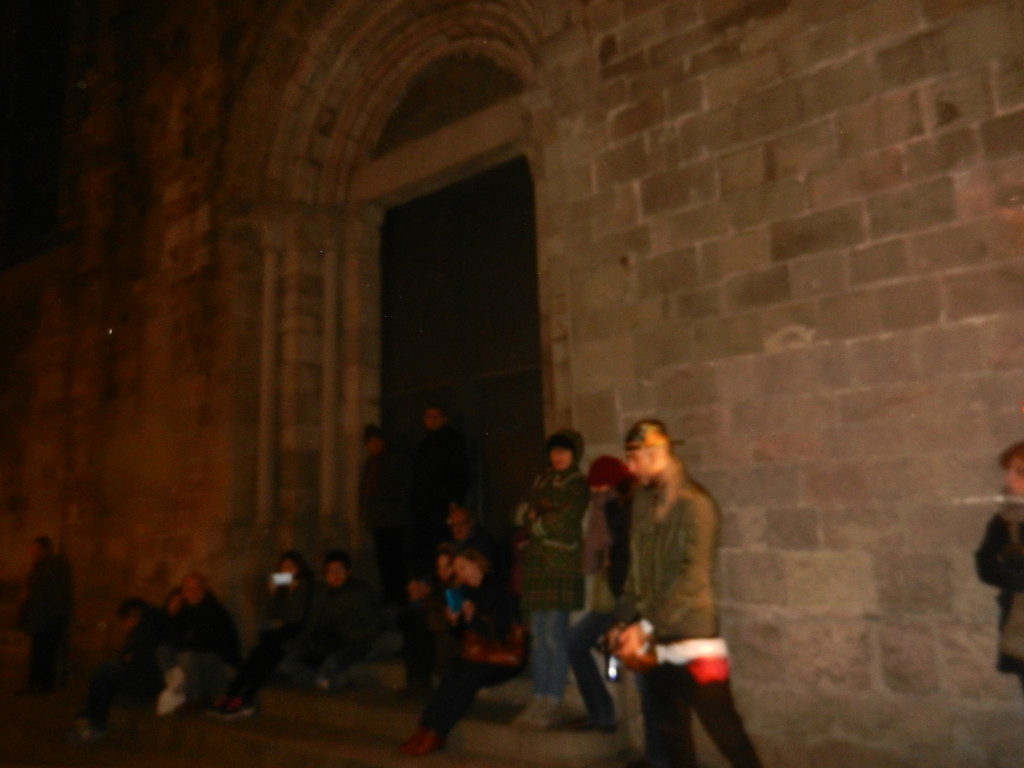 Roman ruins and narrow streets of the old Jewish neighborhood bring visitors back in time.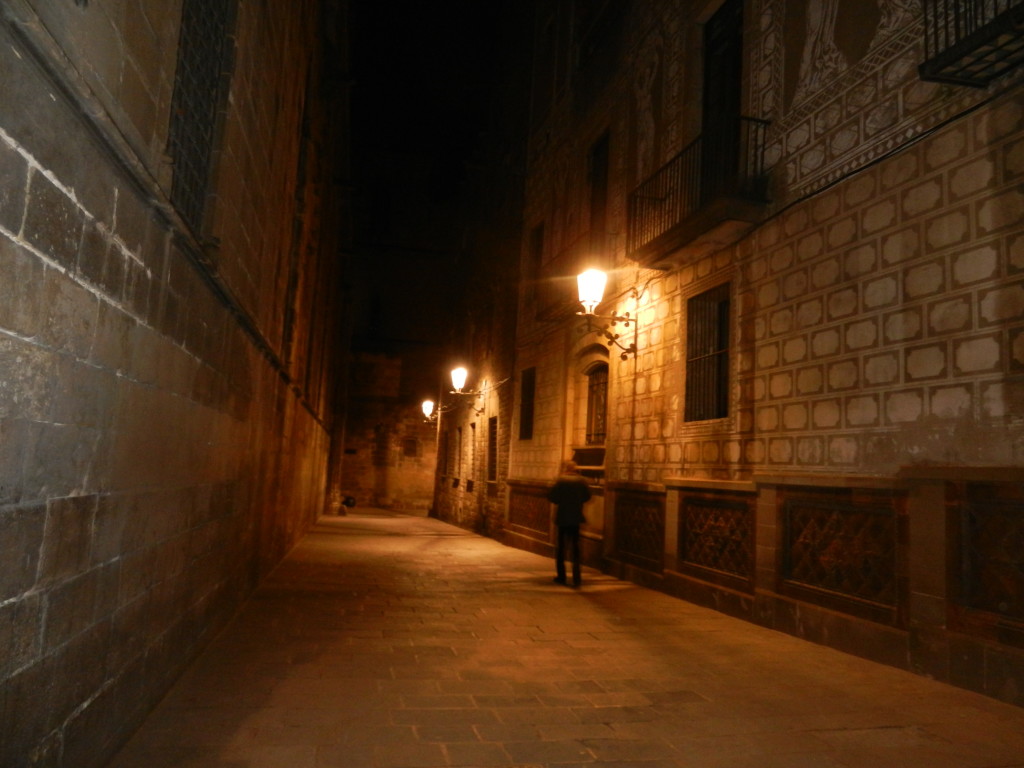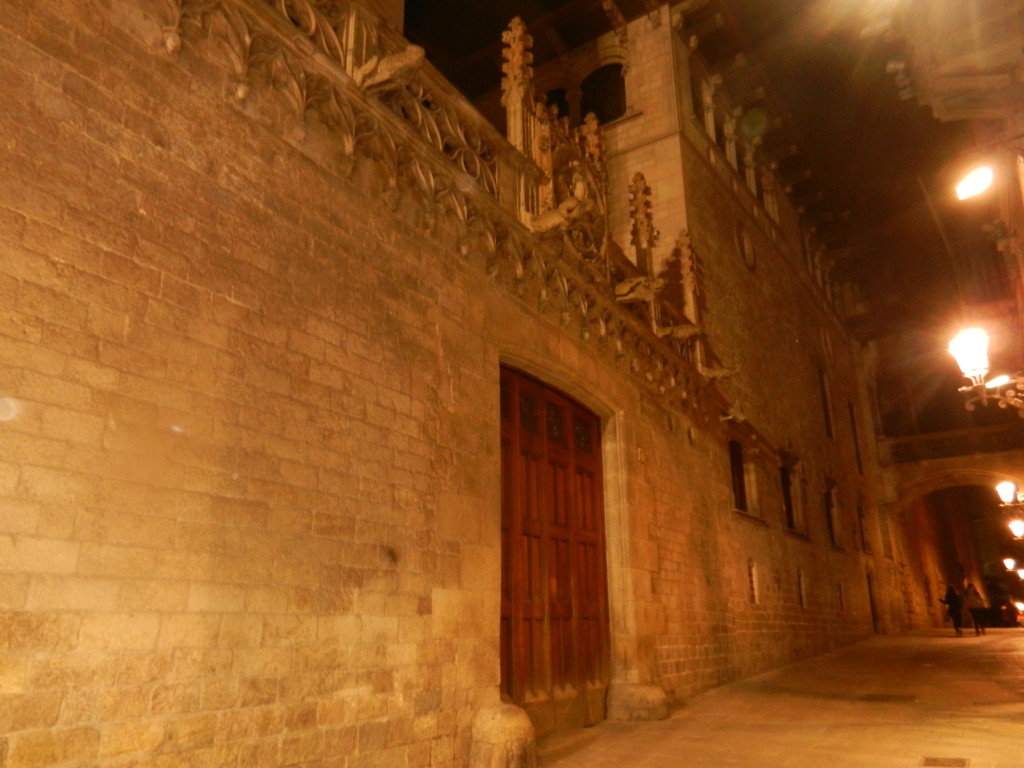 The Barcelona Cathedral of Saint Eulalia started construction in the 13th century. This gothic cathedral has gargoyle figures on its rooftop and a cloister that contains the "Well of Geese". The cathedral is dedicated to the patron saint of Barcelona.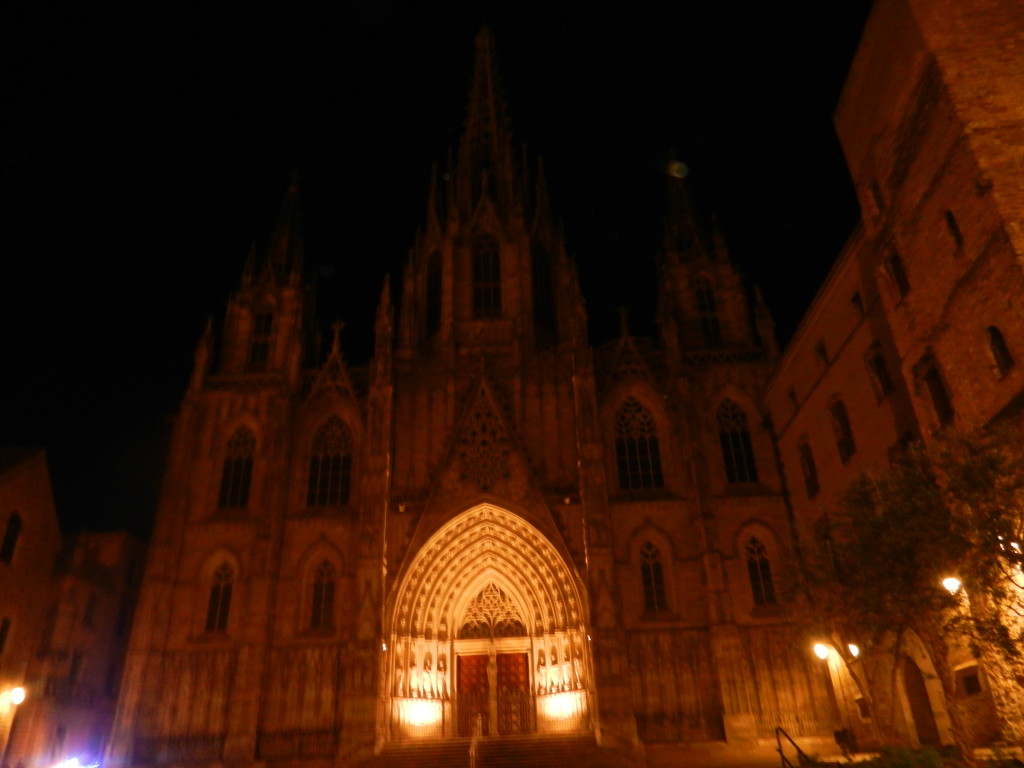 Medieval plazas can be found outside of the narrow thoroughfares and alleys.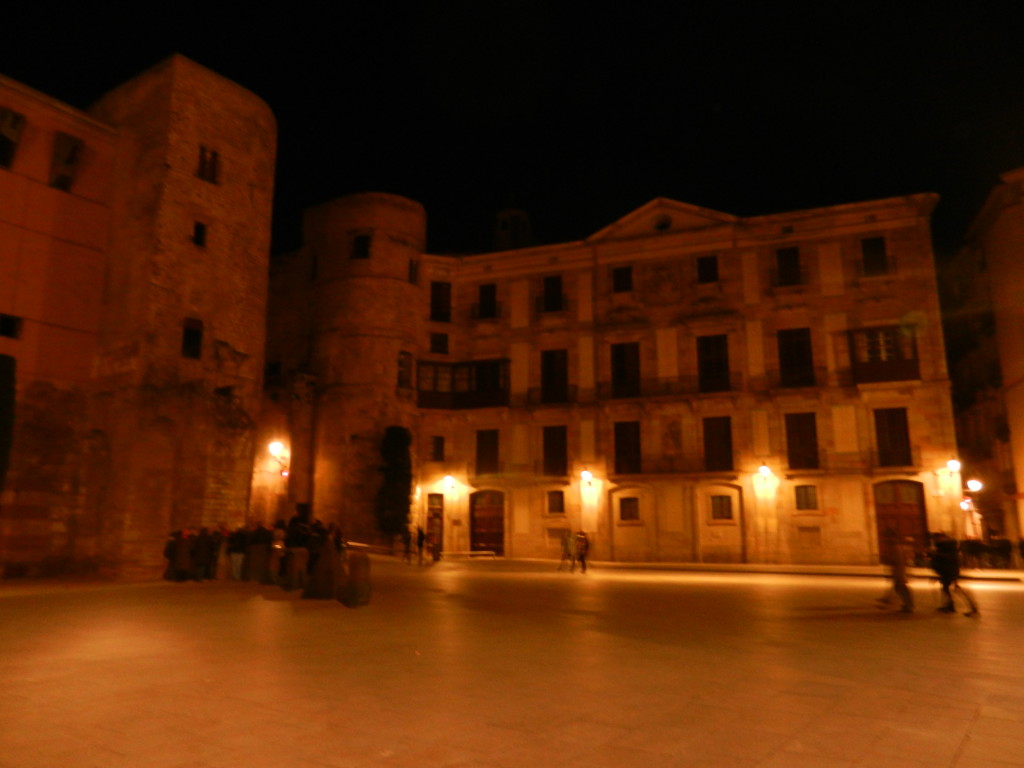 After my enjoyable evening walk through the historic old gothic quarter, I was really hungry! Juicy Jones is an all vegan restaurant that is located off of La Ramblas street.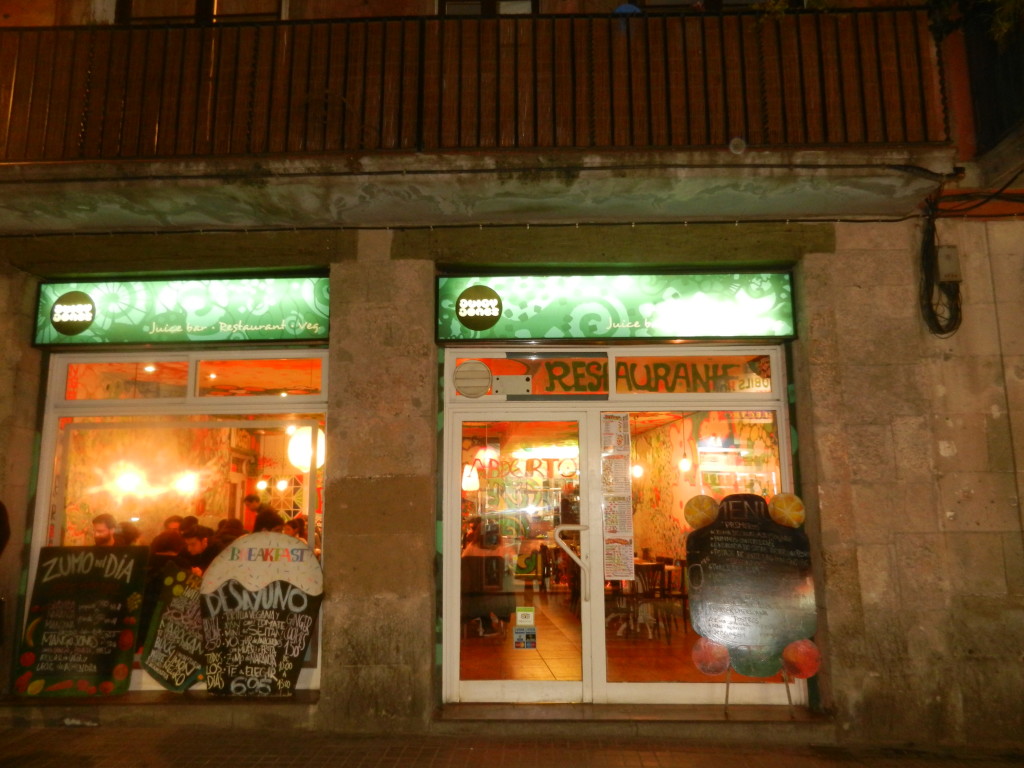 For my side dish, I selected the salad with wheat tartar, mushrooms, alfalfa sprouts, and crudite.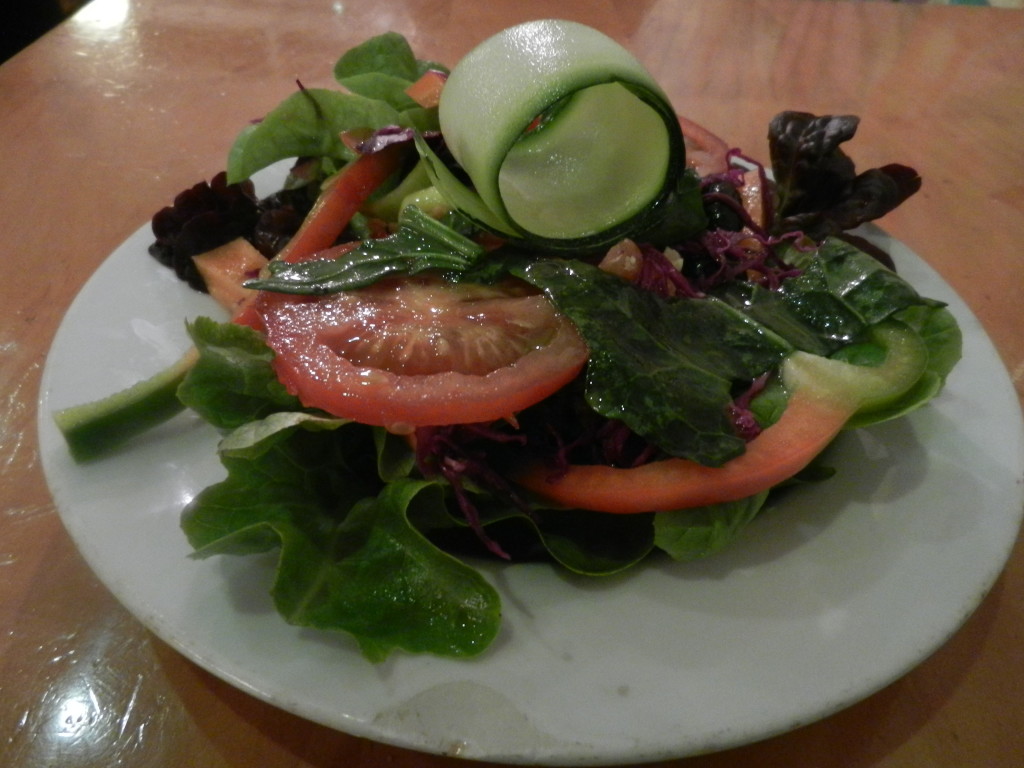 A fresh white grape juice accompanied my meal.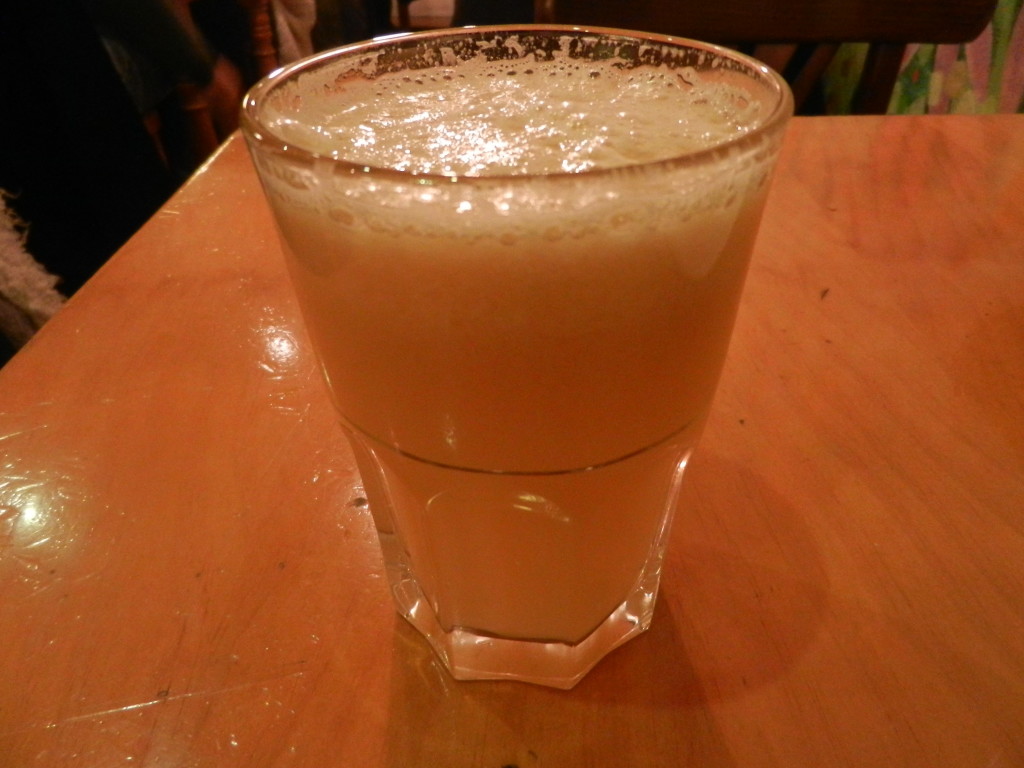 My main entree was the eggplant stuffed with tofu, polenta, and leeks. It was really delicious!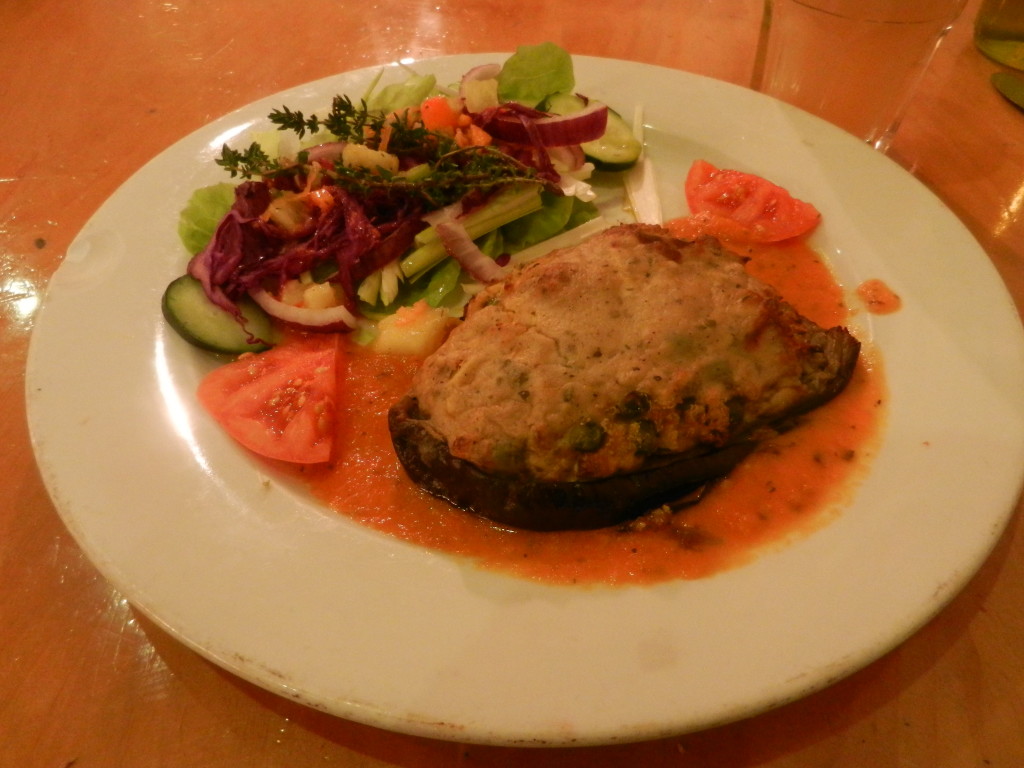 I decided upon the apple crumble for dessert. This was a delectable treat! I really enjoyed this wonderful vegan meal experience.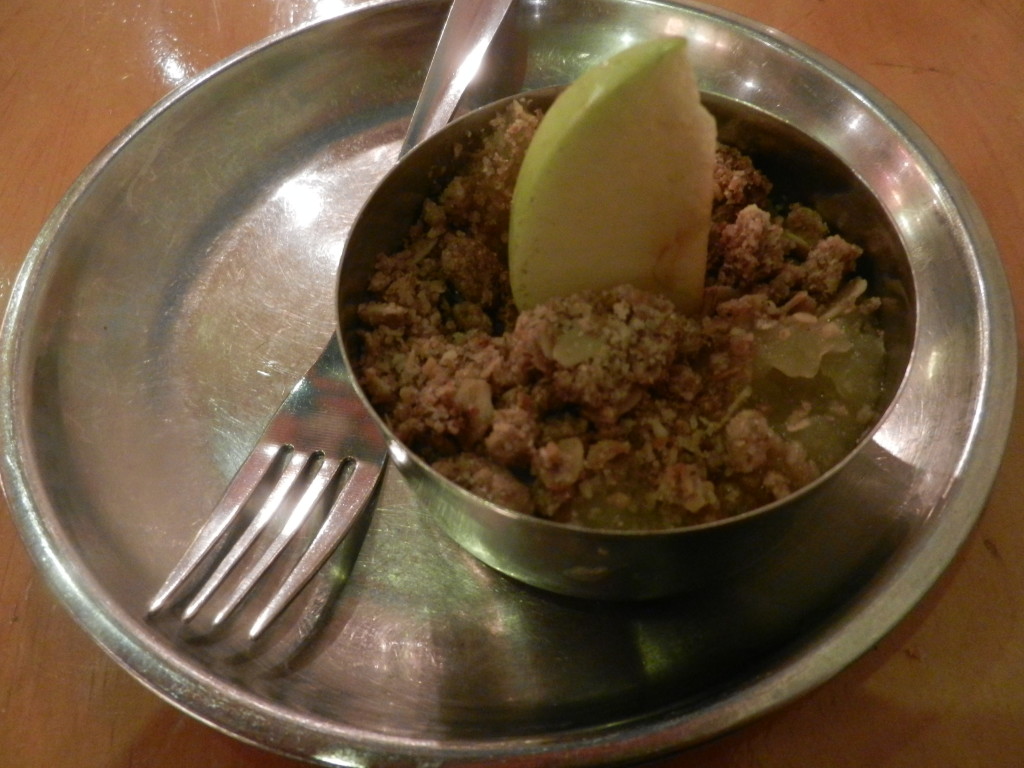 After a full day of visiting Barcelona's top attractions, it was time to call it a night. The touristic sights and vegan dining in this city were absolutely wonderful! I went back to my hotel to get some sleep. I would get up bright and early the next day to catch the AVE fast train to Madrid!
Tweet This Post