My two day TBEX Travel Blogger conference had wrapped up by Friday evening. The time was ripe to do some weekend sightseeing in warm & sunny southern Florida! Thus that Saturday morning, I hopped on an early Greyhound bus to Miami for a fun day trip. Upon arrival in town, I went directly to the completely vegan "Choices Kitchen"(Choices Kitchen) for my breakfast meal.
A thirst-quenching "Green Envy" made of Spinach, Kale, Apple, Banana, Garlic, and Ginger started off the day.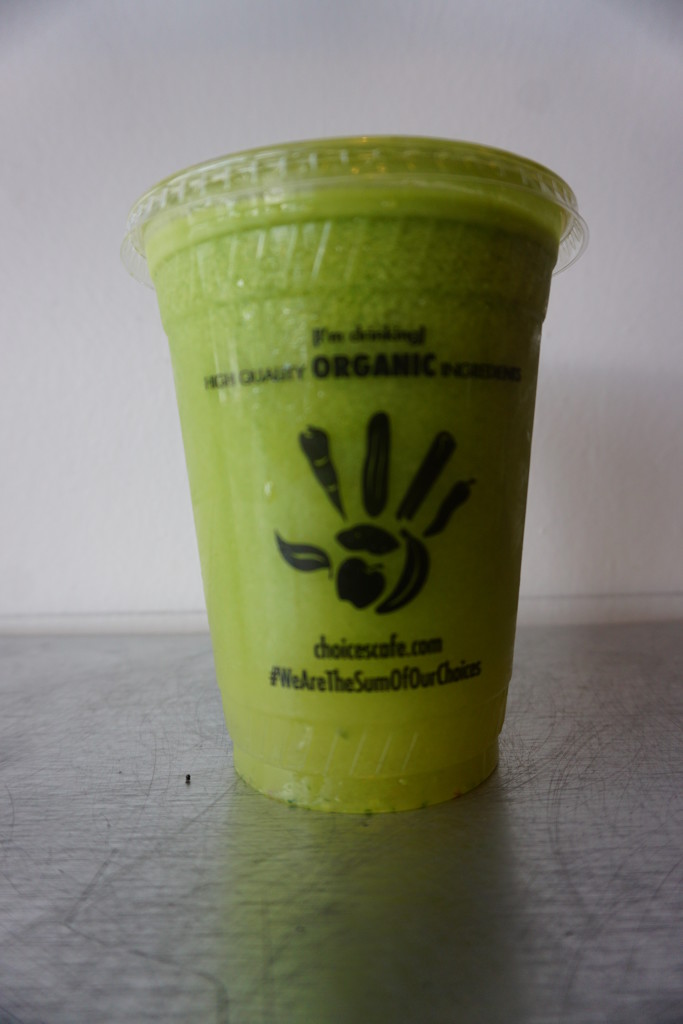 For my breakfast main course, I selected "The Kind Slam" consisting of one mango pancake, tofu scramble, and two slices of tempeh bacon. A side of sprouted grain toast with pesto butter accompanied the meal. The entire breakfast was so delicious!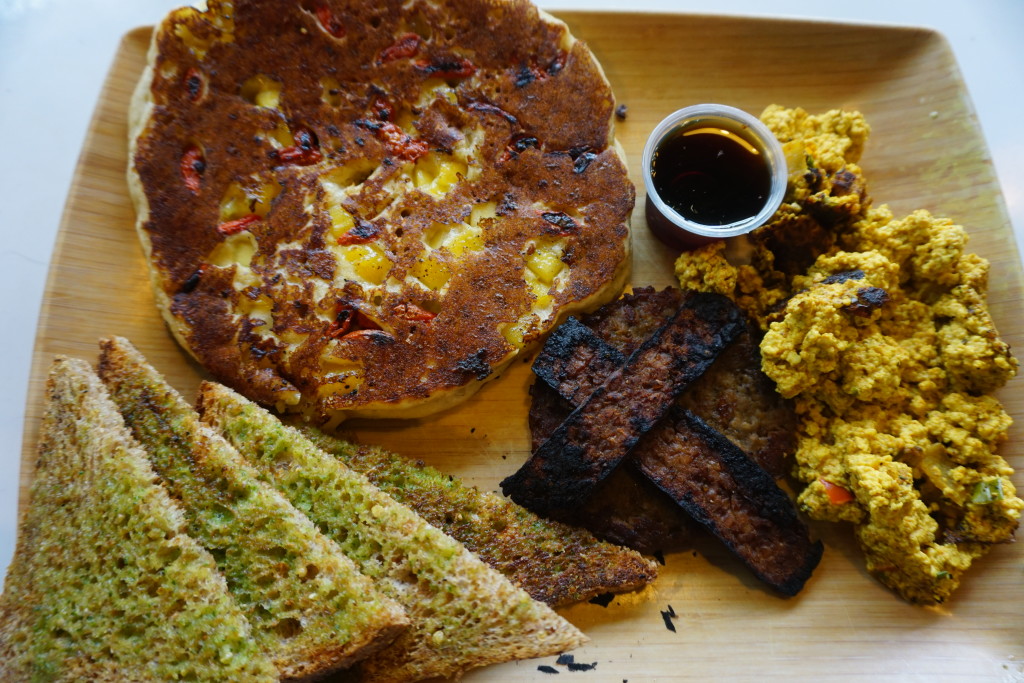 A display case near the register showcases a nice variety of vegan baked goods. I purchased a maple faux "bacon" donut. What a yummy treat! I highly recommend "Choices Kitchen" for a filling and spectacular vegan breakfast.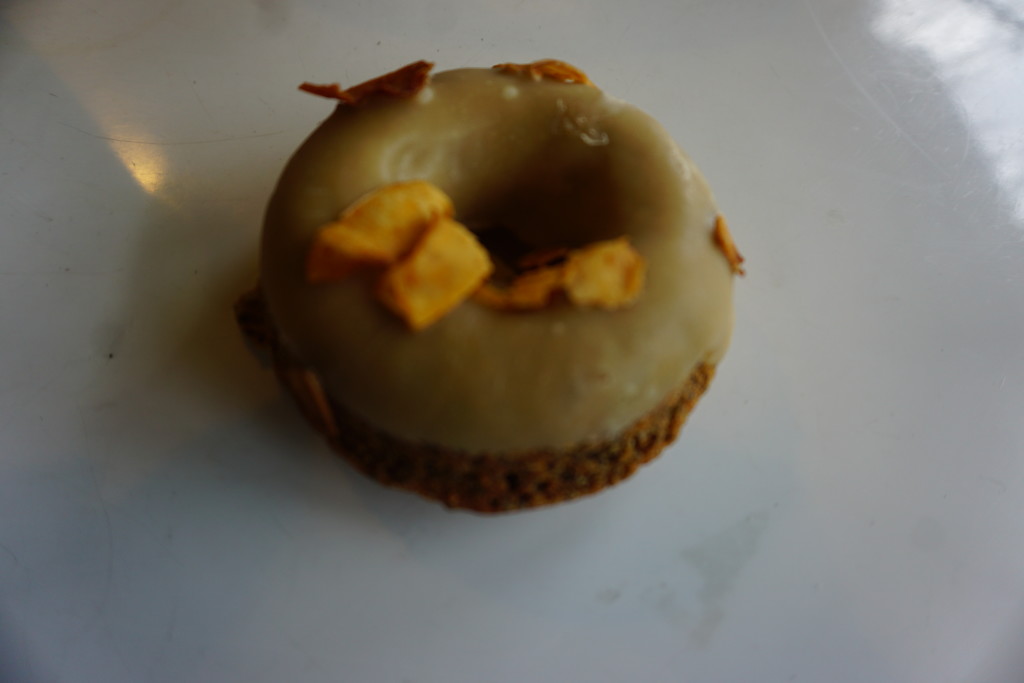 After having eaten this wonderful breakfast, my day of sightseeing was about to begin. First on my agenda was the popular "Little Havana" neighborhood of Miami. This neighborhood is home to many Cuban immigrants. Little Havana was named after the capital of Cuba.
The first landmark that I encountered was the "Walk of Fame" on Calle Ocho(8th Street). The sidewalk pavement contains golden star imprints with names of Cuban-born and other Latino celebrities in the music, sports, and film industries. Samy Sosa, Gloria Estefan, and Tito Puente each have a star.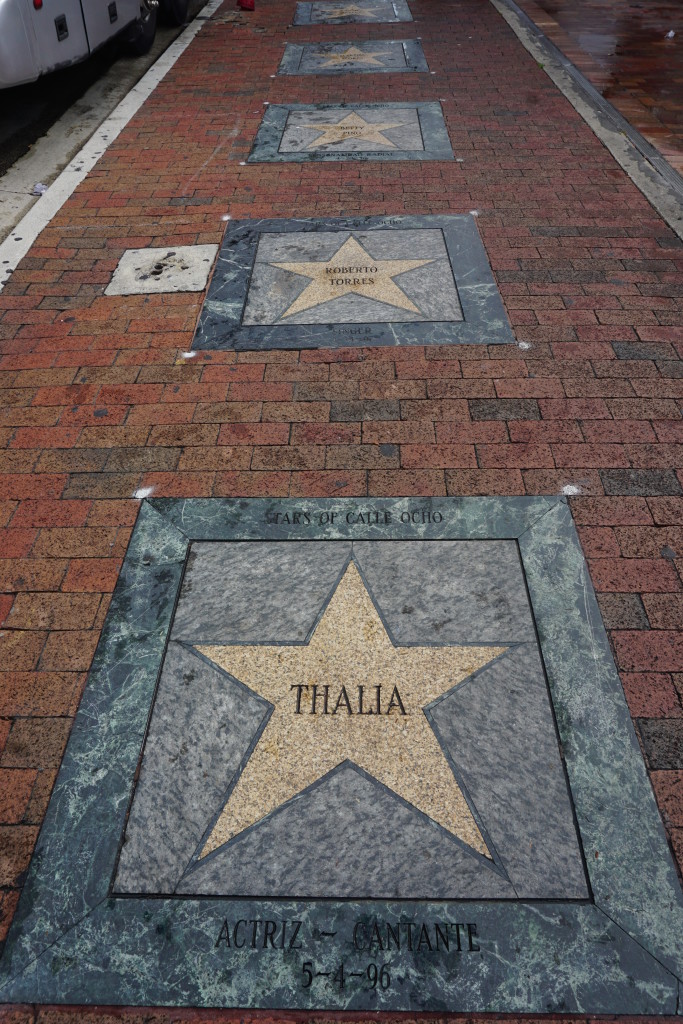 Further up the road, I observed the Bay of Pigs Memorial with flame, honoring its heroes.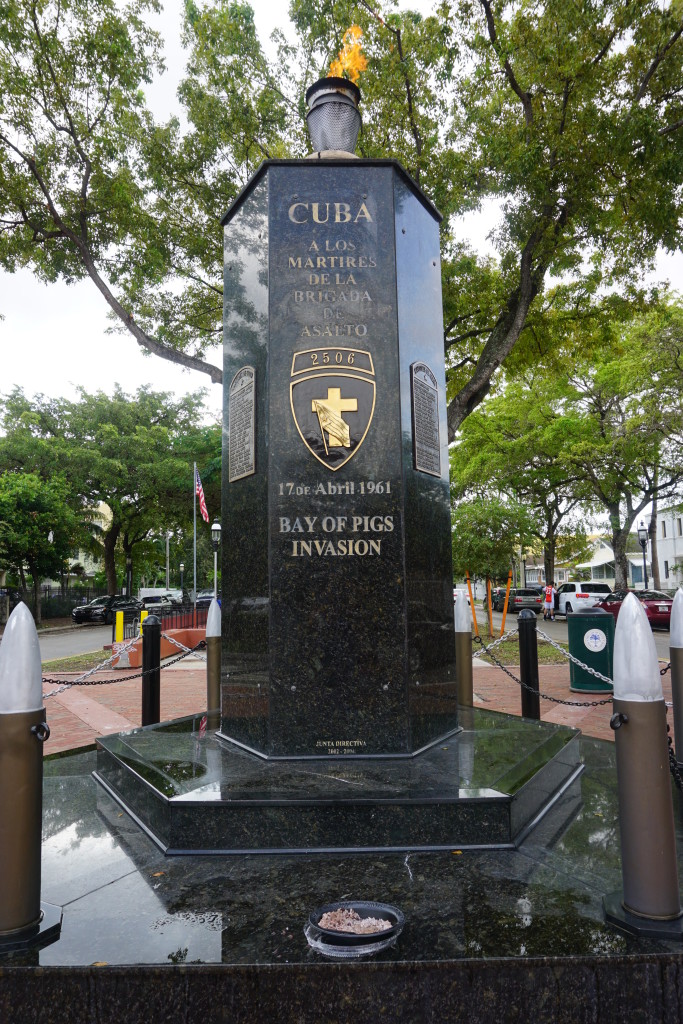 The Florida heat urged me to grab a cool beverage at this point. Several fruit stands reside in the area and offer popular tropical fruit juices such as mango, watermelon, papaya, and orange.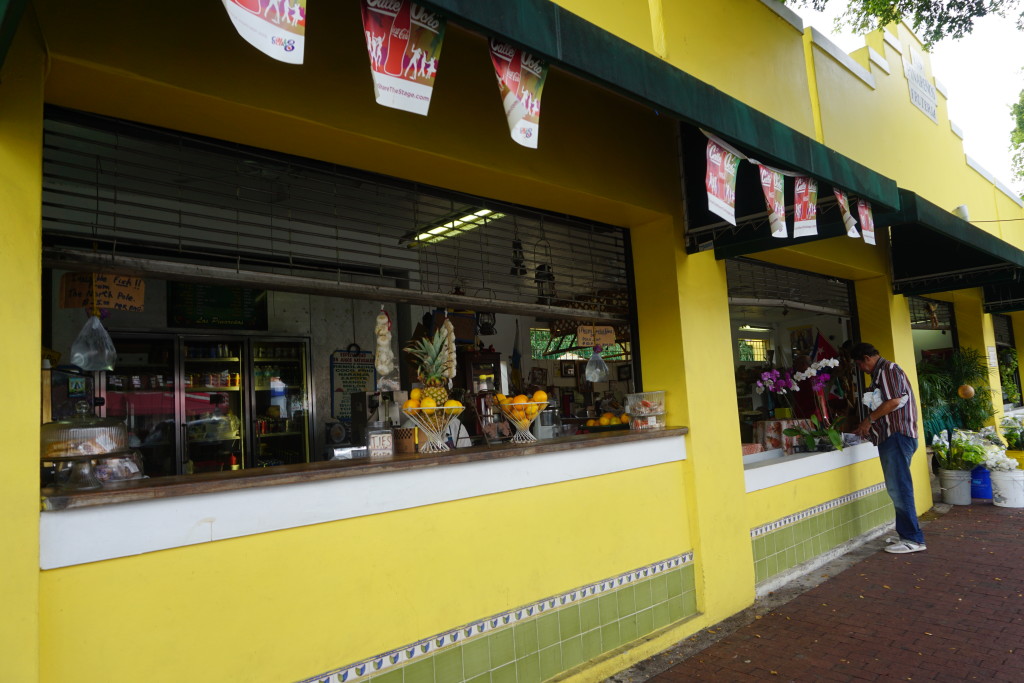 I stopped for a cold and satisfying "jugo de papaya" (papaya juice).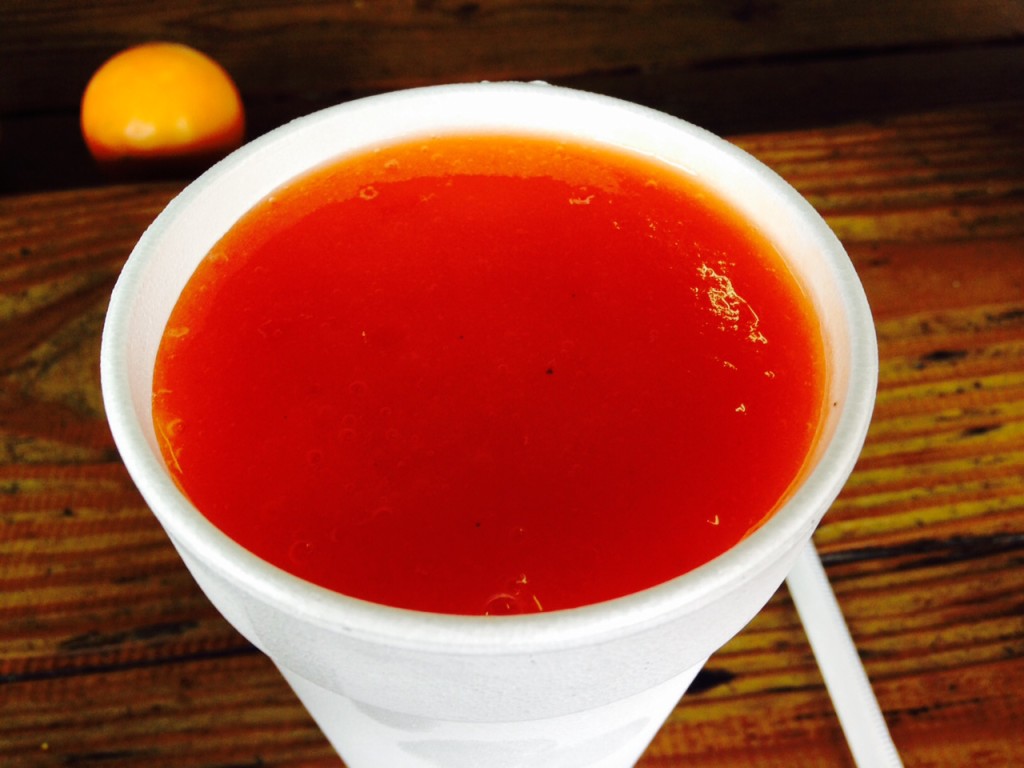 Another attraction for which the neighborhood is fondly known, is the random rooster that wanders about here and there. Two or three met my path.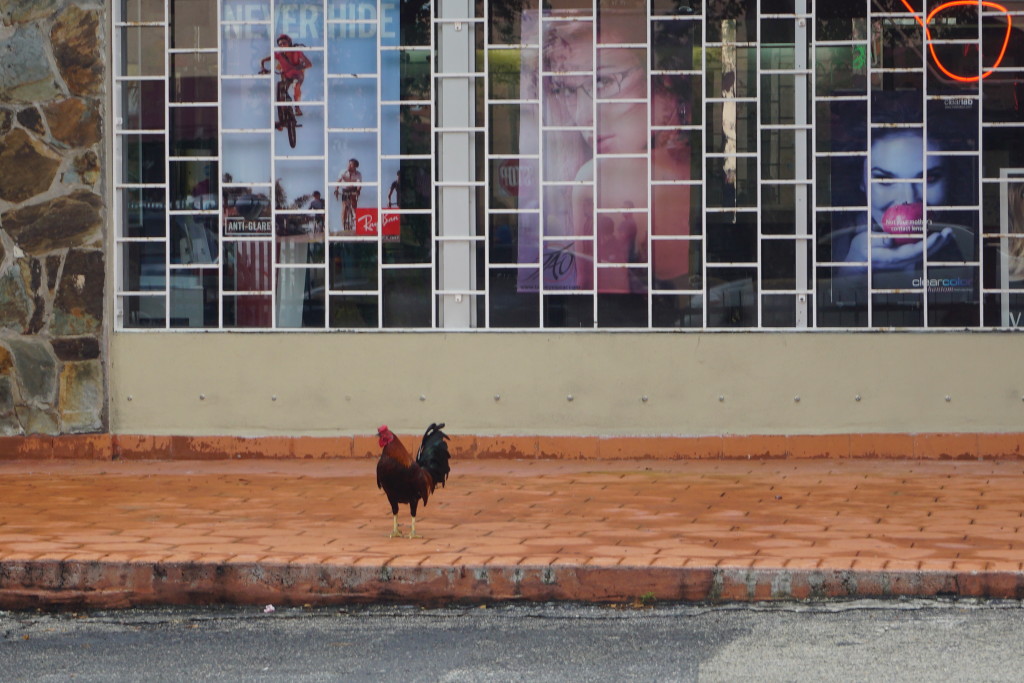 Random spots along the sidewalk revealed additional stars on the Walk Of Fame. The music legend Celia Cruz was represented with a well-deserved star.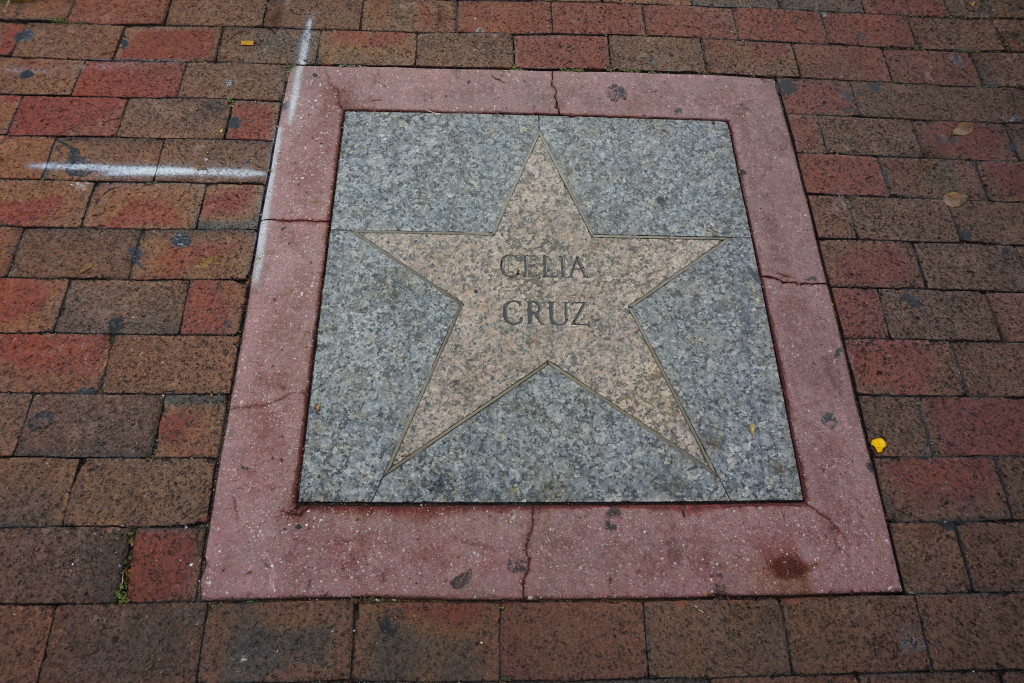 Neighborhood markets sell Latin American food products and produce, such as rice and beans.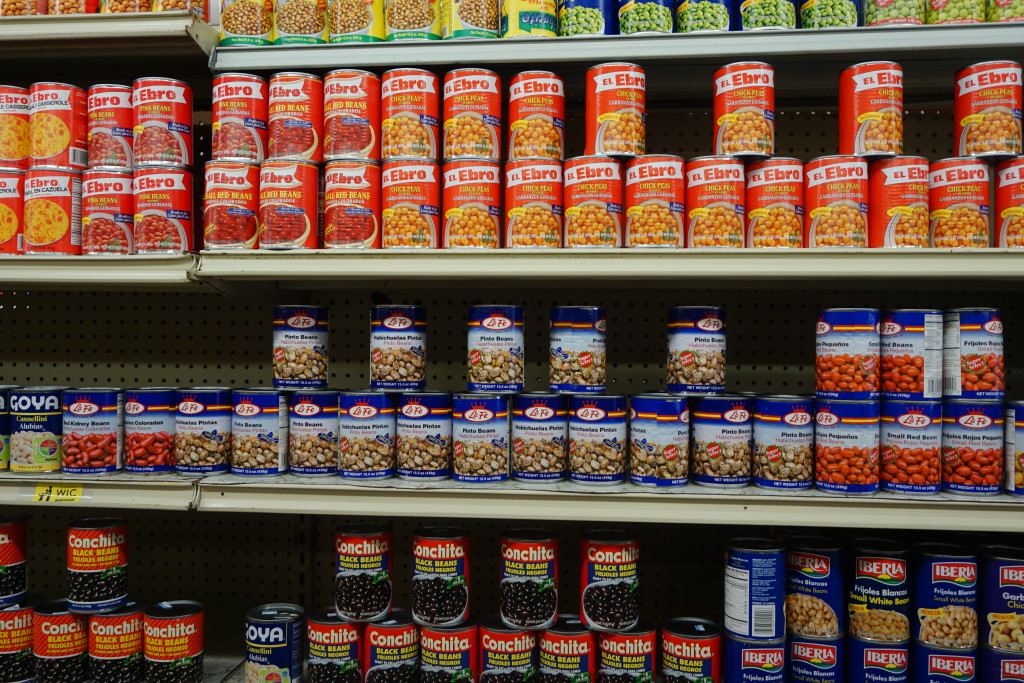 Little Havana is also renowned for its colorful graffiti artwork. Exteriors of restaurants, shops, benches and other media showcase wonderful examples of this artistic graffiti.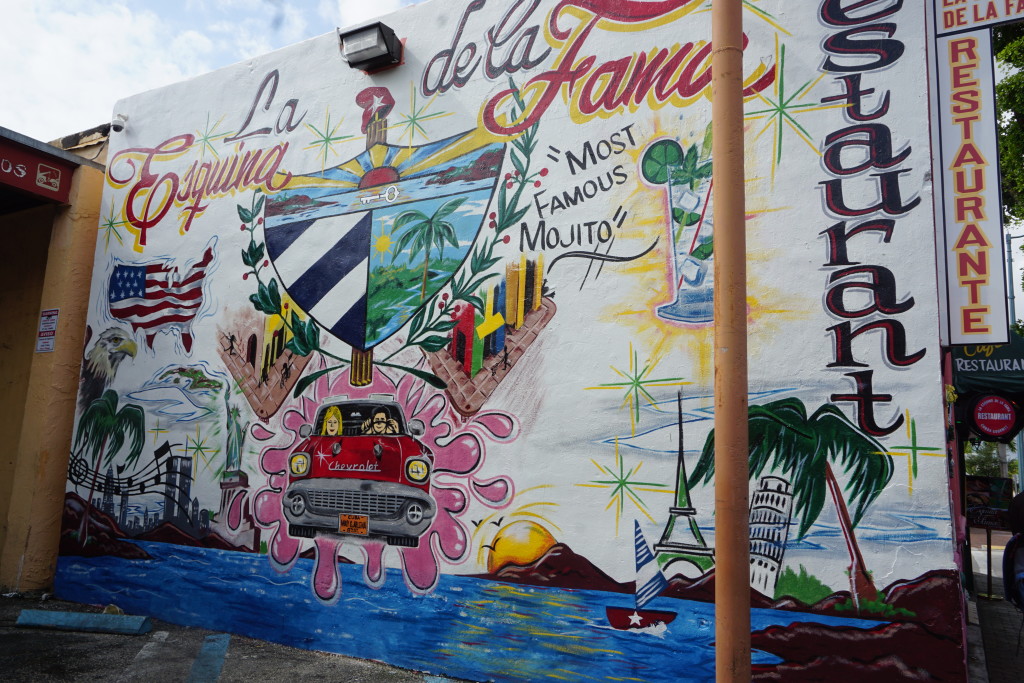 Miniature plaques, license plates, and mosaic tiles are also media forms used to showcase local art.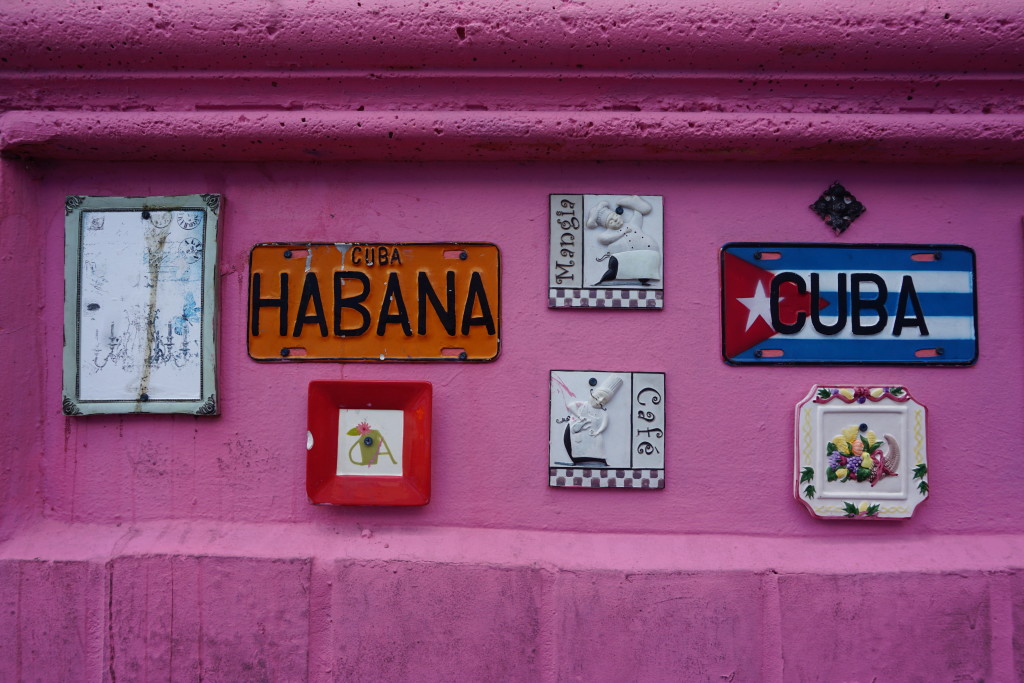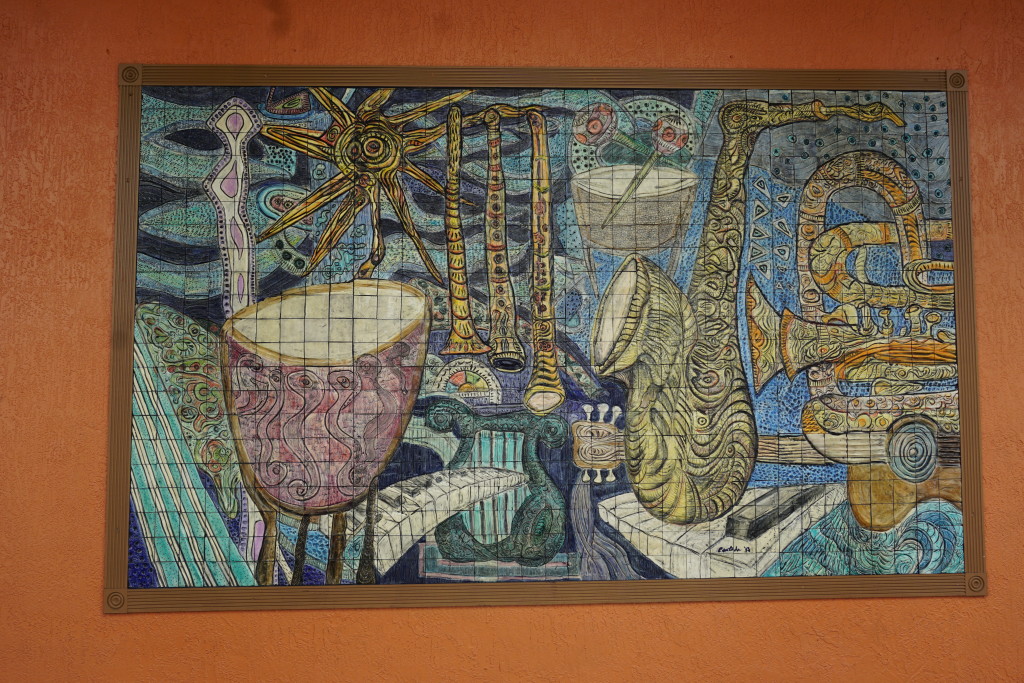 Several gift shops on Calle Ocho offer Cuban style souvenirs including rooster statues, art pieces, and jewelry. Through the windows of one such gift shop, one notices the reflection of a classic blue & white auto that is typical of Cuba.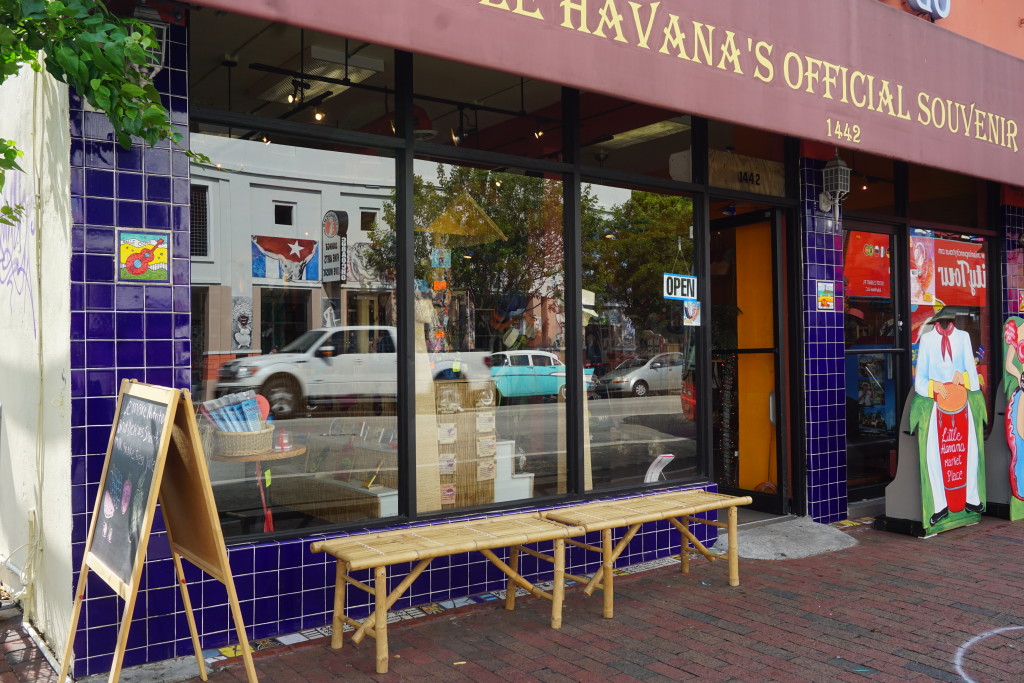 Domino Park is a small park in Little Havana where seniors enjoying playing a game of dominos. Many tables are set up with groups of four socializing and playing the relaxing game on a lazy afternoon.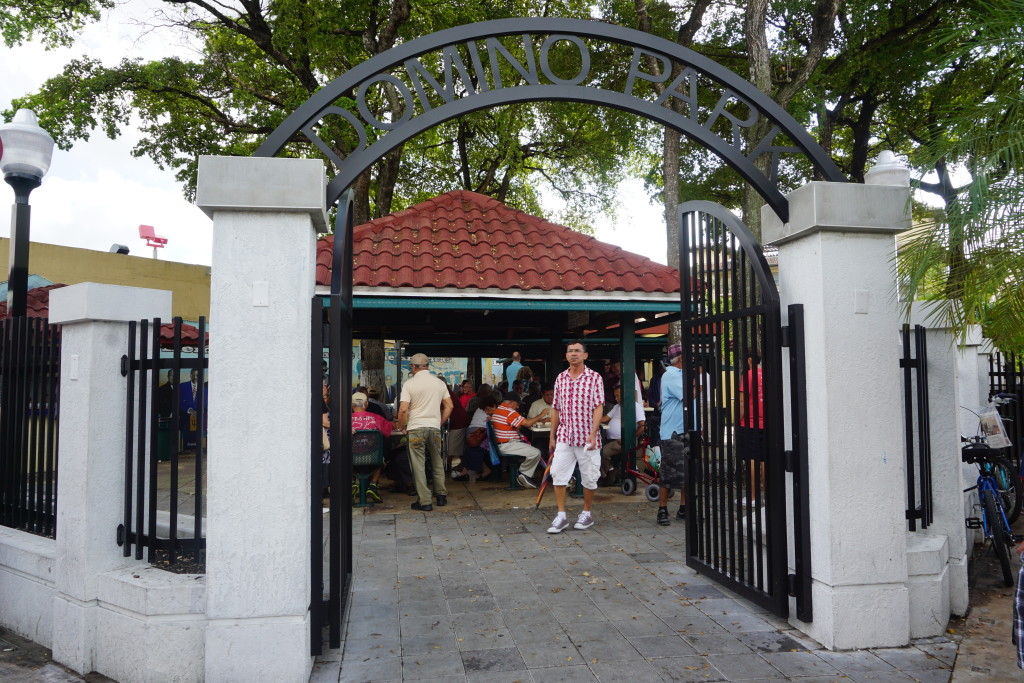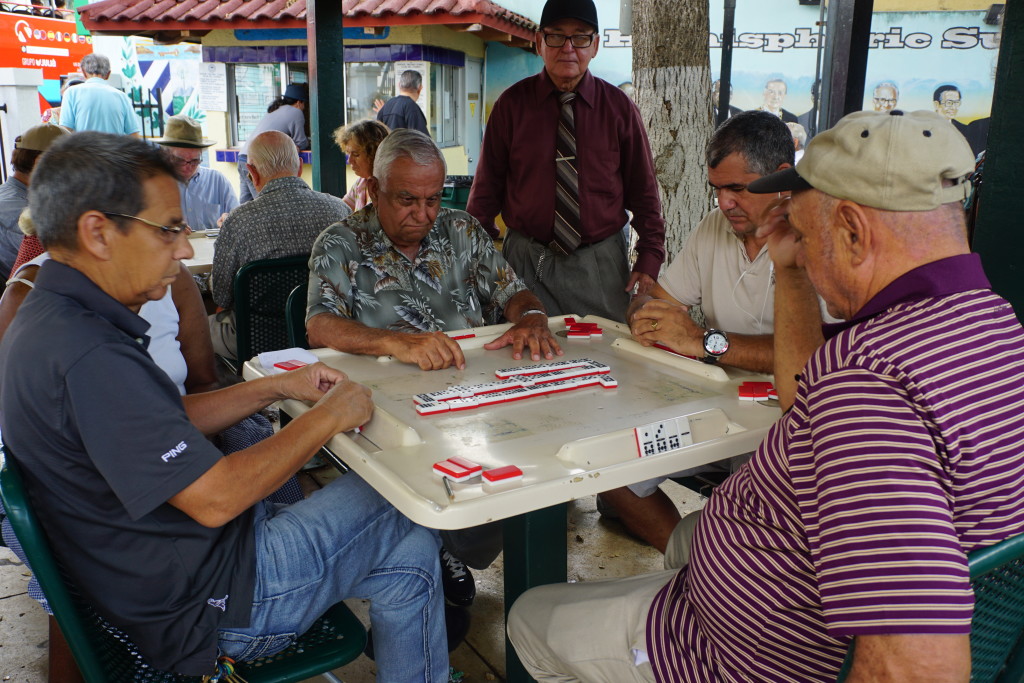 Colorful mosaic tiled walls and walkway pavement also proudly showcase the vibrant ambiance of the neighborhood.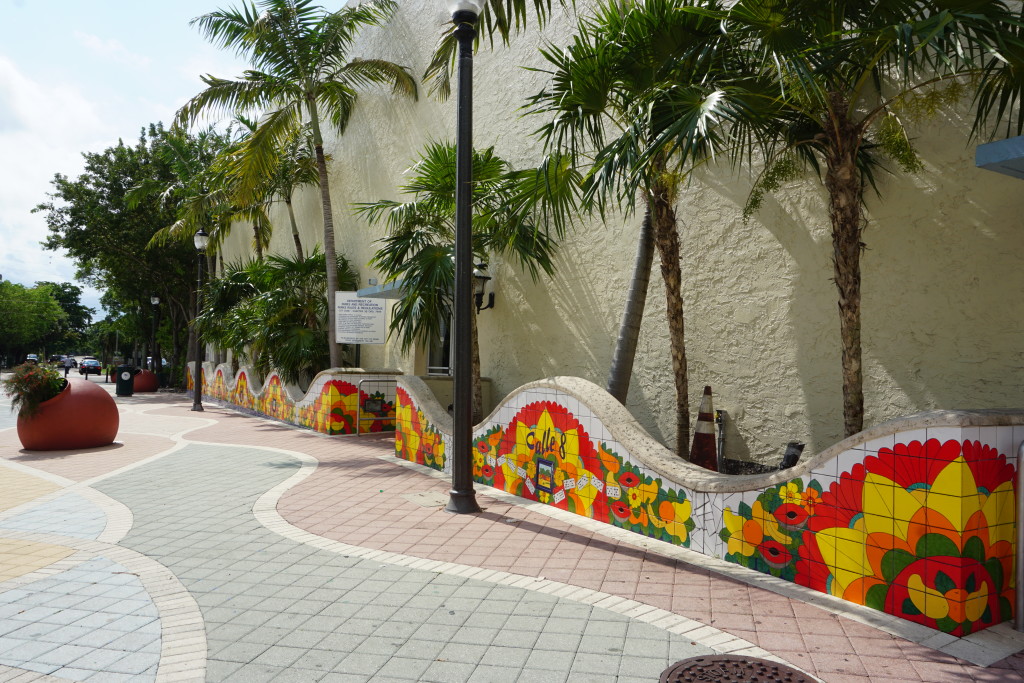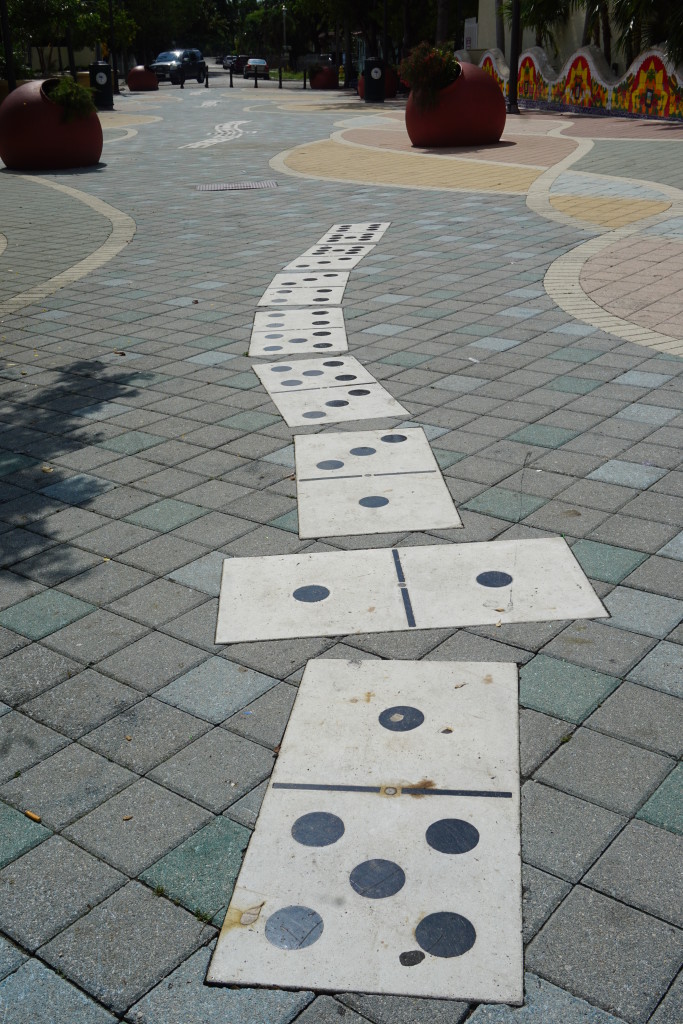 Across the street, my eyes set gaze upon the Masters of Cuban Art Museum.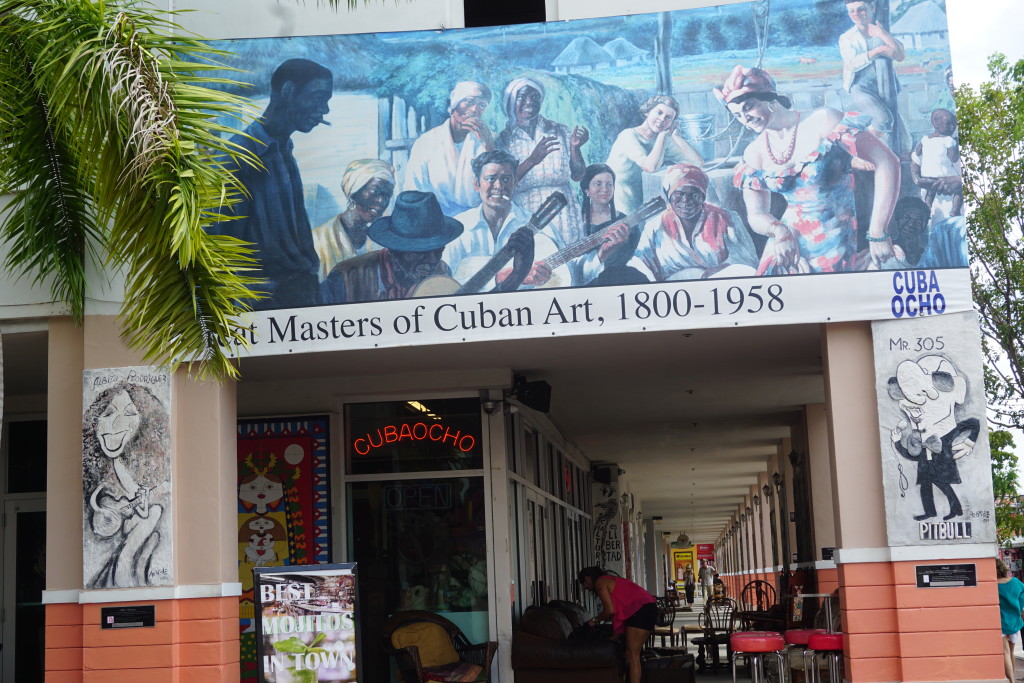 Along the museum's exterior, artwork by Cuban artists are displayed, as well as paintings depicting Cuban celebrities and their contributions to the music scene.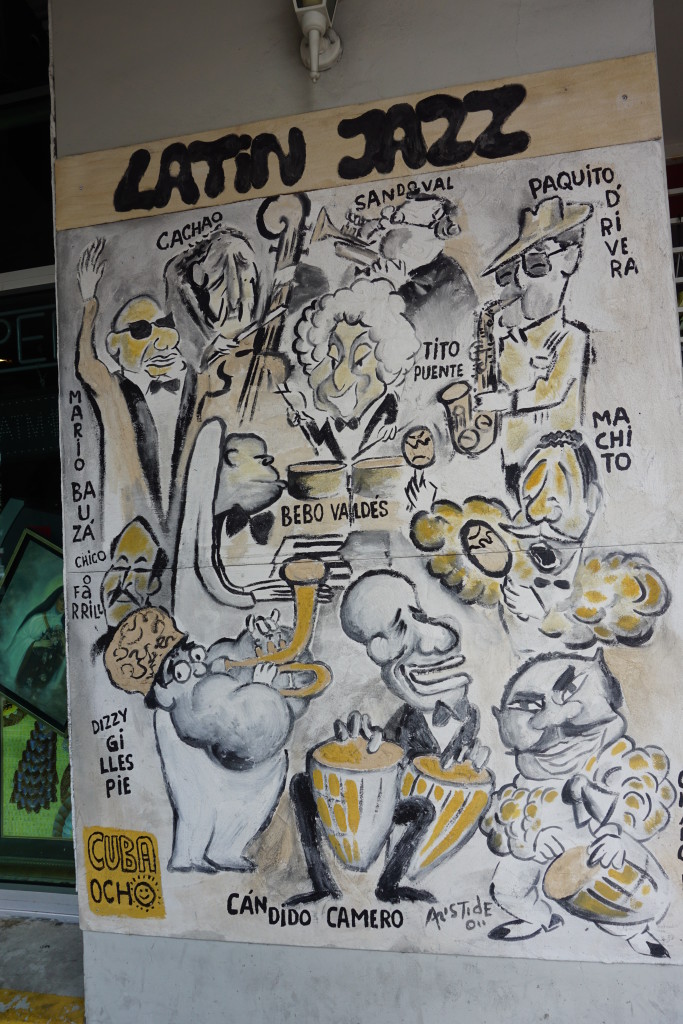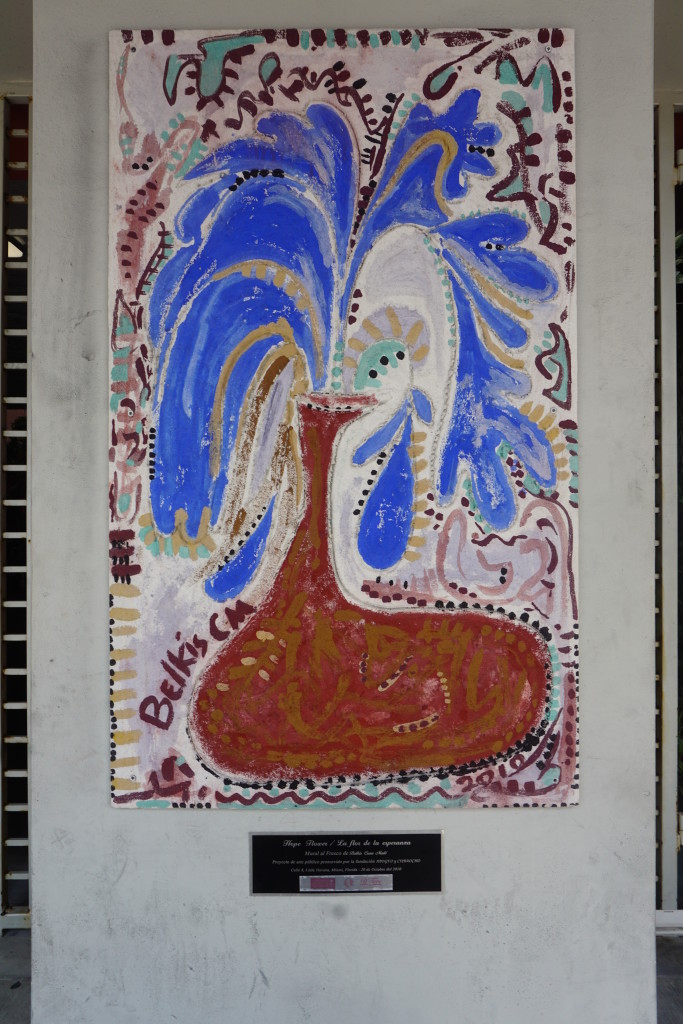 Bands playing Cuban music perform in several restaurants along Calle Ocho. Its a great way for tourists to experience the Cuban music scene.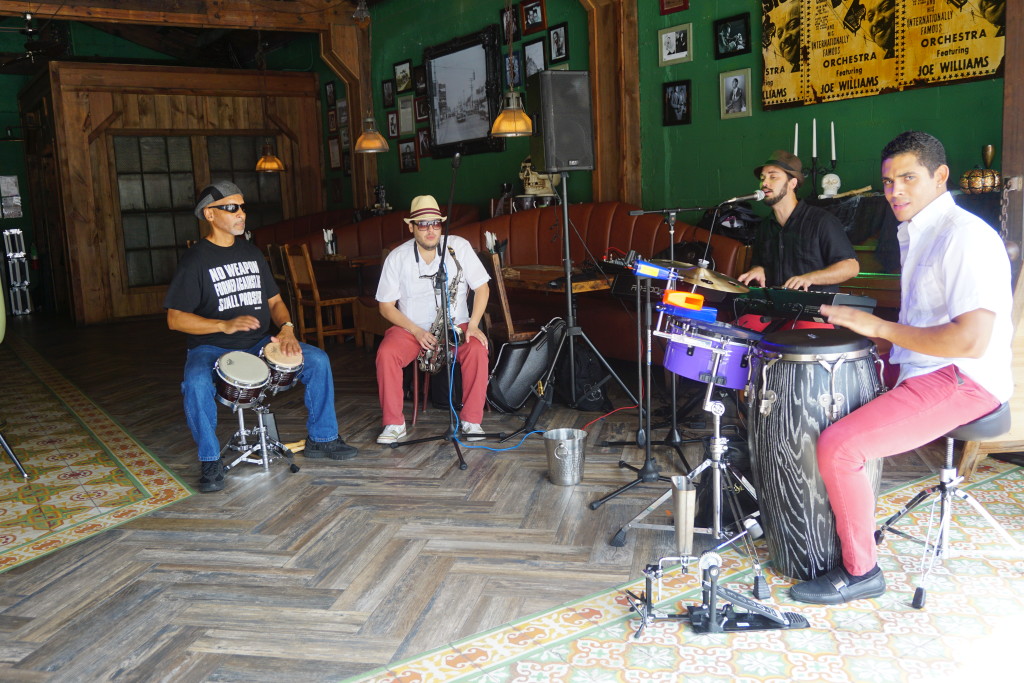 A music shop on Calle Ocho sells cds by Cuban singers and other Latin American performers.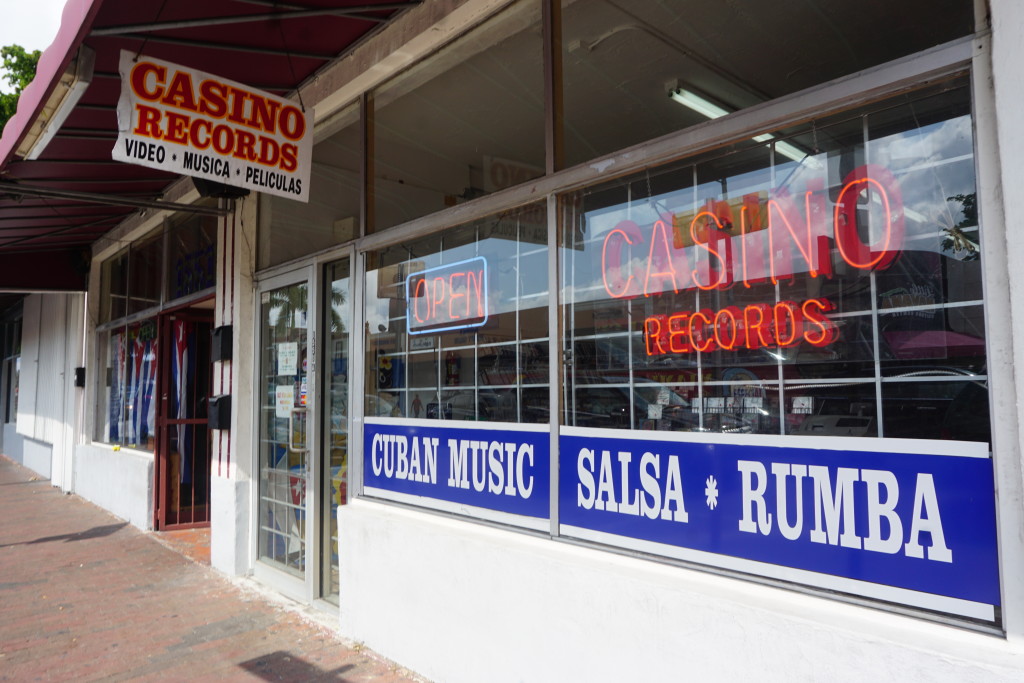 A wide range of music is found on the shelves. Whether its a widely recognized artist such as Celia Cruz or a band known primarily in Cuba, one can find their music cds in this shop.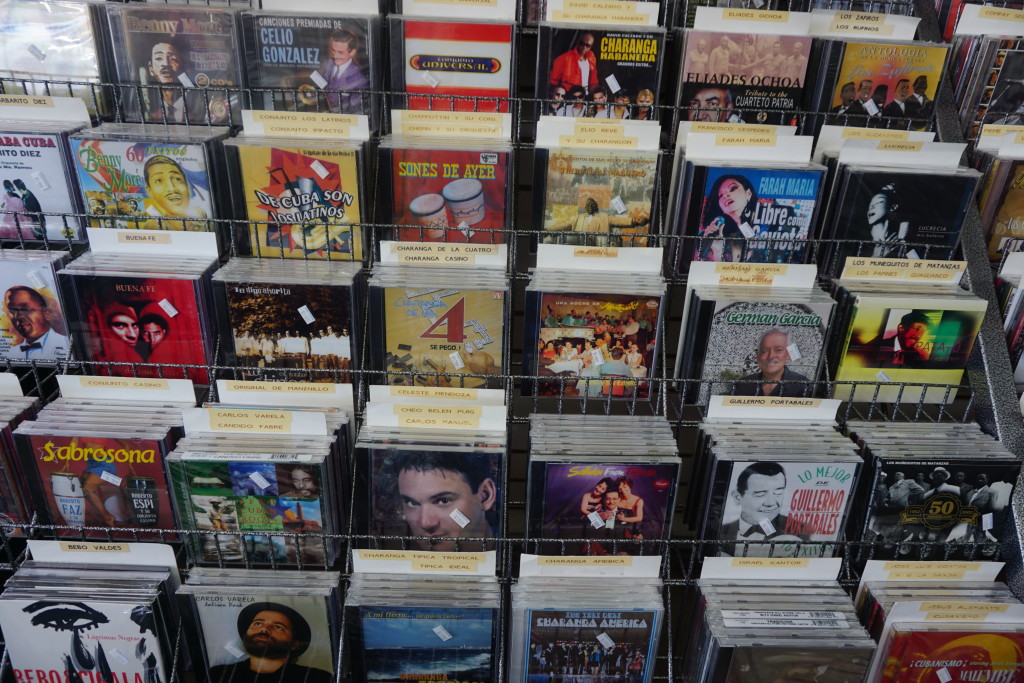 Onward to my next stop. The Futurama art gallery showcases works by many local artists. A range of styles representing contemporary art are found here. Whether it is paintings of Little Havana scenes in rich colors or 3D art, there is something for everybody to enjoy.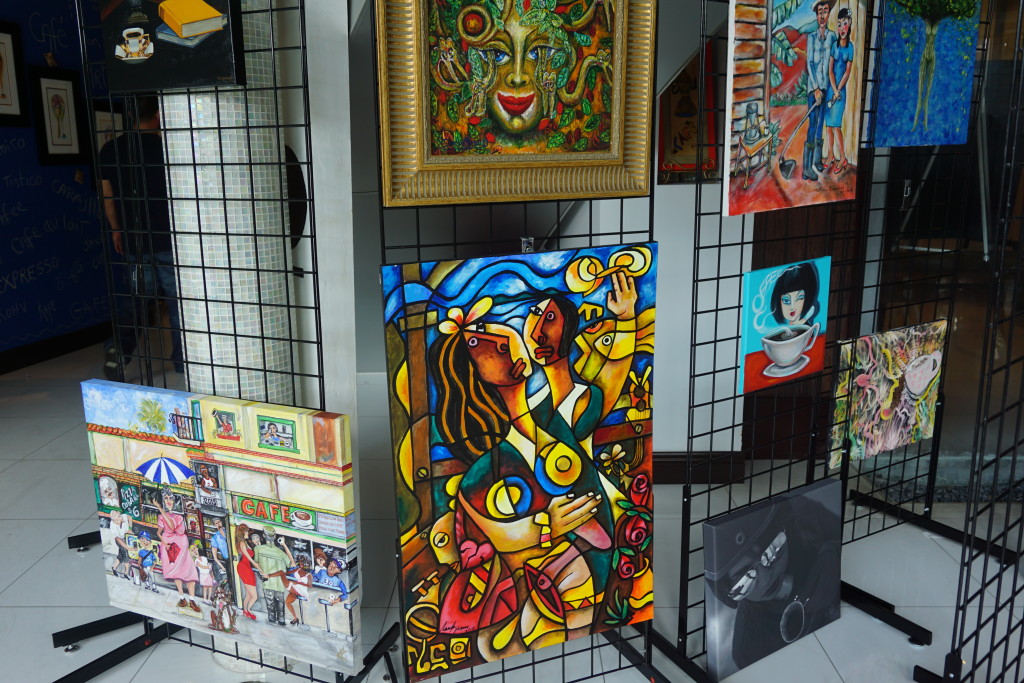 A giant rooster sculpture greets visitors near the entrance.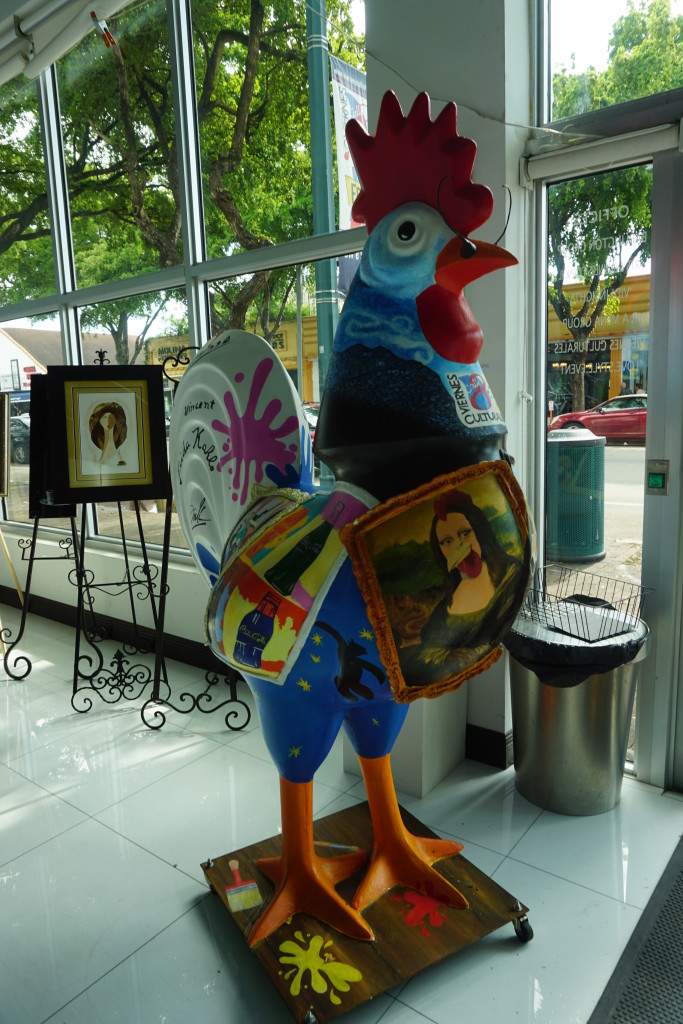 In fact, several spots along Calle Ocho display large and striking rooster sculptures as well. Colorful patterns, intricate images, and local quotes such as "azucar" are inscribed on their bodies.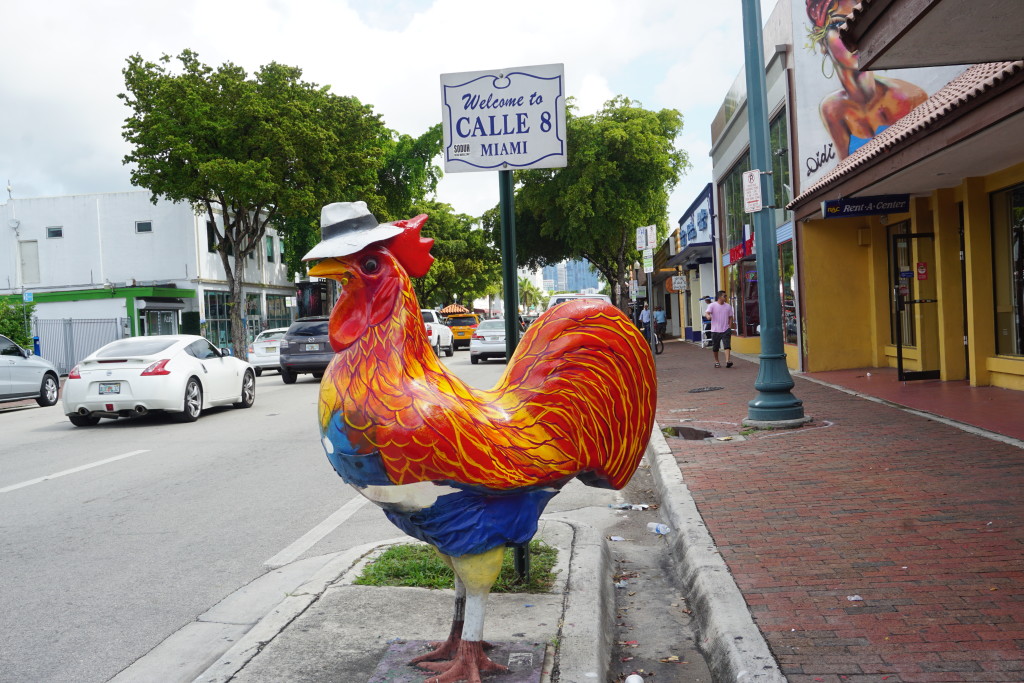 Beautiful graffiti art displays throughout the neighborhood.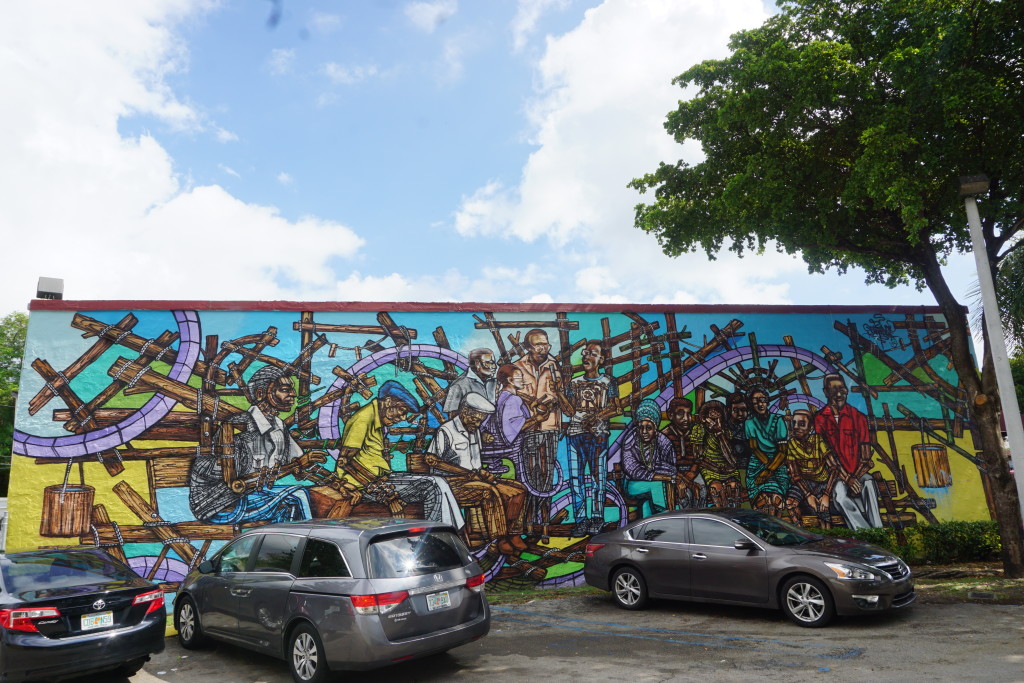 Cuban cigars are popular in Little Havana. Though I do not condone smoking whatsoever, I will give mention to this topic, as it is a huge part of Cuban culture, its economy, and Little Havana. That said, I did attend a cigar-making demo at a local cigar shop, merely as a touristic experience in the history and culture of the area.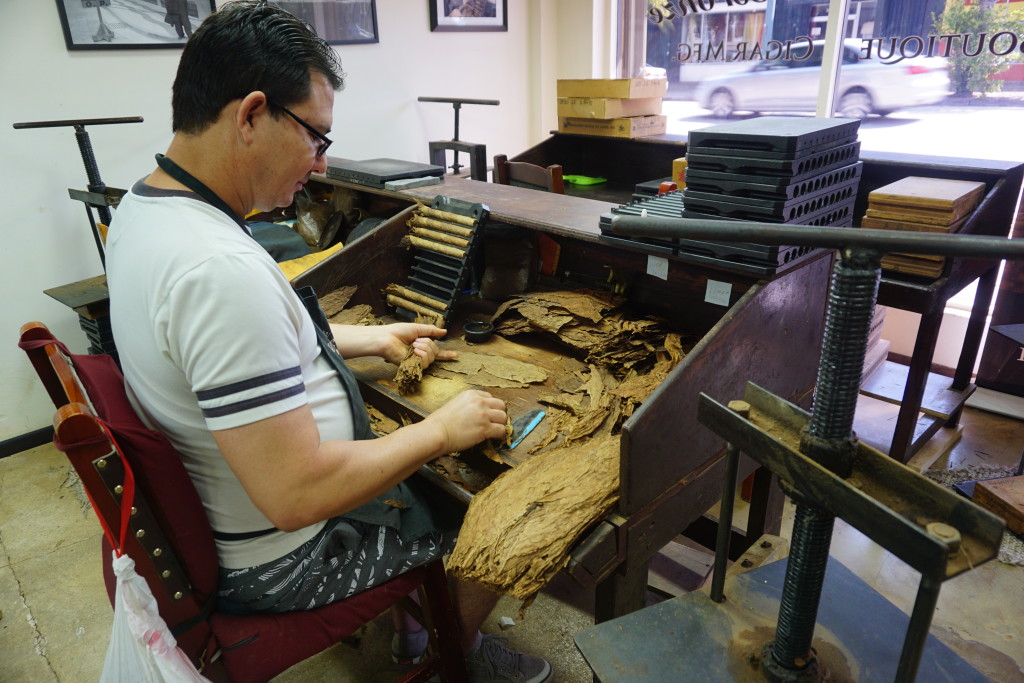 Back outside the shop, several colorful rooster sculptures came across my path.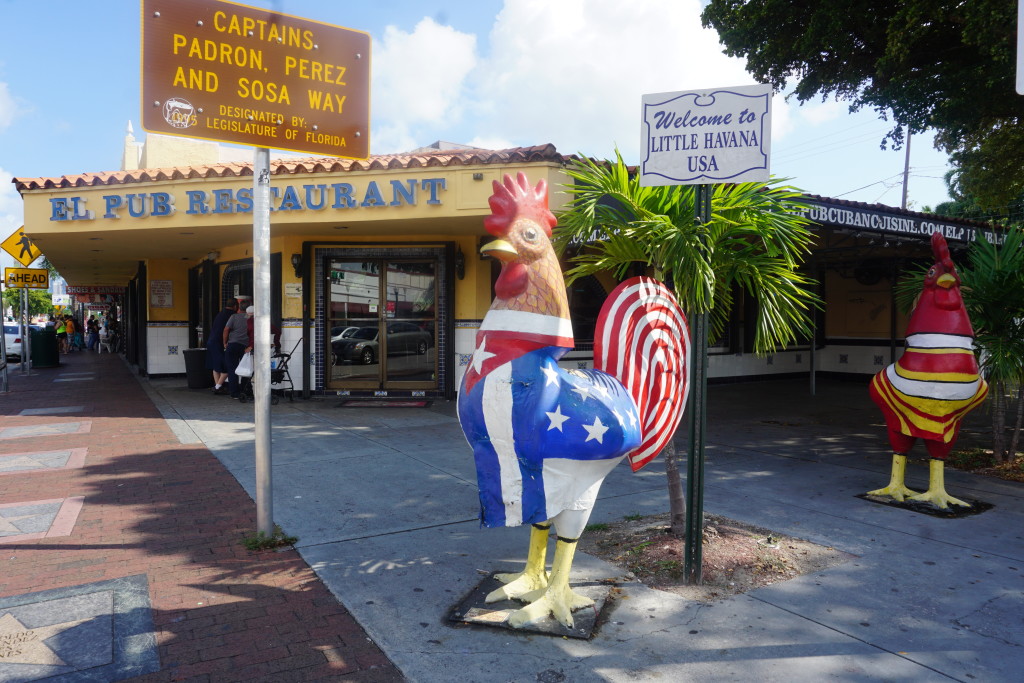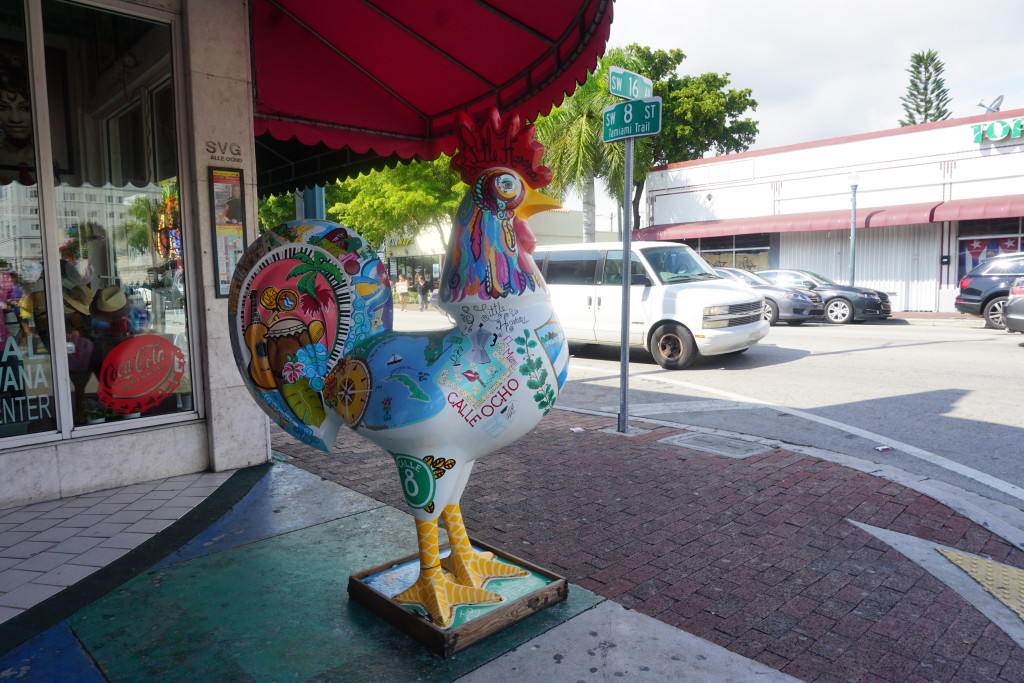 My self-guided tour of Little Havana had concluded. After my delightful visit there, I called upon an Uber driver to take me to downtown Miami for a bite to eat. "Mi Vida Cafe" (Mi Vida Cafe) is a casual restaurant offering a completely vegan menu, as well as daily specials.
A display case of vegan baked goods offers the hungry tourist a selections of cakes, pies, and cookies.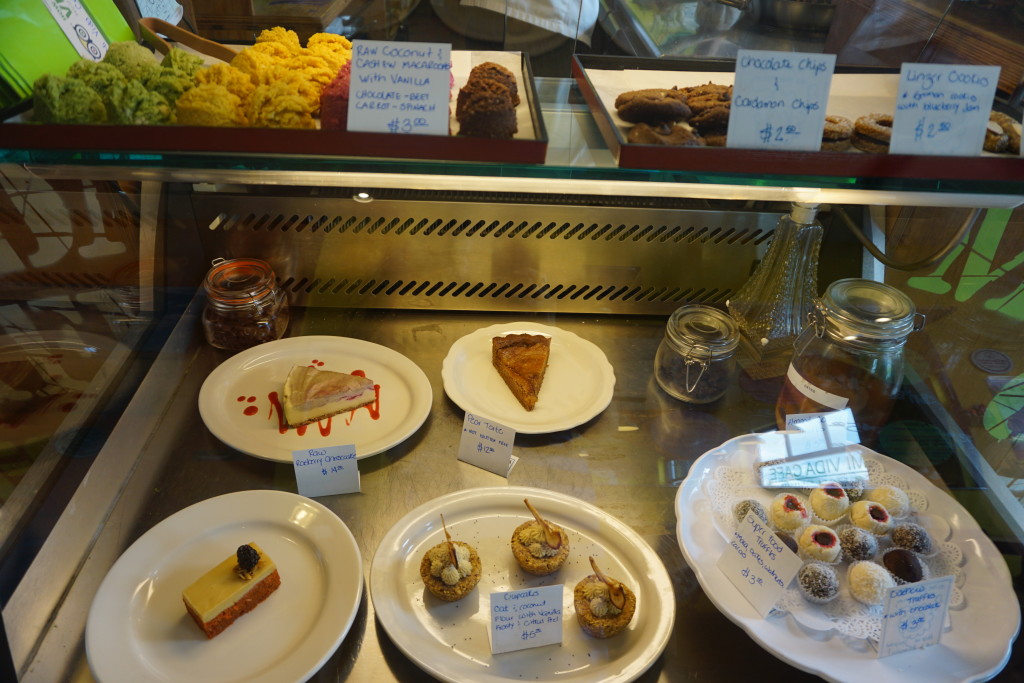 For my mod-day appetizer, I chose the sizzling seitan chimichurri made with freshly ''home made'' seitan, grilled & served with a lemon spicy chimichurri sauce. Spicy and tasty!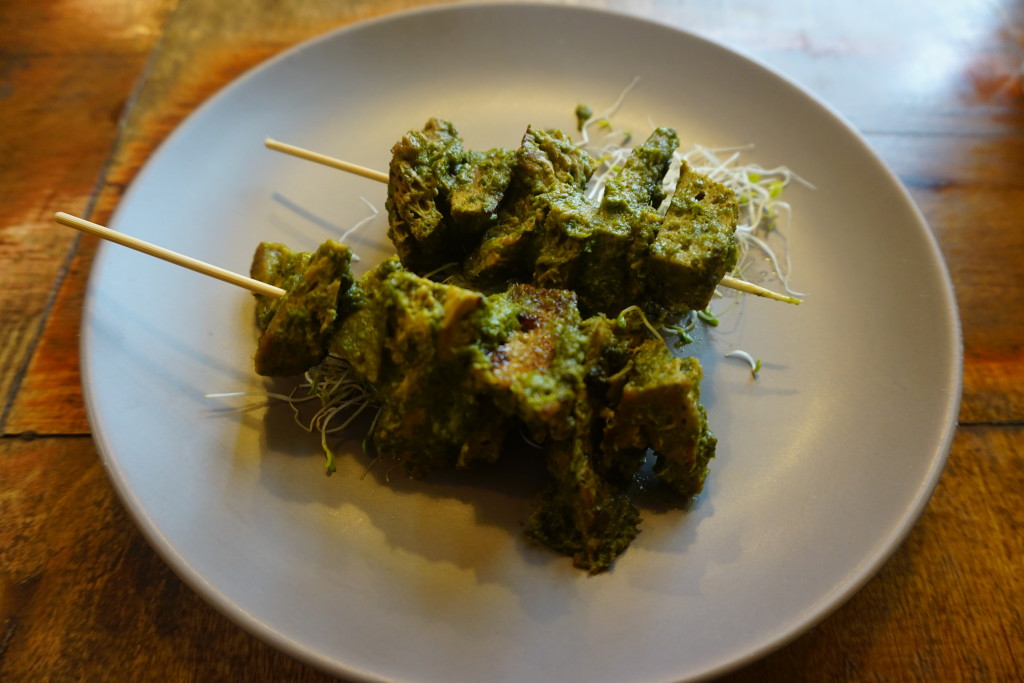 My main entree selection was the pumpkin tacos special containing two home made tortillas, pumpkin, vegan cheese, onions, & home made ground seitan topped with home made guacamole, sprouts & salsa.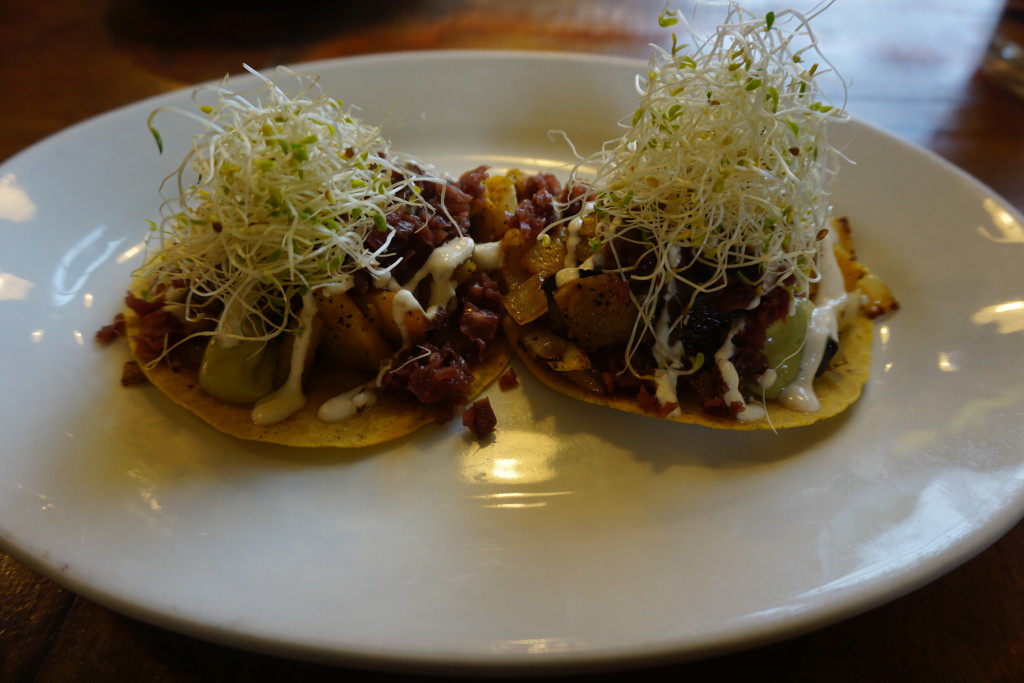 An invigorating Divine Spark smoothie of Watermelon, Mint, Pear & Strawberry completed my meal.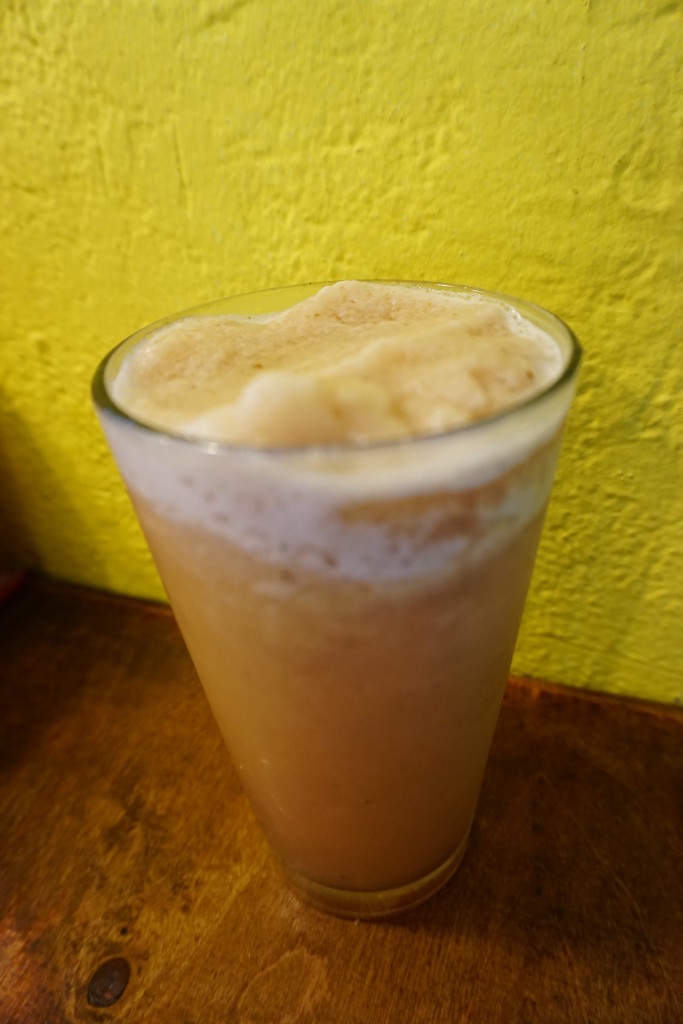 Deciding upon a dessert was quite a task, as there were many amazing options to consider. I chose a vanilla ice cream drizzled with chocolate and topped with a cookie wafer. My entire meal was delicious.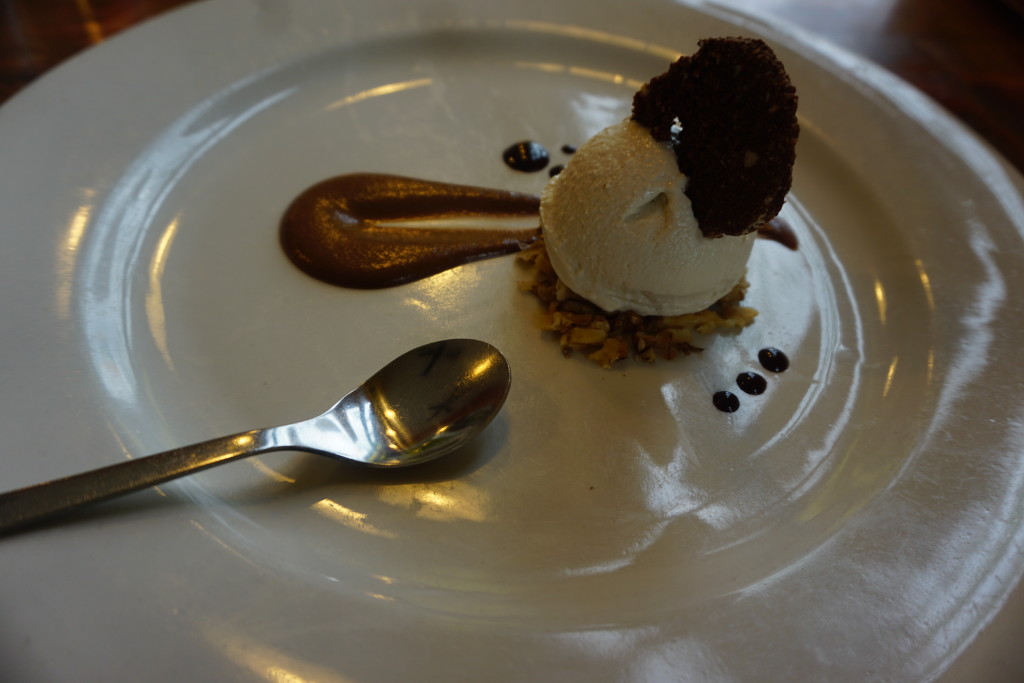 Within moments after my meal, a trusted Uber drive whisked me away to the ever-so-popular South Beach in Miami. The palm tree-lined Ocean Drive is lined with shops, restaurants, and many elegant hotels with "Art Deco" architecture.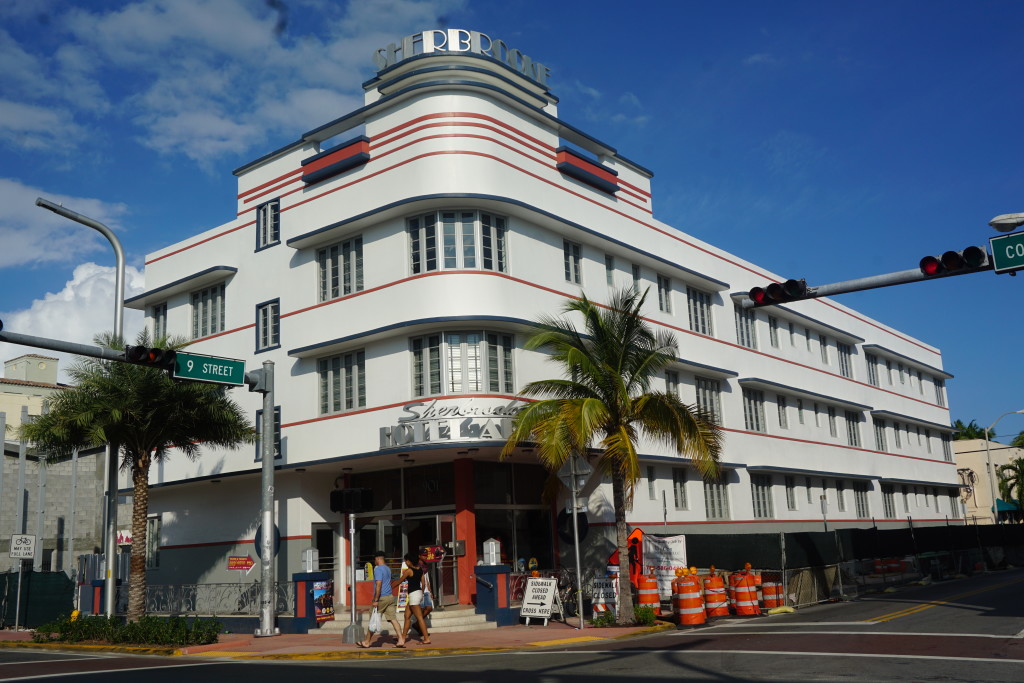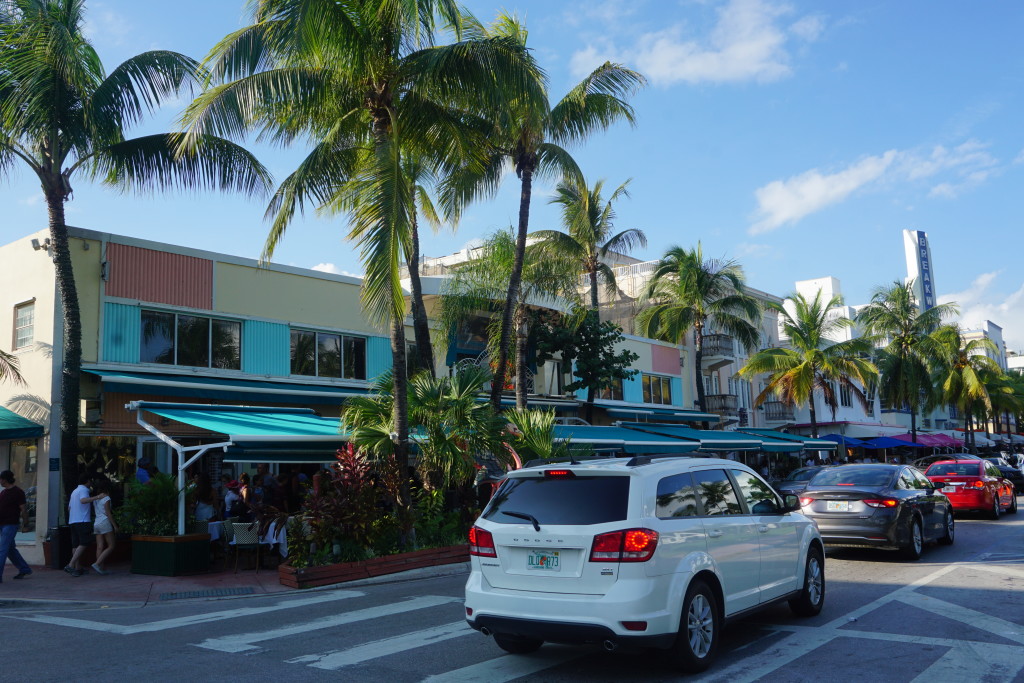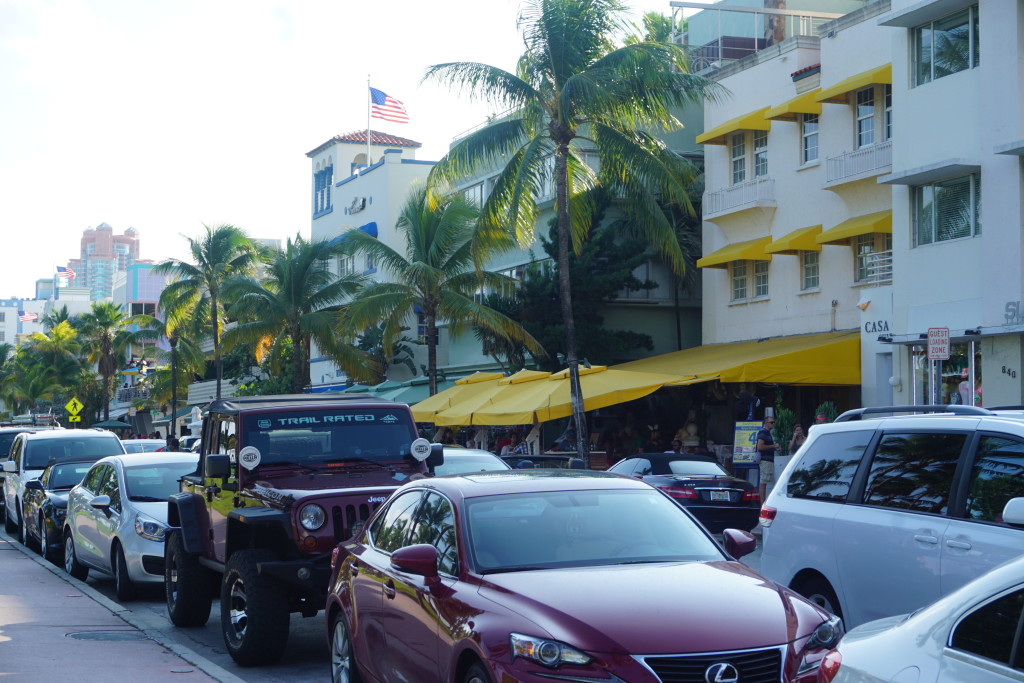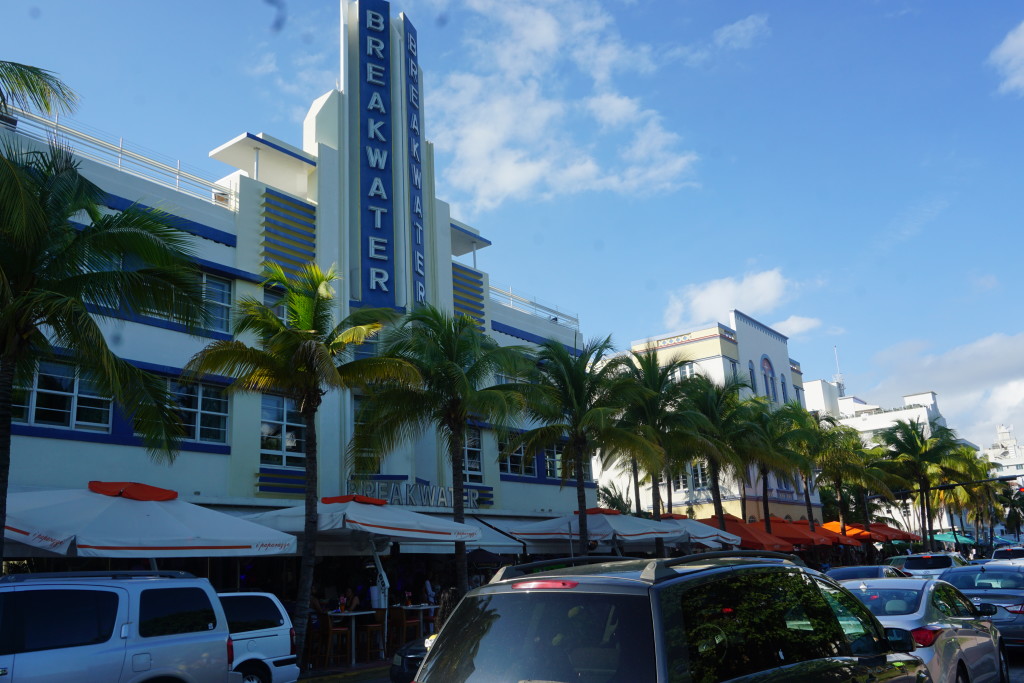 The Art Deco Welcome Center on Ocean Drive includes a gift shop where visitors may purchase whimsical and retro "Art Deco" souvenirs.

Tourists and locals alike are greeted by a large stone that contains a temperature gauge and a date stamp.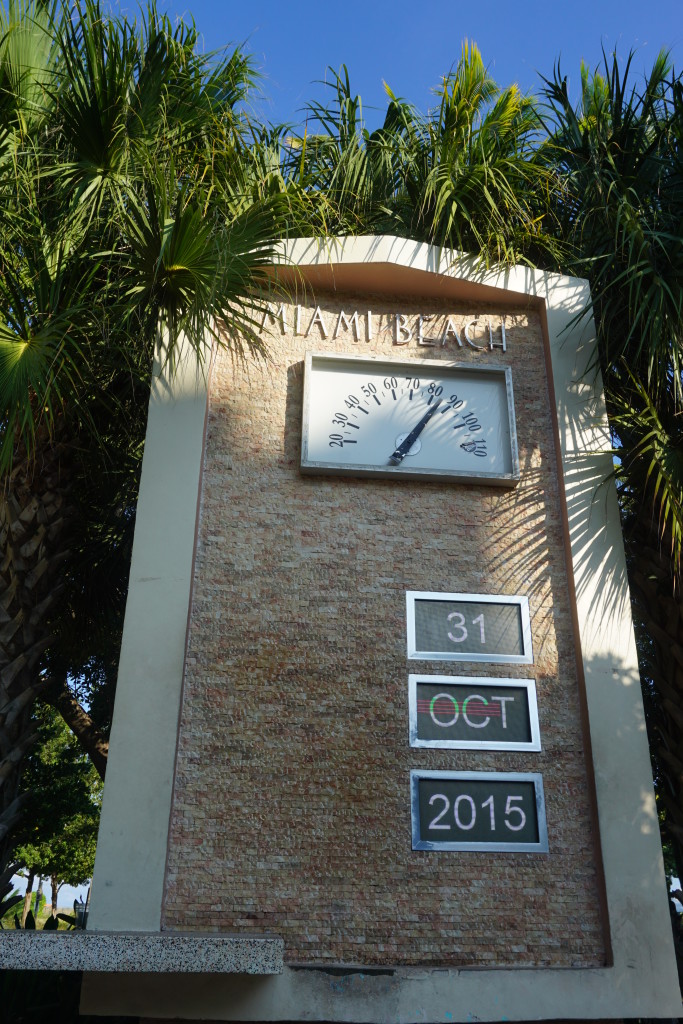 South Beach is simply stunning! Whether you look to the left or to the right, the lengthy soft white sand beach is unspoiled and immaculate. A lifeguard tower painted in vibrant hues sits peacefully atop the shimmering sands.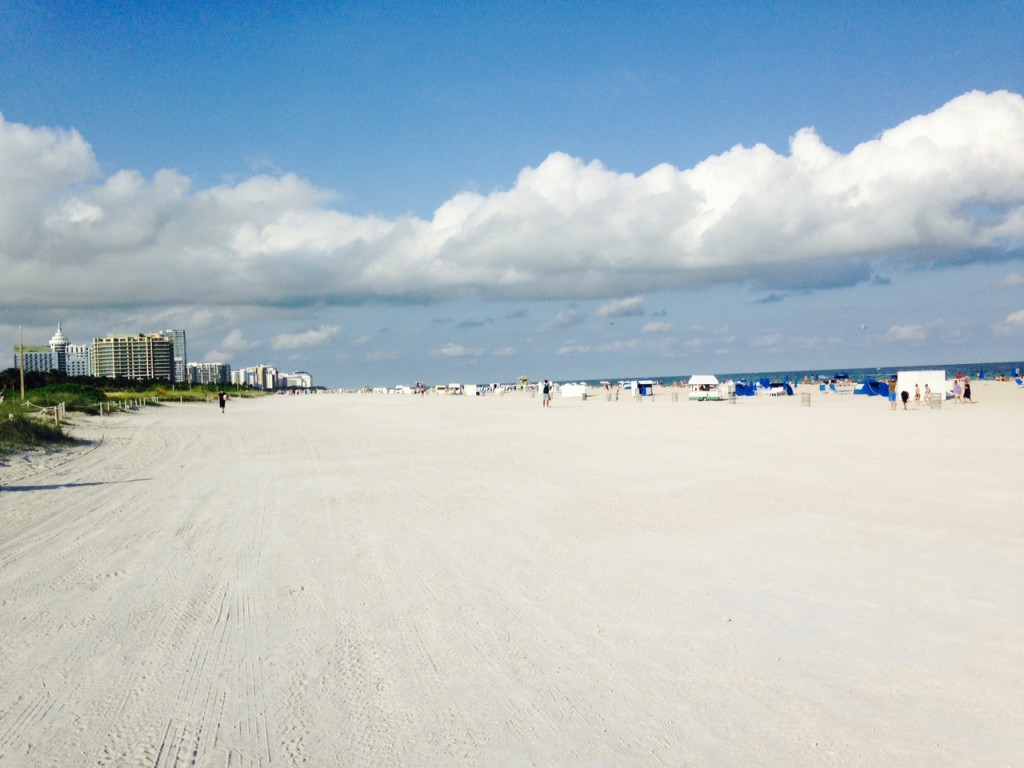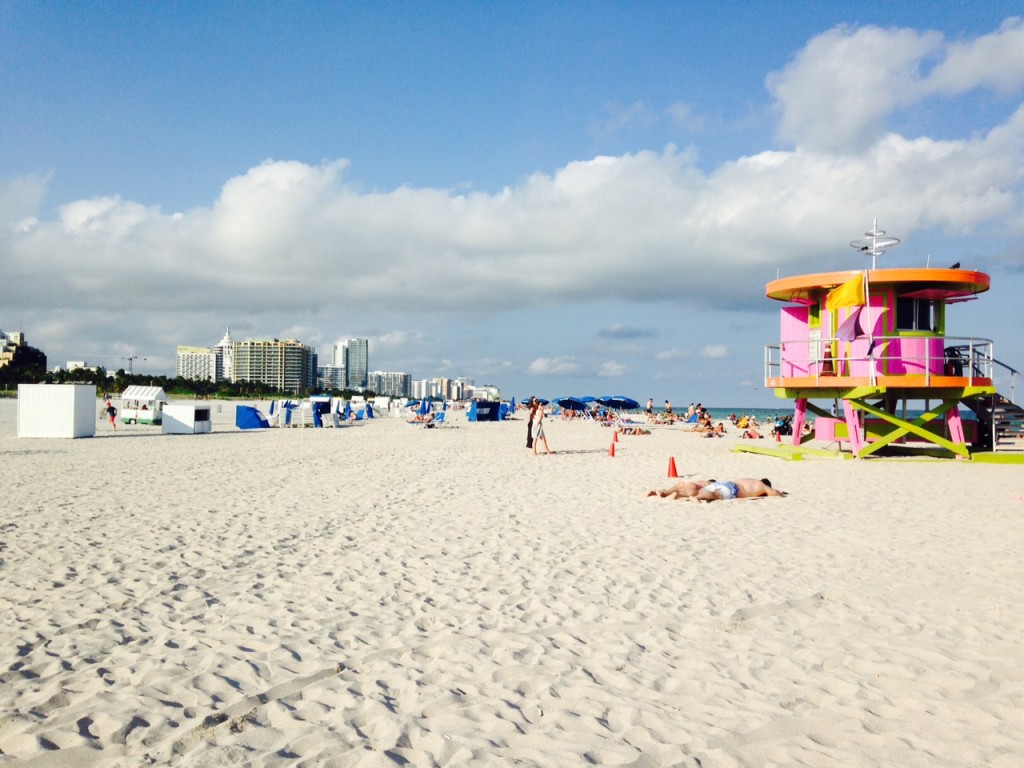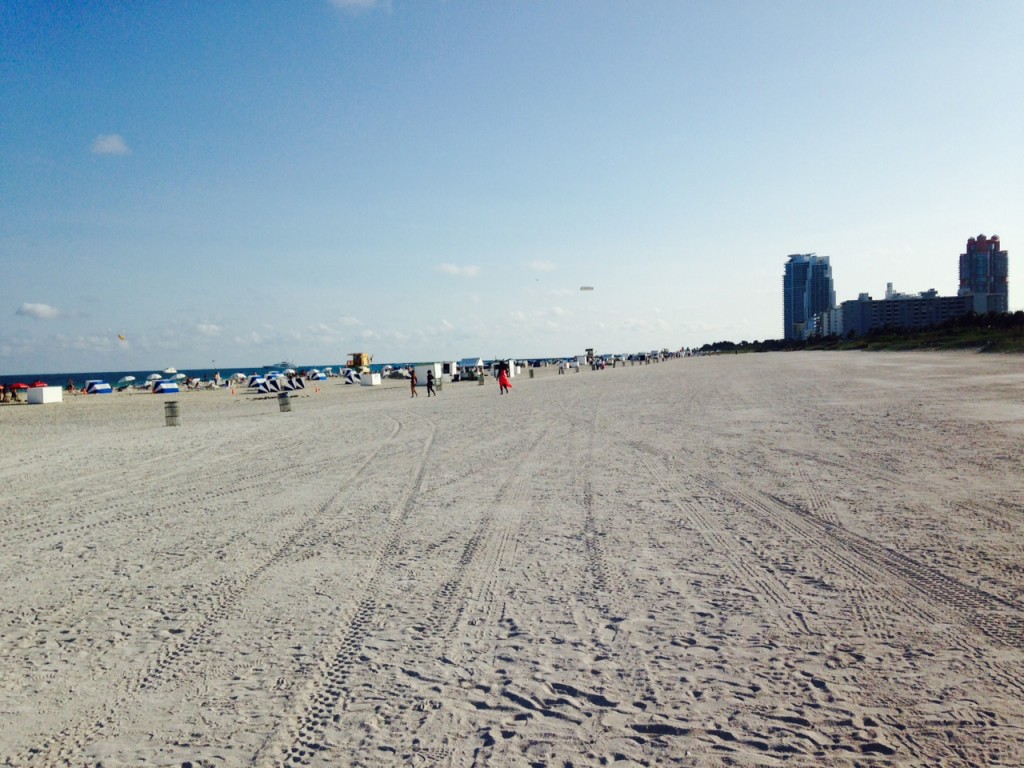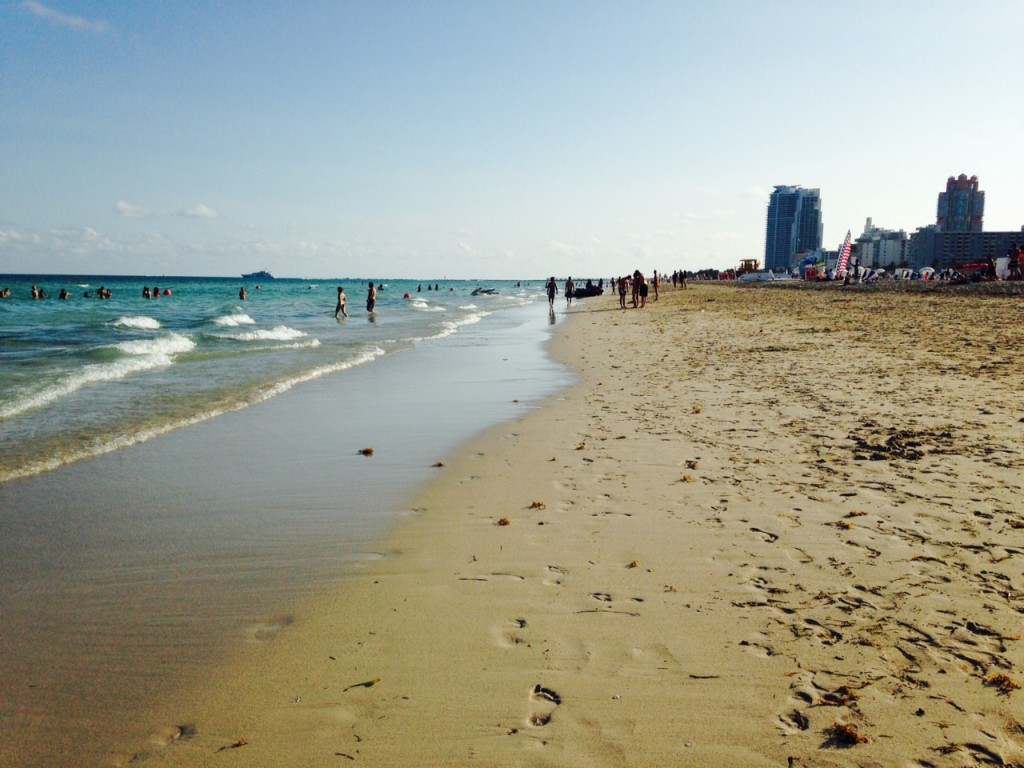 Beachcombers frolic about the warm waters and stroll along its shores.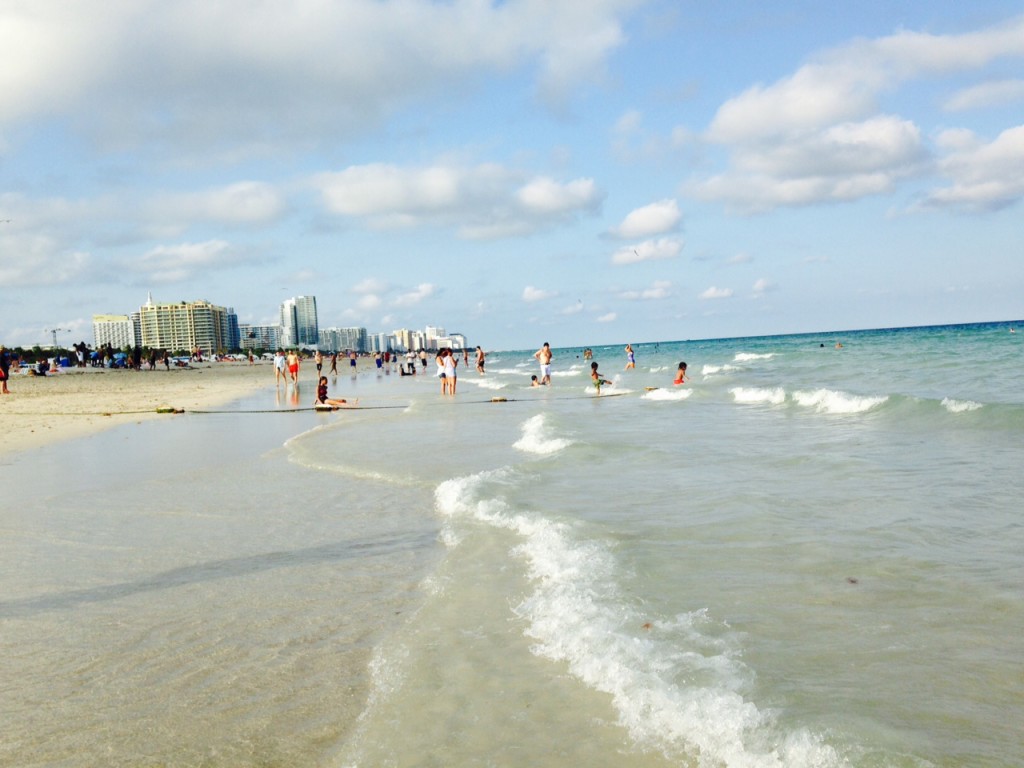 Leisure craft and enormous cruise ships are seen in the distance, as they make their way to their destinations. Tourists swim in the ocean waters and seagulls waddle along the low tides.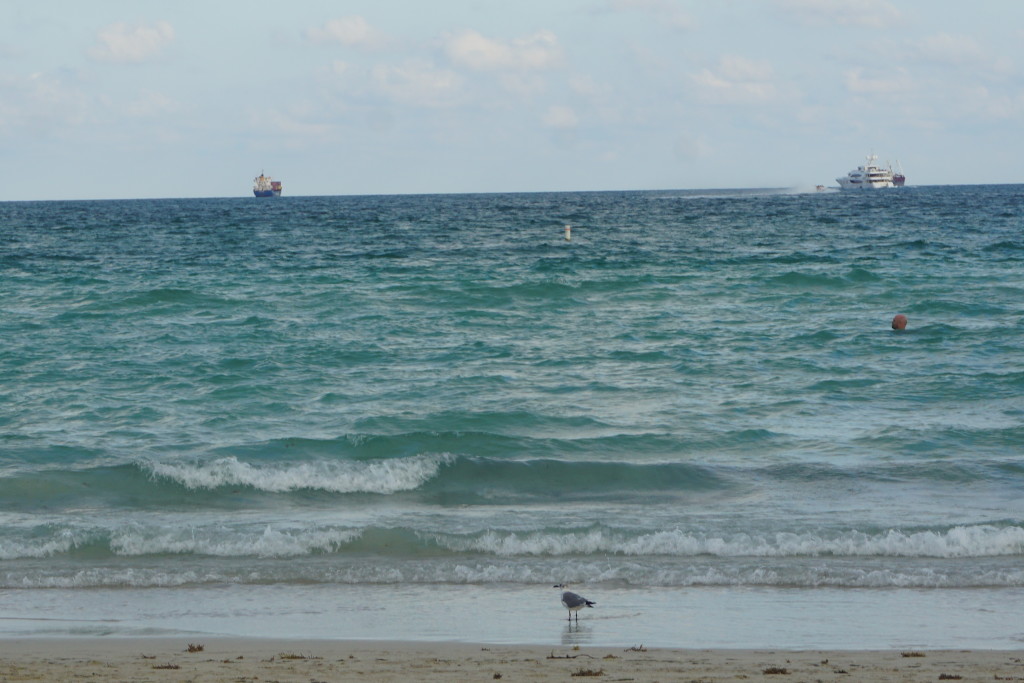 After spending some time soaking up the rays and dipping my feet into the ocean, it was time to explore the Art Deco scene.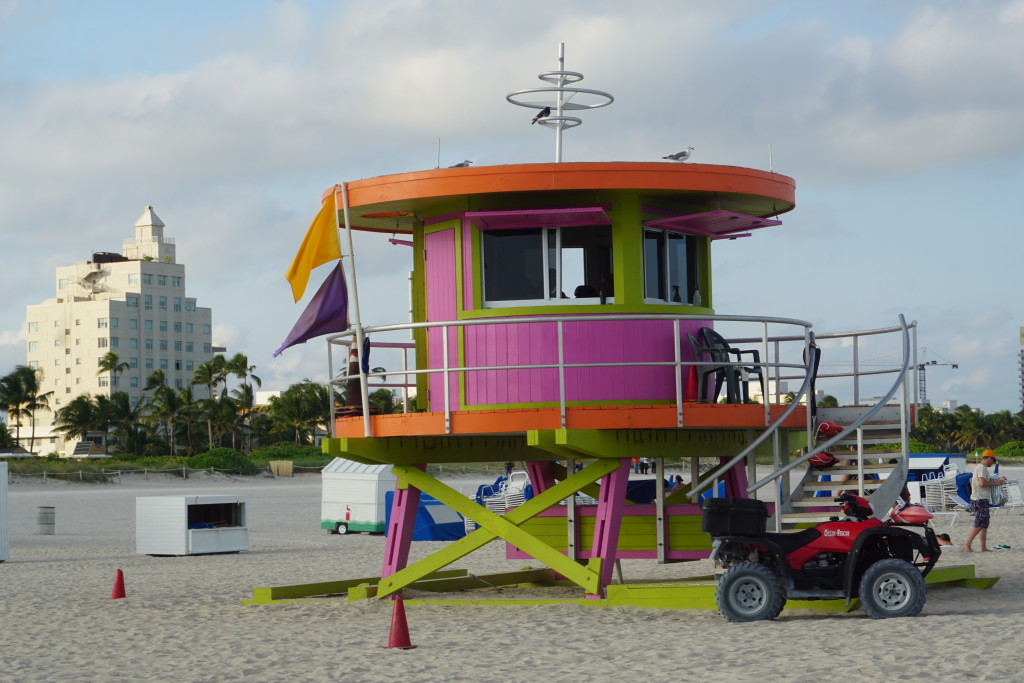 Hotels and other businesses along Ocean Drive and Collins Ave are home to many of the Art Deco style buildings of the 1920s, 30s, and 40s. The Art Deco architecture is sleek, clean, and simple,using rectangular blocks arranged in a geometric pattern; with porthole windows. Visitors may do a self guided walking tour of the Art Deco district using a map provided by the Visitor's Center or may go on a guided walk.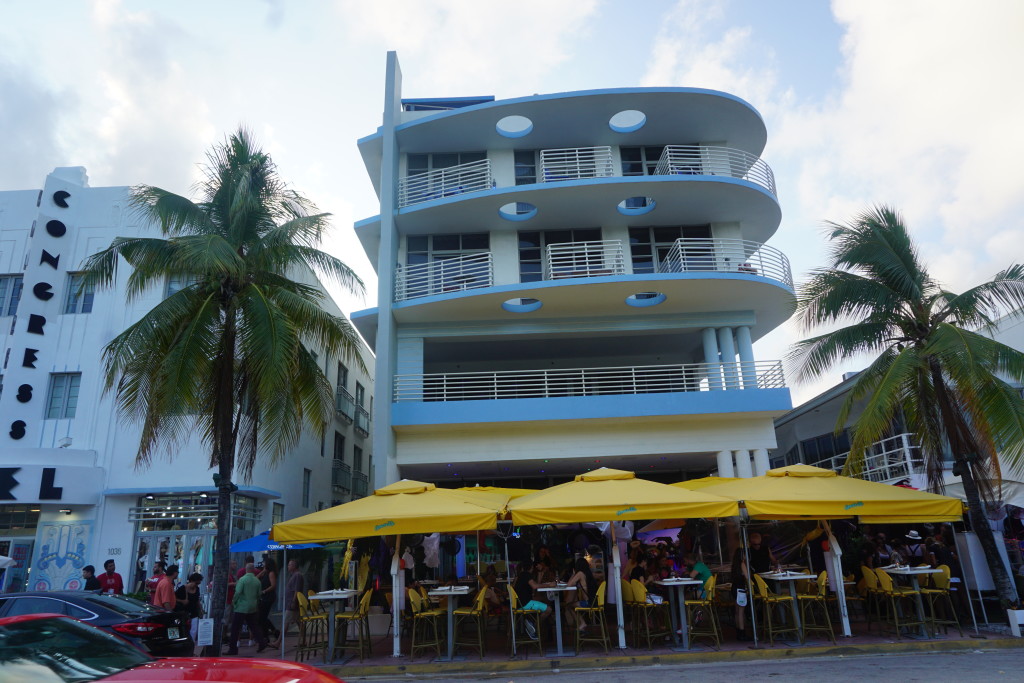 Many of the Art Deco buildings are outlined in pastel colors, while others are simply facades of white or grayish shades.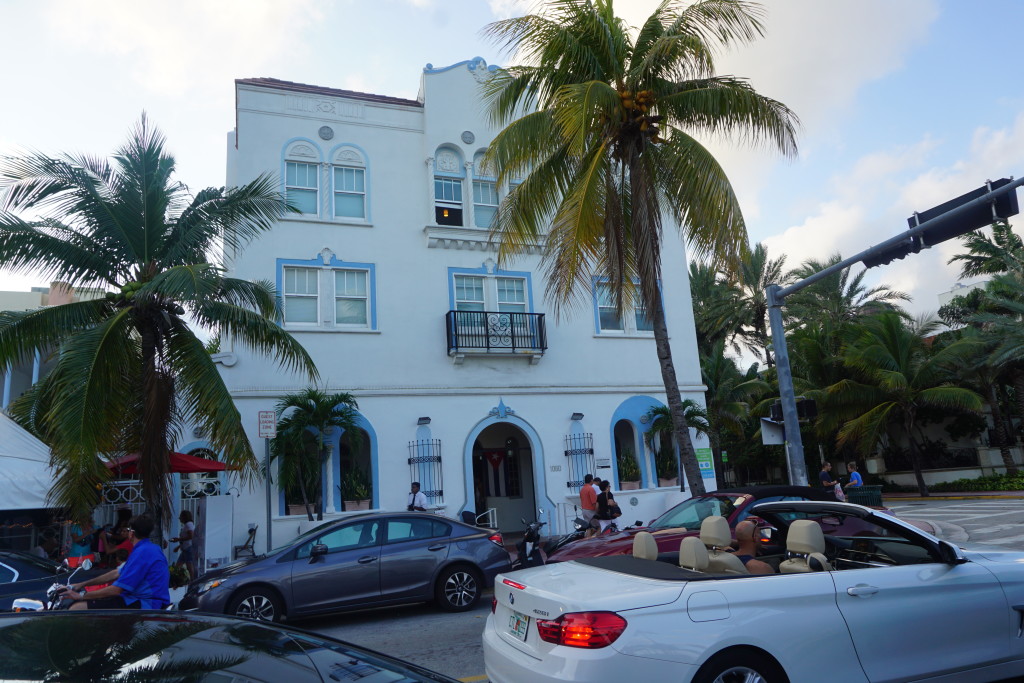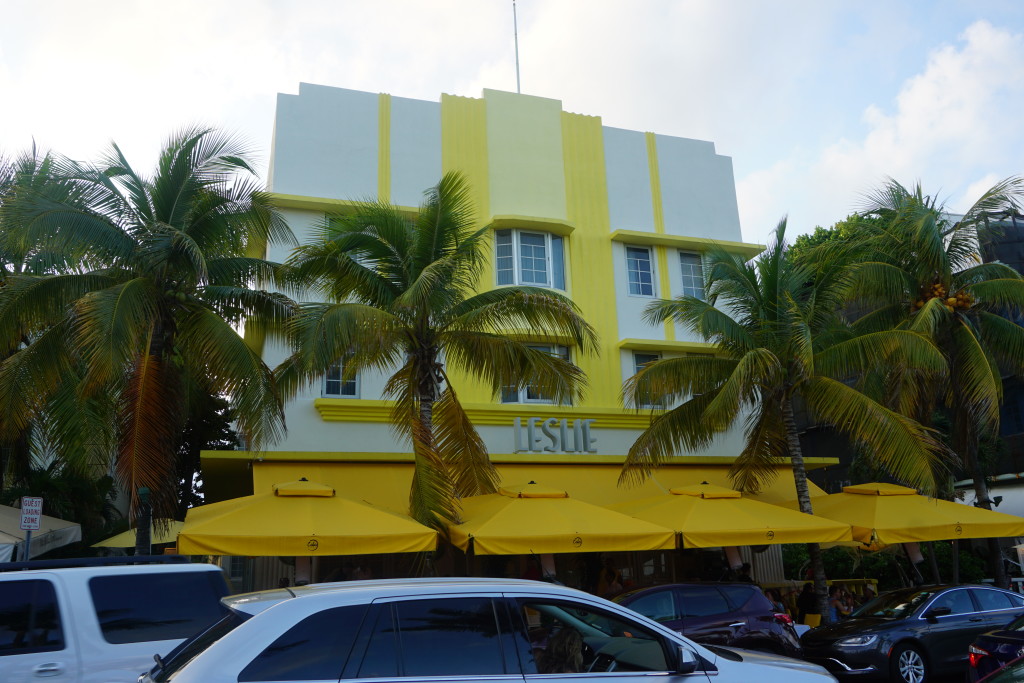 I even encountered a gallery & gift shop that offers Art Deco artwork and souvenirs.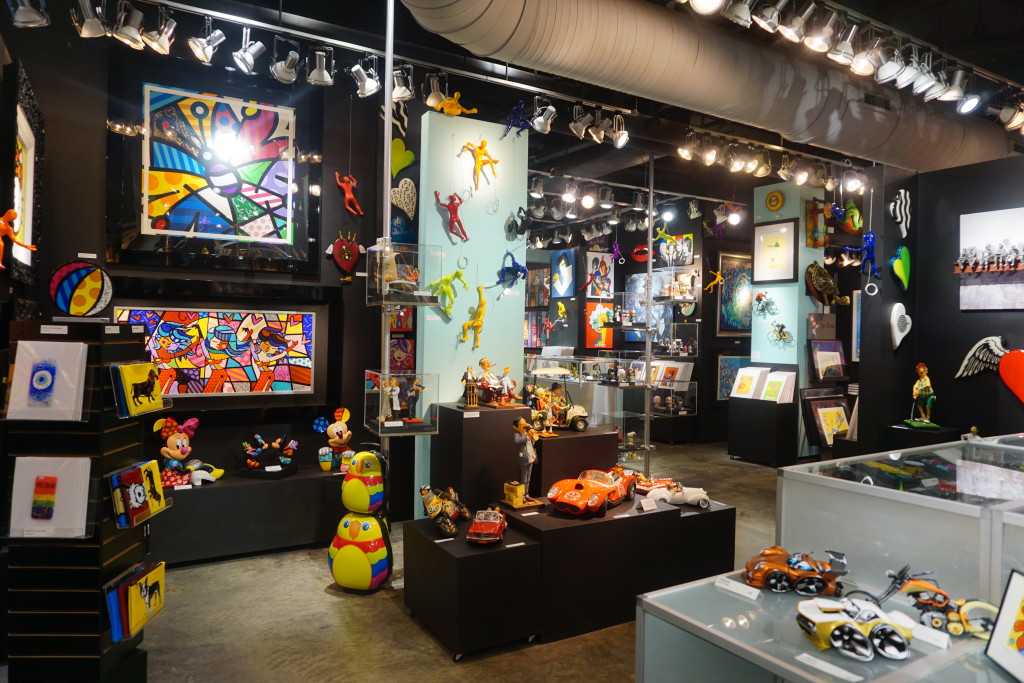 The Cardoza Hotel was once the residence of singer Gloria Estefan. One of its recognized features are the coral railings and columns that are incorporated into the 1939 structure.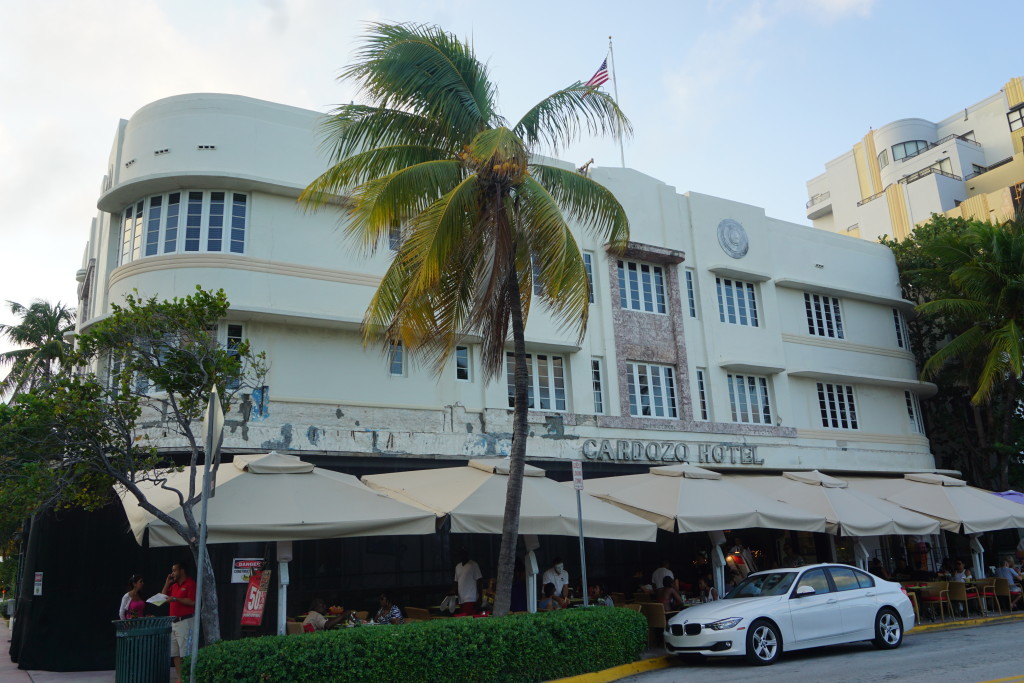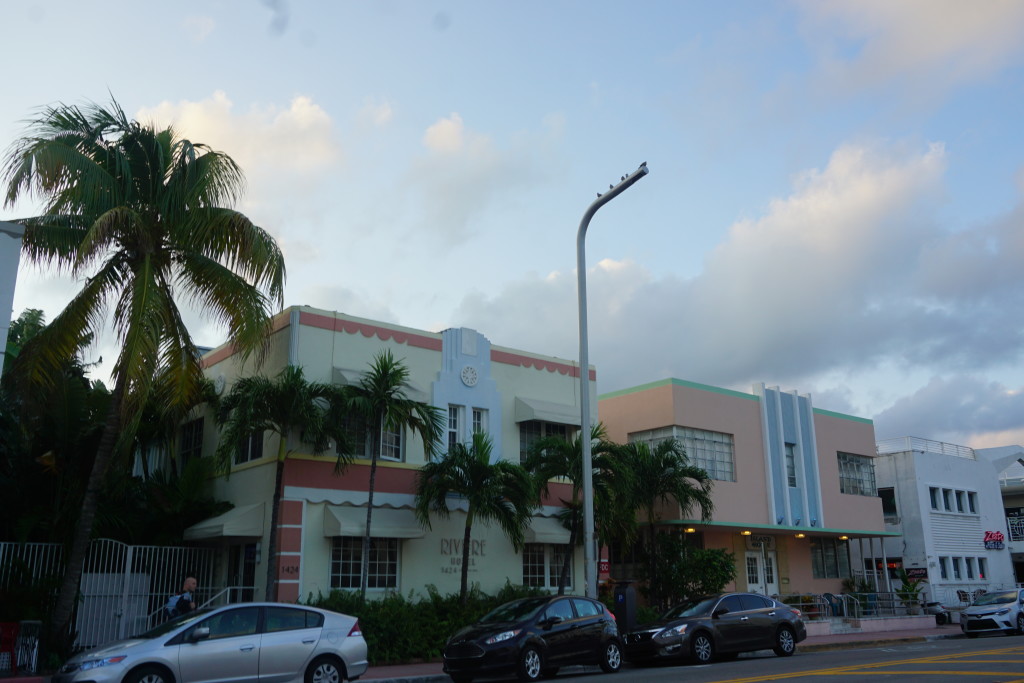 The Delano was the tallest building in Miami when it was constructed in 1947 and the Sagamore is known for its impressive art collection within its Modernist exterior.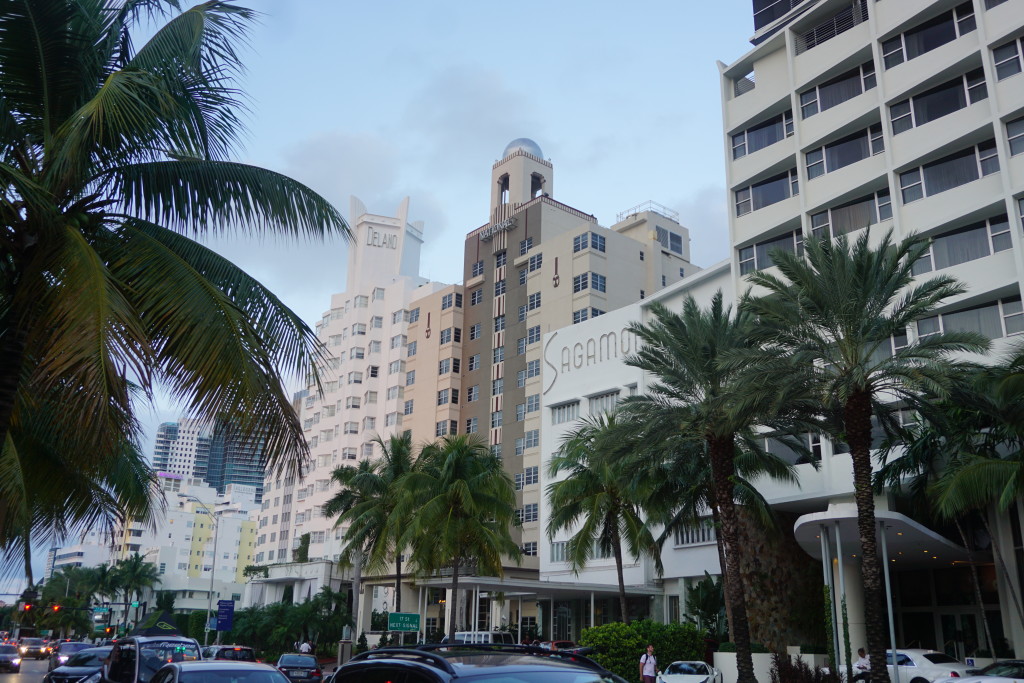 Several of the Art Deco properties also invite visitors to check out their building's interior. Sleek Art Deco style furnishings reside in their lobbies.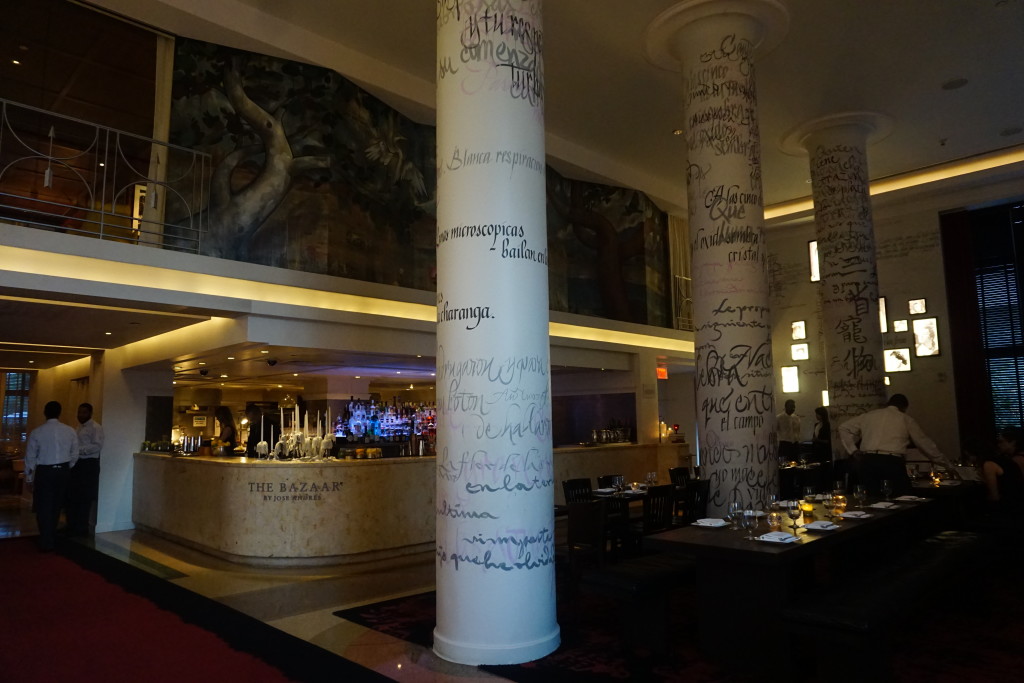 Photos of glamorous move stars from bygone eras, are found on the walls of some of these old hotels.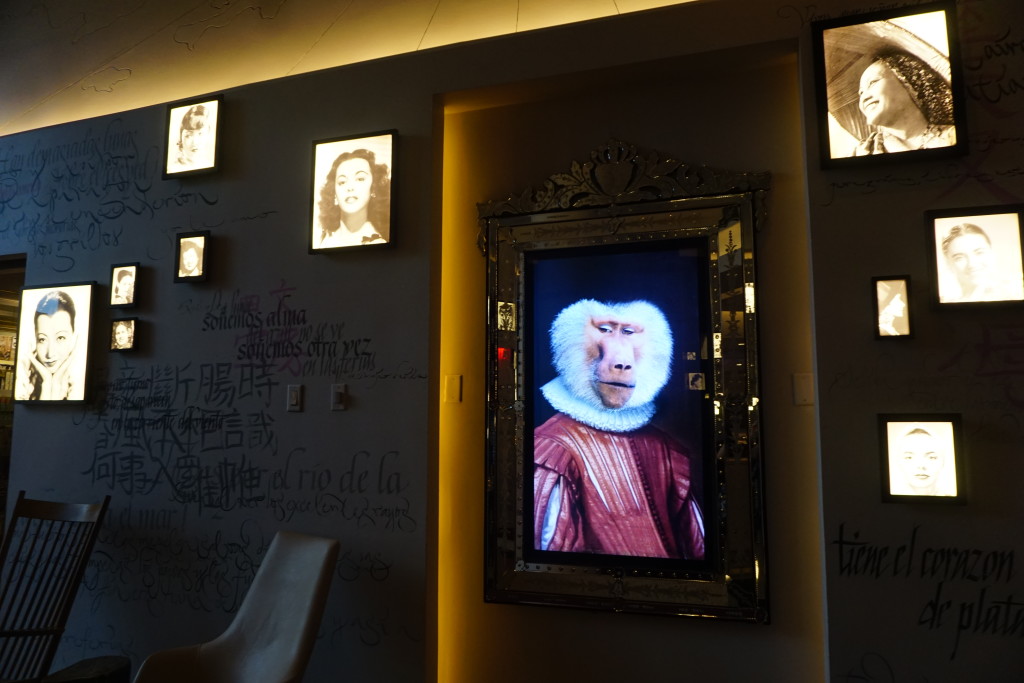 The Raleigh Hotel is known for its Art Deco lobby furniture. Its Deco pool was used as a backdrop in Esther Williams movies from the 1940s and 1950s.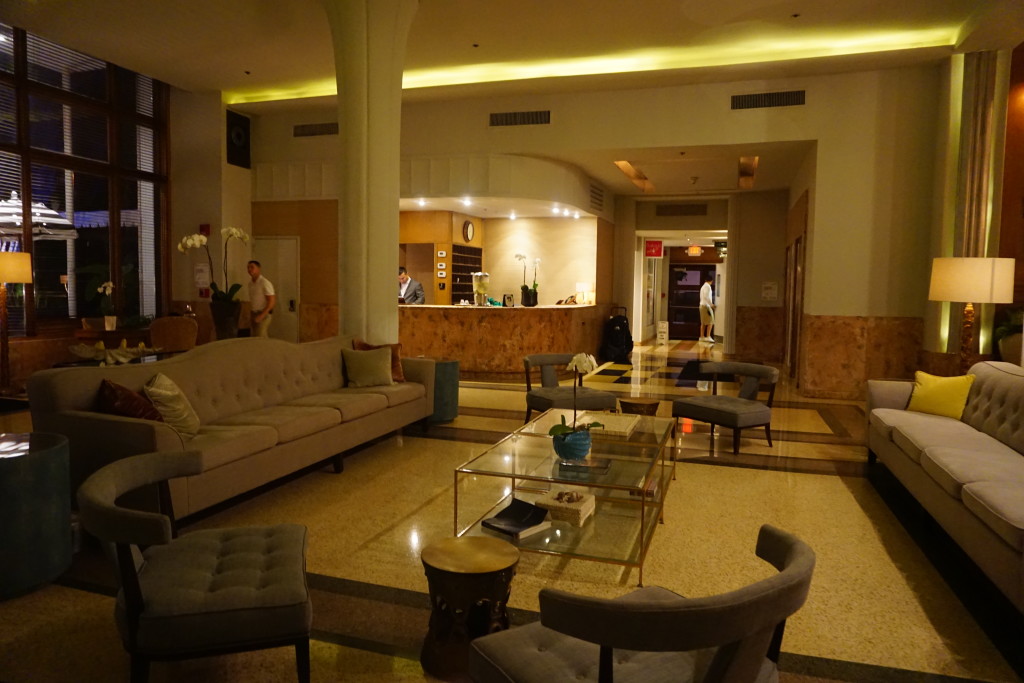 As the evening turned into night, some of the Art Deco district buidings shone colorful bright lights on their facades.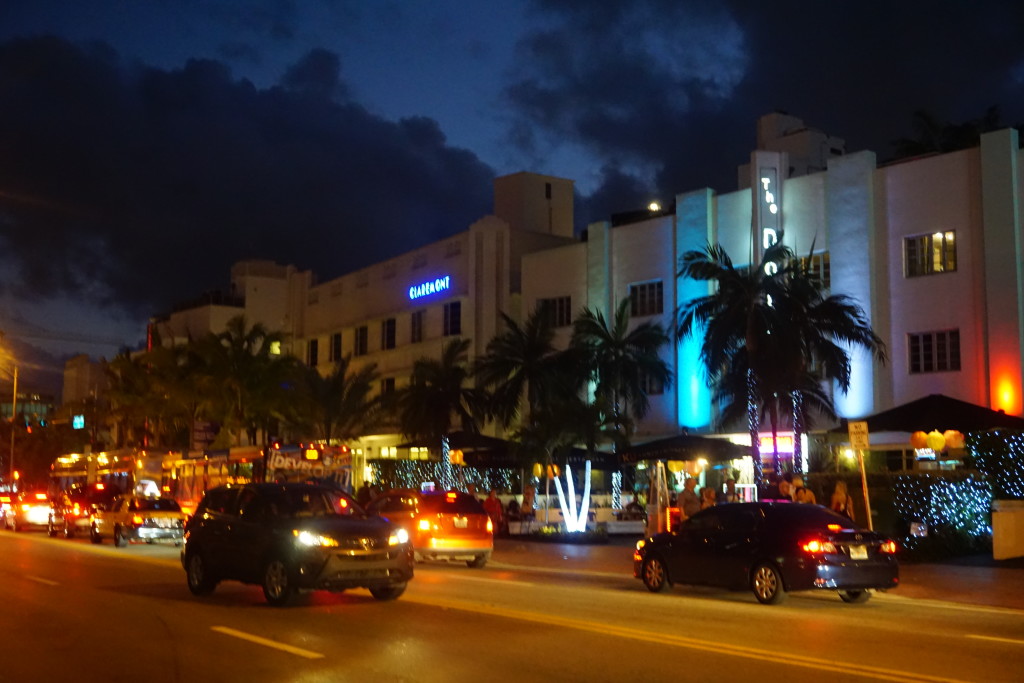 From greens and purples on hotel fronts to brilliant yellows atop the water fountains, the night scene was alive with color!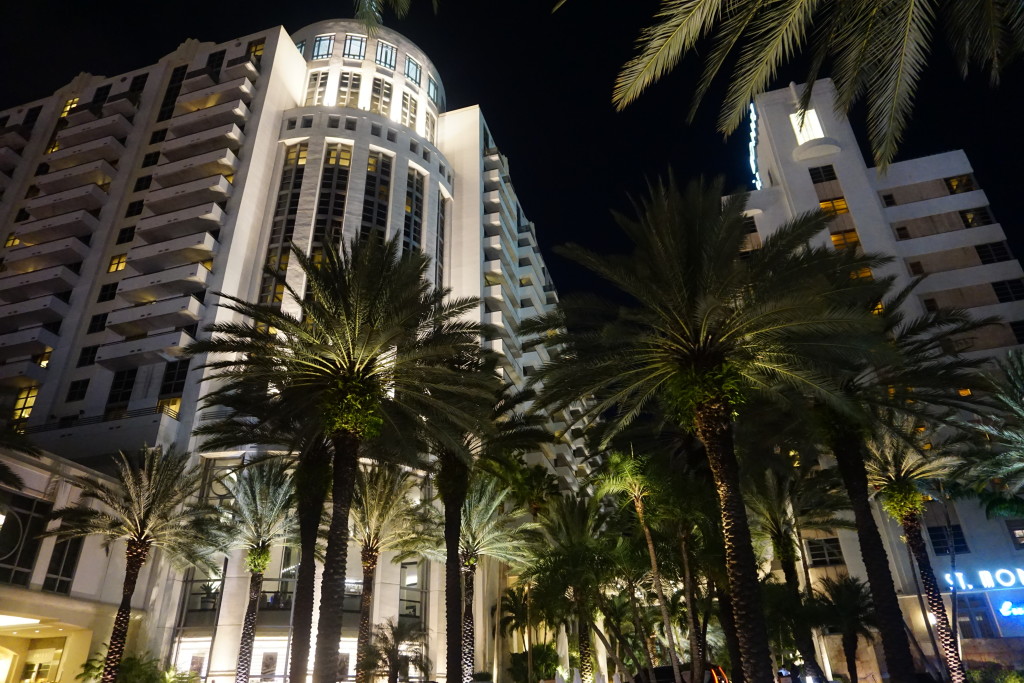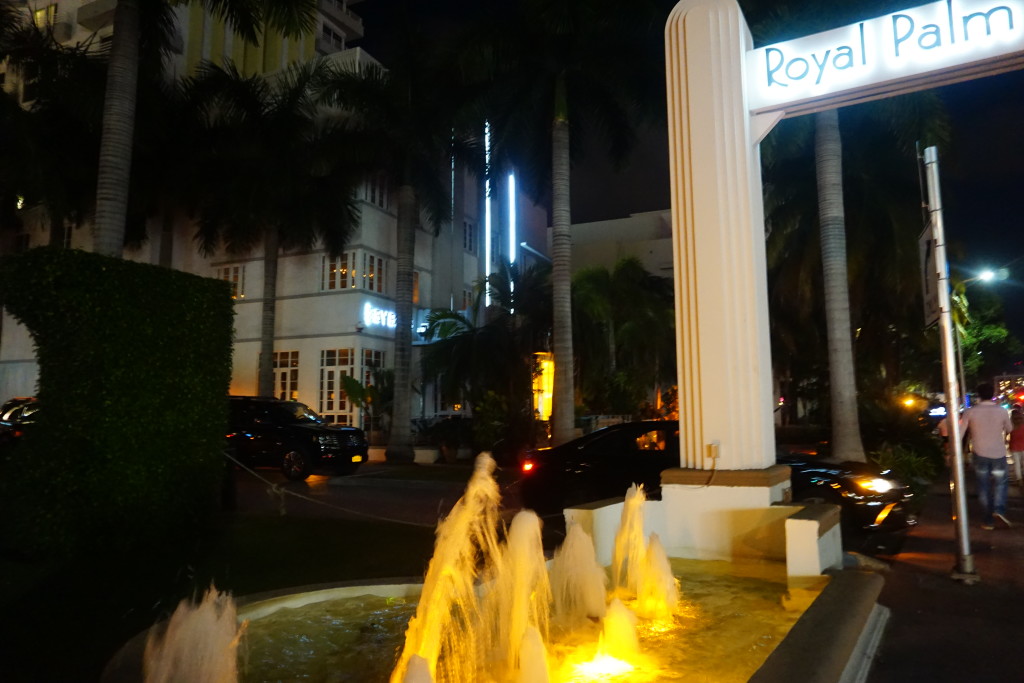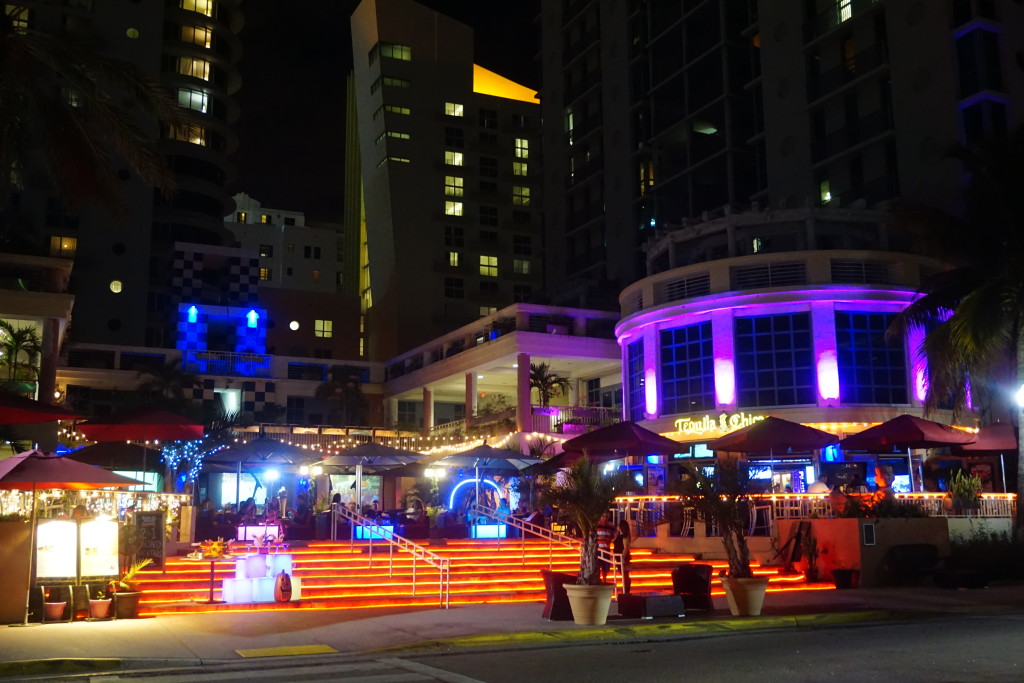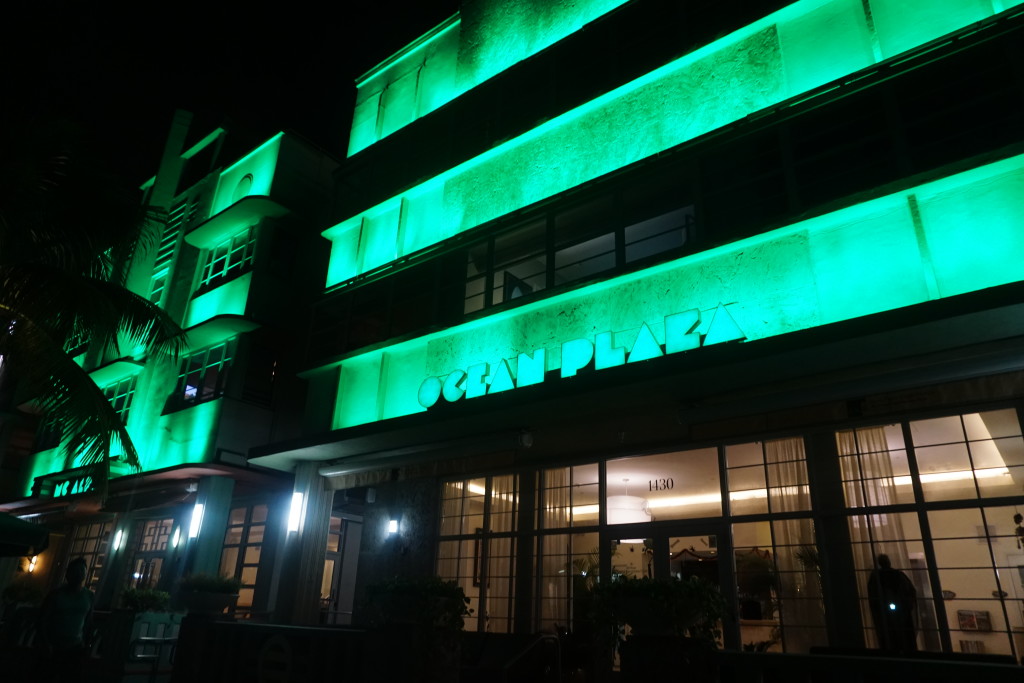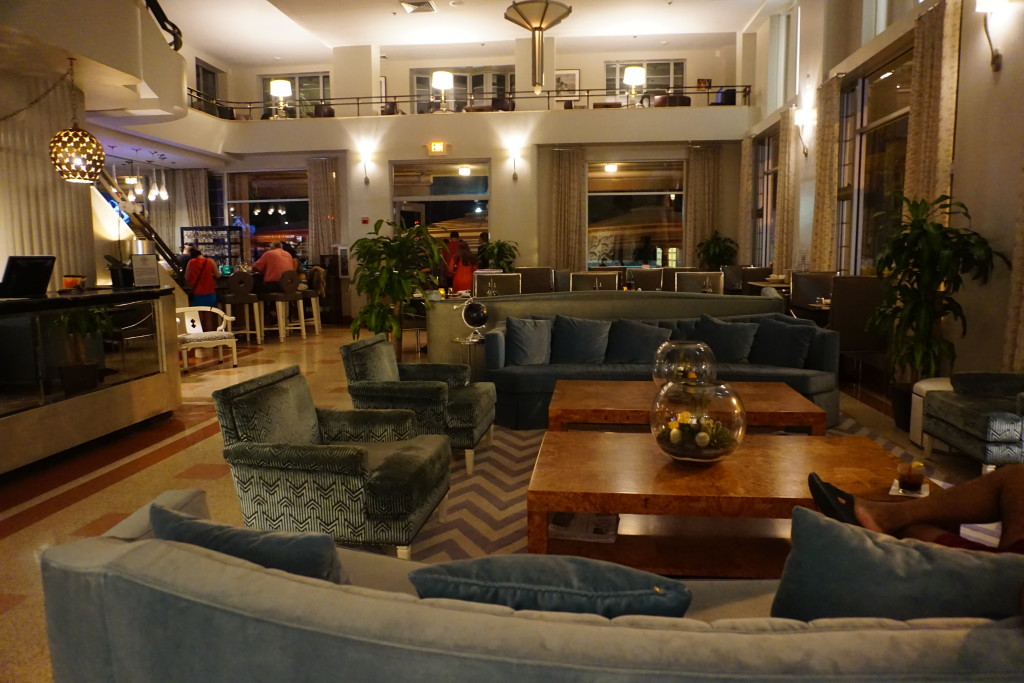 My stroll along the Art Deco district was spectacular. However, dinner was now calling my name.
I headed over to Full Bloom(Full Bloom), an all vegan restaurant in downtown Miami. The spacious restaurant offers gourmet vegan cuisine with an eclectic menu and elegant ambiance. Outdoor dining is available, providing an incredible view of the Miami skyline.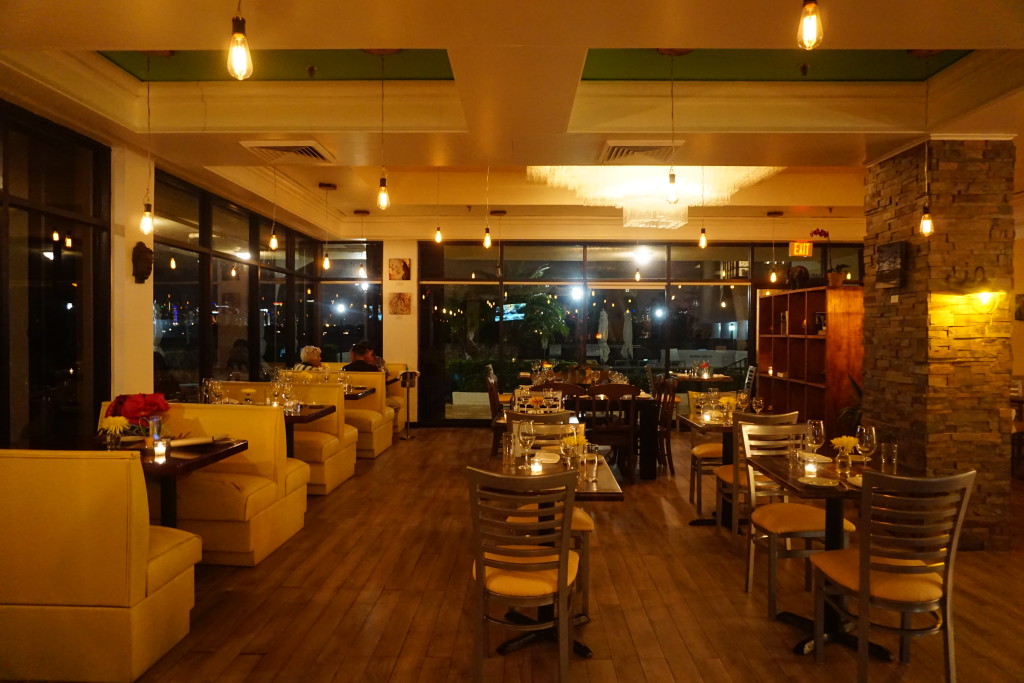 My meal started off with a great tasting complimentary gazpacho soup.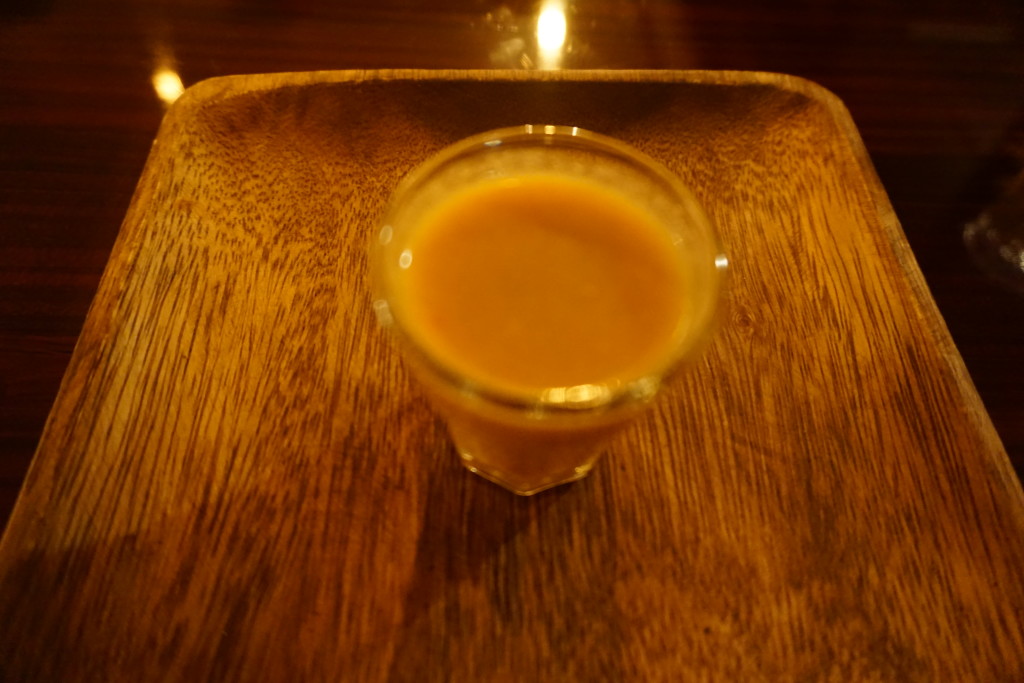 For an appetizer, I opted for the asparagus leeks, and parsley cream.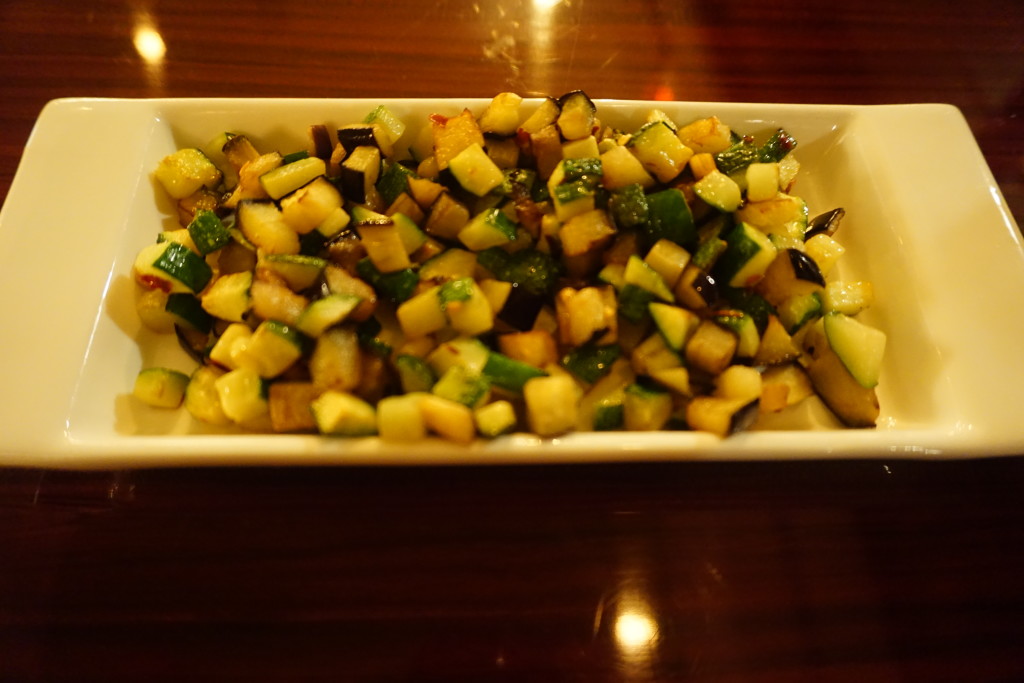 My main dinner entree selection was the Black and white sesame crusted tofu with grilled pineapple macadamia. The entire meal was absolutely delicious and flavorful.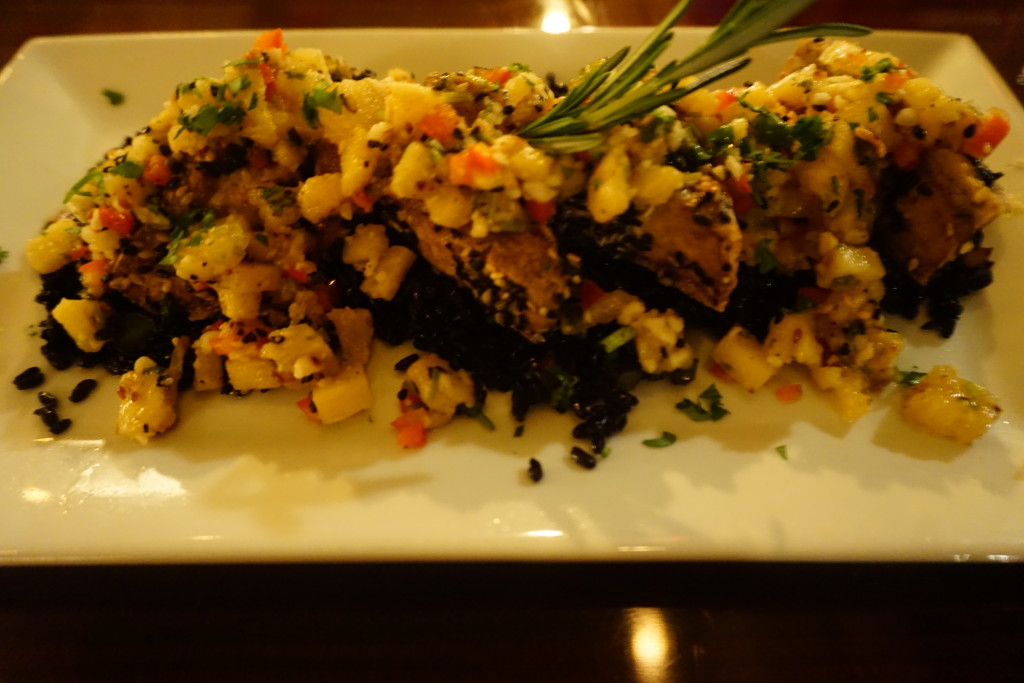 A Hawaiian coconut Haupia was my choice for dessert. The custard-like sweet was really delectable.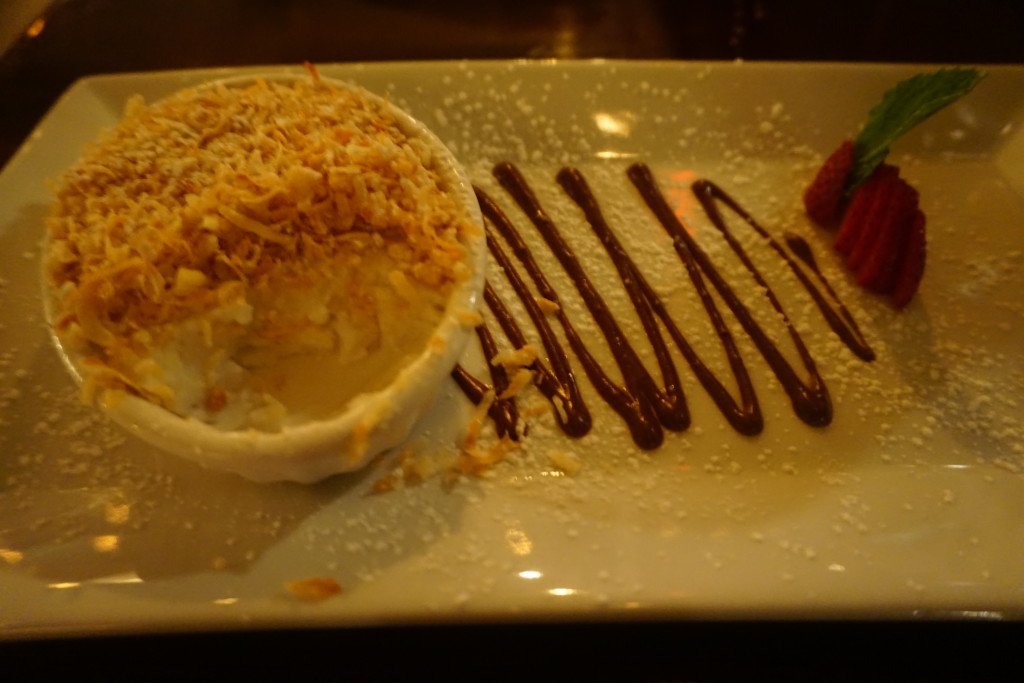 For a taste of Miami's vegan gourmet cuisine, Full Bloom restaurant is the place to dine. Before I waved adieu to this fascinating city, I stood on the outdoor deck at the restaurant, gazing at the magnificent Miami skyline.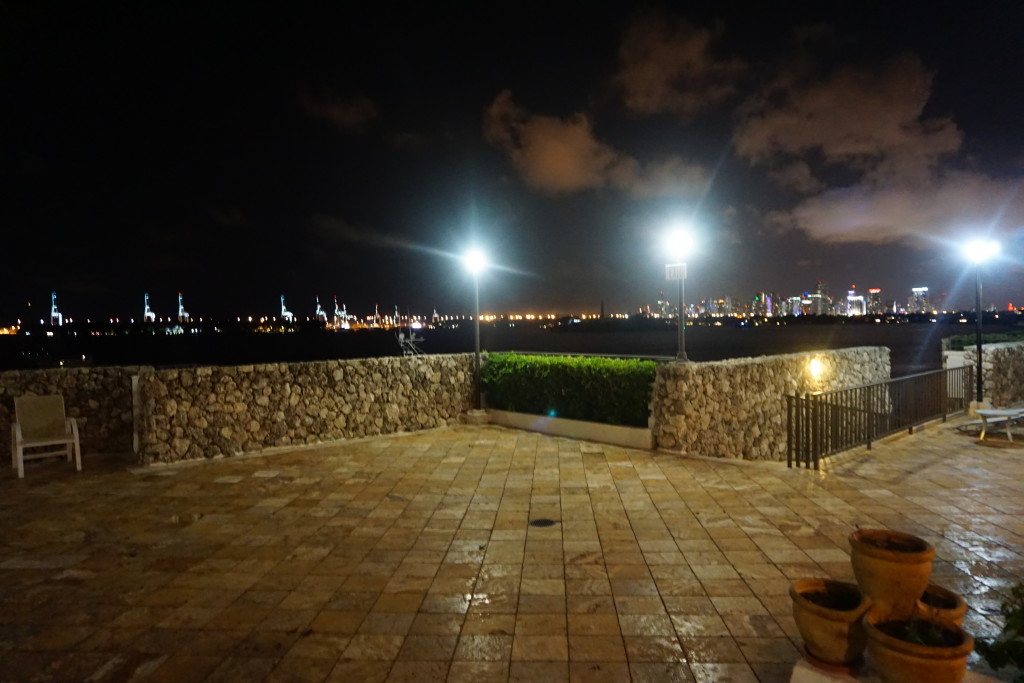 I enjoyed my Miami day trip immensely. From the traditional neighborhood of Little Havana to the impressive Art Deco scene to the breath-taking beaches, and the vegan dining scene; Miami is a city that should be on everyone's future travel itinerary!
Tweet This Post