Every April, thousands of cherry blossom trees bloom across eastern United States. A little known fact is that the state of New Jersey can boast of having the greatest number of cherry blossom trees in the entire country! Newark, New Jersey is home to Branch Brook Park where the vast majority of these trees reside. A thousand cherry blossom trees are being planted this year, bringing the grand total to 5,000! These blossoming trees have always piqued my curiosity, so this year I decided to pay a visit.
My journey began from the bus station in Boston, Massachusetts; arriving four and a half hours later in Newark, New Jersey. This was to be a whirlwind, one day trip; but well worth it!
Metro Cafe(Metro Cafe), across the street from Penn Station; appears to be a local hotspot for breakfast meals. The owner told me that he makes a good deal of the food purchases at Whole Foods. The bagels he serves are ordered from Simply Bagels, right there in Newark. After speaking with them by phone, he assured me that they were vegan. For those who eat lunch at Metro Cafe, vegan options can be found such as quinoa. I decided upon a raisin bagel, toasted and filled with locally made strawberry preserves. My beverage was the "Morning Lovers" freshly made juice. The ingredients were strawberries, carrots, and apple. Both my breakfast meal and my raw juice were delicious! They also offer smoothies with soy or almond milk.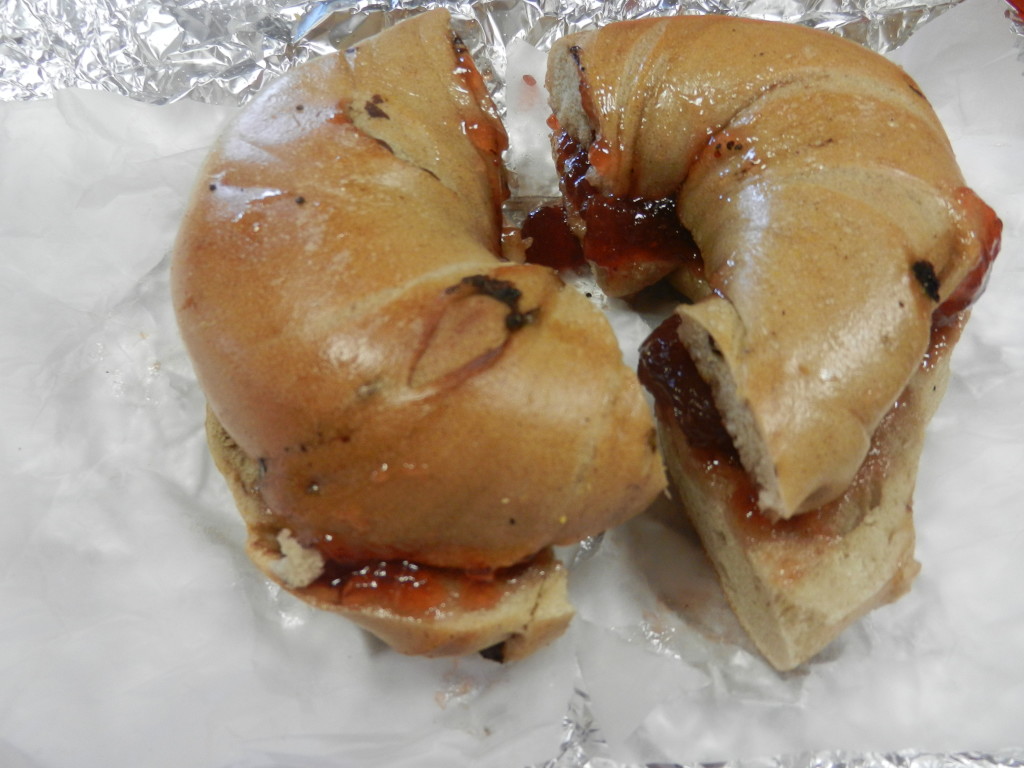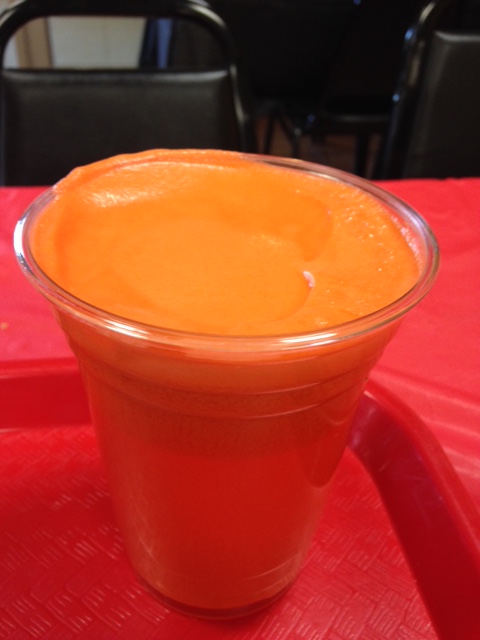 It appears from my research, that many restaurants in Newark are closed on Sundays. The city does not have any vegetarian or vegan restaurants. However, the Visitor's Bureau website lists "healthy dining" options in the city. I was able to find good vegan-friendly restaurants for breakfast, lunch, and dinner while in town for the day.
My arrival time in Newark was approximately 7am, which gave me several hours prior to the start of the Newark Cherry Blossom Festival. So after breakfast, I chose to go on a sightseeing walk downtown. The Market Street area is where I strolled by the majestic city Hall and federal buildings, as well as a shopping district. Several old church from the 17th and 18th century came into view on my path.
One of the most popular tourist attractions in Newark is known as Miitary Park. This downtown park displays statues to honor its local heroes from the American Revolution, Civil War, and World Wars. A massive bronze sculpture honoring those who did not survive the wars, resides at the far end of the park, surrounded by colorful flowers. The outdoor space is also a community gathering spot for movies, concerts, and reading.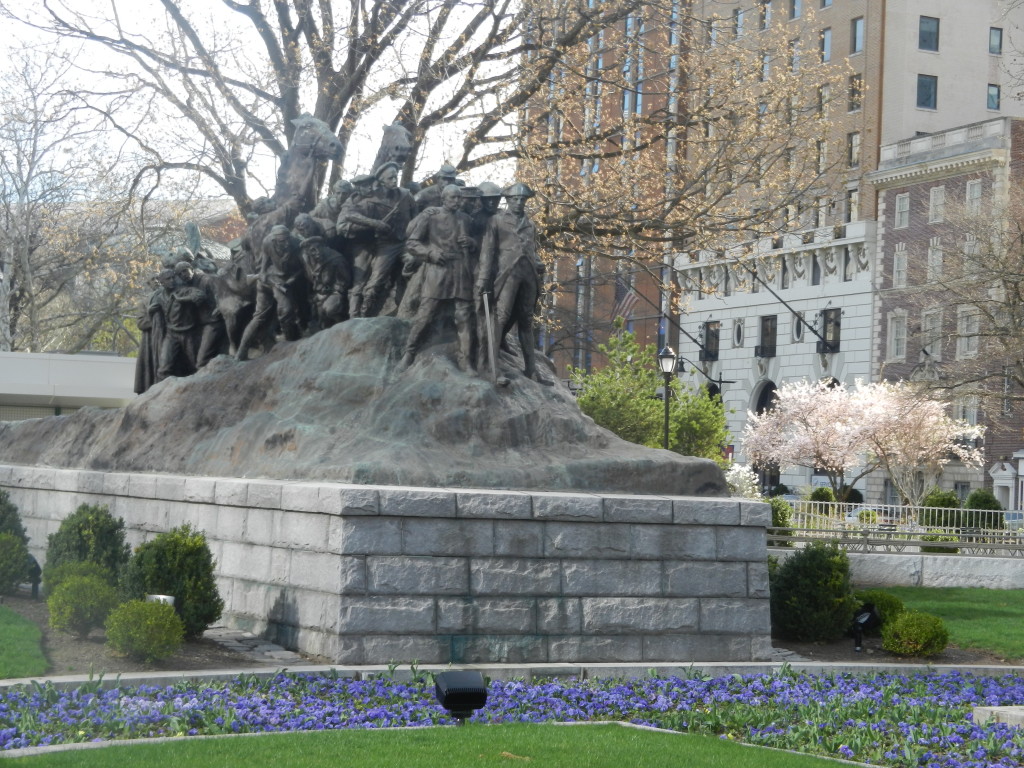 A 17th century church beyond the park, was the spot where George Washington paused to on his way to battle in Trenton during the Revolutionary War.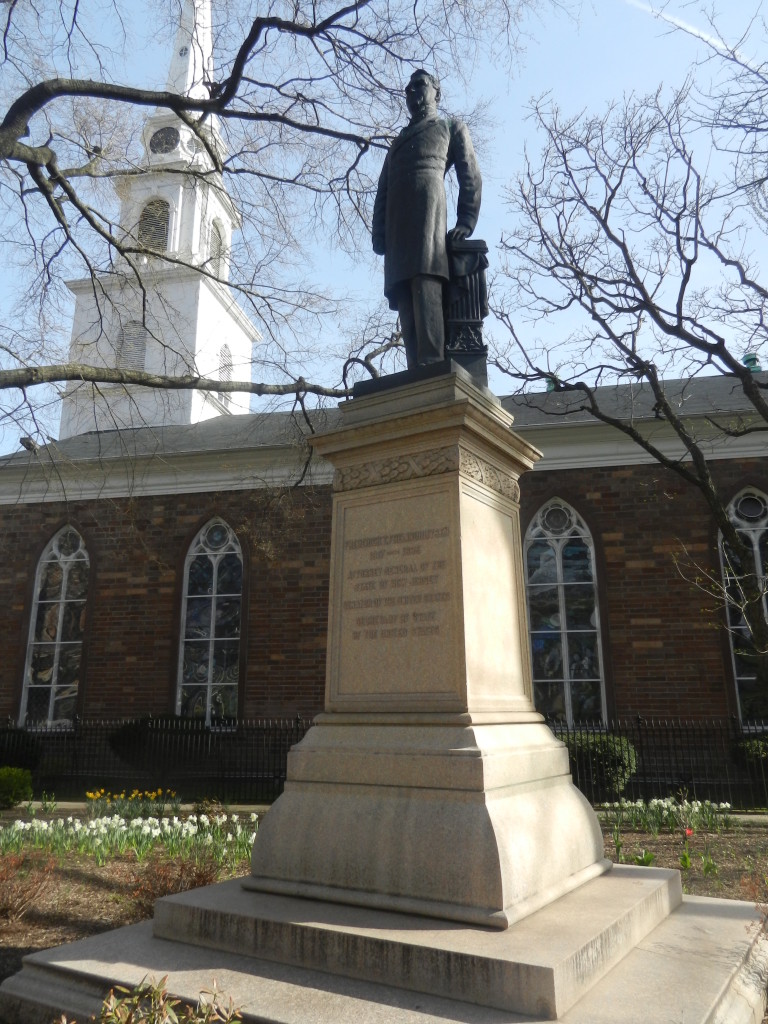 After my downtown sightseeing walk, I headed to Commerce Downtown Kitchen restaurant for lunch. CDK ( CDK Restaurant) offers a Sunday brunch buffet. The restaurant is vegan-friendy. For my lunchtime meal, I dined on a buffet selection of salads(savory and one with fruit); sauteed mushrooms, onions, and peppers; roasted peppers and stewed tomatoes with a garlic and ginger topping, black eyed peas, and collard greens cooked in vegetable oil. The vegan meal was absolutely delicious! During the week, they offer additional vegan buffet items such as quinoa.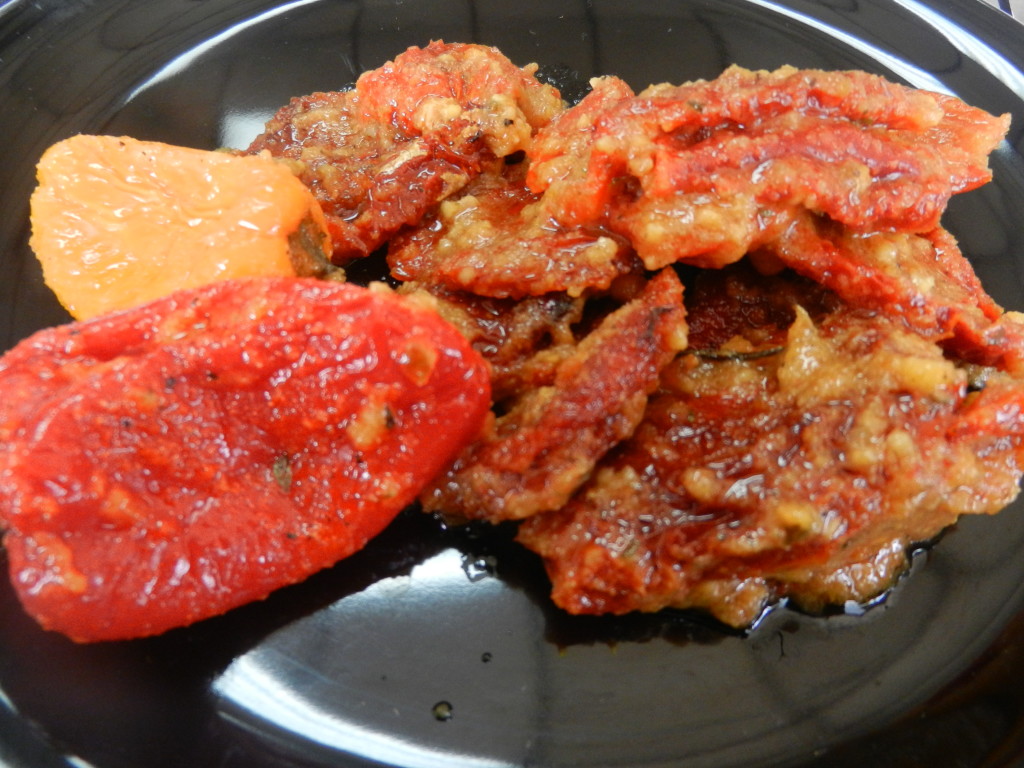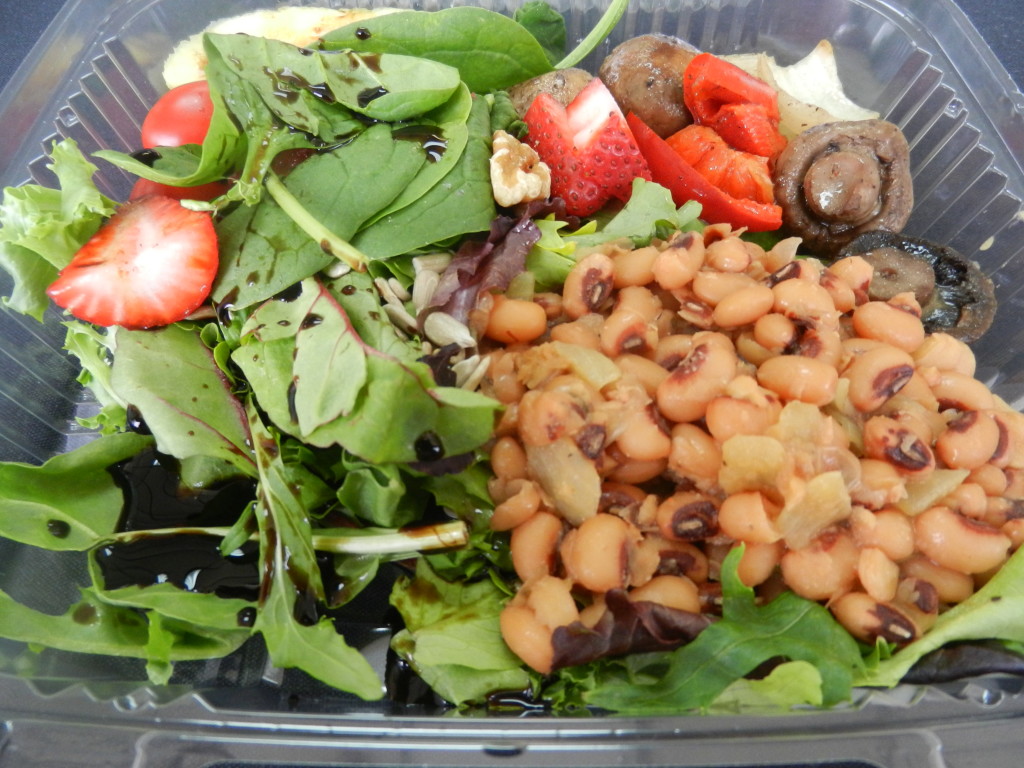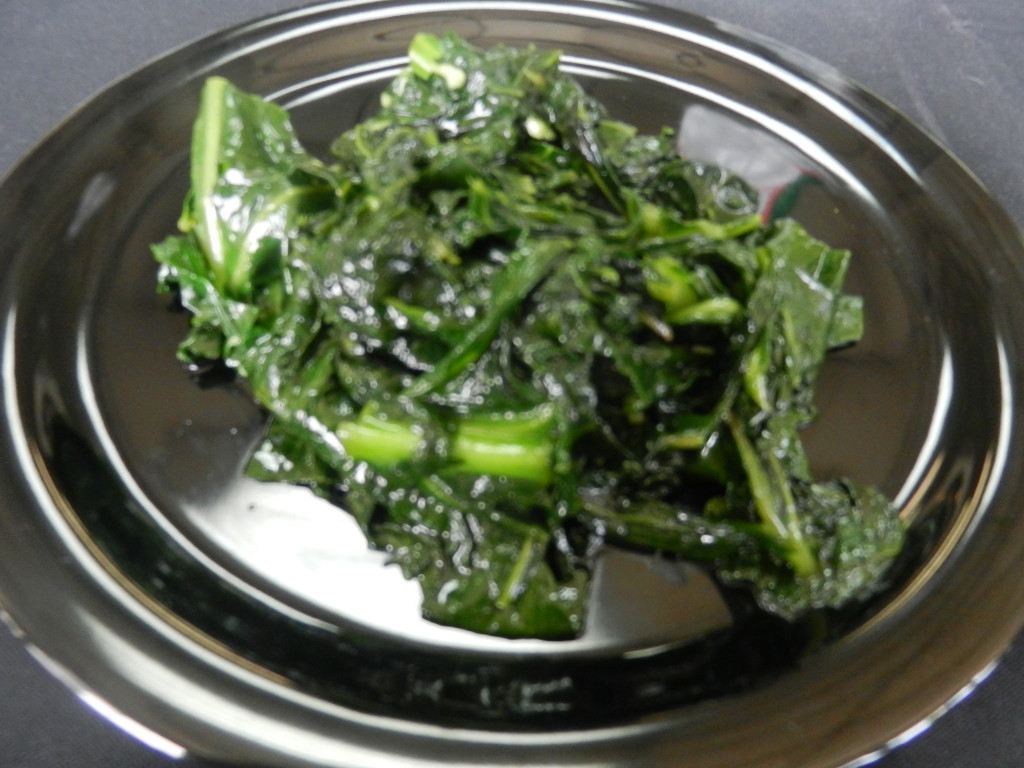 Now it was time to head on over to the Cherry Blossom Festival! Branch Brook Park was a quick nine stops away by light rail. The street lamps and the stone archway gate greeted visitors with signs that proclaim "Cherry Blossom Festival".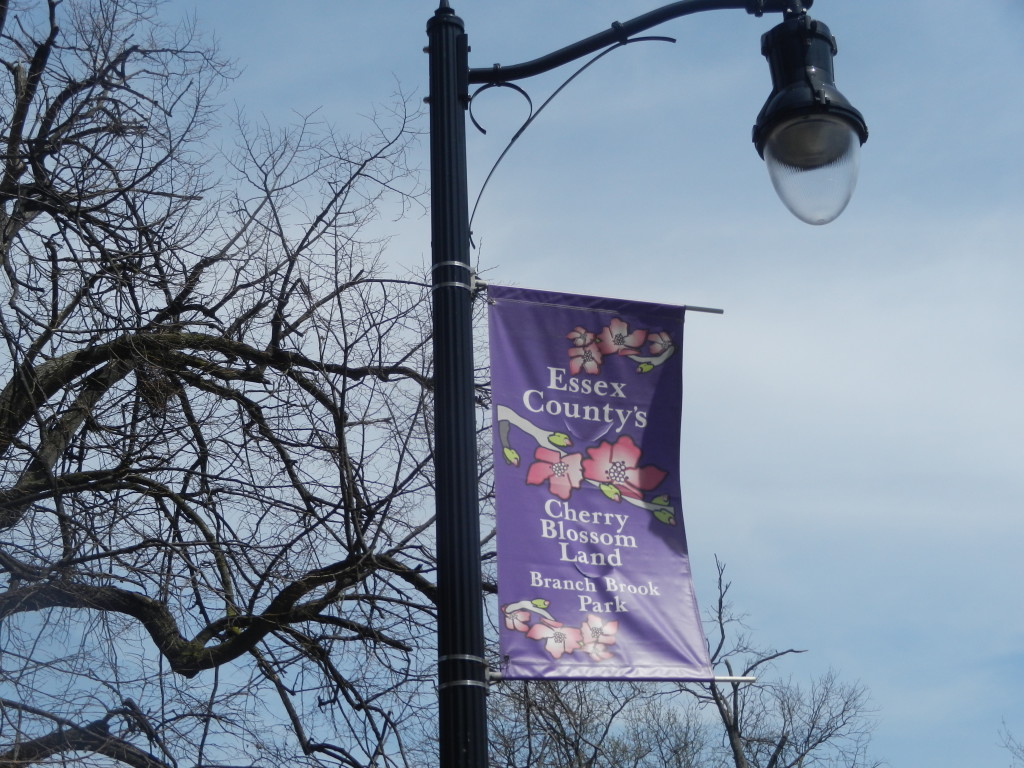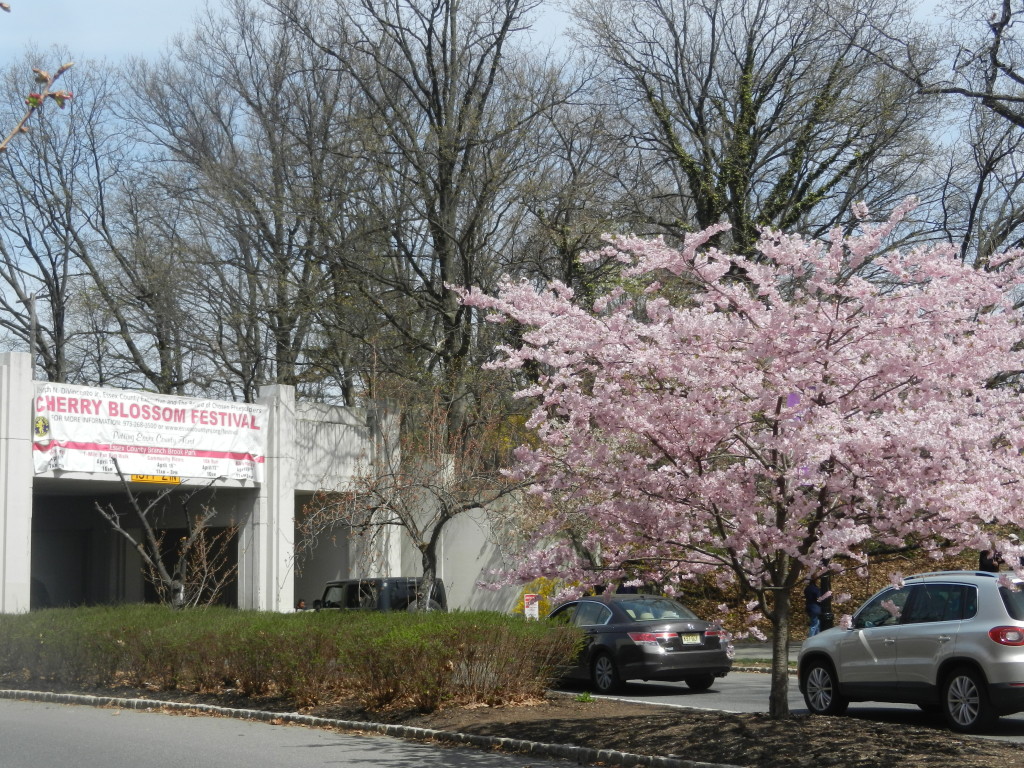 Along the main road, as far as the eye can see; rows of cherry blossom trees display in tones of white, light pink, medium pink, and dark pink.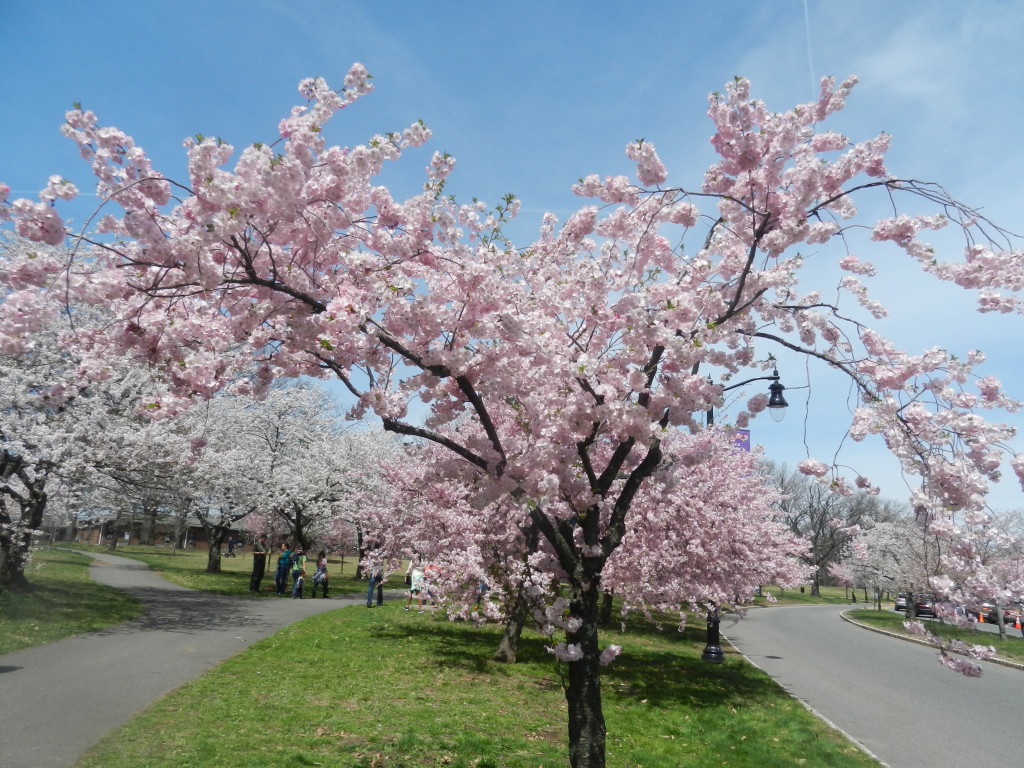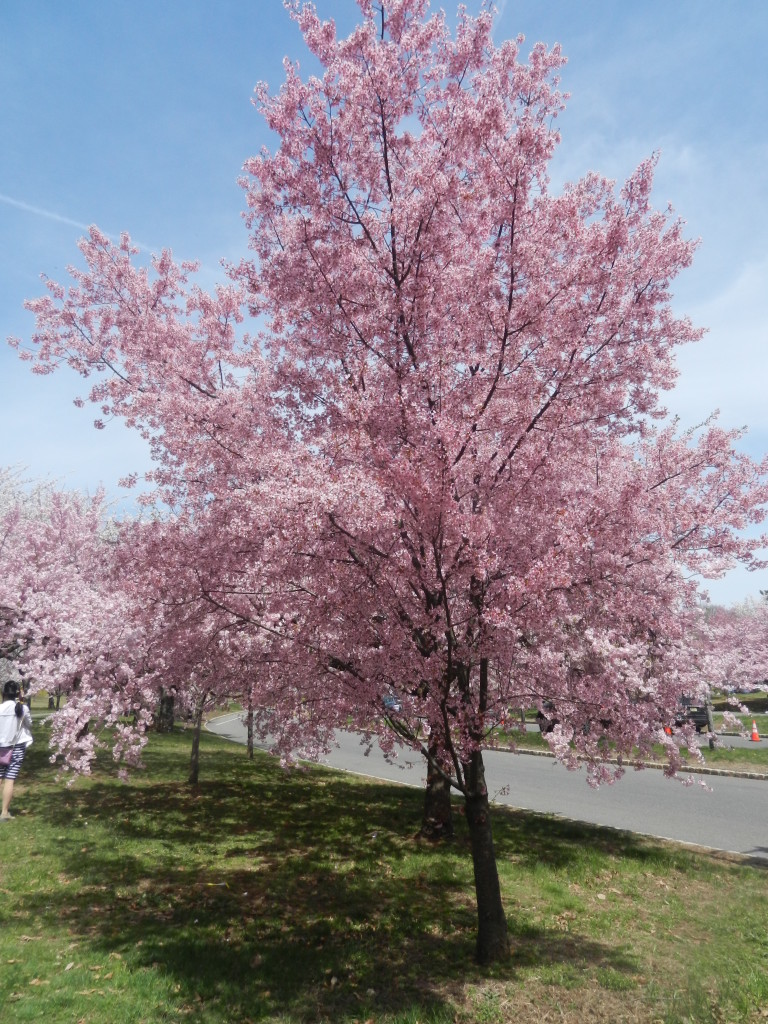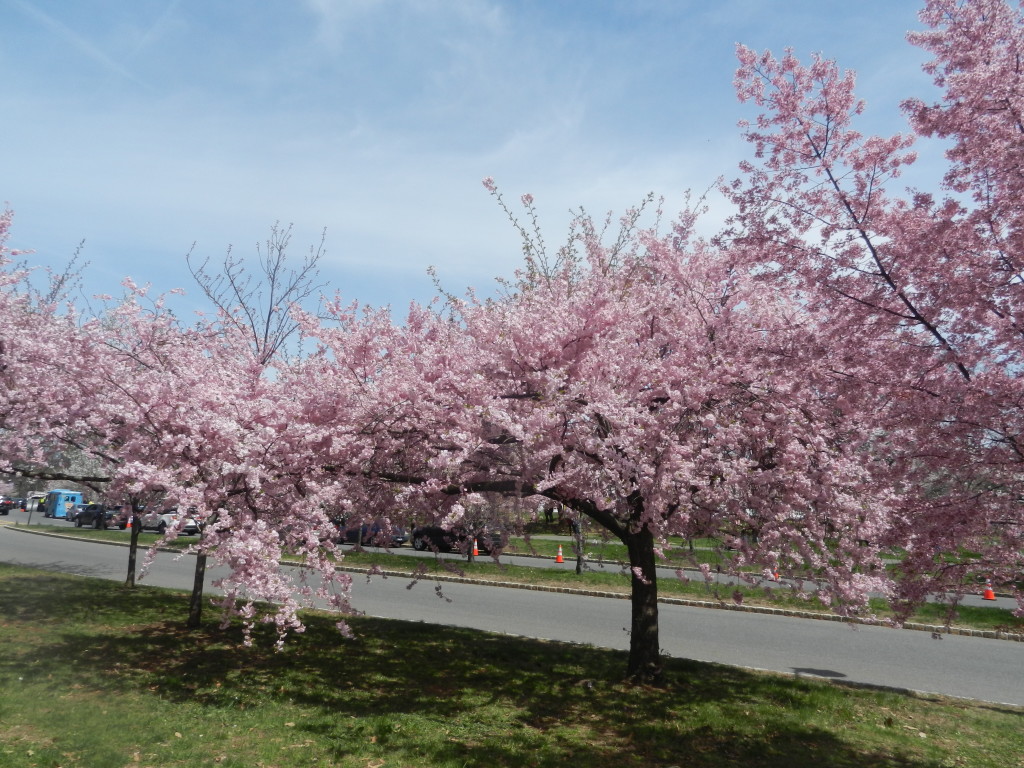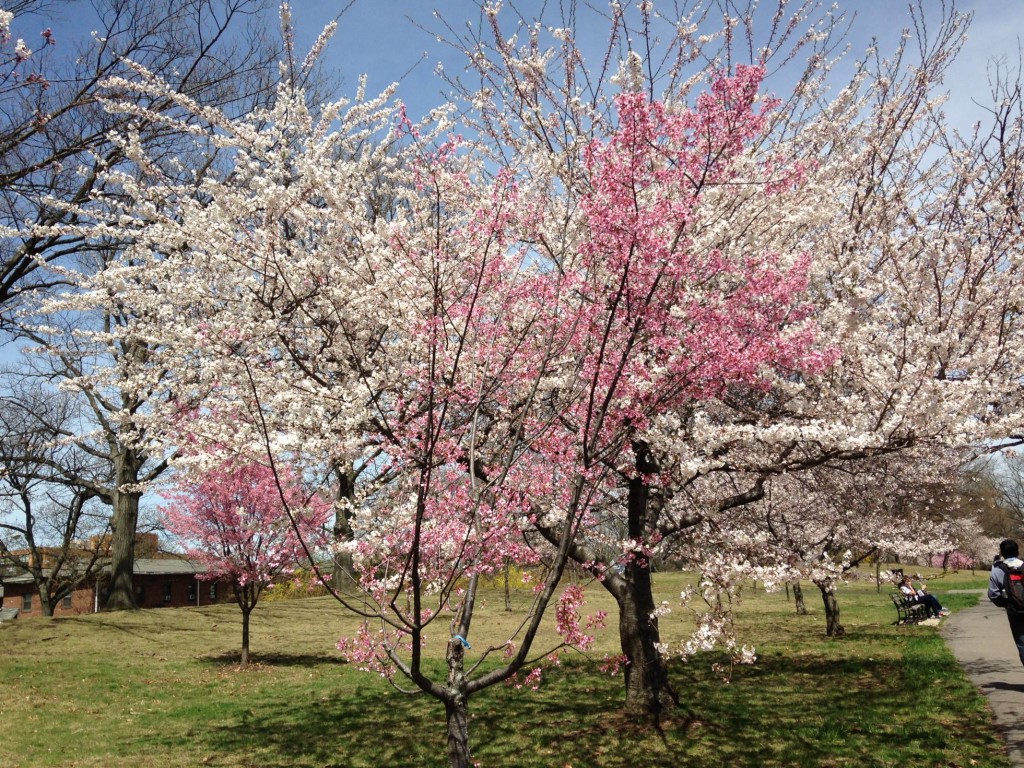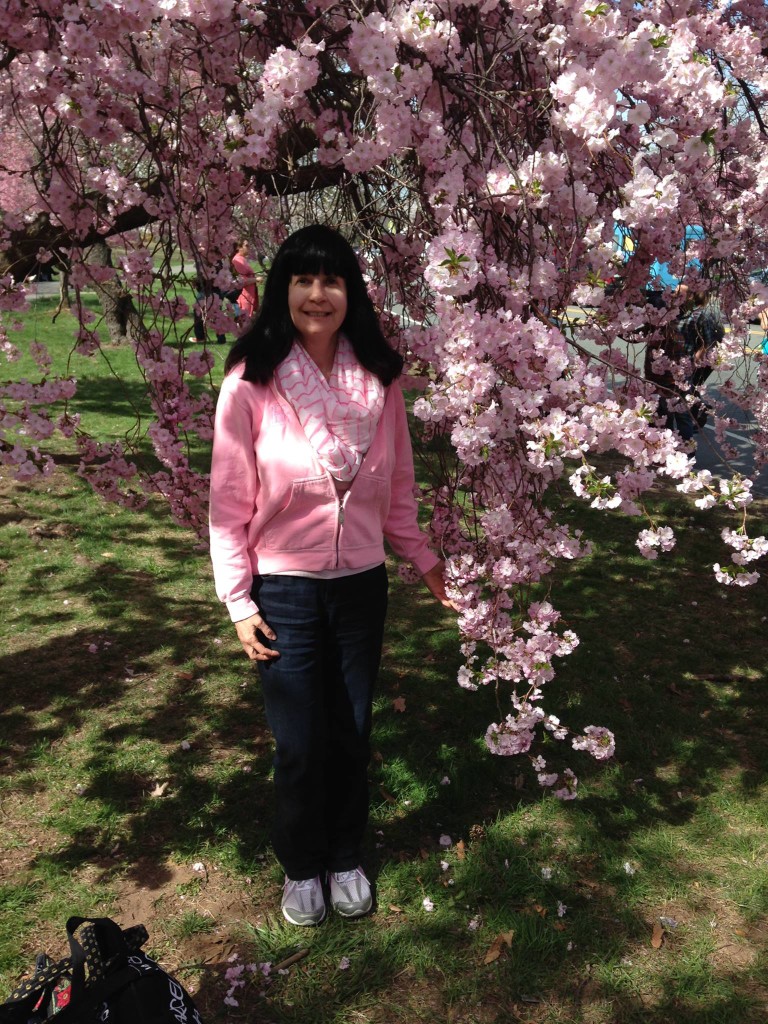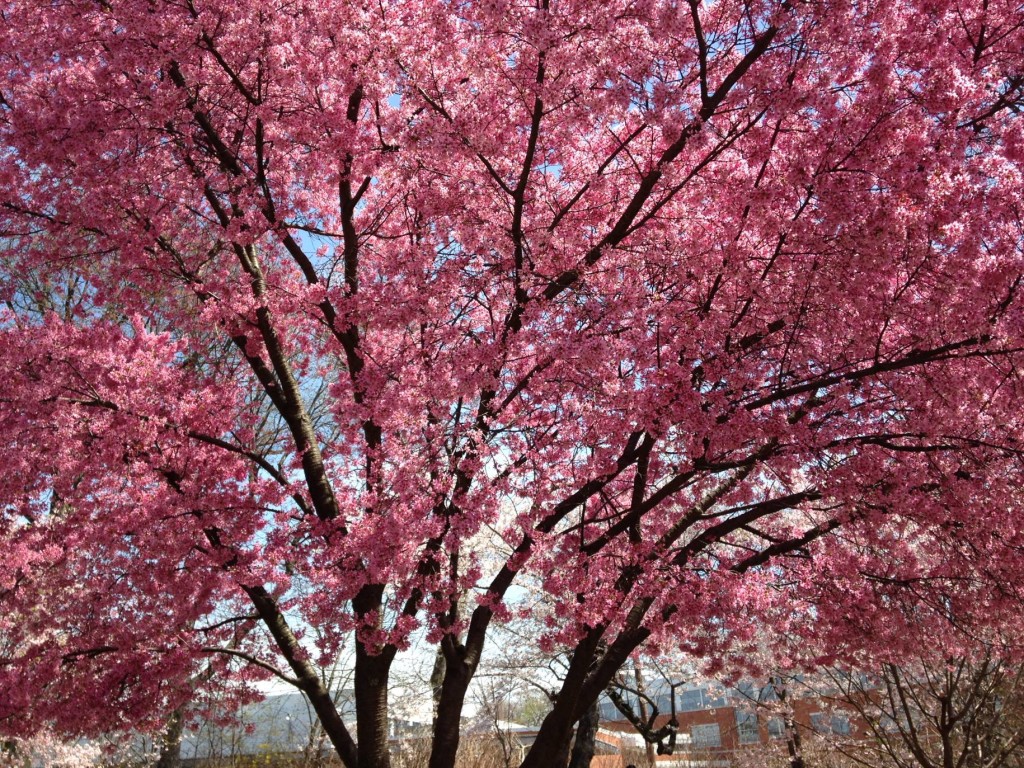 Some trees stand singularly, while showcasing the uniqueness of their form and hue.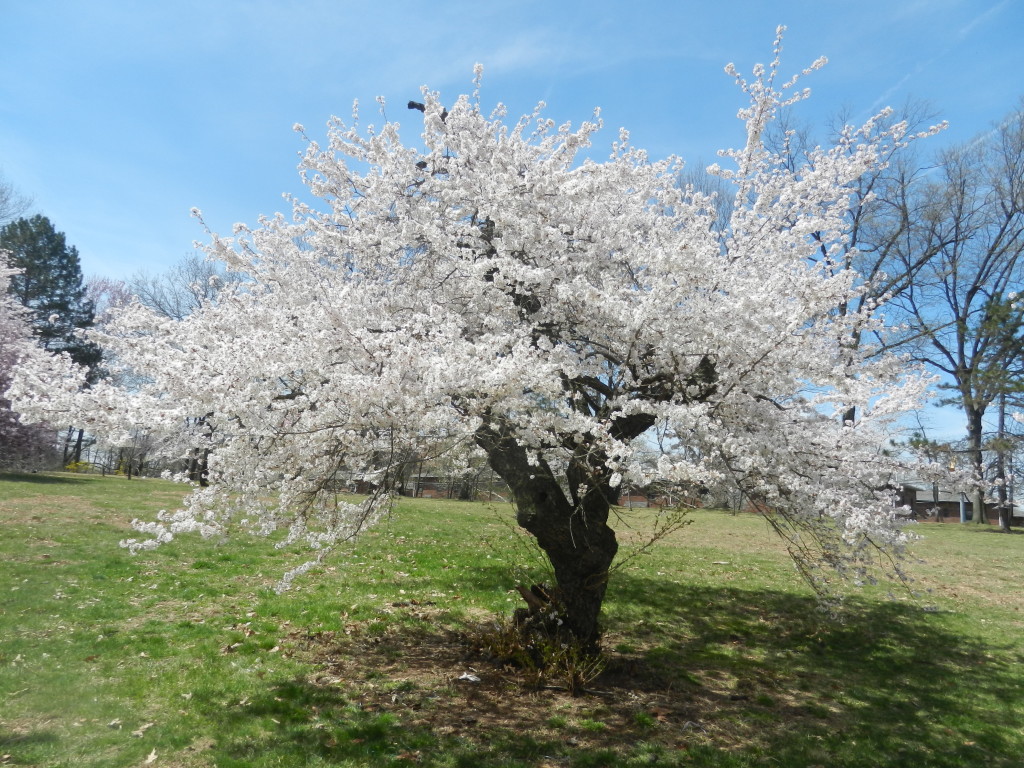 Yet other trees seem to join together, as if in an embrace.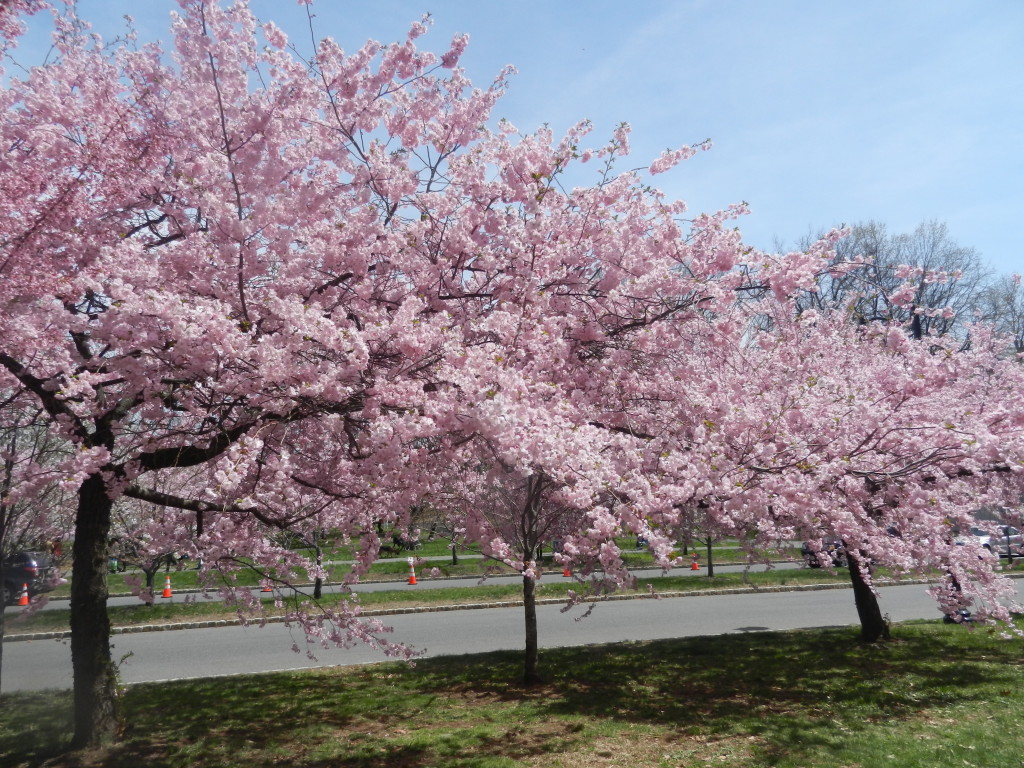 Certain trees form what appears to be an archway, that provides a romantic atmosphere for those enjoying their stroll among the scenic pathway.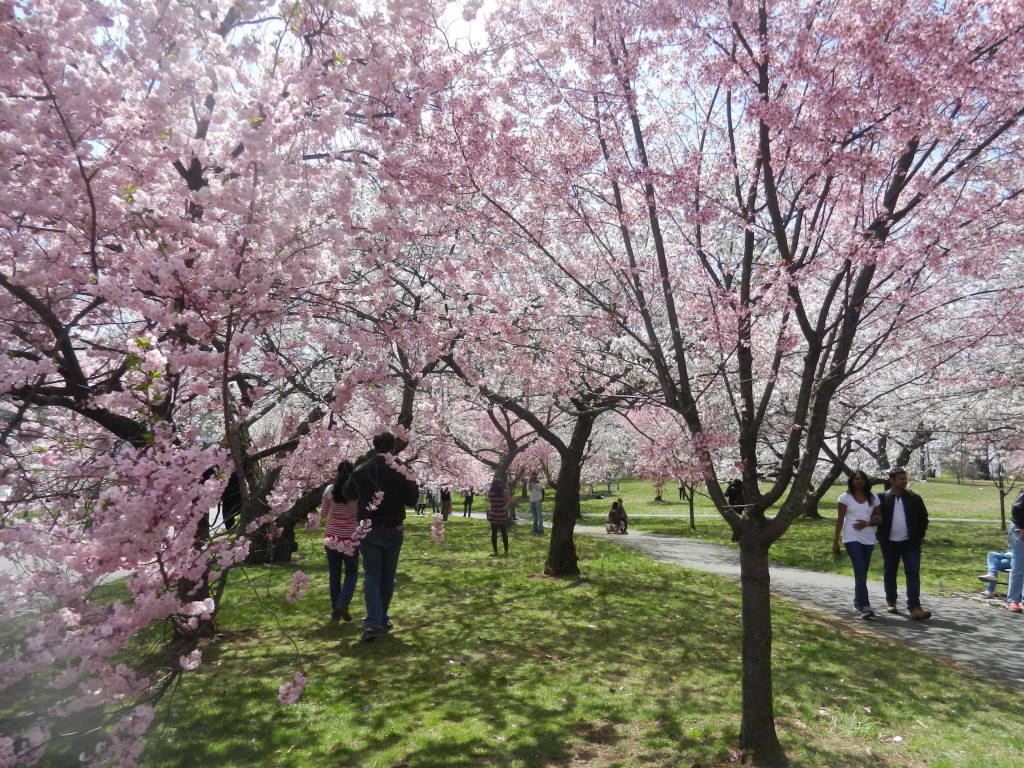 A field of white colored trees stand tall; while surrounding a mini light pink blossomed one.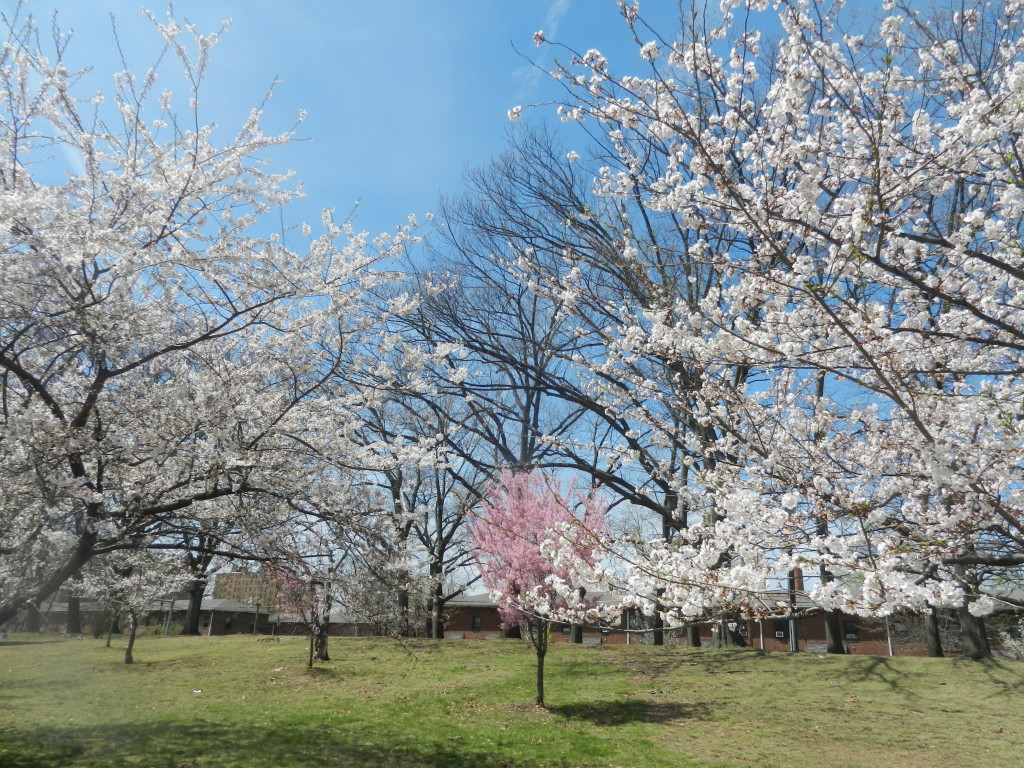 An upclose view of some medium pink blossoms exhibits the beauty of the delicate flower and its developing buds.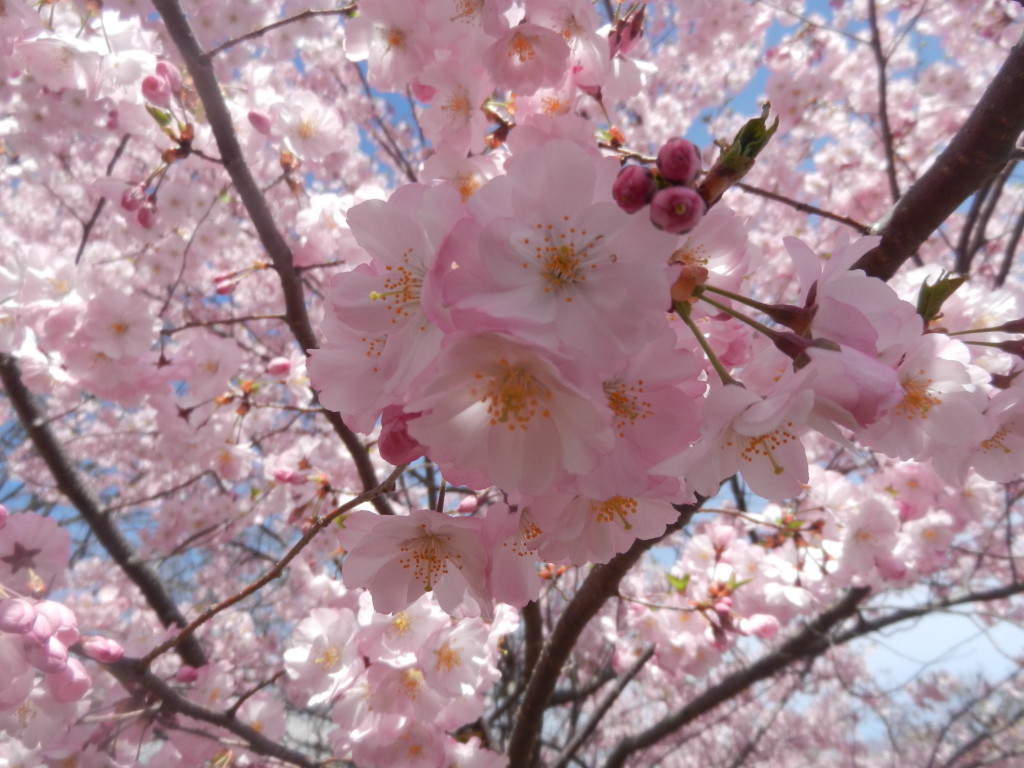 I headed across the street to the Cherry Blossom Center. This was where the day's Bloomfest activities was taking place. The signage indicated that the cherry blossoms are at peak!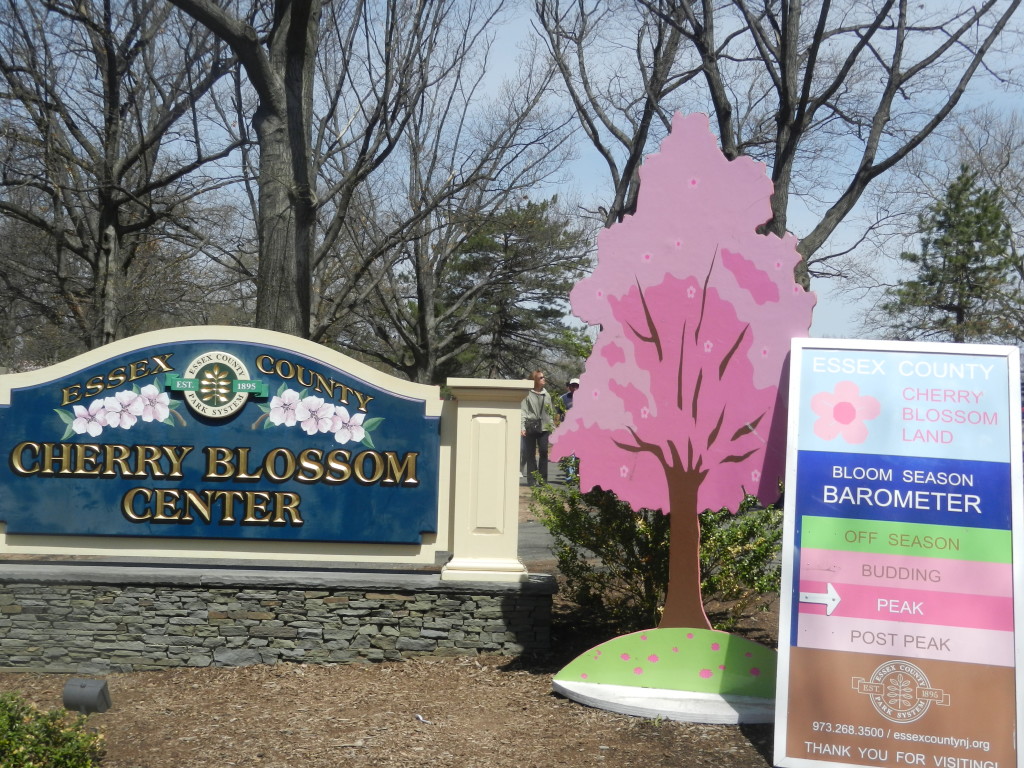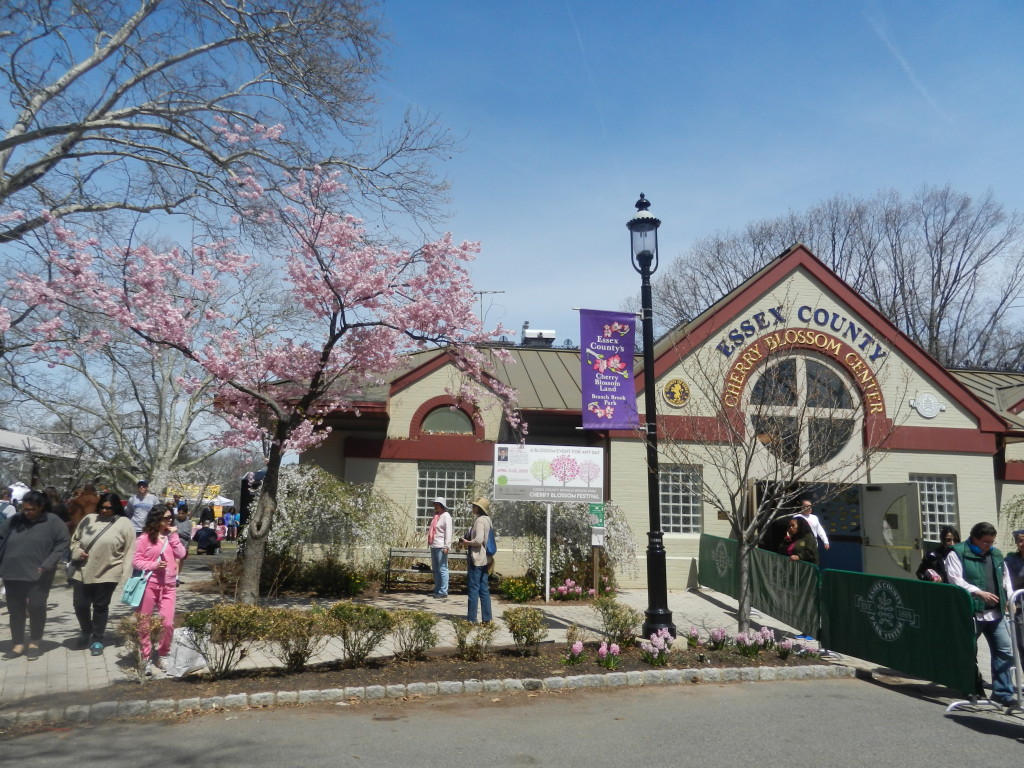 All things "Cherry Blossom" could be found at the vendor craft tables! One artisan had created cherry blossom wreaths to wear around your head.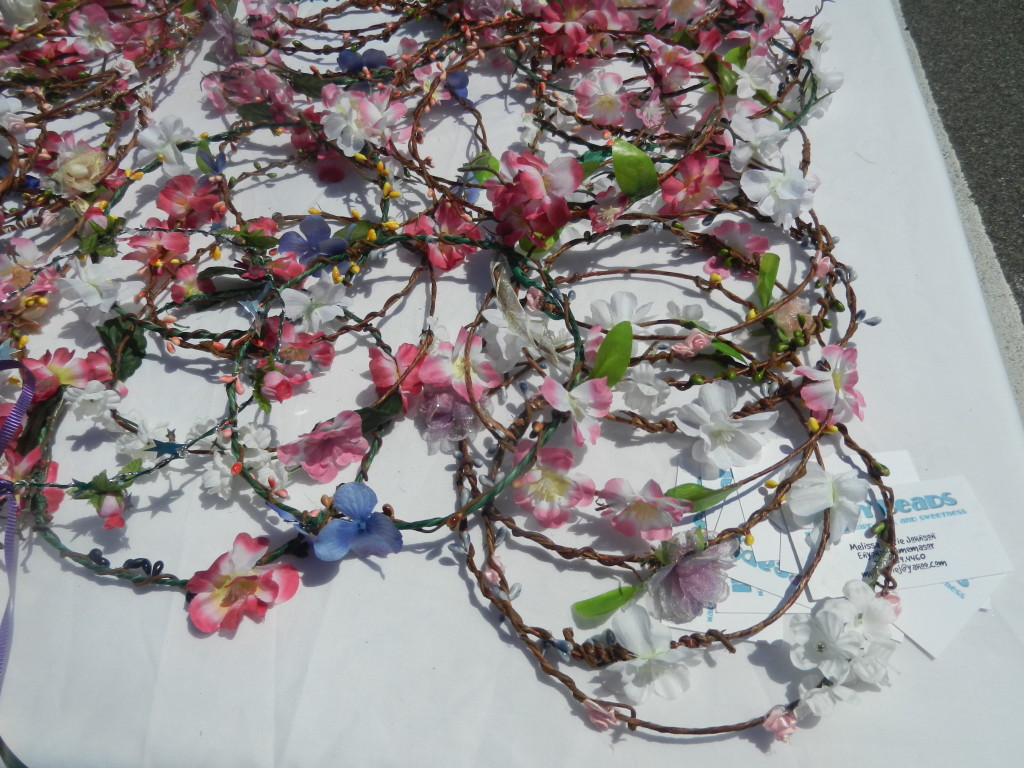 I gazed at the elegant cherry blossom branch nearby.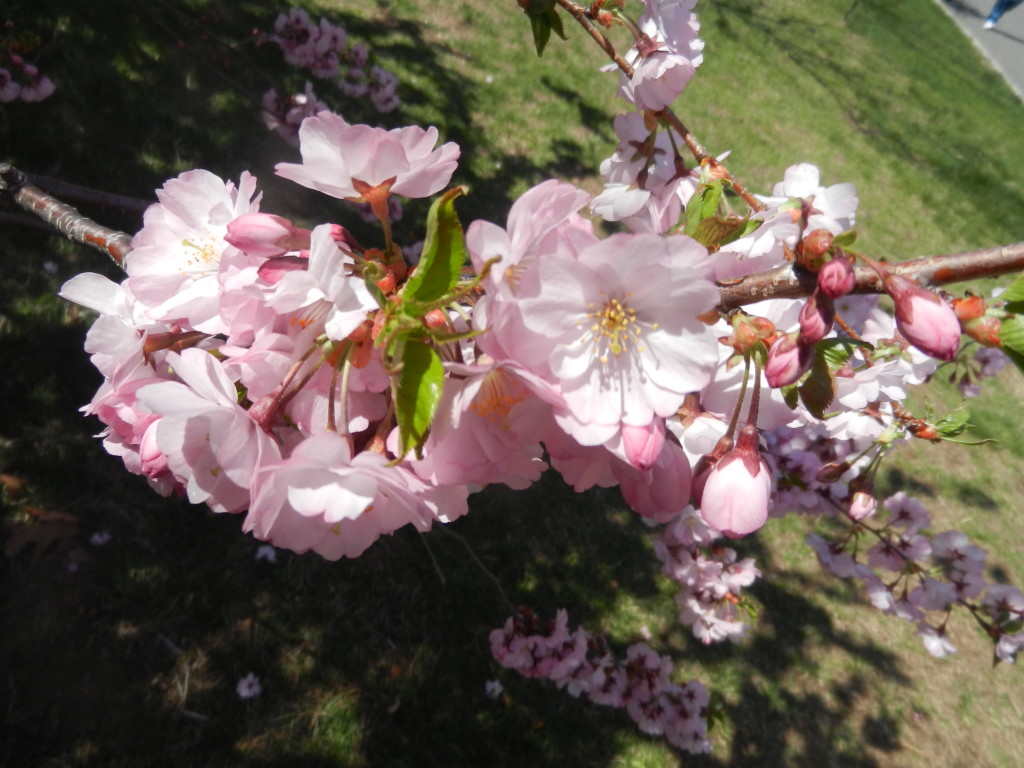 Not too far in the distance, was an enormous white blossom tree. The sheer immensity of its branches was quite impressive!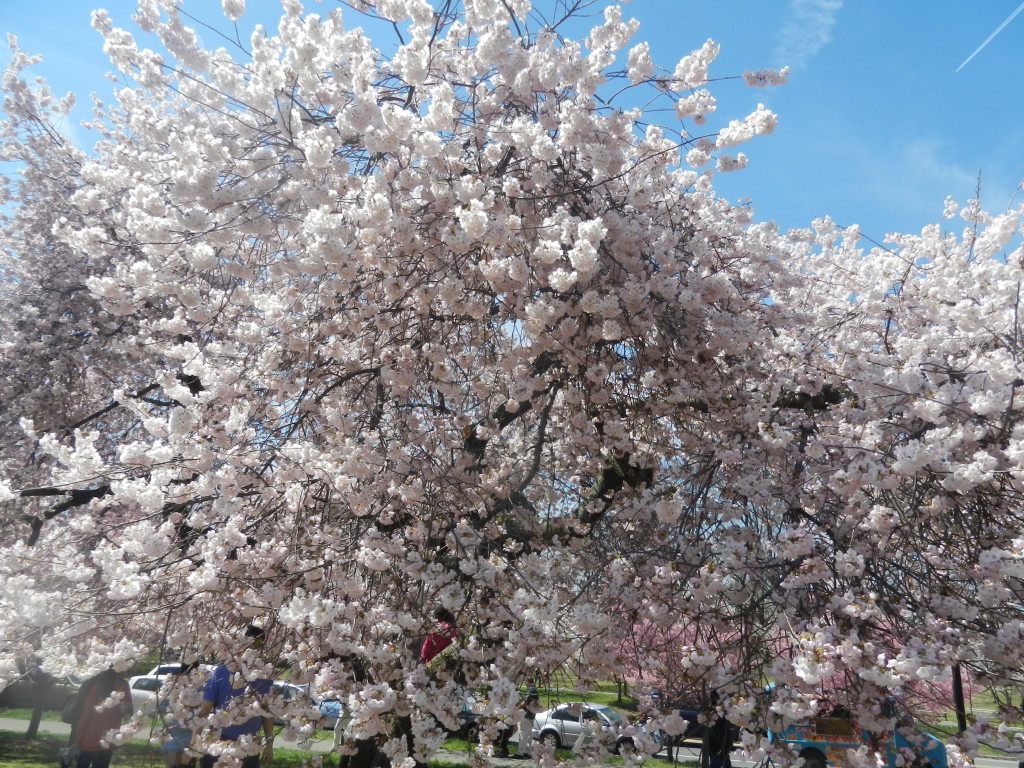 Across the road from the Welcome Center, I took in the view of the cherry blossom lined street with its striking palette of white, light pink, and dark pink hues.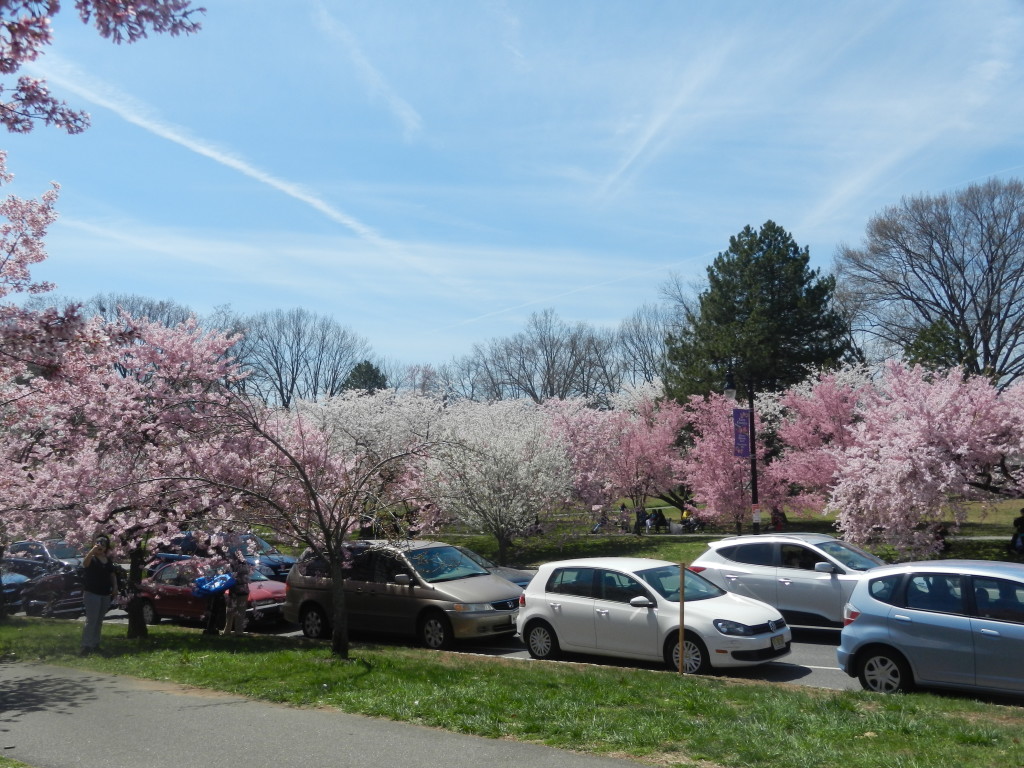 />
A humongous white cherry blossom tree caught my eye. Its umbrella shaped dome provided majestic beauty, as well as shade for its visitors.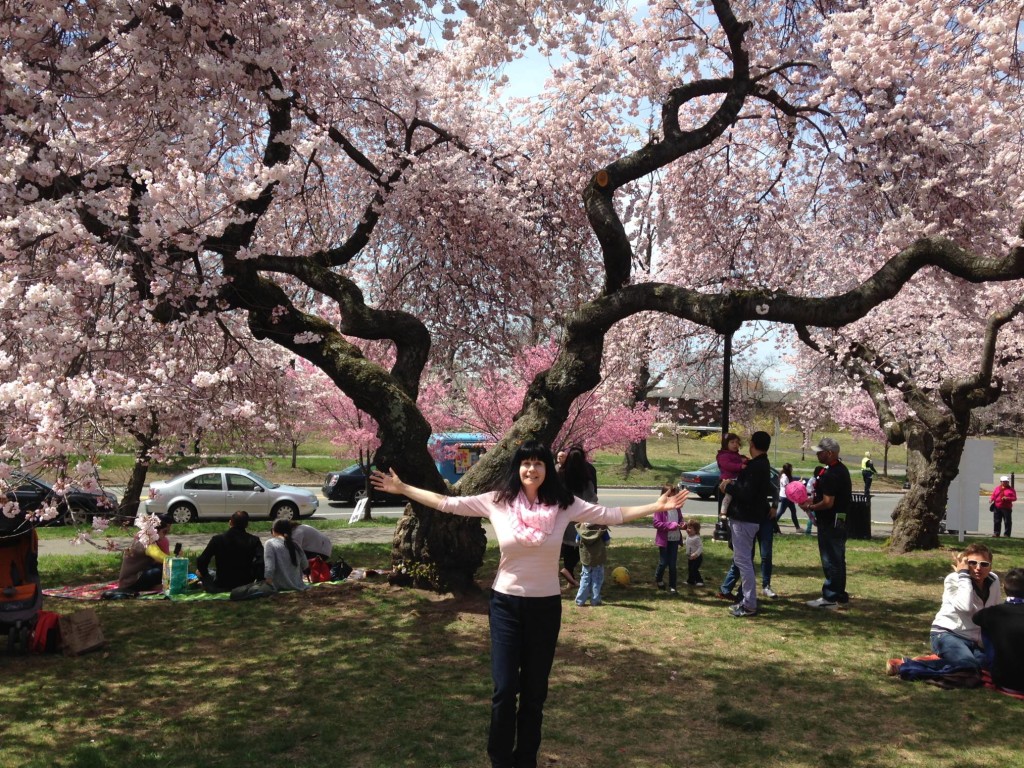 I appreciated the splendor and sheer attractiveness of each and every tree for its form, size, and color palette; as I wandered around the main area of the park.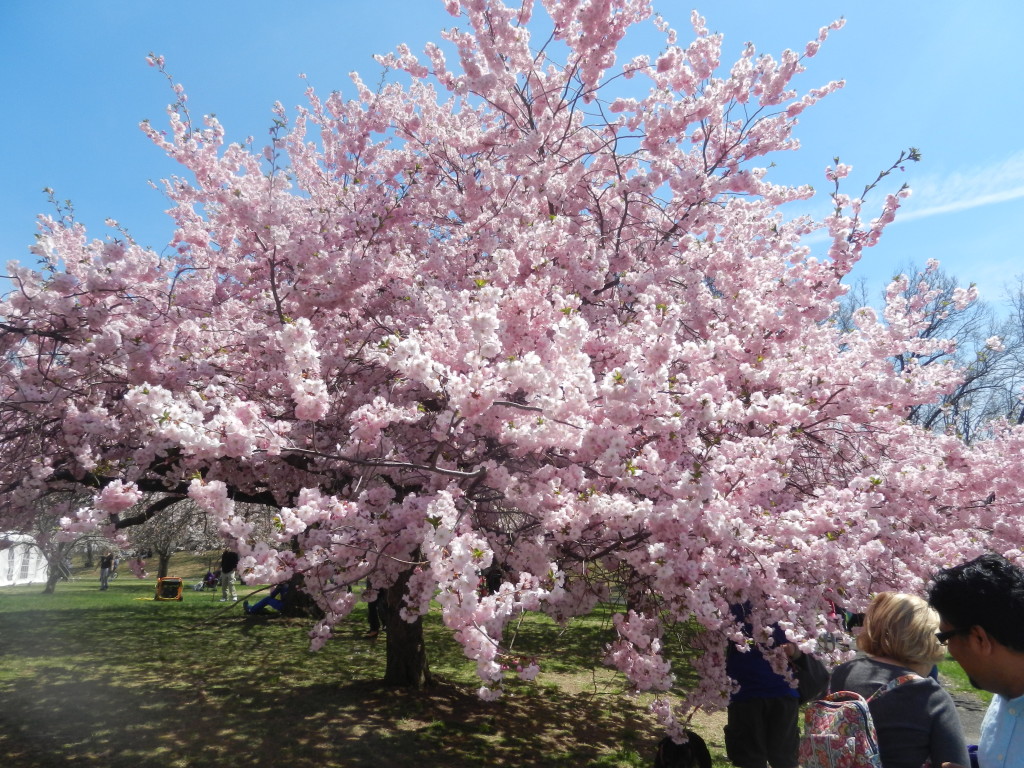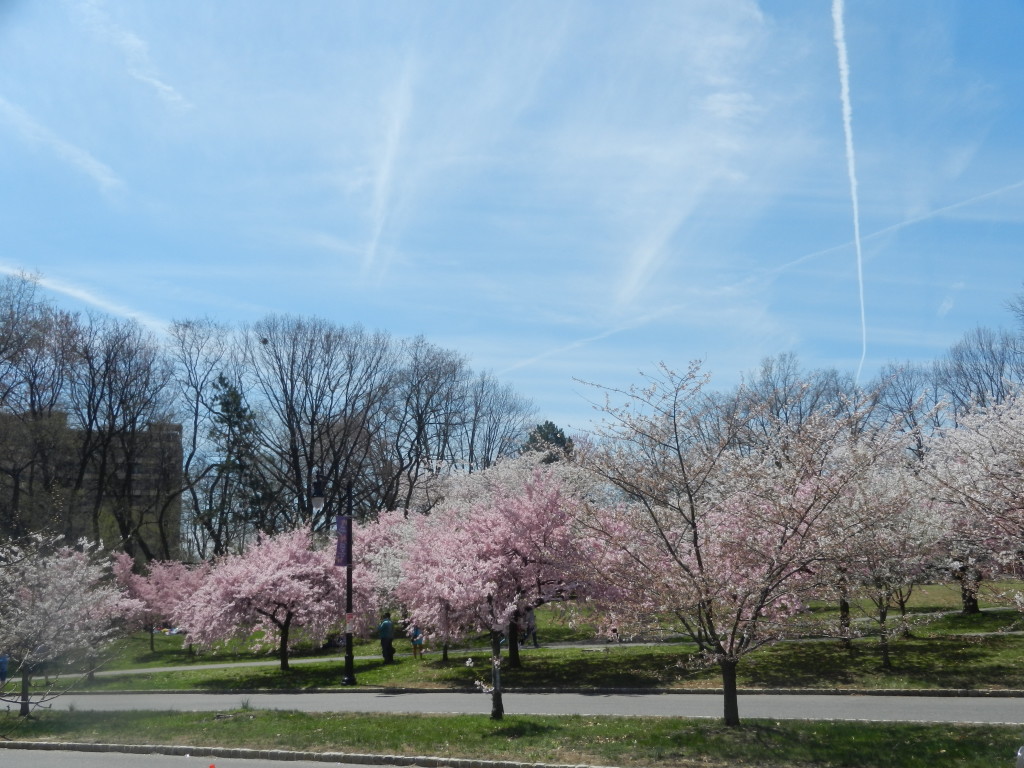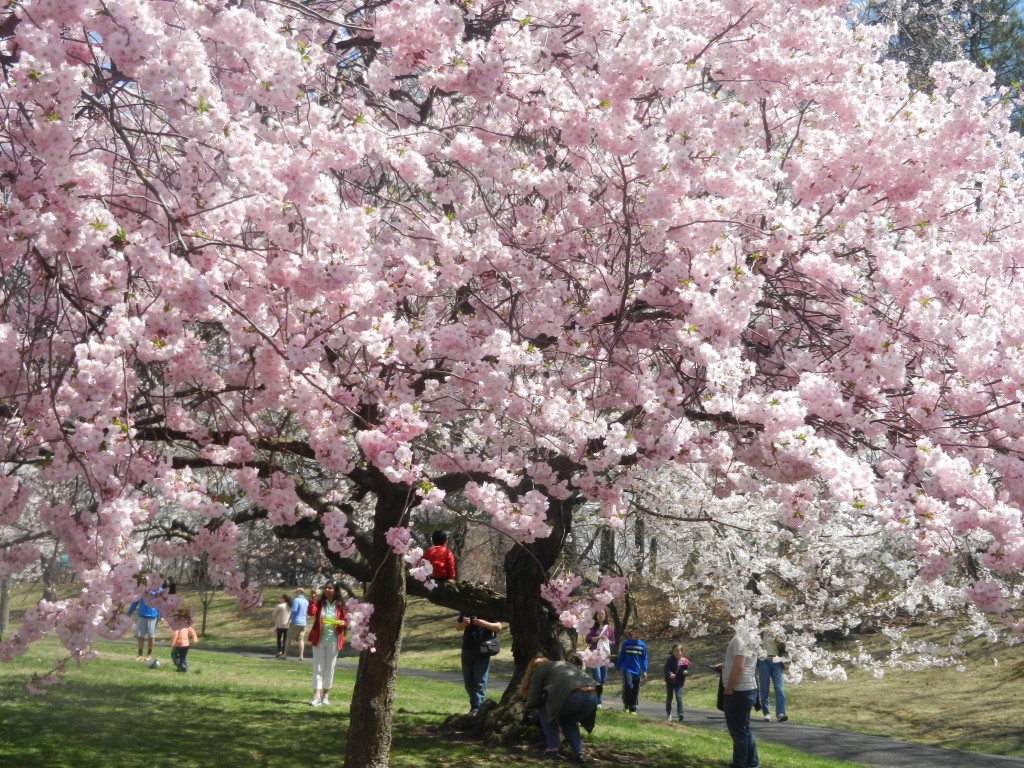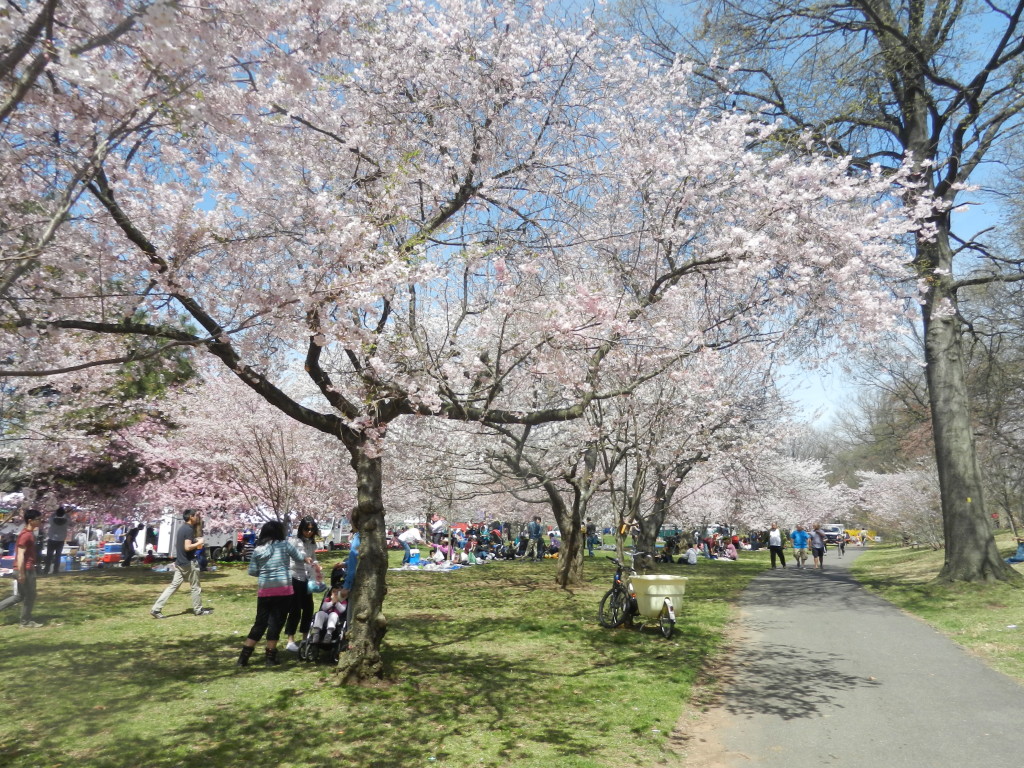 I studied the intricate petals of a light color cherry blossom, as a branch hung closely above head, uncovering its form.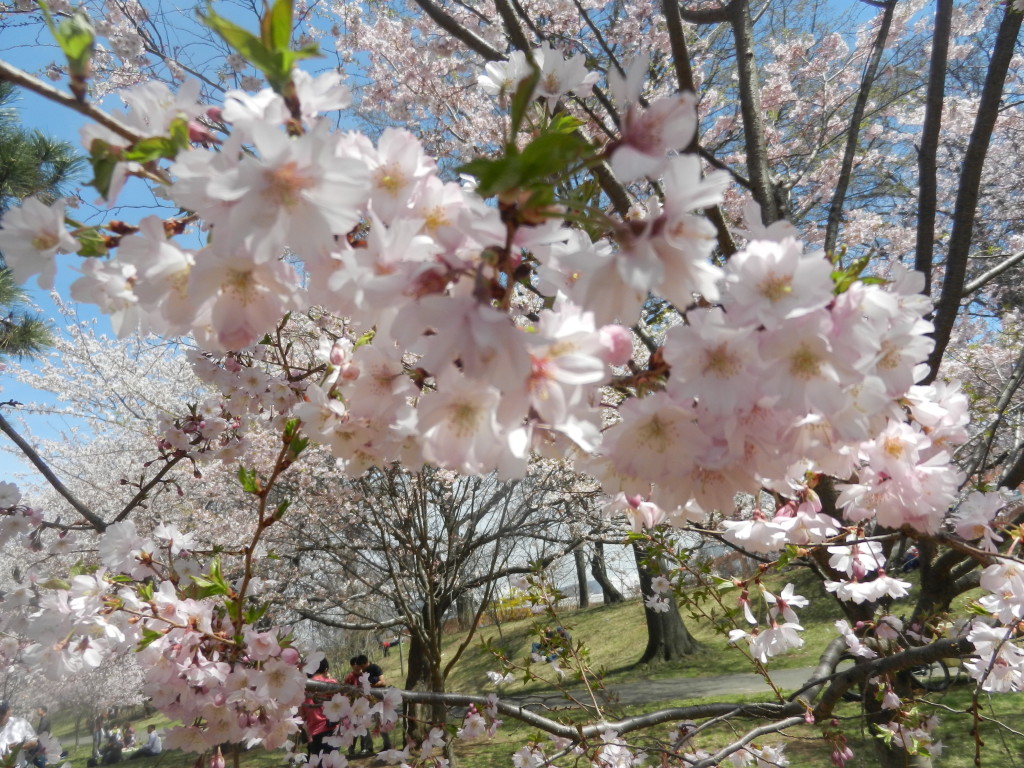 Many food and beverage vendors were found throughout the park during the day. I quenched my thirst in a freshly squeezed lemonade with ice.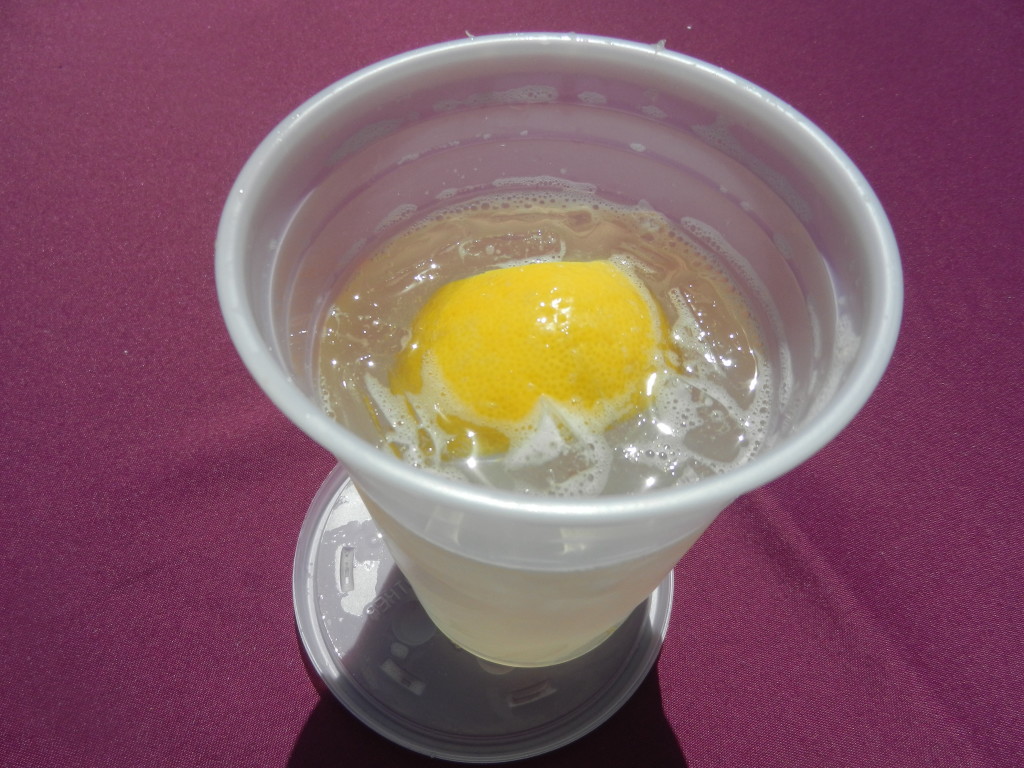 The next group of entertainers to hit the stage were the Japanese taiko drummers. They thrilled the crowd with a lively performance, as they banged those drums with high energy while jumping up and down on occasion.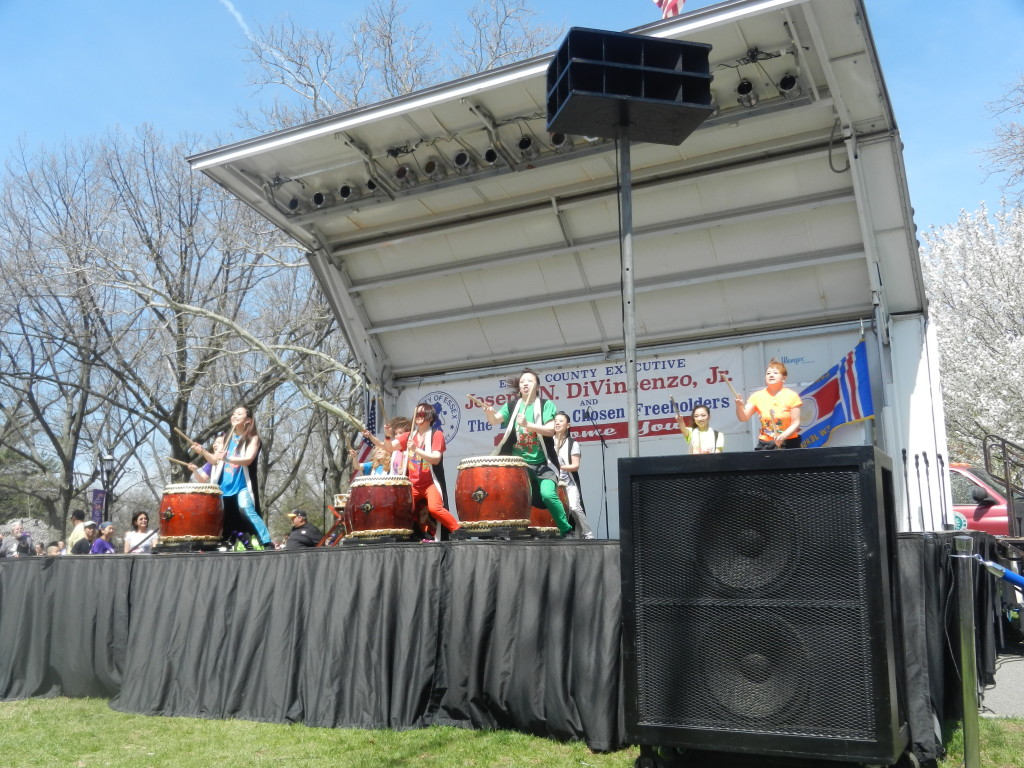 A large white weeping cherry blossom tree with its hanging branches graced my path after the music performance.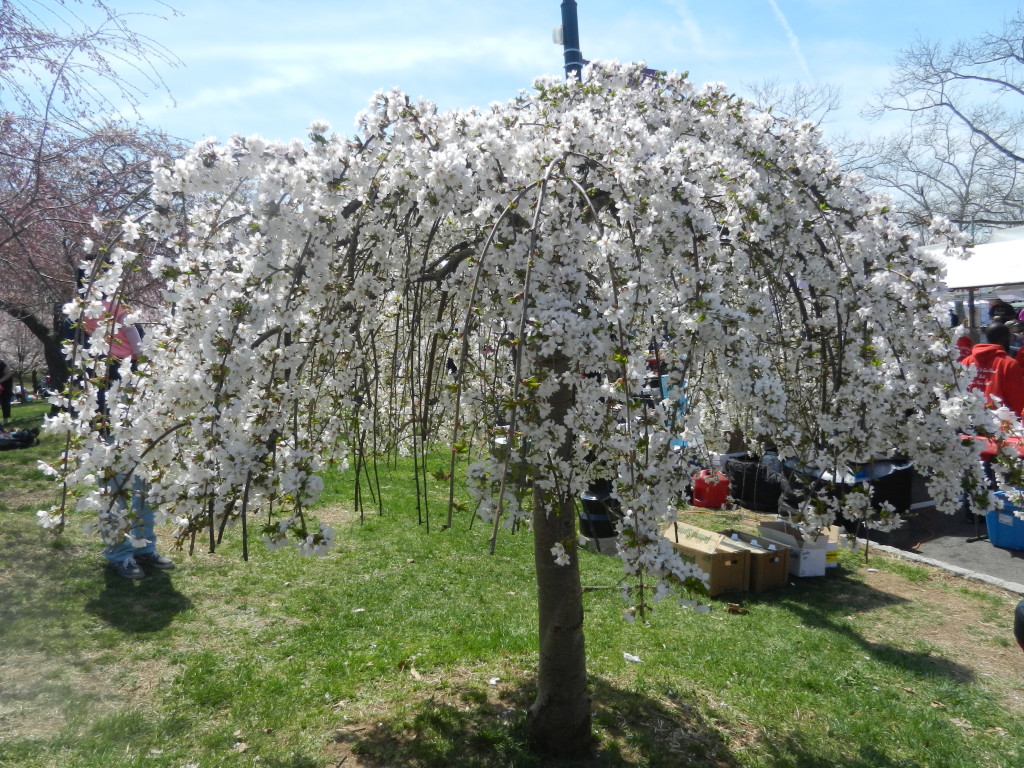 The festival's visitors were taking full advantage of the lovely sunny weather by spreading picnic blankets around the park , as they ate their snacks and appreciated the scenic view of the cherry blossoms.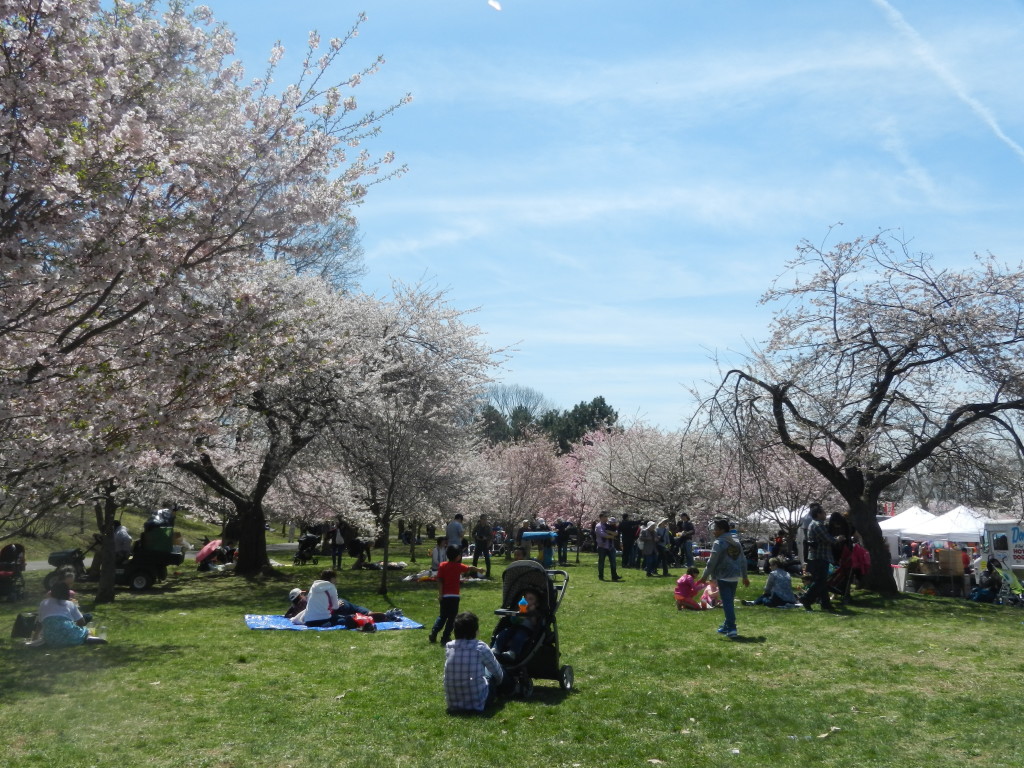 When I arrived at the cultural events tent, an artist was commencing to paint a cherry blossom tree on canvas. The audience sat captivated by the elegance of the brushstrokes and the aesthetic vision of the resulting image.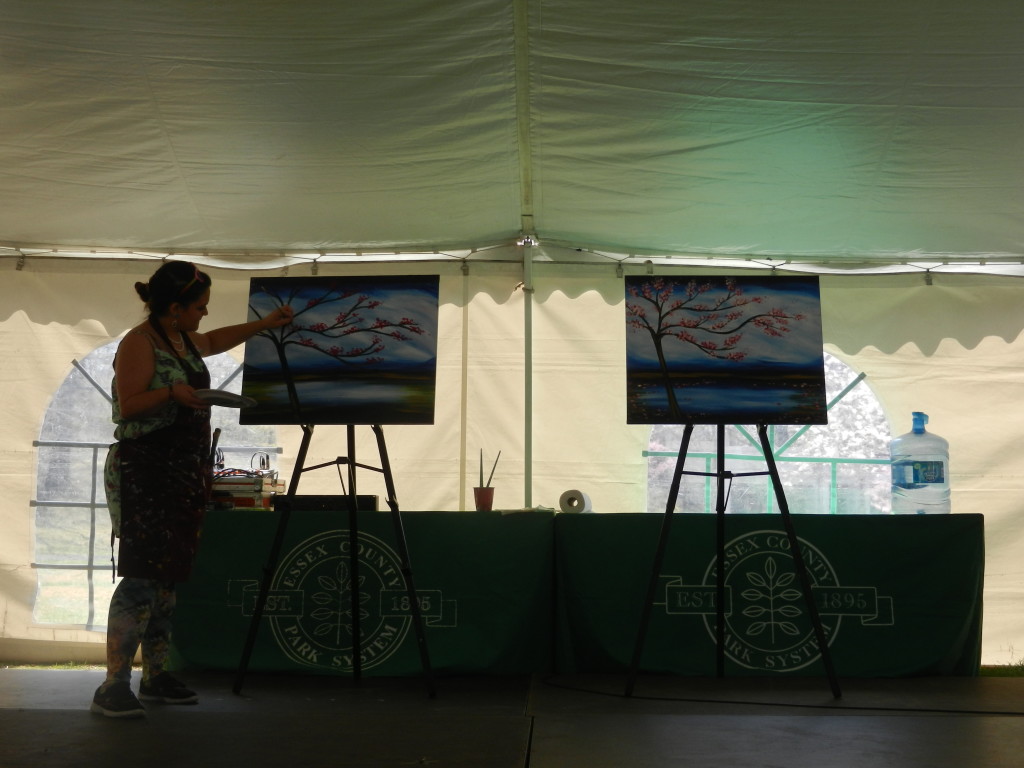 The gorgeous blooms were clearly visible as I exited the tent.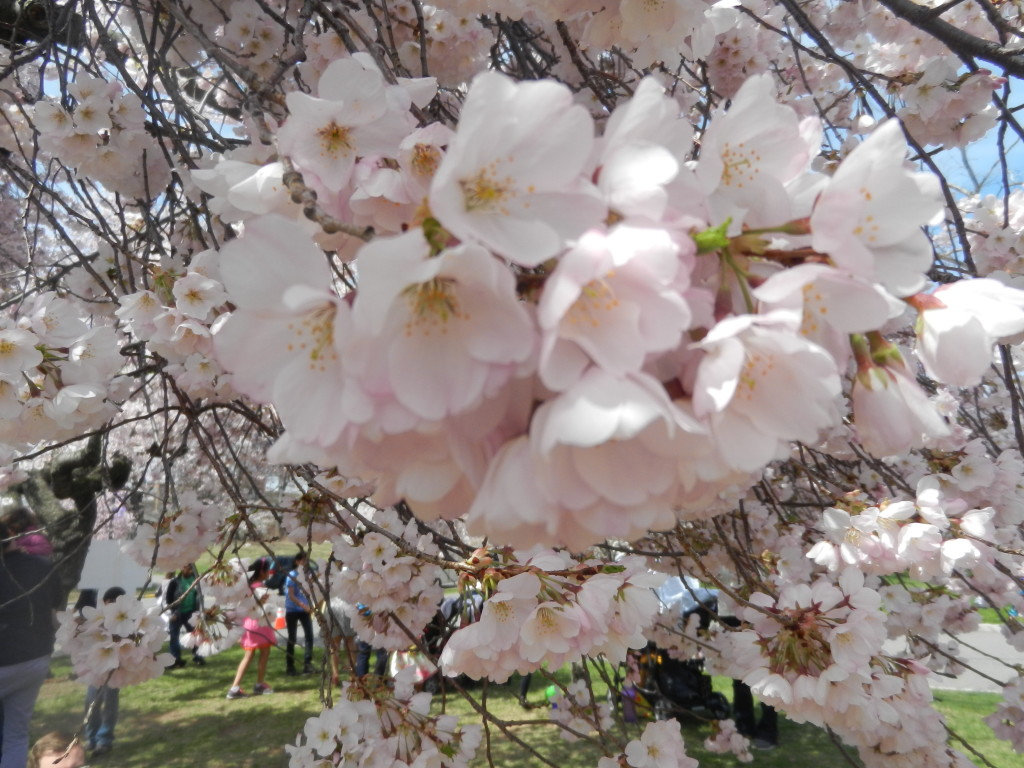 Next onstage were the musicians playing traditional Japanese instruments, including the stringed koto. They played with such passion and energy. Such wonderful pieces that they performed!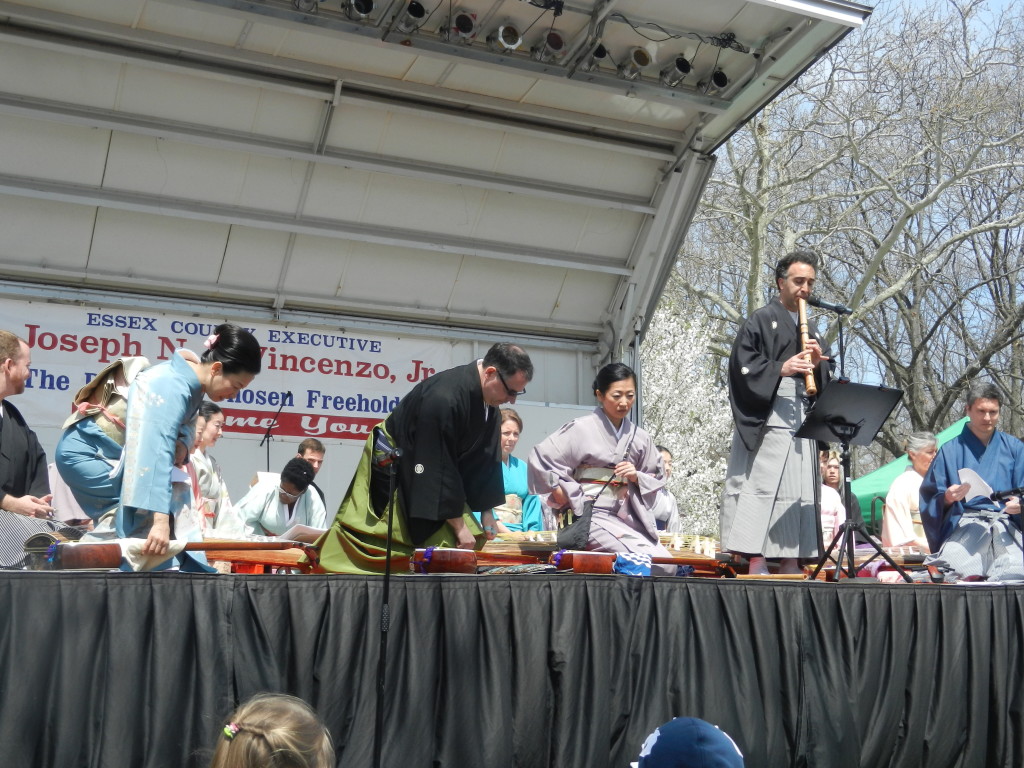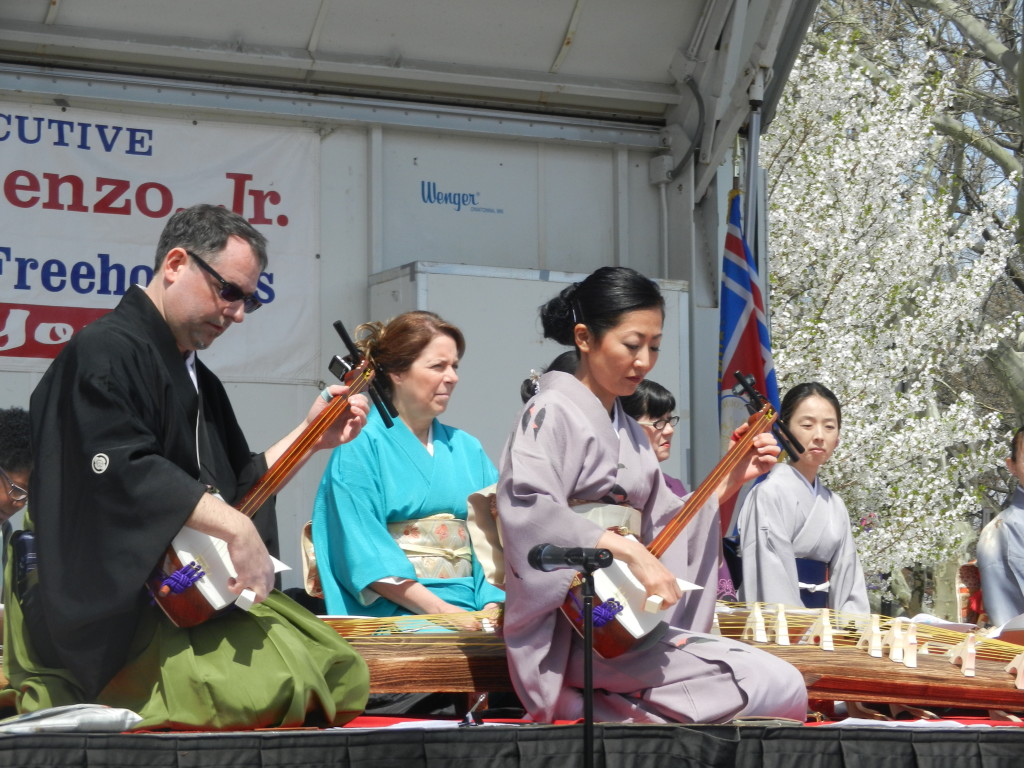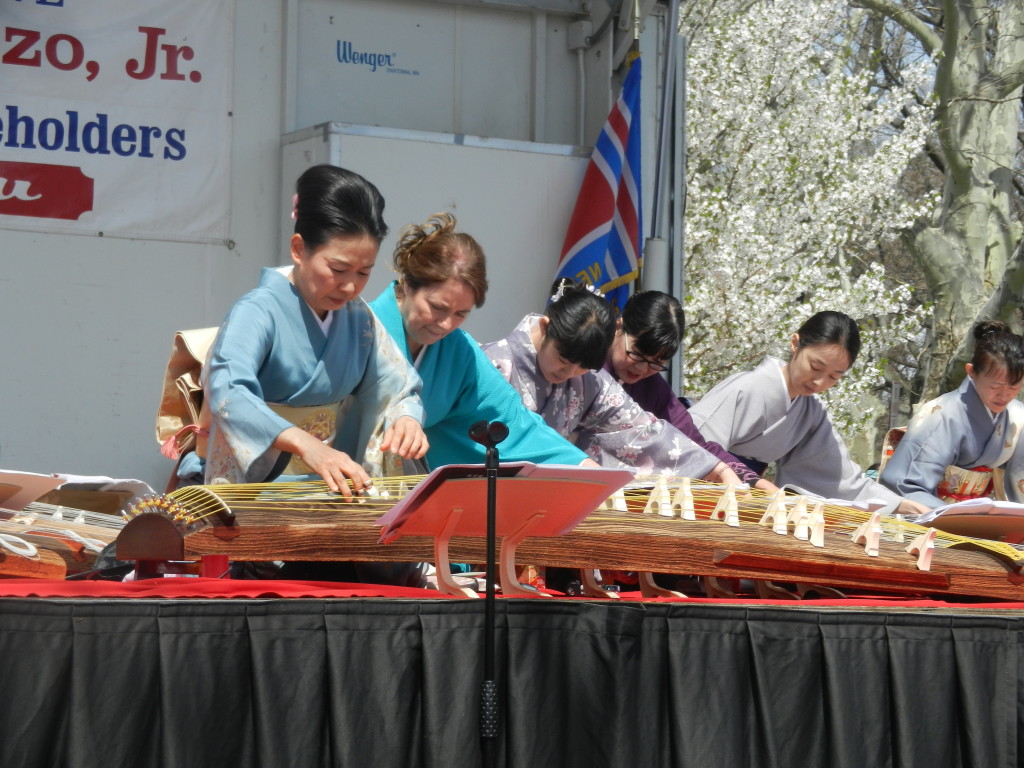 A dancer wearing a traditional orange kimono, performed cultural dance.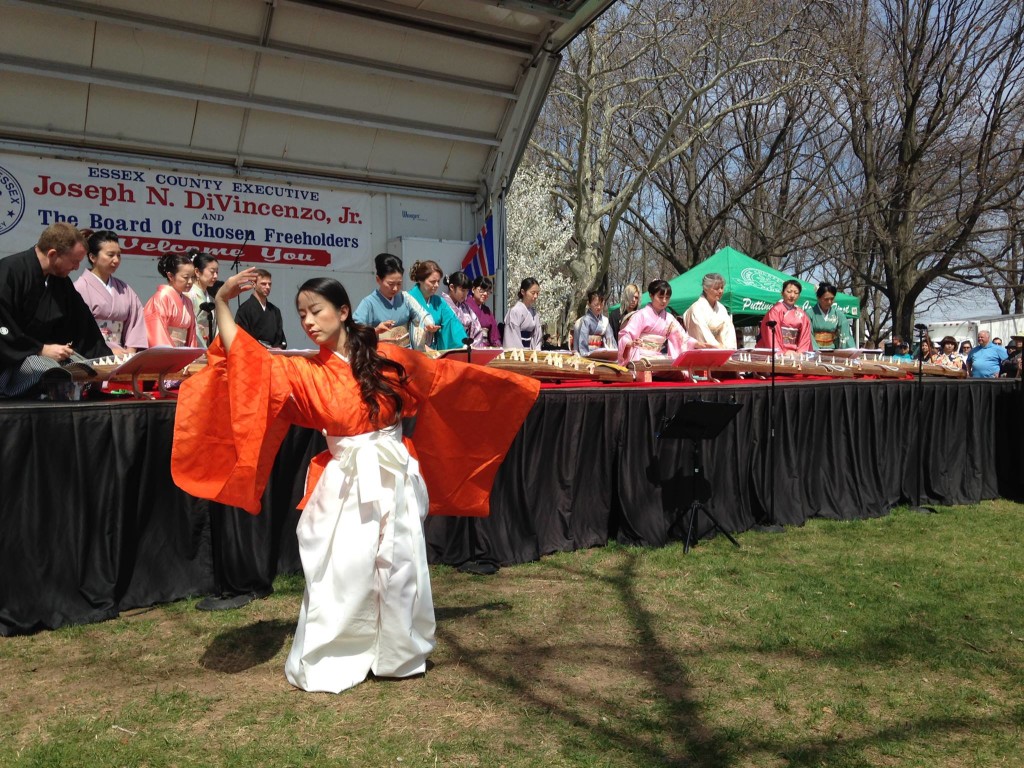 It was time for me to take a walk down to another region of this expansive park. As I strolled throughout this section of Branch Brook, I again took noticed and appreciated the various shades of the blooms and the various sizes and shapes of the trees.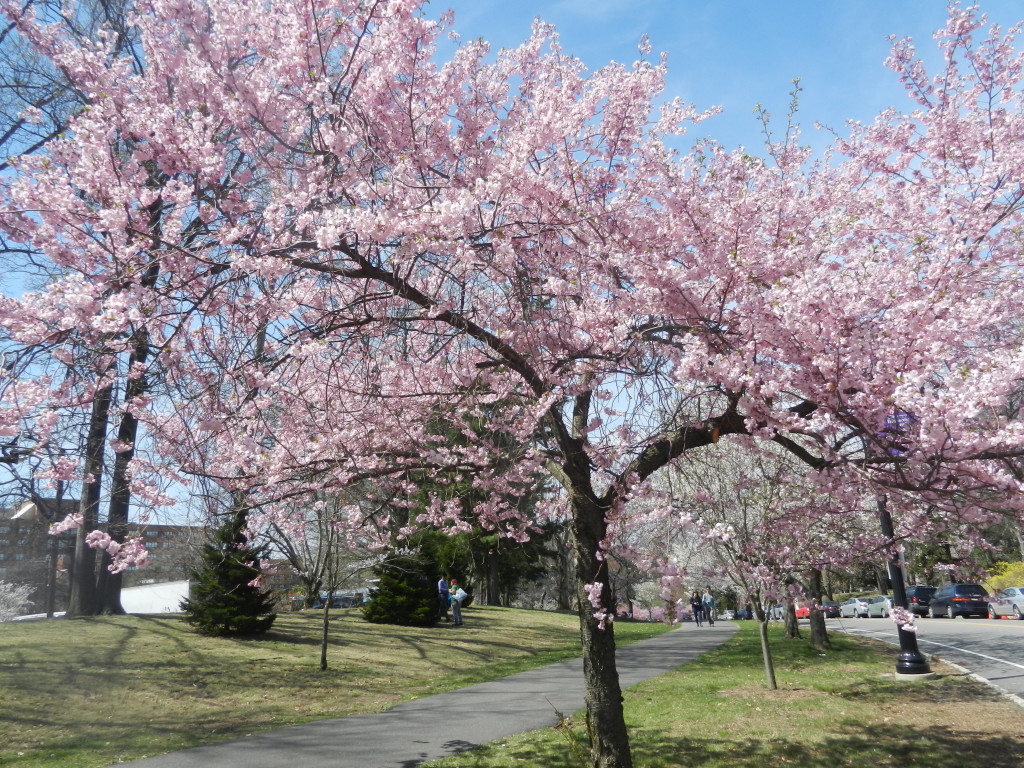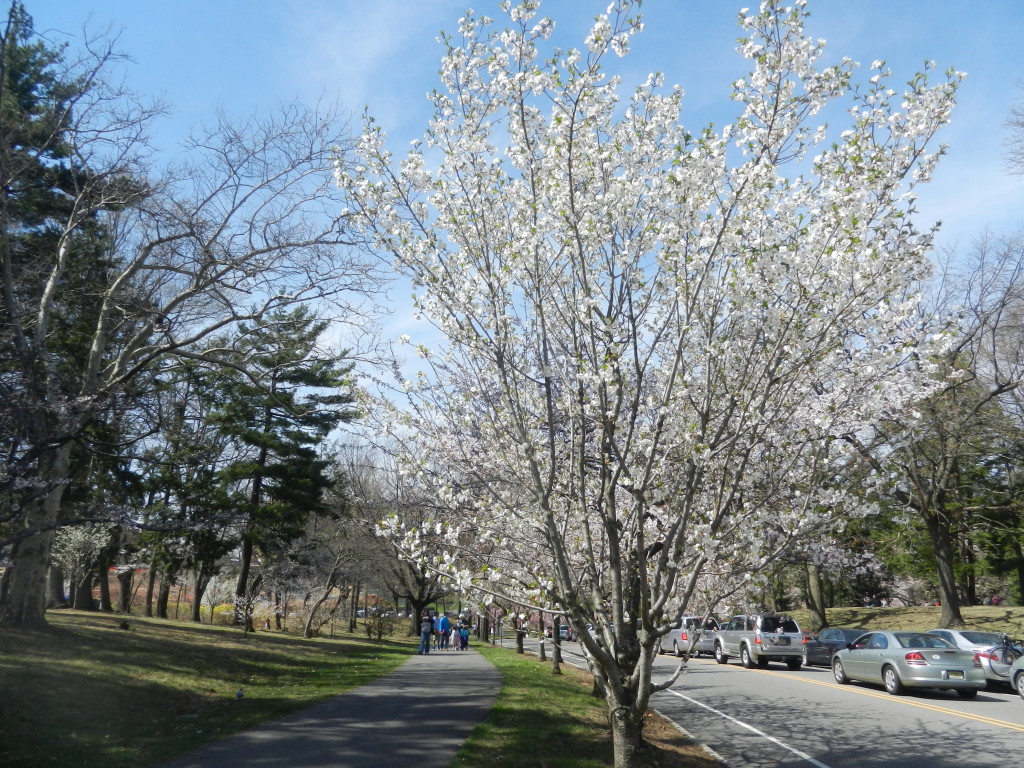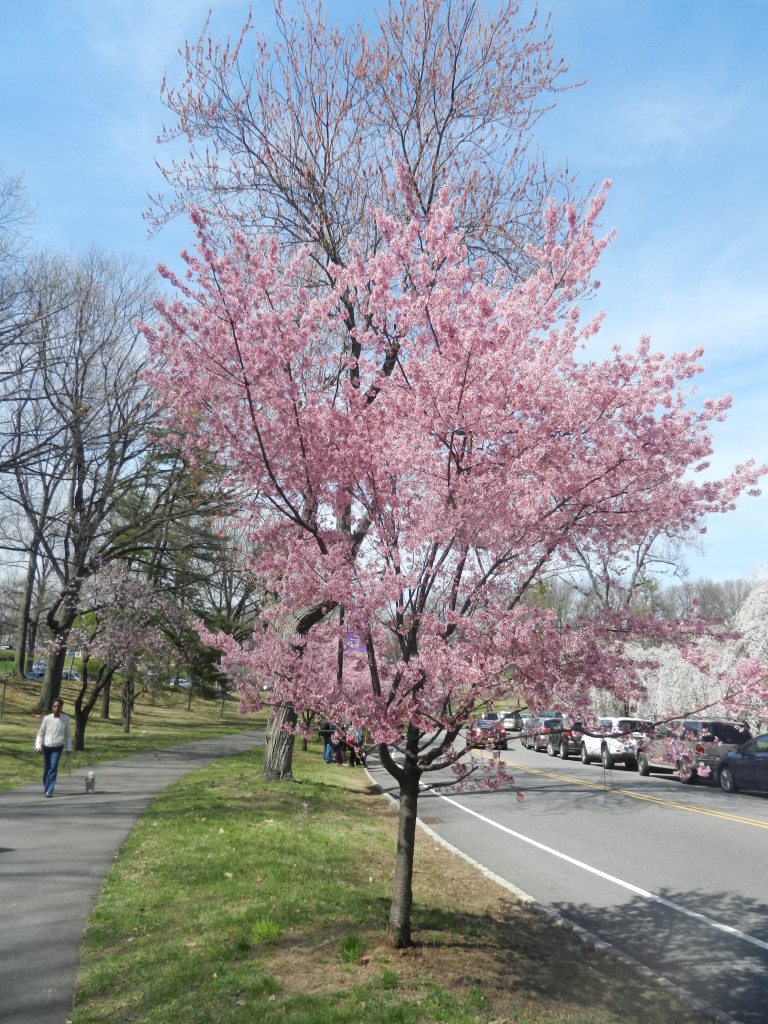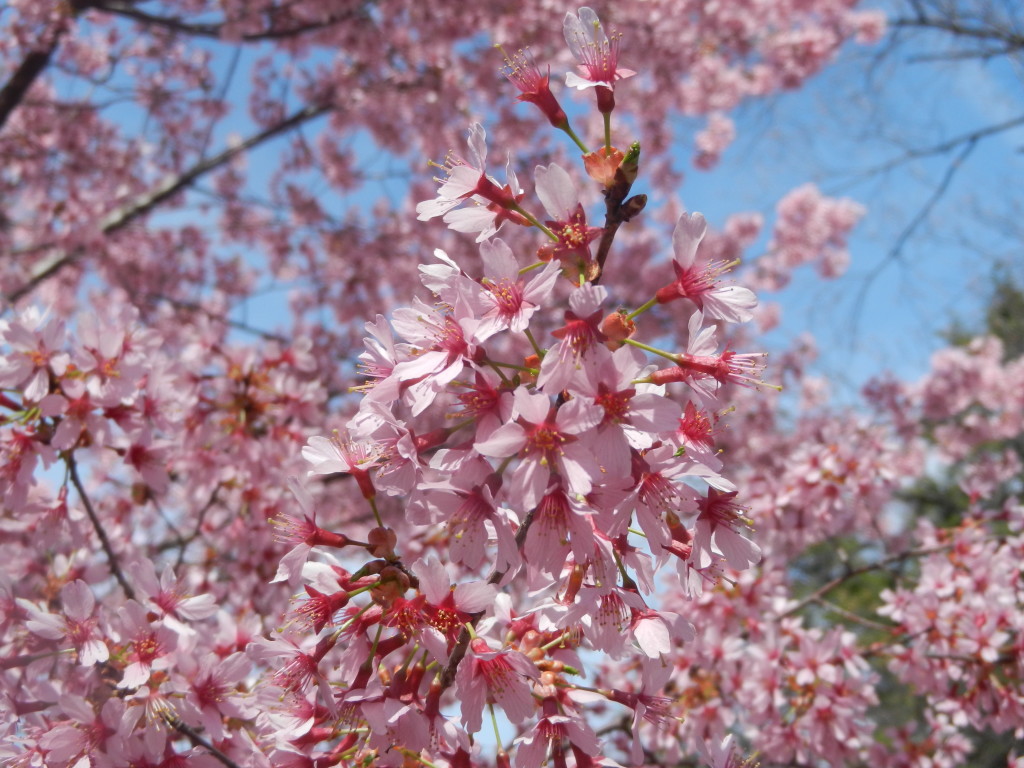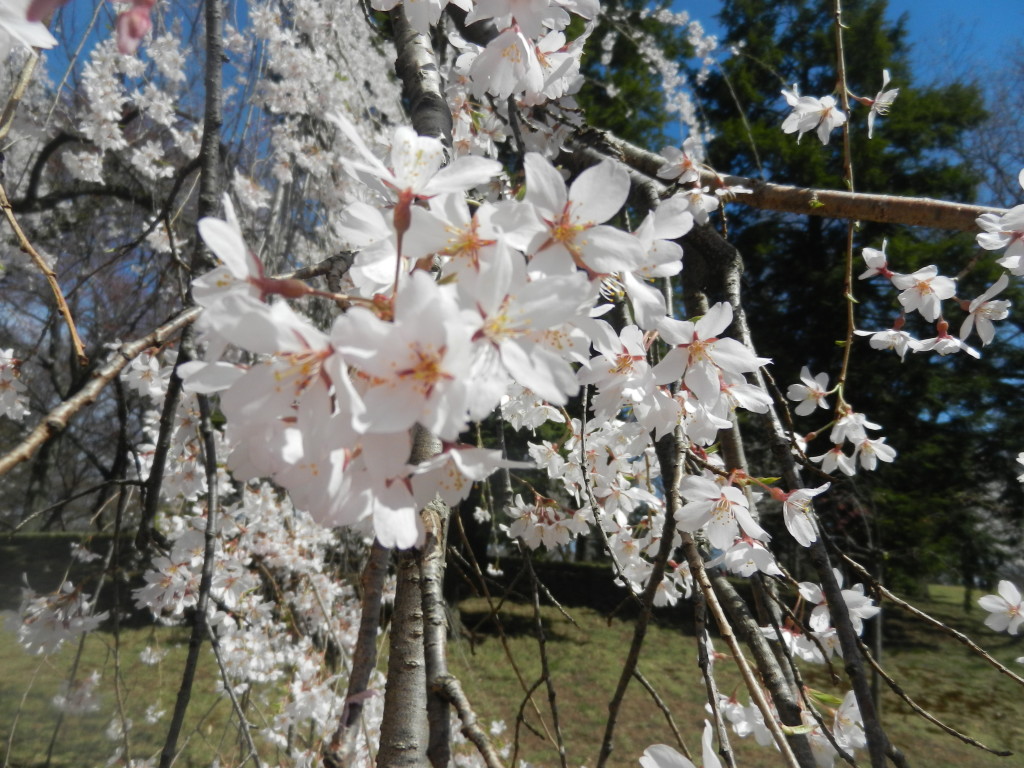 More weeping cherry blossom trees with their branches hung low greeted me along the way.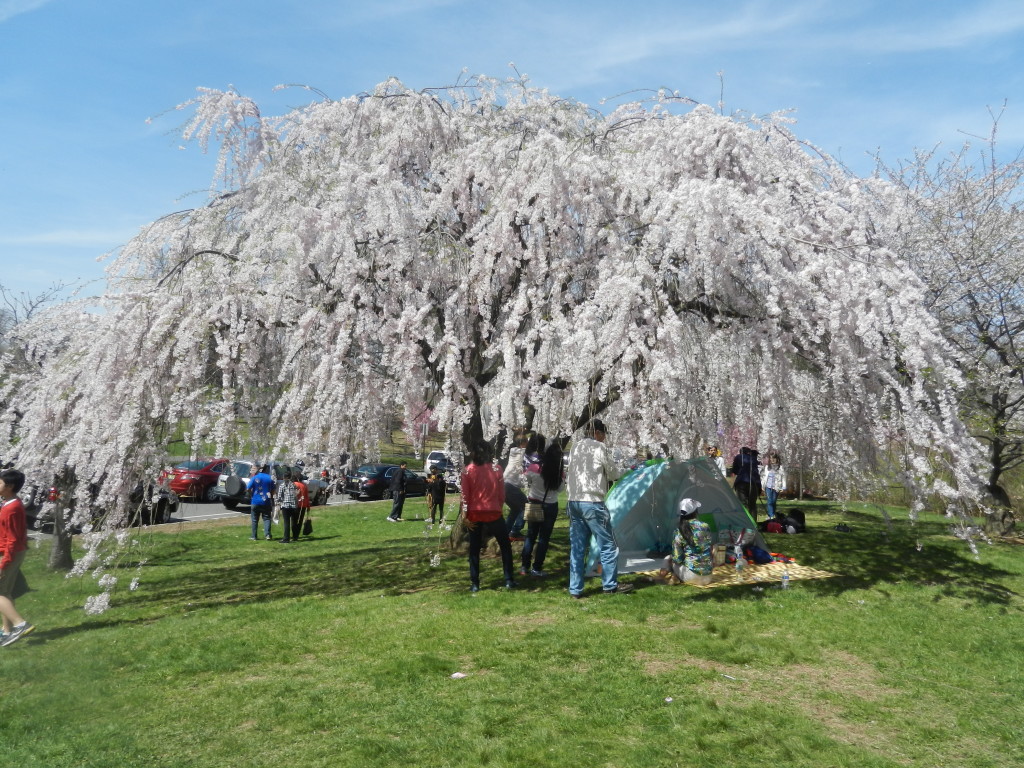 Others appeared a bit more upright.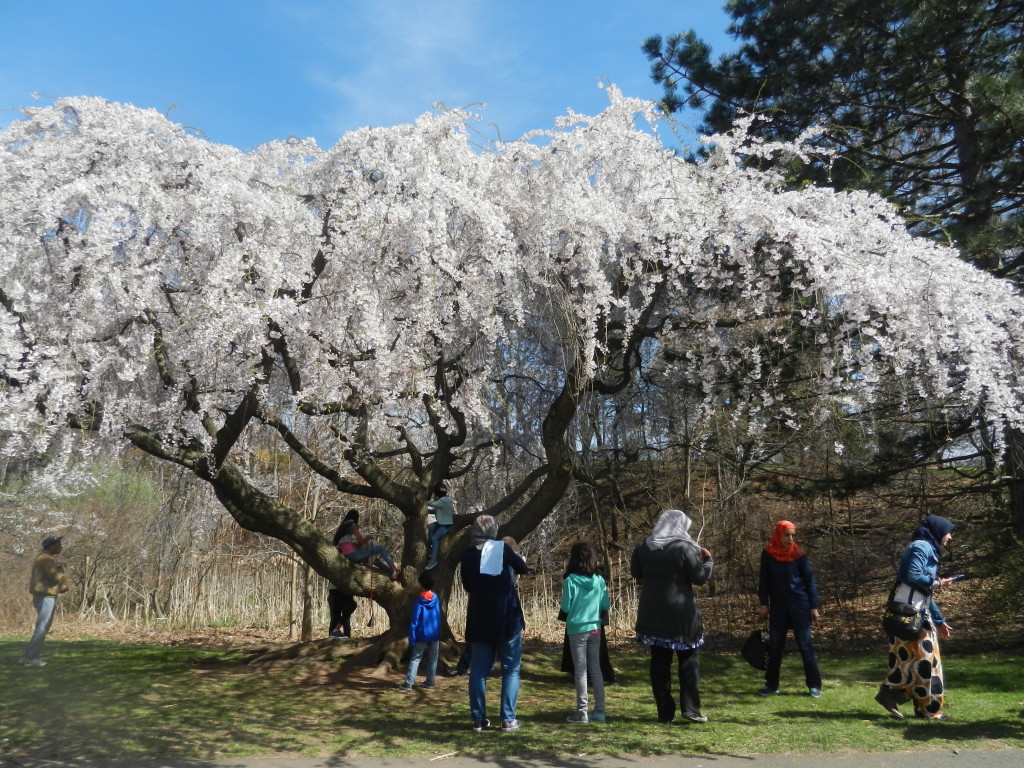 My eyes beheld such glorious sights with every step along the bloom filled pathway!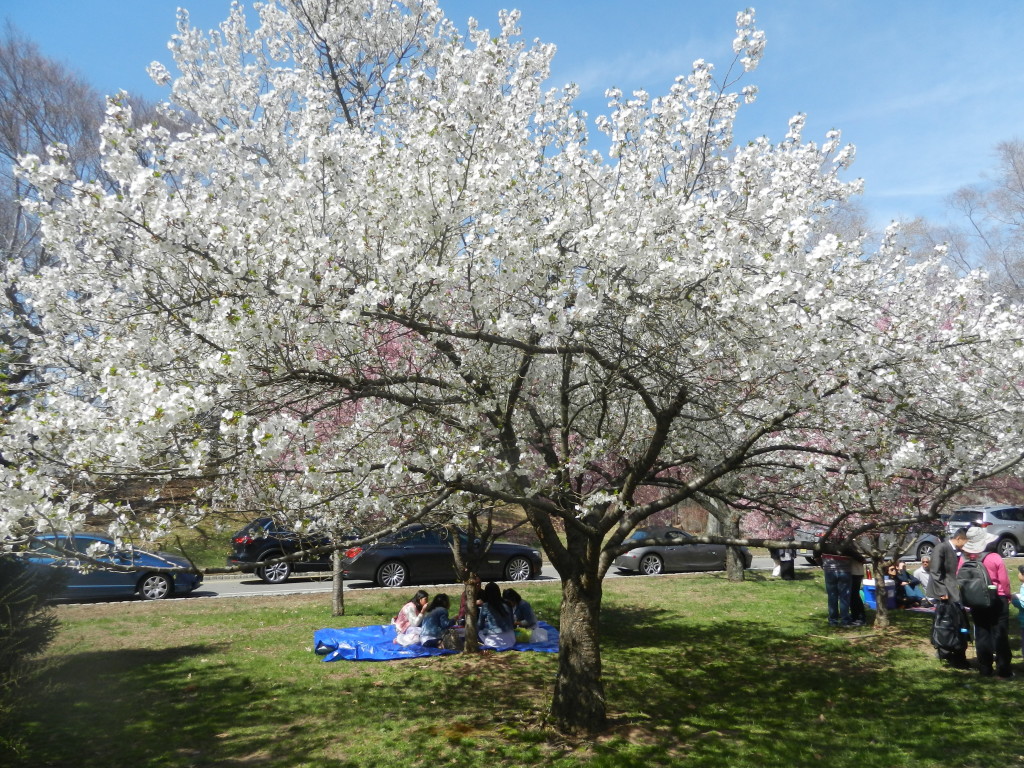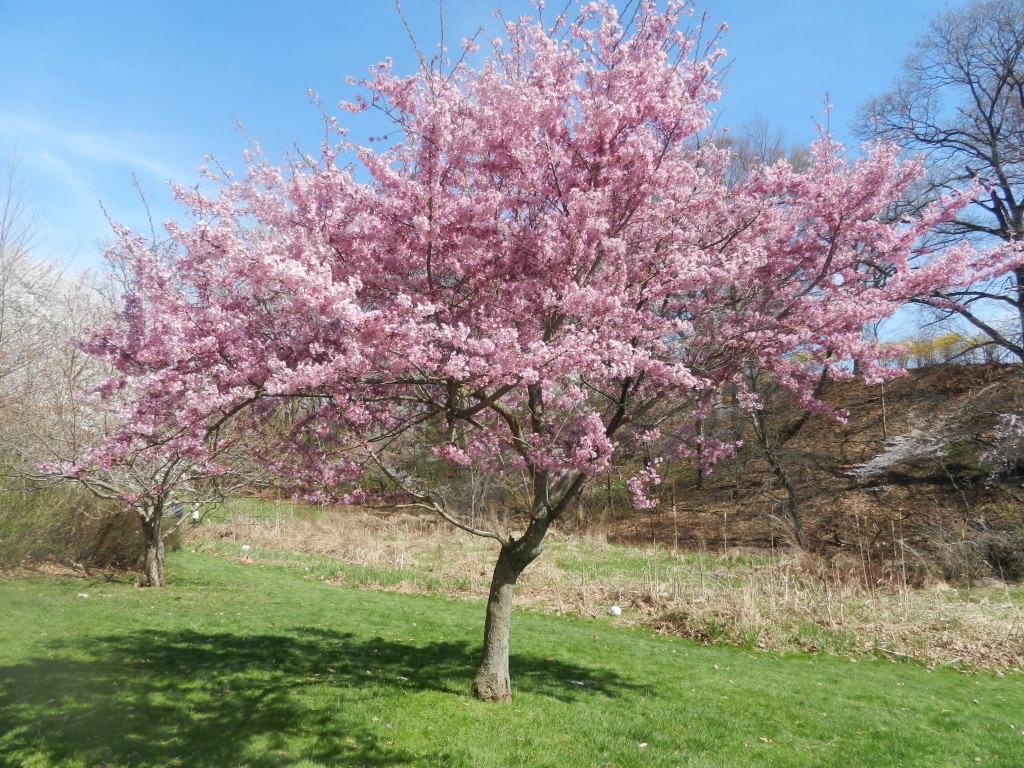 A light pink blossomed path of trees met me as I waked back towards the Welcome Center for the final cultural performance of the afternoon. A troupe of entertainers amused the audience with feats of swordsmanship and javelin moves onstage.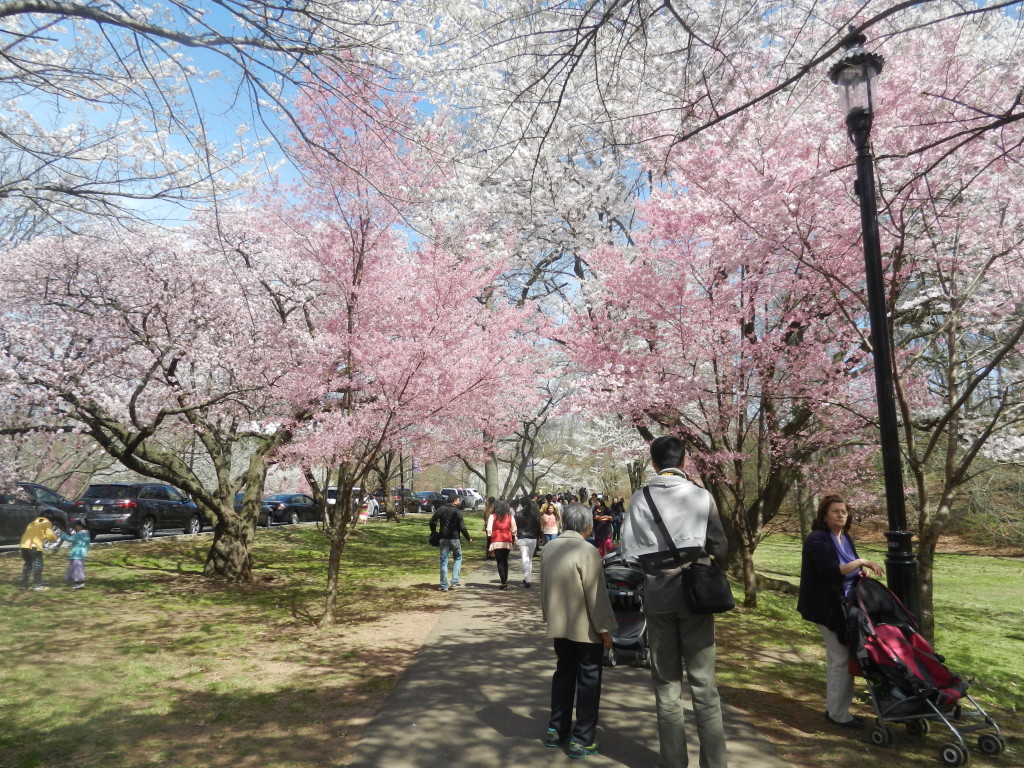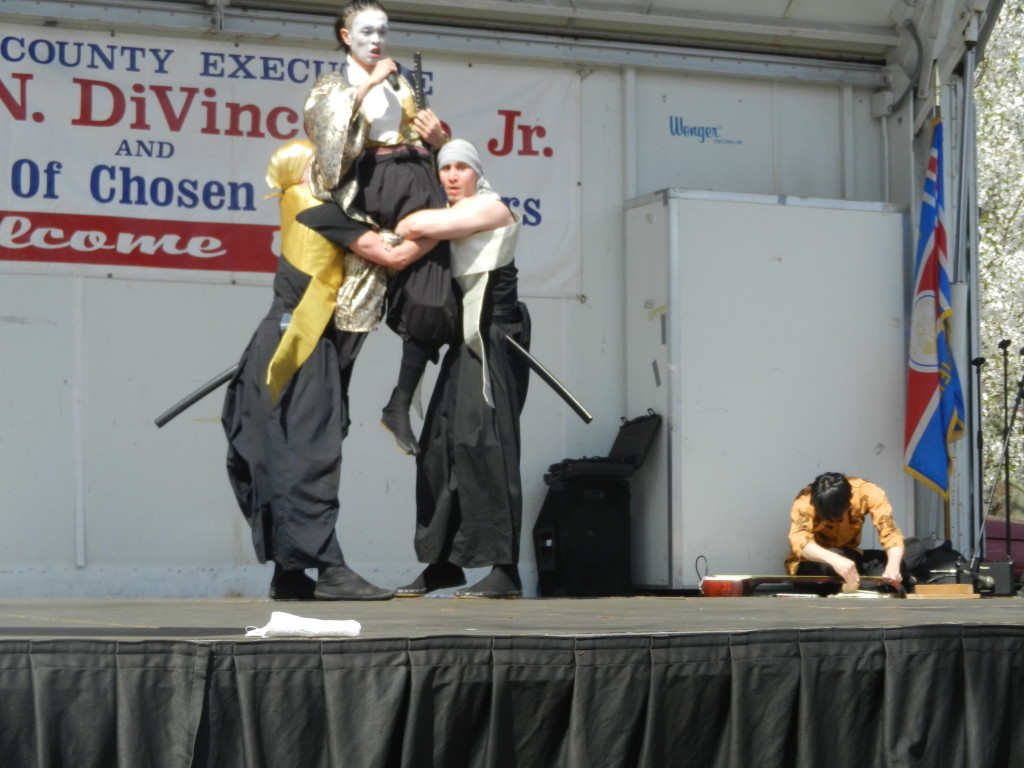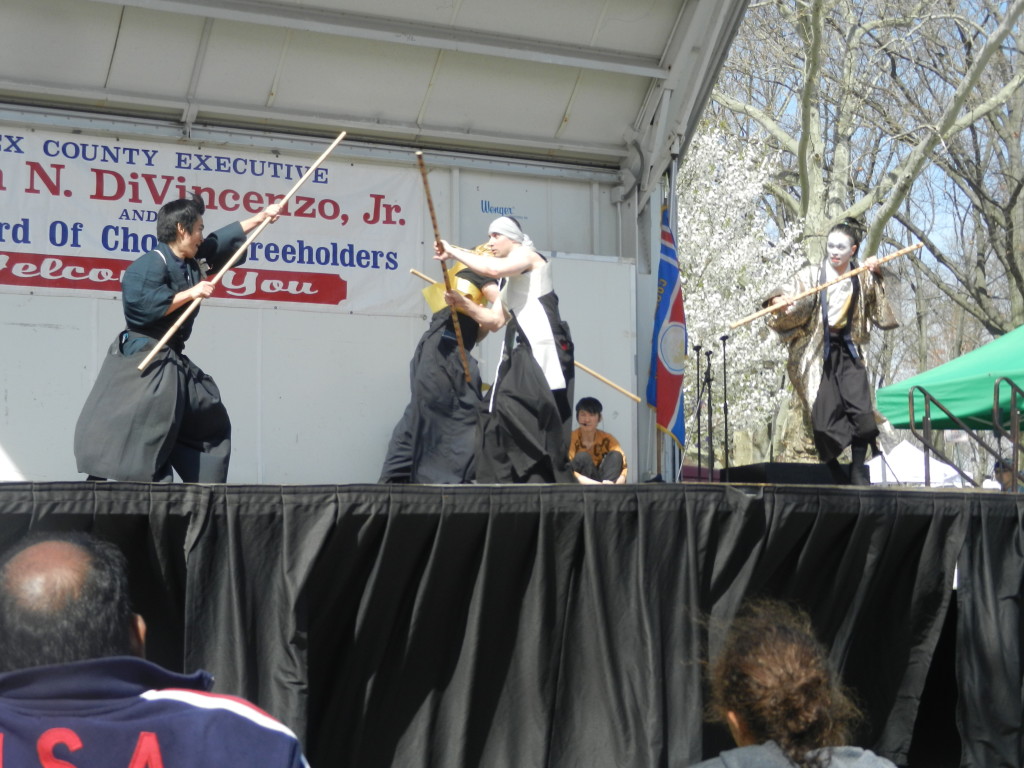 My incredible day at the Cherry Blossom Festival had come to an end. It was time for me to think about dinner before taking the evening bus back home to Massachusetts. As I walked along the road lined with cherry blossom trees for the very last time, I admired each and every configuration and hue of tree and blossom that met my eyes.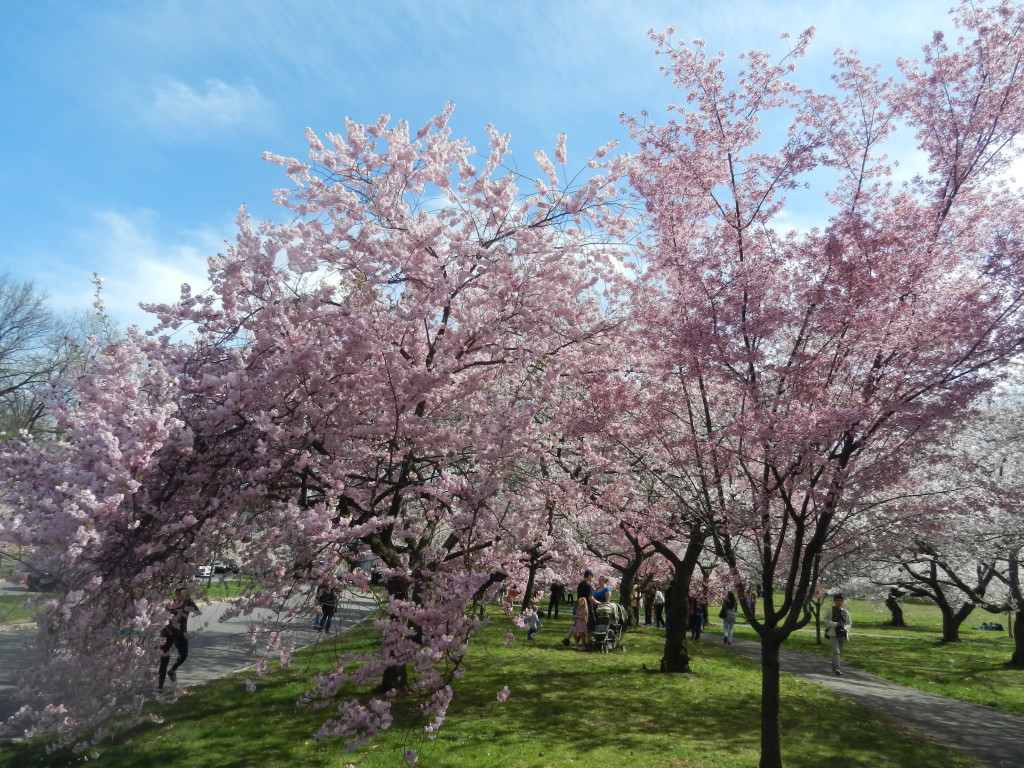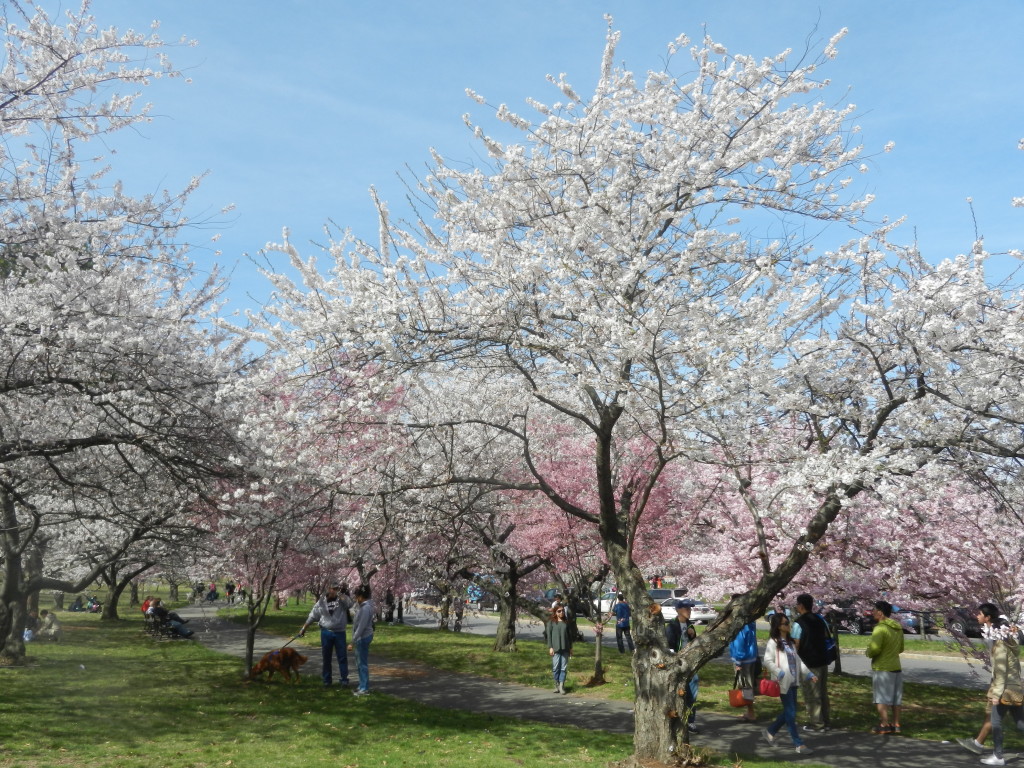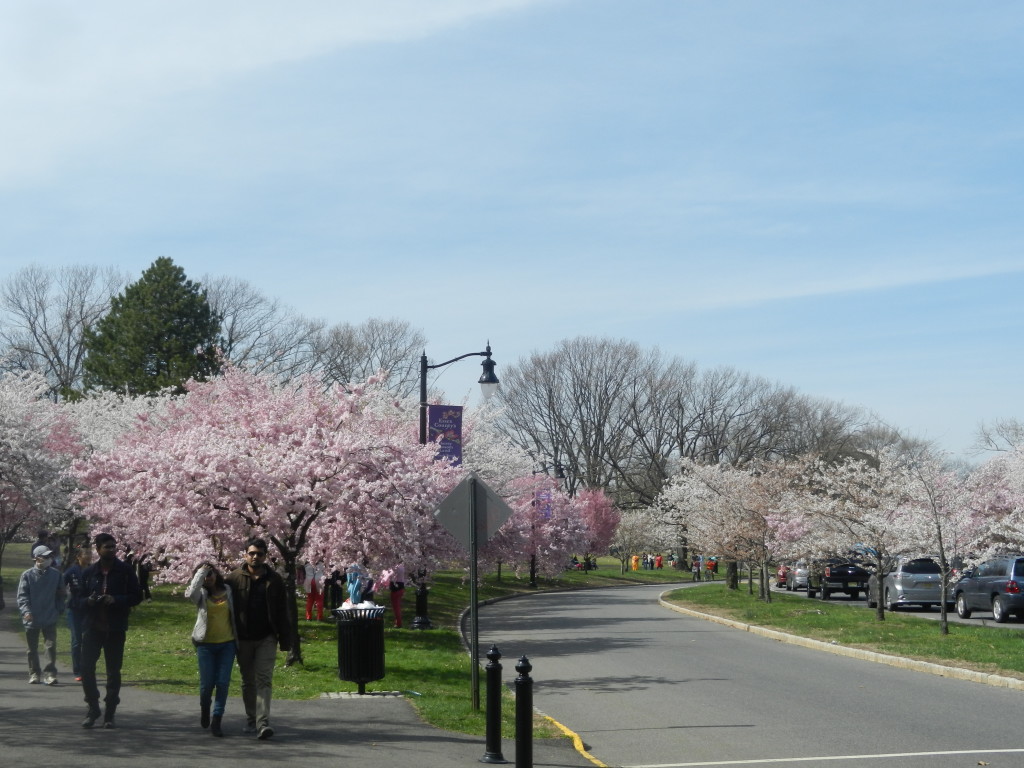 Chickpea Cafe (Chickpea Cafe ) at Penn Station bus depot was the perfect spot for me to grab a quick dinner. The vegan-friendly restaurant offers sandwiches, salads and bowls. I opted for the bowl of quinoa with kale, peppers, corn, mushrooms, and chickpeas. This was a great evening meal.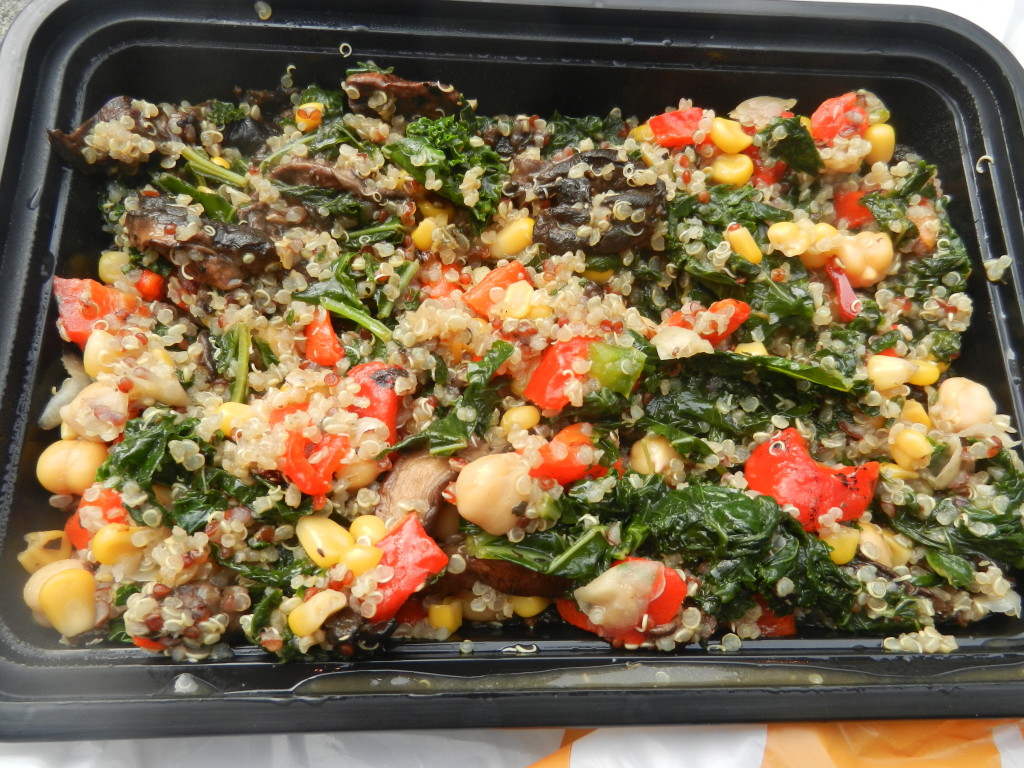 The bus back to Boston had arrived shortly thereafter. My day trip to the Newark Cherry Blossom Festival's Bloomfest was an amazing experience! I cherish the time spent admiring the incredibly gorgeous blooms on that lovely day, filled with fascinating culture and the aesthetic beauty of the cherry blossom trees!
Tweet This Post