It had come to my attention recently that a veritable winter wonderland of ice castles had been created in Lincoln, New Hampshire. The fairytale-like spot is nestled among the towns of the White Mountains region. The Ice Castles concept was designed by a gentleman named Brent. He had created an ice rink, complete with ice slide and ice castle in his backyard to entertain his family. The rest is history, as the Ice Castles attraction is now enjoyed by all in four states: New Hampshire, Vermont, Minnesota, and Utah. The Ice Castles are built by hand. Each location grows more than 5,000 icicles each day that are harvested and sculpted together.
My reasons for visiting the area were twofold: 1. I wanted to experience this magical "Ice Castles" attraction(Ice Castles) and 2. The following day I would head thirty two miles east, to the town of North Conway for their annual "Mount Washington Valley Chocolate Festival"(Mount Washington Valley Chocolate Festival) complete with skiing and snowshoeing activities!
Hence I went forth on my two hour journey to spend this past weekend at these two unique and memorable events in the White Mountain region.
Upon reaching the town of Lincoln, it was time to grab some lunch. As every seasoned vegan traveler should do, I did some pre-trip research to locate vegan-friendly dining. Since none of the vegan websites mention any restaurant in this town, I did a general search of restaurants in town, then went to each of their websites to determine if their menu included any vegan possibilities. Fortunately, I was able to uncover a couple of restaurants that do indeed offer a few vegan options. For my lunchtime meal on my first day in town, I thus headed to Gypsy Cafe (Gypsy Cafe). This "hidden jewel" offers a vegan option or two on their menu.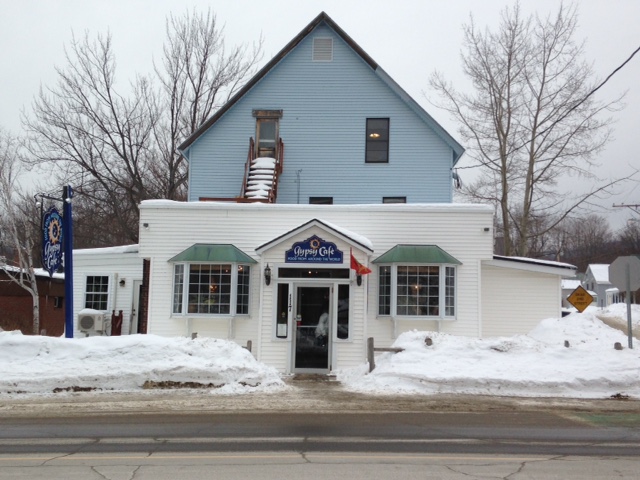 My entree selection was the Cashew Long Bean Stir Fry with tofu, served over jasmine rice. The Chinese green beans were tossed in a zesty sesame sauce. The meal was fabulous!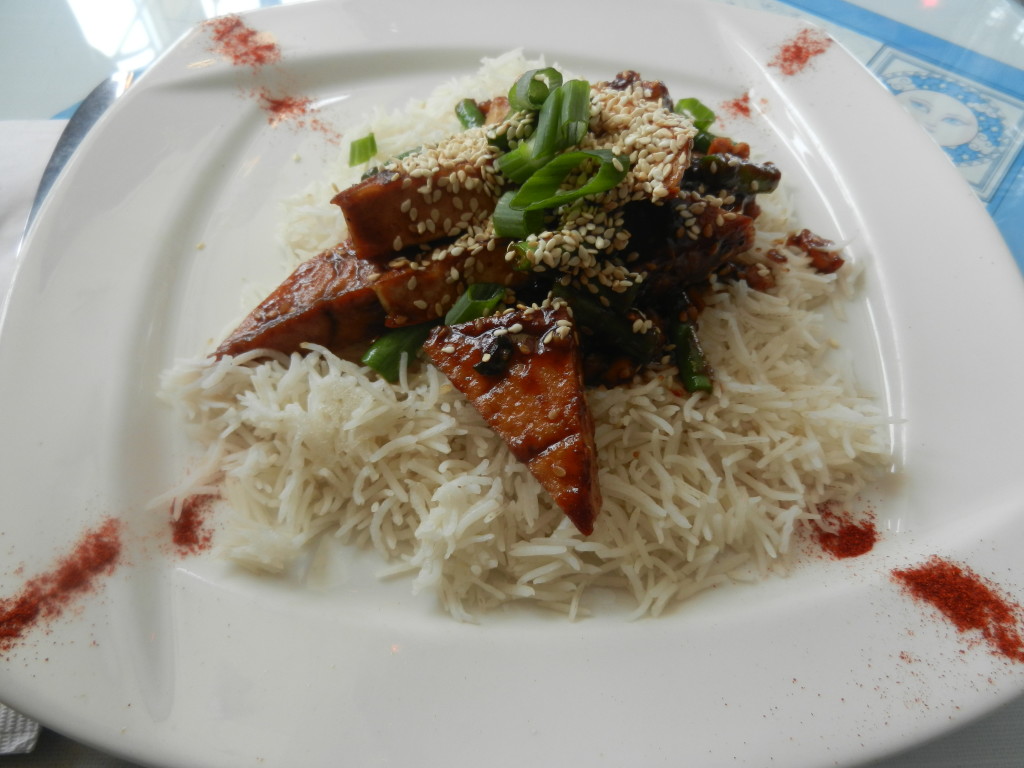 Since check-in time at my accommodations had arrived, I went directly to the motel after lunch. The Riverview Motel and Cabins in Lincoln, New Hampshire offer very reasonably-priced stays during high season in the mountains. Though a motel by name, they were actually furnished cabins with heat included. I was really pleased with the clean and nice accommodations.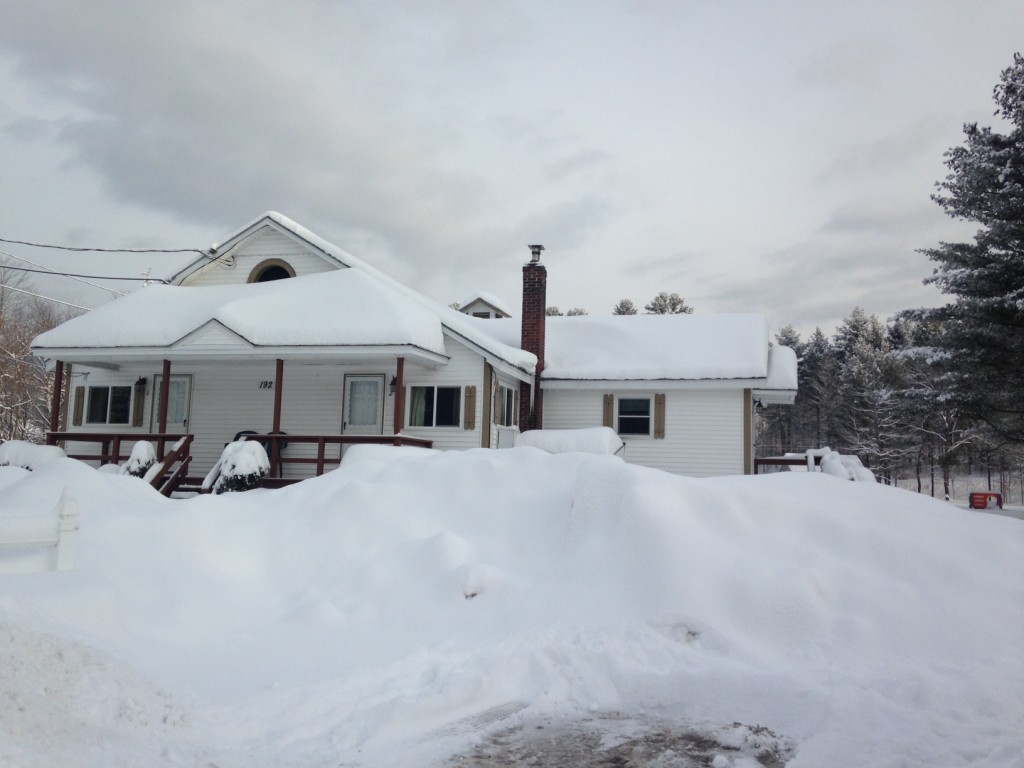 After unpacking and resting up a bit from my lengthy drive, I went back into town for dinner. Another "hidden gem" found by my research was the "Common Man" restaurant (Common Man Restaurant ). This spacious restaurant provides upstairs dining in an elegant atmosphere. A cozy hearth setting downstairs provides tired travelers a place to unwind and the glow of a fireplace to stay warm while enjoying each other's company. The extensive menu offers gourmet quality meals.
I started off by ordering a cup of hot ginger lemongrass tea on this cold and snowy evening.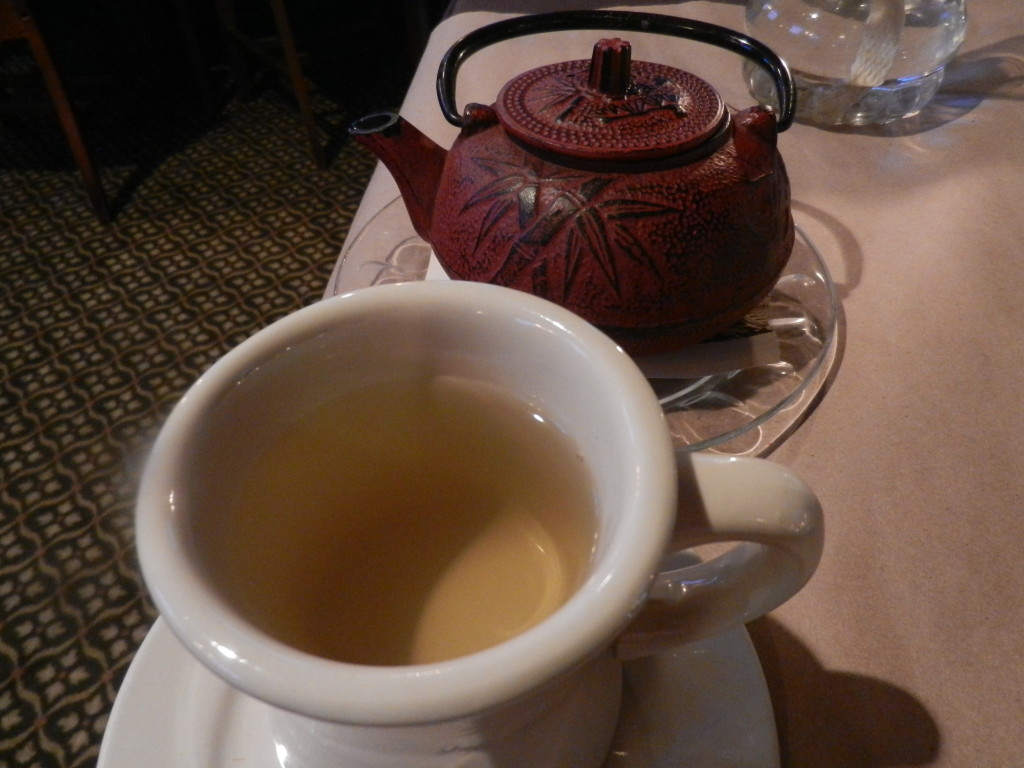 For my dinner entree, I selected the "Farmer's Harvest". This dish consisted of roasted butternut squash, beets, portabello mushrooms, and braised spinach with a chickpea ragout and gingered basmati rice. Boy was I happy to find this place! The meal was delicious! Such a flavorful variety of vegetables, beans, and grains! This is another restaurant and meal that I highly recommend for vegan travelers to the region.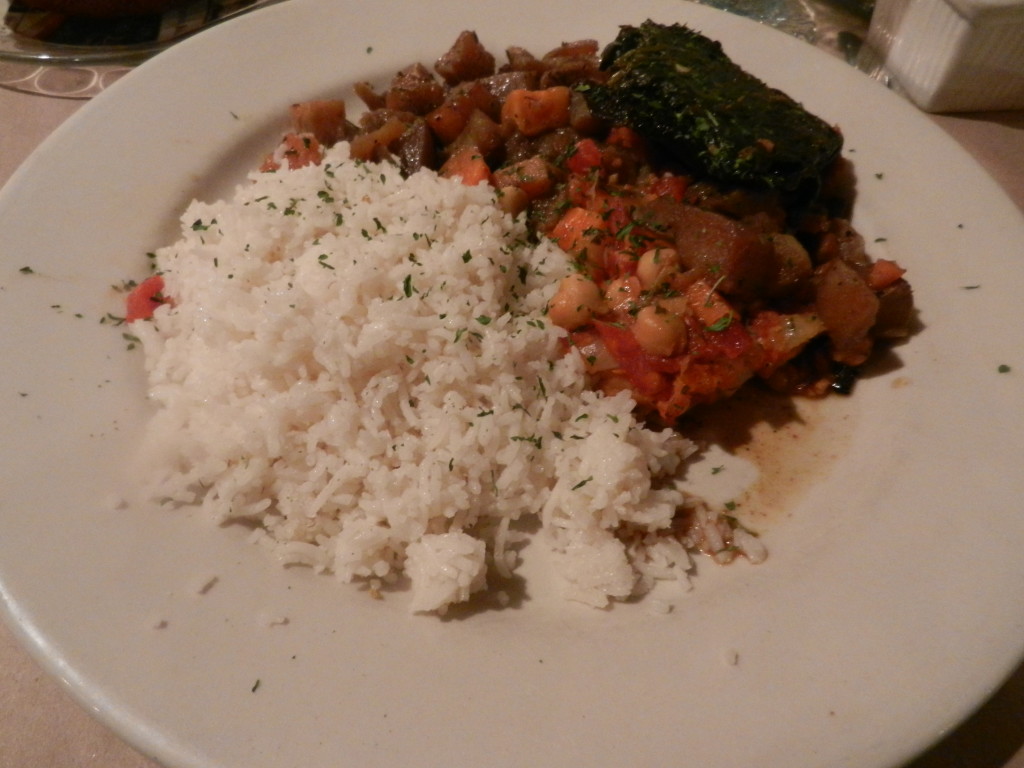 For dessert, I was offered a bowl of fresh sliced strawberries. It complemented my savory meal nicely.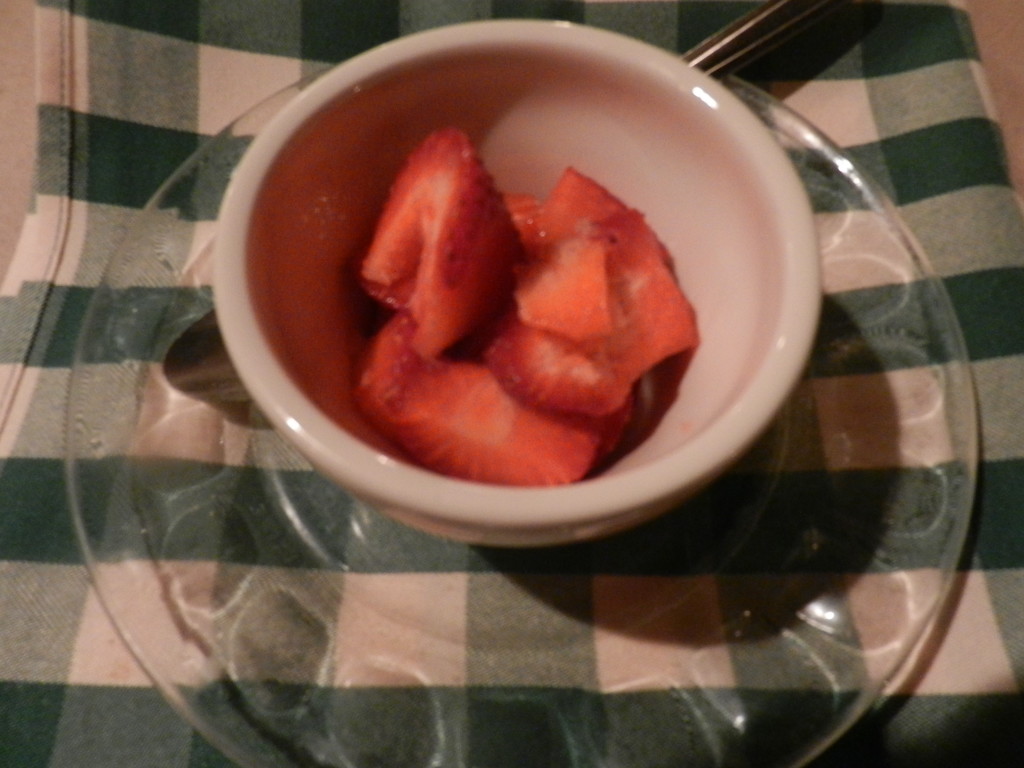 Finally the time had arrived for my scheduled 7:30pm visit to the Ice Castles! The castles may be visited during daylight hours. However, night time visits are best, as that is the time when they may be seen in all their glory, illuminated in ever-changing colors every few minutes! It was snowing when I arrived, which only enhanced the beauty of the wintry landscape.
Visitors are greeted by a heart-shaped cave entrance. Through its snowy tunneled passageway, one can see the ever-changing color displays as they illuminate the icy structures on the other side!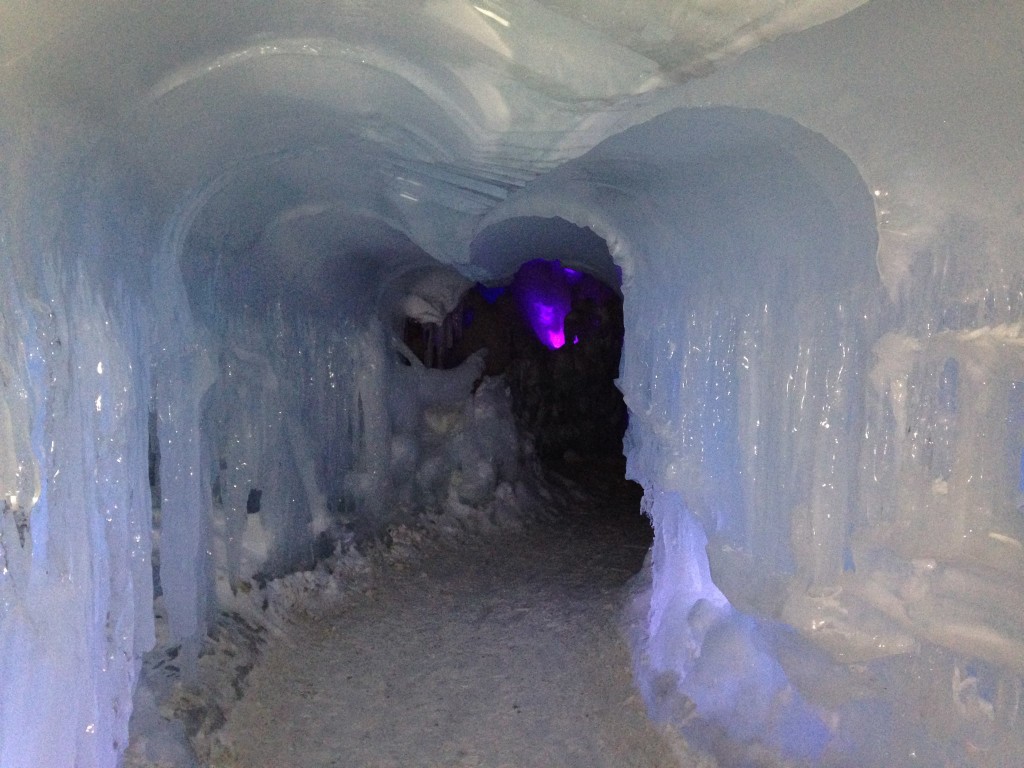 Upon exiting the entrance tunnel, I looked up in awe at the monumental and vivid ice formations before me! Perched upon a hill, was a magnificent ice castle. First I was first struck by the purple hued "crown" on the ground, formed entirely by ice and icicles. One moment the structure would be illuminated in green. A few minutes later, the hue would change until it shone a deep blue, then red, then pink color, then back to purple again. This color-changing extravaganza set the tone for the exciting evening visit!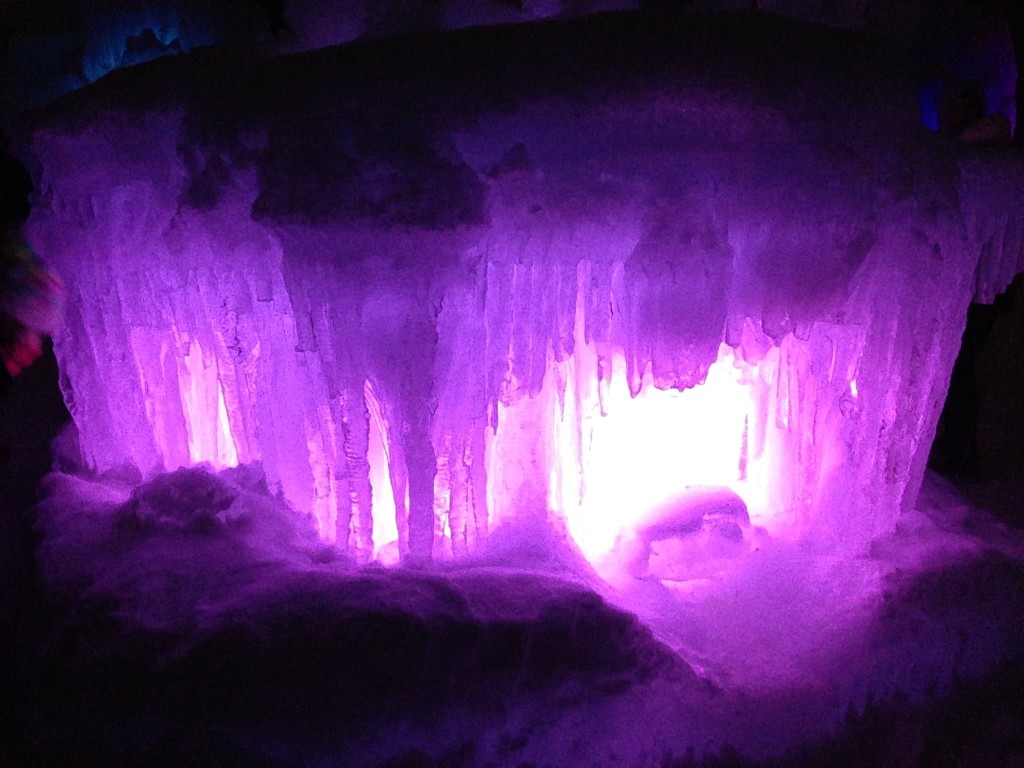 Massive Ice Castles stood proudly in our sight. This was truly a vision that reminds one of the movie "Frozen"! Icicles of varying lengths and shapes graced the surface of each castle. The jagged edges of the ice produced that fairy-tale look and feel of its exterior.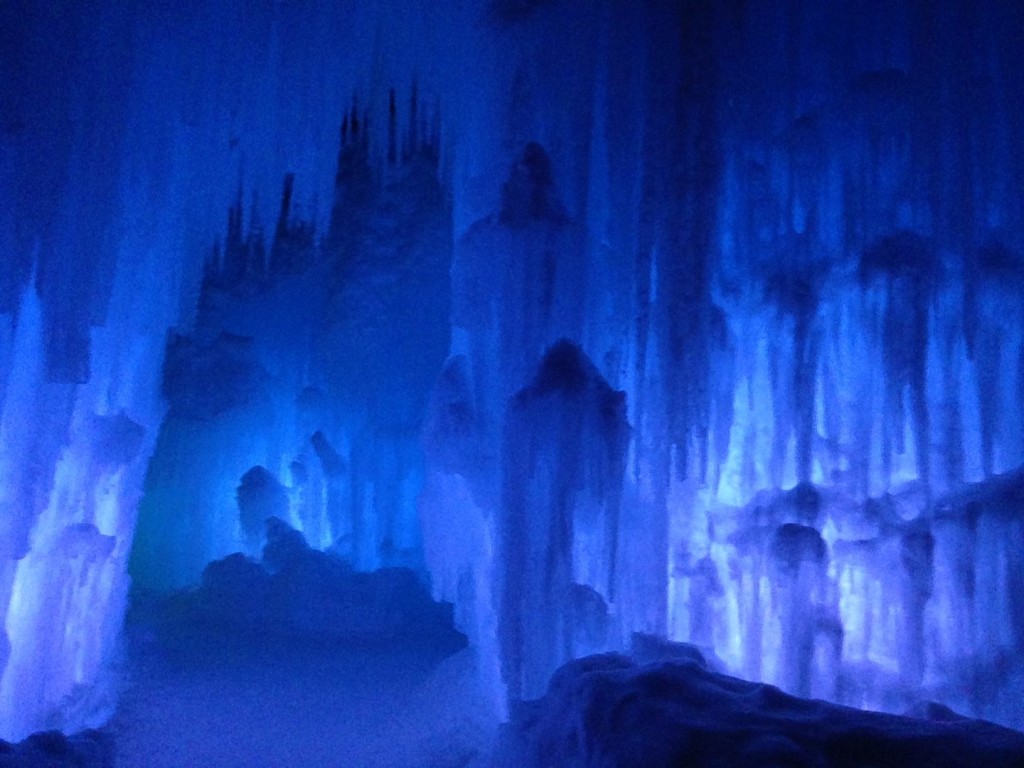 One of the castle interiors housed a colossal 'beanstalk' made of ice. One moment it was a striking green. The next minute, it would become a vibrant aqua, then settling on a purple-ish pink shade for a while. The intricately detailed icicle ceilings of the caves reminded me of fancy glass chandeliers.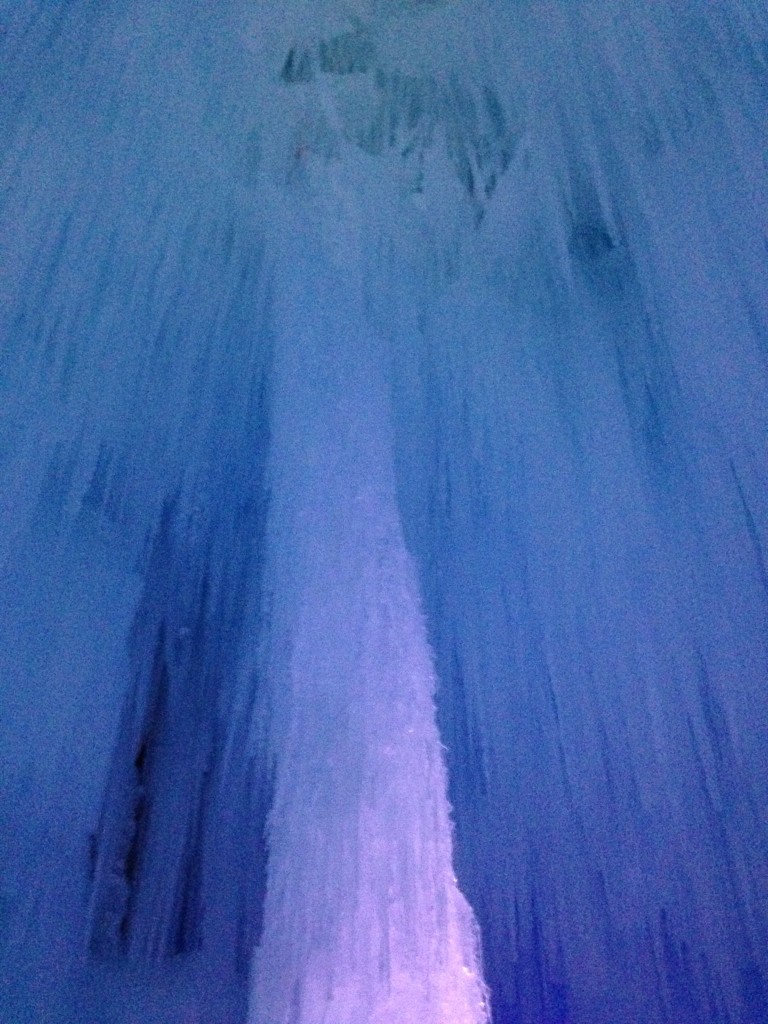 Visitors, including myself, enjoyed walking through the narrow passageways and cave entrances, while gazing in wonderment at the changing colors on the icy surfaces.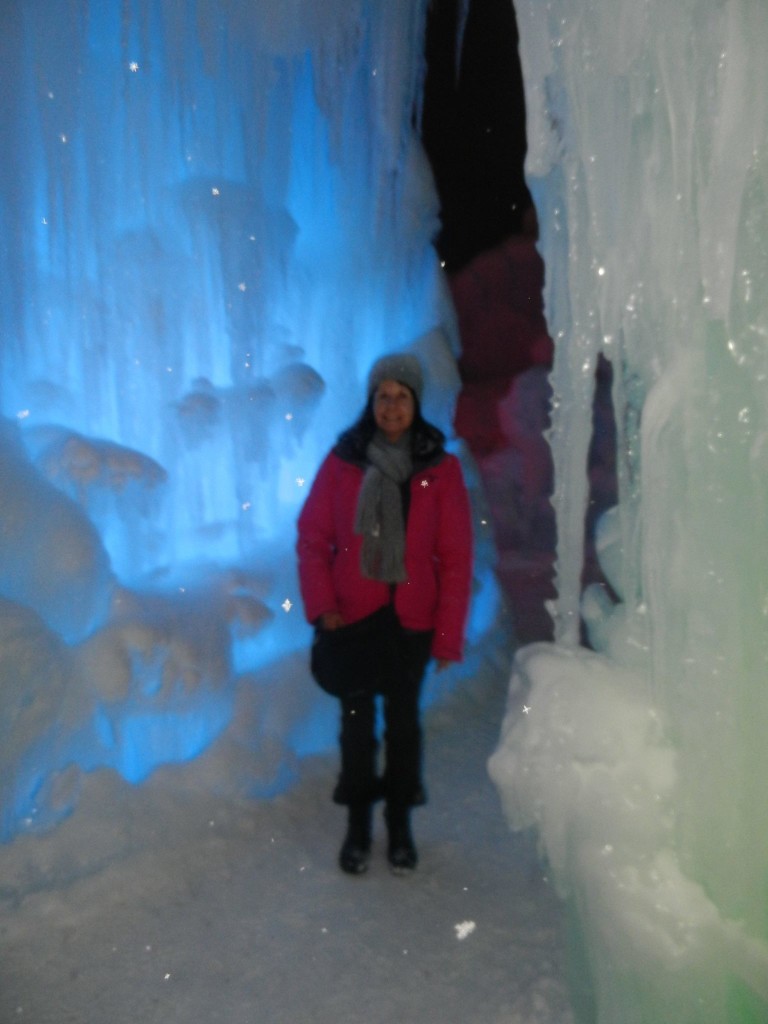 As I strolled through one particular walkway, I was admiring the variety of hues and brilliant colors of each icy formation. One shone a striking aqua shade, another a rich red, and yet a third shone a vibrant green.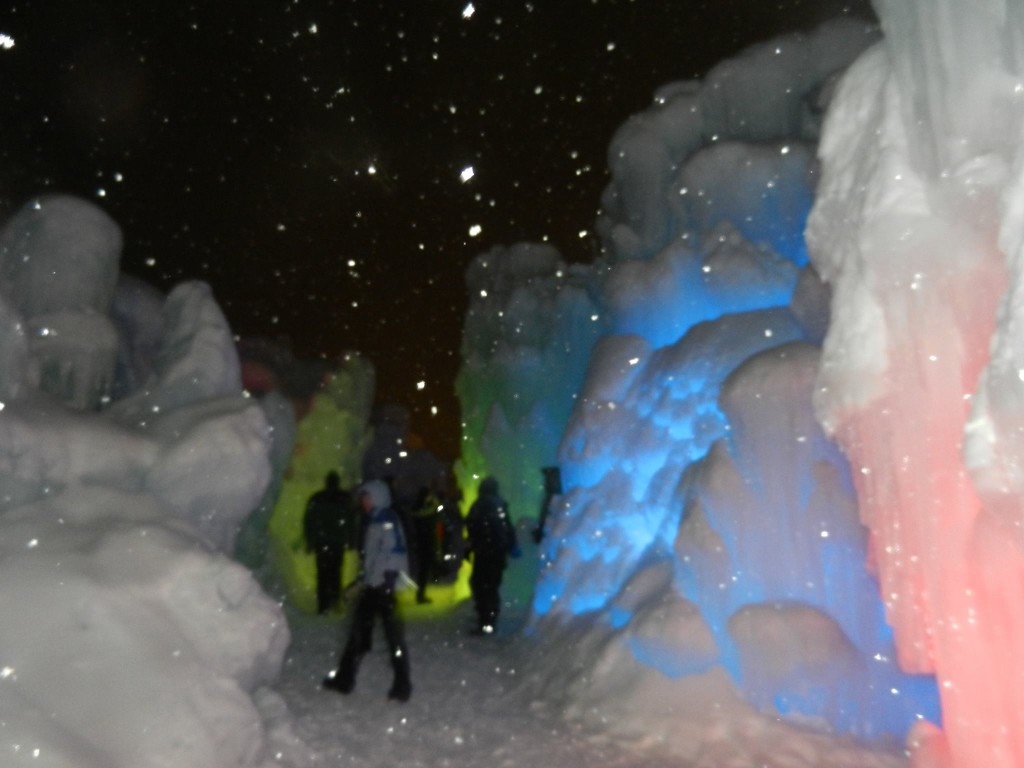 The next ice castle in the panoramic view was a large icy cave illuminated in a pretty purple tone. We wandered through to glance at its interior and to see what icy configurations we would experience once we reached the other side!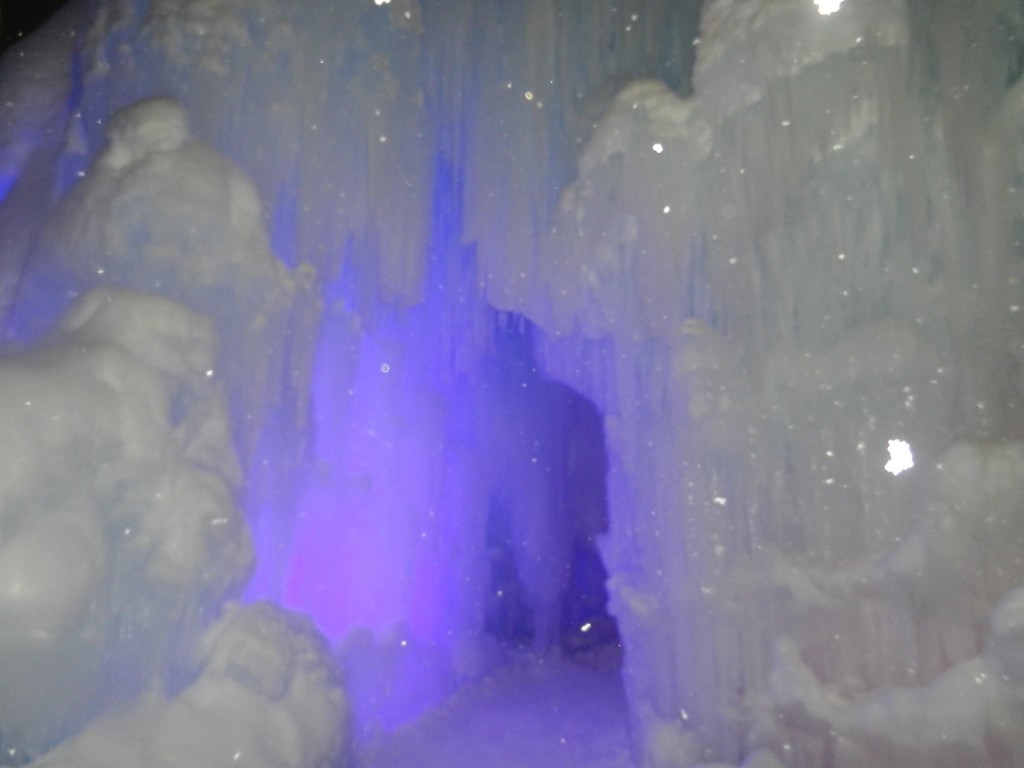 The next formation was a elongated dragon made entirely of ice. From its spiky scales to its curvy spine, this ice creature was quite impressive! He was illuminated in an aqua blueish hue. It was absolutely stunning!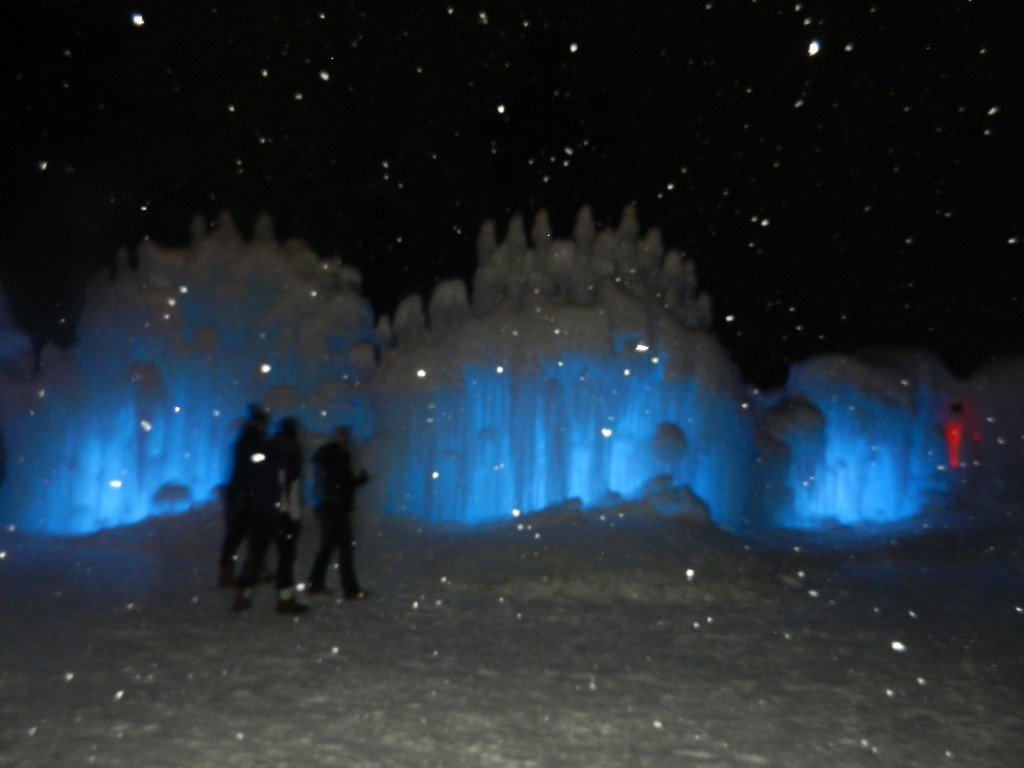 A lofty ice tower stood across from the dragon.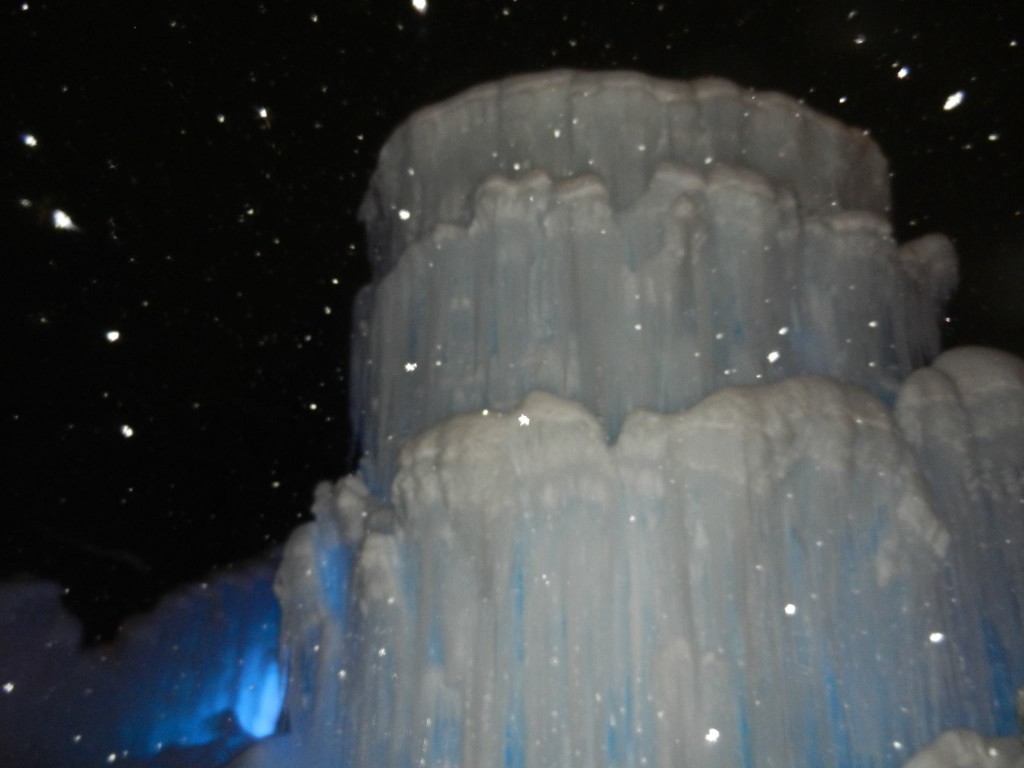 My time at the Ice Castles had come to an end. It was truly a memorable experience, worth every minute of the journey to get there! My cabin was warm and cozy for a good night's sleep. The snow was still falling and blanketed the landscape with shimmery fluffy flakes, as I dozed off for the night.
The next morning, I arose bright and early. An hour's drive was ahead of me. Though the distance from Lincoln to North Conway is a mere thirty two miles, the drive would take me through the White Mountain National Forest on long and very windy roads over cliffs and ridges.The time estimate during decent weather conditions is approximately one hour. First priority was getting my morning meal. My breakfast was a peanut butter and jelly sandwich served on toasted Ezekiel bread at the Purple Tomato Market (Purple Tomato Market). It was a filling breakfast and quite tasty! The peanut butter and jam were made locally. The cafe staff graciously offer to customize vegan-friendly sandwiches or salads.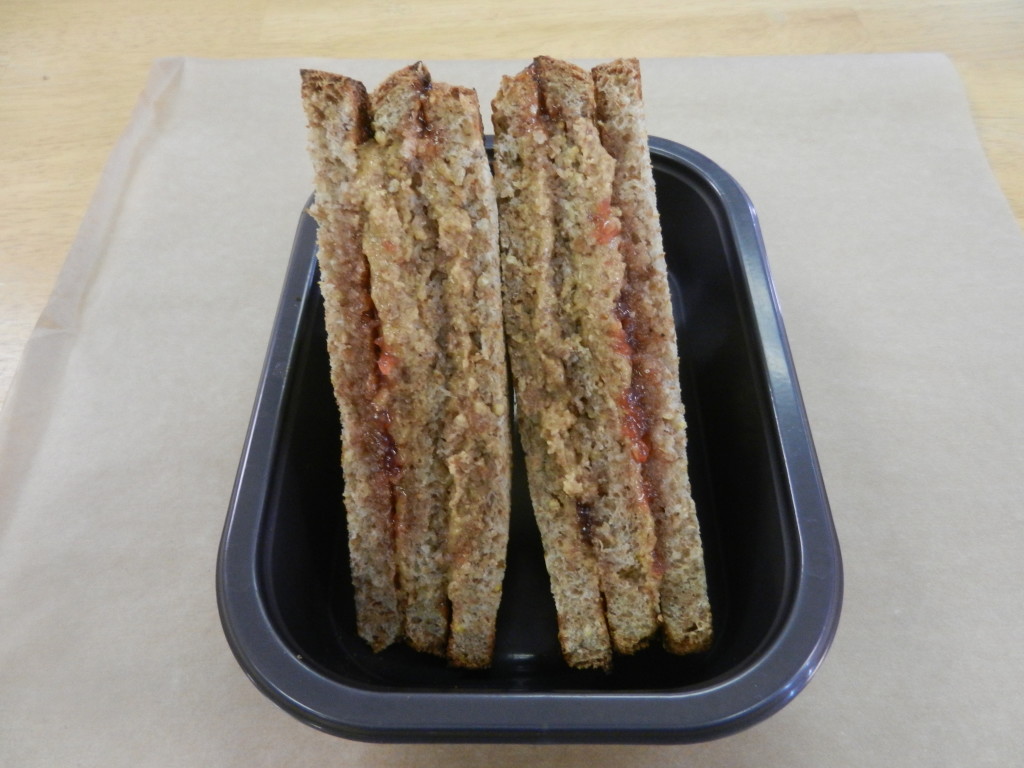 I also purchased a vegan oatmeal raisin cookie as a snack for my drive home later that day. The market sell several vegan snack items.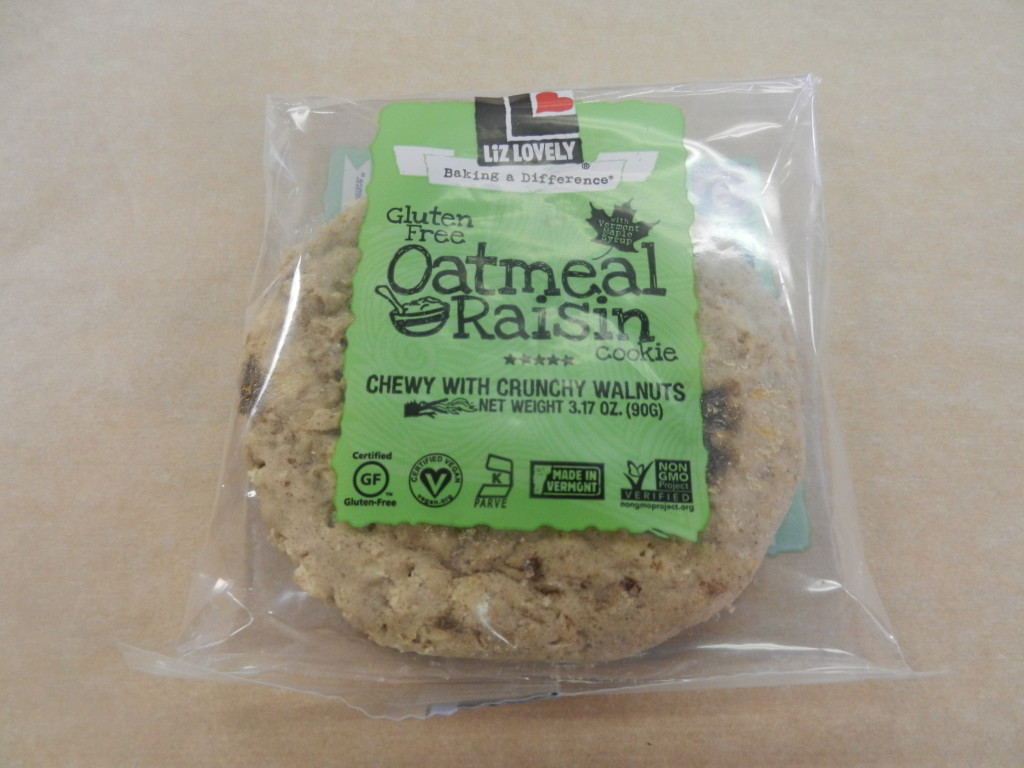 Further up the road, I stopped by the Half Baked And Fully Brewed Cafe(Half Baked And Fully Brewed Cafe) for a smoothie. My "Brain Booster" smoothie was made with raspberries, strawberries, bananas, ginko biloba, and soy milk. I enjoyed the refreshing fruity beverage to start off what would become my very active day! Their deli and lunch menu include a few vegan choices such as a quinoa salad and rice salad.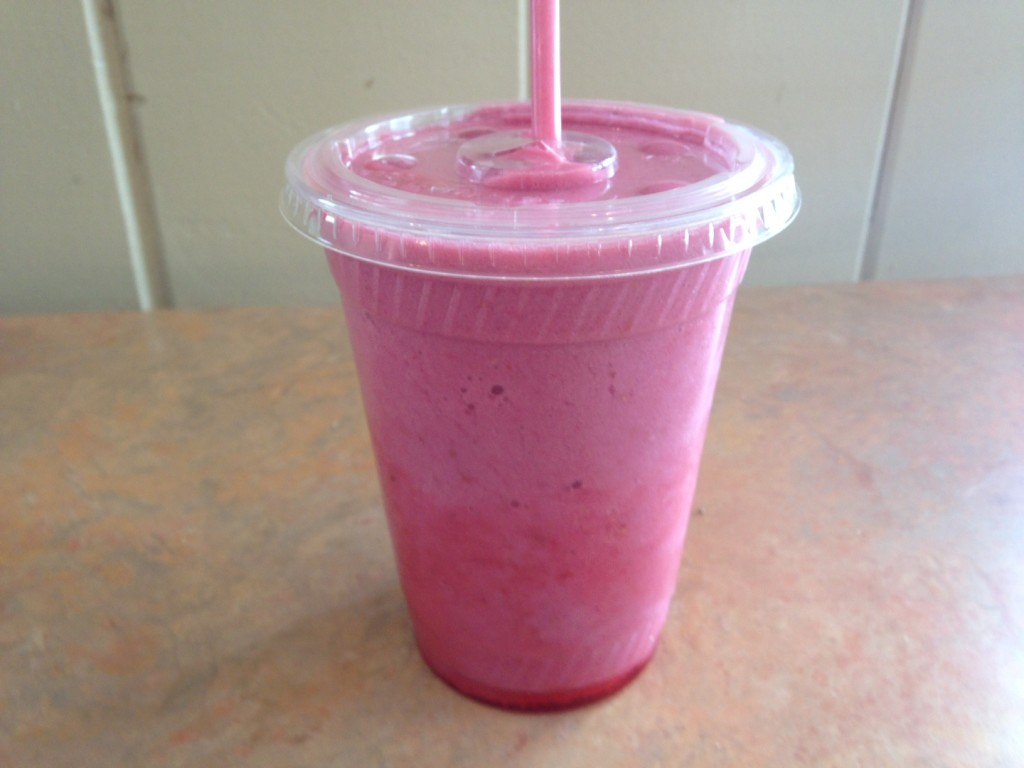 An hour and a half later, through winding snow covered roads in the forest, I reached my destination of North Conway, New Hampshire. The popular Mount Washington Valley Chocolate Festival is an annual fundraiser event that includes a day of cross country skiing and snowshoeing at ten trails in the North Conway region, with several trail stops offering chocolate desserts. The chocolate, the skiing & snowshoeing at any of their trails, and the shuttle bus transportation between stops were all included in the $30 festival ticket cost.
As any vegan should do, I contacted the office running the event, as well as the individual restaurants listed on the event schedule, to find out if any would offer vegan chocolates. The Local Grocer Cafe(The Local Grocer Cafe) was the only participating vendor offering a vegan chocolate. One is better than none, so I felt good about this one option! My number#1 priority was to stop by the Mount Washington Touring Center to pick up the ticket I had purchased online. Afterwards, I stopped by the Local Grocer Cafe to pick up my chocolate. The vegan chocolate was a dark chocolate with a cherry filling. I really enjoyed the flavorful cherry and yummy chocolate treat!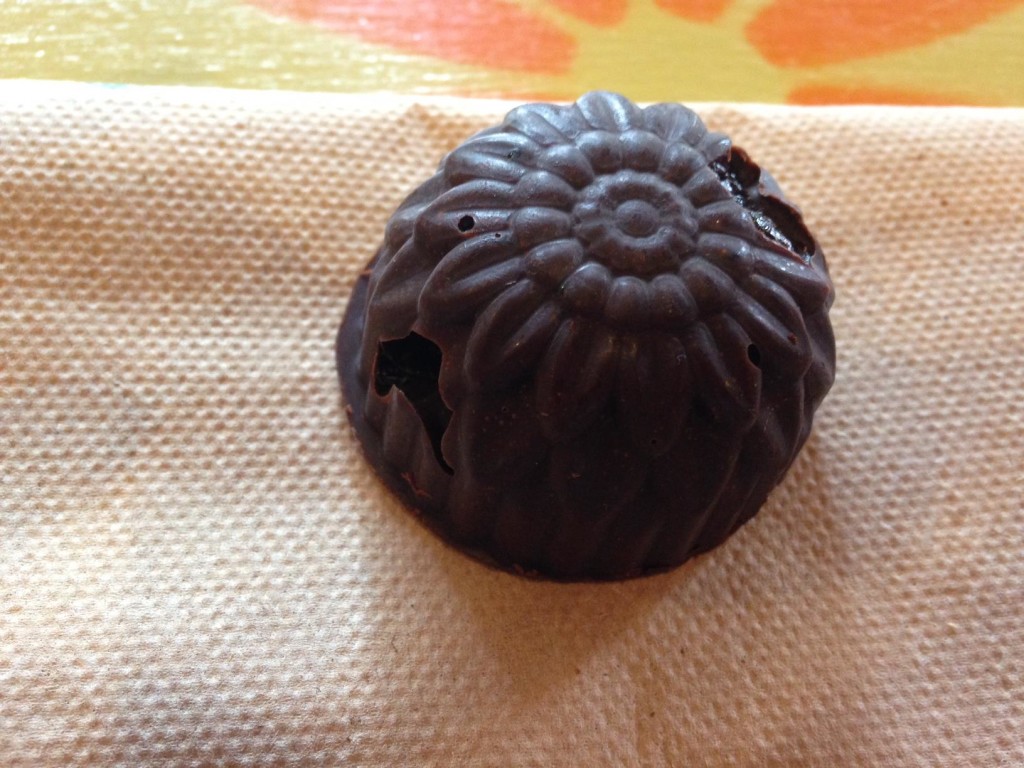 Then off I went to do some snowshoeing on the trails behind the The Local Grocer! These trails brought me through snowy woods, by sparkling streams, and onto some open fields with a backdrop of majestic mountain ranges.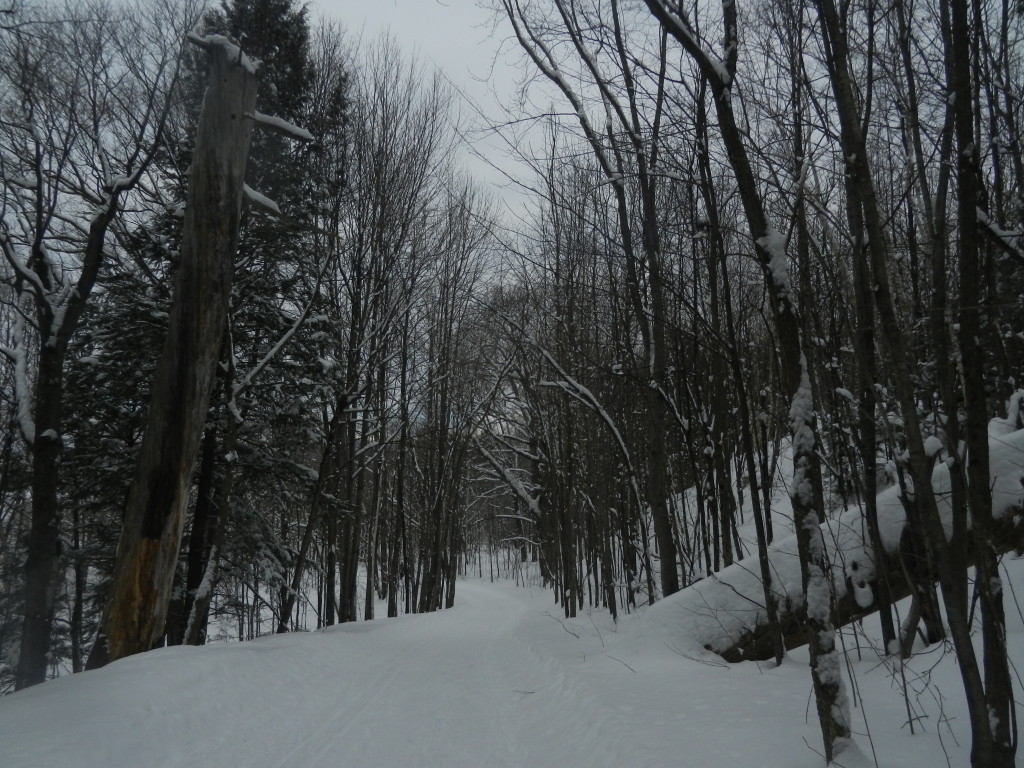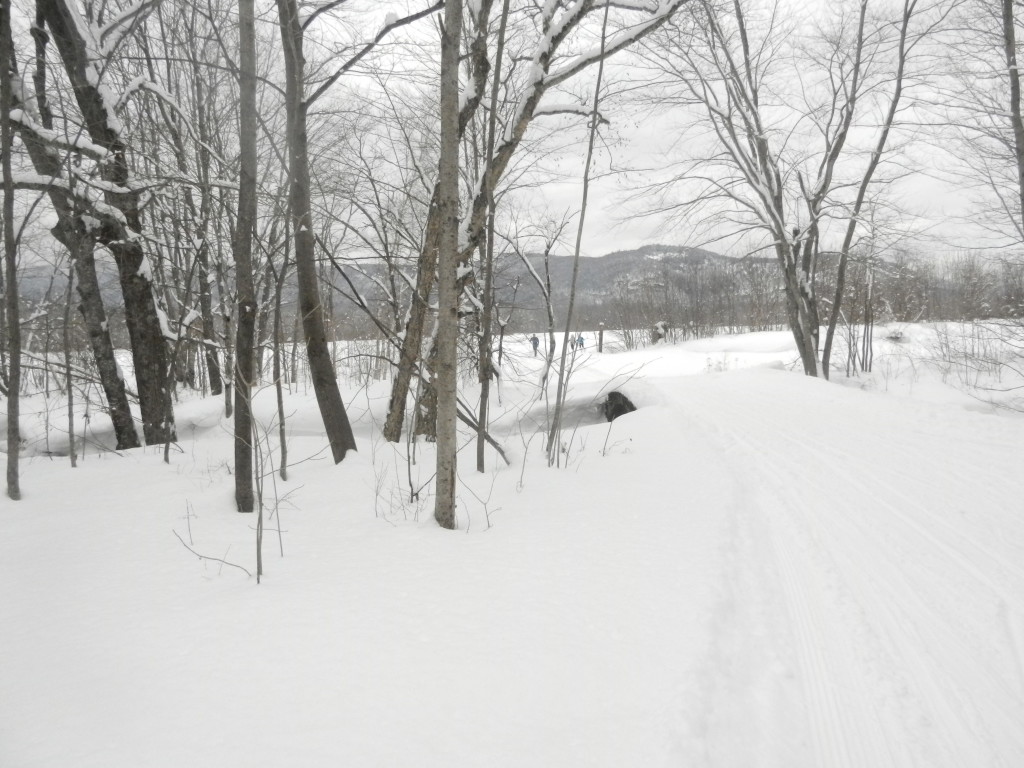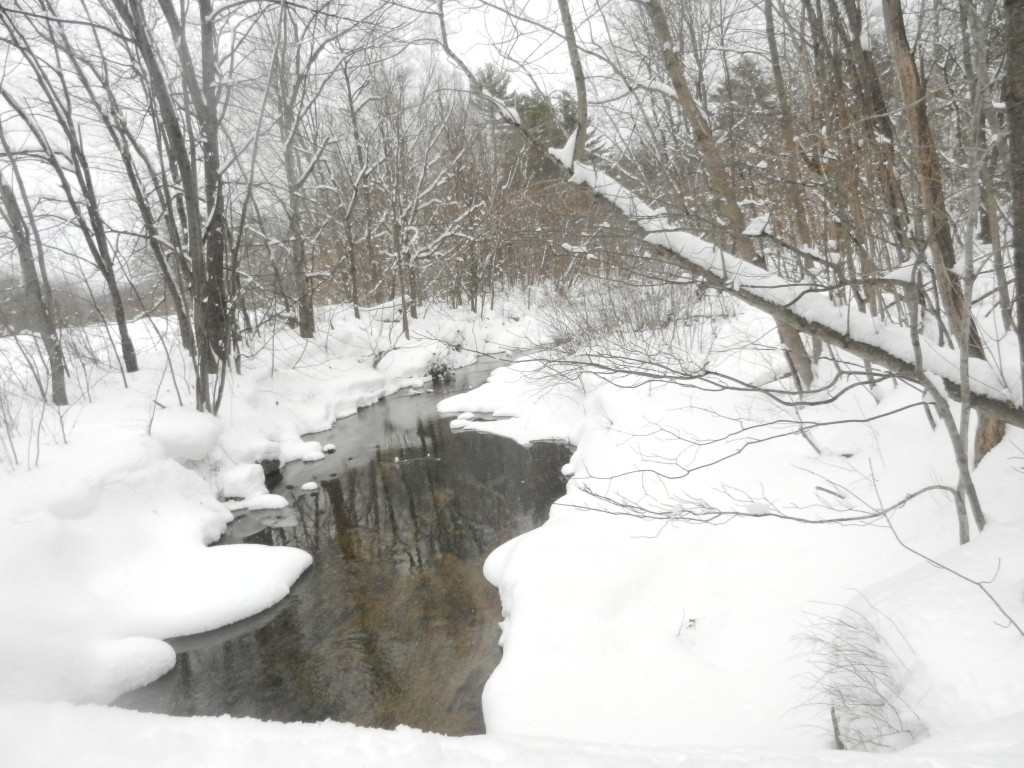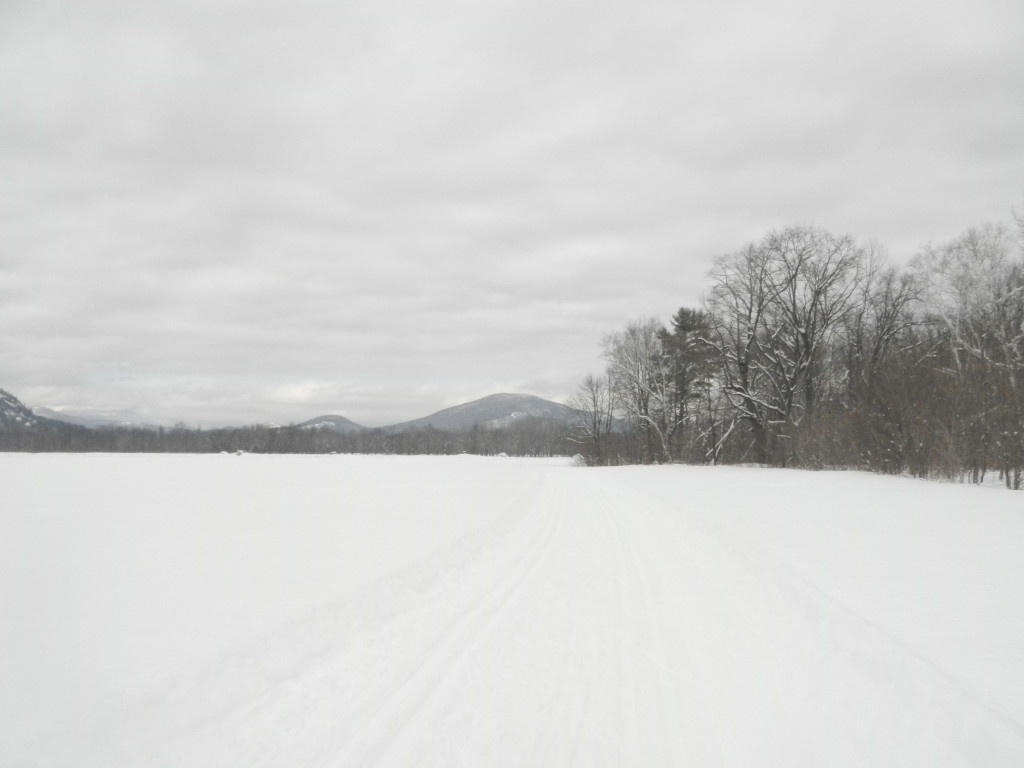 Shalimar Of India (Shalimar Of India Restaurant) was the restaurant where I dined for lunch. The restaurant is very vegan-friendly. Many items are already vegan. Others that are not, can be made vegan by request. I started with a roti bread.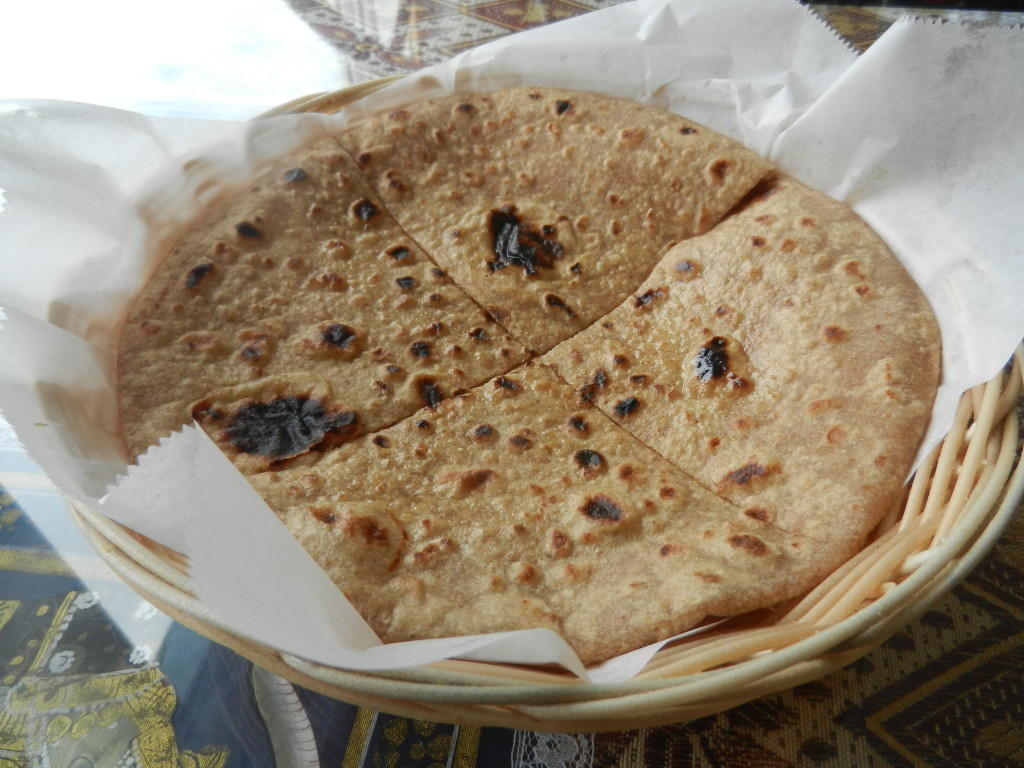 My entree was the vegetable navratana korma. Instead of a dairy based broth, they were able to substitute a curry base for me. The mixed veggies included potatoes, zucchini, cauliflower, carrots, green beans, squash, and broccoli. It was accompanied by a side of rice. What a lovely meal! The dish was filling and very flavorful! For a truly authentic and delicious vegan meal in North Conway, be sure to include this restaurant on your agenda!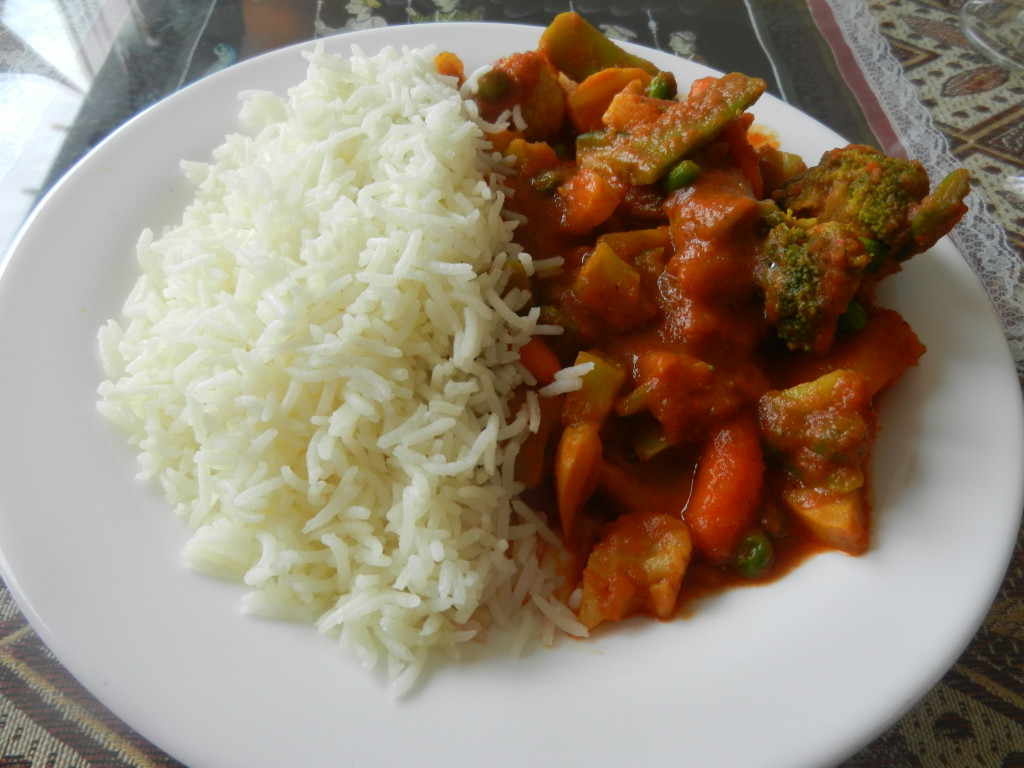 After lunch, I set forth on my next adventure. The trails behind the Ragged Mountain Equipment Center, at The Mount Washington Touring Center were where I spent the remainder of the afternoon doing some cross country skiing.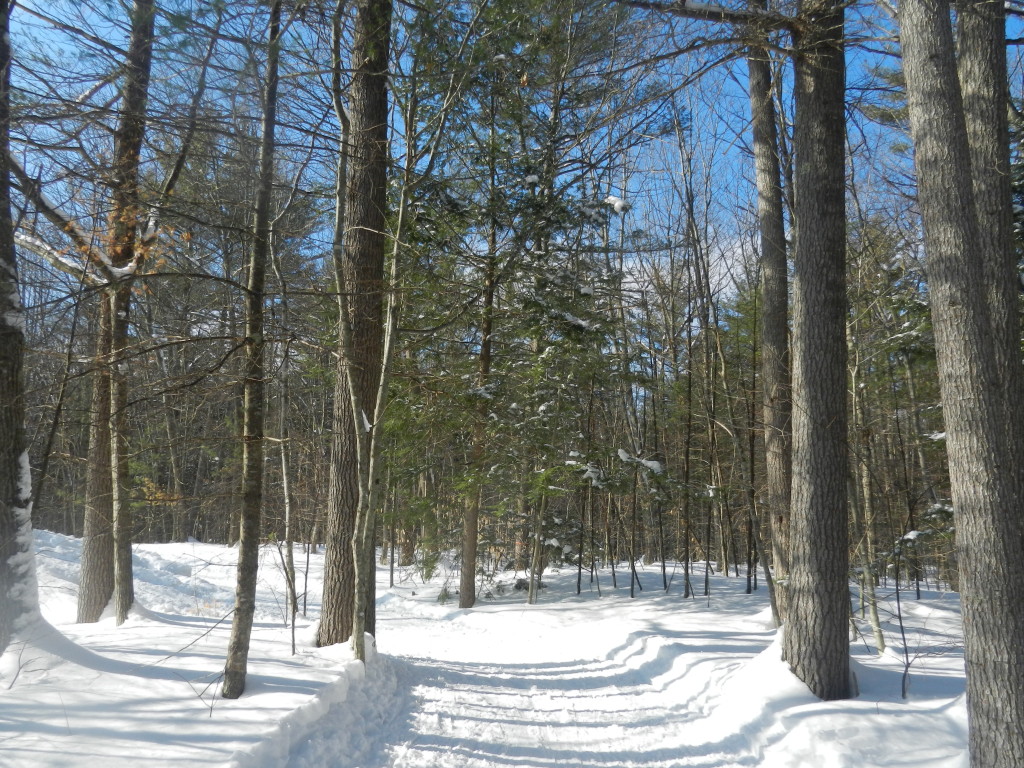 I skied my way through the forest trails. Fresh air, invigorating exercise, and spectacular vistas made this a rewarding trek!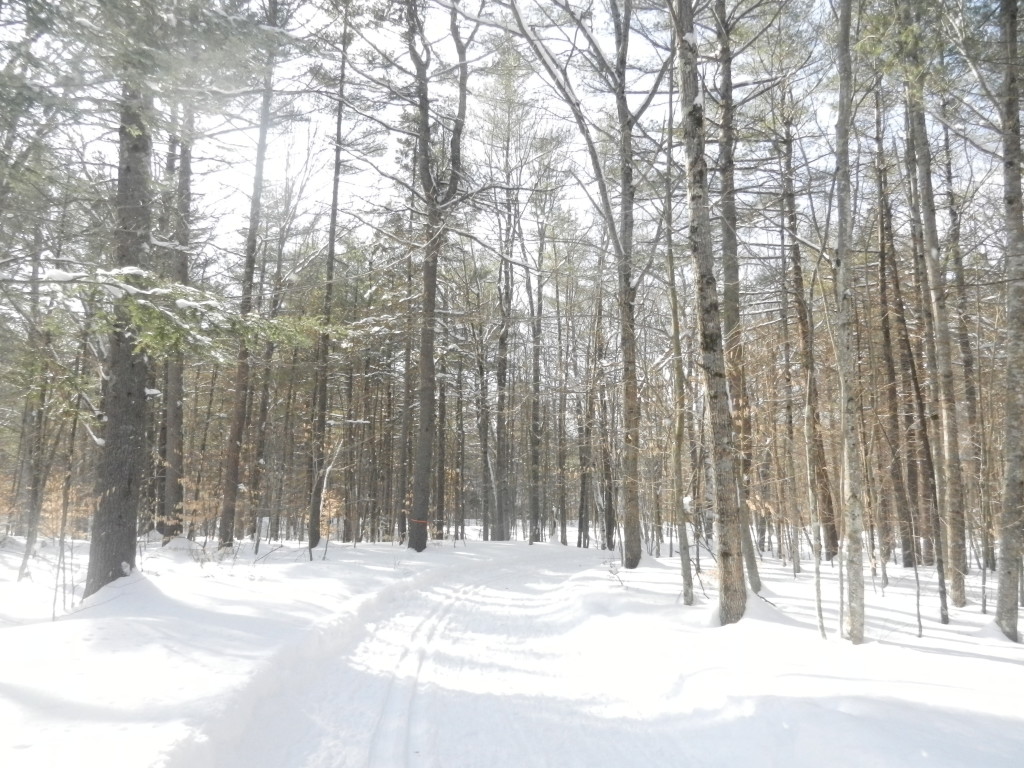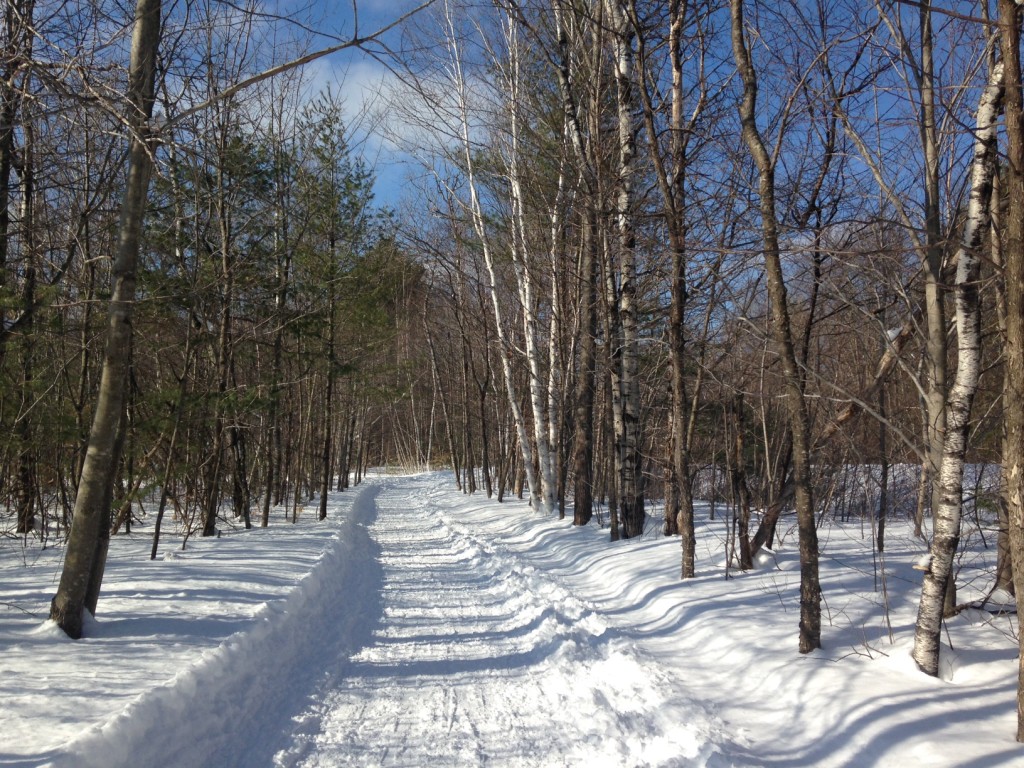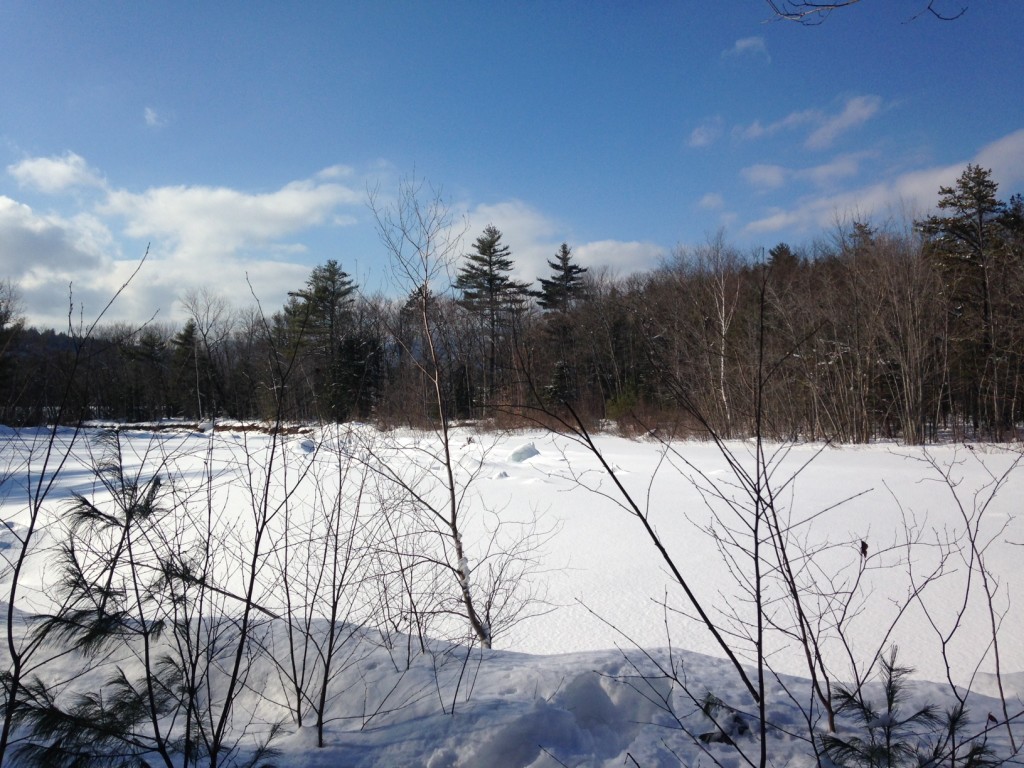 When my time at the festival had completed, there were two more stops I wanted to make in town. Several colorful and picturesque shops reside in North Conway Center. I strolled through the center to pop into a couple of shops for browsing. Ski gear shops, gift shops, and an old time general store lined the touristy road.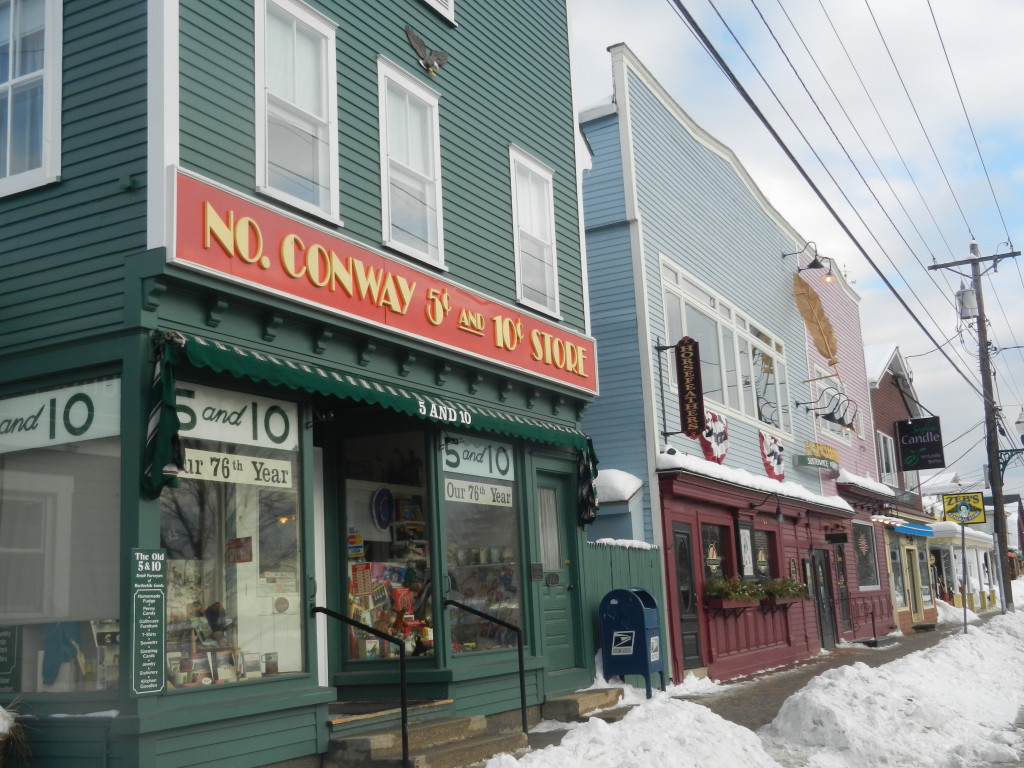 Along the White Mountain Highway, another popular tourist stop is the Adventure Suites Hotel. This theme hotel is one of the top ten theme hotels in the word. The exterior has several facades representing the Old West, including a bank, a saloon, a chapel, and other significant buildings. Its interior rooms run the gamut from psychedelic 1970′s decor to a jungle theme or a romantic Rome theme. As a stop for skiing on its outdoor trails during the day's festival, the hotel was also open for self-guided tours to ticket holders. The intriguing look of this place captured my curiosity, so I did indeed embark on a tour here myself.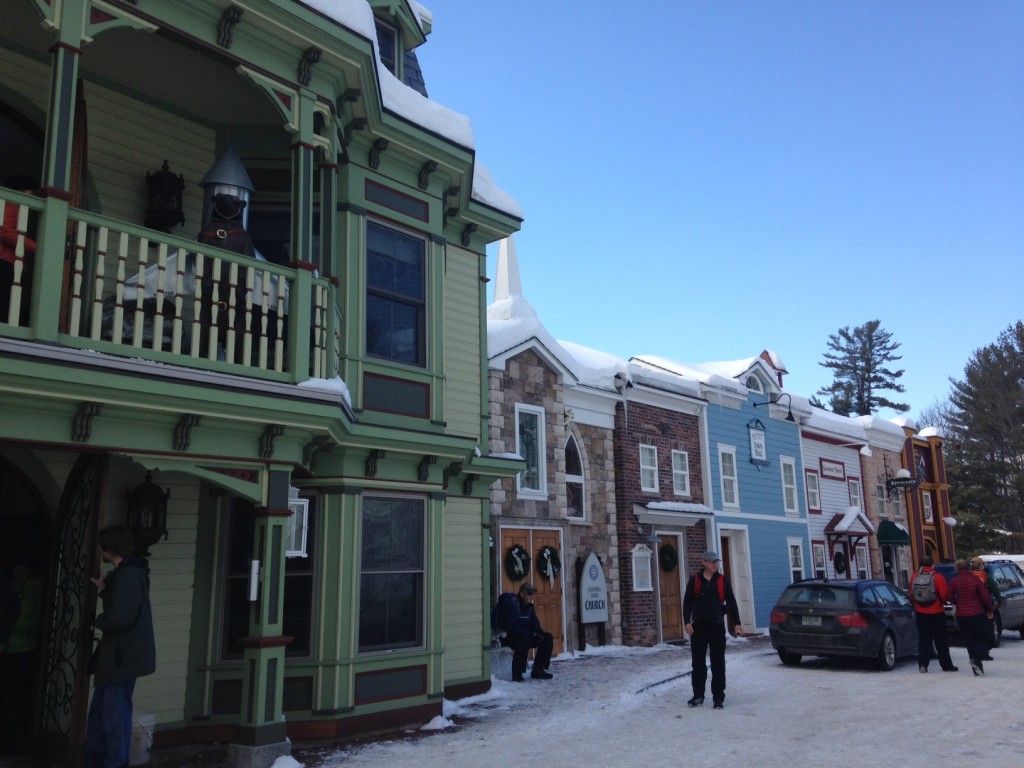 I had quite an amazing weekend in the White Mountains! The spectacular Ice Castles, superb xc skiing and snowshoeing, and the excellent vegan dining and chocolate made this a wonderful winter weekend getaway! I encourage all vegan travelers to partake in next year's chocolate festival and to find some time during this winter season to enjoy the Ice Castles and skiing in the region.
Tweet This Post