A few weeks ago, I traveled to the state of New Hampshire for a ski weekend in the White Mountains region. A local ski club was inviting non-members to visit their ski house as guests for that particular weekend. Skiing, snowshoeing, and a couple of parties were on the agenda.
After checking in and dropping off my overnight bag, I headed to a vegan-friendly cafe for breakfast. The Local Grocer (The Local Grocer), located in the town of North Conway, is a grocery market selling healthy food products. Inside the shop, a small cafe offers nutritious vegan-friendly meals, smoothies and juices, and baked goods. The meal options include vegan burritos, sandwiches, and breakfast items.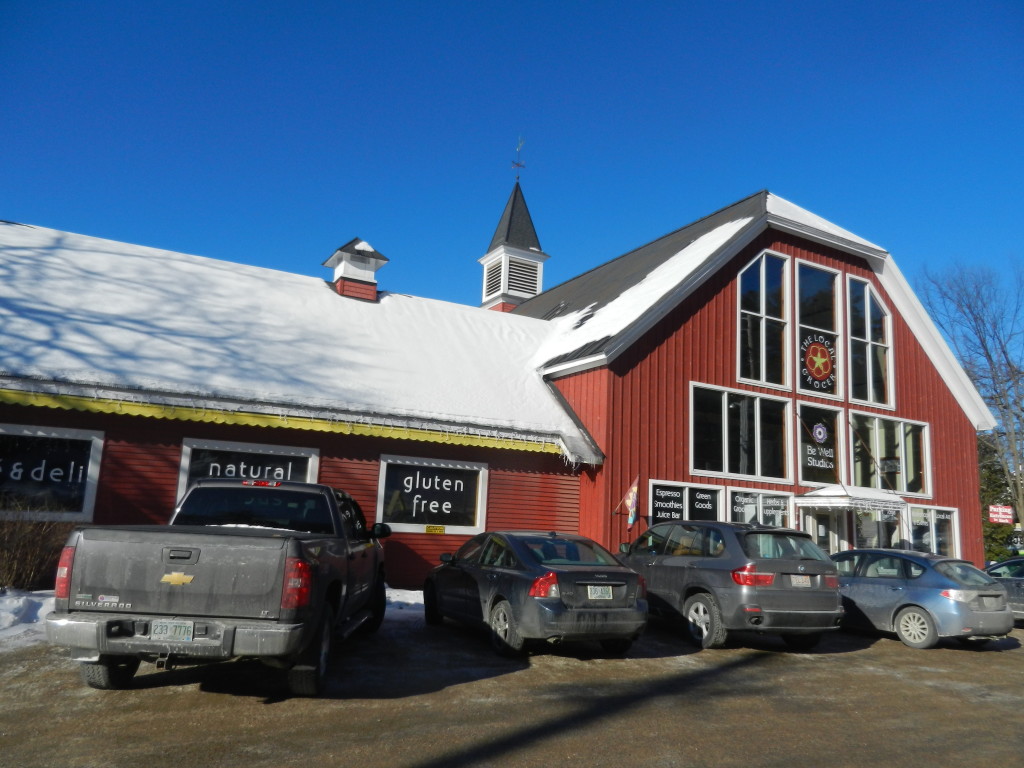 In the market section, one can find items such as vegan faux "meats", fresh produce, almond milk, vegan mayo, vegan snacks, and skincare products.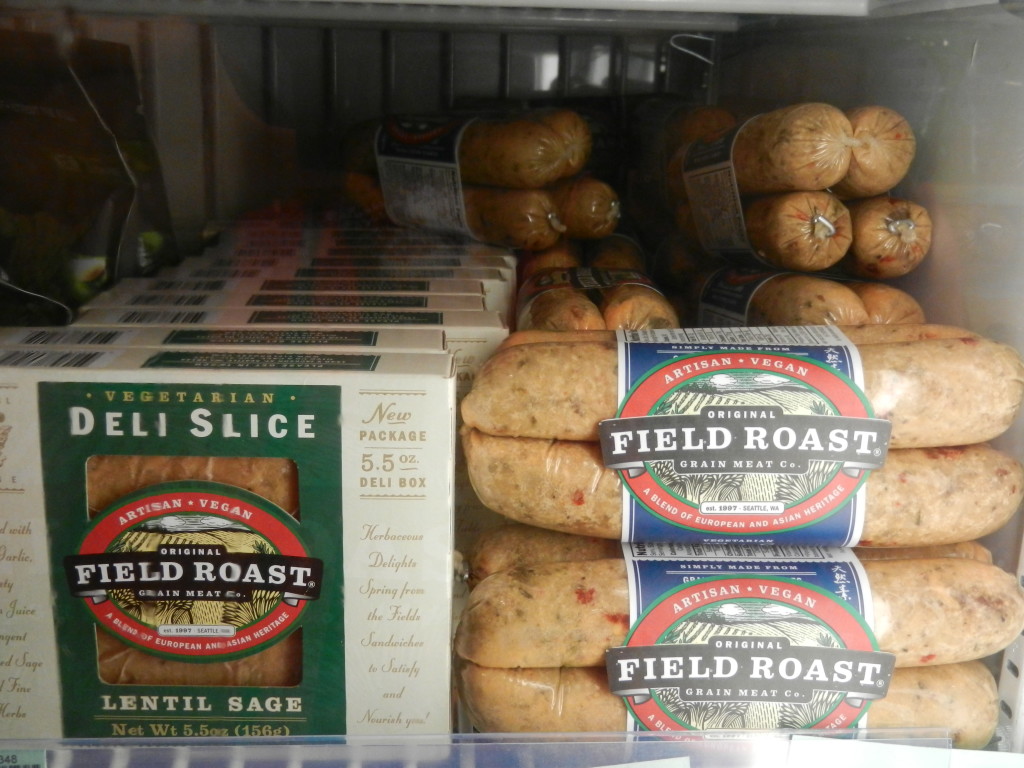 My morning started with their wonderful, freshly made "Immune-a-licious" juice containing orange, lemon, apple, carrot, ginger, and cayenne. You can definitely taste each of the nutritious fruit flavors!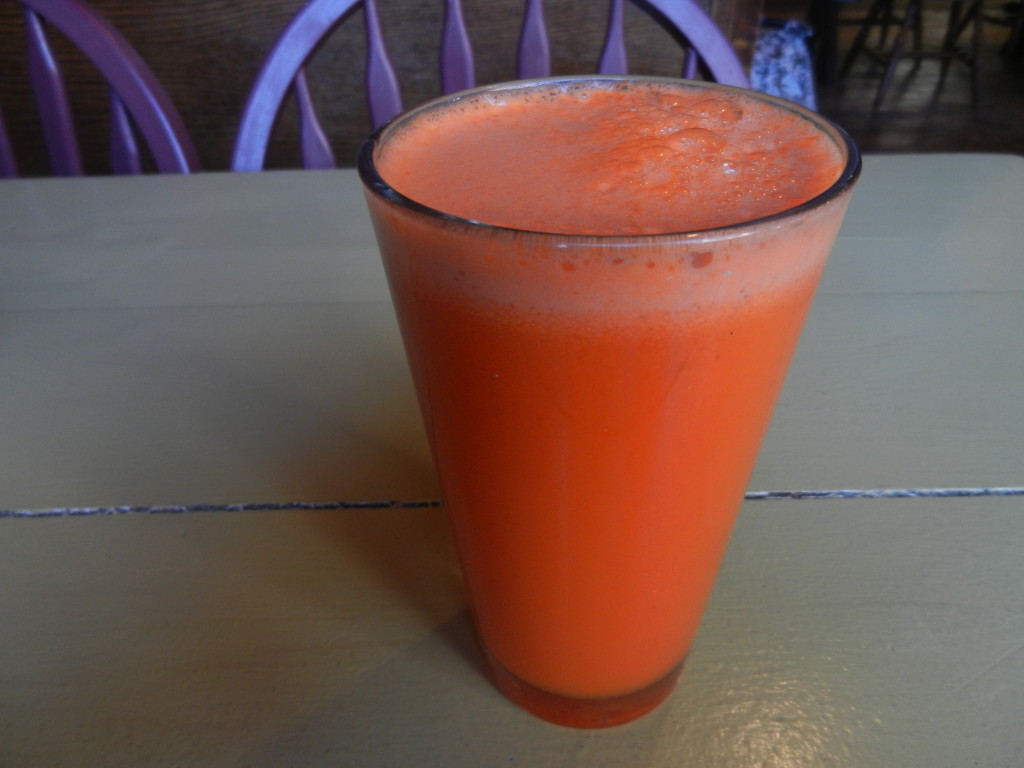 The "Jumpstart Breakfast Bowl" was my menu selection. It consists of a blend of strawberries, Maine blueberries, banana and almond butter topped with cranberry granola, seasonal fresh fruit, coconut and chia seeds in an almond milk base. Wow! Such a tasty breakfast! My filling meal fueled me for my day of skiing!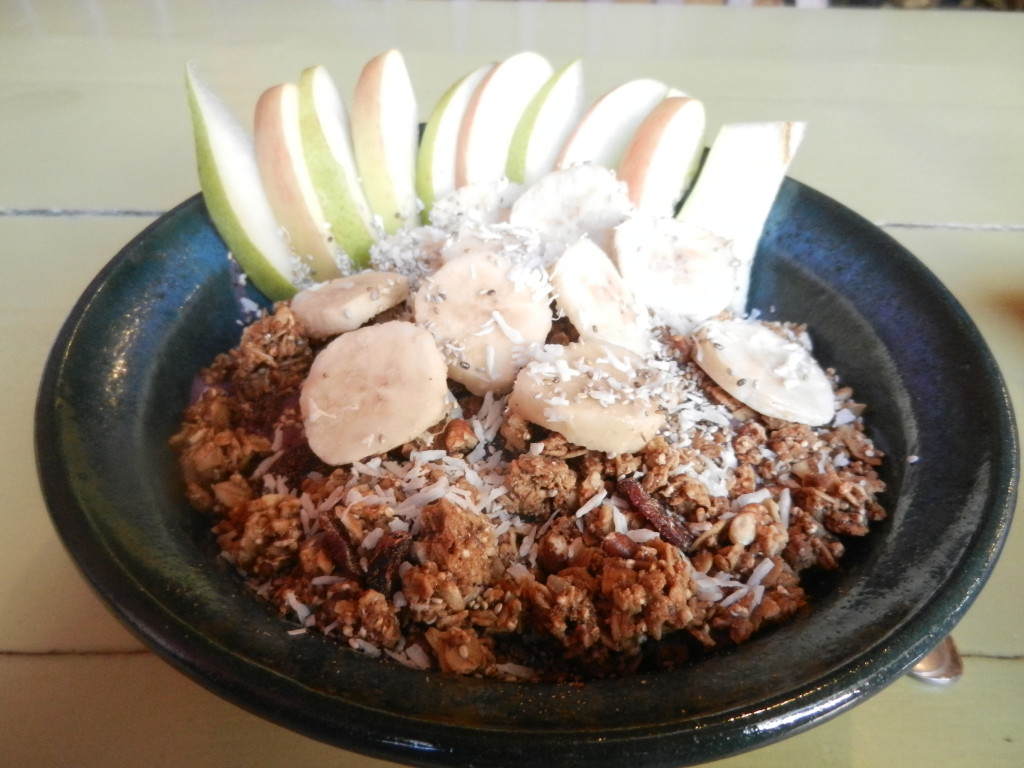 Along the White Mountain Highway road, an overlook presents visitors with splendid vistas for photos! I stopped there to admire the view.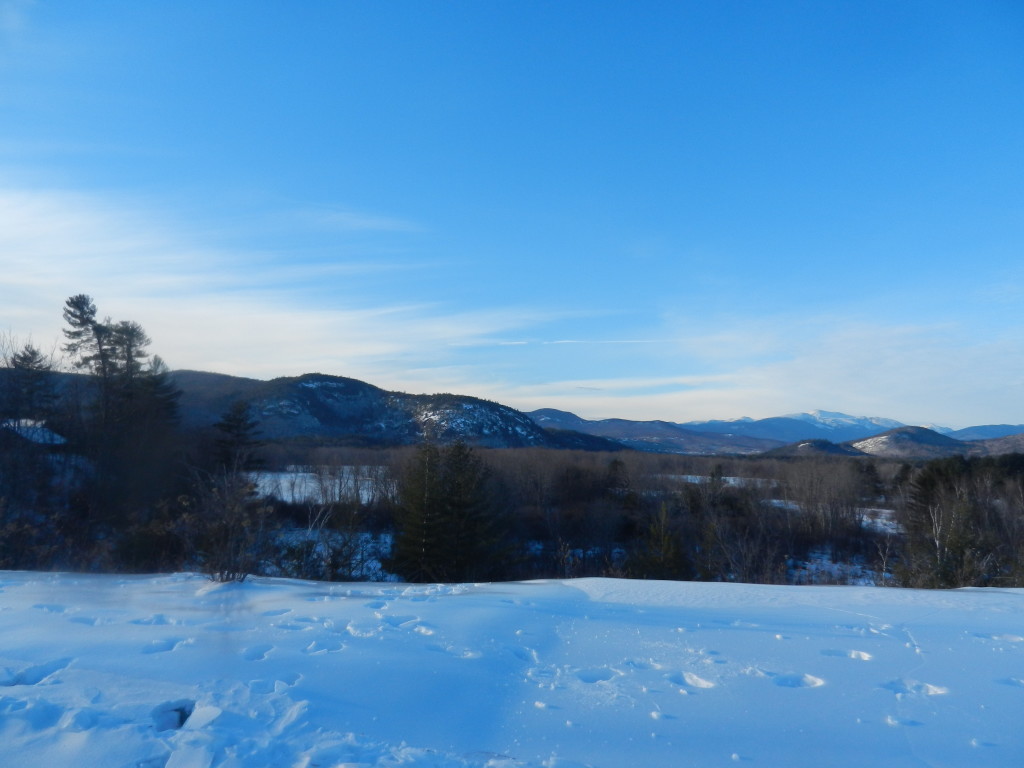 After my drive around the area to appreciate the gorgeous snowy panoramas, I chose to have lunch at The Local Grocer, as it was on the way to the ski areas. My mid-day meal was the eggless salad on toasted bread. It was really good!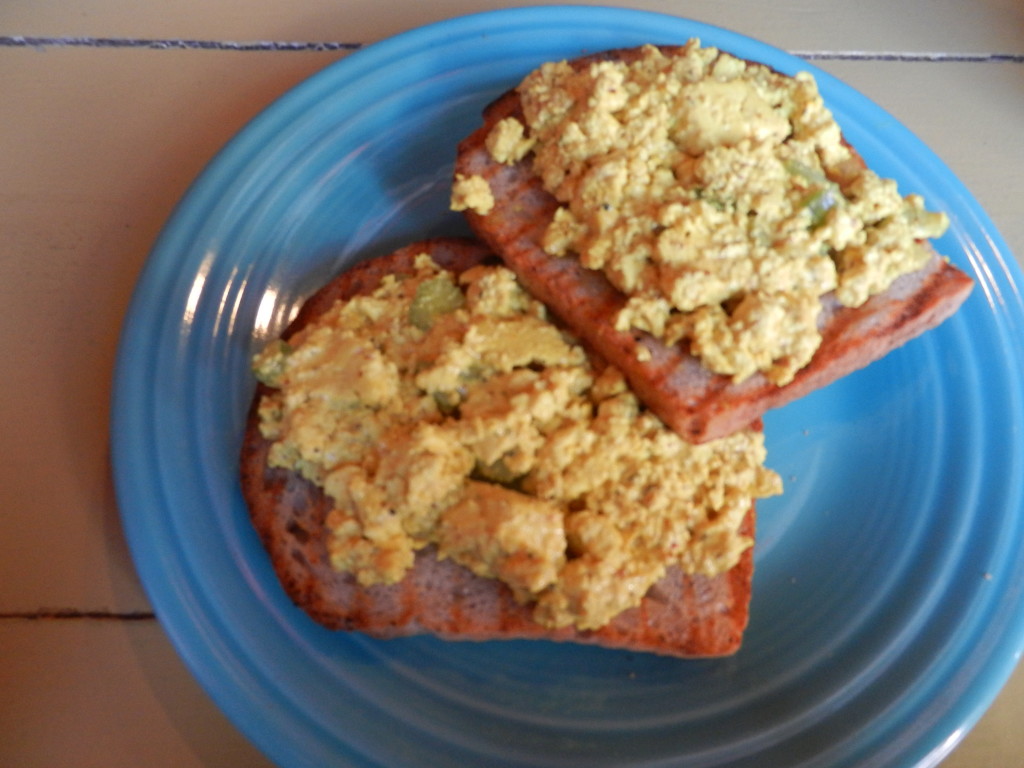 I purchased a dessert to snack on later and I was on my way! Jackson Ski Touring Center was where I spent the following two hours. As I am not a downhill skier, Jackson was a great spot for me to get in some cross country skiing during the weekend! With mountains in the backdrop, rocky flowing streams, and snow-covered woods made for a perfect winter wonderland! Skiers can choose from beginner, intermediate, and advanced loops.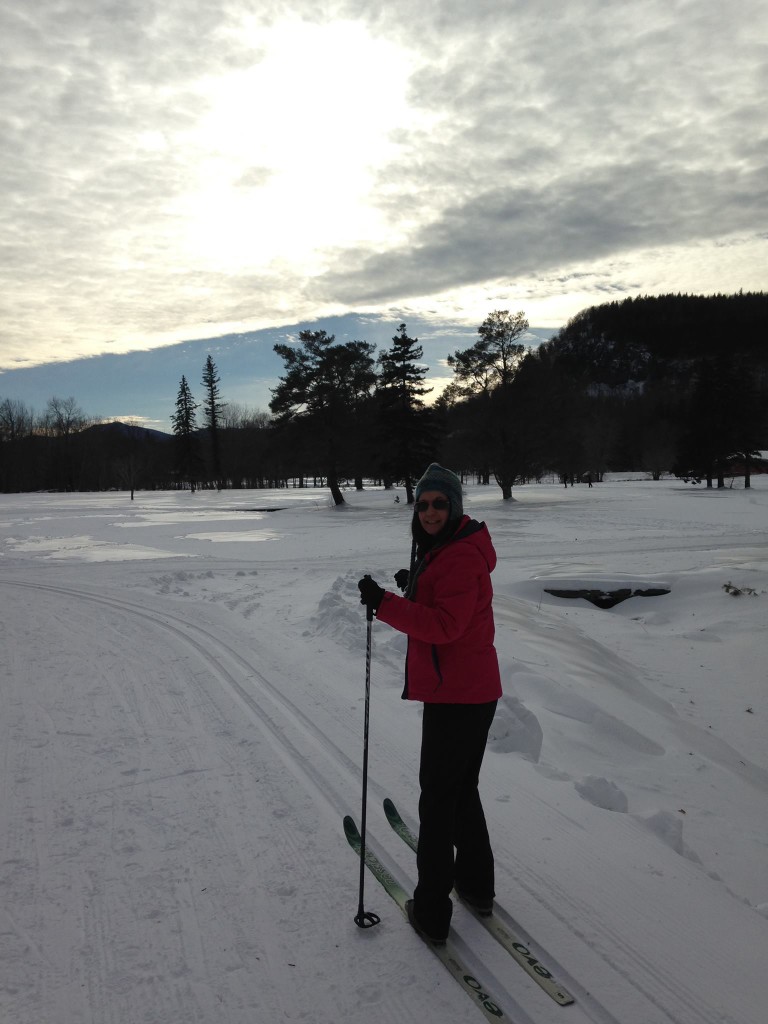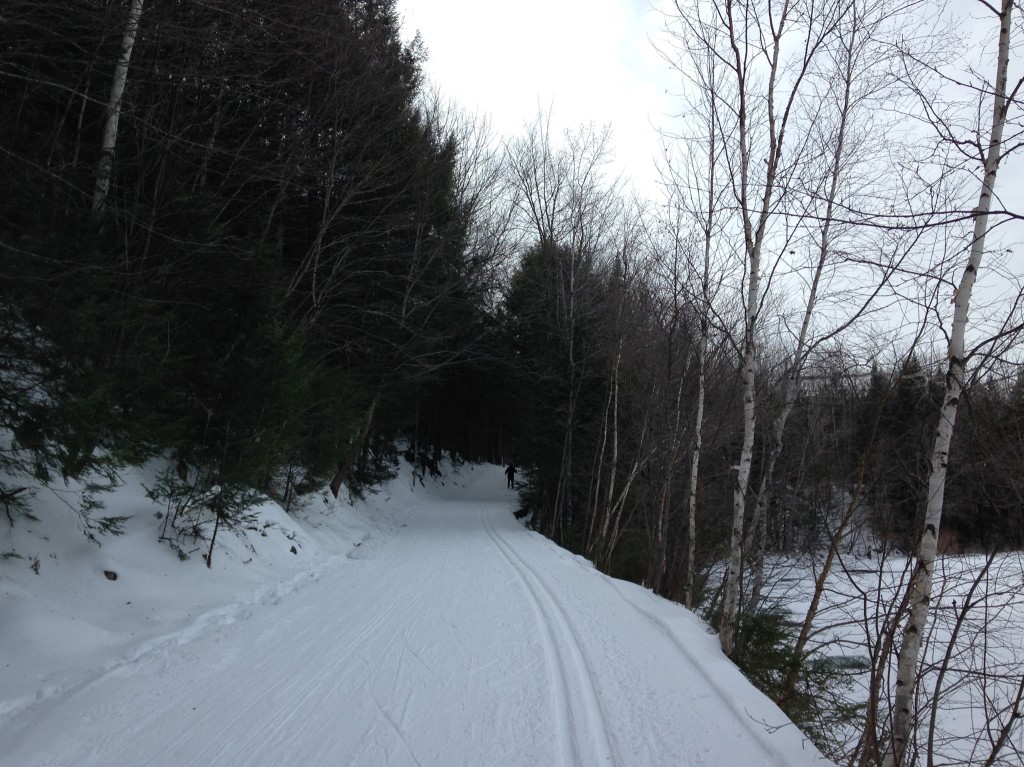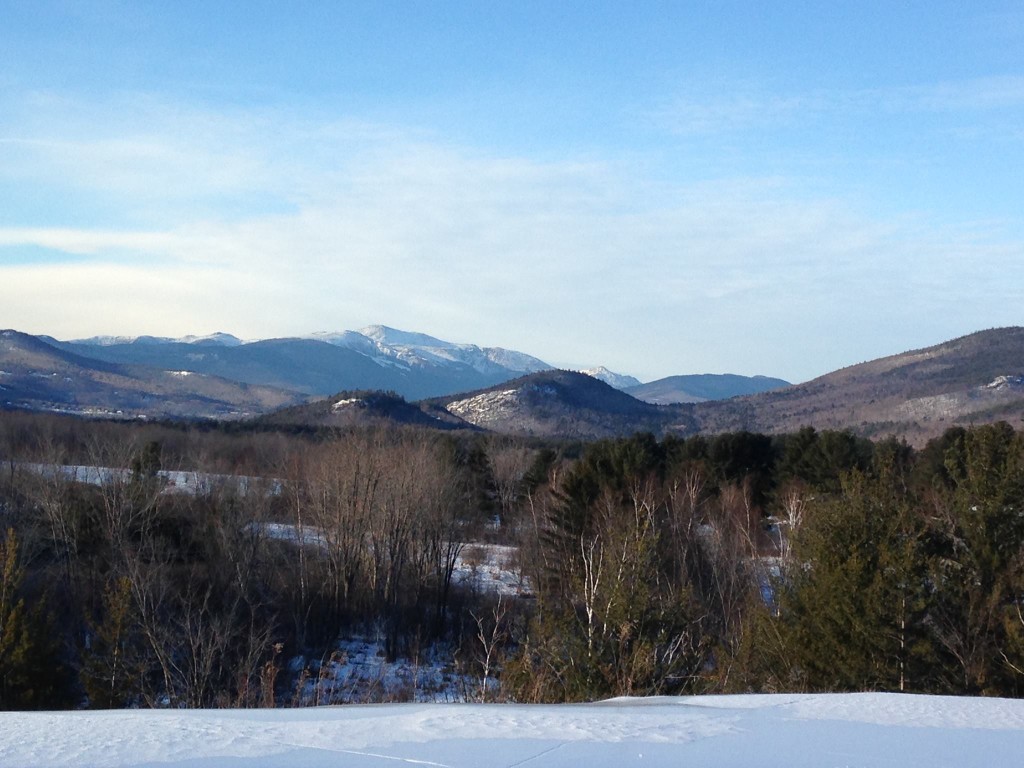 A red covered bridge was encountered on my way to and from the woods. My afternoon of xc skiing was spectacular!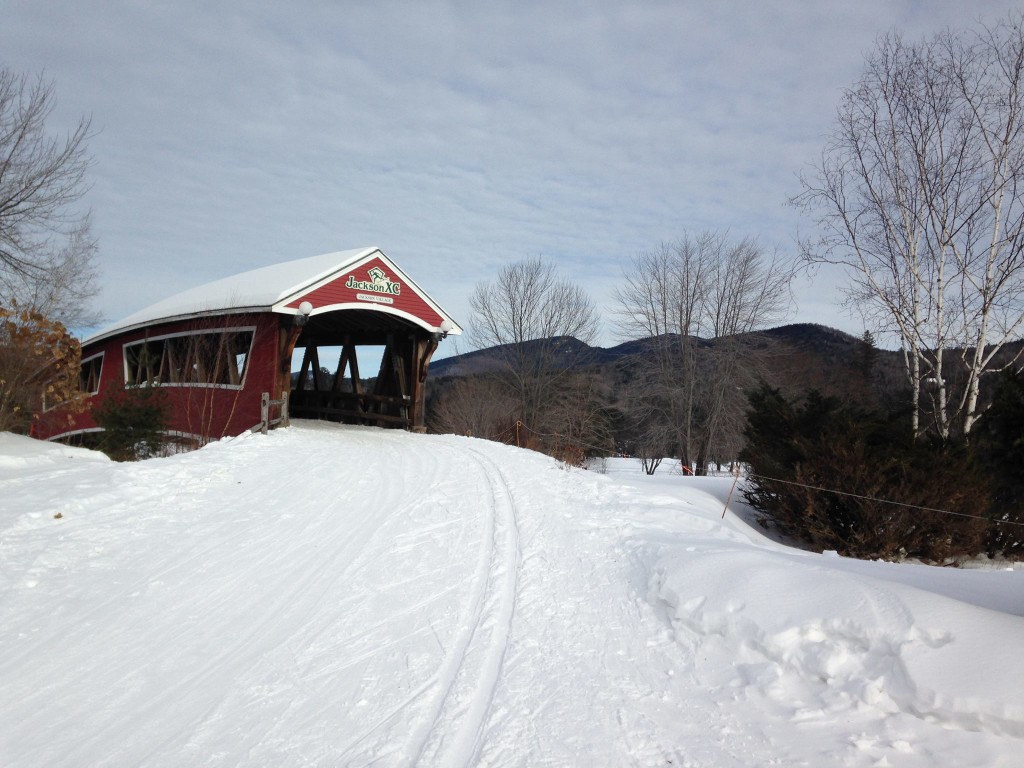 Cross country skiing is an amazing workout, so of course dinner was on my mind at this point! Moat Mountain Restaurant (Moat Mountain Restaurant) is also one of a handful of restaurants in the area that offers vegan options on their menu. It is also an extremely popular dining spot for many tourists. Their prices are quite fair for a nice, sit down dinner. I opted for the vegan Thai vegan chili. This was not a bean chili, as is popular at ski resort areas. This was a spicy and chunky veggie soup. It was wonderfully flavorful! To accompany the soup, I ordered the Thai red curry and tofu wrap with Ginger Lemongrass Rice & Sesame Slaw. The sandwich was really delicious!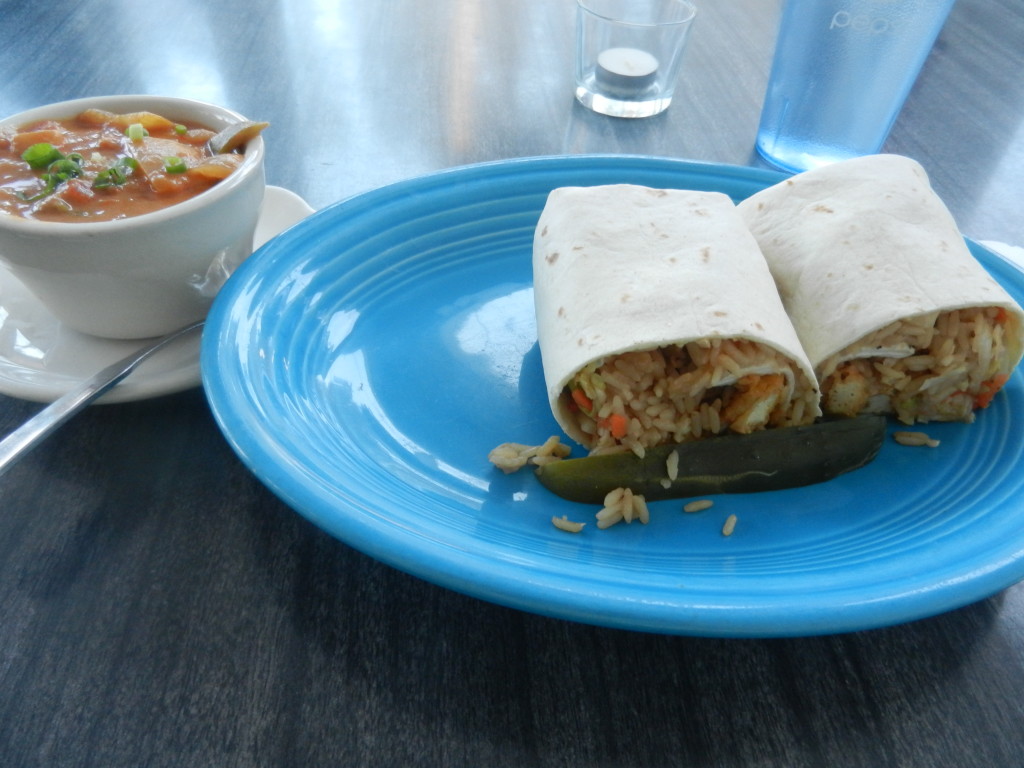 For my evening dessert, I devoured the vegan chocolate whoopie pie that I had purchased earlier in the day at The Local Grocer. The cake was moist and sweet and very tasty!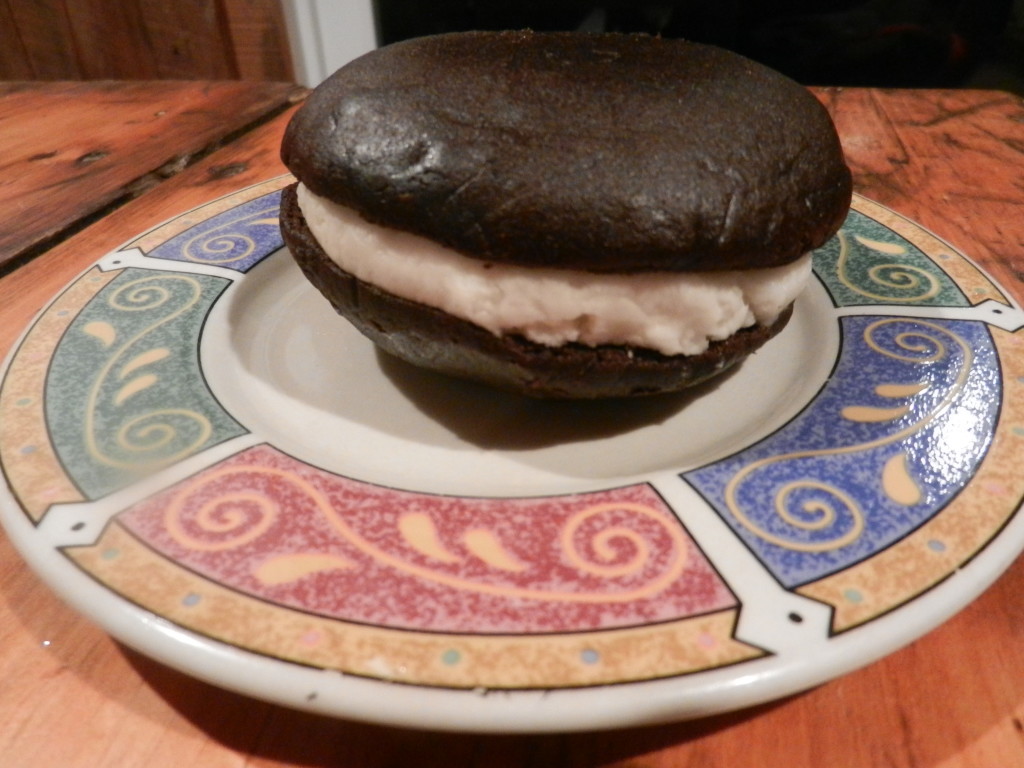 The ski club parties rounded out my evening. A social party with dancing included current and classic pop music. Later in the night, the clubhouse members and guests sat by the fireplace and chatted for quite some time! Many ski houses reside in the area and welcome guests to spend the weekend, while getting to know the particular club.
After a day complete with some exhilarating xc skiing, beautiful scenery, and wonderful vegan dining, it was time to get some shut eye. For the next morning would begin yet another day of invigorating outdoor adventures.
I awoke bright and early the following morning to head into town for breakfast. The Frontside Grind Coffeehouse(Frontside Grind Coffeehouse) offers coffee, smoothies, bagels, and baked goods. They confirmed that the bagels are vegan. I selected the sesame bagel with hummus filling. For my AM beverage, I chose a peanut butter and banana smoothie with soy milk. My breakfast meal was yummy!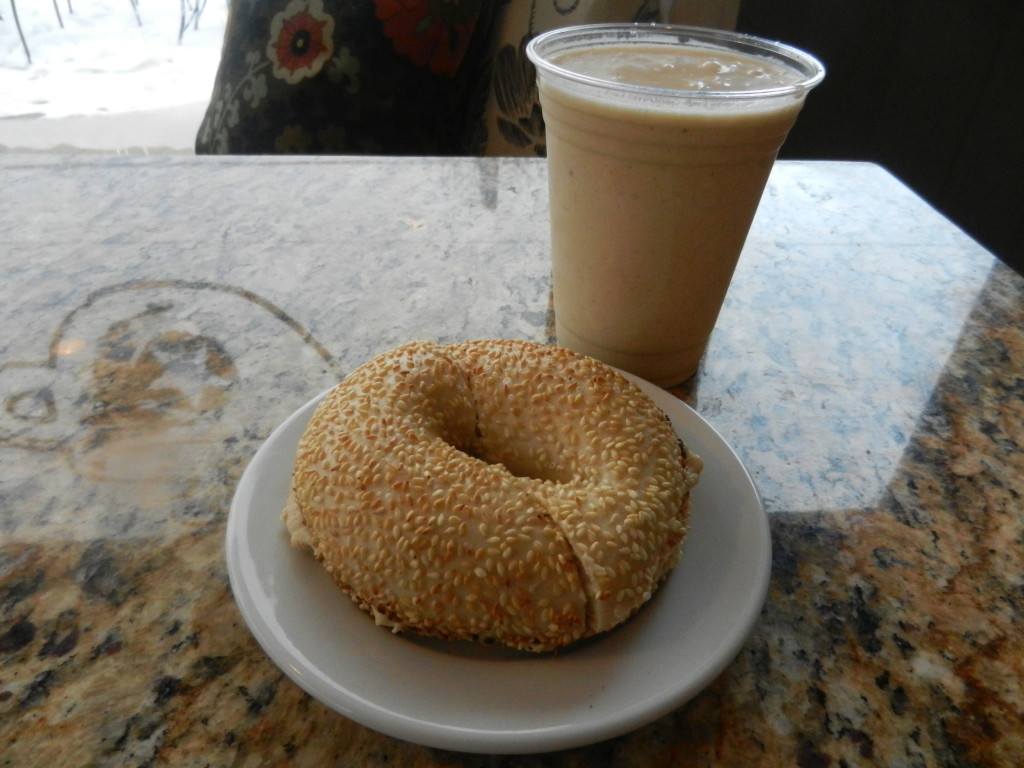 Time to hit the trails! Bear Notch Touring Center in North Conway is popular for both cross country skiing and snowshoeing. This day would be set aside for some snowshoeing! I first arrived at Bear Notch's main touring area, located across the road from their visitor's center. As I headed into the forest, I looked up and 'took in" the majestic grandeur of the mountainous landscape.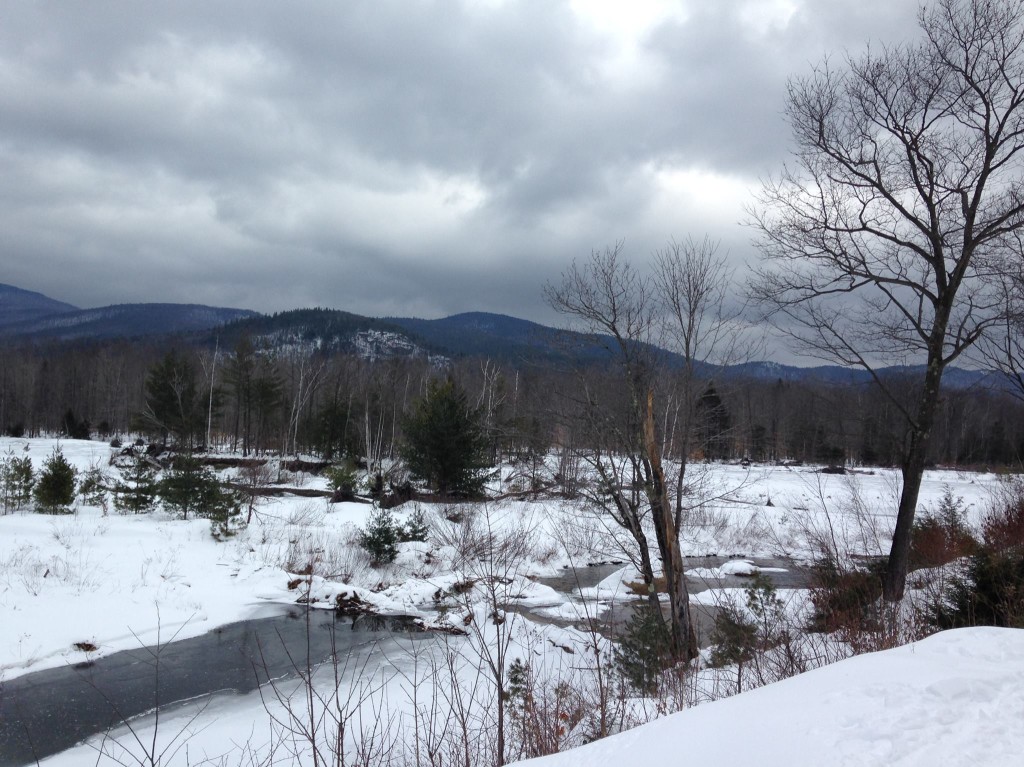 Winding streams dotted the snowy terrain.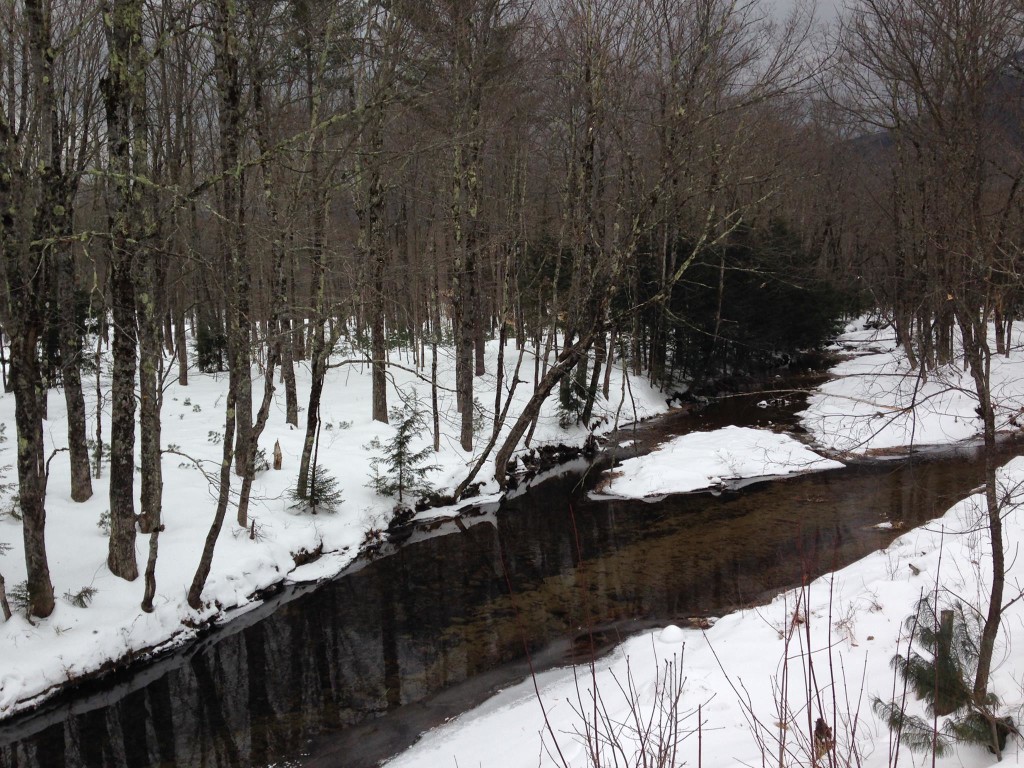 As I progressed further and further into the woods, the beauty of nature surrounded me with towering trees and snow-filled trails. Fresh air and breath-taking views were enjoyable benefits during my energizing snowshoe hike!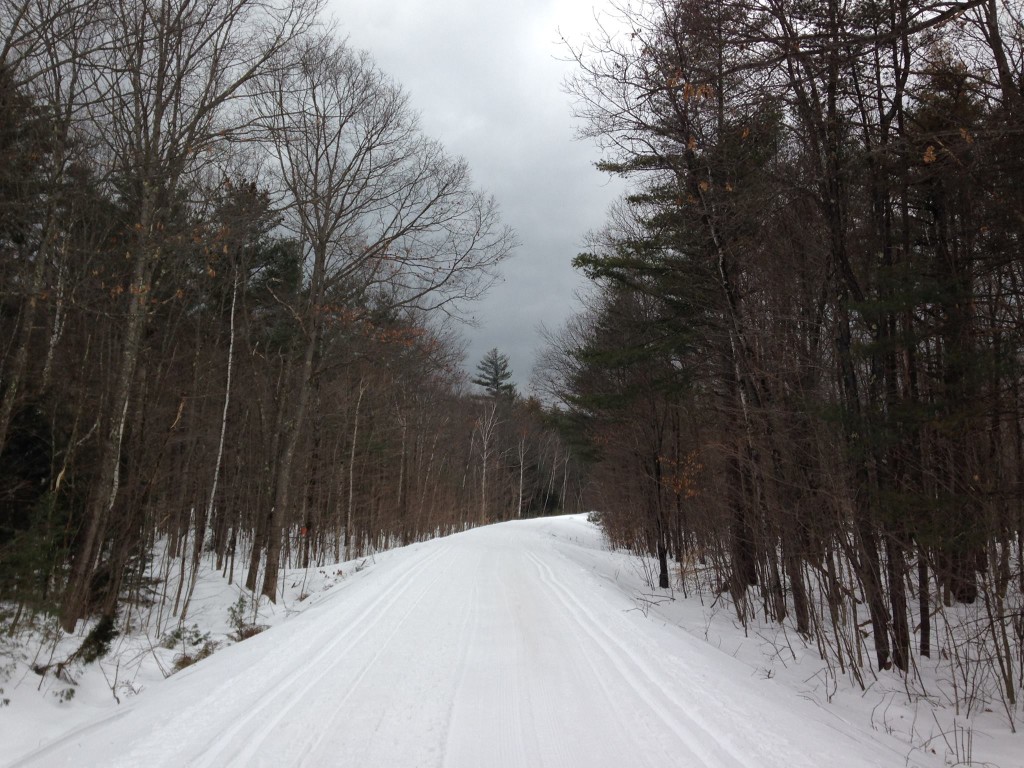 Bear Notch operates some additional trails further down the road, across from Attitash Mountain. I spent the remainder of the early afternoon doing some snowshoeing on those trails. A wooden carved statue of a bear greets visitors at the start of the woodsy trail.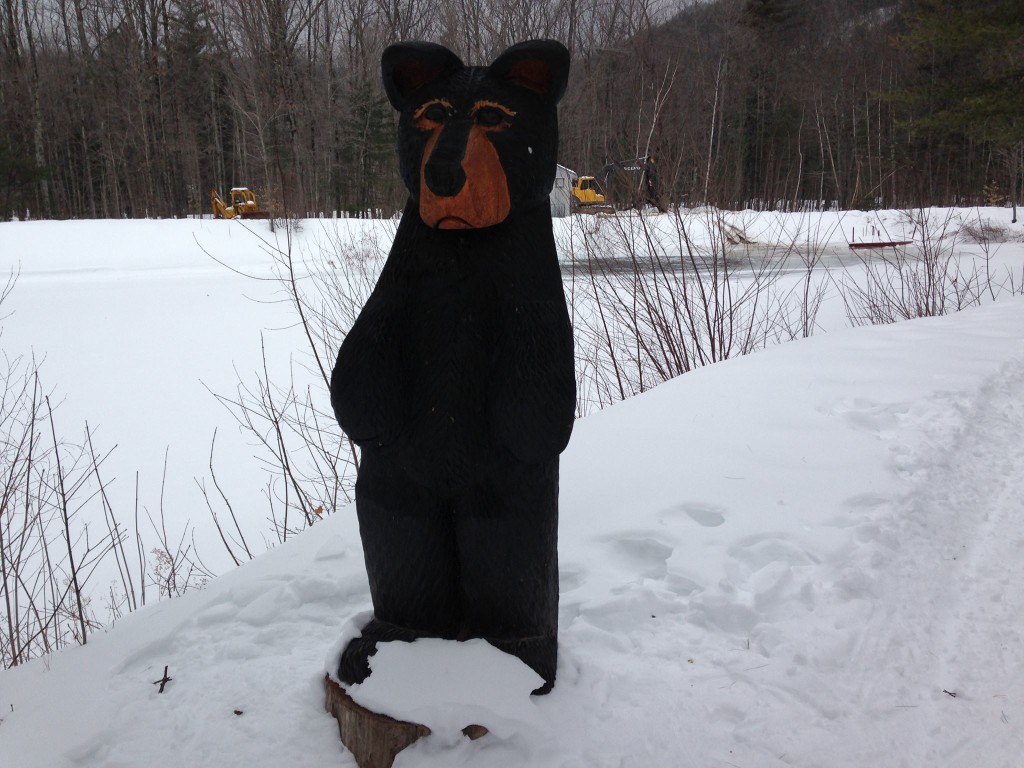 I was ready for more outdoor exercise and adventure! A wide and lengthy river resides by the forest. I just had to stop for a photograph with this winter wonderland backdrop!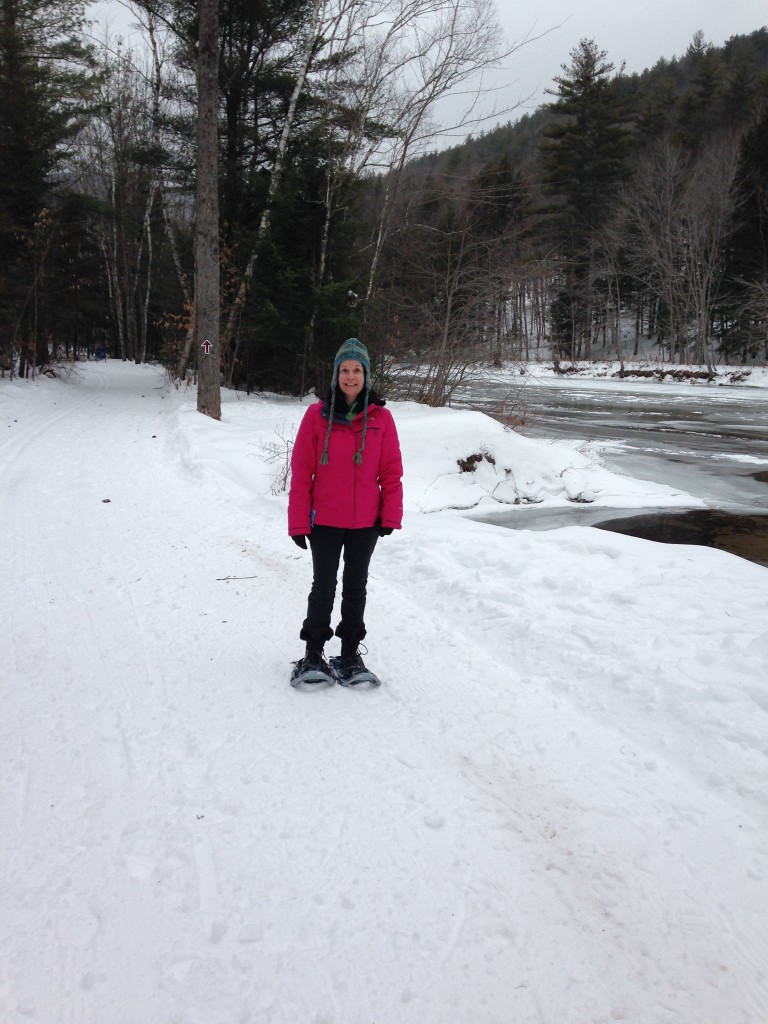 Grand trees with delicate orange leaves stood to my left and my right, as I glided through the woods on another thrilling and scenic snowshoeing walk!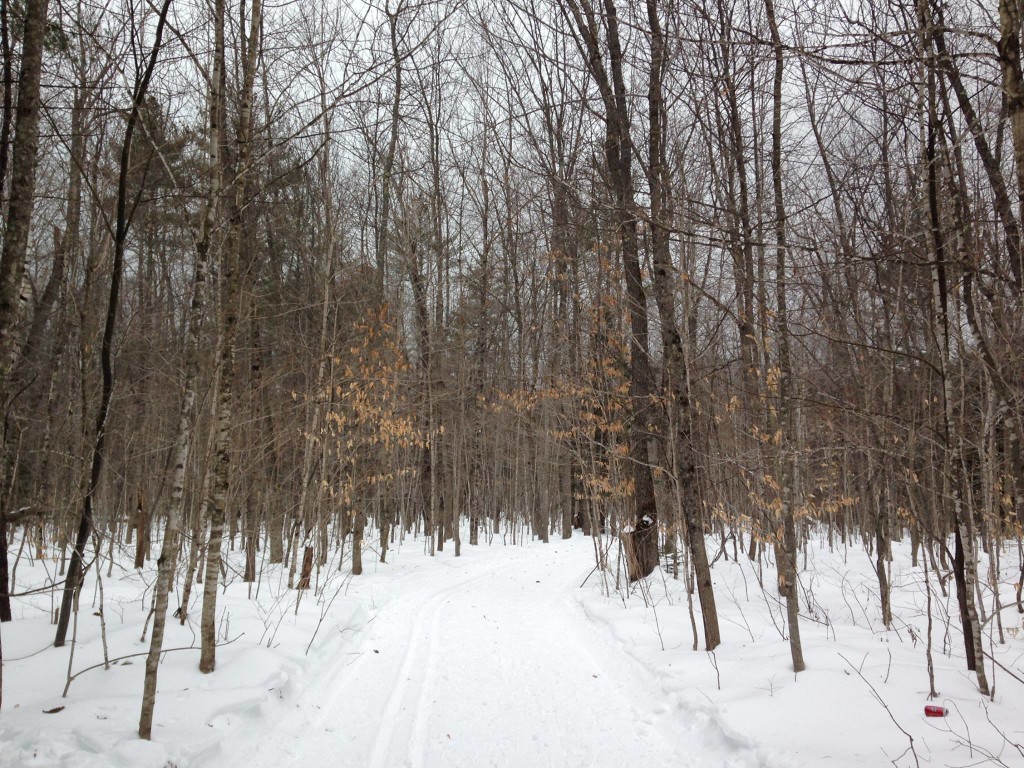 My snowshoeing adventure was awesome but now it was time for some lunch! Visitors to North Conway will notice some whimsical snowmen sculptures throughout town. In fact, one can be found in front of the inn and restaurant where I dined. Such a cute symbol to embrace the season!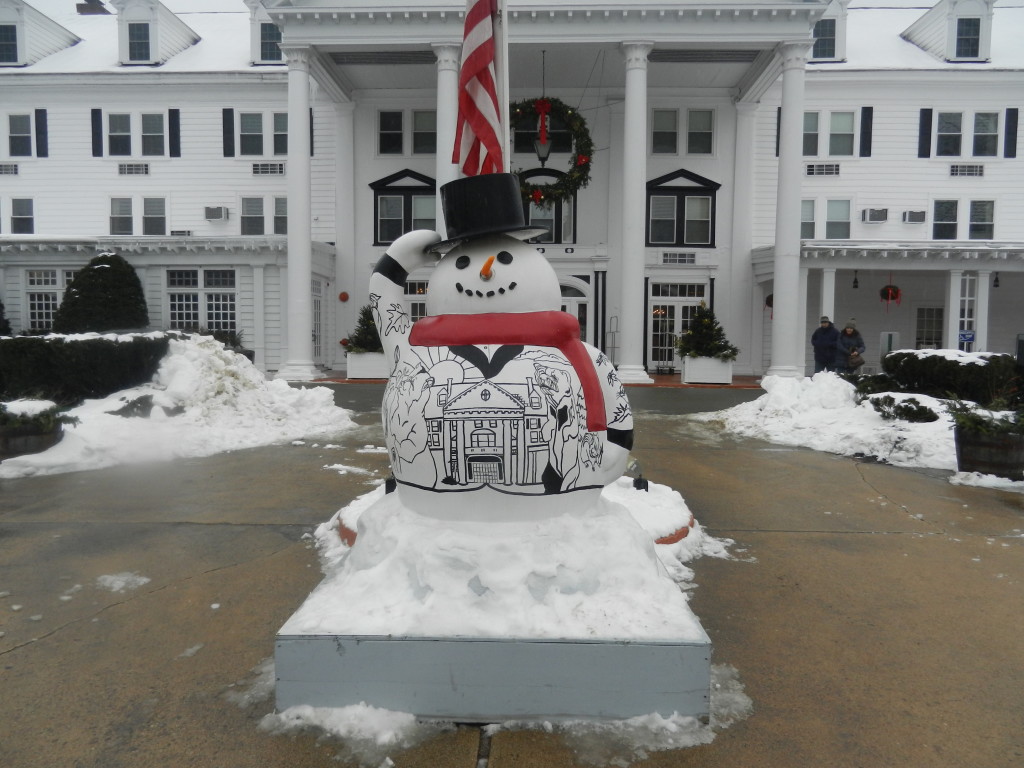 I ate my afternoon meal at Flatbread Pizza (Flatbread Pizza). My beverage selection was the unique and tasty maple syrup lemonade.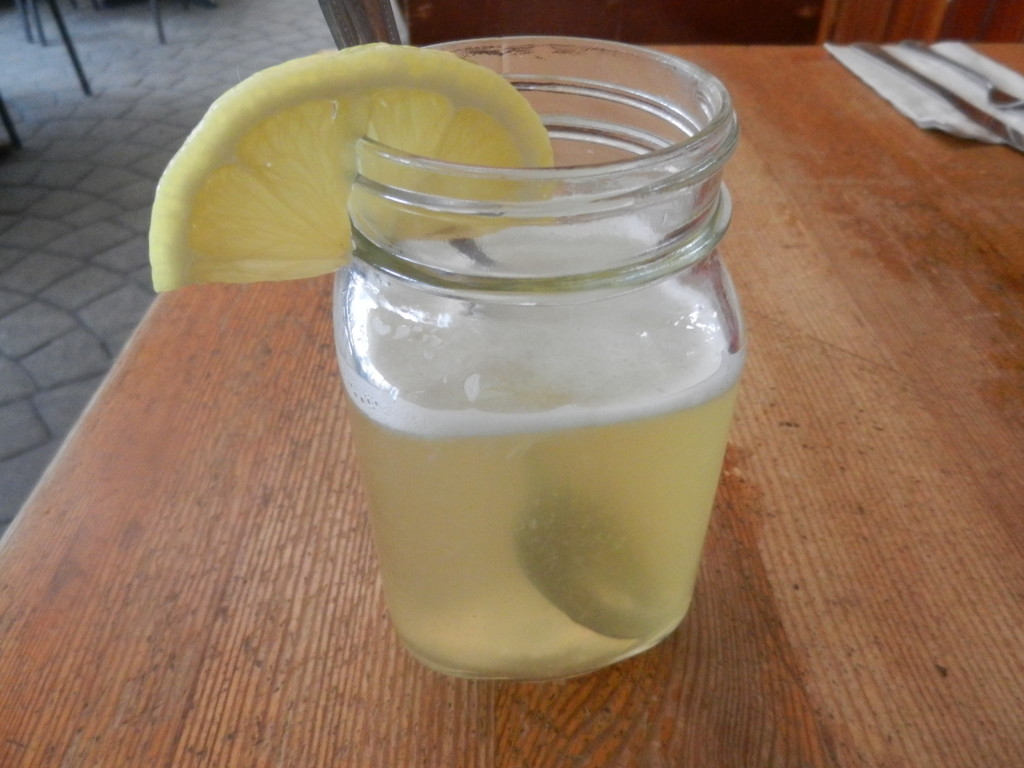 The restaurant offers a vegan pizza on their menu. I selected that vegan pizza as my lunch. The organic pizza contains wood-fired cauldron tomato sauce, organic caramelized onions, organic mushrooms, Kalamata olives and homemade garlic oil with their own blend of organic herbs. This was a delicious meal!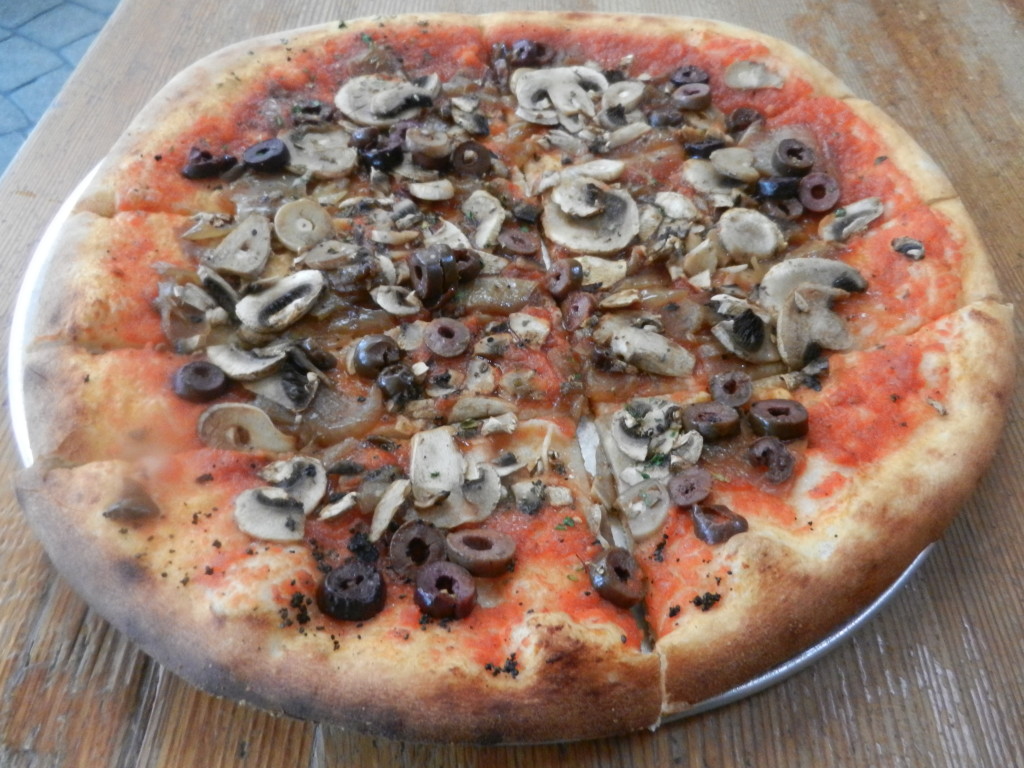 Flatbread also offers a vegan dessert. I ordered the vegan brownie. It arrived delightfully warm and moist. My dessert was scrumptious!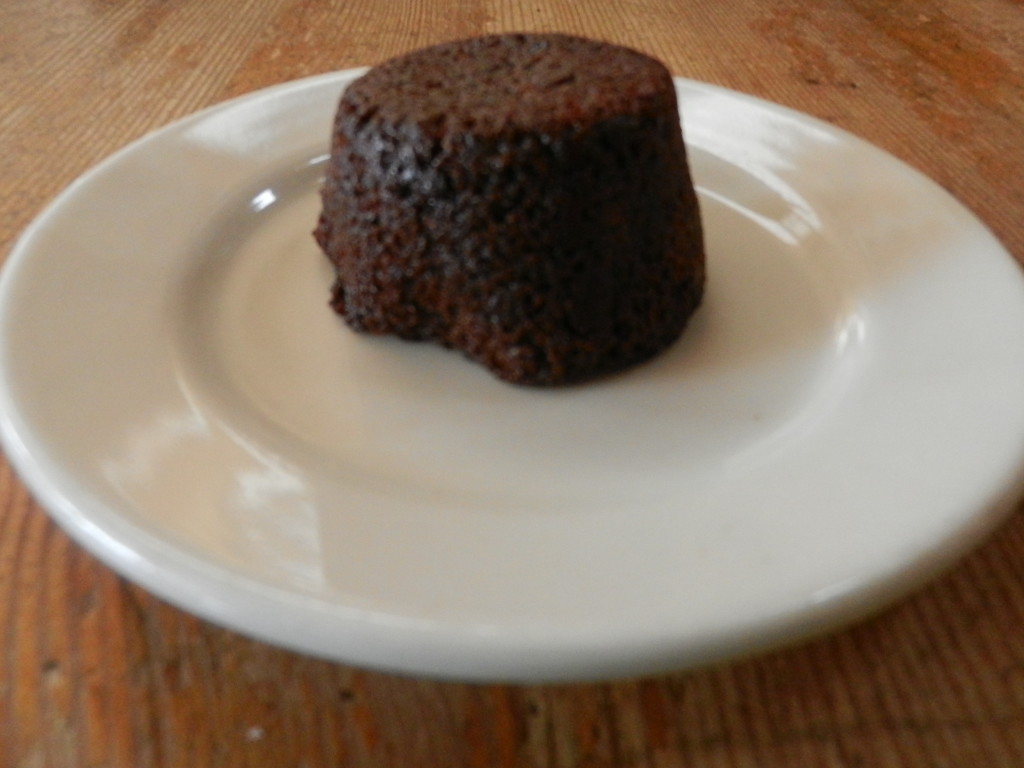 My weekend in the White Mountains of New Hampshire was incredible! The gorgeous scenery, delightful outdoor activities of snowshoeing and cross country skiing, and good vegan dining made this a wonderful winter escape! I look forward to my next visit to this region in a few weeks, when I return for more outdoor adventures during the Mount Washington Valley Chocolate Festival.
Tweet This Post