Every year during Thanksgiving week, the Boston Vegetarian Society hosts an animal-compassionate, pre-Thanksgiving dinner. It is a five course all-vegan meal offered to us for only $25us. Thanksgiving is the American holiday when we commemorate the first harvest festival celebrated by the Pilgrims during the year 1621. Each year on this day, Americans acknowledge and give thanks for our blessings. Vegans, of course, celebrate with a bountiful feast of grains, vegetables, and beans.
For those of us who enjoy travel, this holiday celebration is like "travel back in time", to the time when the United States was first settled by colonists. We dine on all of the wonderfully delicious plants and grains that nature has provided for us, many that were planted back in the Pilgrim era. We give thanks for this food and express our gratitude for our freedoms and personal good fortune.
This year's Boston Vegetarian Society Thanksgiving dinner was held at the vegetarian/vegan-friendly Red Lentil Restaurant(Red Lentil Restaurant) in Watertown, Massachusetts.
Huge crowds turned out for the event! It took place over two evenings: the Monday and Tuesday before Thanksgiving. It was a great time to socialize with other vegans and vegetarians! The seating area was located in the main part of the dining room, while the buffet stations of food were setup on tables in the back of the space.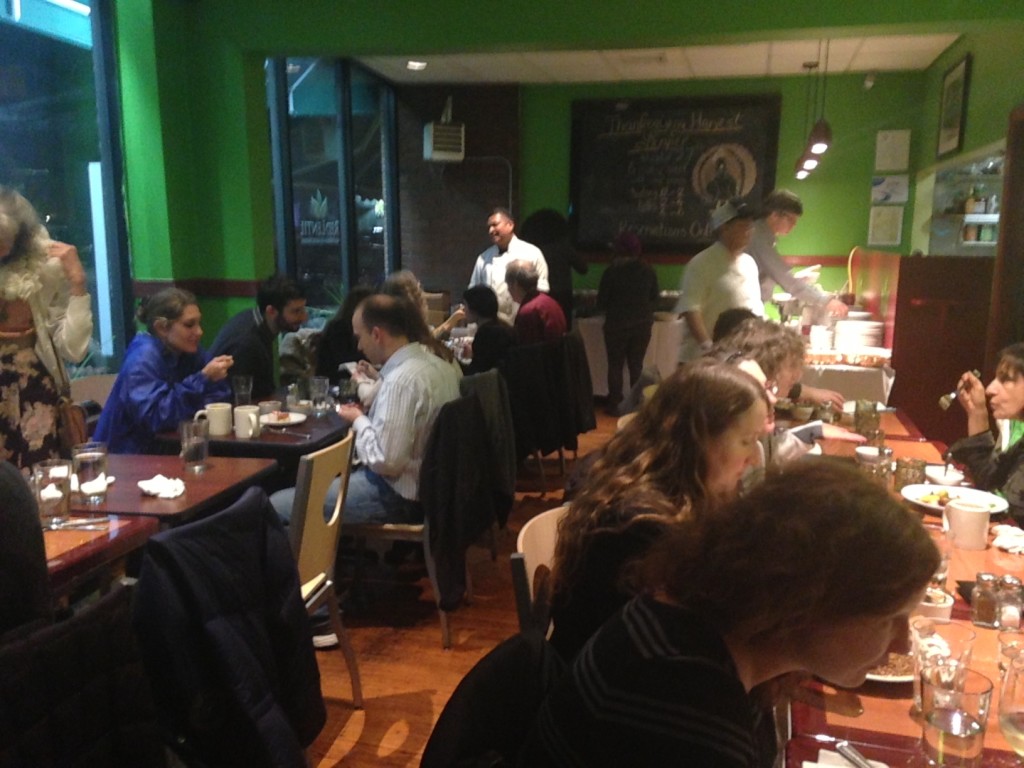 The first food station offered two different soups. Cream of Cauliflower Soup with a Garnish of Fresh Mint consisted of cashew cream and coconut cream based cauliflower soup touched with the flavors of celery, onions, star anise, nutmeg, clove and cinnamon stick.
The second soup was a Creole-Spiced Red Kuri Squash and Macintosh Apple Bisque. It was a velvet smooth bisque made with leeks, white wine and carrots, and topped with toasted pumpkin seeds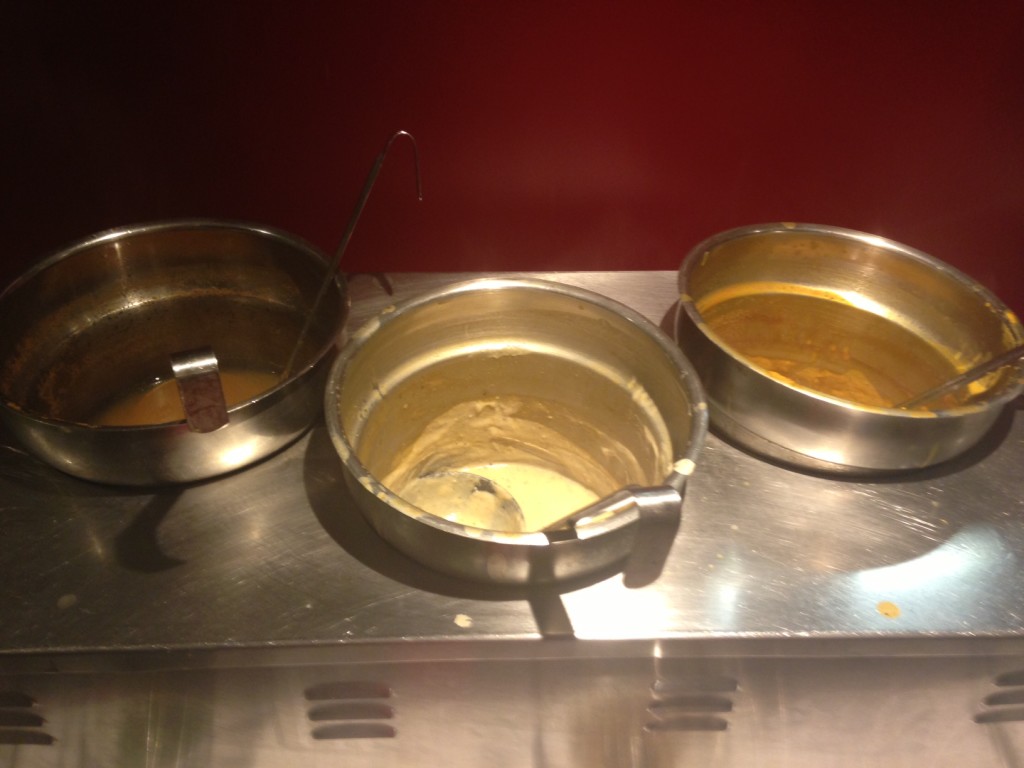 A hot Apple Cider beverage was contained in the third bin.
Diners could select one or both of the salads in the next set of serving trays.
The Fall Harvest Salad consisted of mesclun greens and romaine mix, diced and roasted butternut squash, toasted pecans, maple toasted pumpkin seeds, and pomegranate seeds, with sherry vinaigrette on the side.
The other salad was a Roasted Beet and Poached Apple Salad with Orange Tahini Dressing.
It contained Roasted red and golden beets, pine nuts, golden raisins, parsley, Granny Smith apples, sesame seeds and shaved carrots.
Four appetizers were offered. The mashed potatoes and brussel sprout offerings are traditional Thanksgiving side dishes.
The Herbed Baked Zucchini-and-Pepper Gratin with Cashew Ricotta Cheese was made with Zucchini, red and yellow bell peppers, tomato, Piment d'espelette and mint.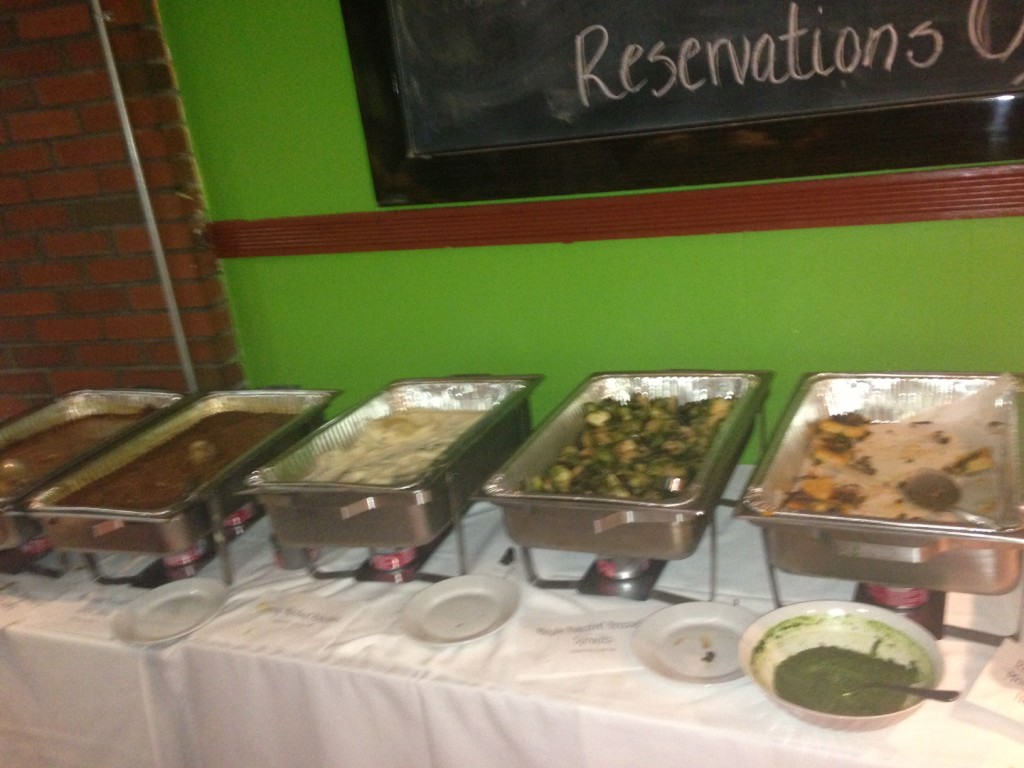 The Maple Roasted Brussels Sprouts were displayed in the next tray.
The Round Polenta with Mixed Mushrooms and Cilantro Harissa Gremolata included Polenta, butternut squash, oyster mushrooms, shiitake mushrooms, spinach, shallots, parsley, green peas, and harissa.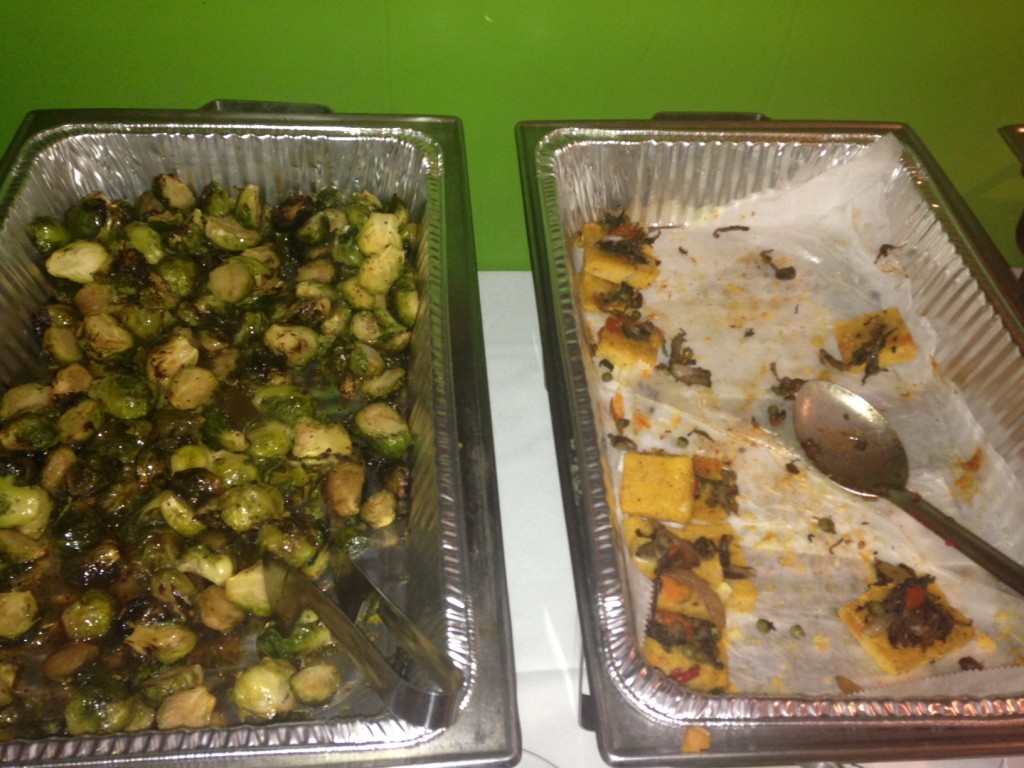 The Creamy Mashed Potatoes and Mushroom Gravy was the final side dish.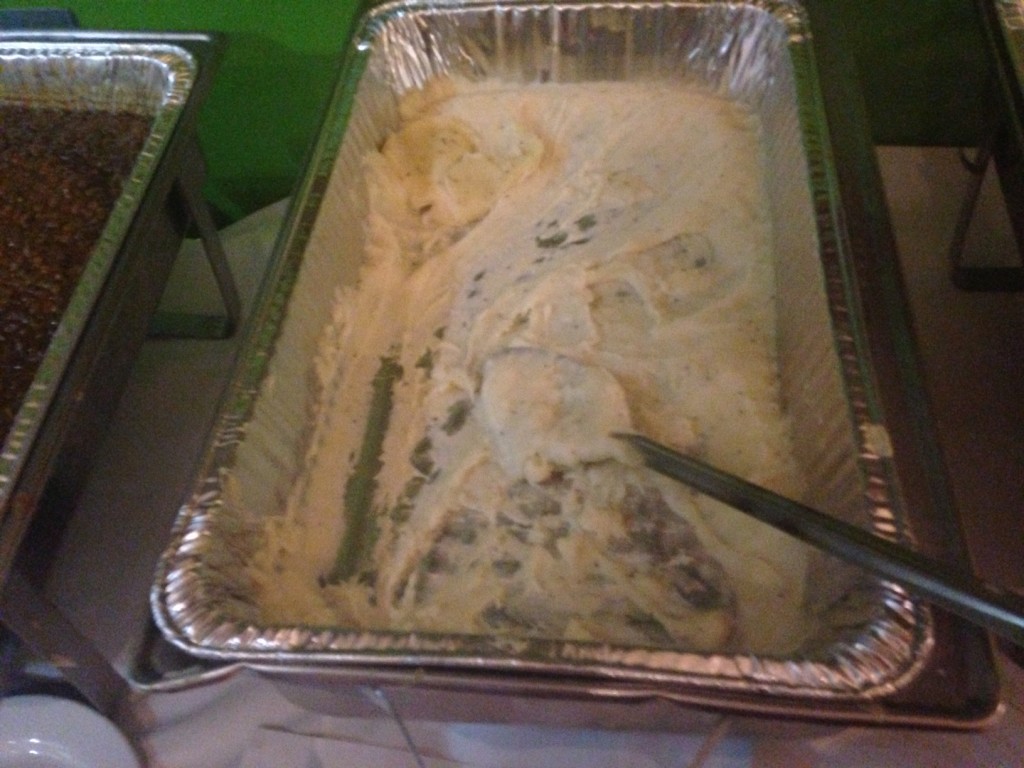 Two main entrees were offered. The Braised Seitan Medallion in Mushroom Gravy was a dish of Tender seitan strips in a savory gravy of mushroom, red wine, rosemary, sage, thyme, and carrot. A Moroccan Pumpkin and Lentil Stew was prepared with green lentils, pumpkin, cumin, tomato purée, spices, with a hint of jalapeño chili.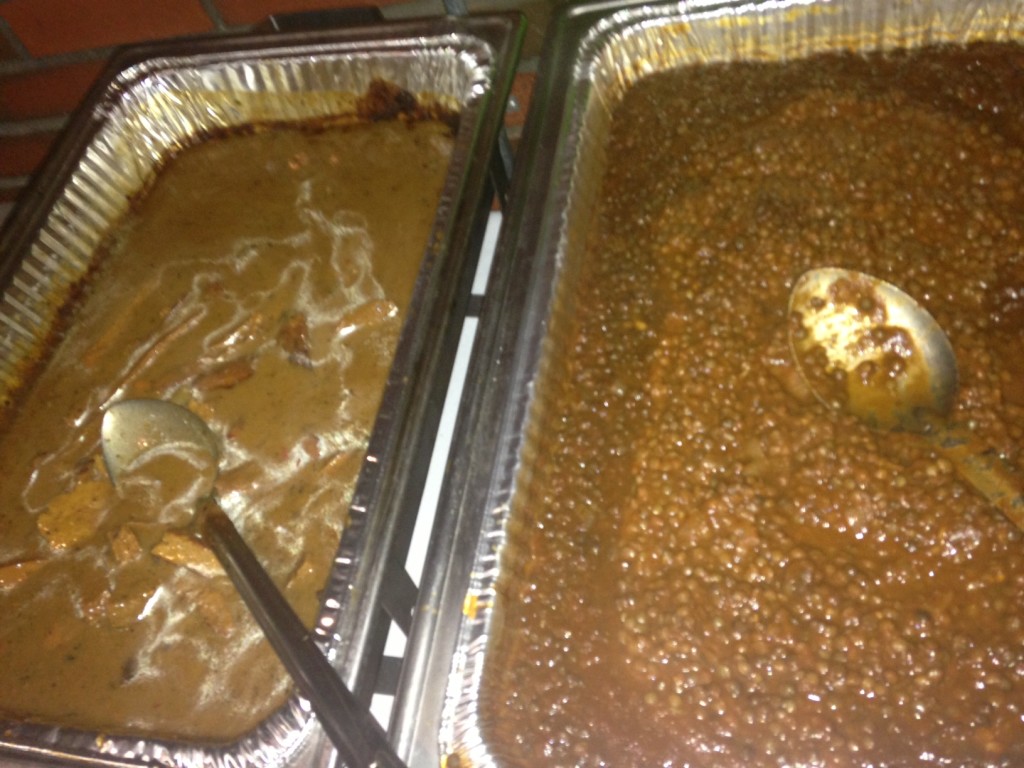 A couple of decadent and tasty desserts were offered to complete the five course meal! The Creme Brulee was a vegan treat made with bananas.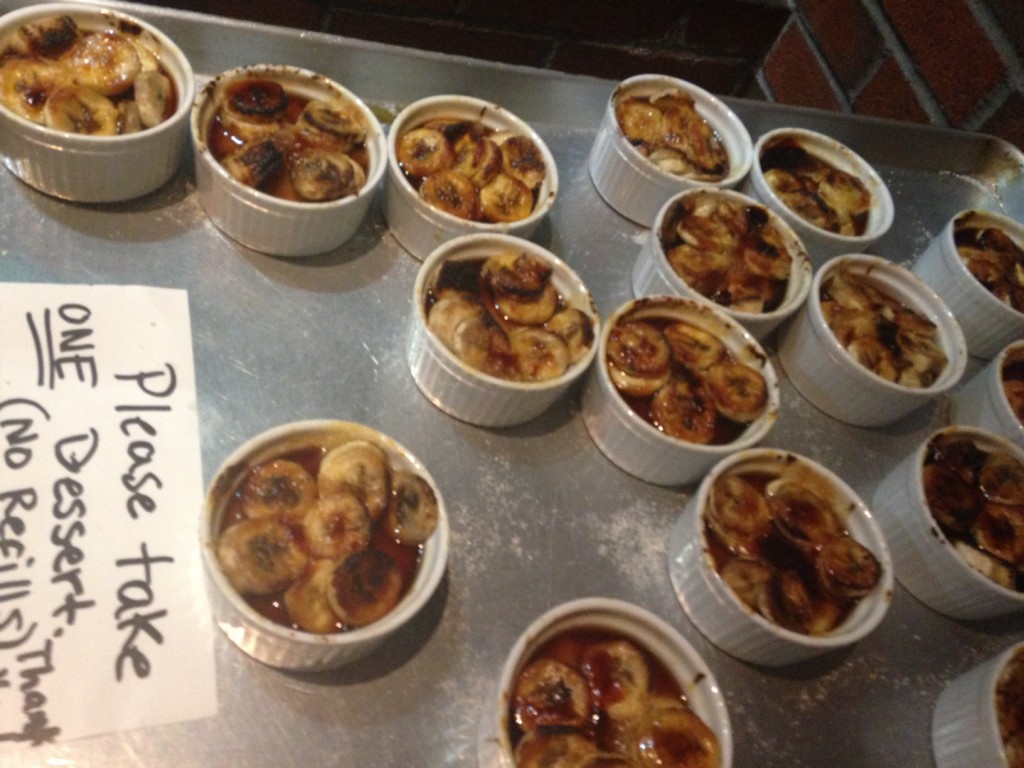 The final piece de resistance dessert was a lovely pumpkin cheesecake with a chocolate ganache and a raspberry sauce. Pumpkin desserts are traditional for this holiday.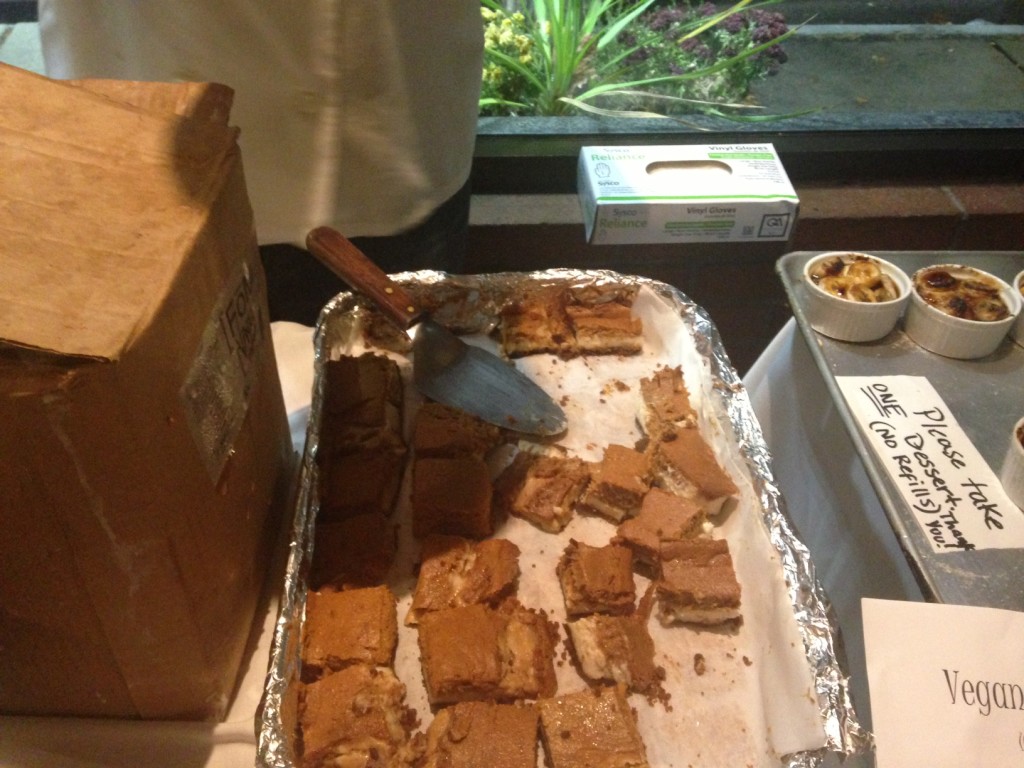 Upon my arrival, I headed over to the buffet tables. I grabbed a plate, soup bowl, and utensils, and proceeded to take a serving from each of the offerings! Since some of the options were specifically sliced into small portions, diners could easily select a bit of everything and not feel like they have overeaten. Hence, I took small amounts of each offering, so that I could sample each of the wonderful items on the special Thanksgiving menu!
I filled my dinner plate with each of the soups, appetizers, side dishes, salads, and main entrees!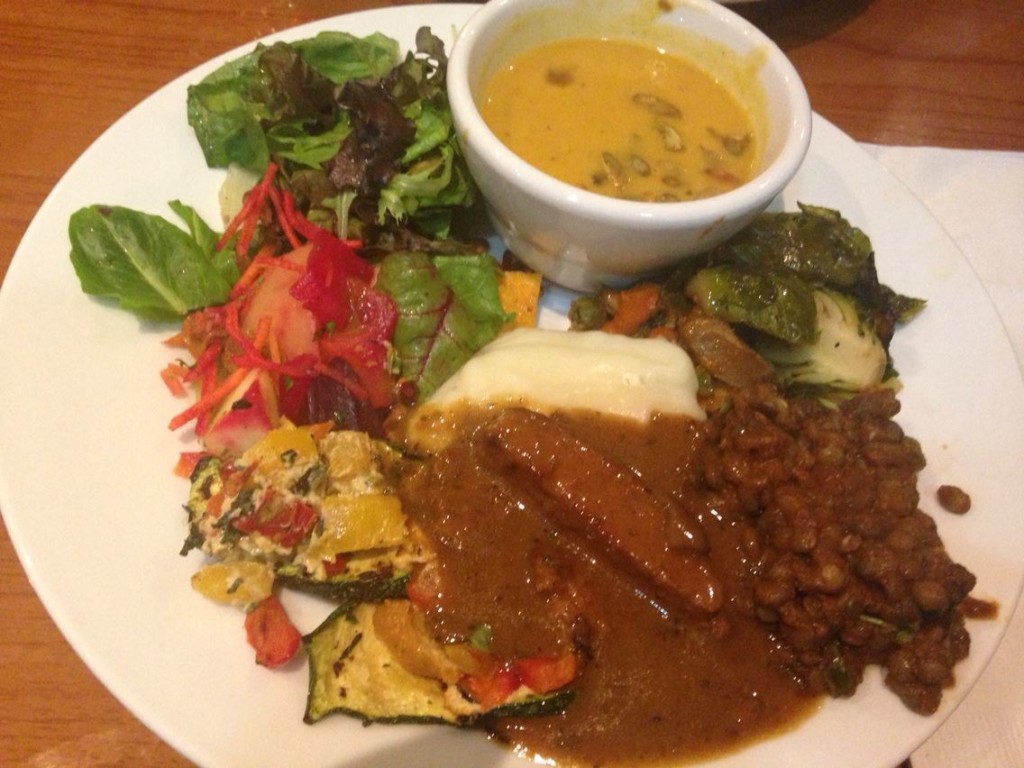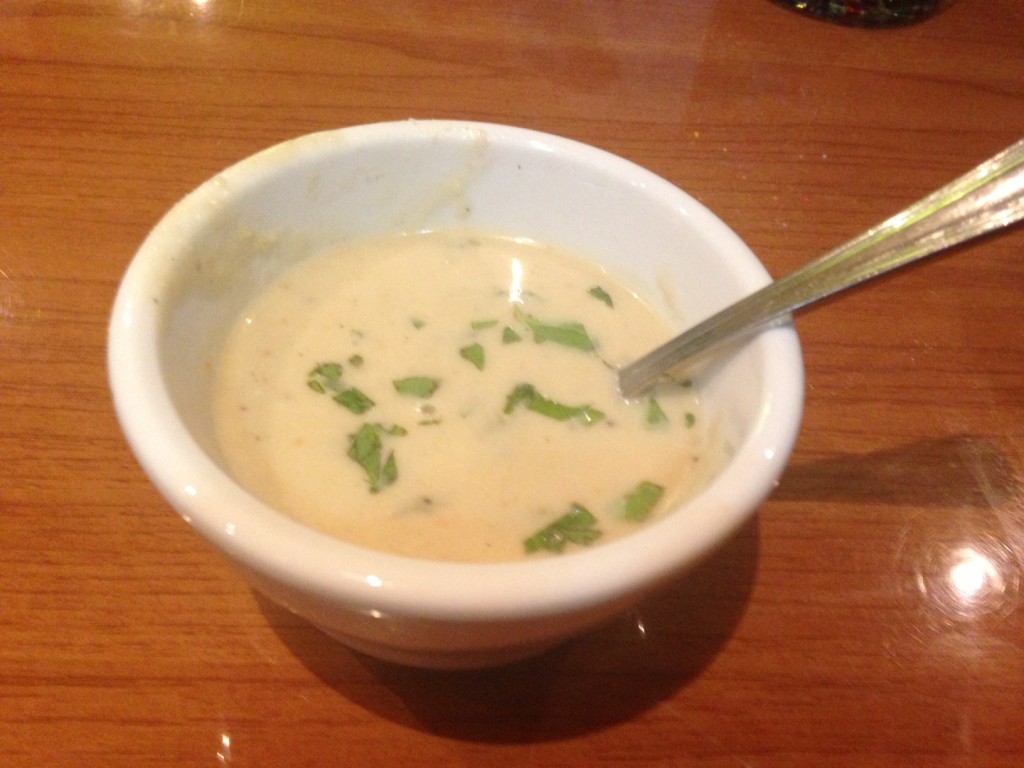 Mere words can not sufficiently express how delicious and flavorful my dinner was! I enjoyed every side and main course very much!
Now it was time dessert! I headed back to the dessert table and placed a pumpkin cheesecake, a creme brulee with bananas, and some vegan coconut milk vanilla ice cream onto my plate. What a delightful treat! Every one of my sweet treats were scrumptious!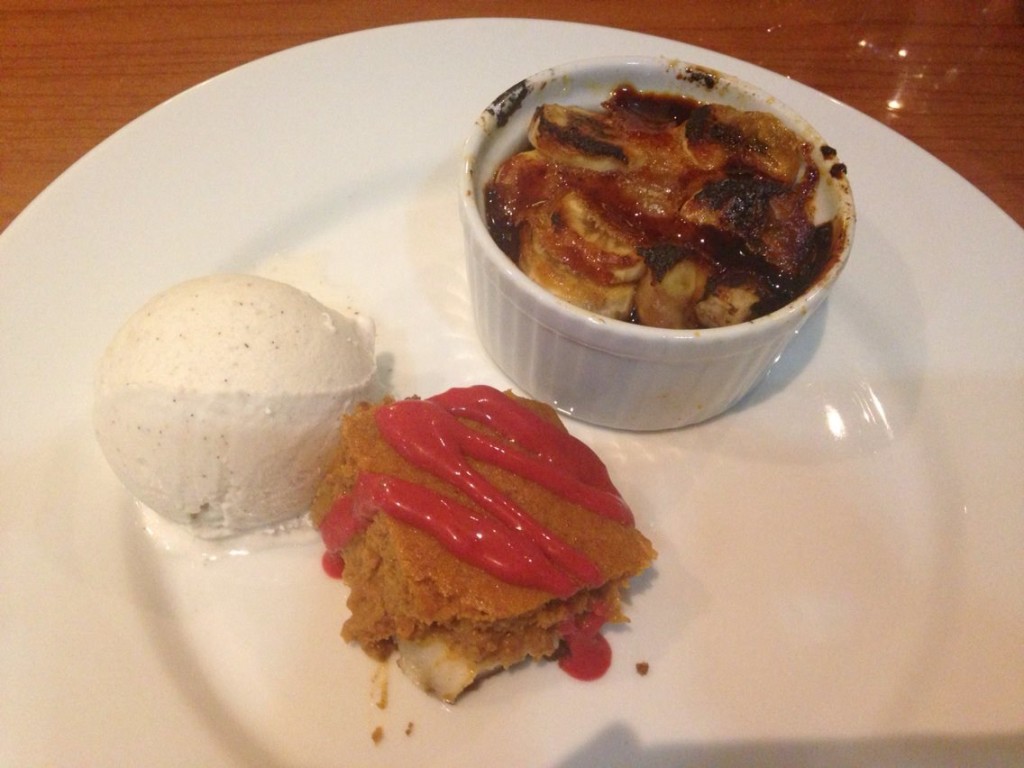 During the meal, each of us shared our "vegan story" and got to know one other through discussions ranging from favorite meals to our careers and hobbies. The Boston Vegetarian Society and Red Lentil Restaurant did an amazing job with the organization, preparation, and the execution of the event. The meal selection was wonderful! The food was incredibly delicious!
Most travelers are unable to travel each and every day of the year. For those times when we are home, it is still possible to experience some of the joys of travel by enjoying an evening at an international music performance or a global music concert. For this week, my travel experience was more of a "travel back in time" to the first American harvest, celebrated by a Thanksgiving dinner with the local Vegetarian Society.
Tweet This Post